Well here we are heading rapidly towards Fall (although Florida hasn't got the memo yet) and I've started to think about whether we will be participating in the next One Room Challenge (ORC) which starts on October 4th. (Translation: will my husband let us take on another Big Project?) If we are going to do it, then I want to give myself a little bit more preparation this time around and plan things out ahead of time.
However, before I jump headlong into that, I thought it would be interesting to reflect on how our first (and most recent) ORC project is holding up—namely, our master bedroom.
It's something I often wonder after seeing a big reveal or makeover—how do these spaces hold up over time? You know—once they have been lived in? Are there any things the designer would do differently? Any regrets? Wins?
So, I'm going to let you into an honest assessment of my design process for this ORC project and will promise brutal honestly in my words and photos! (That means candid photos of how the room looks TODAY—no styling whatsoever beforehand!)
Are you a fellow ORC Guest Participant? I've written a guide (which you can read here) and designed a printable planner to help get you organized for the challenge! Simply put in your email below to have the PDF planner emailed to you: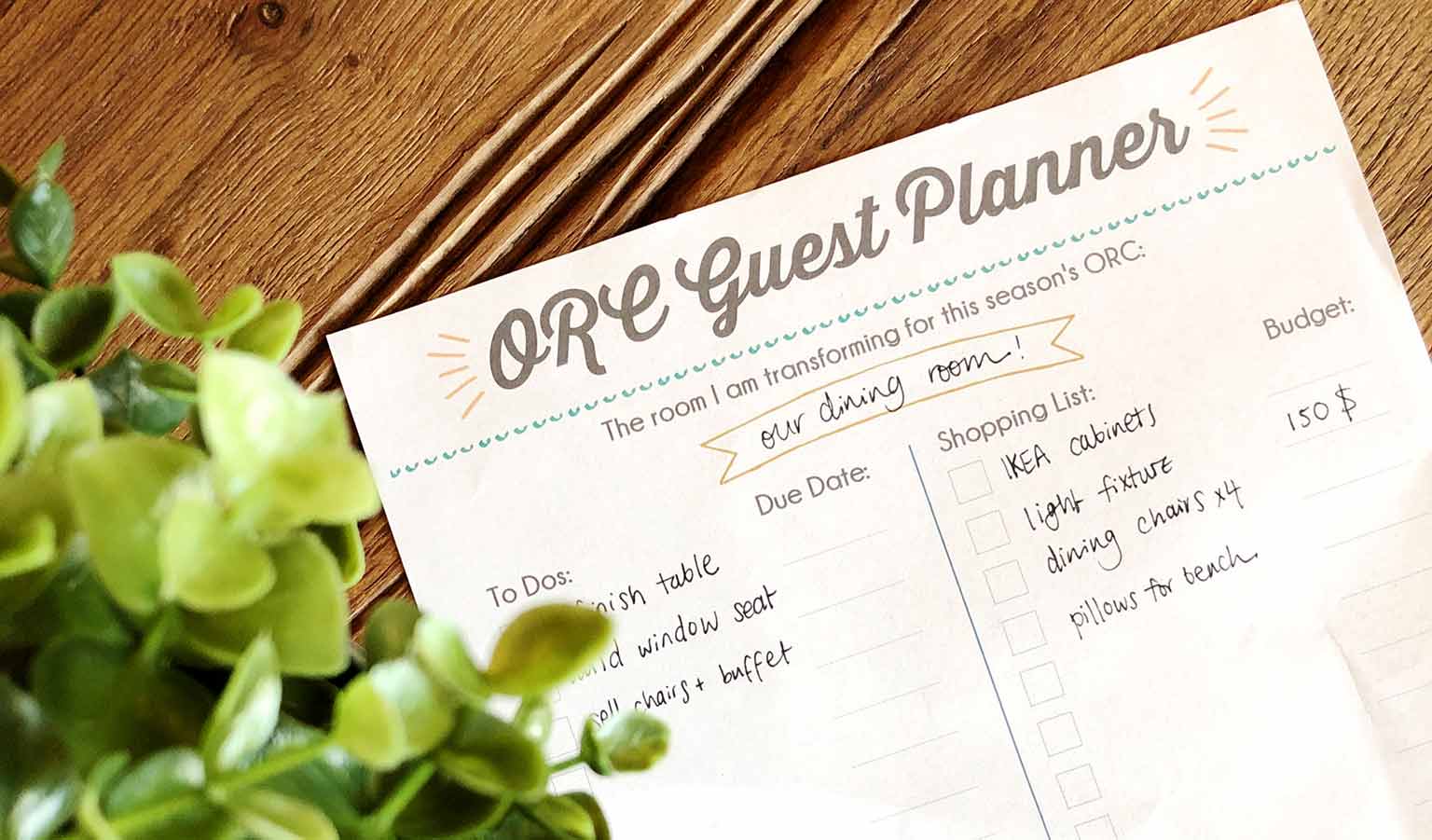 LET'S START WITH THE POSITIVE: WHAT'S WORKING?
Well, let's just say that I am missing none of the items that I got rid of in The Great Purge. In fact, I can hardly remember what I got rid of now, but I do remember I filled up our SUV trunk twice over! That's a lot of stuff. Our bedroom still feels calm and serene, and having absolutely nothing under our bed gives my three year old a place to hide out.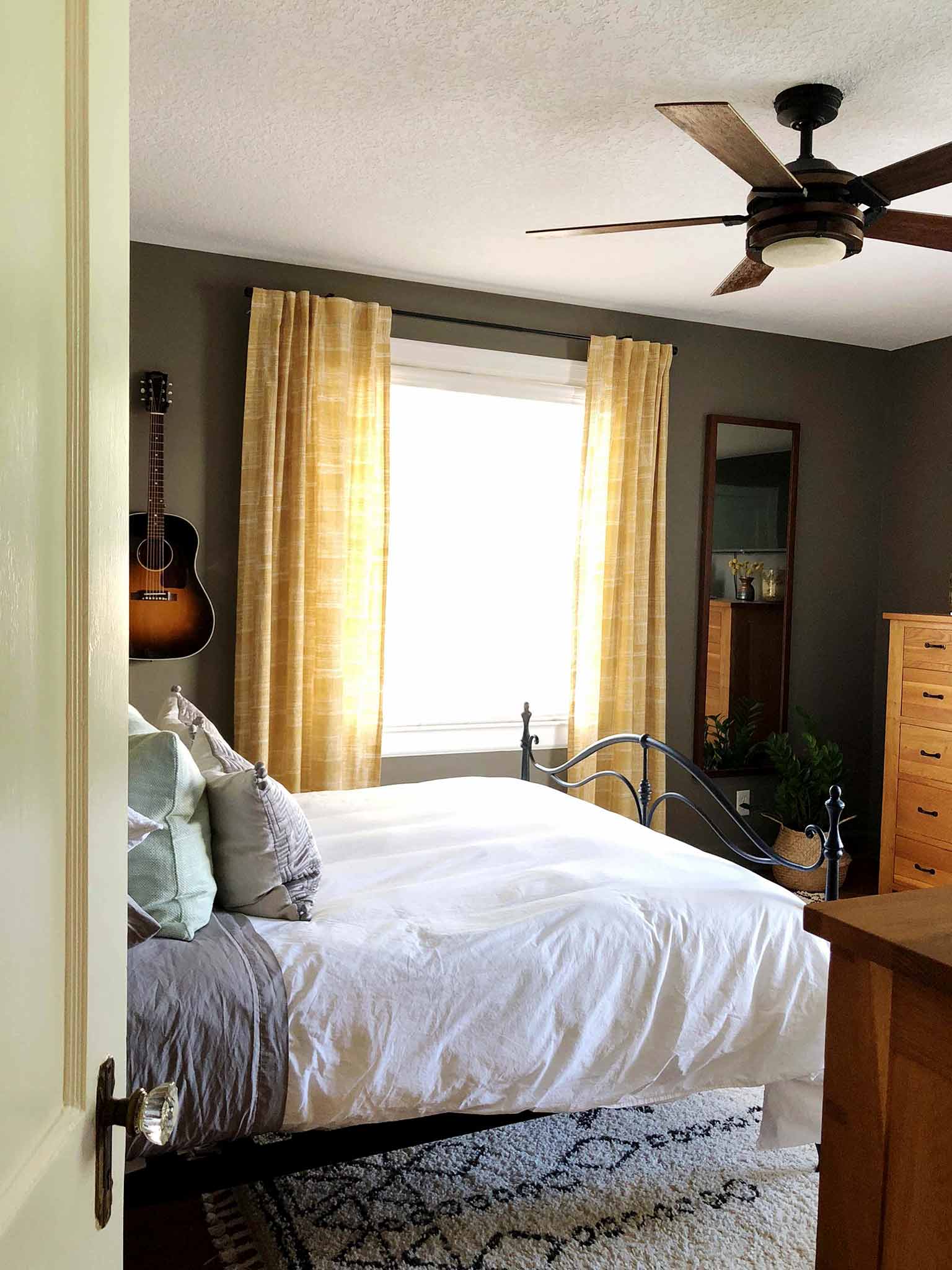 I also love the wall lamp/floating nightstand combo. It's just exactly what I wanted for this room and I'm so glad it paid off.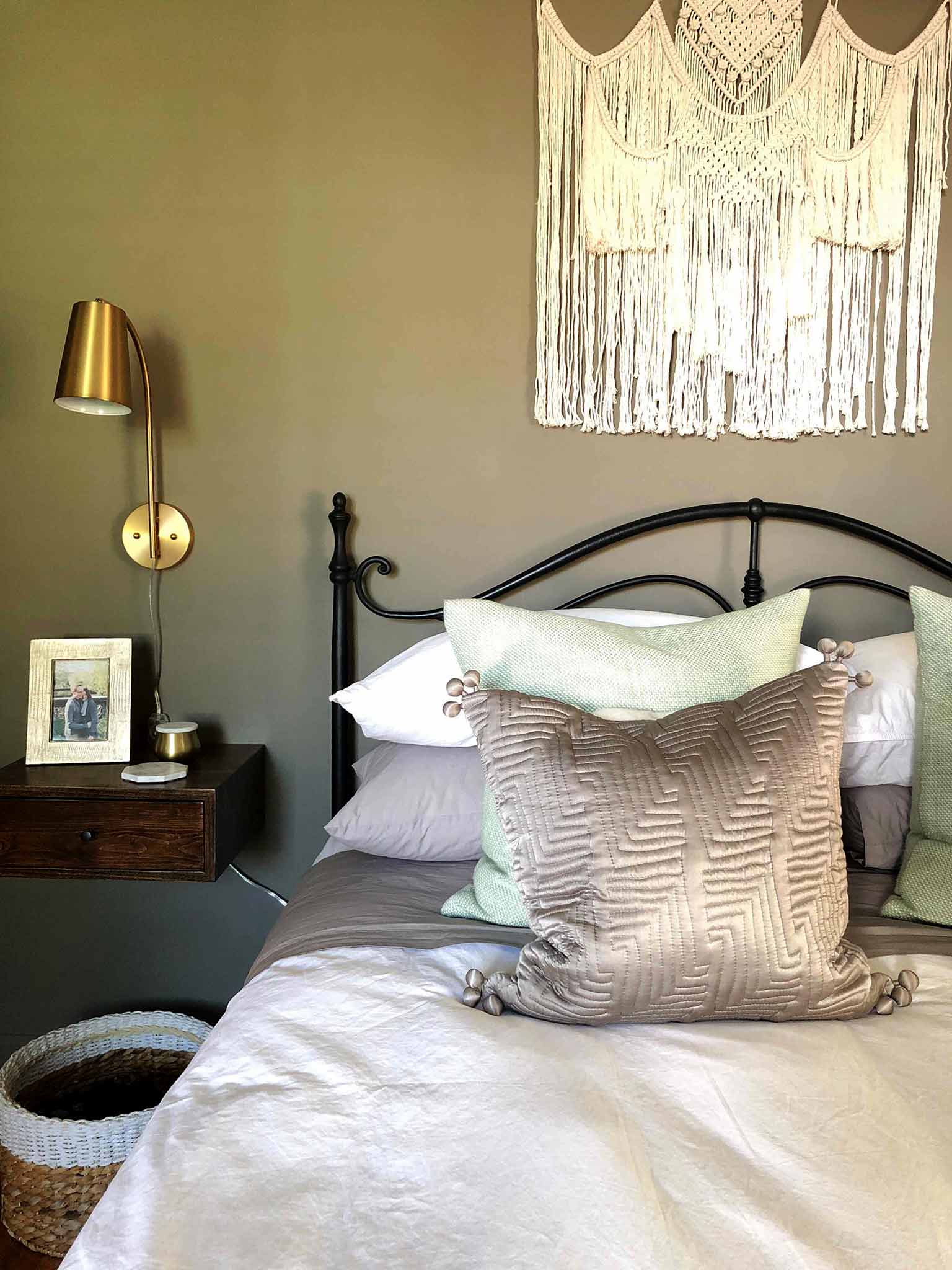 And finally, the rug!! It was such a great deal and it was worth every penny! I love the texture and pattern it adds to the room, and it is fun whilst still being sophisticated! I wouldn't hesitate to recommend it.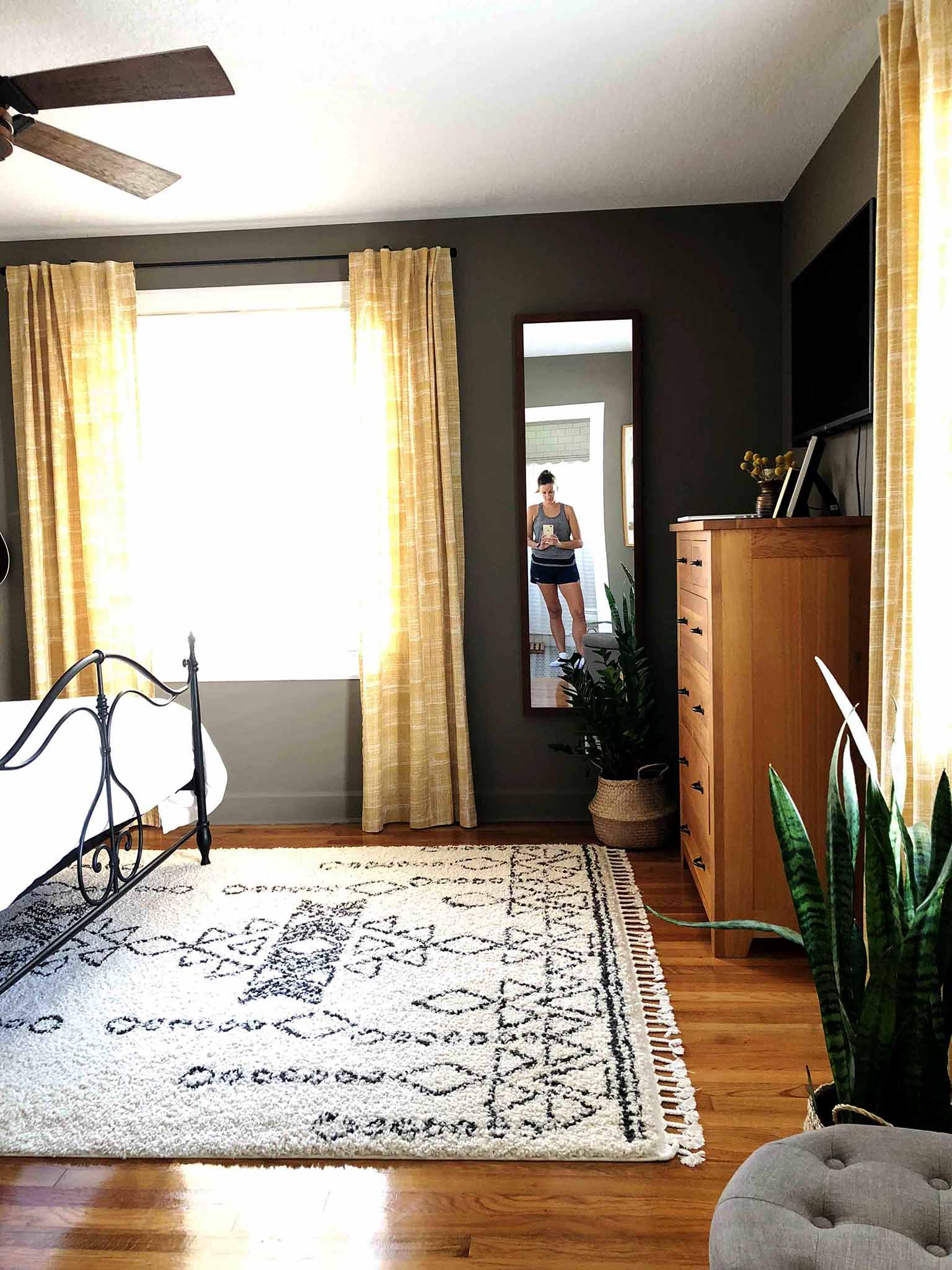 Just hanging out in my gym clothes...
AND WHAT'S NOT WORKING?
Hmm. That's a tough one. Honestly? Everything works. You can tell that by my photos. Aside from a hairbrush, a laptop and some dust, everything looks pretty much the same as photoshoot day. Partly because of my daily rhythms that help me keep our home tidy, and partly because it is a design that works for us. And that's definitely a design win, and something that I can be proud of.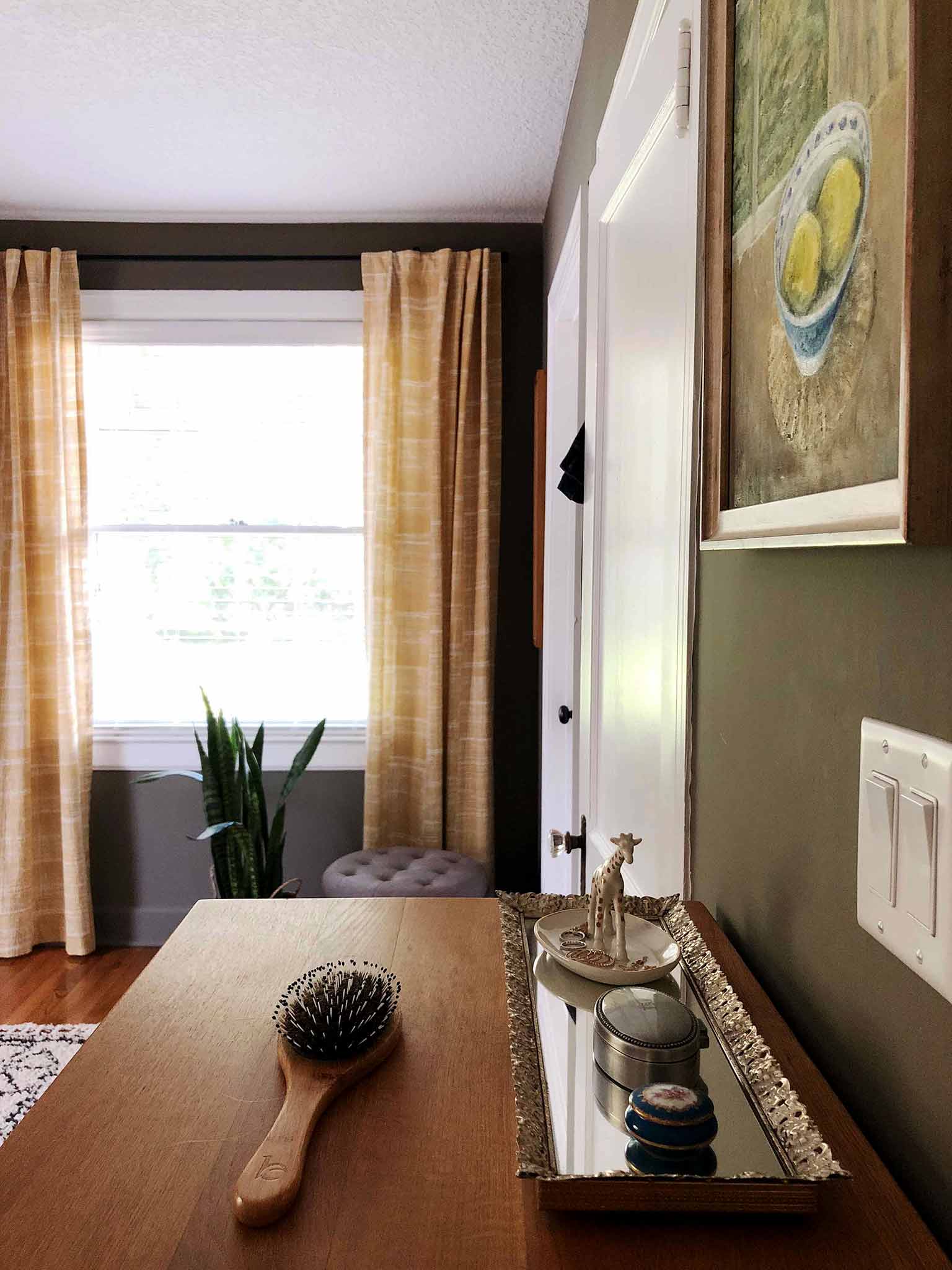 But asking myself this question brought up some interesting thoughts, and I thought I'd be vulnerable and share some more of what I'm thinking. You see, I started thinking about what this room is NOT. We still have the original bedframe and clunky dressers that we purchased when we got married. If I could start over, I would get rid of them and buy new gorgeous MCM furniture and paint the walls a crisp white and get new curtains and...and...
You see, I worked with the limitations of some pieces of furniture that we were just not willing to get rid of. It didn't make financial sense for us to do that and it just felt wasteful. So, the room design hitched around those pieces, and we ended up with dark walls rather than the laid-back Cali vibe which is going crazy all over IG.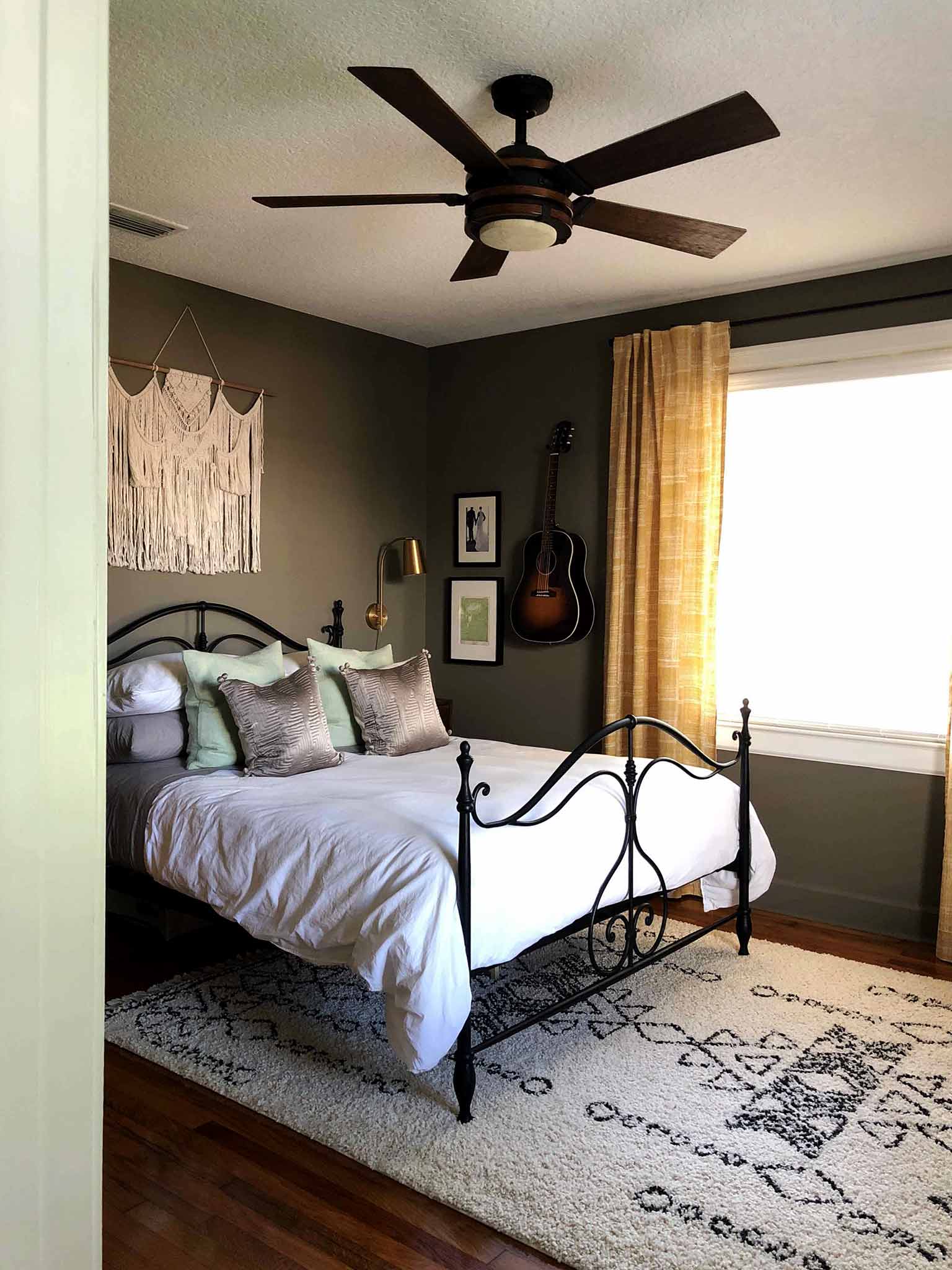 And if I'm being reallllly honest, I'm kinda bummed that this room hasn't made more of a splash in the old social media world. We love it, but whether the photos haven't come out well enough, or it's just not a very photogenic space, it really hasn't been received all that well out in the world. That's the thing—when you put yourself out there, you have to be willing to receive alllll the feedback (or lack of) and be ok with it and yourself that you did your best and it is good enough.
Here's where I have to give myself a metaphorical slap on the cheek and remind myself that this home is a gift. Comparing and wishing that my skills or home or bedroom were different is utterly disrespectful to the gifts that I have been given.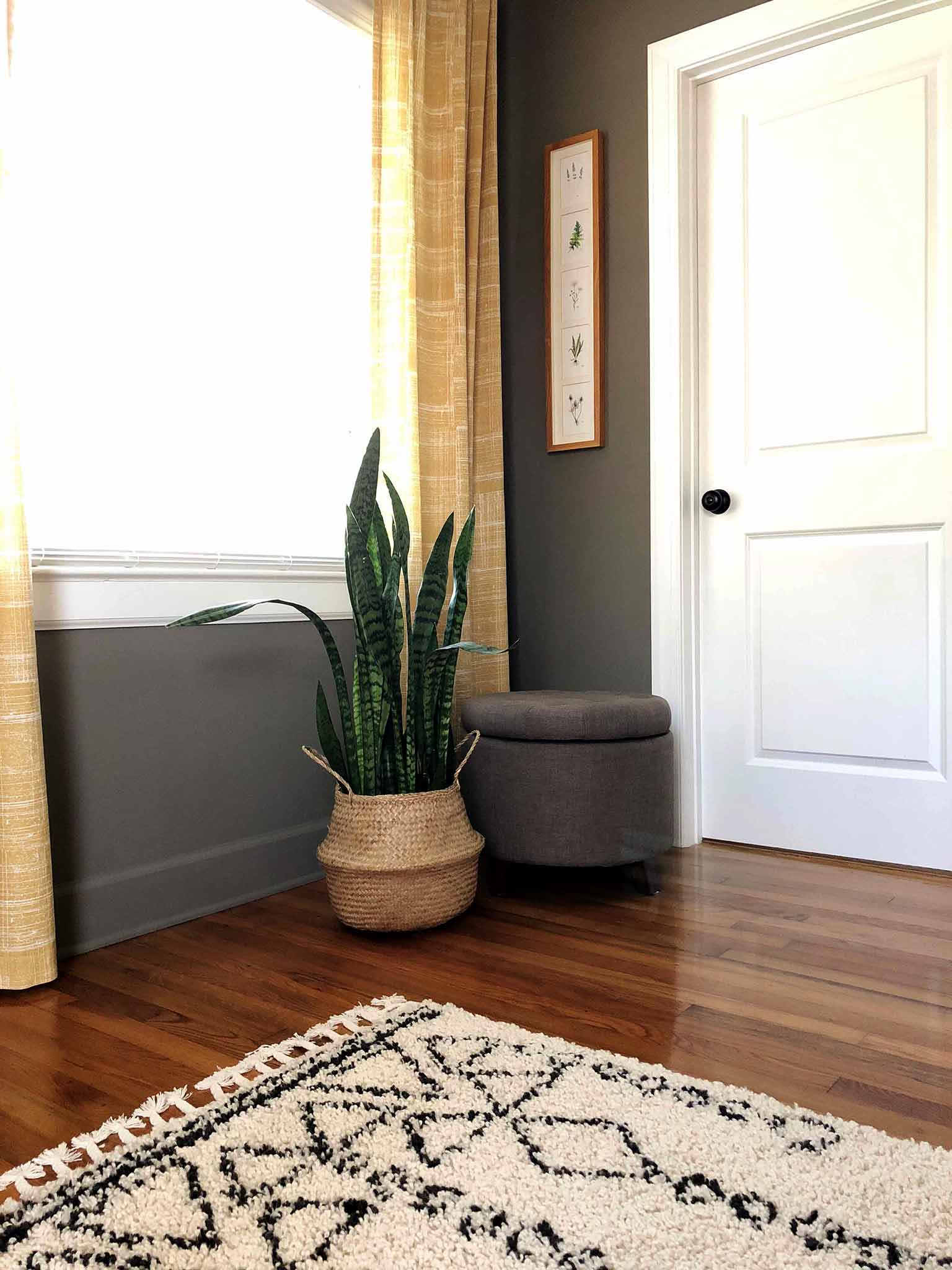 I am a good enough designer. I'm not the best. I am a good enough photographer. And there are thousands who do it better than me. AND THAT IS OK. This is our home, and it is where we LIVE. It's real, and it isn't always instagrammable. And it's not always going to resonate with the world.
The more I compare, and wish, and nitpick, and criticise myself and my home, the less joy I will find in it. And you know what else? There could be people out there who look at MY home, and to them it's the picture perfect image that makes them feel "less than."
Comparison just has to GO.
It is SUCH a waste of time and headspace. There is a place for all of us at the table, and we all have something to offer. Maybe you're an incredible interior designer—AMAZING! Let's celebrate that! Maybe you know how to refinish wood floors and can fix up houses in your sleep. I want to hear more, and I want to learn from you!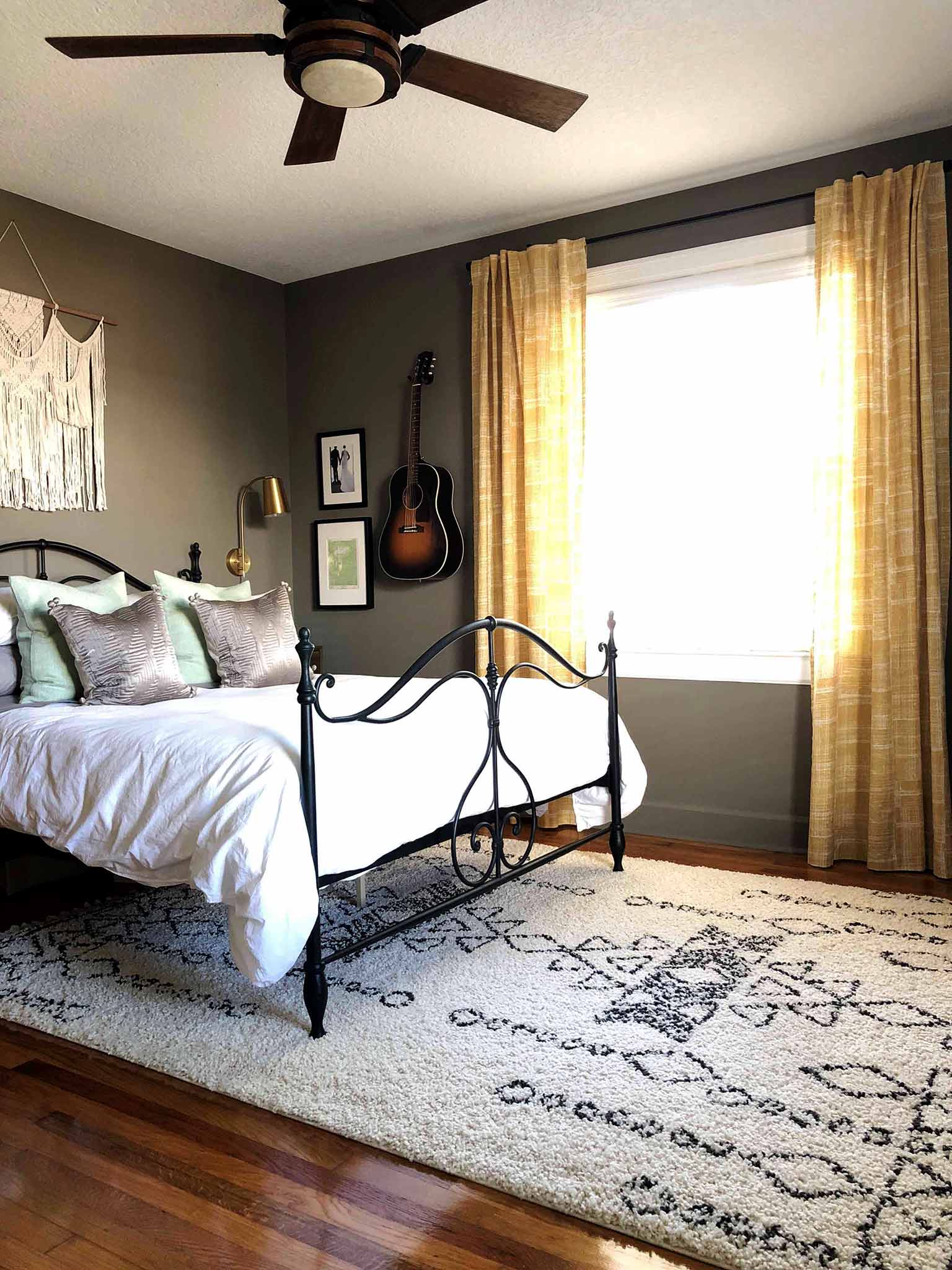 We need to embrace each other's gifts and stop the comparison game. Because it goes NOWHERE and it leads to death. Death of dreams, motivation, and joy.
I didn't know that this tangent was coming when I planned this post, but it's something I do feel so passionate about! I feel strongly about it because I feel we spend so much energy comparing and feeling sad that are homes don't measure up. We need to cut that out and focus on what matters for our family, not how it looks to other people.
Phewweeee. I'm glad I got that off my chest. And I hope that this corner of the internet is somewhere that you feel uplifted and encouraged to make your home the best it can be for YOU. For no-one else. And certainly not for a social media platform. I hope you can find the unique thing that YOU bring to the world and DO IT WELL. End of story. Much love to you all today, and keep on keeping on! You've got this!
---