Our home renovation journey has been longer than expected, frustrating at times, but overall hugely rewarding. Once the guest house started to take shape, we were finally able to start planning our outdoor living space. I thought it would be fun to go back and look at some of the steps we took to plan out our space, and share some progress shots of where we are at with the project right now.
At around 1400 square feet, we feel that our house fits our little family perfectly. However, when we host more than a couple of people it can feel cramped and chaotic. Therefore, our priority for the backyard was to make it function well as a hosting space for larger parties and gatherings.
So, we started by drawing up a list of needs and wishes for our backyard. For sure, we wanted a dining area with a space for a grill, an area with comfy seating, and a play space for the kids (plus a putting green for my husband if we could squeeze it in.)
That was the initial list. And then we had the bright idea of putting in a little cocktail pool. We soon realized that it would be way too complicated and expensive, but the idea of a water feature of some kind got stuck in our heads. After some serious googling, I discovered that you can get cooling systems for hot tubs. With the Florida summer being so hot and humid, being able to cool off in a tub sounded pretty awesome, and would make our backyard habitable all year round. So we decided that it was worth the investment and went ahead with ordering one!
In terms of aesthetics, we found that we were drawn to inspiration photos of backyards with hammocks, string lights and lots of layered textures. We wanted this to be a space for people to be able to relax and rest—kids and grown-ups alike.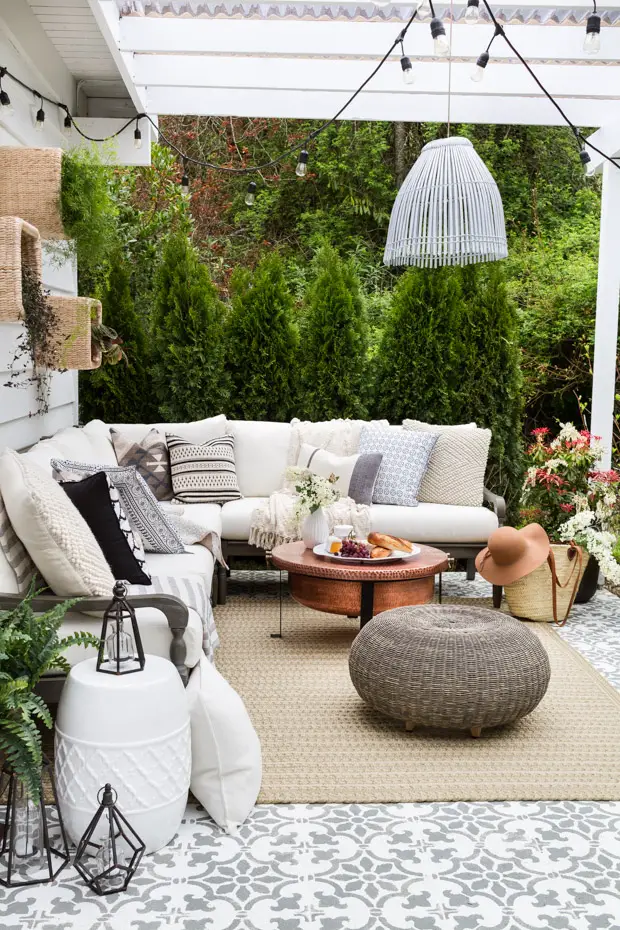 Source: Zevy Joy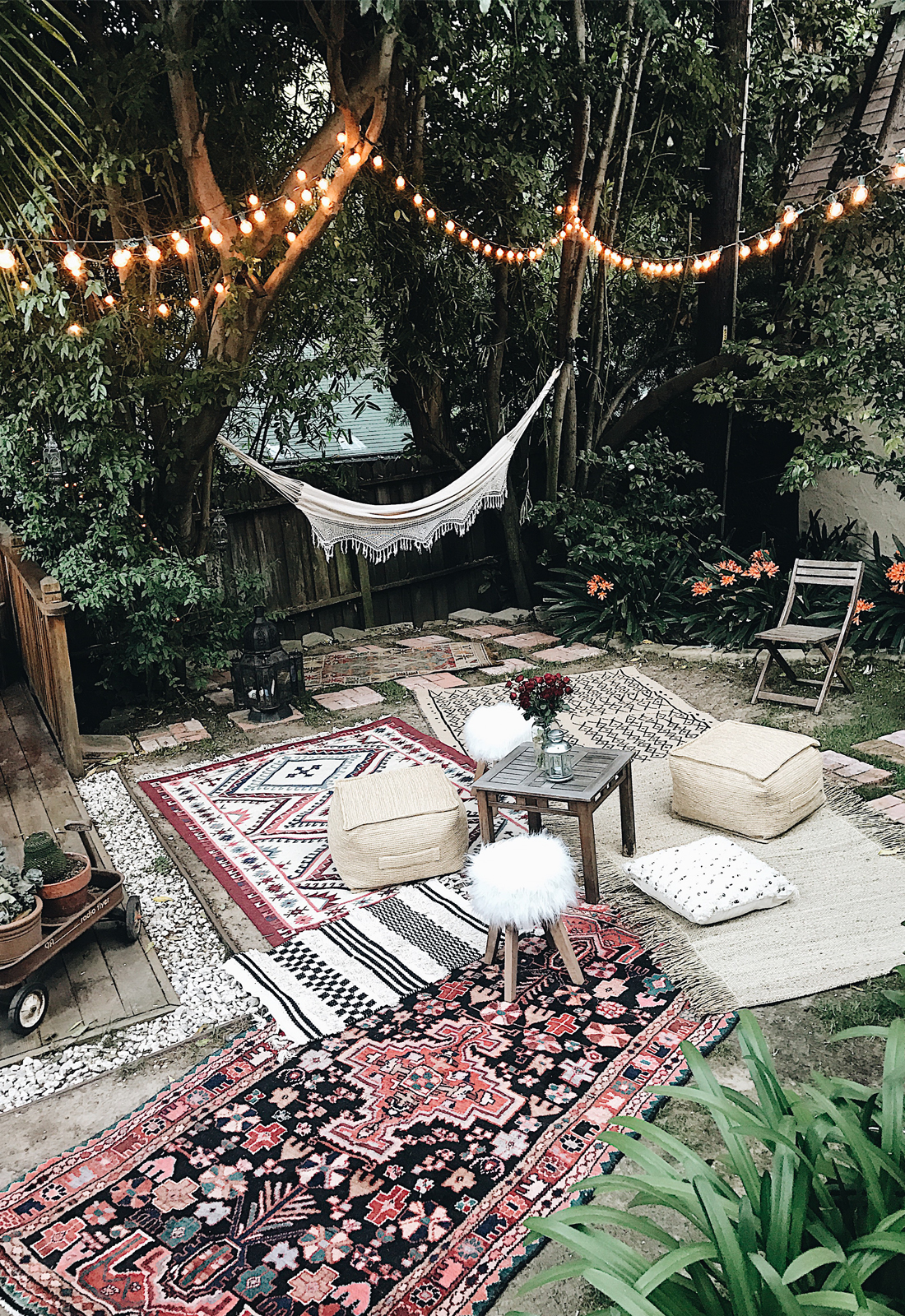 Source: Allison McNamara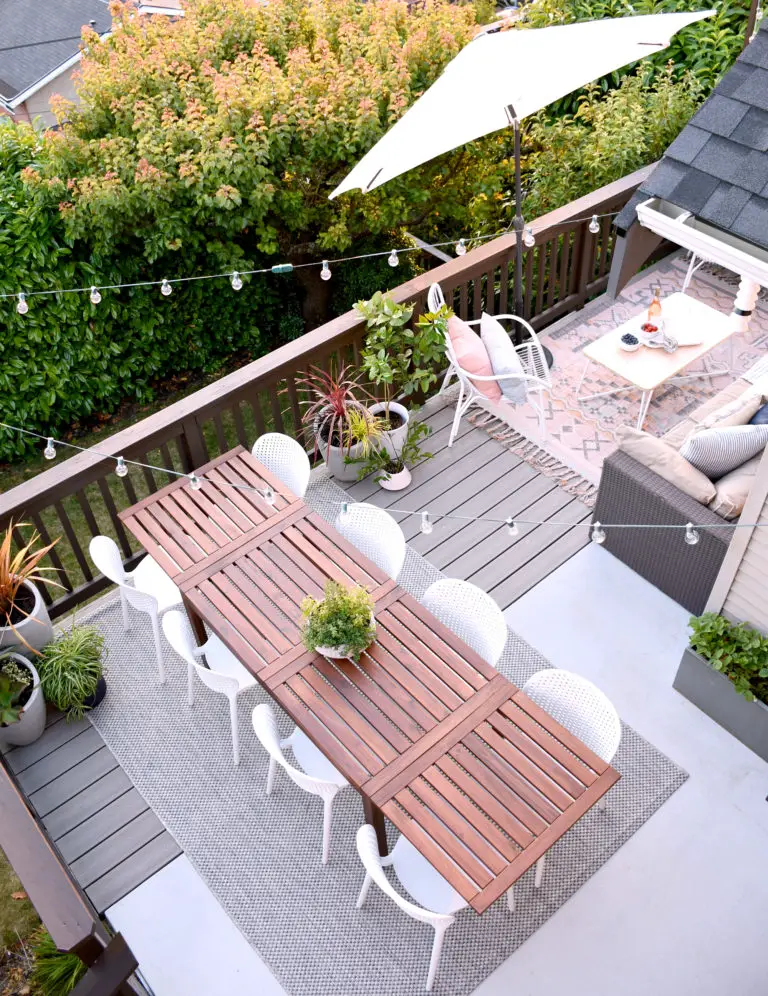 Source: House Updated
I wanted to put as much thought into designing and styling this space as I would if it were actually inside our home. I think often backyards are treated as an afterthought, with the priority being placed on the bricks and mortar of the house. But with the beautiful weather we have here for so much of the year, I wanted to create a homely space that we would find ourselves wanting to spend a lot of time in.
So, back to the plans.
With the location of the guest house in the middle, our yard is a bit of an unconventional layout. The yard forms a "U" shape around the guest house, and so there are essentially three rectangular sections: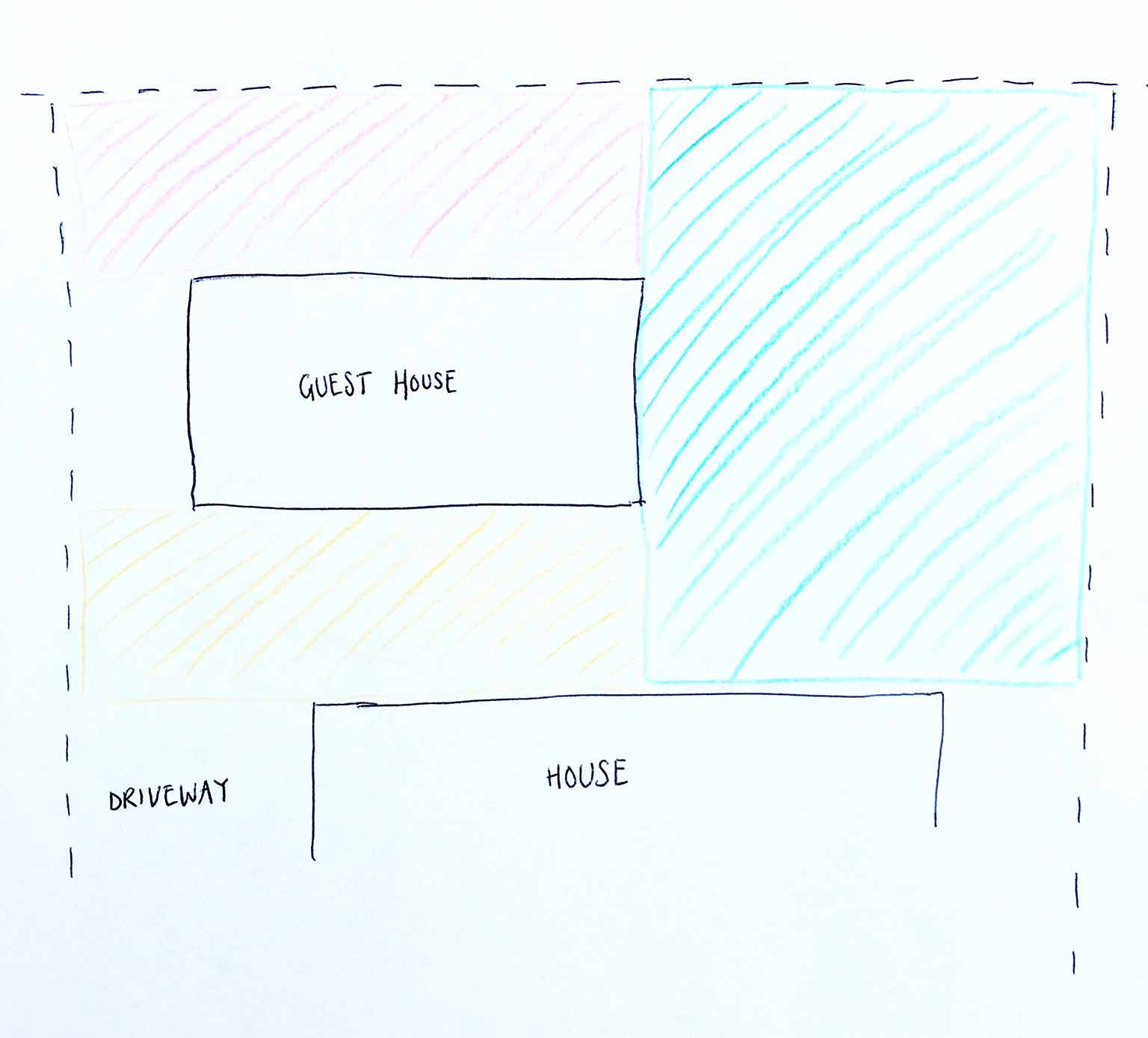 It made most sense for us to locate the dining patio in between the two buildings, as it would be in the closest spot to the house. It was also an easy decision in terms of what material to use, as we were able to continue the reclaimed brick pavers from the driveway for the patio area.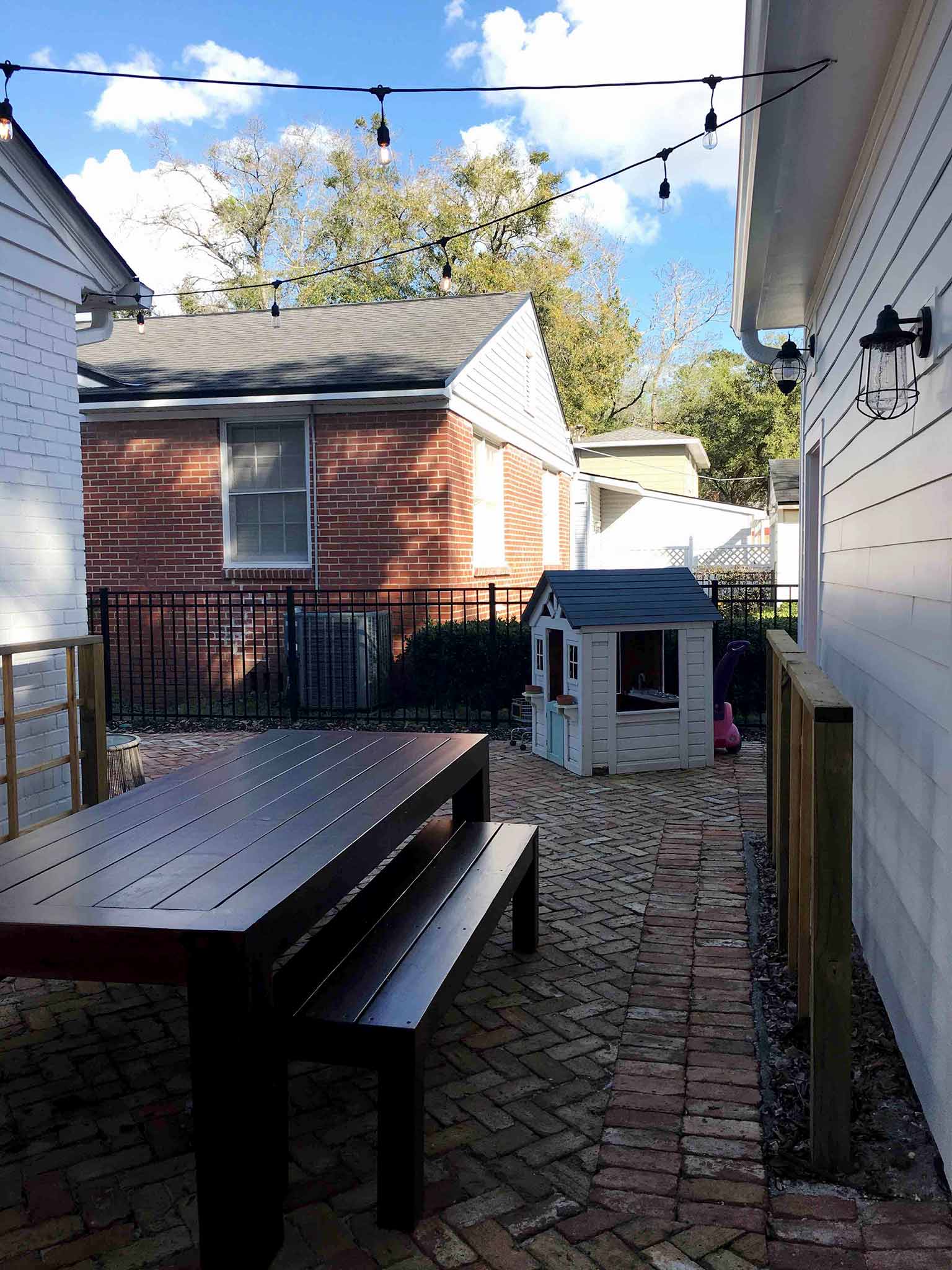 It is fairly narrow space, and almost feels like a little intimate courtyard. With the string lights that we have already installed, it is starting to feel really cozy. We found a local carpenter who made us the perfect table for hosting lazy al fresco dinners.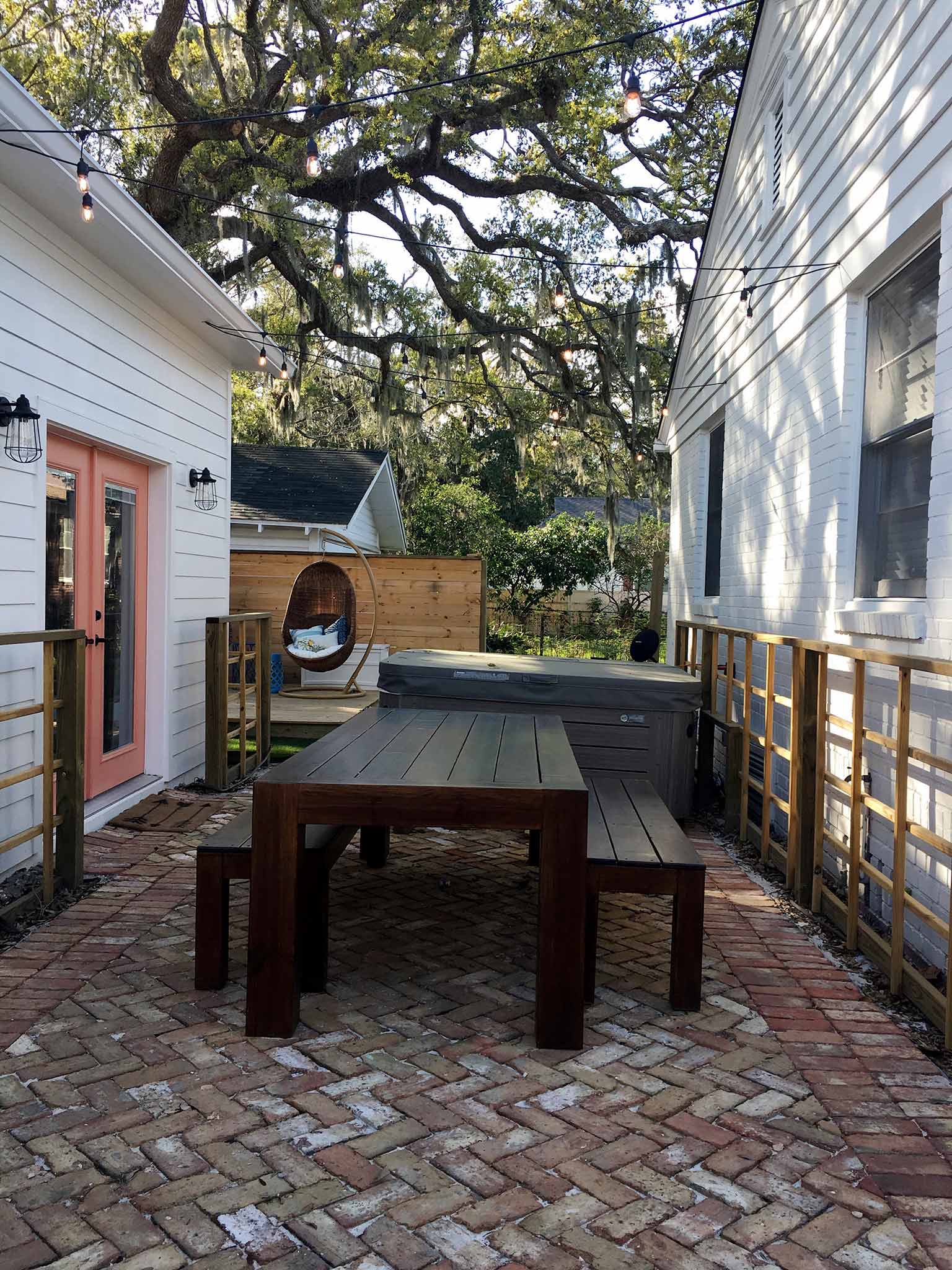 We decided to use the wider rectangle to the side of the guest house as our entertainment area—consisting of the hot tub, a deck, a putting green, and a hammock for yours truly.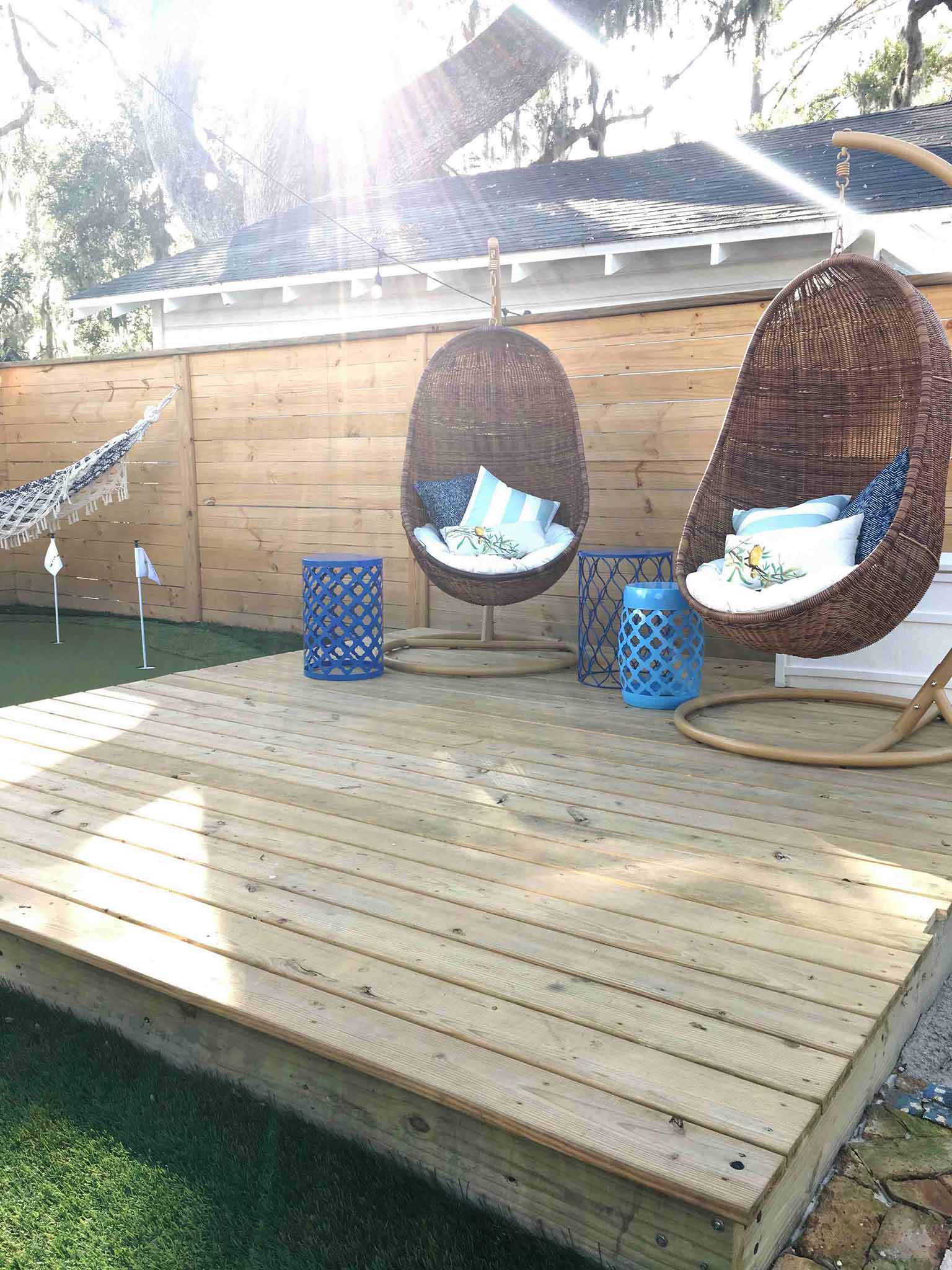 The hot tub will eventually go in the corner right next to the house, with a bar area on one side and steps on the other side leading out onto the deck. The lower deck has been built, but needs fixing as there were some issues.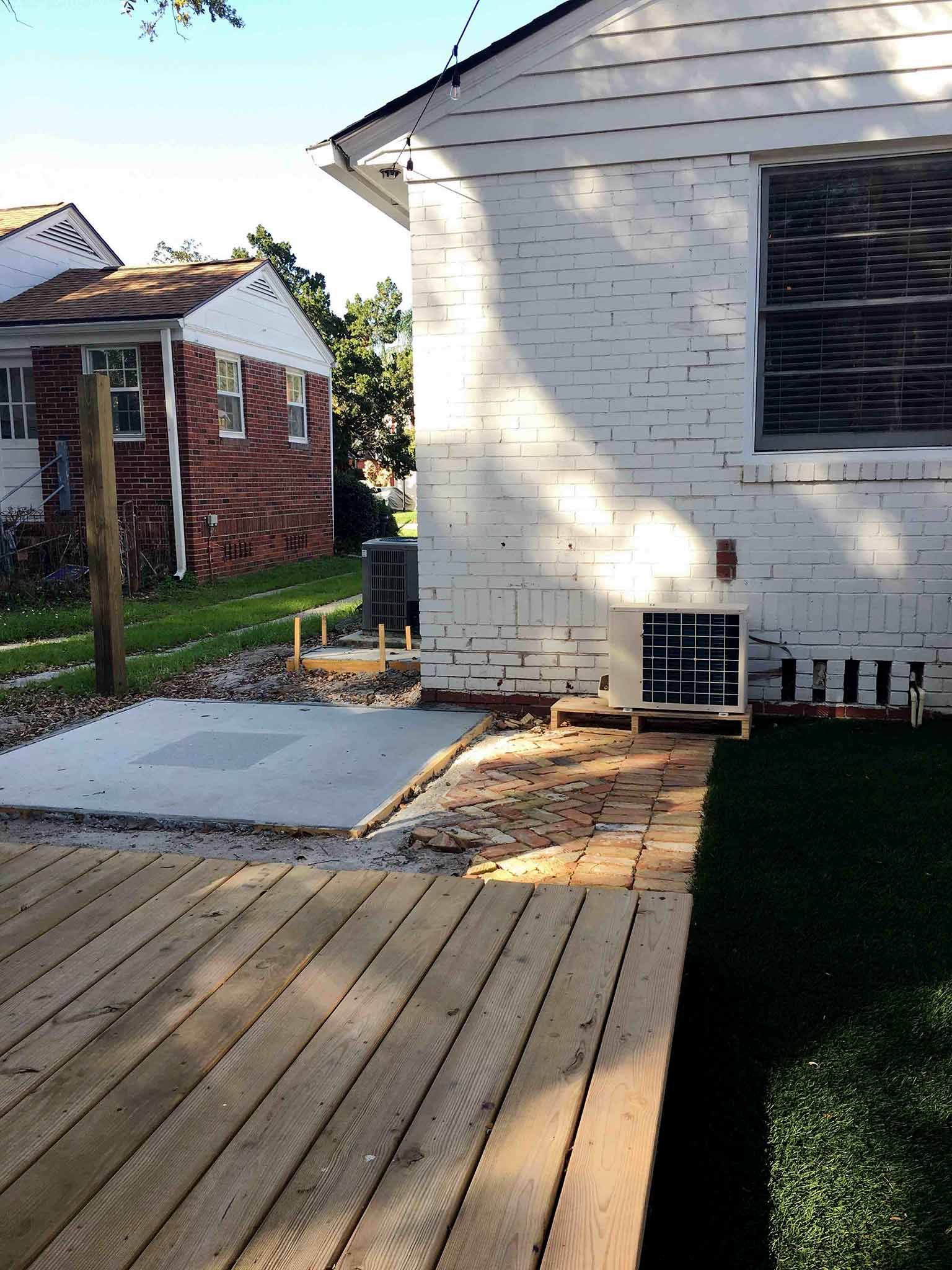 The putting green has been installed in the far corner of the yard, and we have had loads of fun with it so far!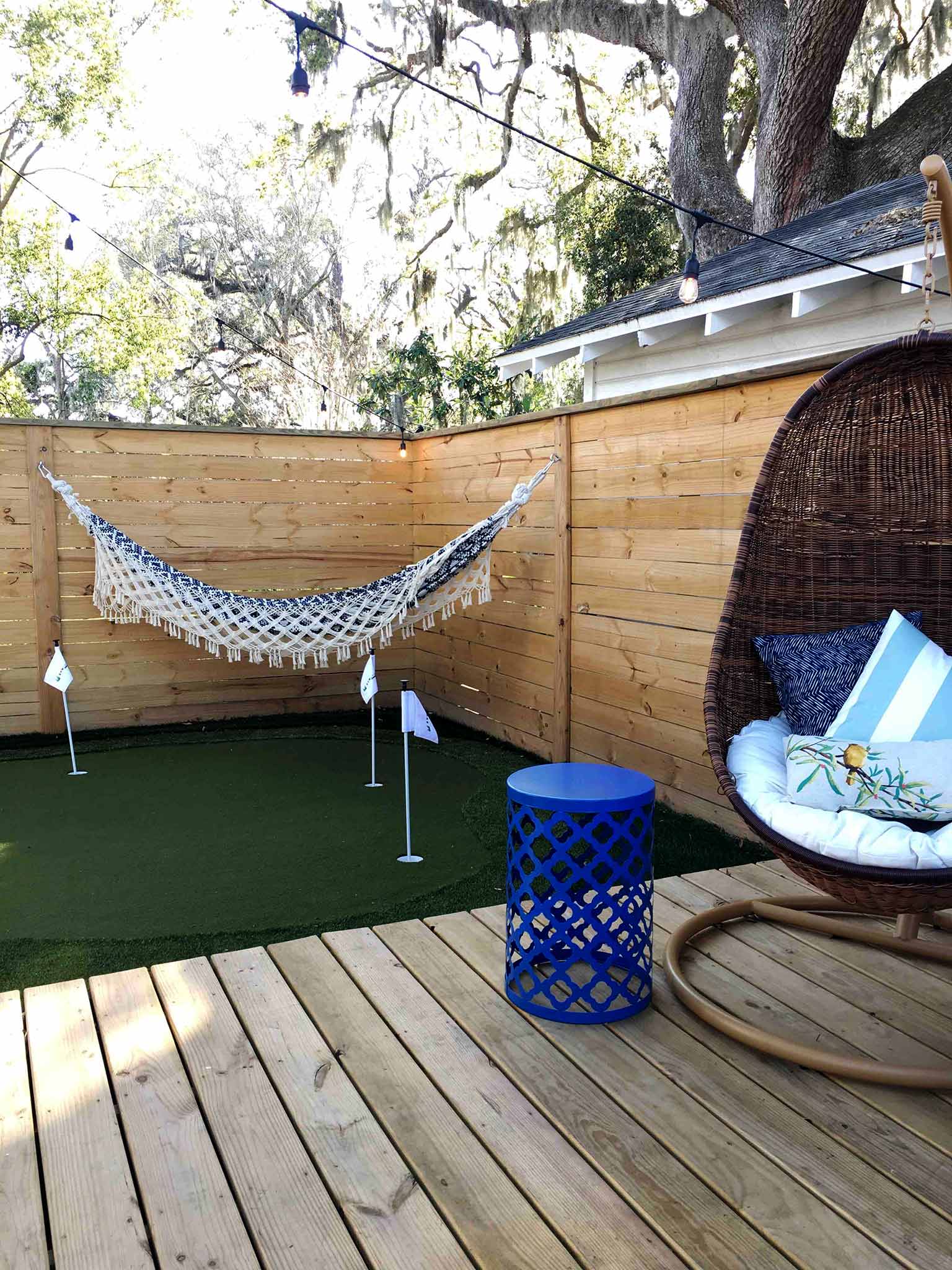 Last week, I finally went and bought some hammock hardware for the hammock that I bought over a year ago! Unfortunately I didn't foresee how popular it would be with the kids (and their friends) so I haven't had much of a look-in...however I did use it after they went to bed one night and actually fell asleep in it! It's pretty dreamy.
And lastly—the rectangle behind the guest house will be a designated play area for the kids. We have plans to make a giant chalkboard for the wall, and we have just purchased a projector for outside movie nights! The synthetic grass is great for this area as it is so durable and easy to maintain.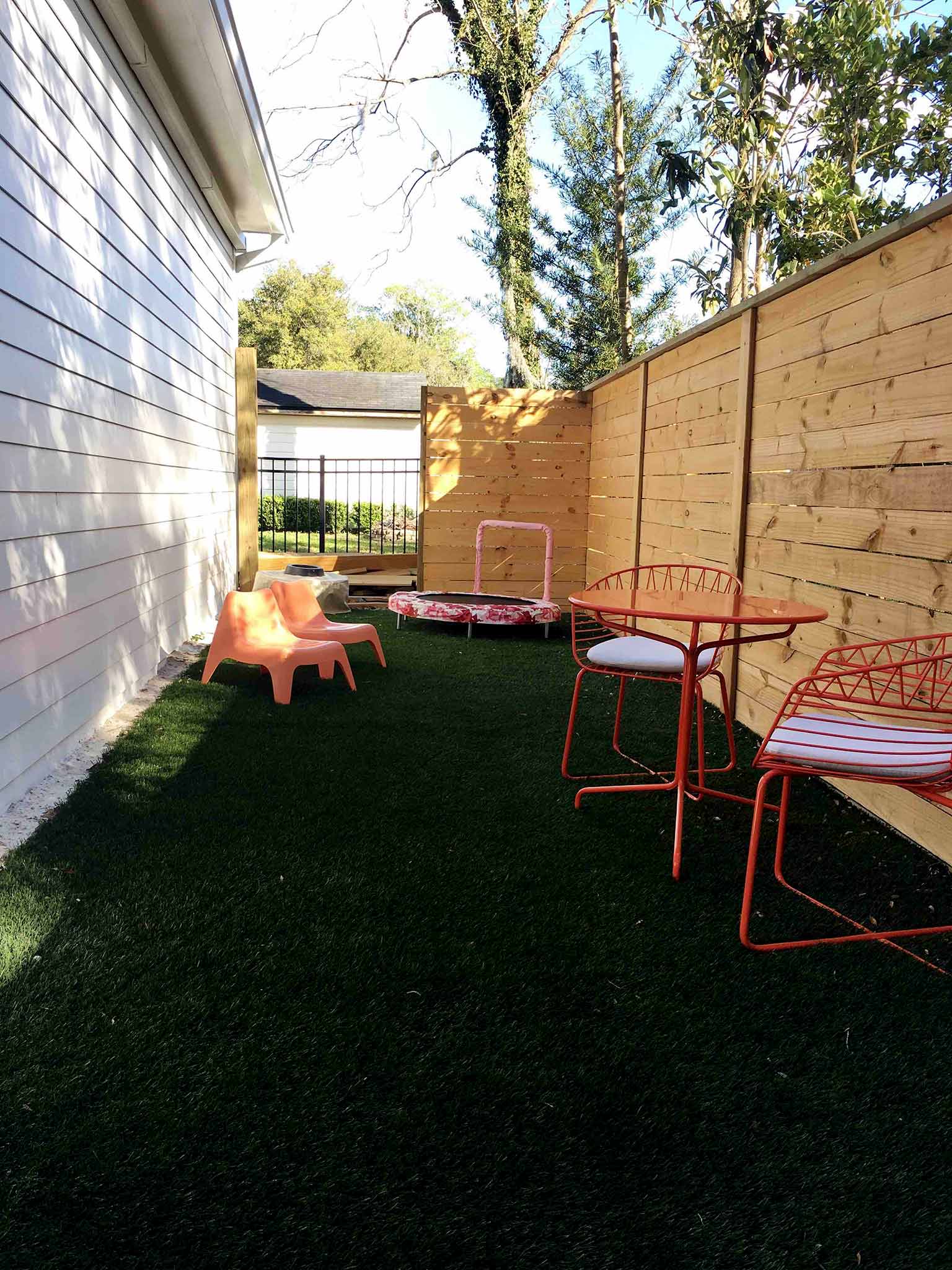 The reason we chose synthetic grass is because of the giant live oak in our neighbor's yard—it's such a great advantage as it gives us shade, but it also means that grass does not thrive, so it made sense for us to go down the synthetic route.
And what's left to do?
Well. For various reasons, this backyard project has been dragging on for months rather than weeks. It's been very disjointed involving lots of stops and starts. As you can see by the progress photos, we have the pavers and the synthetic grass in place, but the hot tub deck section and fence is still unfinished. We also have lots of those all important finishing touches—styling, plants, a bit of painting, staining all the wood, and putting rock around the edges.
So we are close, but not quite there yet. I am holding back on decorating and styling the space while we still have construction in progress, but I have put some of the main furniture pieces in so that we can use the space in the meantime. We are hopeful that in the next few weeks we can get these final things smoothed out and I will finally be able to share our finished space with you!
---