We are getting tantalizingly close to breaking ground on our build—our permit just got approved so it's almost go time! Anyway, I still have a couple of room designs to share with you—let's start with the kids' bathroom.
My goals for this space are for it to be low maintenance and easy to clean, practical in terms of storage and also cute and fun since it's the for the kids!
Our kids' bathroom will be located right next door to the laundry room—which will be convenient for all the clothes that will no doubt be dropped on the floor. To create flow and continuity between the two rooms (since the doors will likely be left open) I decided to use my favorite floor tile again: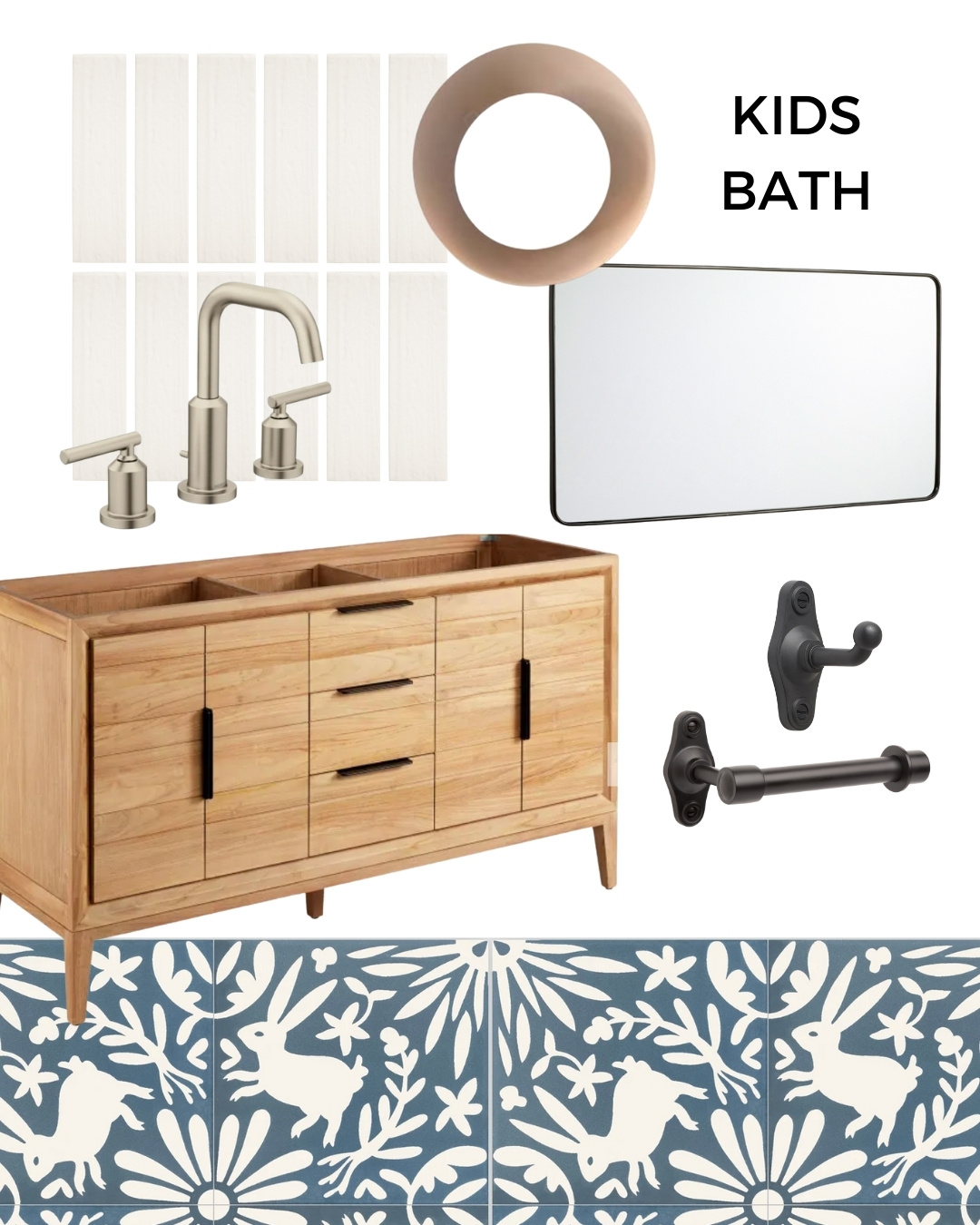 There's a practical reason for this as well though—this tile is glazed clay which means that they are very durable and won't get at all bothered by pools of water on the floor at bathtime. For the shower surround, I'm using a simple textured ceramic tile in a vertical stacked pattern. I'm opting for off-white grout since it will be easier to keep up with, and we are looking into epoxy grout for the ultimate low maintenance option. (If not epoxy, then we'll definitely be sealing it!)
I've picked out a teak vanity since it is naturally water resistant (and hopefully toothpaste resistant as well!) If our teak step stool is anything to go by, it should be very durable.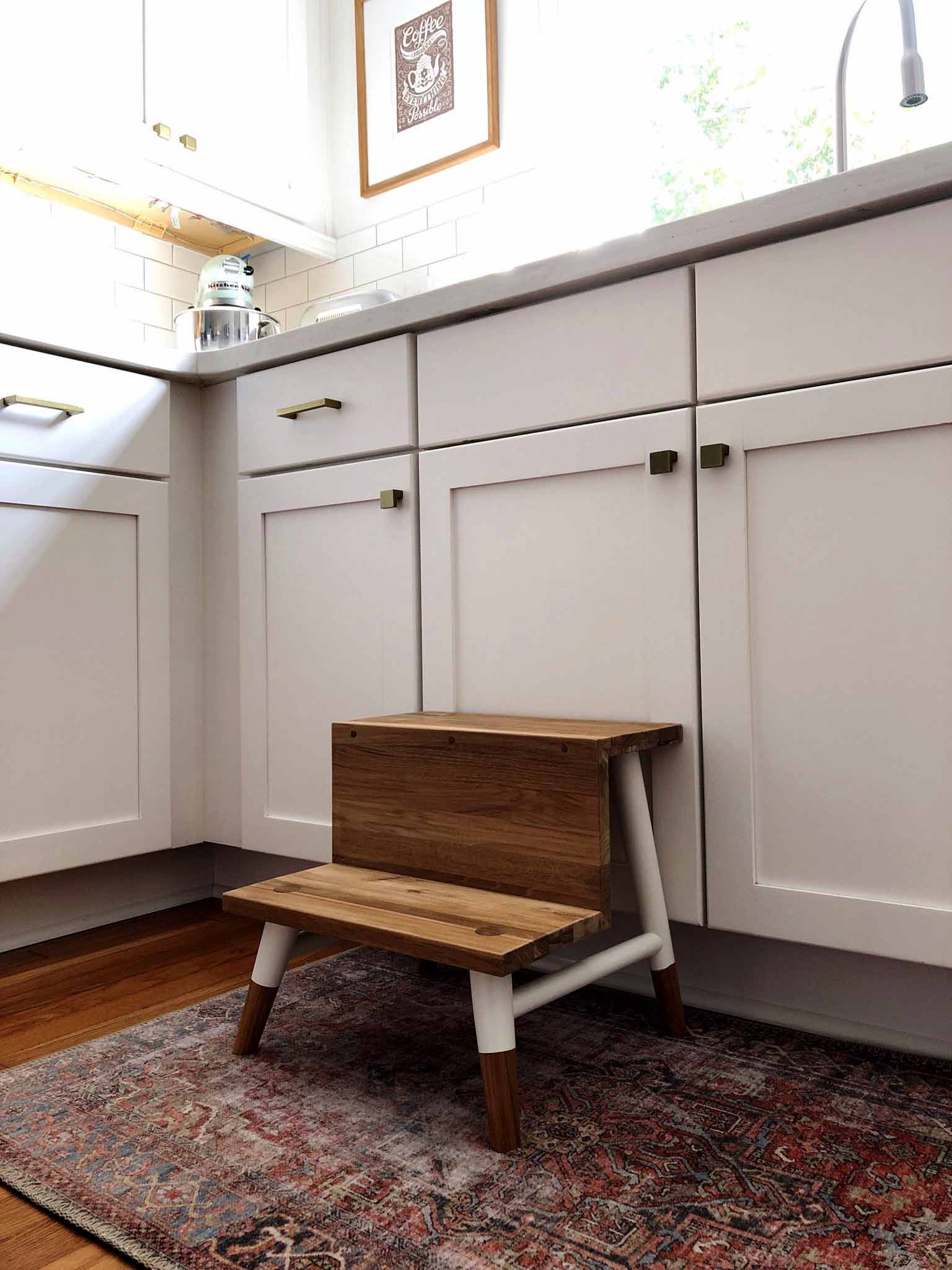 For the plumbing fixtures, we'll be using brushed nickel since it's so easy to wipe down. And for the accessory fixtures (mirror, TP holder and hooks) I'm mixing in some oil rubbed bronze to and some contrast. Mixing metals is a great way to add interest in a bathroom, as long as it's intentional—my rule of thumb is to choose one metal for all the plumbing and then layer in accents elsewhere.
Related: Vanity Mirror Round-Up, and Some Thoughts on Mixing Metals
Speaking of plumbing—let's take a moment to talk about the toilet! I specifically picked out a skirted toilet (with concealed hardware) because it's going to be a breeze to clean. It's the small details like this that are my favorite thing about building a house—I've been keeping a running list of random things for over a year now! Another detail is installing a handheld shower vs. a regular showerhead. I may not be washing the girls' hair for much longer, but my back is going to thank me in the short term.
To keep it simple and streamlined, I decided on one large mirror vs. two individual ones. Two sconces will be added above in a gorgeous blush tone—another nod to the laundry room where we are using pale pink tile for the small backsplash.
Related: Form and Function in Our Laundry Room Design
So to recap, here's some of the elements that will make this kids' bathroom extra functional and low maintenance:
glazed, durable tile choices
non-white, epoxy (or sealed) grout
teak vanity with an easy-to-wipe quartz top
lots of vanity storage for all the things
brushed metal finishes
kid-friendly plumbing fixtures
Even though it's a very practical space, I also think this room also puts some FUN into functional (sorry, couldn't help myself!) with the bunnies frolicking around and the powder coated modern sconces. I'm thinking a gallery wall on the opposite wall would be a great addition too—perhaps a spot for the girls to display their own masterpieces. I'm sure we'll have lots of projects on the go once we finally move in!
Want to be the first in the know? Sign up to my mailing list here!
Catch up on our house build plans:
Exterior
Kitchen
Living Room
Main Bathroom
Dining Room
Guest Room/Den
Laundry Room
Mudroom
Guest Bathroom
---