2022 was the year we finished our house and moved in. It was also the year we figured out some of the Big Things (jobs, businesses, visas and some major life decisions) and all of that left me feeling a bit creatively zapped.
We did manage to finish the blue room, (I thrifted a lot of furniture as I didn't want to make any expensive mistakes...and I love it just the way it is!) made some great progress in in my youngest daughter's room and the living room...but there were lots of weeks (and even some months) where I had to ignore house projects completely.
As frustrating as it felt in the moment, I don't regret it. Slow decorating has its perks. I'm getting to know this house, and we are giving each other space to grow.
2023 feels surprisingly fresh and hopeful for me. I used to feel that way about every new year, but the last few years have knocked us back a bit. Thankfully we are getting back into a rhythm now, but I'm also trying to be gentle on myself...hence why this list of projects took me a month to come up with.
Some of these I've labelled "quick win" projects—not necessarily because of the scope of the project but more that I have a vision and/or a plan, so it's just a case of implementing them. Other projects are going to take me some time...and I don't want to rush the process because I know if I do that I'll be wanting to redo it again next year!
So here are my ten projects that are in the pipeline. (I didn't plan it to be ten but here we are and it's a nice number so I'm not complaining at all!)
PRIMARY BATHROOM (quick win)
This is actually something we've been working on in January, so now it's just a case of tying up some loose ends—Stu installed the light fixture over the bathtub which was in a box blocking the linen closet door...so with that out of the way I reorganized the contents of the vanity. After that I made some decisions on art and a rug for the space. We also installed some shutters in the shower and toilet room—the downside is we've lost a lot of natural light...but I'll take that for the sake of privacy!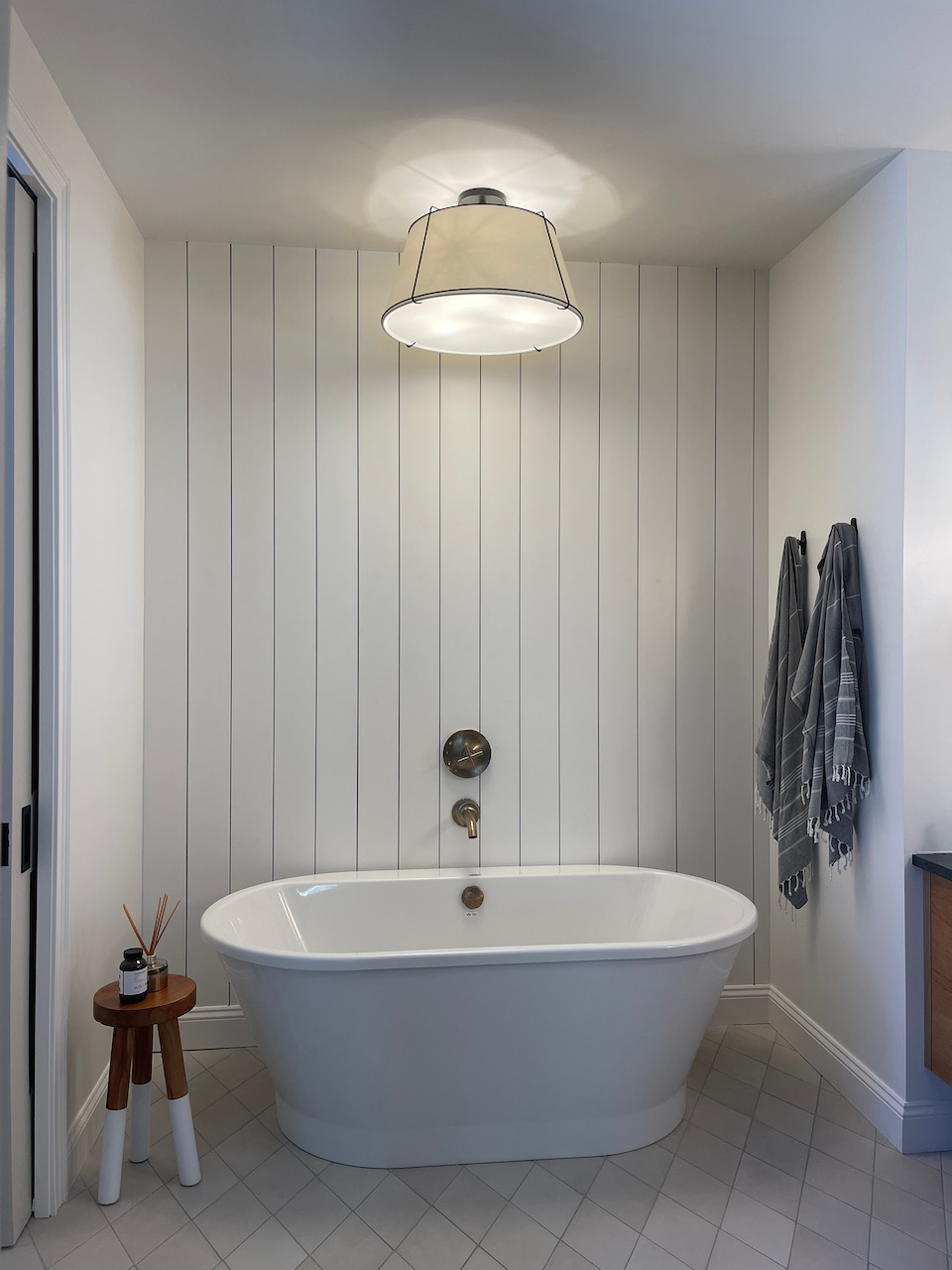 Related: Some Big Changes to Our Primary Bathroom Design!
OFFICE/MUSIC ROOM (quick win)
I am VERY excited for this one. This room is currently a big mess which will make the transformation all the sweeter. Once it's all cleaned up we'll be installing window treatments, some open shelving and adding our guitars to the wall above the piano. The girls have just started music lessons so I'm happy that they will have a dedicated place to practice.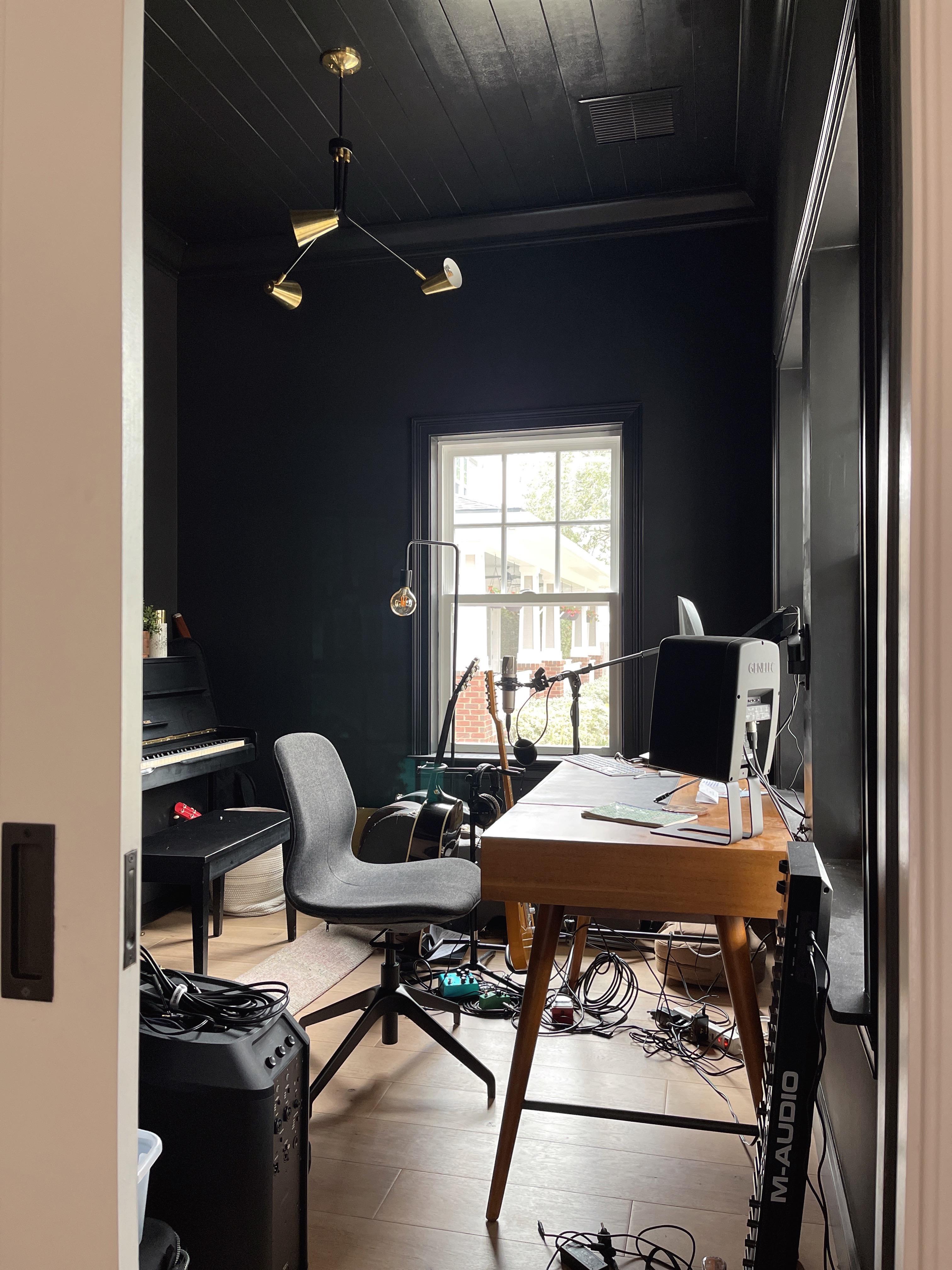 We are also switching out the light fixture...I knew as soon as I saw it installed that the scale wasn't quite right for the room, and we also need something that puts out more light. I'll hopefully be able to sell it on marketplace and recoup some of the money we spent...choosing lighting for an entire house at once was a tricky task and I think for the most part I did well, but this one wasn't a good choice for the space. You live and learn!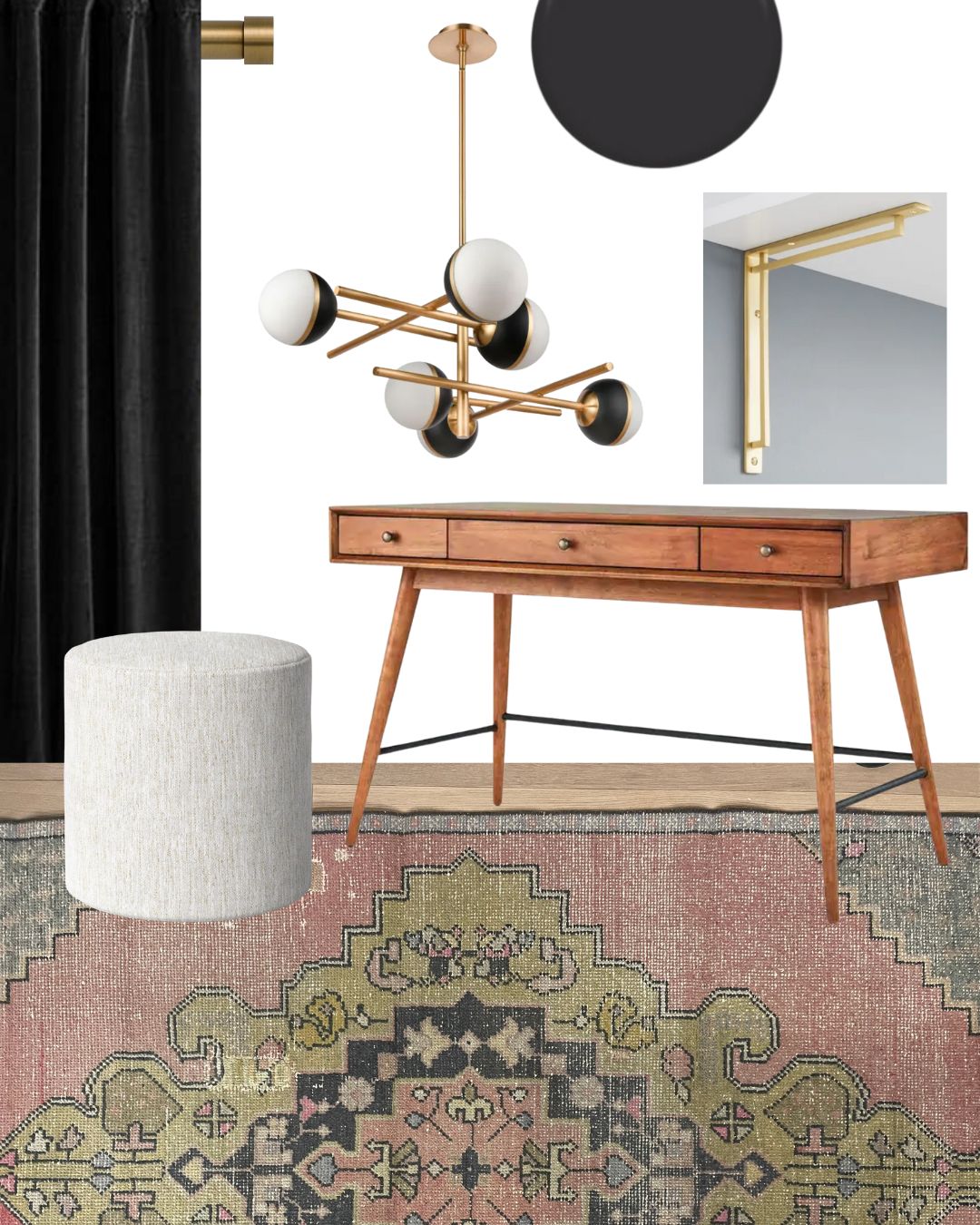 DINING ROOM (quick win)
Our dining room is crying out for some drapery and I think it will cozy up the space and help the room acoustically too—it needs dampening!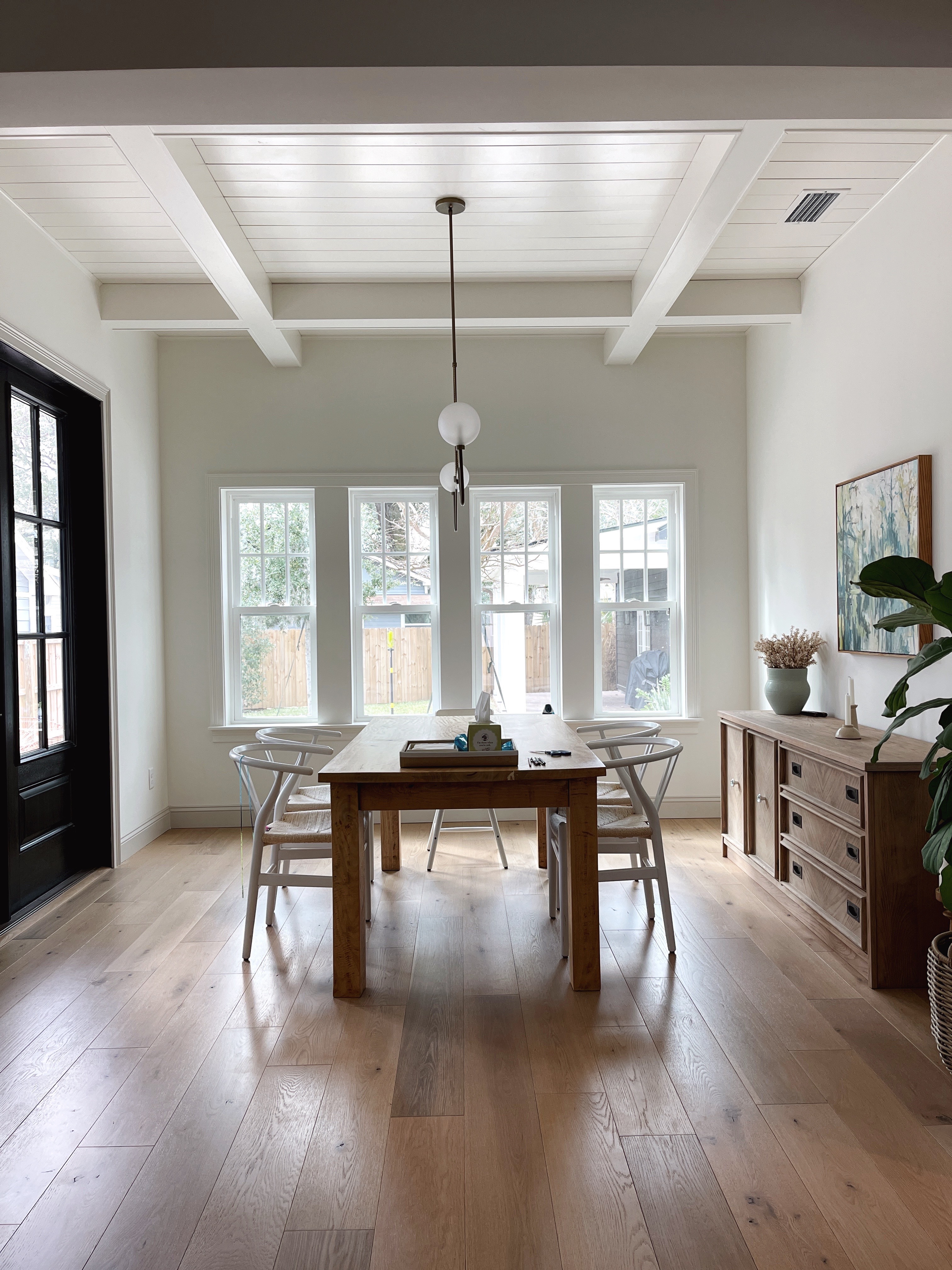 I found the console on Facebook marketplace shortly after we moved in, and I love the scale and style but not the finish, so I plan on staining it dark to contrast with our table, which also needs a quick refinish.
Related: How NOT to Refinish a Dining Room Table
Lastly, I had my eye on some new chairs which will tuck under the table and give us more room between the credenza and the table, and was able to score some even prettier vintage ones instead! They are lovely, but in dire need of a deep clean. I think I'll try cleaning the upholstery first, but they may need some fresh fabric at some point.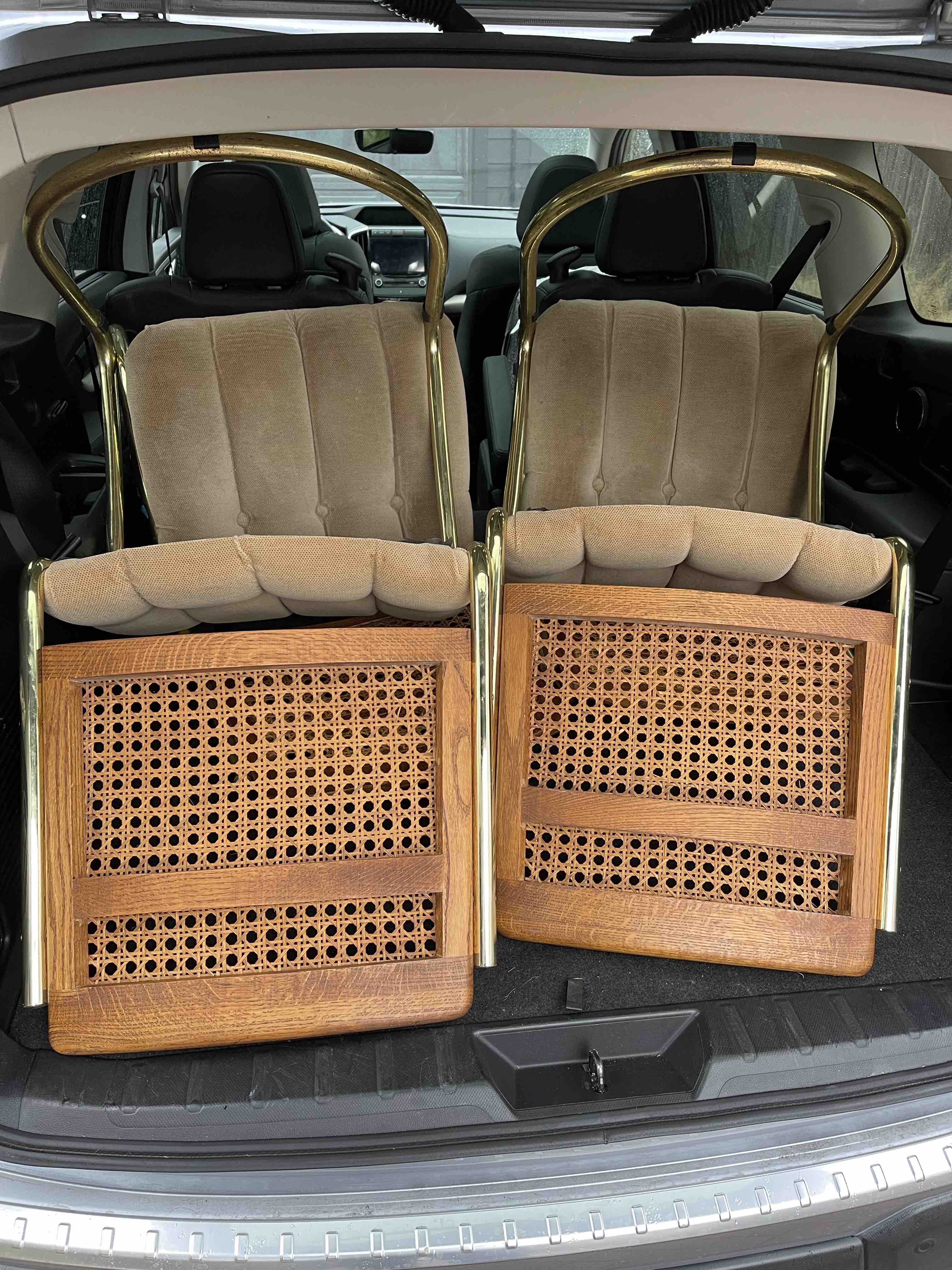 PANTRY (quick win)
Our pantry is currently stuck in the dreaded 95% zone. I have some caulking and paint touch ups to finish in here, and I've bought a multi-outlet for the charging center which should streamline things a bit. I also have a felt board to install which will come in handy for school papers etc.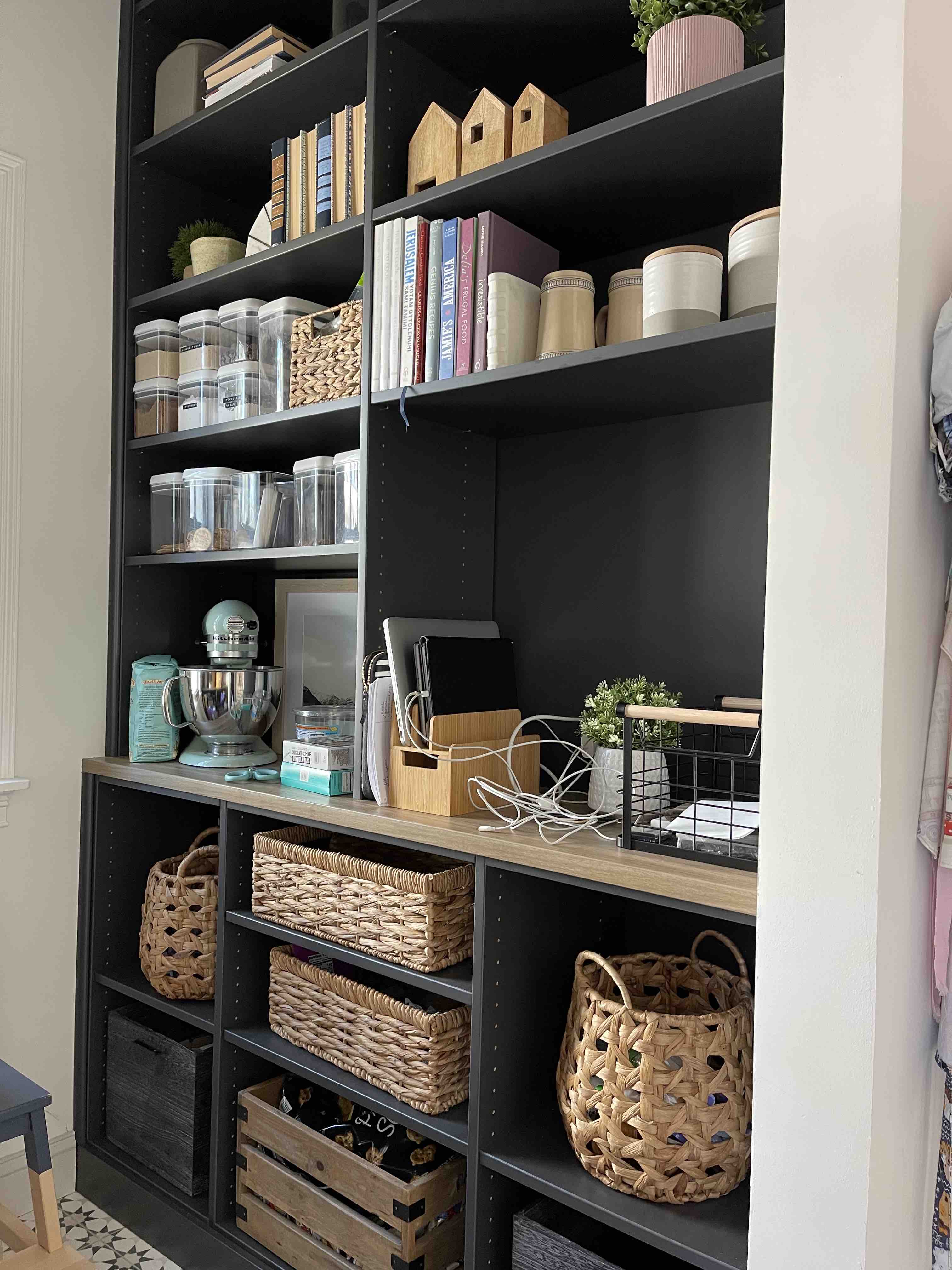 I was planning on buying some new clear containers as the seals on our plastic ones are loosening...but we have a pretty high turnover on the items I store in there so it isn't a problem right now. I'm amazed how perfectly the containers and baskets from our last pantry fit in here—win!
MUDROOM (quick win)
This is another room that just needs a good tidy up and some organization systems establishing. I may end up getting a shoe rack—we have a lot of amazing built-in storage but I tend to leave my sweaty running shoes out to ventilate a little after runs...and they rarely make it into the drawers before I use them again.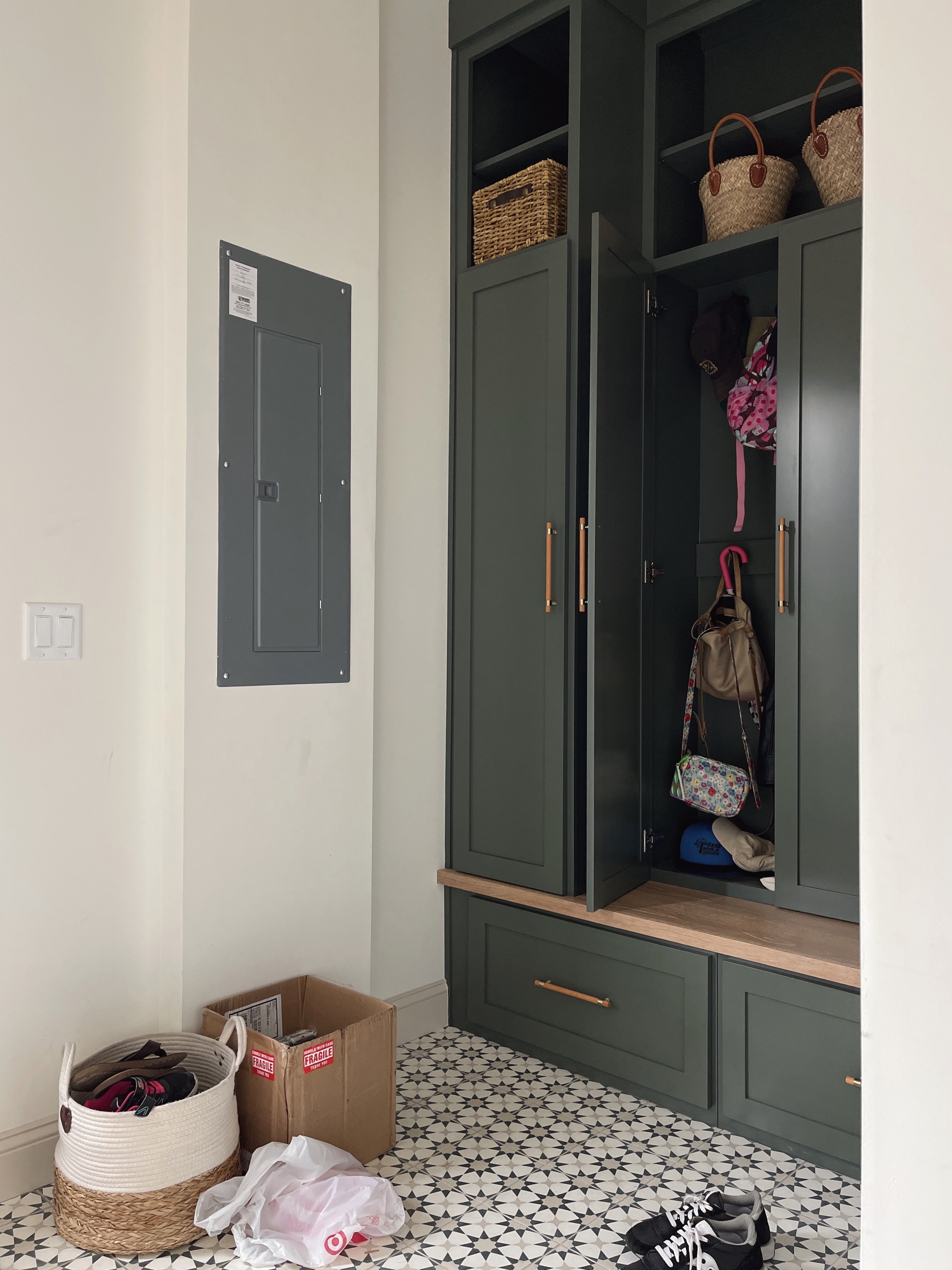 I'm planning on adding a paper roll to cover the electrical panel which worked well in our last home, and the opposite wall could use some art too.
The cement tile in here also needs attention...unfortunately during construction it got some dirty marks on it that aren't cleaning off. It was covered with paper but there were a lot of people in and out and the tile took the hit. I haven't tried anything other than multi-purpose cleaner yet, so I need to do some research and work out how to get it back to it's original state.
BACKYARD (big project)
This one is a bit overwhelming for me. Our landscaping looked fine at first, but 10 months on it's not looking so great, and there are some tree placements that are not going to work longer term. I think in hindsight I should have just asked for the bare minimum in terms of landscaping...but again...you live and learn.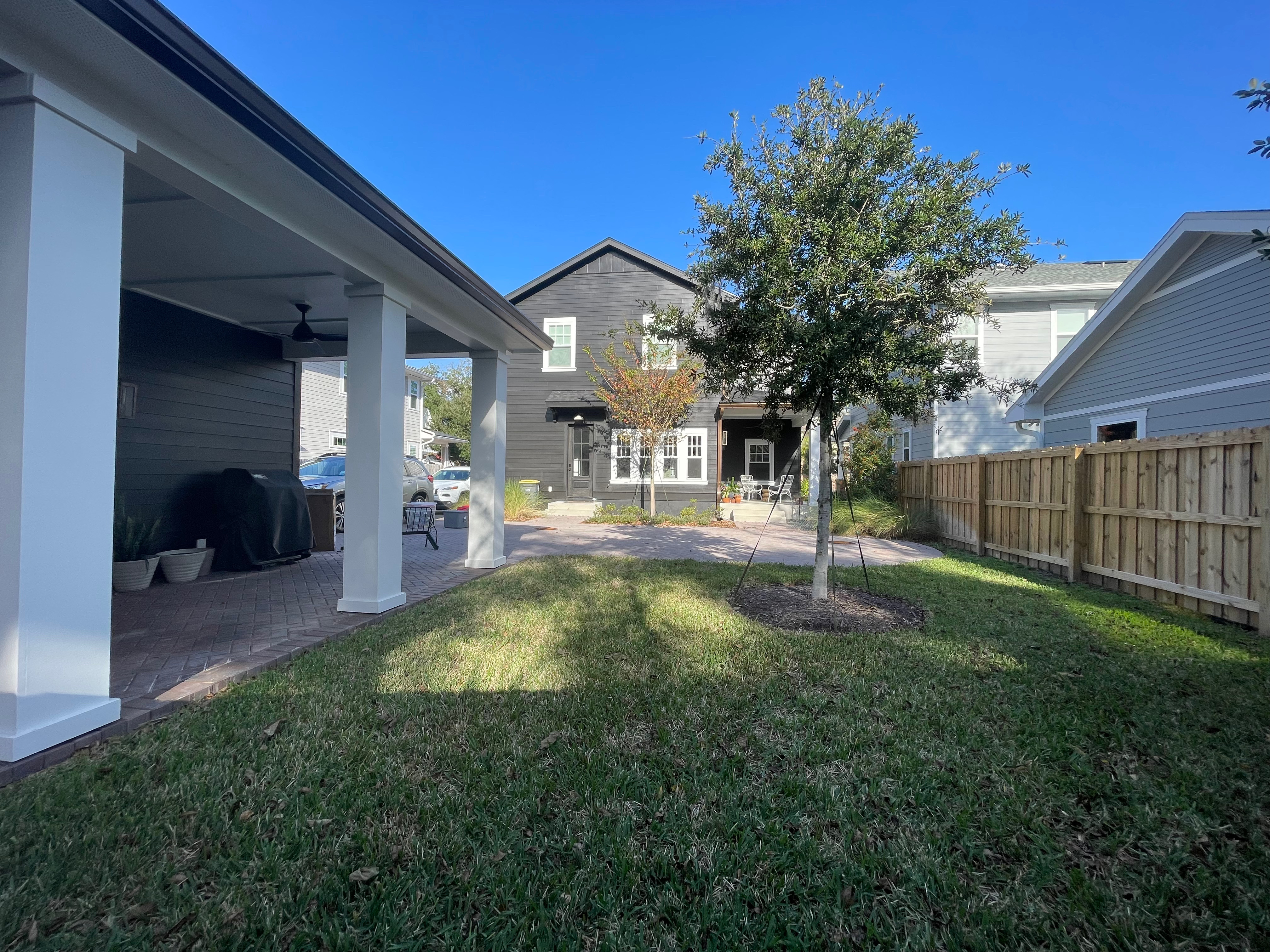 Since I know almost nothing about planting, I hired Kelly at The Elegant Garden to draw up a plan for us. I said I wanted it to feel like an English country garden...but using as many low maintenance, Florida-friendly plants as possible. She has an incredible eye for design and knows her stuff when it comes to plants so we are in good hands.
Here's one of the photos I took in England that I sent to her as inspiration: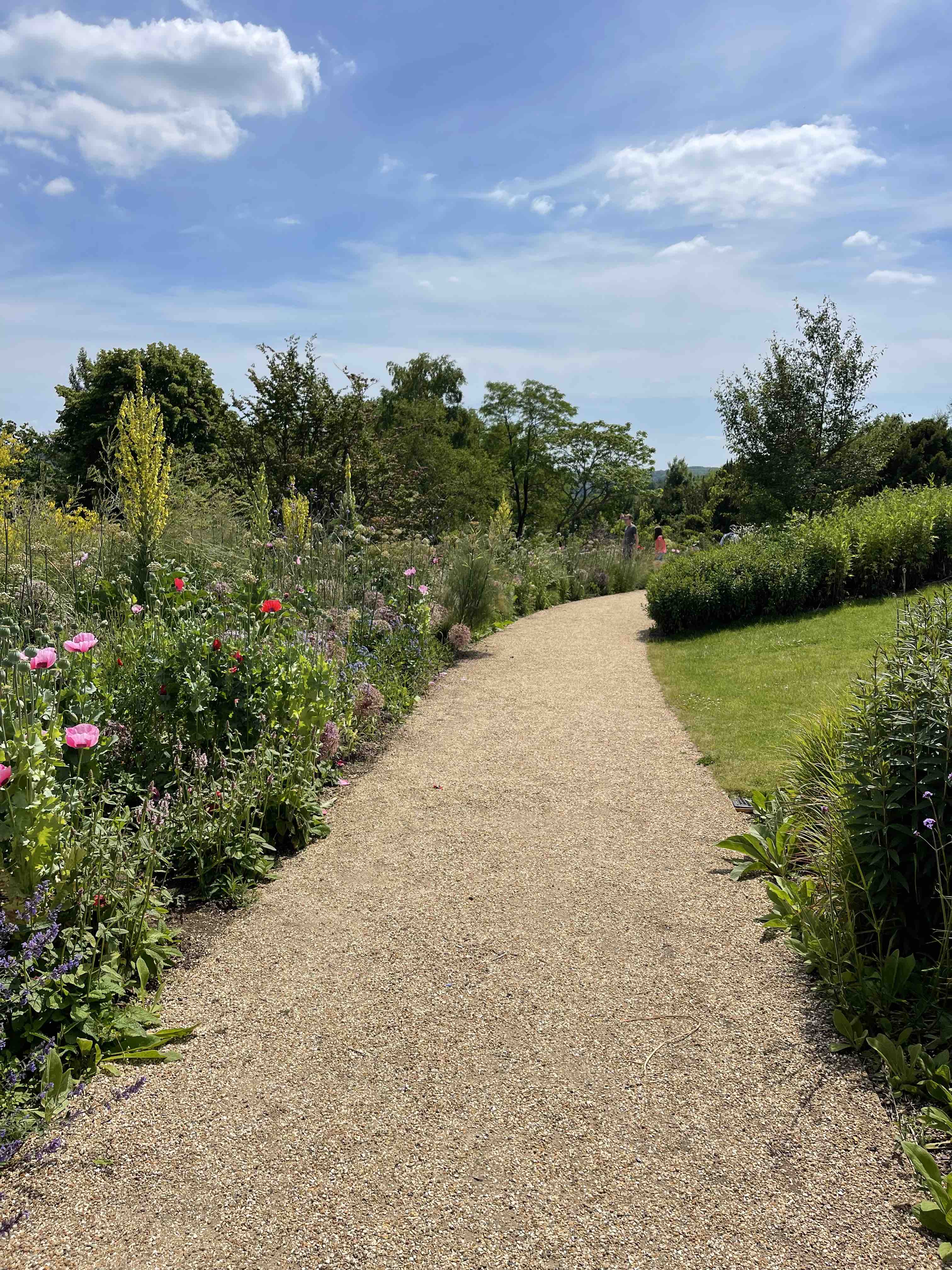 Kelly has connected us to a landscaper who also knows his stuff. He has pointed out a few areas that need to be fixed in terms of drainage, so that will help the planting longer term and stop the mulch getting washed out every time there's a downpour. We hope to get this work done this month/next, which is exciting!
Once we have the landscaping sorted, I'll begin to think about furniture. We'll need some kind of dining furniture, lounge seating and some chairs to go around the firepit (maybe I'll also look at a coffee table to sub in for the warmer months...)
LIVING ROOM (big project)
I made a lot of progress in the living room at the end of November thanks to the realization that we needed a comfy space to gather over the holidays. I added a rug, some accent chairs and splurged on a coffee table, and plastered the fireplace.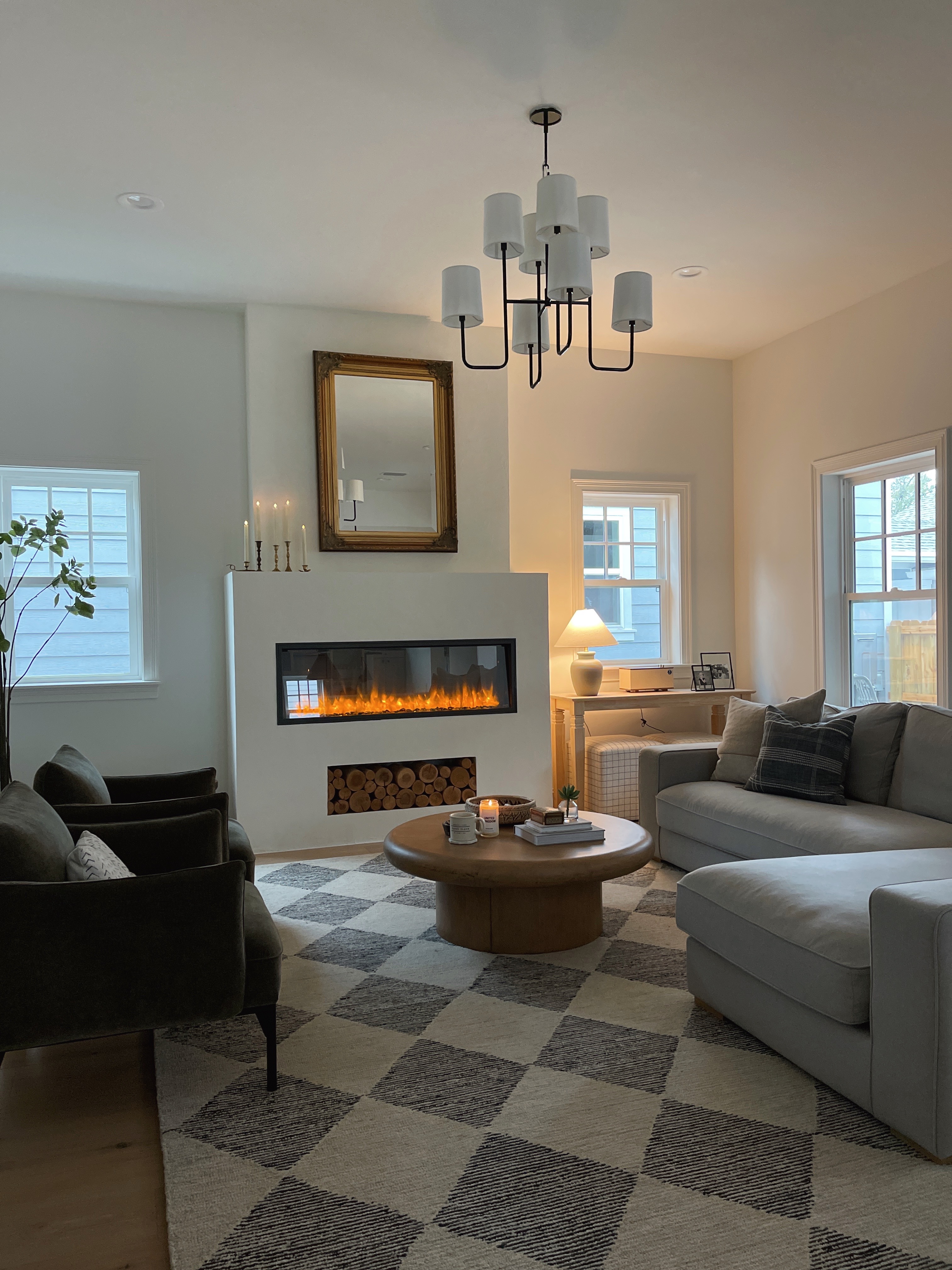 I didn't get the chance to finish up the fireplace project completely (95% club strikes again...) so I need to go back and touch it up in places. Once it's all done I'll share how I did it and the products I used!
There's a big empty niche that needs a built-in, but we are still saving up for that (the landscaping is the priority right now). I'm also pondering what to put on the big wall next to the niche...perhaps some DIY art? It's worth a try at least!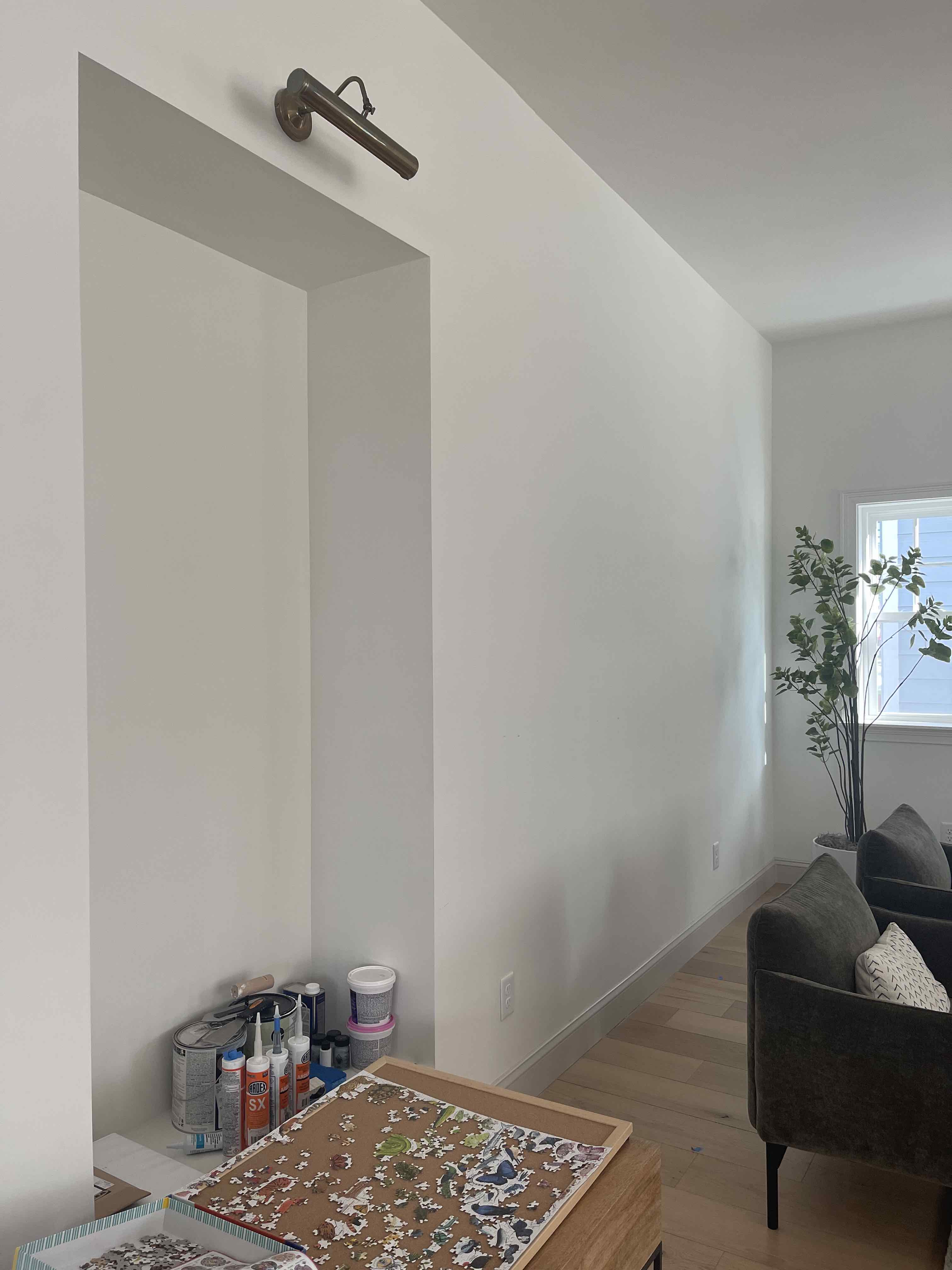 I guess I should also add that unfinished puzzle to the project list.
Other than that, this room just needs some finishing touches—the unfinished console table needs staining, I'm thinking about adding some simple roman shades, and we need more lamps as the overhead lighting is too bright at night. I don't want to overdo it in terms of styling...but I want it to feel complete.
BIG KID'S ROOM (big project)
Designing a room for a 10yo who doesn't really know what she wants is quite the conundrum. Unfortunately, we've landed in a bit of an awkward spot where I've ordered things here and there but nothing is quite working together. I need to put some creative time into this...and as much as I want my daughter's input, I think I need to go it alone for this one. I know her, and I have a pretty good idea of what she likes and doesn't like. I think it would be fun to move her out of the room for a week and then let her see the big reveal. Or it could be a huge fail. But I'm at the point where I'm willing to take the risk.
This room has a ton of potential—the window bench is so dreamy!
One thing is for certain—we're going to be adding some bunny wallpaper in here! She hasn't wavered on that idea in at least...6 weeks?
Related: Patching, Painting, and (Wall)Papering
FINISH UP LITTLE'S BEDROOM (quick win)
We made so much progress in this room including building the loft bed, choosing furniture and a rug and purging and organizing all her belongings so it fits nicely...but I haven't added many final touches. The girls shared a room in the last house, so all the artwork needs to be sorted through so we can decide which works best in each space. They also have a little vestibule outside their bedrooms where the doll house lives—and this could be a fun spot for a gallery wall. I don't think it will take much to finish it up, but I probably need to wait until I have her sister's space figured out.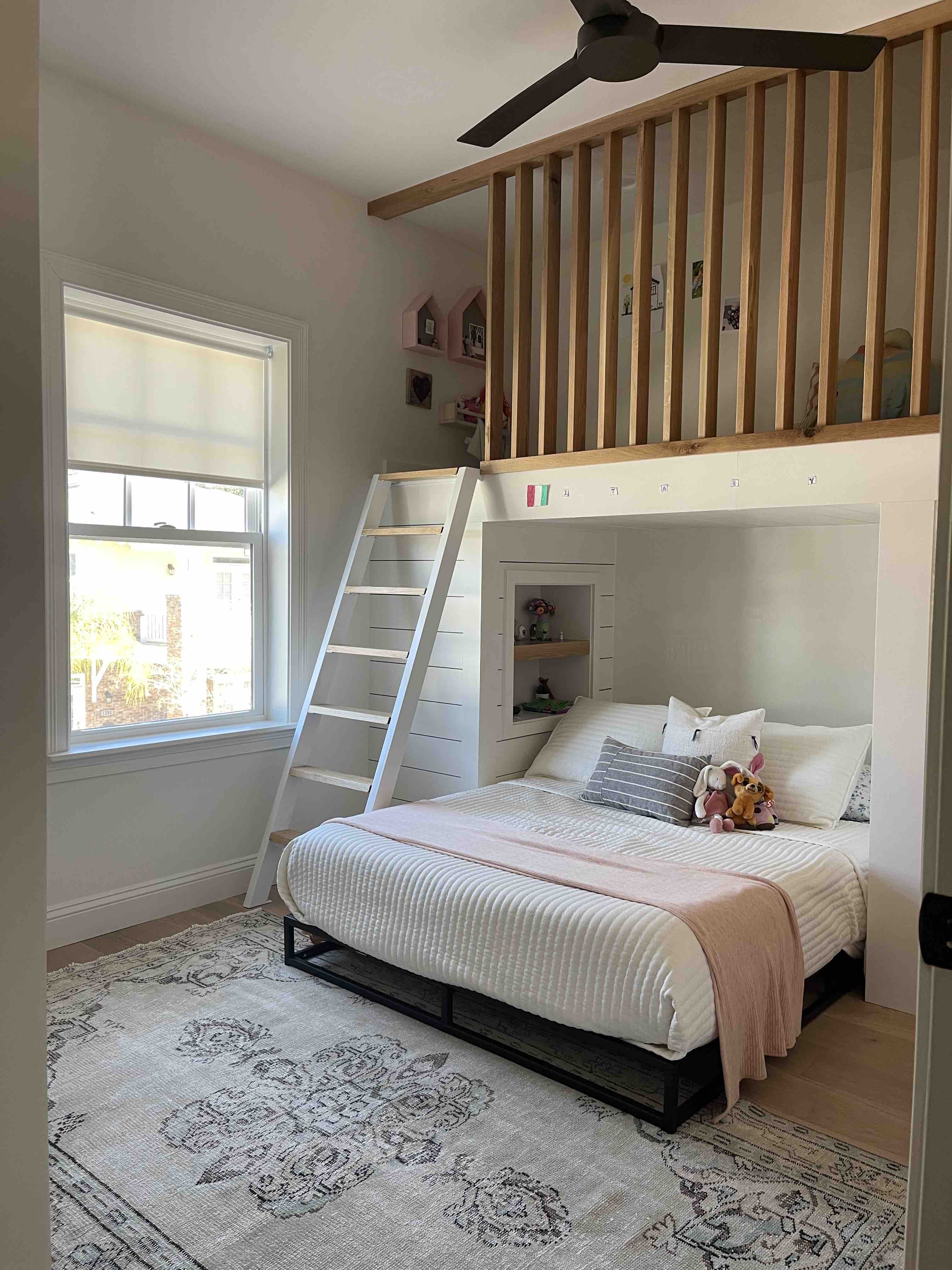 PRIMARY BEDROOM (big project)
This one is lowest on the list because we need to purchase furniture and I have NO clue yet of how I want this room to look or feel...other than I know I'd like a sitting area.
I'm an introvert and a homebody which means that occasionally (ok...at least once a day) I need my own space away from everyone else. Our bedroom is actually bigger than I wanted it to be...but now I'm envisaging a corner with a settee and an ottoman and I'm thinking it could end up being my own little spot. I'm going to keep dreaming and we'll see where it ends up!
So there they all are. 11 months of the year left and 10 projects to go. Honestly, I'm not sure how far into the list we will get this year, but as long as we are plodding along and enjoying the journey of settling into our home, I'll be delighted!
---