This post is sponsored by Emtek. The content and opinions expressed here are my own.
If there was a competition for the top spot of which decision during the house build has been the hardest to make, then choosing our interior door hardware would be a strong contender! It was important for me to find a style that would work well throughout the house, a metal finish that would complement the other fixtures and quality hardware that would hold up over time.
Door hardware is probably not the first thing you'll notice in a room, but it's definitely not something to be overlooked. I've said it before and I'll say it again...details like these make a big impact on the way a home feels, so I don't regret all the time I spent going back and forth on this!
With all the different styles, finishes and types of hardware to choose from, it can be a little overwhelming to know where to start and how to narrow it down. I learned a whole bunch through the process of choosing our interior door hardware, and I'm going to break it all down here.
START WITH FUNCTION
A good starting point is with the practicalities, and working out what kind of door hardware you will need in your home. I used our house plans to make a list of all the interior doors, and then tallied up the different types of hardware we would need:
Passage hardware (for doors that don't need to lock)
Privacy hardware (for doors that need to lock eg. bathrooms)
Dummy hardware (one-sided "fake" hardware for reach-in closets and the fixed side of a set of double doors)
Flush pulls (for our pocket doors)
With this list in hand, the next step is to consider the style of interior hardware that will work best with your home.
CHOOSING A STYLE
Door hardware is a great way to reinforce the overall design style of your home. It's subtle, but it really does make a difference. Although I'm definitely mixing it up with different decor styles, overall I want the bones of our home to feel timeless and classic, so I was drawn to more traditional hardware that would bring some age and depth to our new construction.
The other thing to take into consideration is the interior door style. Our interior doors are simple 2-panel shaker style which have the potential to feel very modern/minimalistic paired with clean-lined door hardware. Instead I opted for a classic rectangular rosette which has a decorative detail around the edge, along with simple Providence Knobs to hopefully achieve a more transitional look.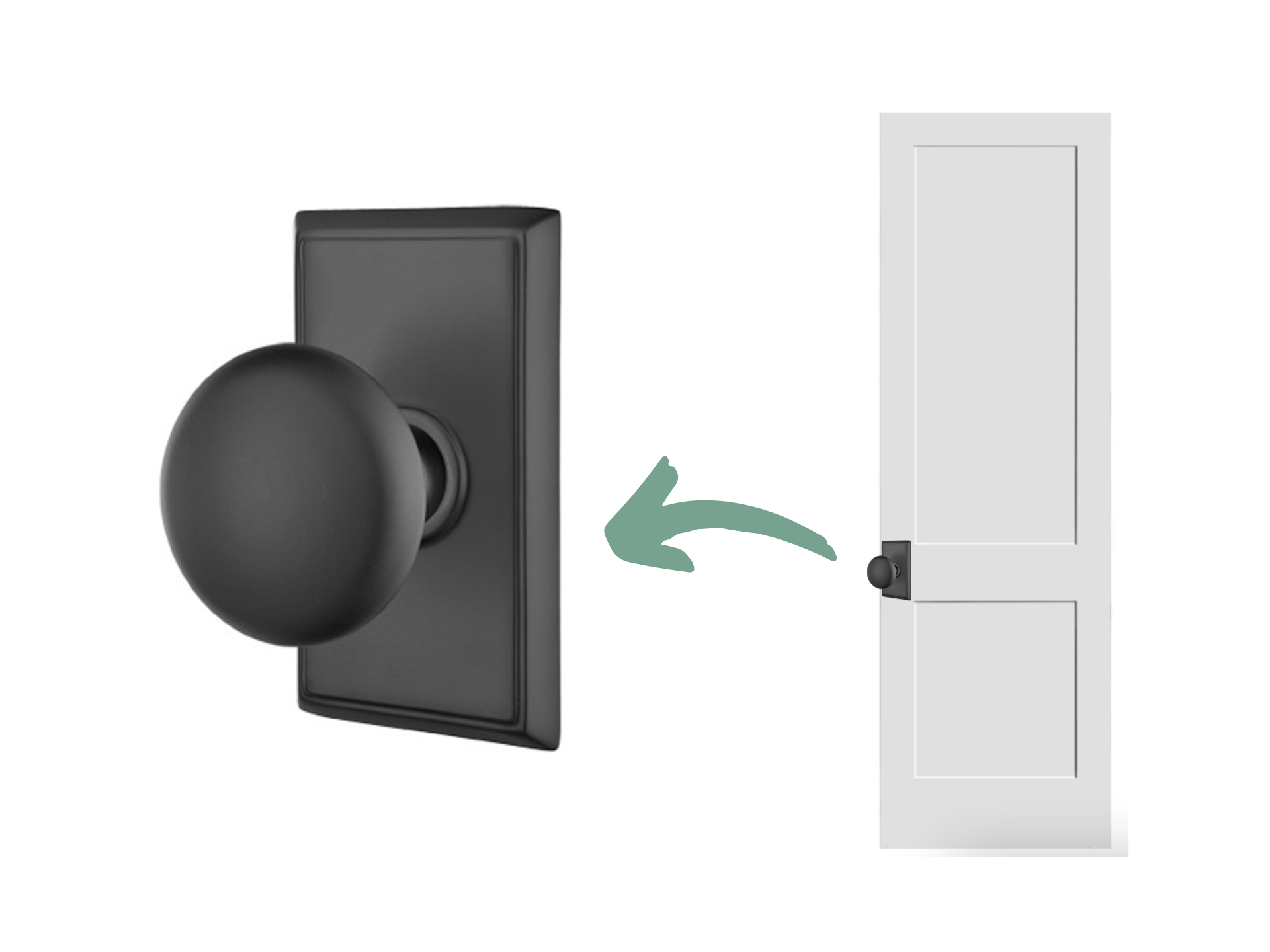 Providence Passage Knob
For the most part, this is the style of hardware I'll be using everywhere in the house, but there are a few doors that get special treatment. All the pocket doors (the office, laundry room and toilet room in the primary bath) will have 6" flush pulls. The dining room french doors leading to the back patio will have Merrimack Levers instead of knobs since they are exterior doors. And the kids' bedrooms upstairs will have Melon Knobs with Rope Rosettes for the closet doors—a fun little detail that will only be noticed once inside the room.
Overall, I am keeping the style as consistent as possible, but it can add interest to change it up a little, as long as it's done with intention.
CHOOSING A DOOR HARDWARE FINISH
Picking a finish was the hardest part of the process as there were so many good options to choose from. I changed my mind multiple times because there were a lot of different elements to consider.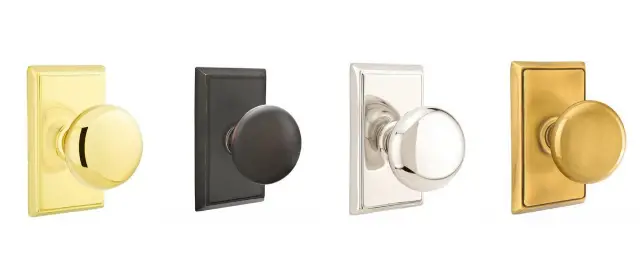 L-R: Unlacquered Brass | Oil-Rubbed Bronze | Polished Nickel | French Antique Brass
My first consideration was the practicalities of each finish. I love the look of unlacquered brass and polished nickel, but could my perfectionist side handle the fingerprints? Probably not. For that reason, I decided to stick with a matte option.
That narrowed things down a lot, so at this point it was choosing something that would complement the door color (SW Modern Gray—a light taupe) and the other fixtures I had already decided on in the house. The hardware finish would essentially become the main metal finish in the house since it's repeated everywhere, so it was important for me to get it right.
I eventually landed on Oil Rubbed Bronze which is something I never would have considered at first. I think I'd discounted it as brass and matte black are having a moment right now, but when I took a step back and looked at how it might work in my home, I realized that Oil Rubbed Bronze could be the perfect match.
Emtek's Oil Rubbed Bronze finish is a beautiful rich black/brown with an aged feel. It provides that high contrast look—similar to matte black, but with more softness. It's a true "transitional" finish—it feels both modern and timeless, exactly what I wanted. It will complement the accent metal finishes I'm using (brass and nickel) and act as a neutral anchor to pull it all together.
METAL FINISHES: TO MIX OR NOT TO MIX
I'm a big fan of mixing metal finishes when it's done well. It adds a lot of depth and character to a space. However, my personal preference is to stick to one metal finish for all the interior hardware so that it feels cohesive throughout. I will be layering in different metal finishes in other areas—lighting, mirrors, and plumbing fixtures.
The one area I'm breaking my own rule (although you might not even notice) is with the flush pulls, which are actually solid bronze vs. brass with a bronze finish.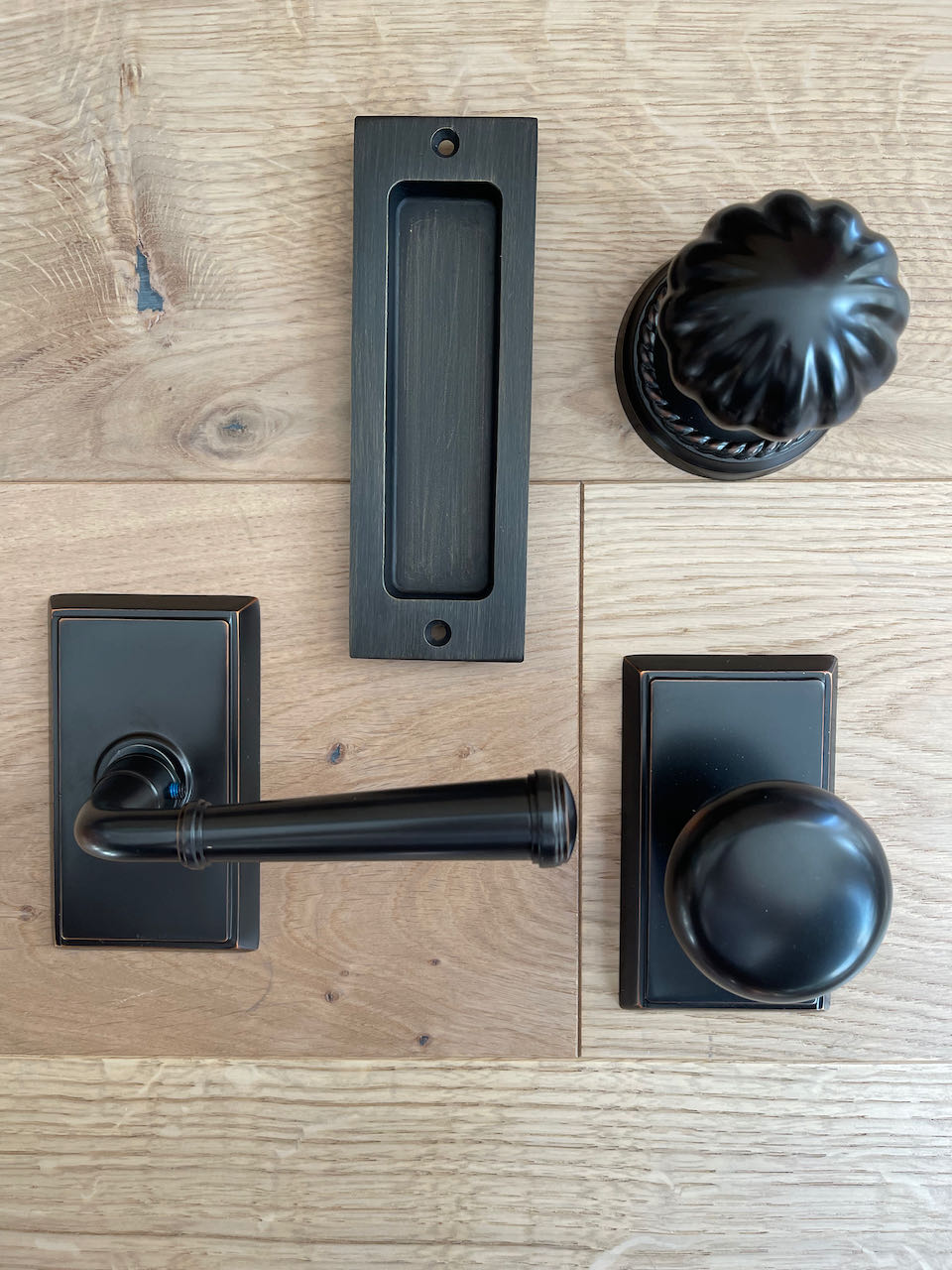 Merrimack Lever with Rectangular Rosette in Oil-Rubbed Bronze
6" Rustic Modern Flush Pull in Medium Bronze
Melon Knob with Rope Rosette in Oil-Rubbed Bronze
Providence Passage Knob with Rectangular Rosette in Oil-Rubbed Bronze
It's also a good idea to match hinges and accessories (eg. flush bolts, ball and catch) to knobs/levers. Emtek has matching hinges available for all their finishes.
MY TOP TIPS FOR CHOOSING INTERIOR HARDWARE
To recap, here are my tips for choosing interior hardware:
1. Function goes first: make a list of what you need.
2. Consider the style of your home and your interior doors.
3. Mix up styles if you like, but don't overdo it.
4. Choose a finish that works with the style of your home—don't worry about trends.
5. Be consistent with your door hardware finishes throughout the house. Add accent metal finishes with lighting and other fixtures.
If you are on the hunt for hardware for your home then look no further! Emtek is such high quality and I cannot WAIT to see this beautiful hardware installed in the house—just a few short weeks away now.
UPDATE!
Our home is built and I am thrilled with how the door hardware looks. It is timeless and looks like it belongs—exactly as I was hoping! Here's a few sneak peeks of our new home: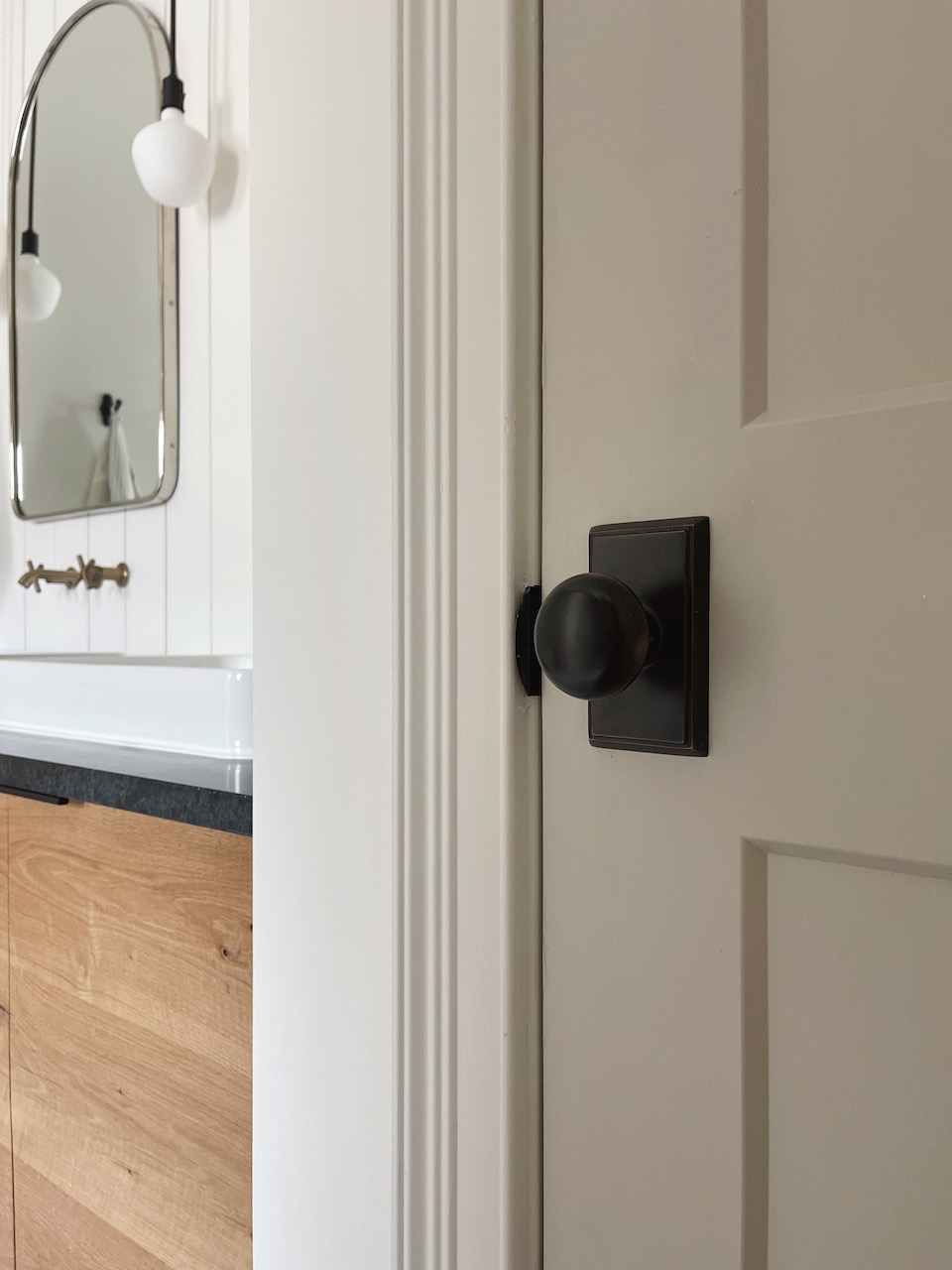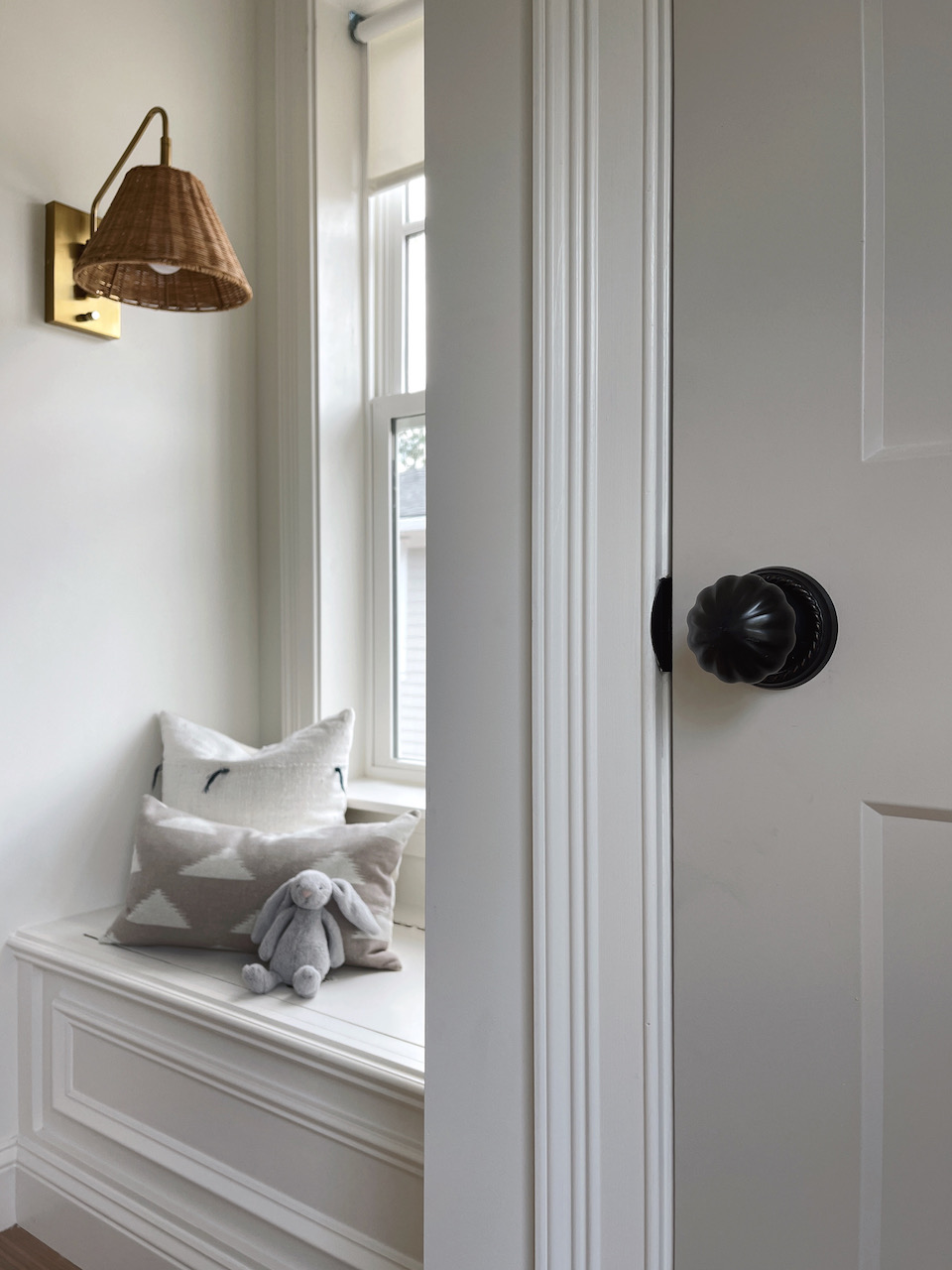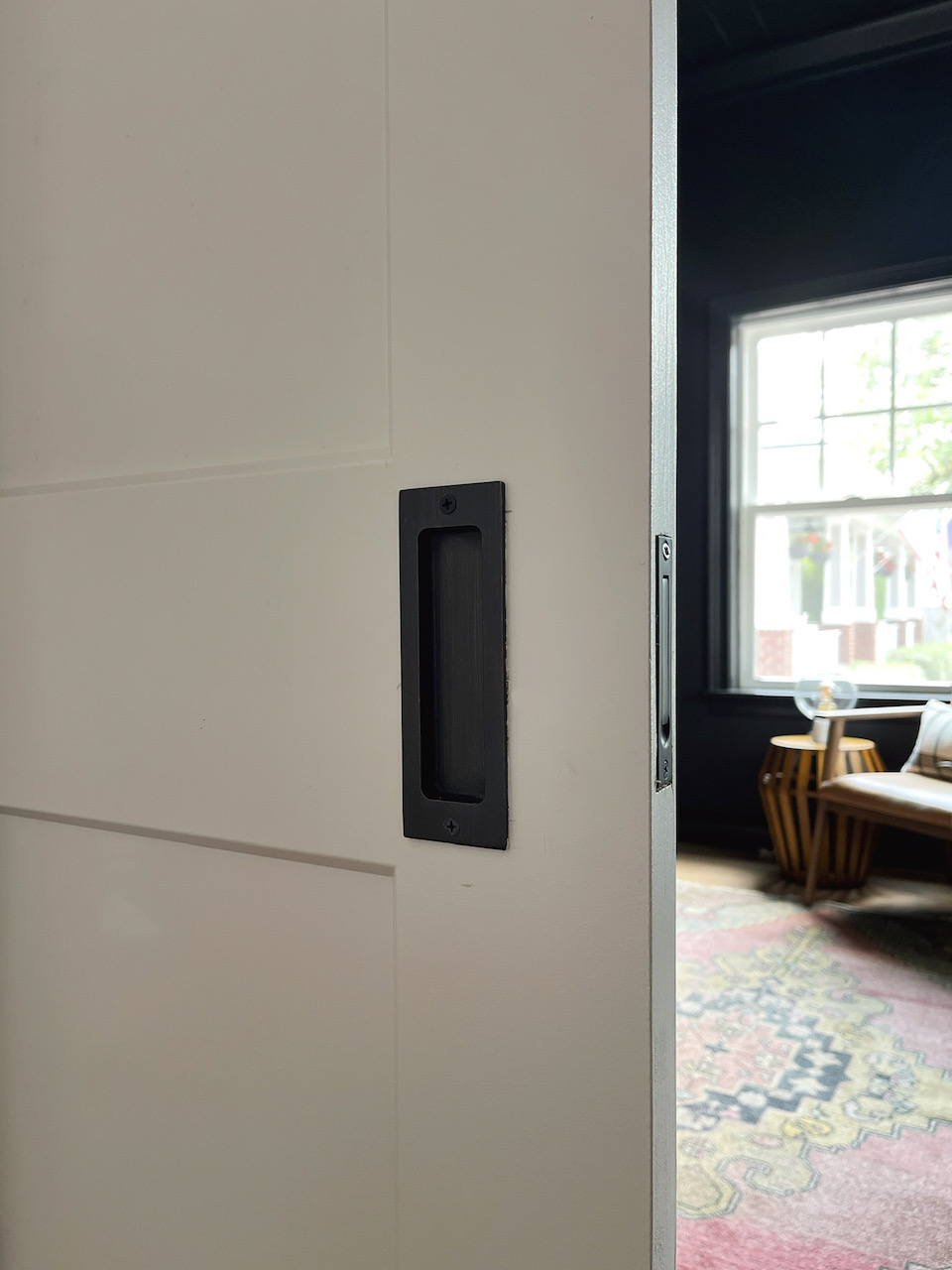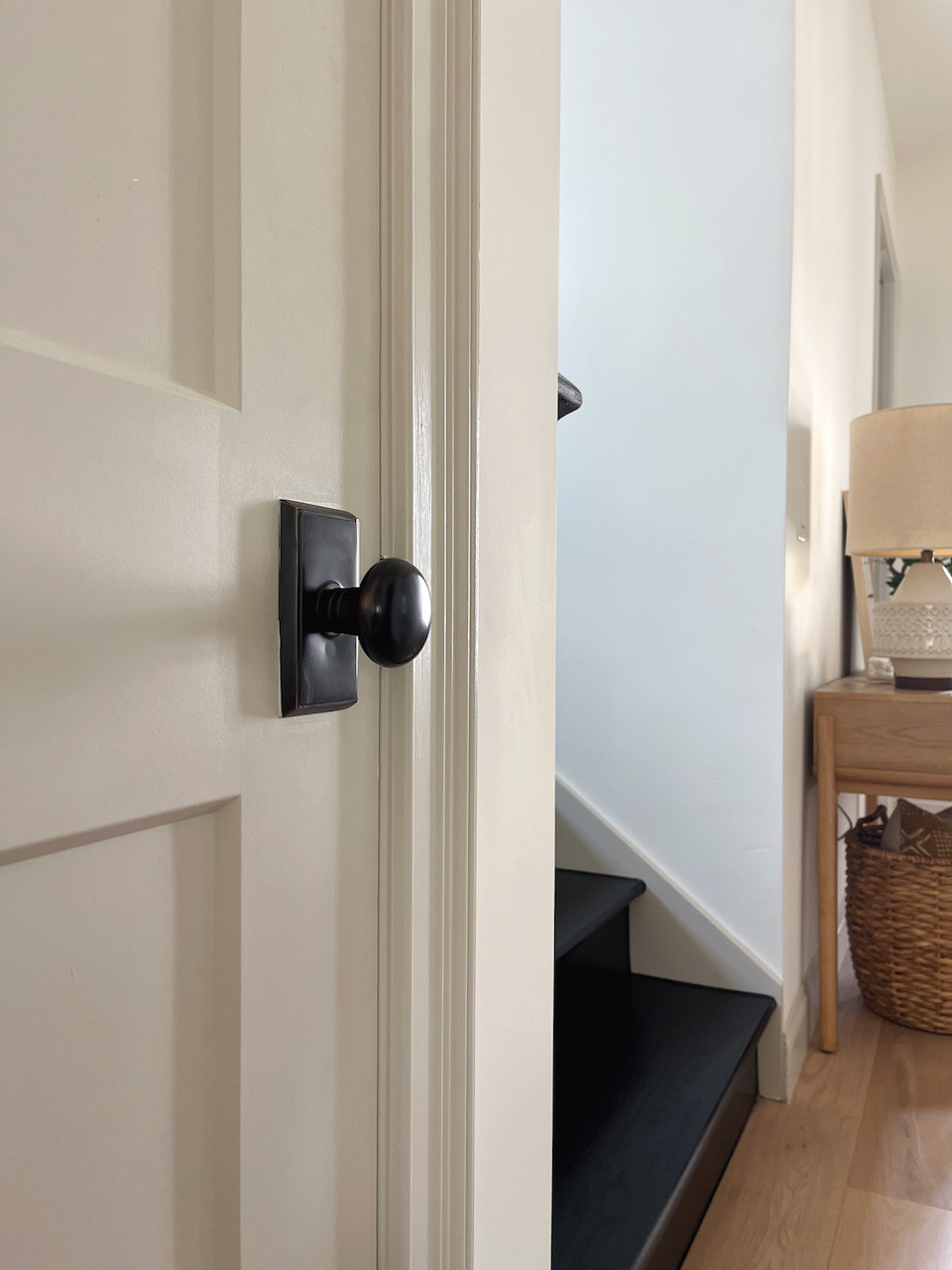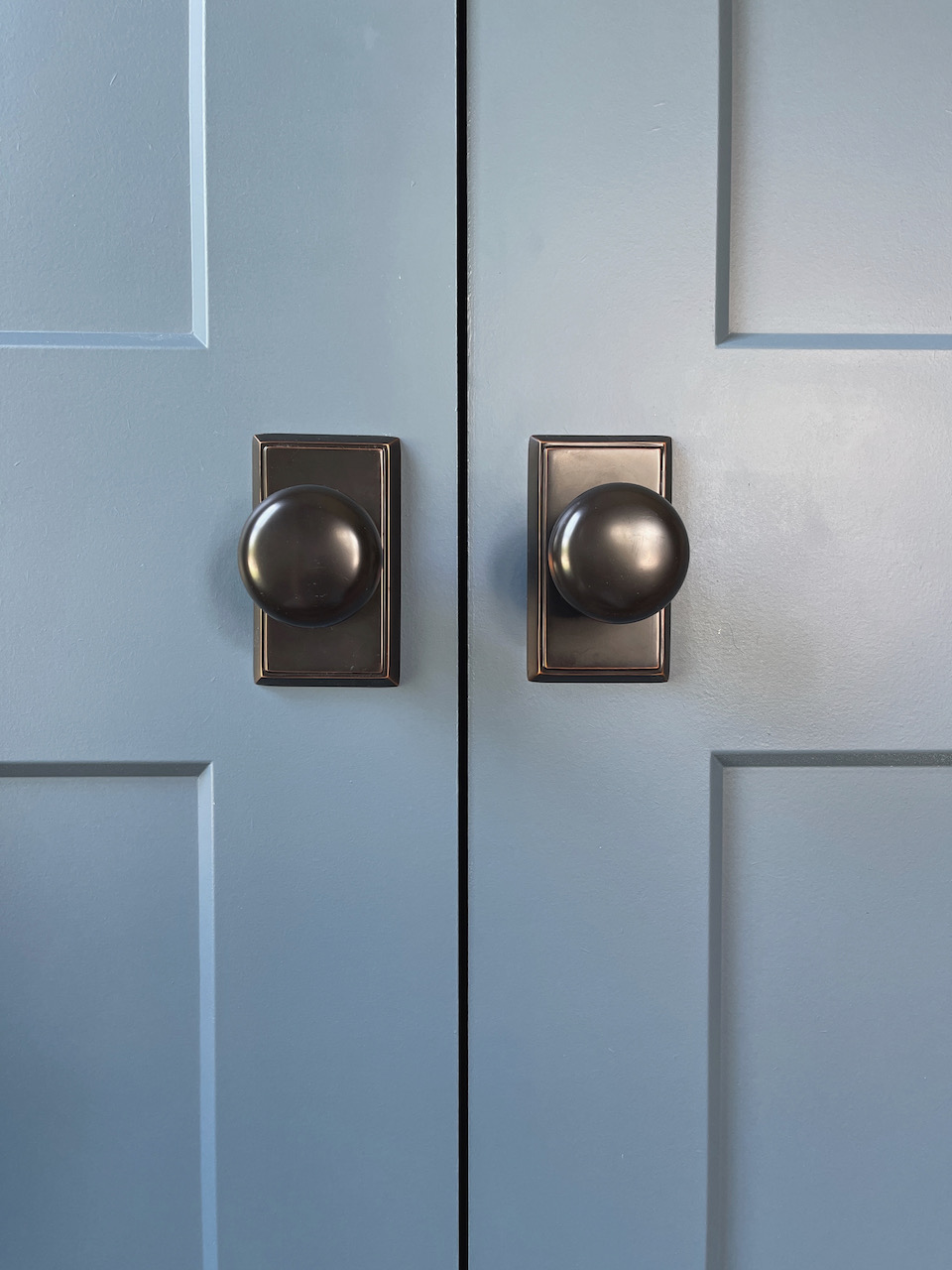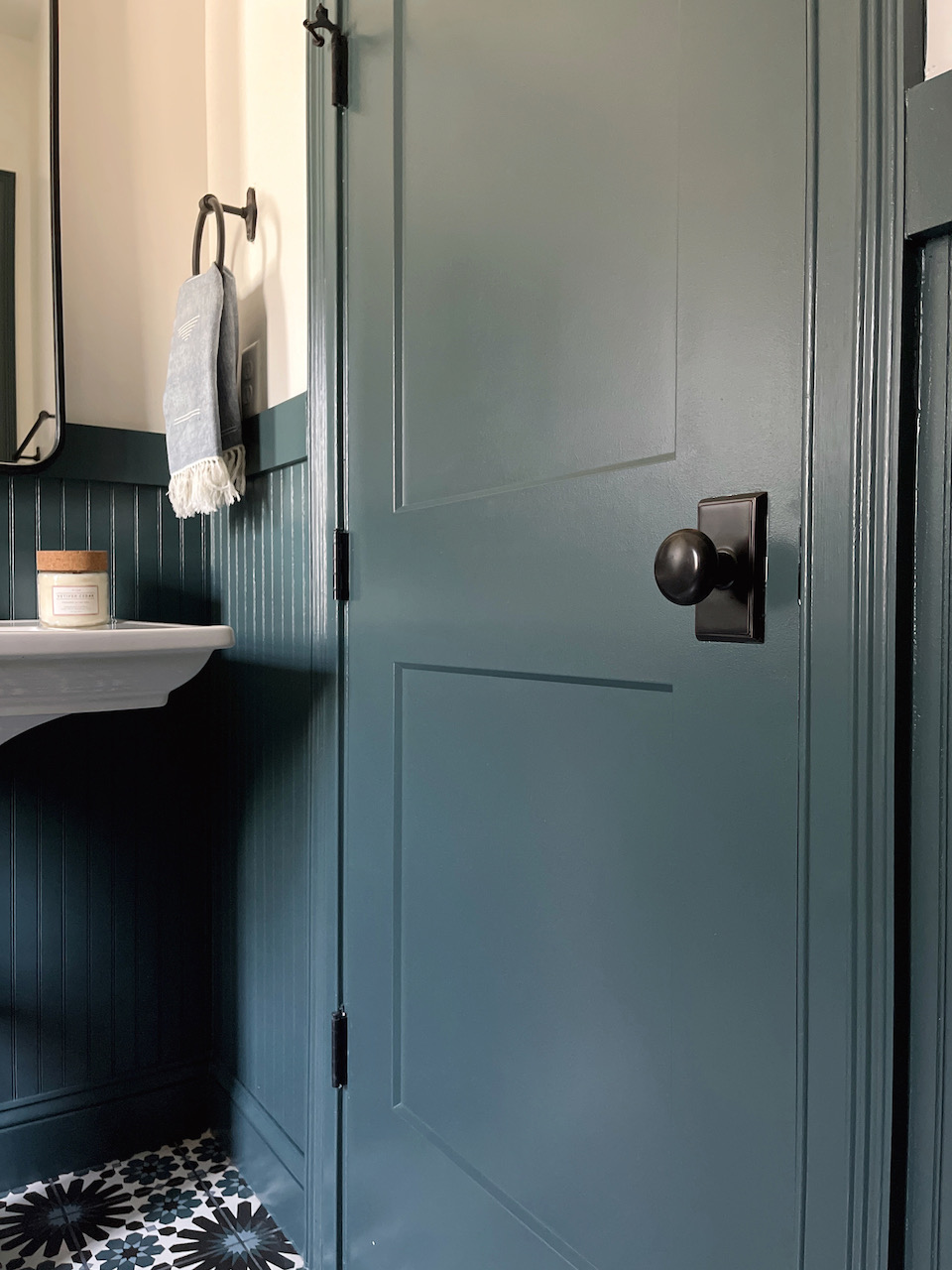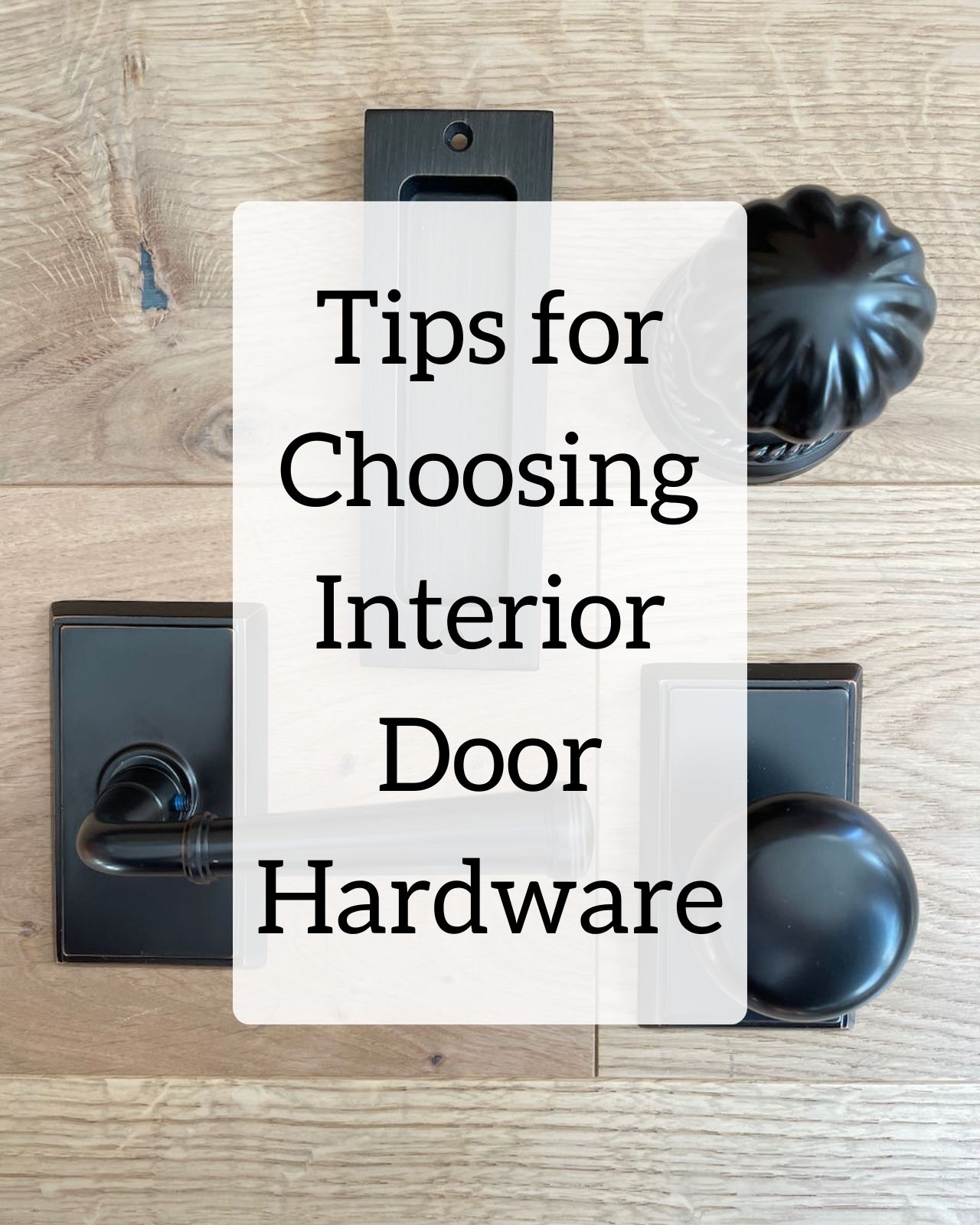 ---