I'm not quite ready (okay—REALLY not ready) to share the guest house reveal, so I thought I'd take a little look back and show you guys the room in our home that has probably undergone the most dramatic change since we moved in: the front bedroom AKA our playroom.
When we bought our home, this room was a bathroom. Yes, a bathroom. And it wasn't even a nice bathroom—it was made out of vinyl panelling with a flat roof and windows all around (uh, privacy anyone??)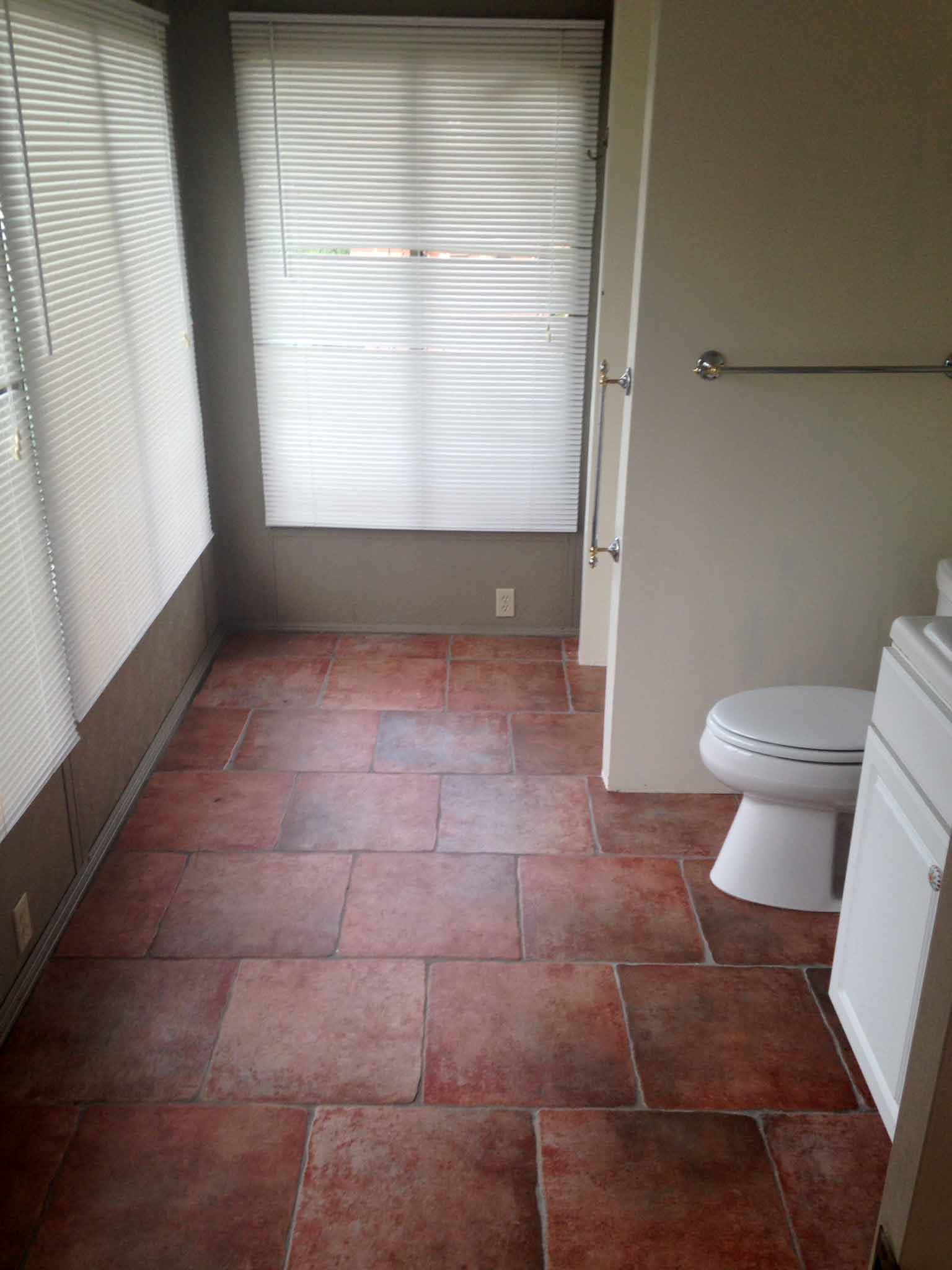 During our first phase of renovation, we didn't have the budget to do an addition, so we just took the bathroom fixtures out, retiled the floor and painted the room.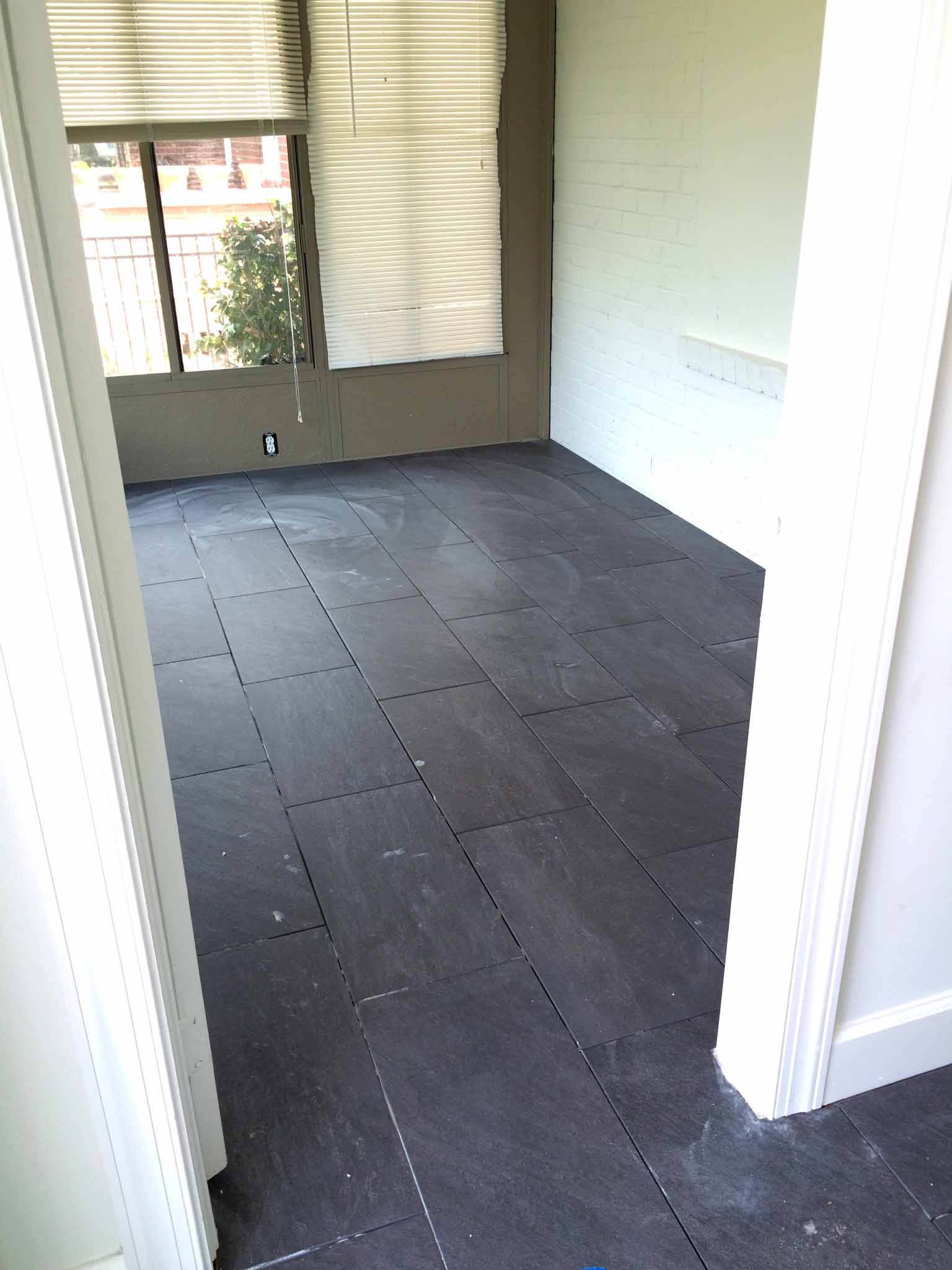 This made a huge difference, but it wasn't a long-term fix, because the room had no HVAC and the roof leaked every time there was a downpour. The girls still played in there, but during the summer it was almost uninhabitable for them and they would end up drenched in sweat—not ideal.
Thankfully, a few months down the road we were able to take down the room completely and rebuild it properly and as well as vastly improving the exterior appearance of our home, it also provided the girls with a designated space to play, create and unwind.
Original exterior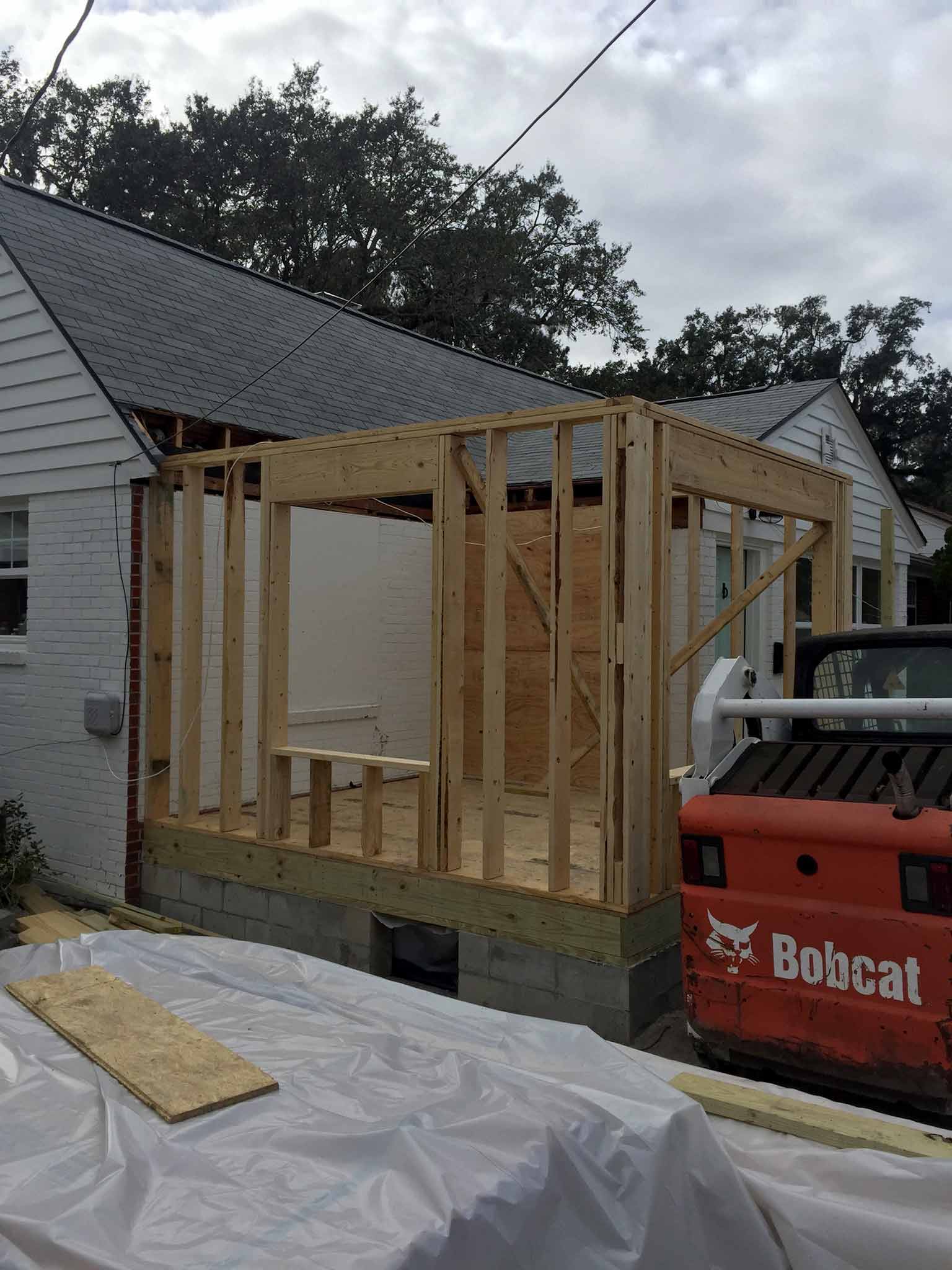 Halfway through the build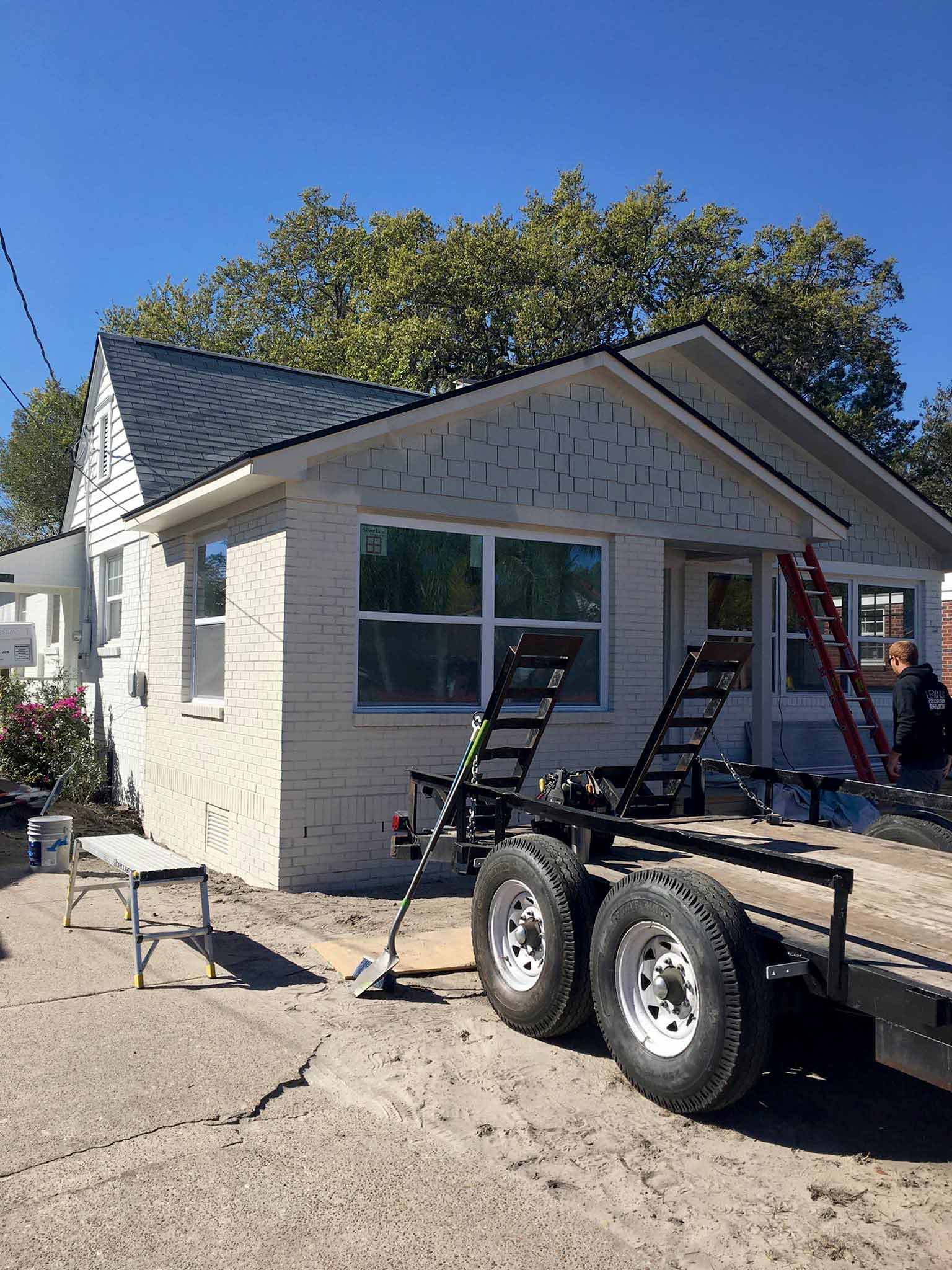 Almost finished!
In rebuilding the room, we were able to extend the footprint slightly and build a closet and desk in the room for storage. I think this is probably my favorite feature of the room, and my five year old has her very own art and coloring station which she spends a lot of time using.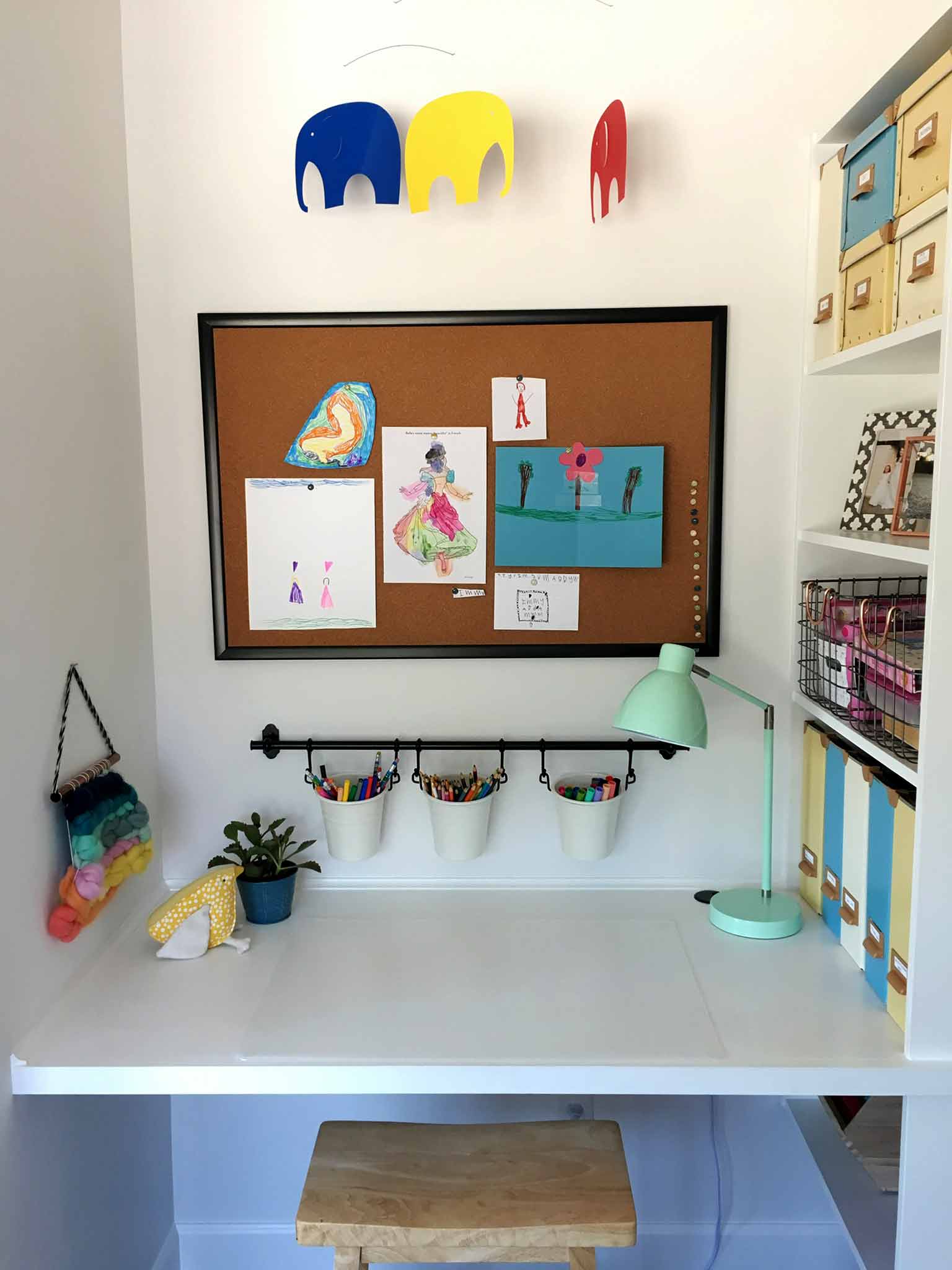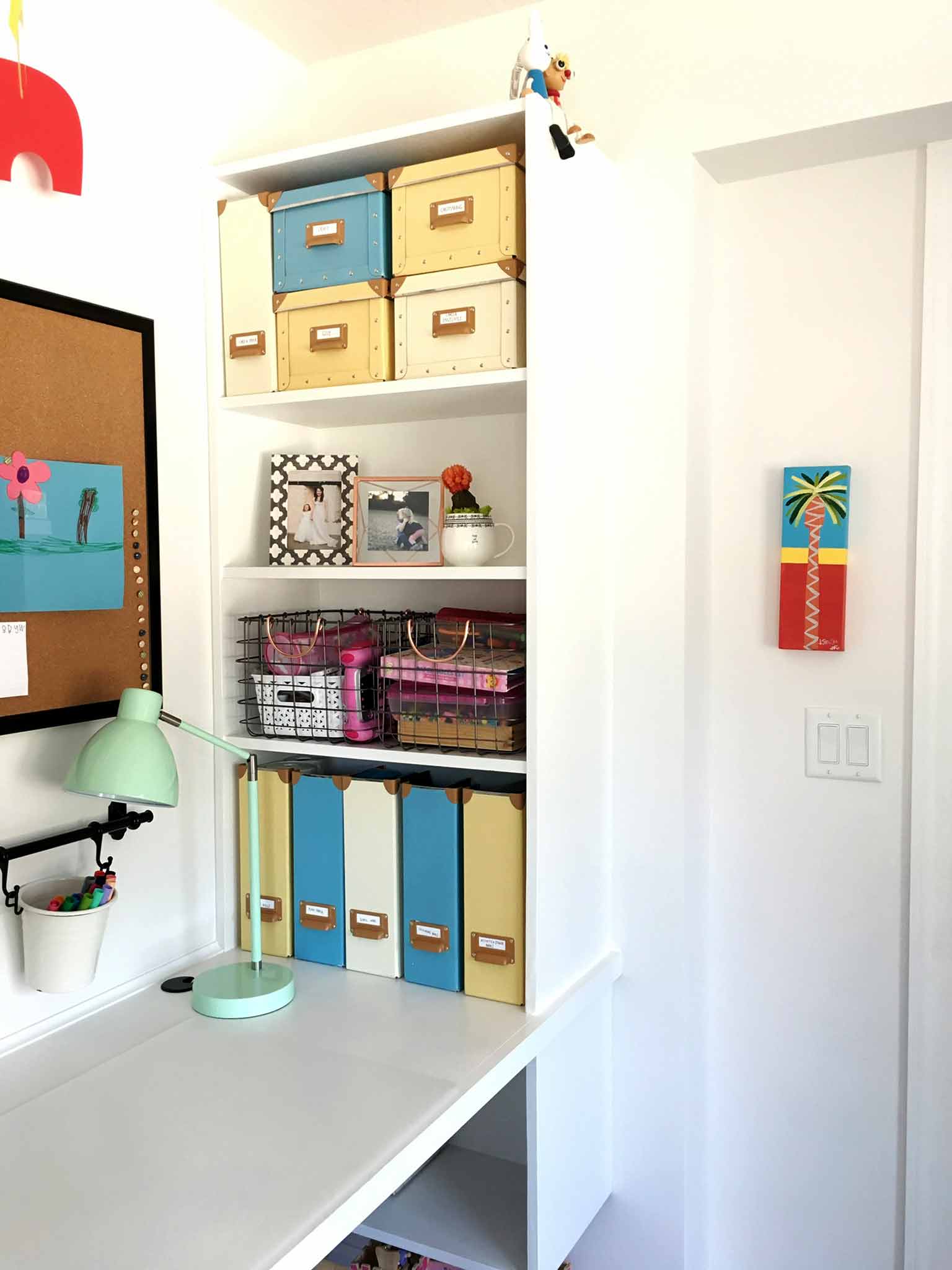 I also created a little art space for my three year old with a table, chairs and storage for art supplies. She loves using it and often her big sister will join her at the small table.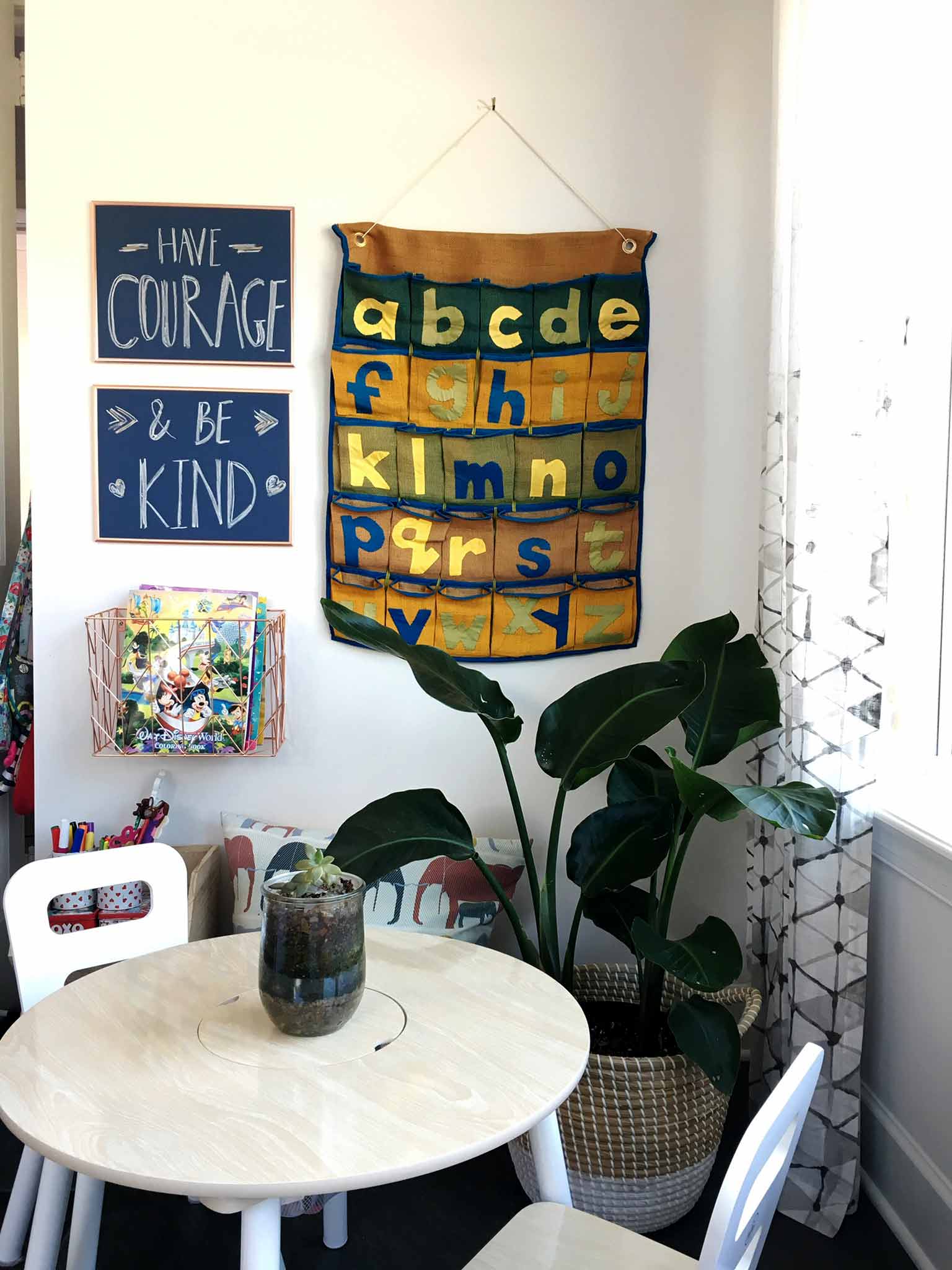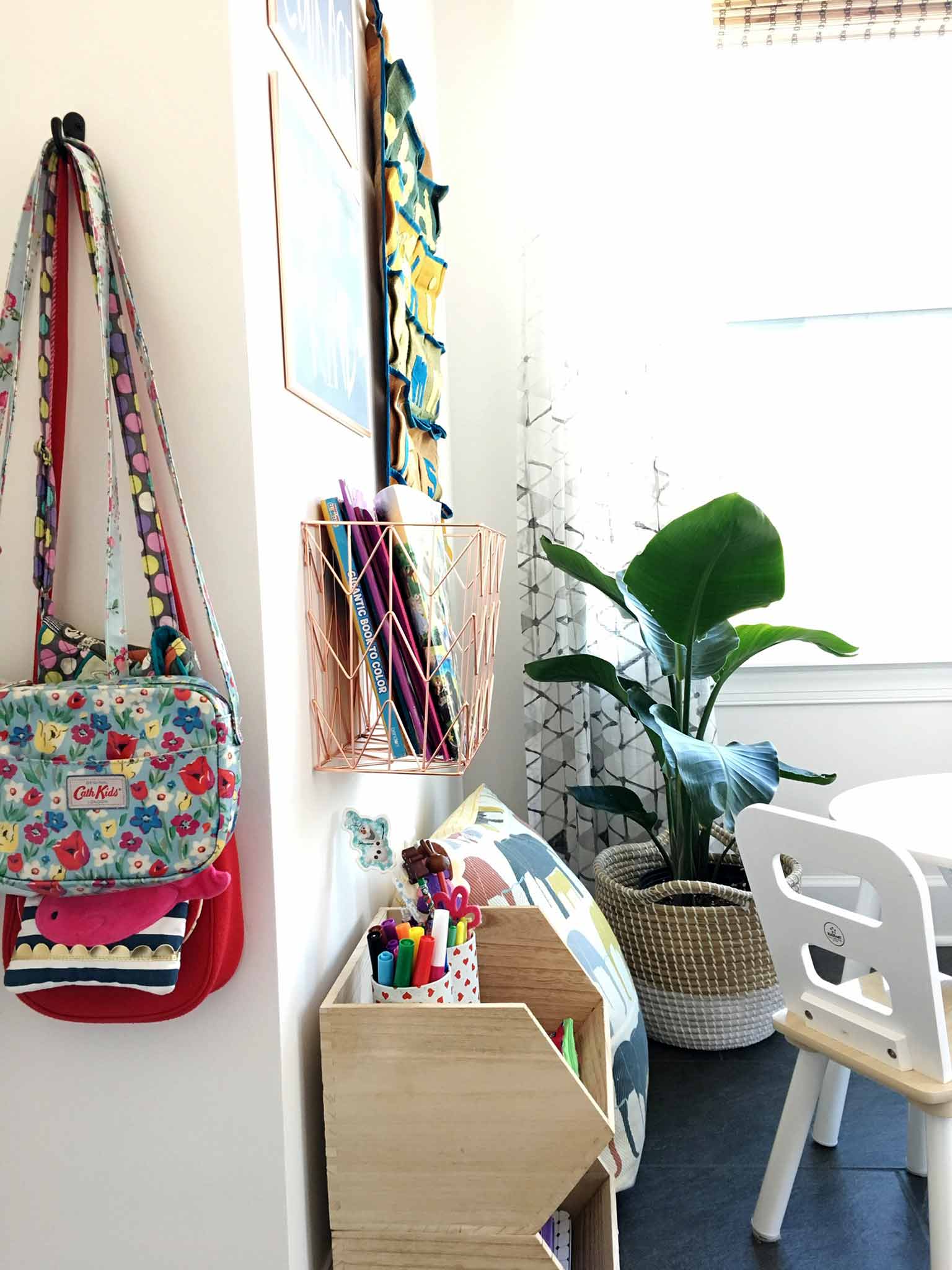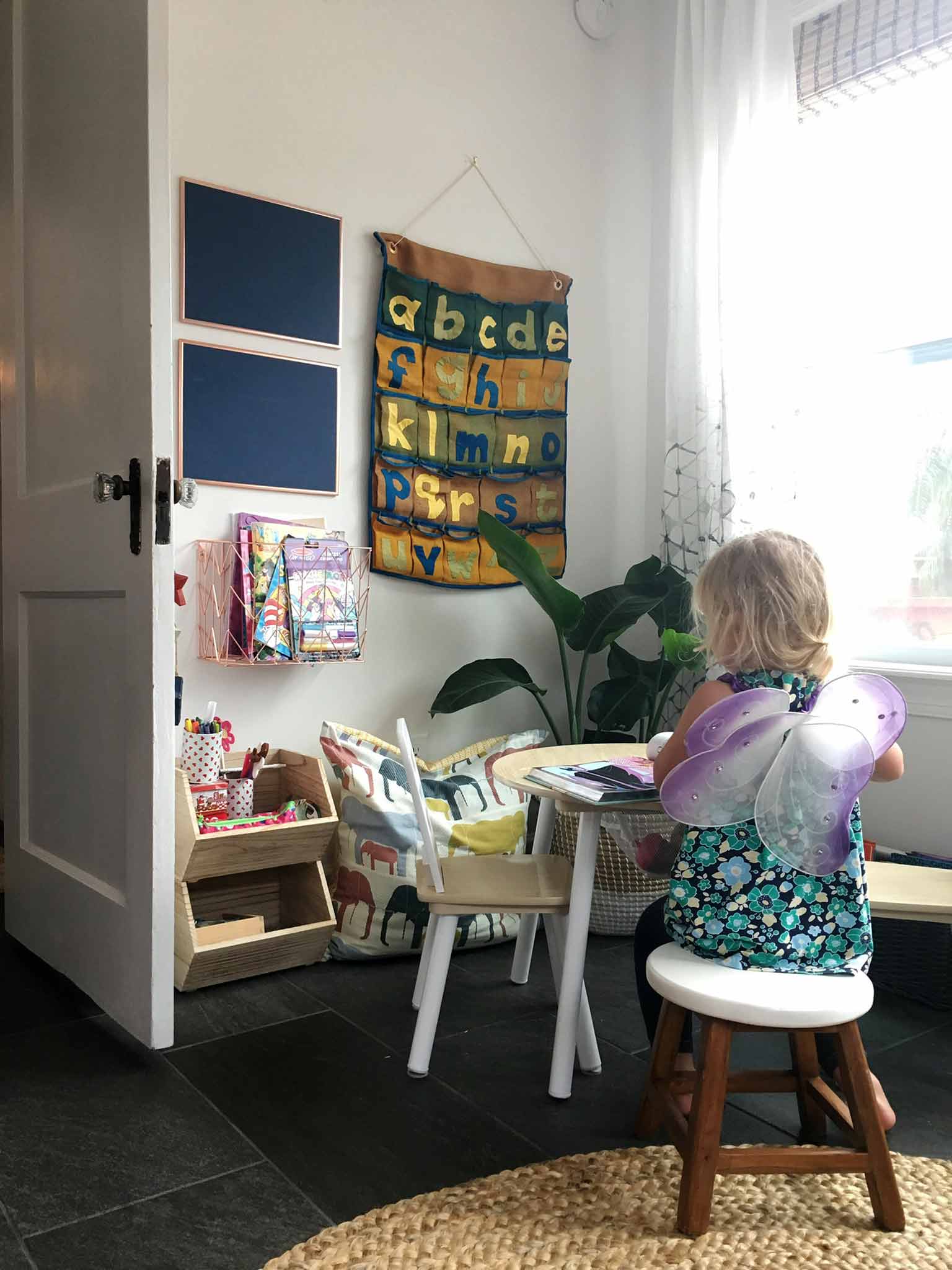 Originally, we had an IKEA daybed in the room, but I soon decided that it took up too much space, and we sold it on Craigslist and put a comfy chair in its place. It's perfect for cuddling up and reading books together.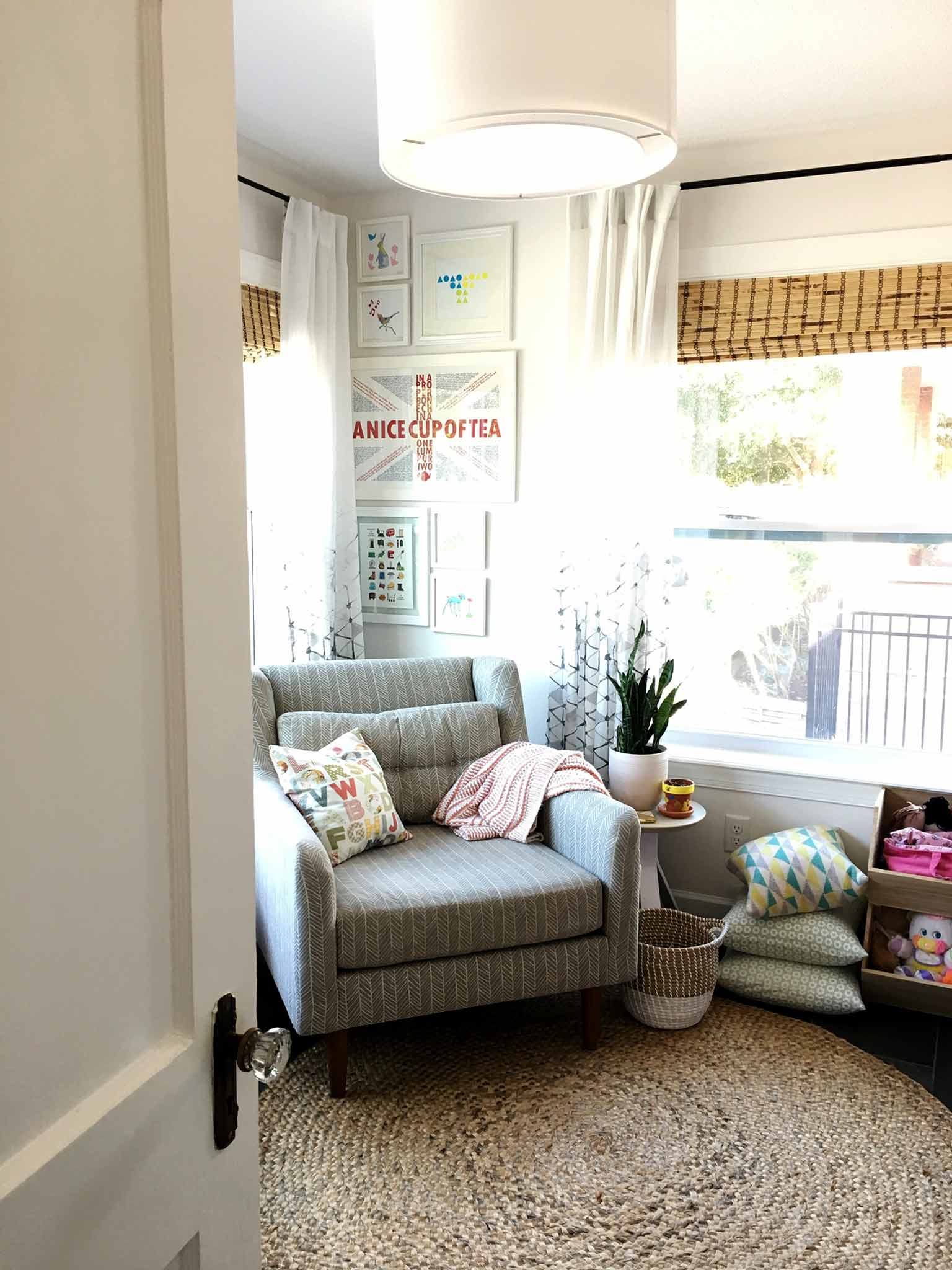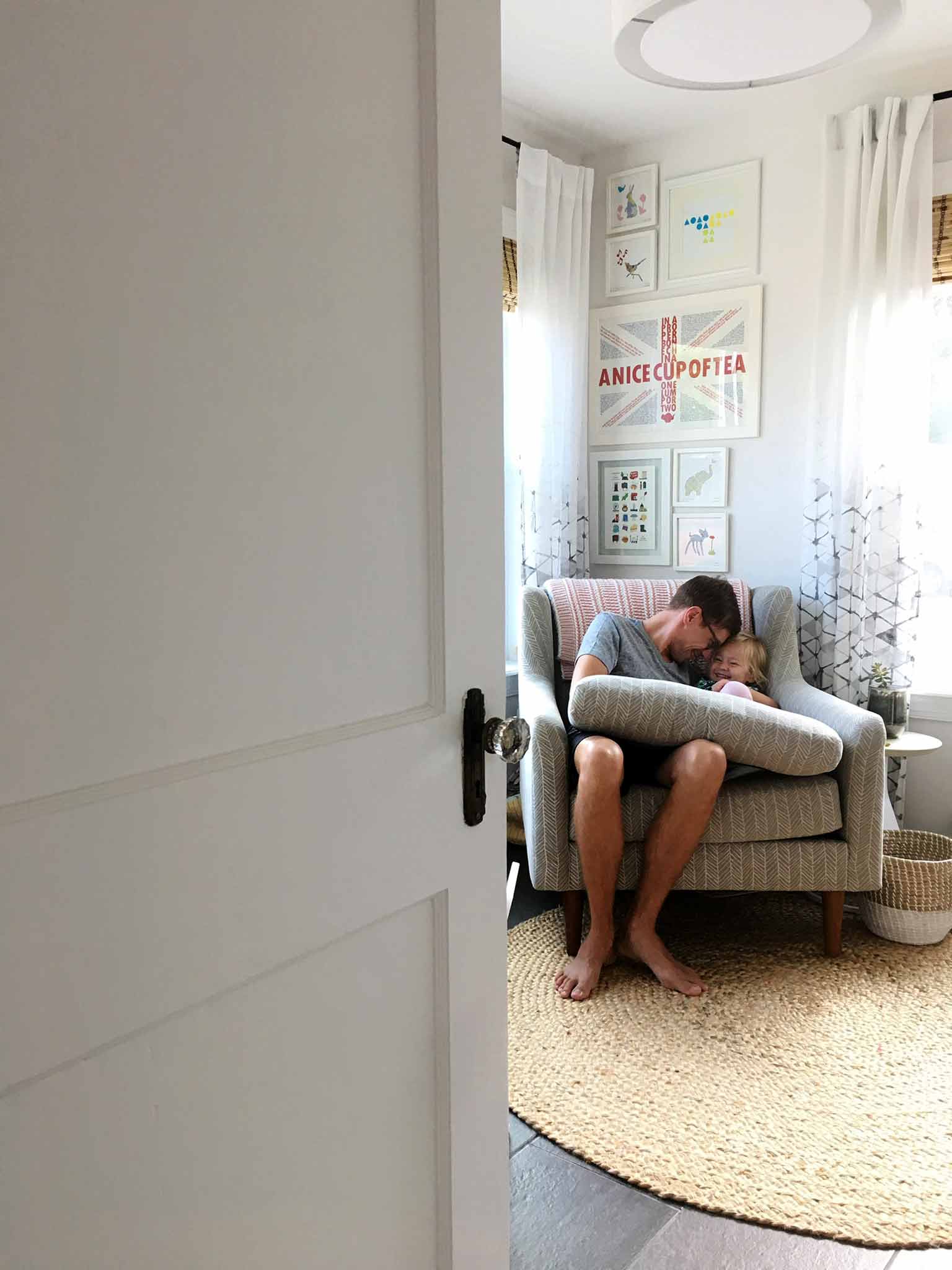 The gallery wall above the chair was fun to put together—we have a Bertie and Jack piece for each member of the family, as well as some other pieces which we've acquired over time and add some of our personality to the room.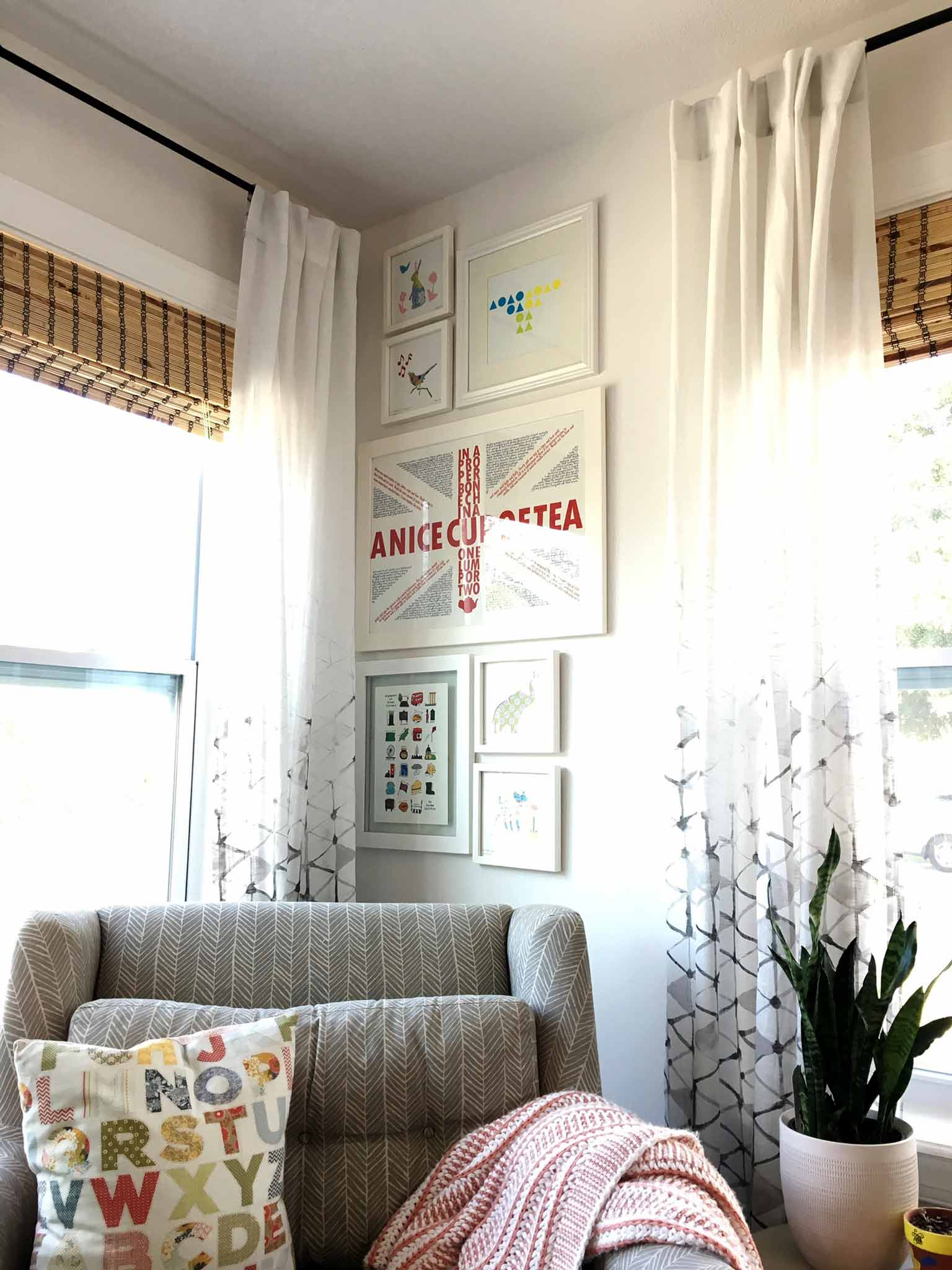 We opted for a light fixture over a fan, as the room is pretty small. I found it at The Land of Nod, and I love that it is a larger scale without overwhelming the room. The bamboo blinds have linings (so that we have the option of converting the room to a bedroom), and the sheer curtains were a super affordable find from West Elm. I think they add just the right amount of texture without being too busy.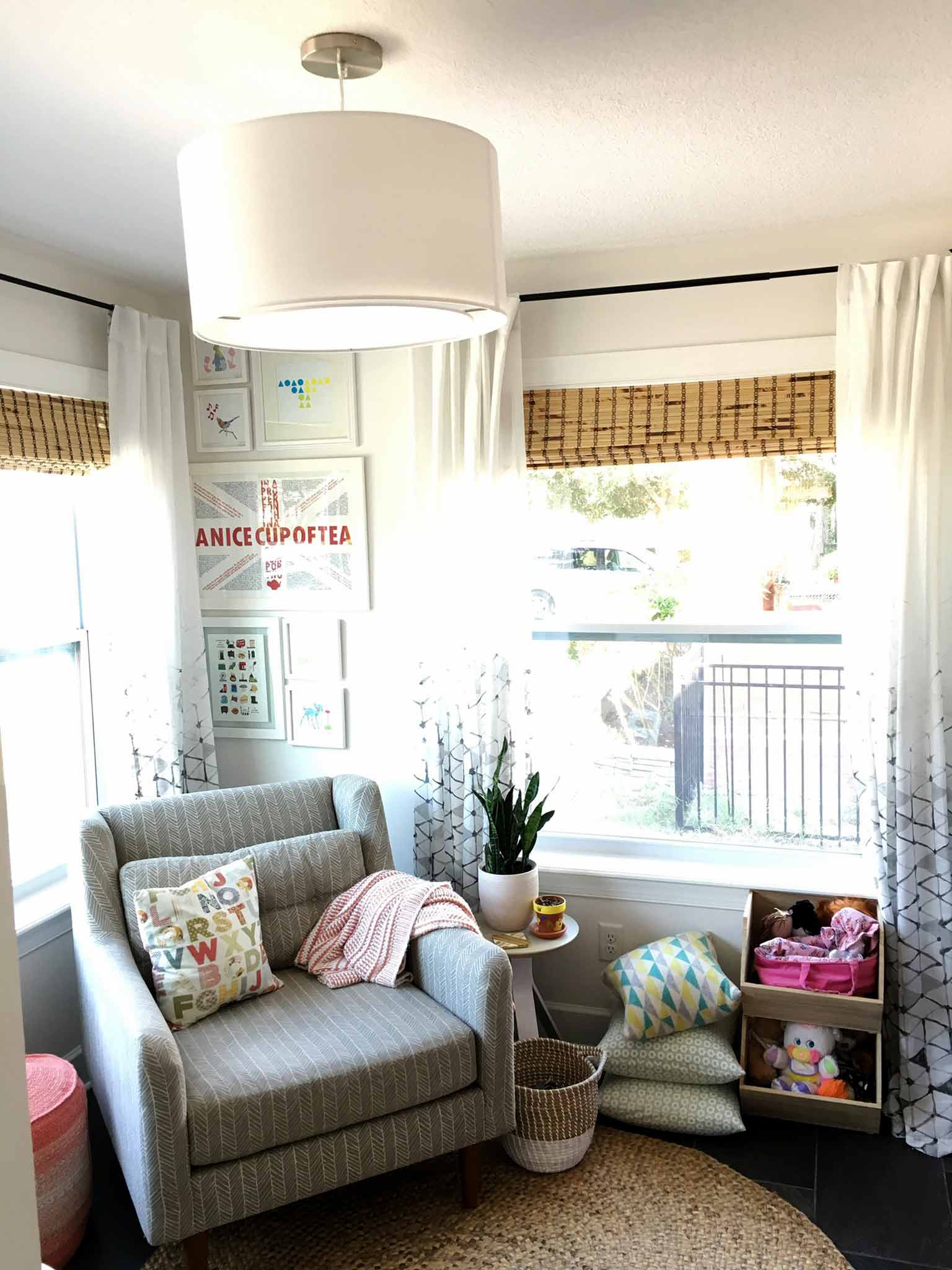 I couldn't be happier with how this room turned out, and how much use it gets. It really has made the biggest difference to our home, and the girls love having a space to call their own.
So that's how it looks today, but our home always seems to be evolving as the needs of our family develop and change, and one thing I have been thinking a lot about is dramatically reducing the number of toys we have in there. I've been reading "Simplicity Parenting" by Kim John Wayne and although I'm only one chapter in, it's already seriously changing my perspective! The overall quality of our toys is actually pretty high, so rather than getting rid of them completely, my plan is to pack away a large proportion of toys and rotate them every season. This way, the girls will have "new" toys to play with every few months, and having less toys out will hopefully make it easier for them to clean up and take responsibility for their playroom—which is a bit of a tension point for us as a family right now.
Anyway, I'll have to report back on all of that as it unfolds—I'm excited to get started but finishing the guest house is my priority right now! I'm currently doing a few paint touch-ups and starting to put artwork on the walls, so it's feeling a lot more comfortable in there. I'm looking forward to sharing it with you soon!
---