As our guest house construction progresses (slowly, but surely...) I've been thinking more and more about how I'm going to decorate the space. In fact, my parents are already talking about booking flights to come and see us this Fall/Winter, so the clock is ticking!
I would say realistically we are about 4 or 5 weeks away from the guest house construction being totally finished...and of course there is also the disaster zone formerly known as our backyard to sort out (plans are coming along nicely for that).
Here's how it's looking at the moment: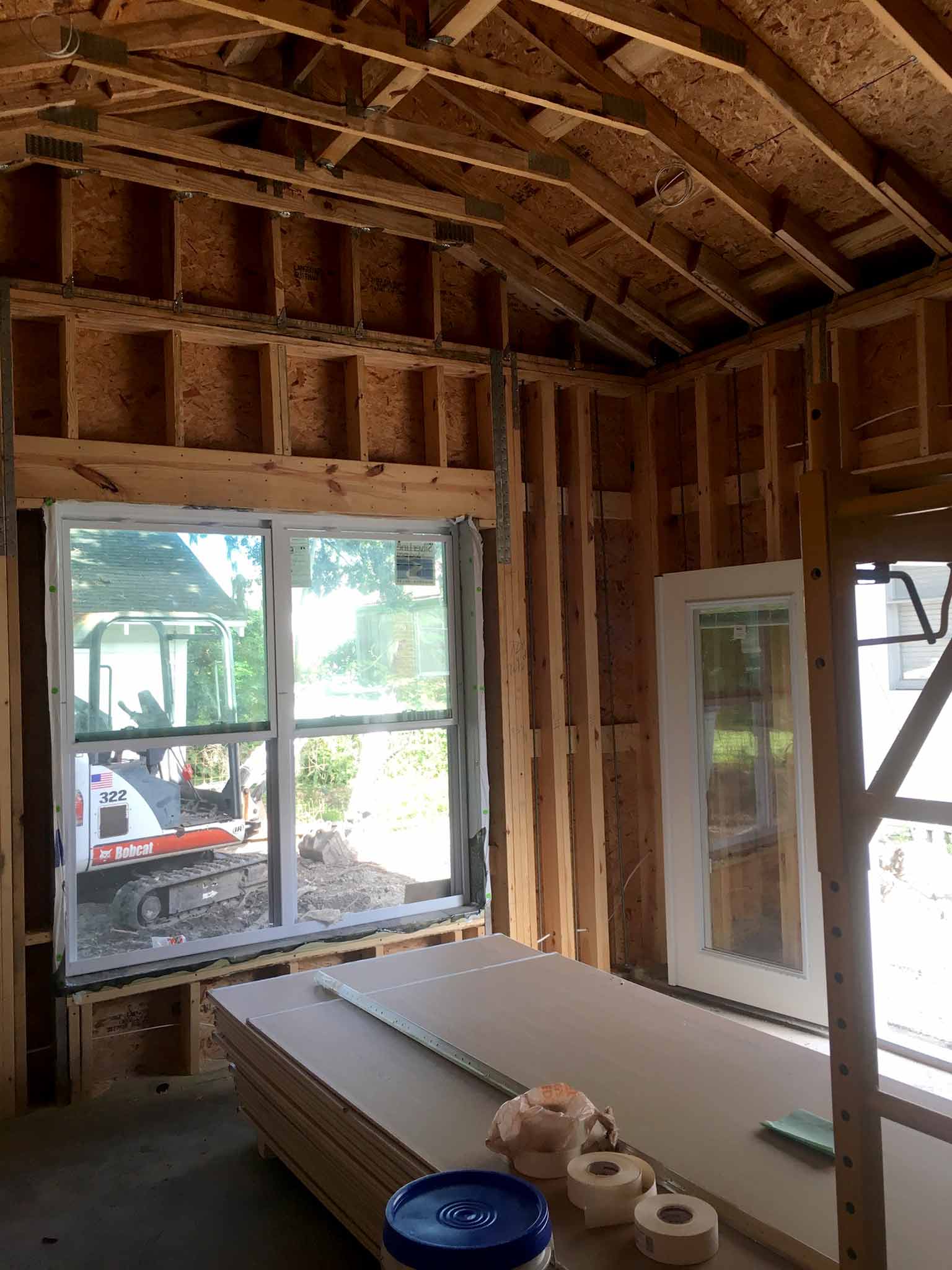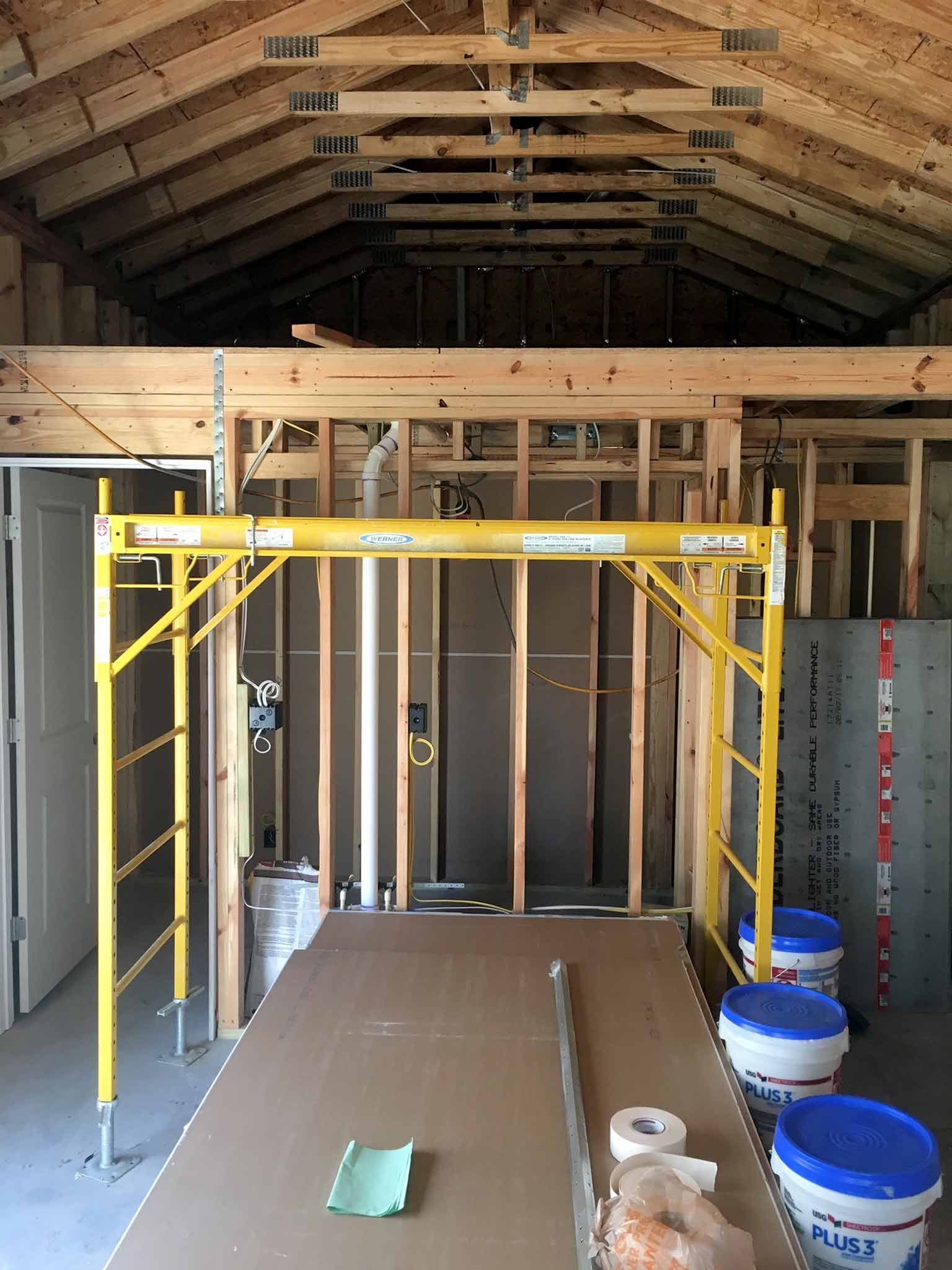 The drywall will be hung next week, and our contractor needs paint colors from me in a couple of weeks, so I've been putting the puzzle pieces together to come up with a plan for the interior decoration.
Whenever I start planning the decor for a room, I always start by thinking about the function it will serve for the people that use it. In our case, this space will obviously be where we host overnight guests (the clue is in the name), but it will also be our music room and occasionally, an office. In fact, it will probably be used more frequently by us as a creative space than by our guests.
So, with that primary function of creativity in mind, we decided that we wanted the interior to feel moody, relaxing and inspiring. It doesn't need to feel particularly energizing as this is going to be a place where we can wind down and be creative for the love of it, rather than because we need to meet a deadline. It also doesn't need to be super kid-friendly as this ain't their space. (They've taken over most of our house and we're claiming our territory for this one.)
I've been drawn to dark painted paneling for a while, and I think this aesthetic will really work with how we want the room to feel and function.
These are some of the interiors I have been inspired by:
Source: @graceinmagnolias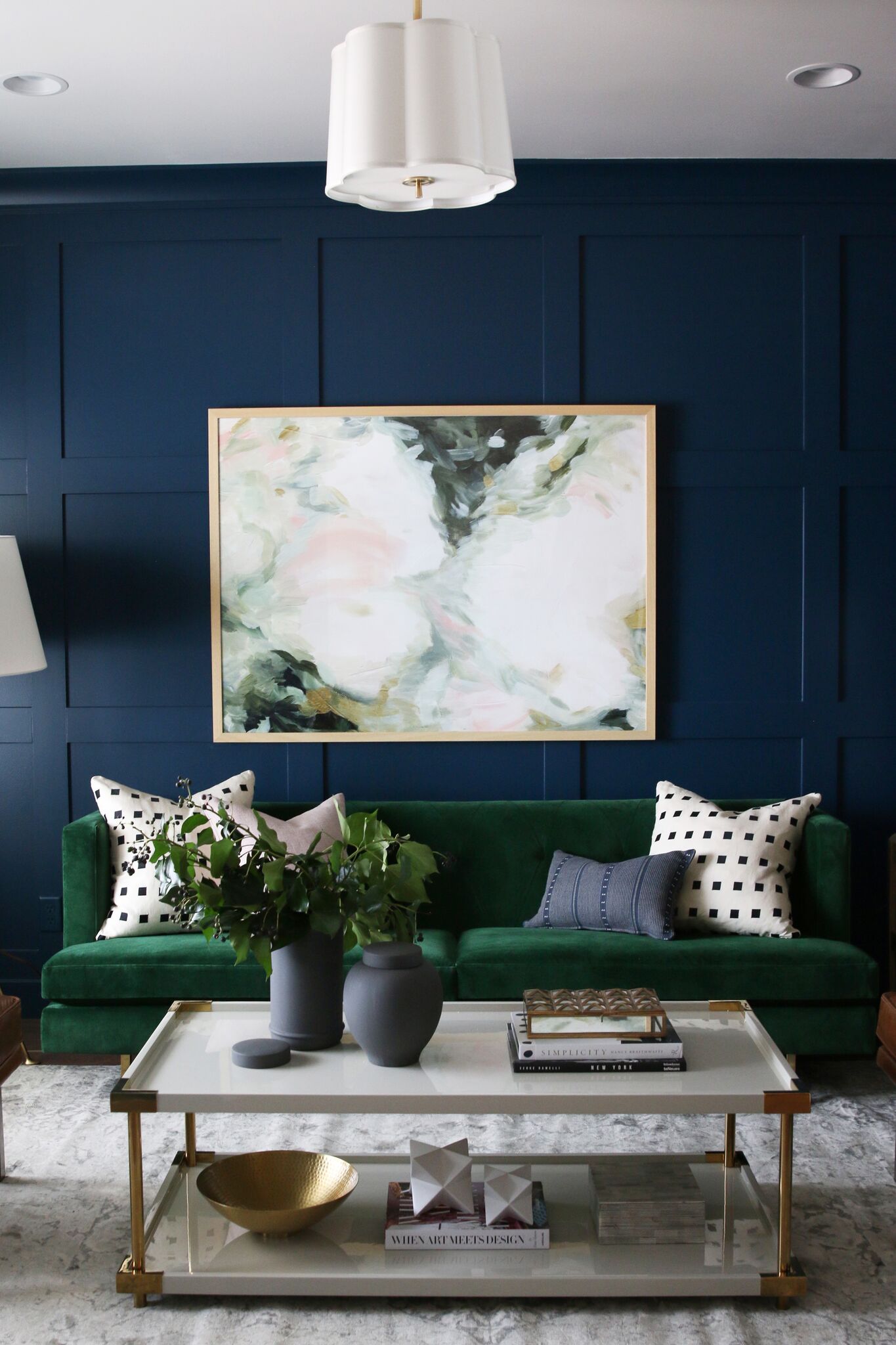 Source: Studio McGee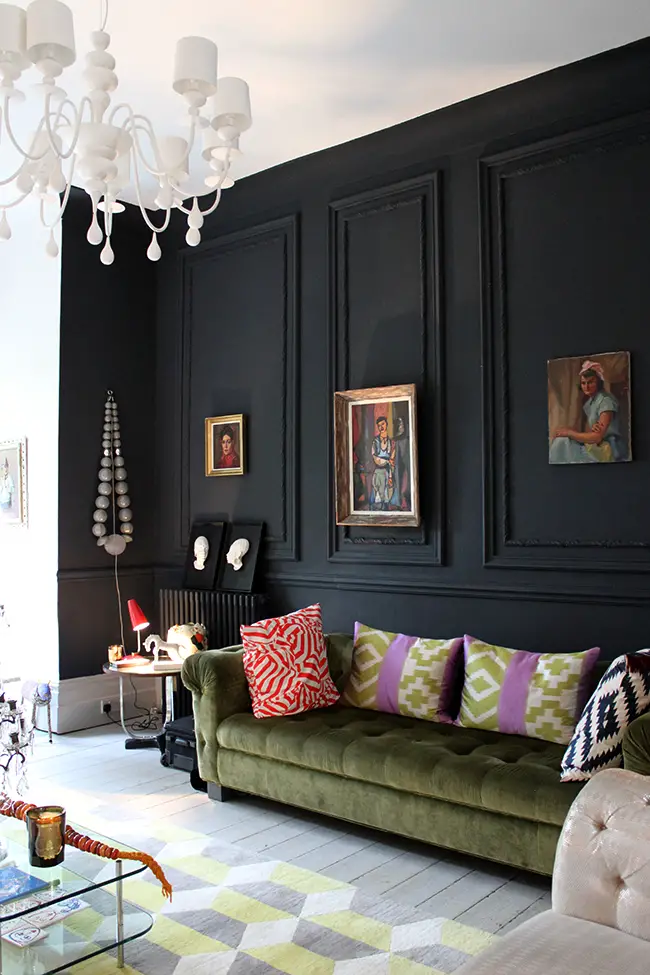 Source: Swoonworthy
We already have a rug that was in the guest room of our rented house and we will be using it in this space. It has blue and orange tones, and I think dark blue walls would work perfectly with that. Then I saw this picture on Pinterest and thought — why stop at blue walls?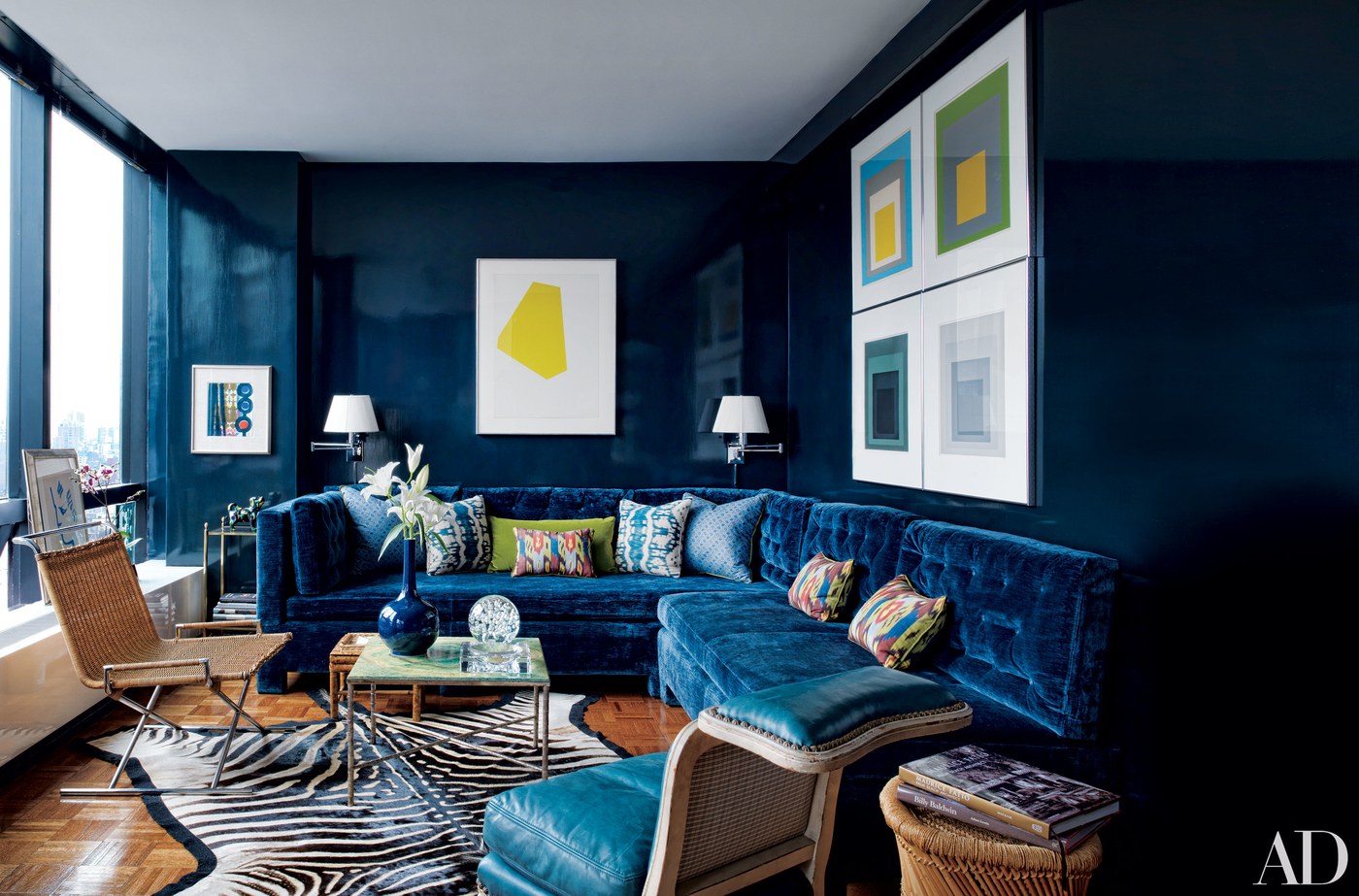 Source
Blue velvet sofas are SO beautiful, and I had been seeing them pop up all over the place. I love the depth and texture that velvet adds to a room — I've already been using it in our living room — plus it's also super cozy and comfortable.
We need our sofa to double up as a bed for any friends and family that might want to stop by Casa Green, and after research I discovered that Room & Board produce sleeper sofas with mattresses that are part coil, part air chamber. The reviews say that they are very comfortable to sleep on, and there are a lot of different fabric options. So, after ordering swatches, I settled on a dark indigo blue velvet.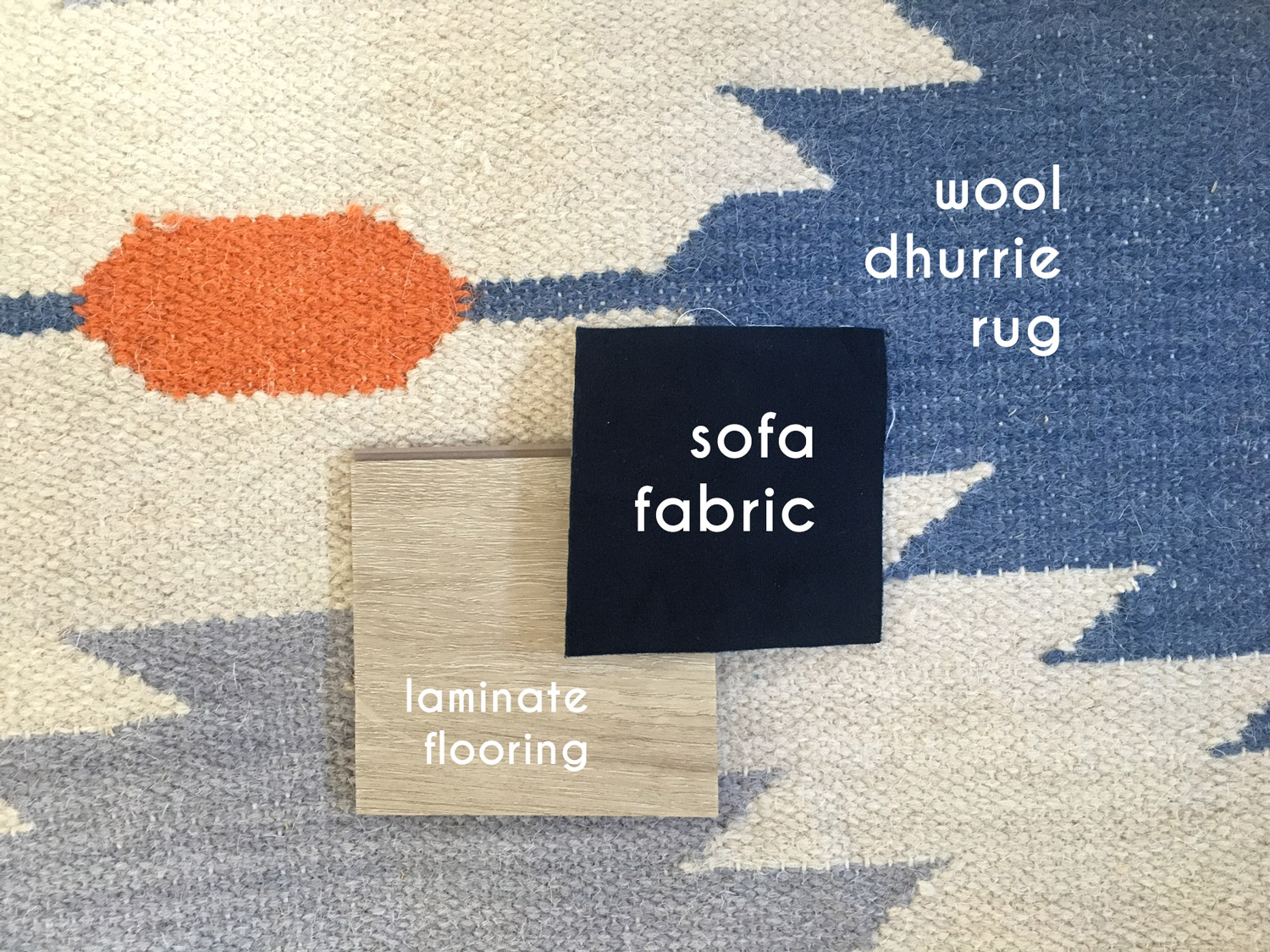 With a few elements in place, I decided to put a mood board together so that I could see how everything worked together:
Faux Taxidermy // Chandelier // Terranium // Agate Coaster // Chair // Moroccan Pouf // Mud Cloth // Side Table no longer available similar // Sofa no longer available similar // Wool Dhurrie Rug // Jute Rug
I would say the key elements in this room will be the layered rugs, plenty of low light plants and a variety of textures and fabrics. Oh, and this amazing modern chandelier from West Elm which I adore!
I haven't ordered much yet, and so there is still time to change my mind on things, but I have a good overall feeling about the direction in which this is heading. And, most importantly, it should allow me to pick out my navy paint color with confidence!
I'm excited to see how this turns out, and how close to my mood board this room ends up being. Decorating a room is such a process and there is a lot of flexibility and changes of heart along the way — but in my opinion, that's all part of the fun!
---