This week I'm sharing the first of three bathroom designs for our new home, kicking off with our main bath! As much as I love a dark and moody vibe, this definitely isn't going to be the place for it. (Hint: dark and moody will definitely be happening elsewhere in the house...)
It's important to us that this space feels light, bright and modern, with a nod (or two) to the historic style of the house. When I wake up in the morning and walk into the bathroom, I want to feel energized and ready to start the day. This is dictating a lot of the design choices I'm making in here. However, I also want to make sure the room doesn't feel sterile, so I'll also be incorporating warm wood, brass accents and lots of texture into the space, as well as a fun patterned tile which I've been waiting to share for a while now!
Here's some of my inspiration for the space: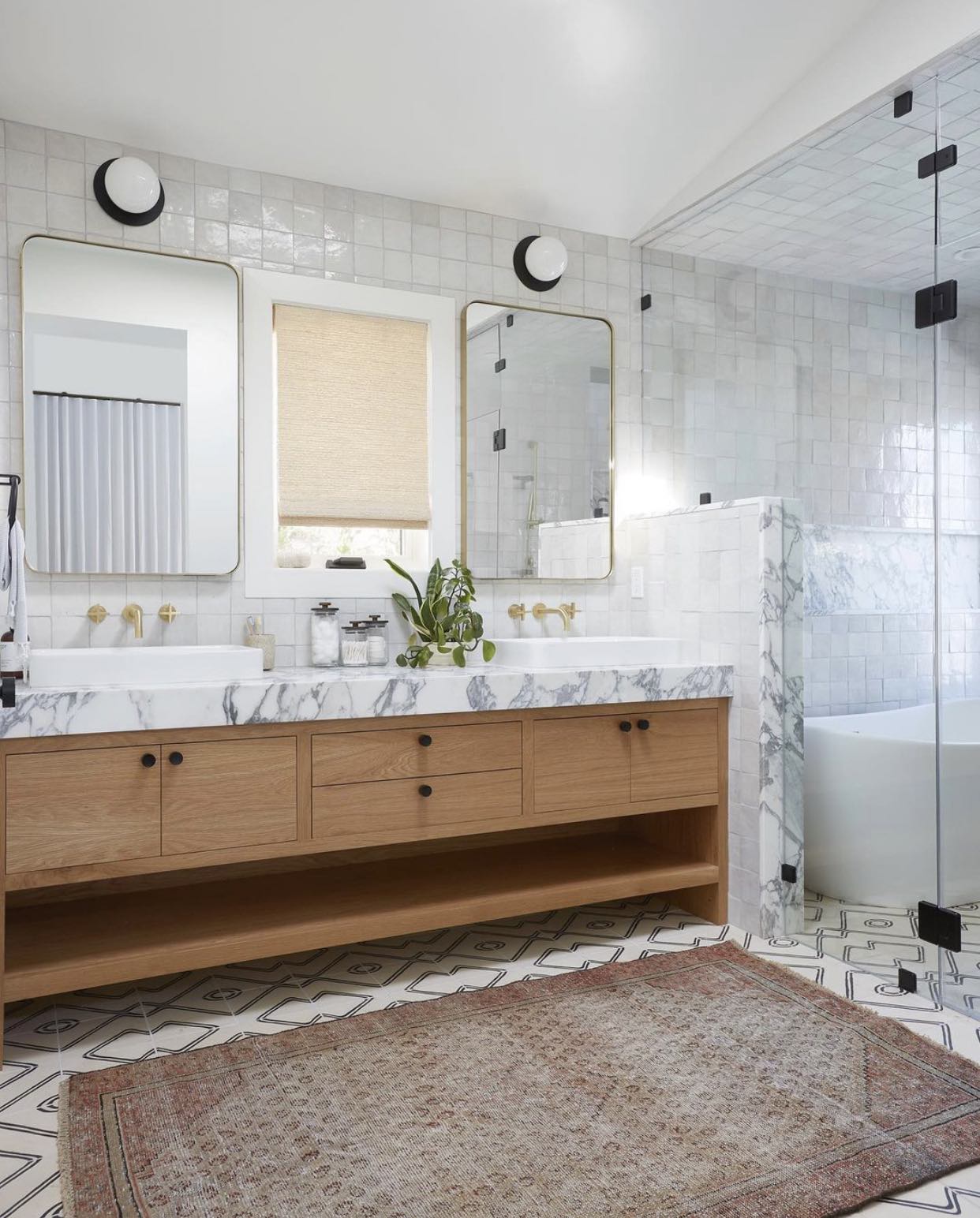 Source: Natalie Myers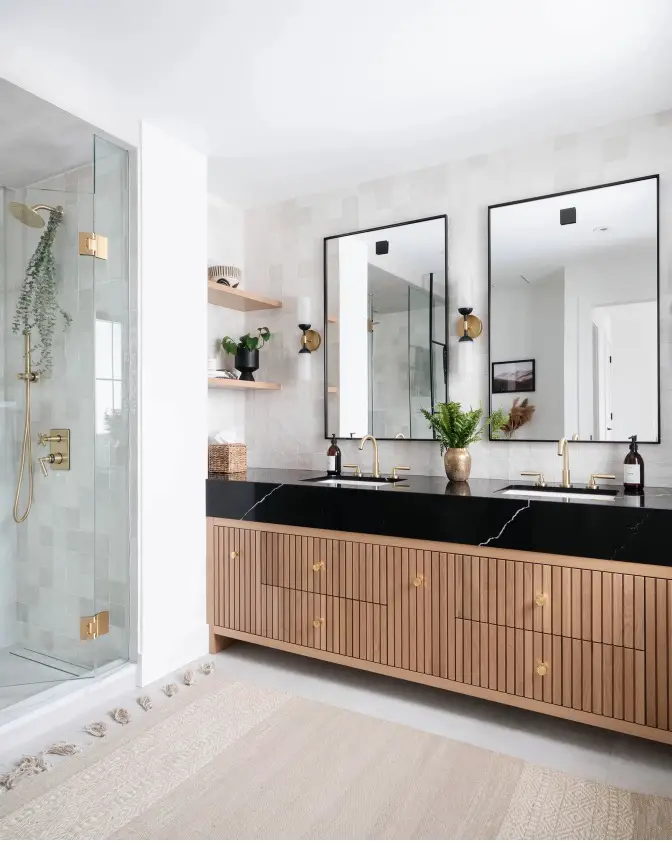 Source: Leclair Decor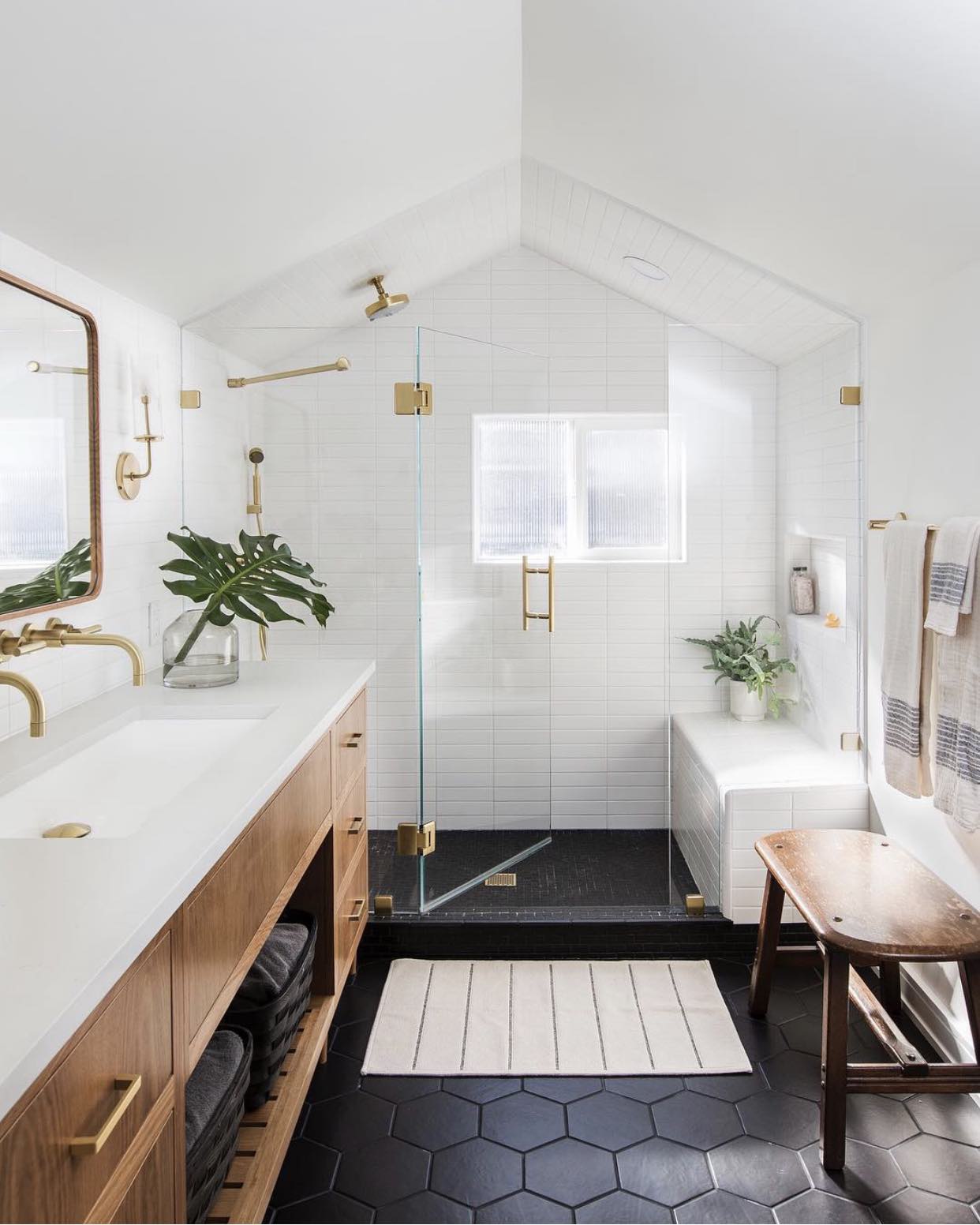 Source: Casework Interior Design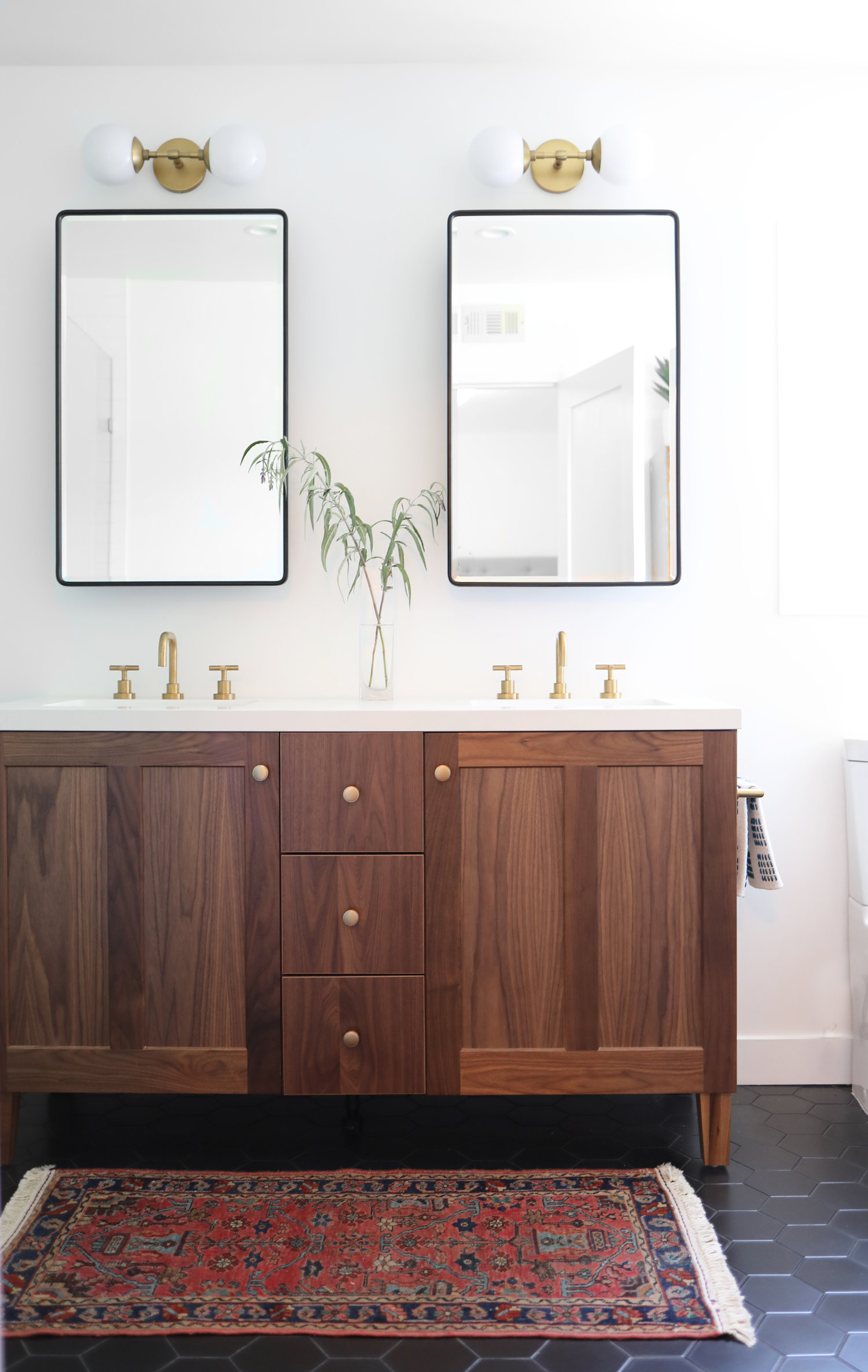 Source: Sloane & Studio
Looking at all of these photos, I would say that they all have the same basic concepts in common:
LIGHT + WARMTH + PATTERN + TEXTURE
Here's the layout we'll be working with: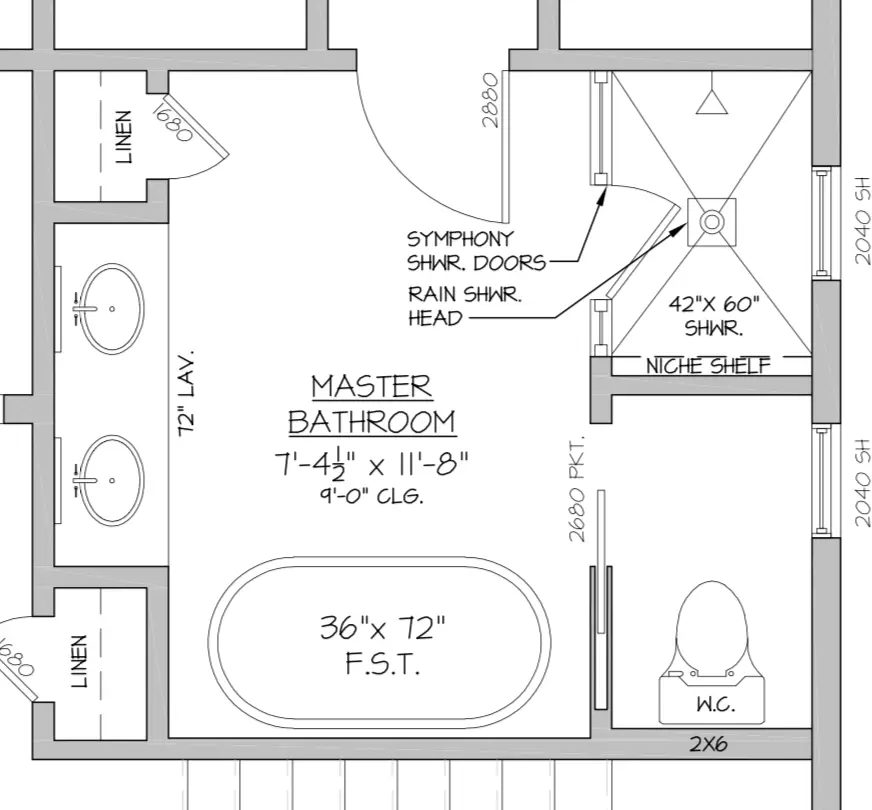 Do you see that pocket door into the water closet? That's a feature I specifically wanted to work into this house! There's also one downstairs leading from the hallway into the office.
Here are my mood boards for this space: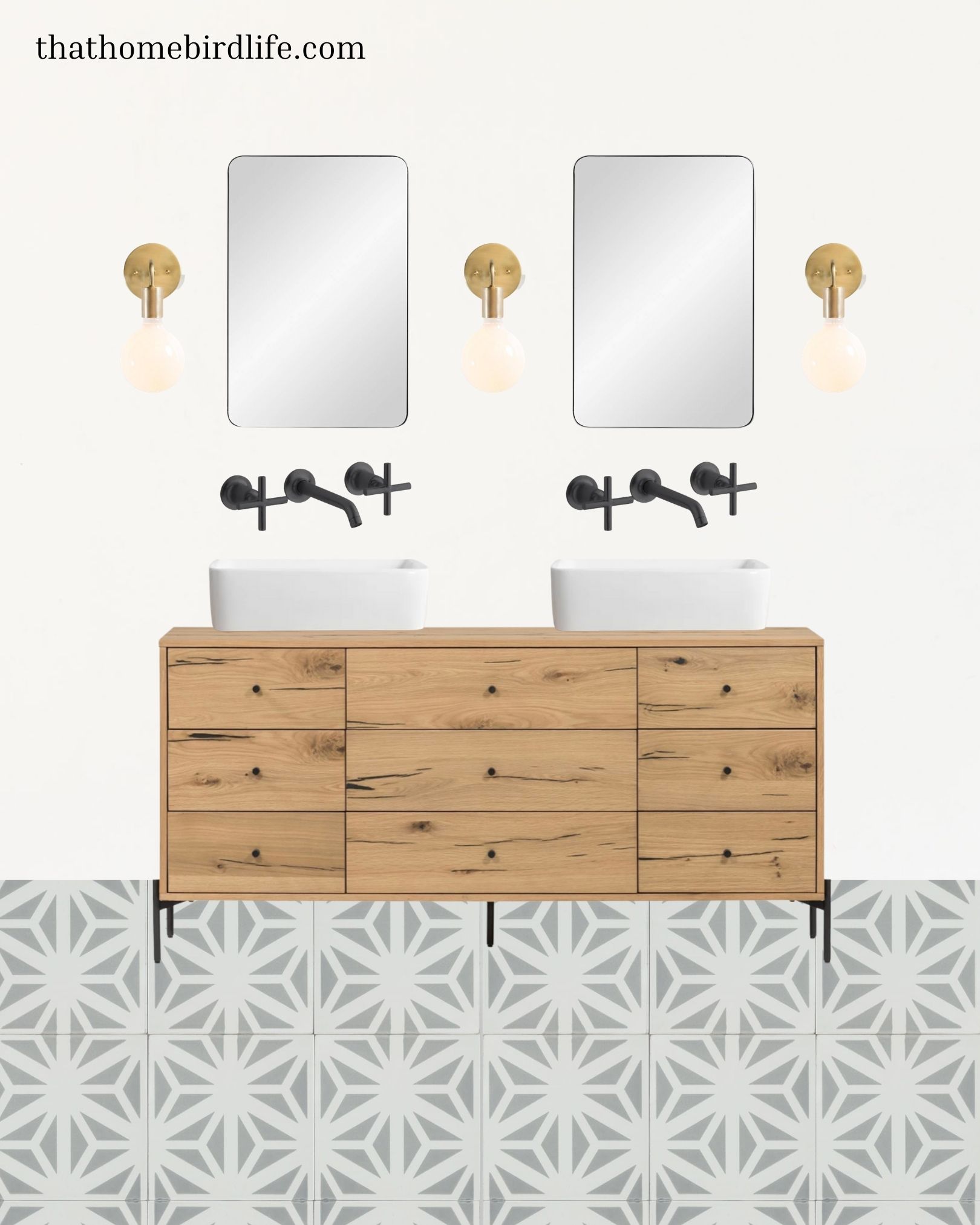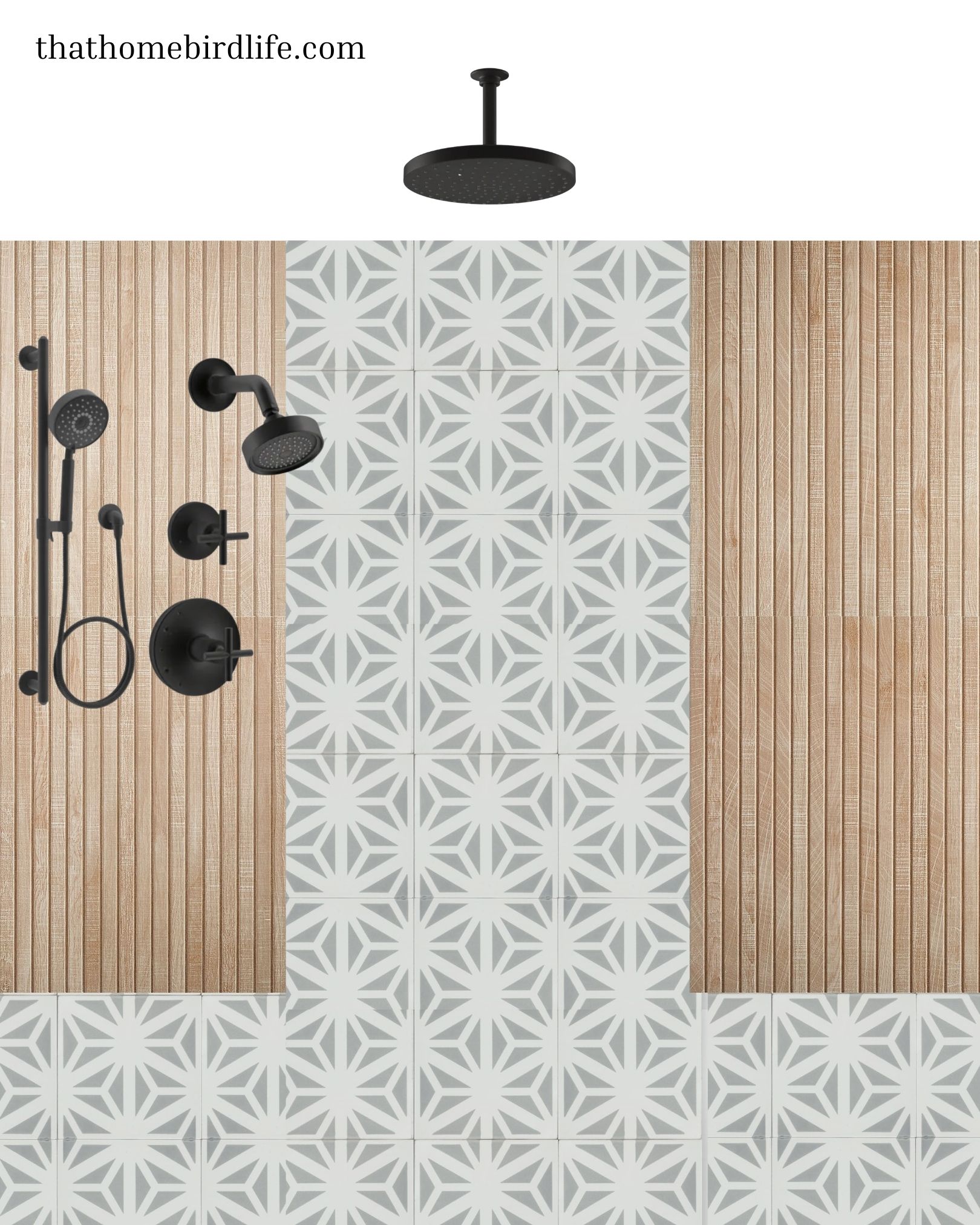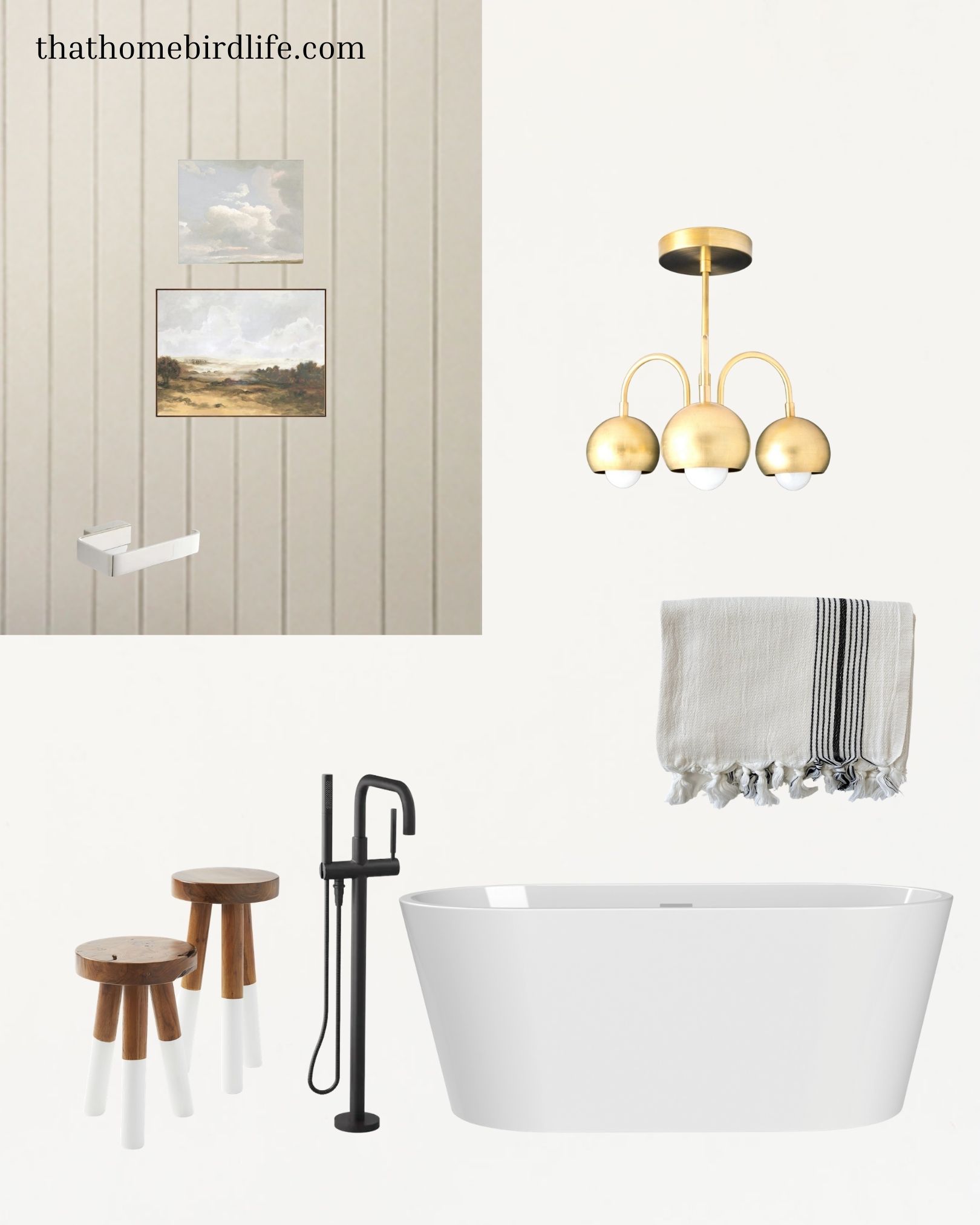 LIGHT
Natural light is going to be very important to this room. There are two windows, one of which is in the shower. At first we weren't too sure about that (exactly how "private" is privacy glass??) but after thinking it through, we decided we needed that window, and we'll figure out the privacy later. That's why it's important to have clarity on how you want a space to feel—it helps when making tricky decisions. In our case, natural light > privacy.
I'm also keeping the wall and trim color light (Alabaster by Sherwin Williams). The vertical paneling in the water closet will be painted this color as well.
WARMTH
I love the look of a wood vanity in a bathroom, but I've been having a hard time finding the right one "off the shelf." We are looking into having something custom made by a cabinet maker, but I've also picked out a dresser which I think could be fabricated into a vanity fairly easily (although truthfully I wouldn't have the first clue how to approach that project.) We'll add a quartz top and some semi-recessed rectangular sinks, with wall-mounted faucets to keep the vanity surface uncluttered AND easy to clean.
The other main warmth in the room is coming from the raw brass light fixtures. I love the finish of these, and they will patina slightly which will soften the modern look of the bathroom just a smidge.
PATTERN
Picking out tile is one of my favorite parts of designing a home, and I've spent many happy hours over the last few months trawling through pages and pages of tile. I have a total weakness for patterned tile, and this is where the pattern play is going to happen in here. The floor tile is a gorgeous clay tile that will give the look of cement tile but with zero maintenance needed—it's fully sealed. This tile will be continued on to the center shower wall. For the two side shower walls, I'm choosing a porcelain wood-look tile with a ribbon accent. I can't wait to see this tile combination in action!
TEXTURE
I'll be adding in texture with textiles (obviously) but the main event will be a roman clay treatment on the walls behind the vanity and the bath tub. I'm opting for a very neutral finish to match the wall color as closely as possible, so that it's a subtle accent rather than a show-stealer.
I think that just about covers it. There's a lot going on in here, but I feel good about every single element so I'm hoping there will be a little bit of magic when they are combined...let's wait and see!
Want to be the first in the know? Sign up to my mailing list!
Catch up on our house build plans:
Exterior
Kitchen
Living Room
Dining Room
Mudroom
Guest Room/Den
Laundry Room
Kids' Bathroom
Guest Bathroom
---