We've been in the house for a little over three months (and it has flown by!) and decorating progress has been a little slow as we settle into our home. I have multiple projects and ideas on the go but not a whole lot to show for them just yet—but that's ok, it's all part of the process of creating home.
I'll admit it has been frustrating for me at times because I just want to feel "at home" right now thank-you-very-much. But I also know that sometimes it's better to let things take their sweet time rather than jumping in and making a bunch of decisions and purchases that I may regret later. This house build was a big creative project for me and there were definitely some stressful moments along the way, so I'm trying to be patient and take the pressure off the timeline now that we are safely moved in and sort-of-unpacked.
With all that being said, there has been a bit of a design breakthrough upstairs in my younger daughter's bedroom and it's coming together almost effortlessly which feels like such a gift. I thought I'd jump in and share as we go...who knows, perhaps this will kickstart some visible progress in other areas of the house too!
Before I get into the decorating details, let me catch you up on a big design element of the room that has been taking shape behind the scenes! Originally I wanted to do built-in bunks in here, but after thinking it through, I decided a loft/platform would be more versatile. I sketched it on paper and our GC built it out. Here's how it looks so far: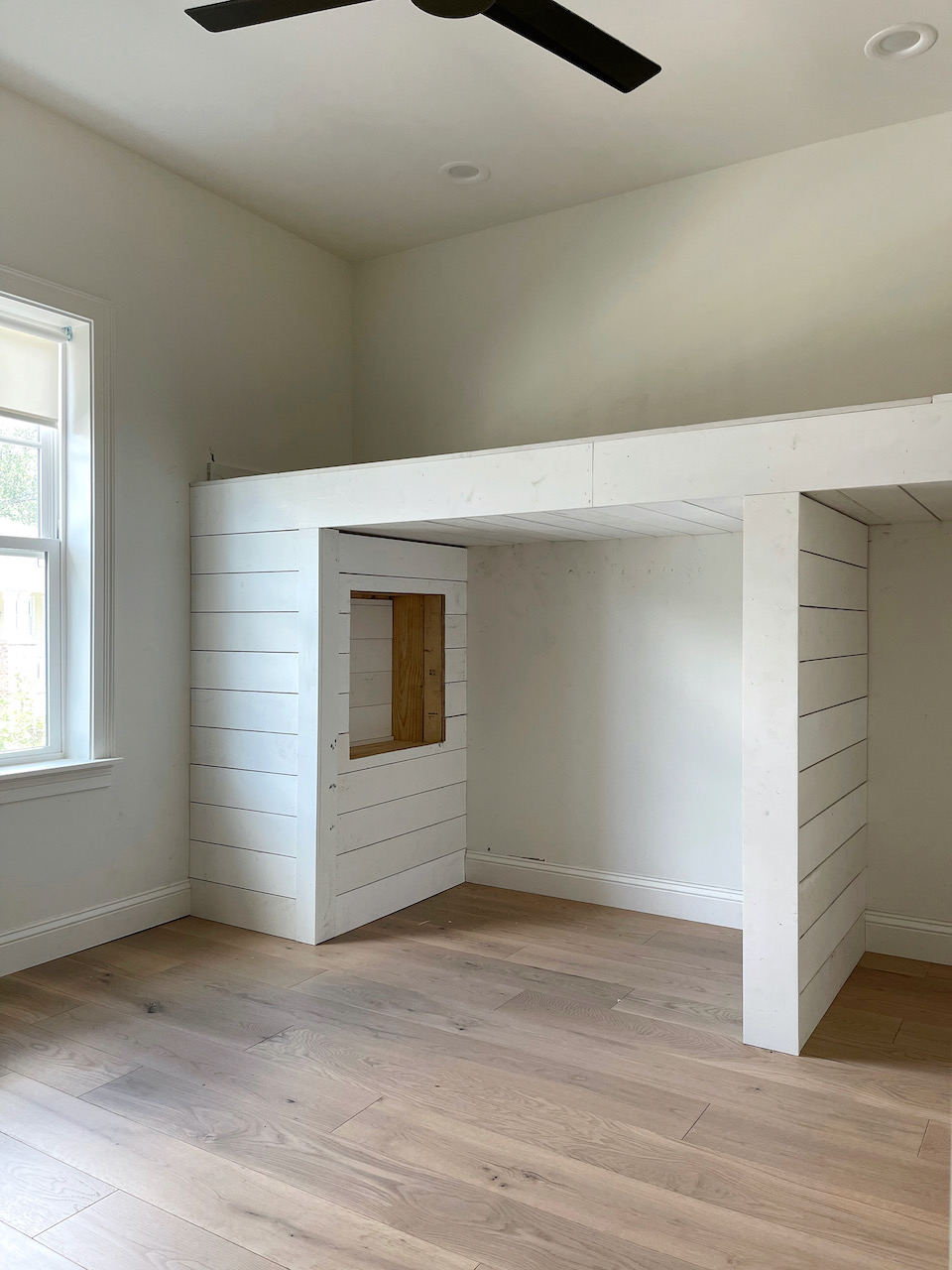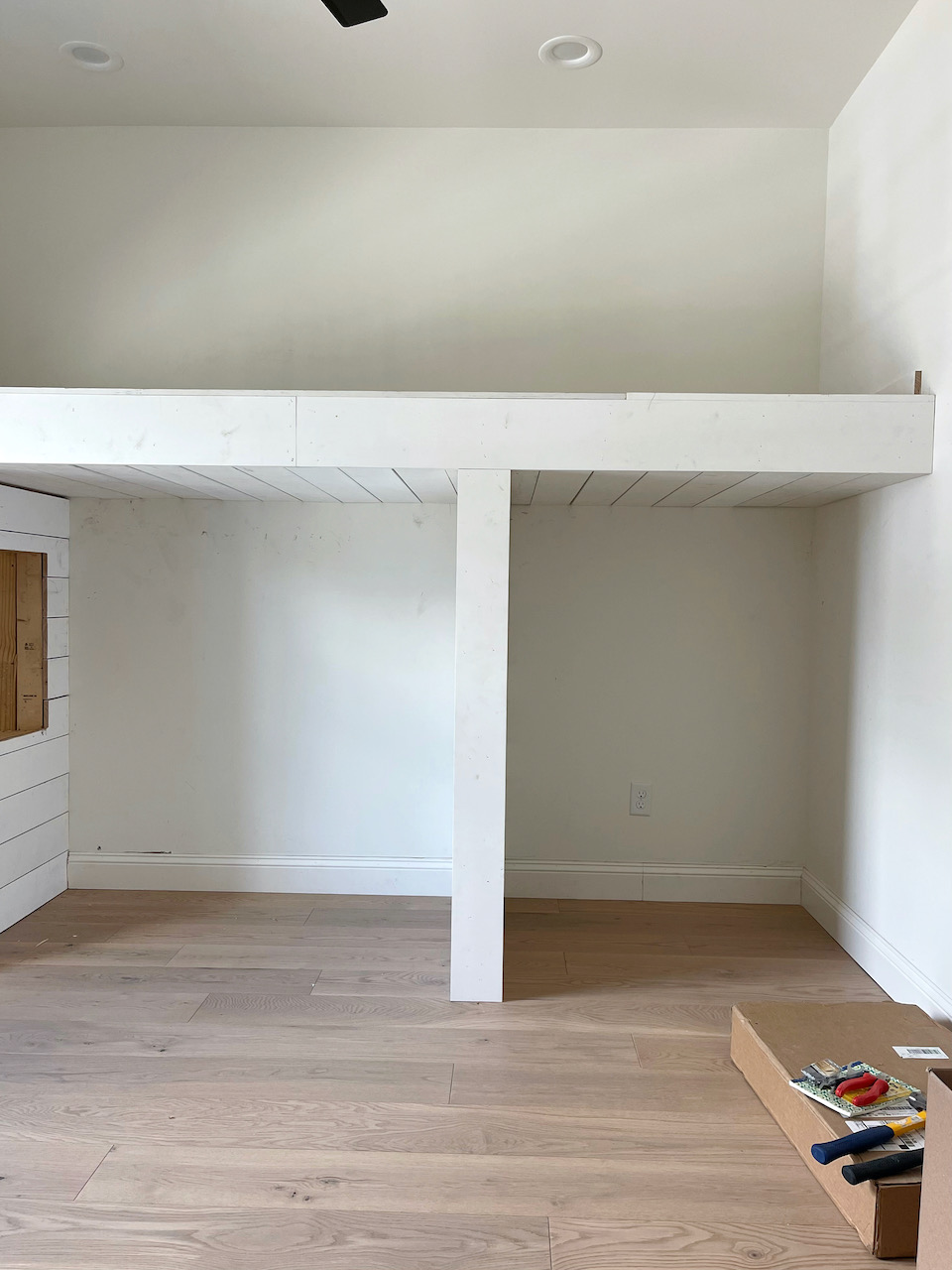 After it has been painted, Brooklyn Roots (a local design company who built our laundry room cabinetry and primary bath vanity) are going to be installing a slat railing and ladder and we can start decorating!
The bed will go perpendicular to the wall (I found a low-profile platform bed which will still give her plenty of headroom) and the space on the right will fit a little desk. The loft area above will be used as a play/storage area and she also has big plans to create a cozy reading nook with pillows and blankets.
And the decor? Now that my girls are no longer sharing a bedroom, I wanted to give them an opportunity to decorate in their own style—with a little direction, of course! I loved their last bedroom (and I think they did too!) but they are much older now and definitely have their own opinions about what they like and dislike.
This design plan came together after I asked my seven year old to pick out a sheet set. She was drawn to a pretty blue floral print, and the rest of the room took shape pretty quickly from there! Here's what we have so far: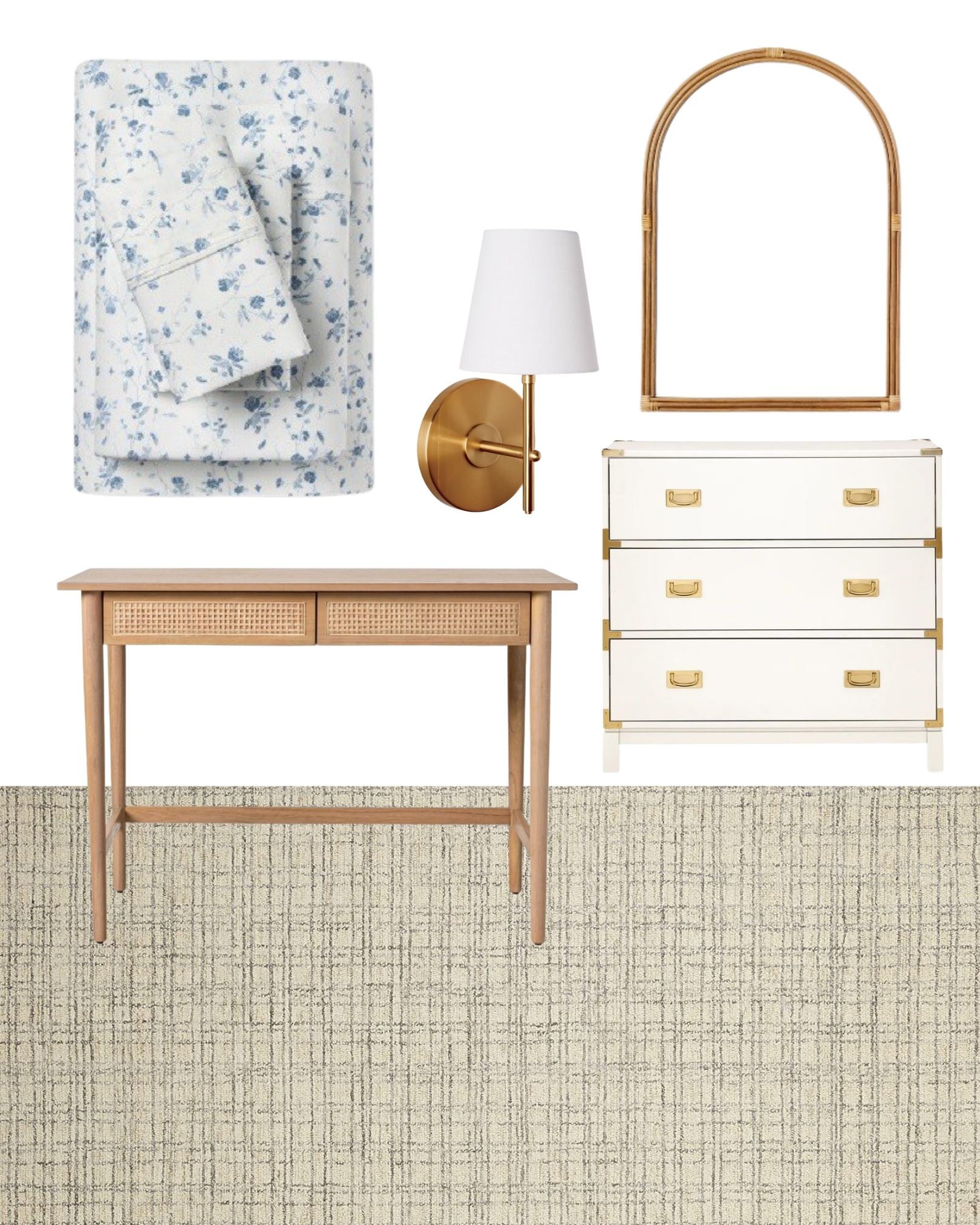 Dresser | Sheets | Desk | Sconce | Rug | Mirror
I think it will be the perfect blend of modern/whimsical style—she loves a good print but is also drawn towards clean, simple furniture lines. (I showed her a few antique dressers but she said they were too "curly"...!)
In addition to what's on the mood board so far, I'm on the lookout for some pretty pillows to add a bit more color, and I'm planning on adding a little something to the window. Curtains aren't an option as they'll get in the way of the ladder, but perhaps a faux roman shade or even a valance to hide the roller shade mechanism. I think we'll see how the main pieces look together first. I'm very excited to start putting this room together!
---