It's finally here! The long awaited One Room Challenge reveal day! I have worked so hard on the girls' bedroom over the last five weeks and it's just so exciting to be at the point of sharing the full room with you. Thank you for your support and encouragement along the way—it truly means so much to me!
Anyway...let's get straight into the important stuff. Here's what the room looked like five weeks ago: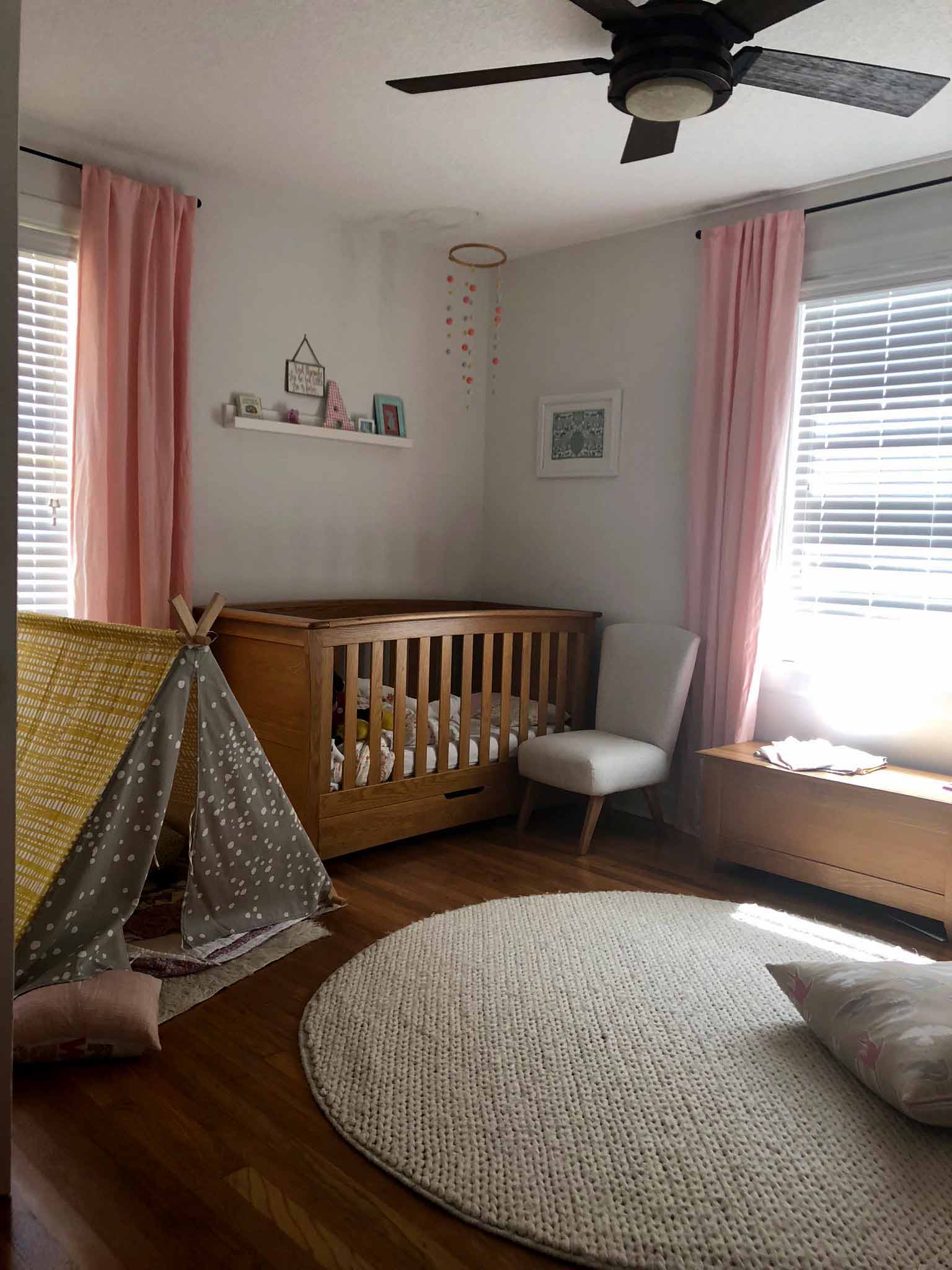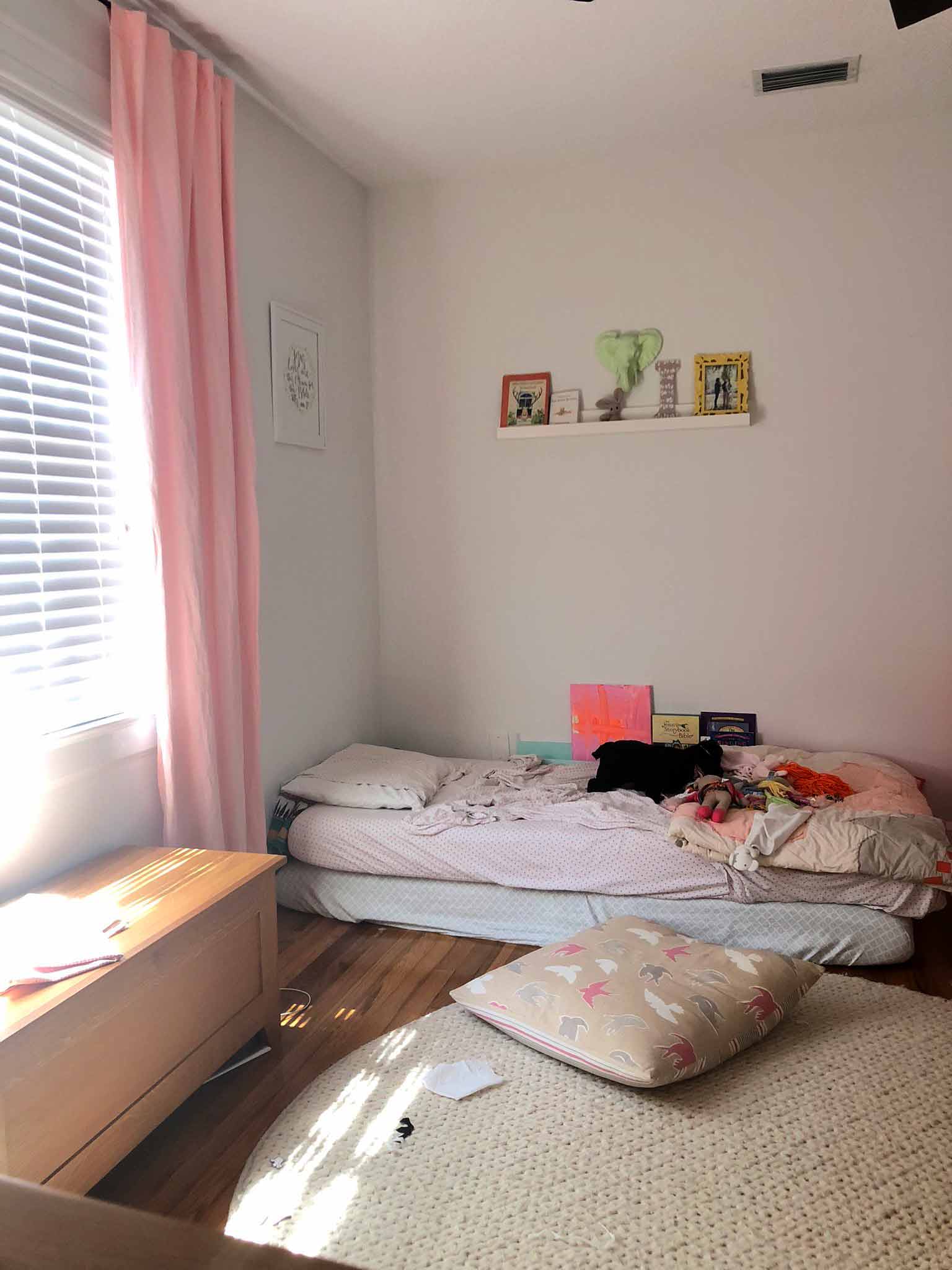 And here's where we have ended up! Drumroll please...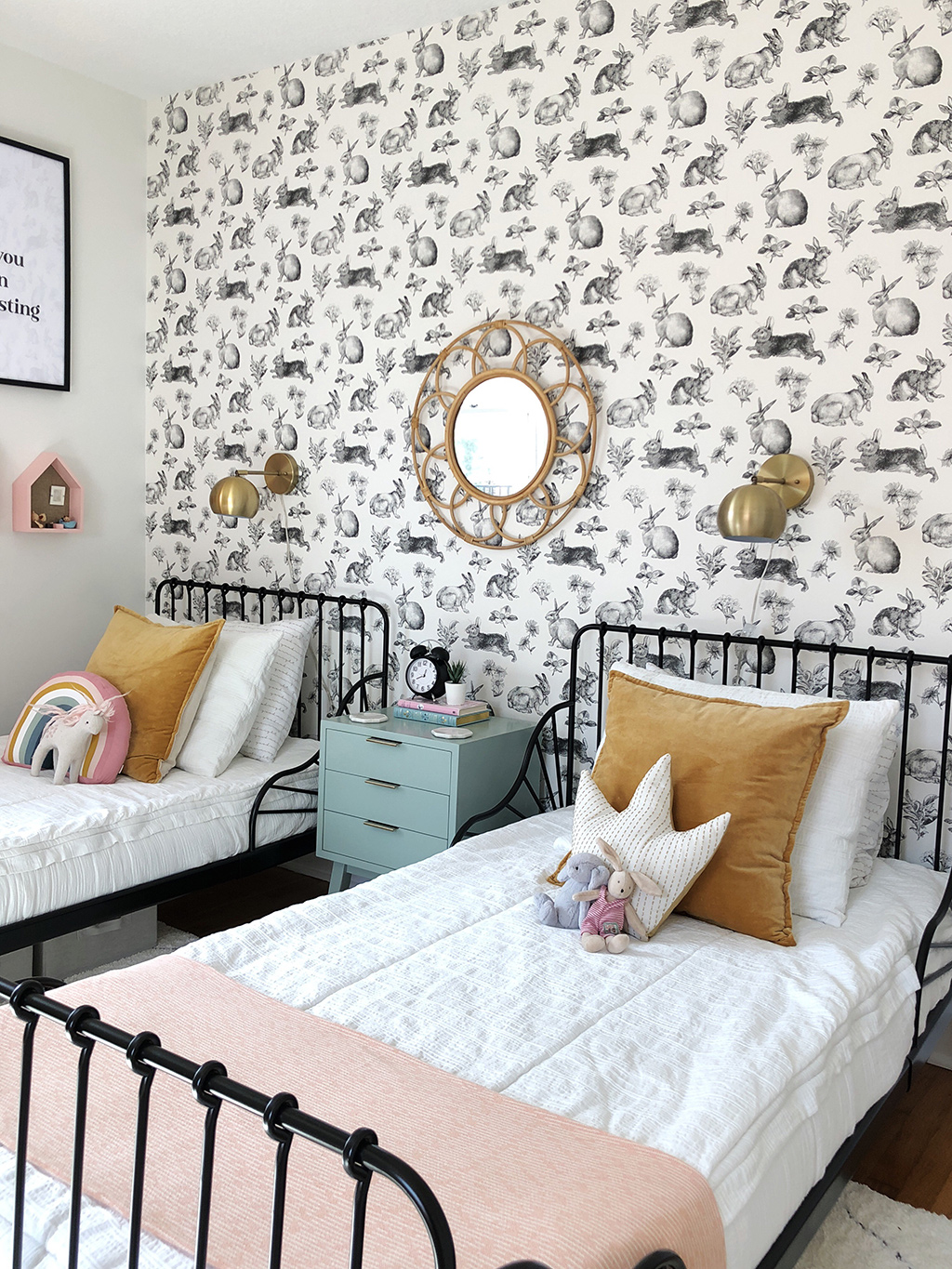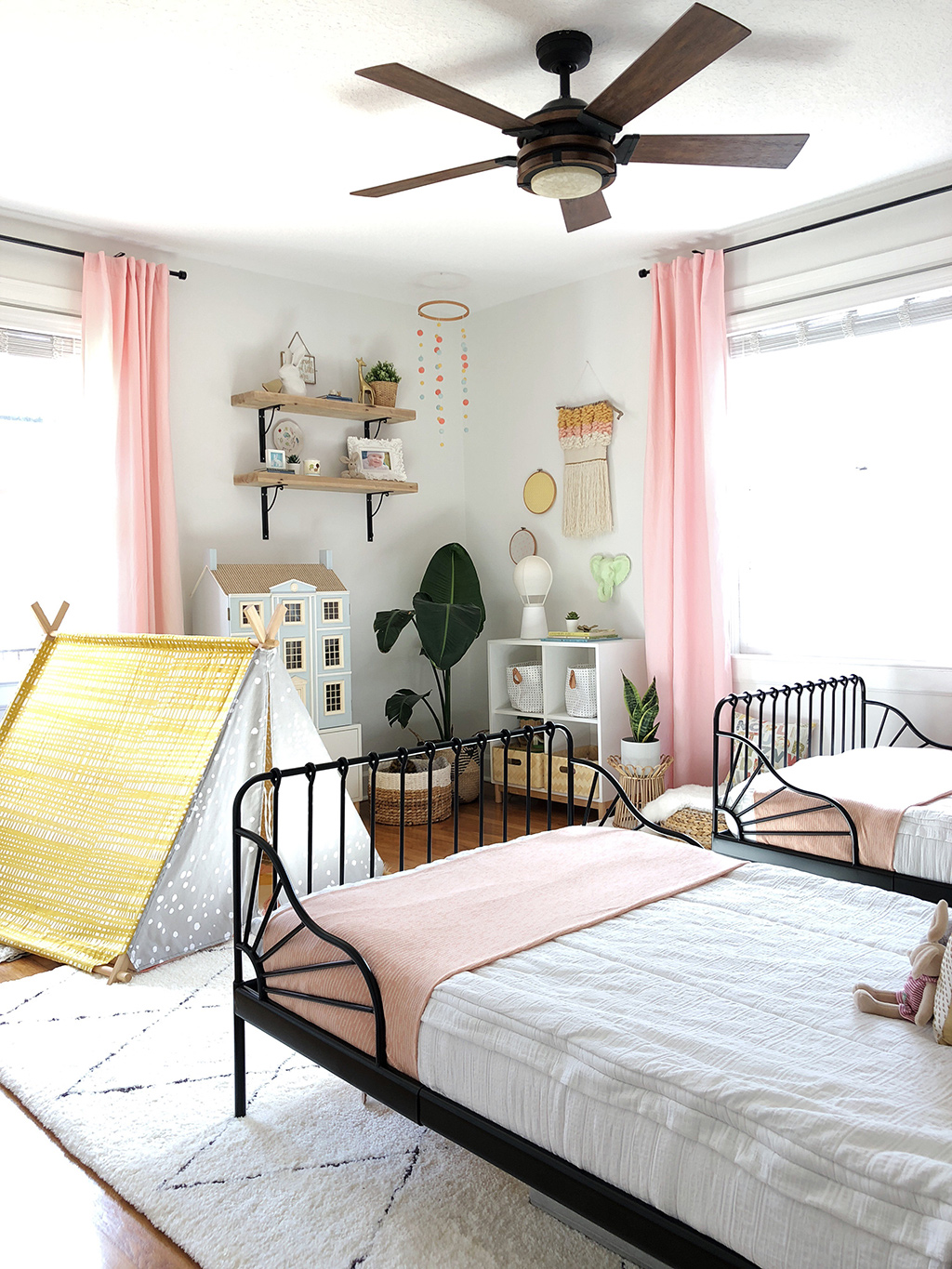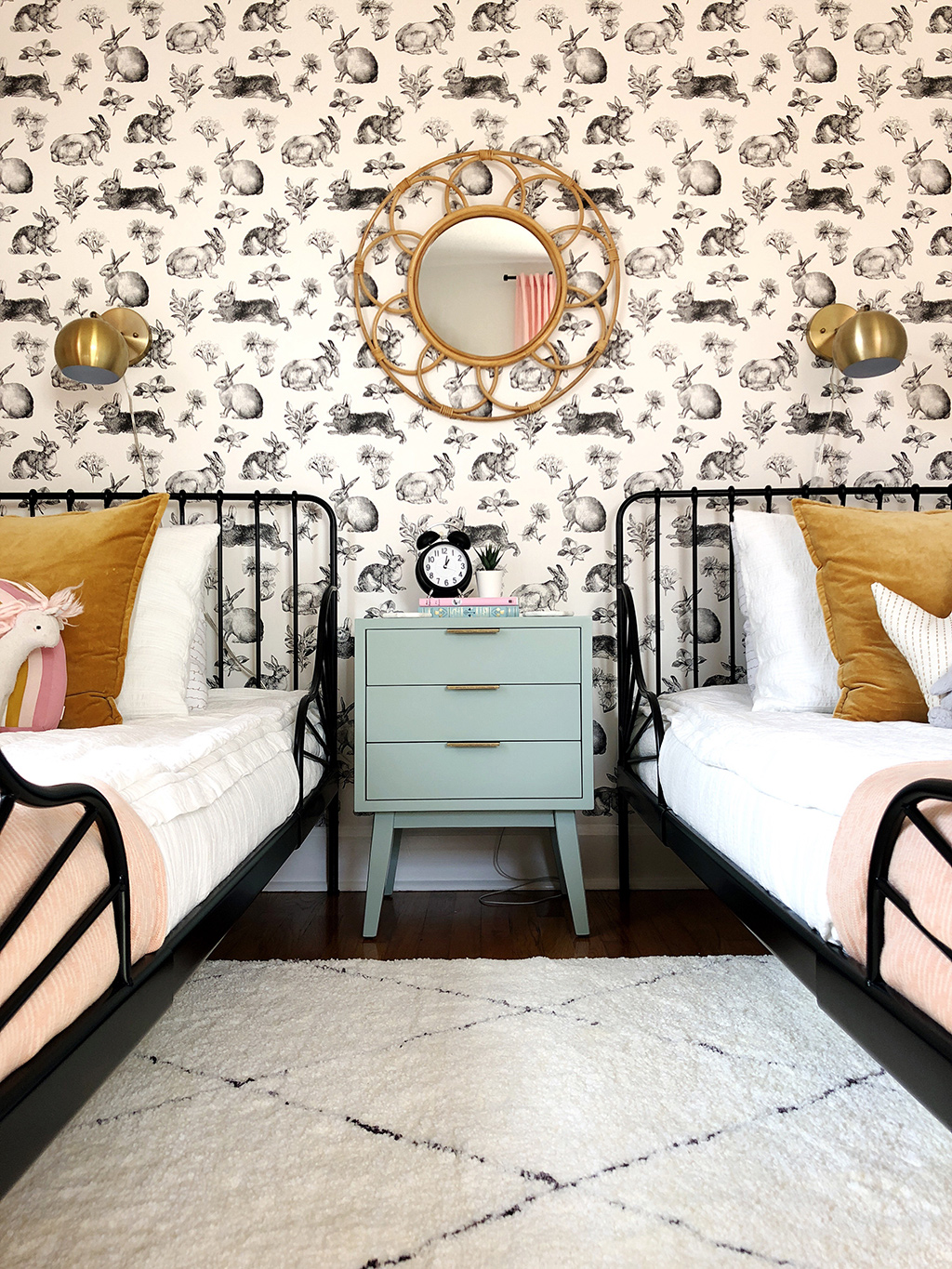 Want to find out where everything is from? Click here for sources!
This room design all started with the rainbow pillow. I thought it was just the perfect pop of color with a whimsical style that I knew my girls would love. It also does a great job of pulling all the different elements and colors of the room together and making them feel cohesive.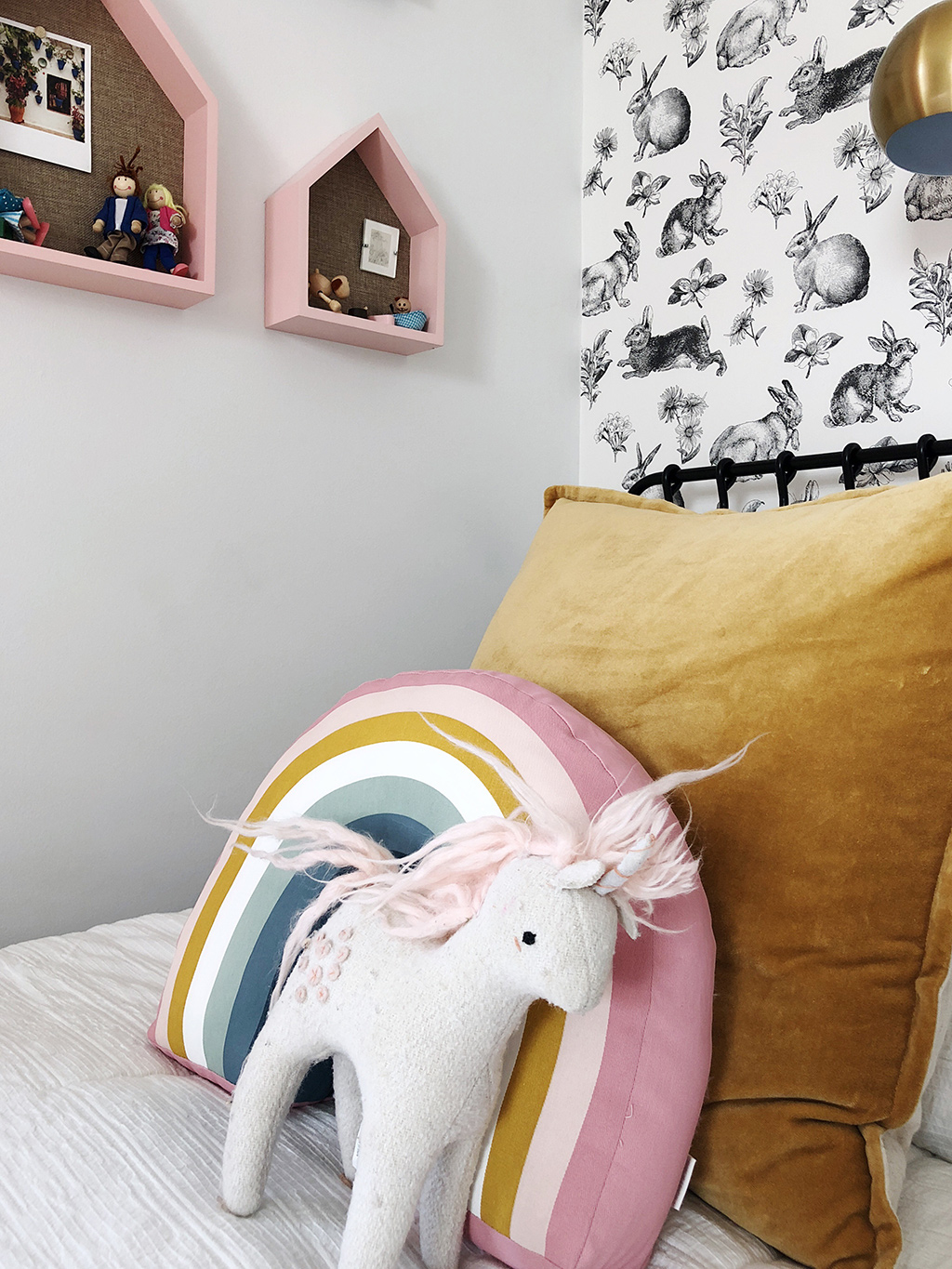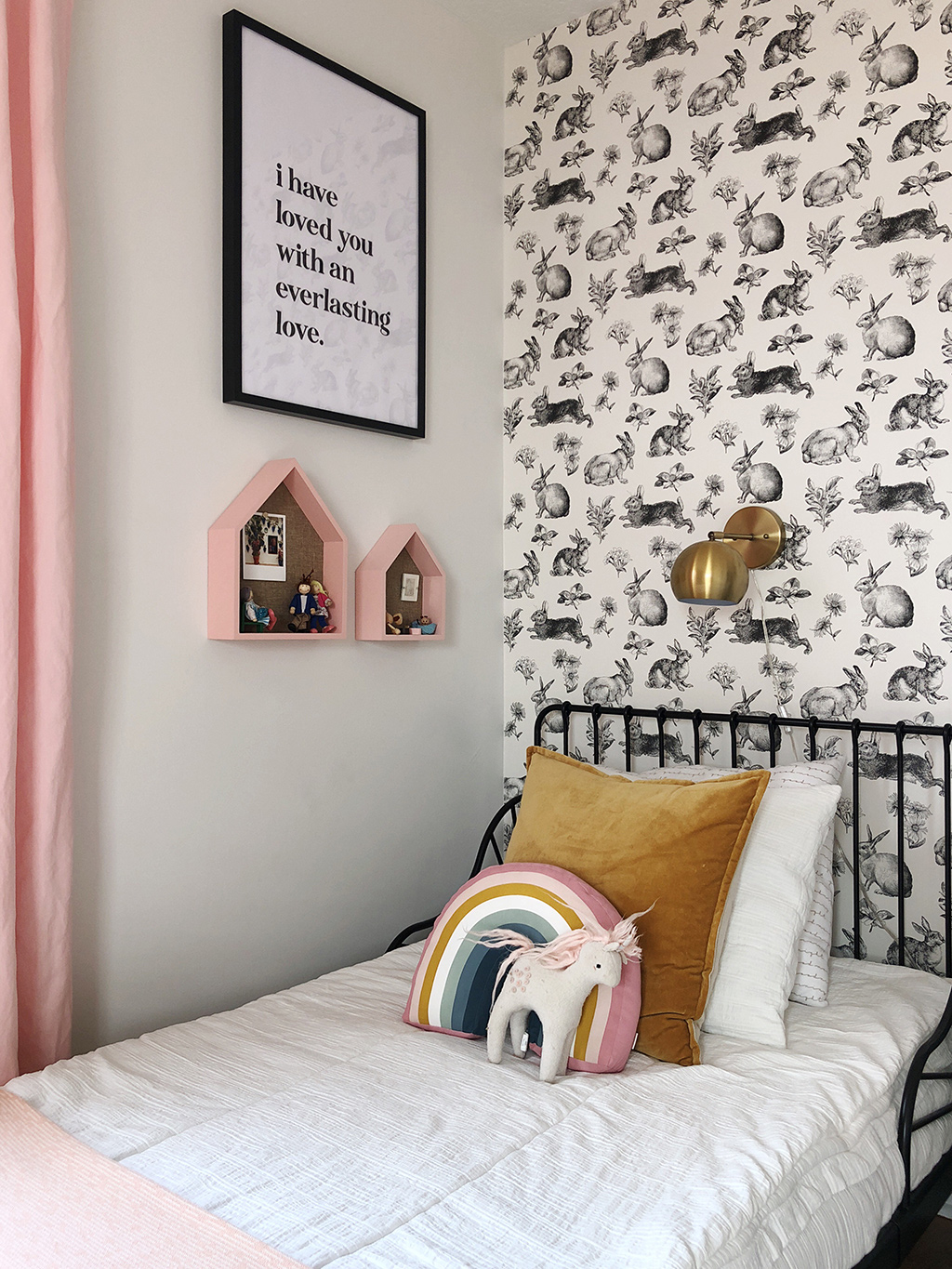 Of course, the showstopper of the room is the sweet bunny wallpaper, which I still love just as much as the first time I saw it! (Maybe I love it even more now??) I tried to keep the other textiles in the room (the bedding, curtains and rug) fairly neutral, so that it wouldn't feel too overwhelming and busy with such a bold pattern.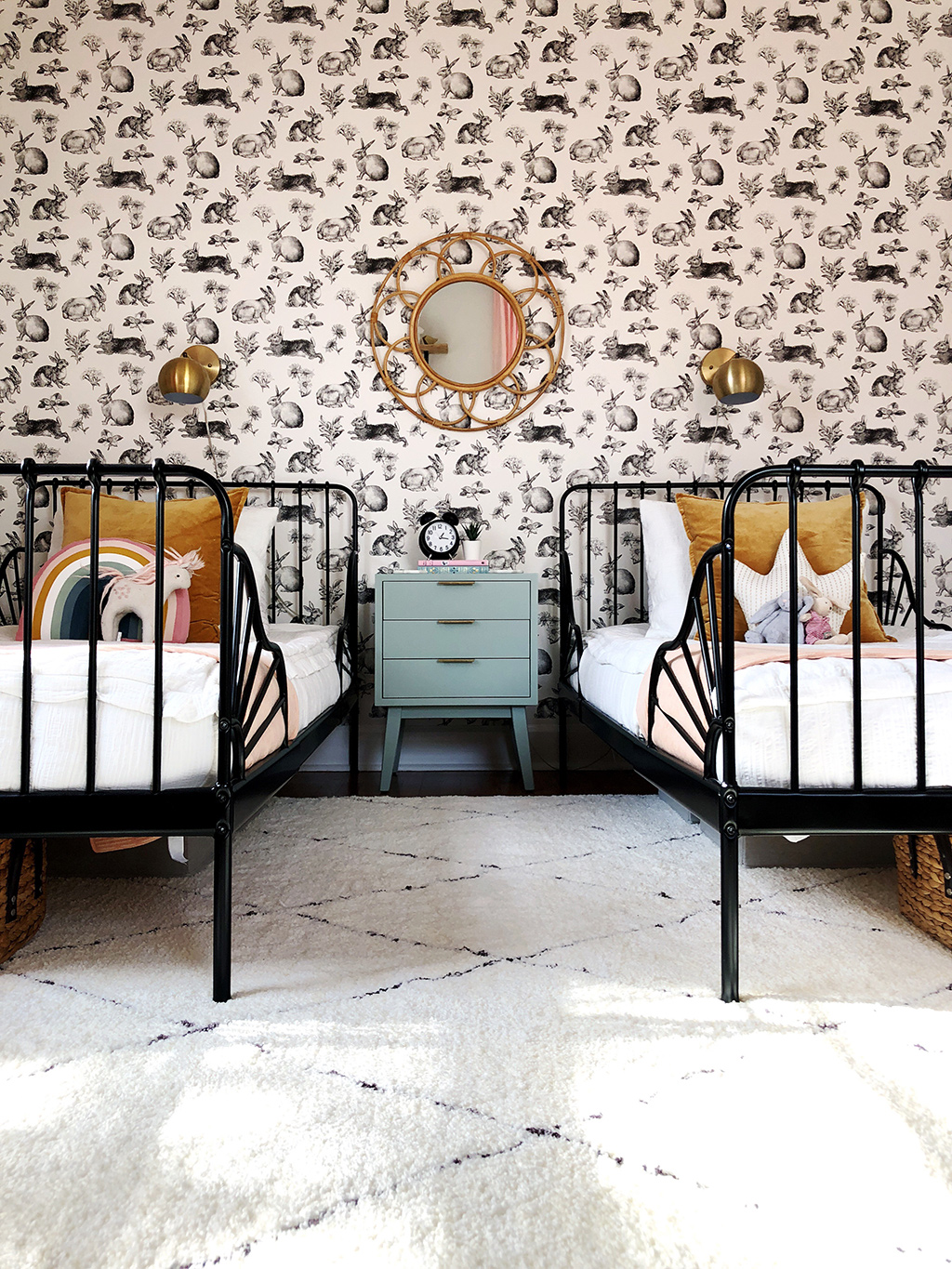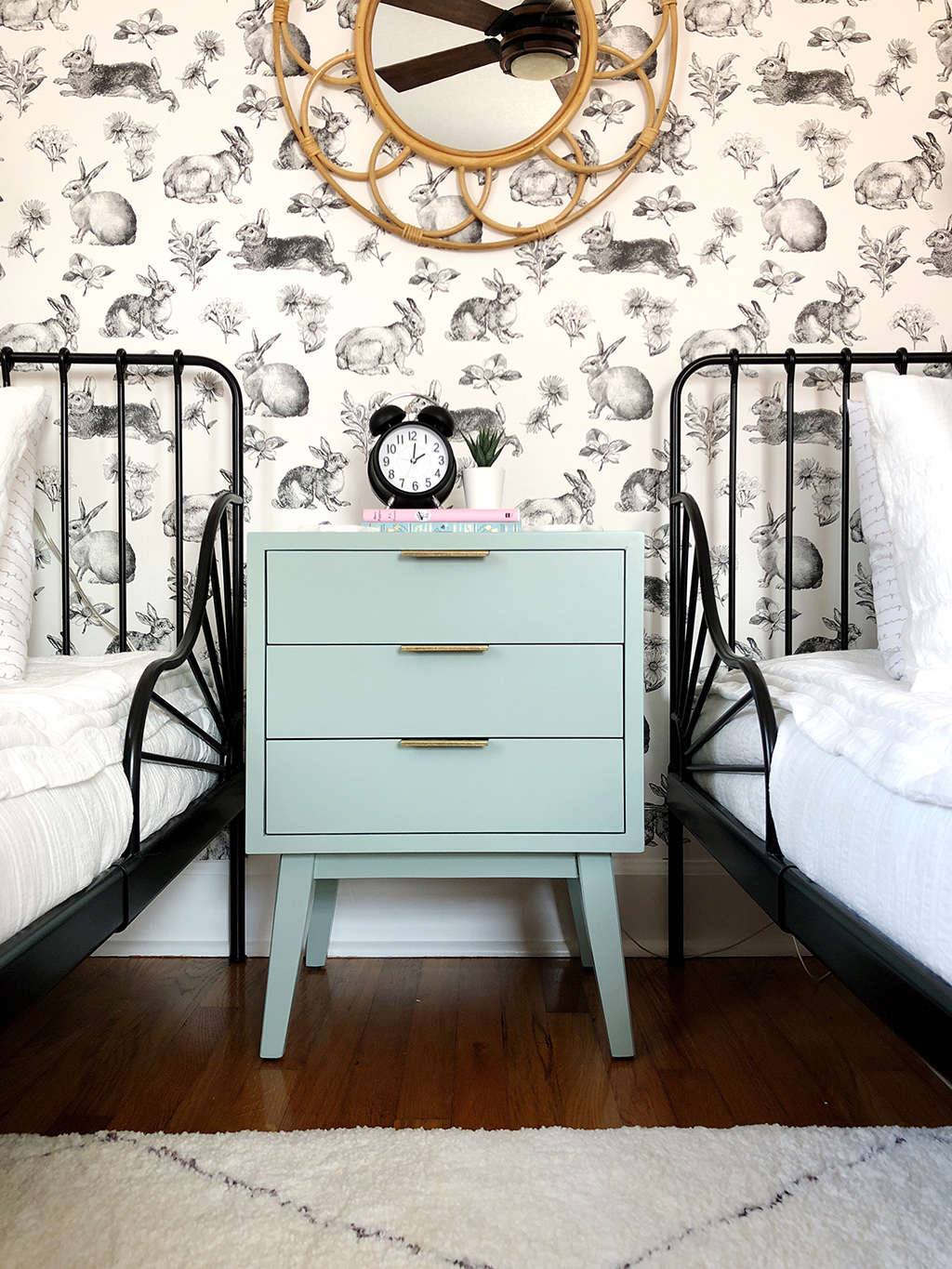 The girls love having their very own wall lamps and a mirror at their height! It was nerve-racking drilling holes into the freshly hung wallpaper, but we haven't regretted the decision one bit.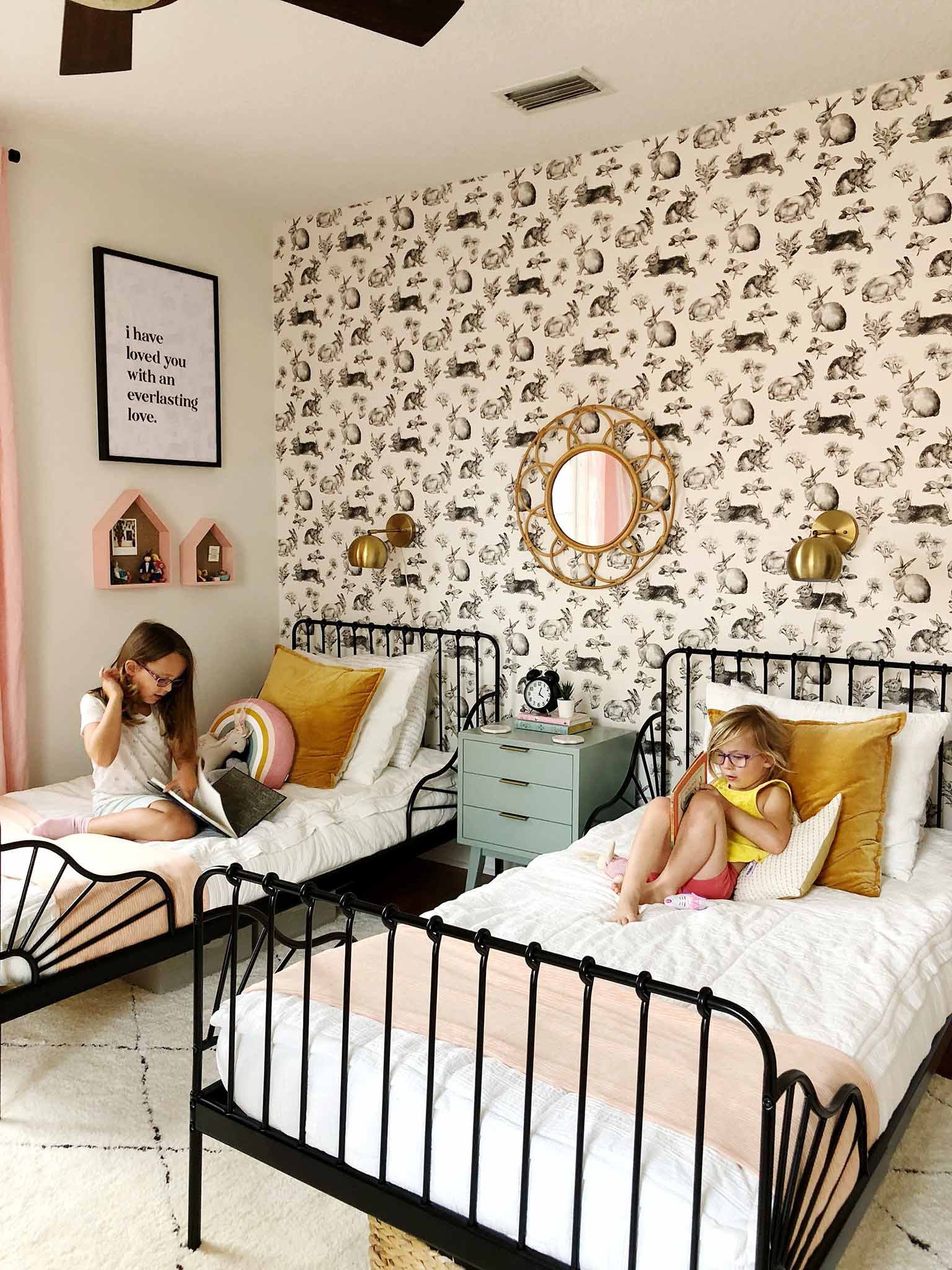 ARTWORK
With the exception of a couple of pieces, all the artwork in the room was already in the room beforehand. However, I did reframe the bigger pieces with simple black frames from Custom Picture Frames which totally gave them a new lease of life. (Use promo code THATHOMEBIRDLIFE20 for 20% off your purchase!)
The gallery wall features a London illustration that we found at a market while we were visiting there, an alphabet print by BT Design Co., a sweet Noah's ark print that was gifted to our youngest daughter and a calligraphy piece by my friend Audra.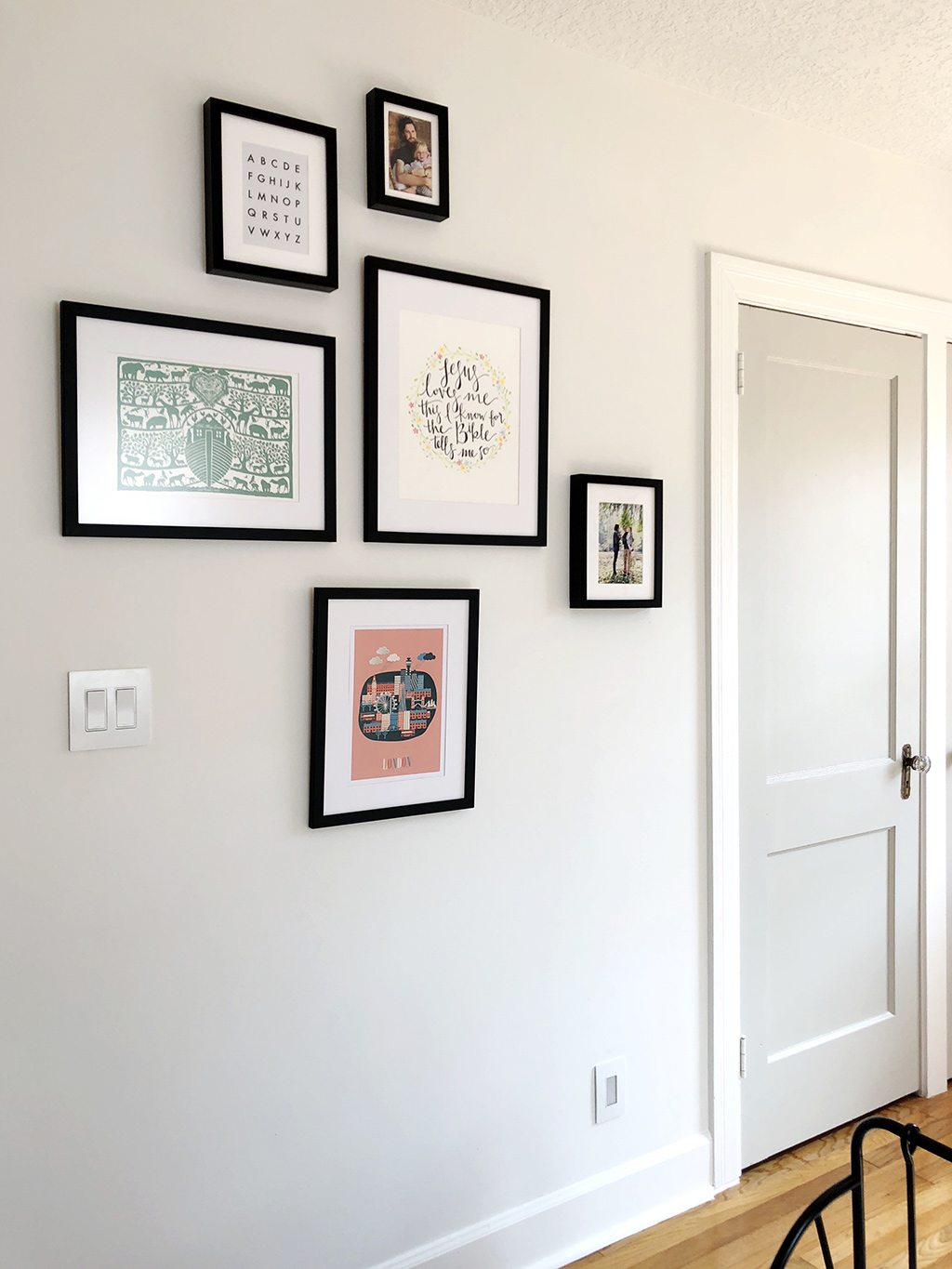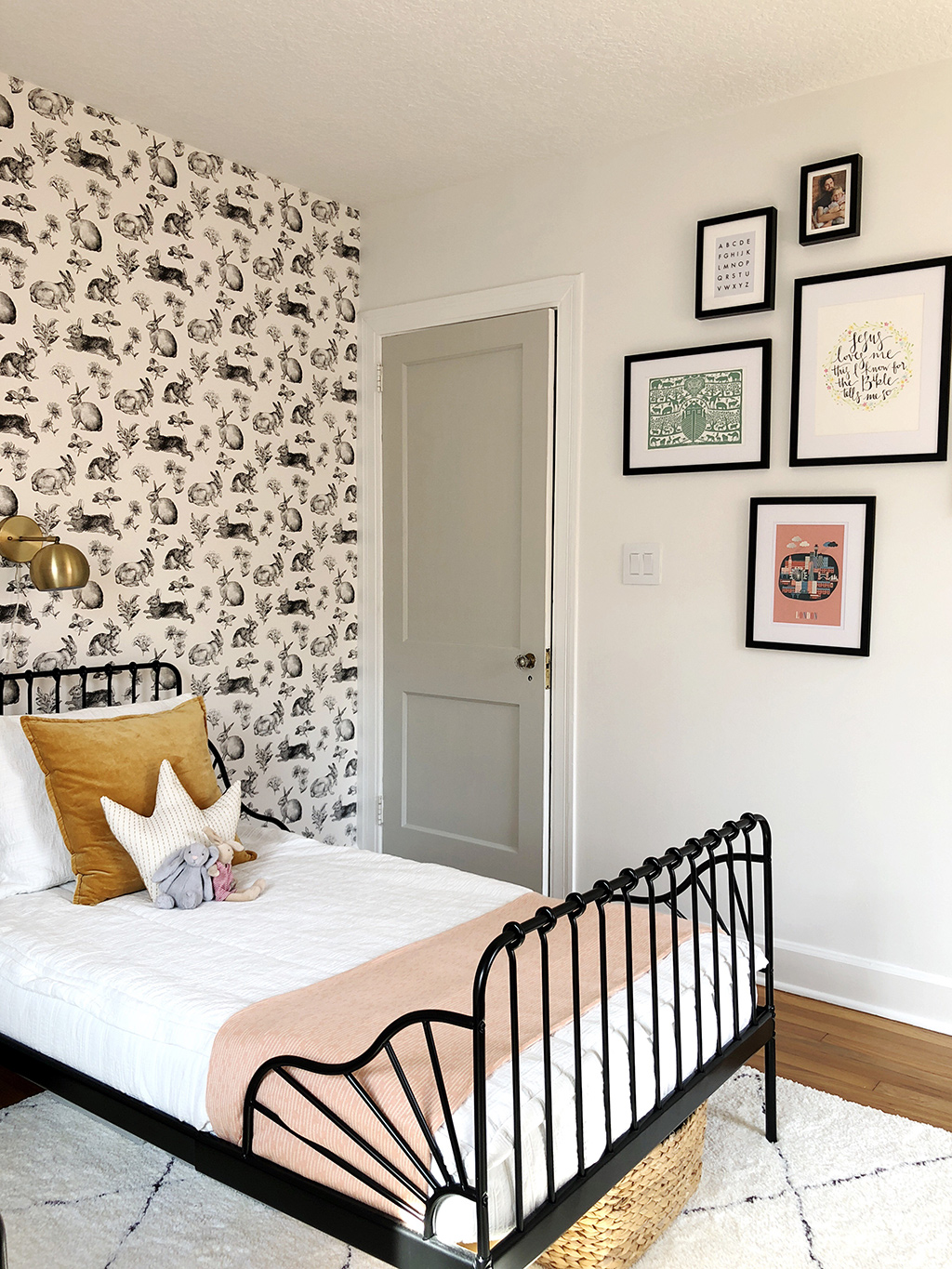 On the opposite wall we hung a large scale typography print designed by my friend Melissa. (Yep, I have super talented friends!) Underneath I hung two house cubbys which I found a couple of years ago at Target, and styled them with a few of the doll house toys.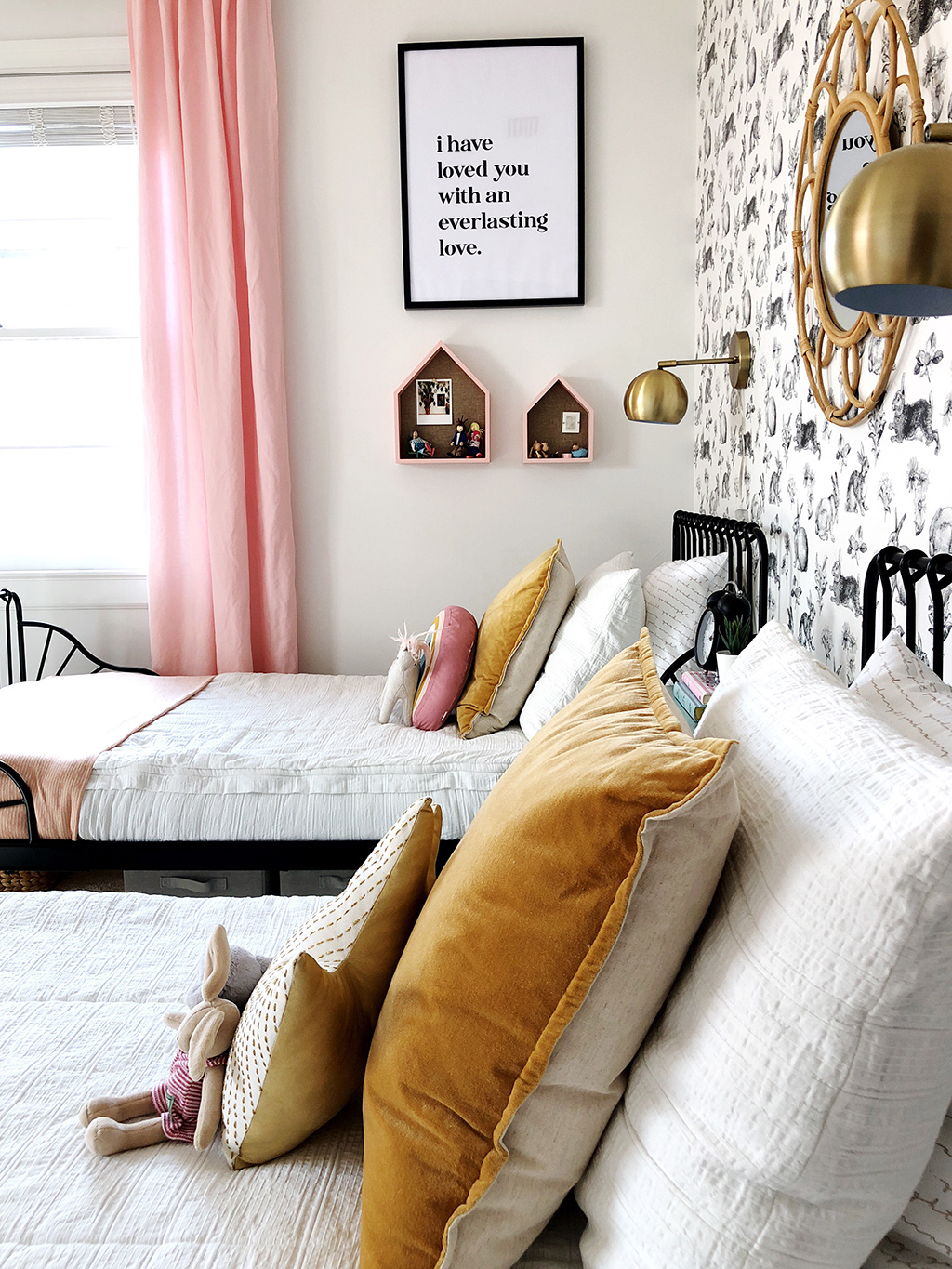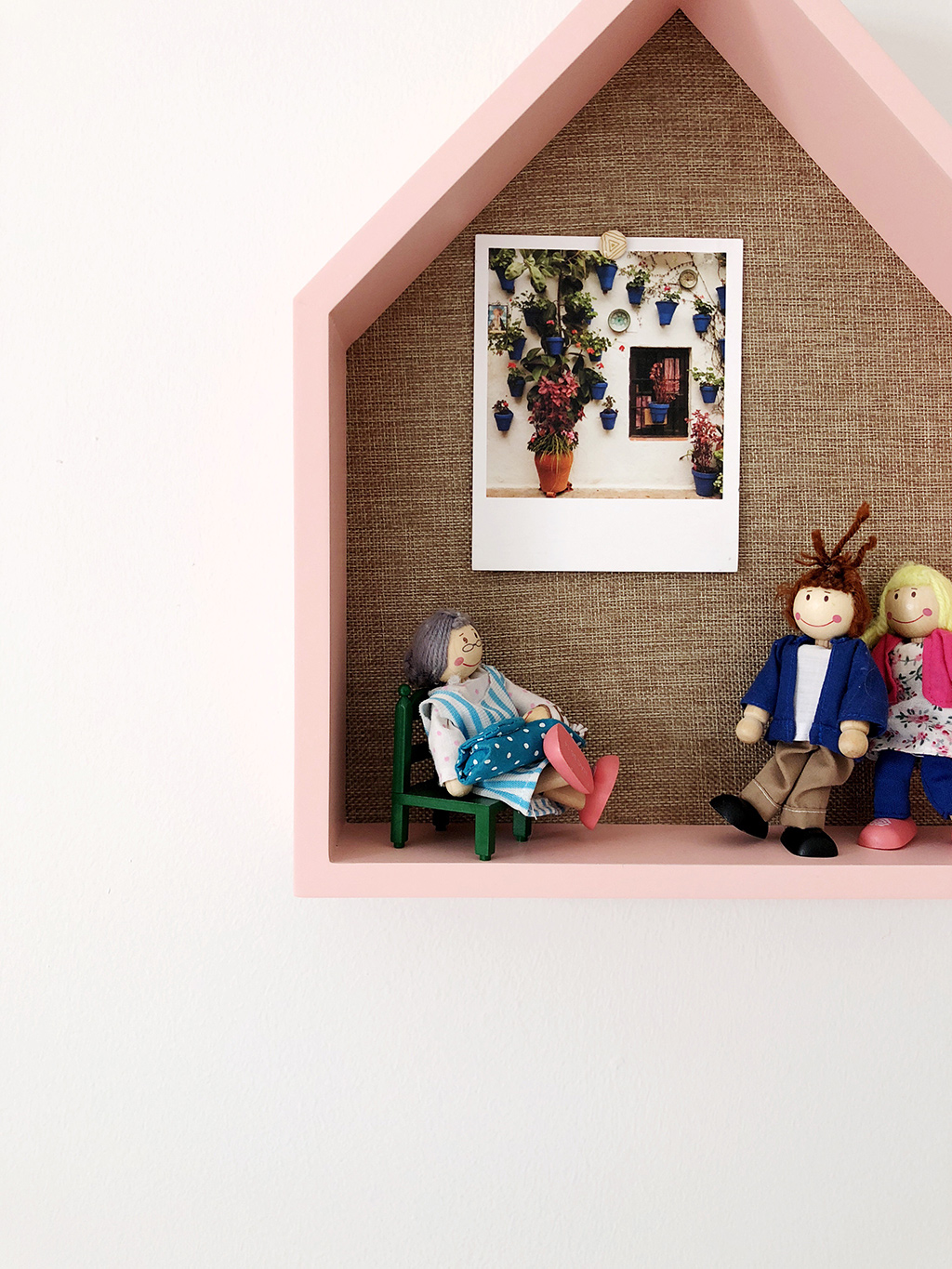 STYLING
Like the artwork, many of the items I used for styling were previously in the room, although I did add a few new pieces. I love my new Baló lamp by Gantri, and it lights up the doll house corner beautifully. (Use promo code HOMEBIRD for $20 off your purchase!)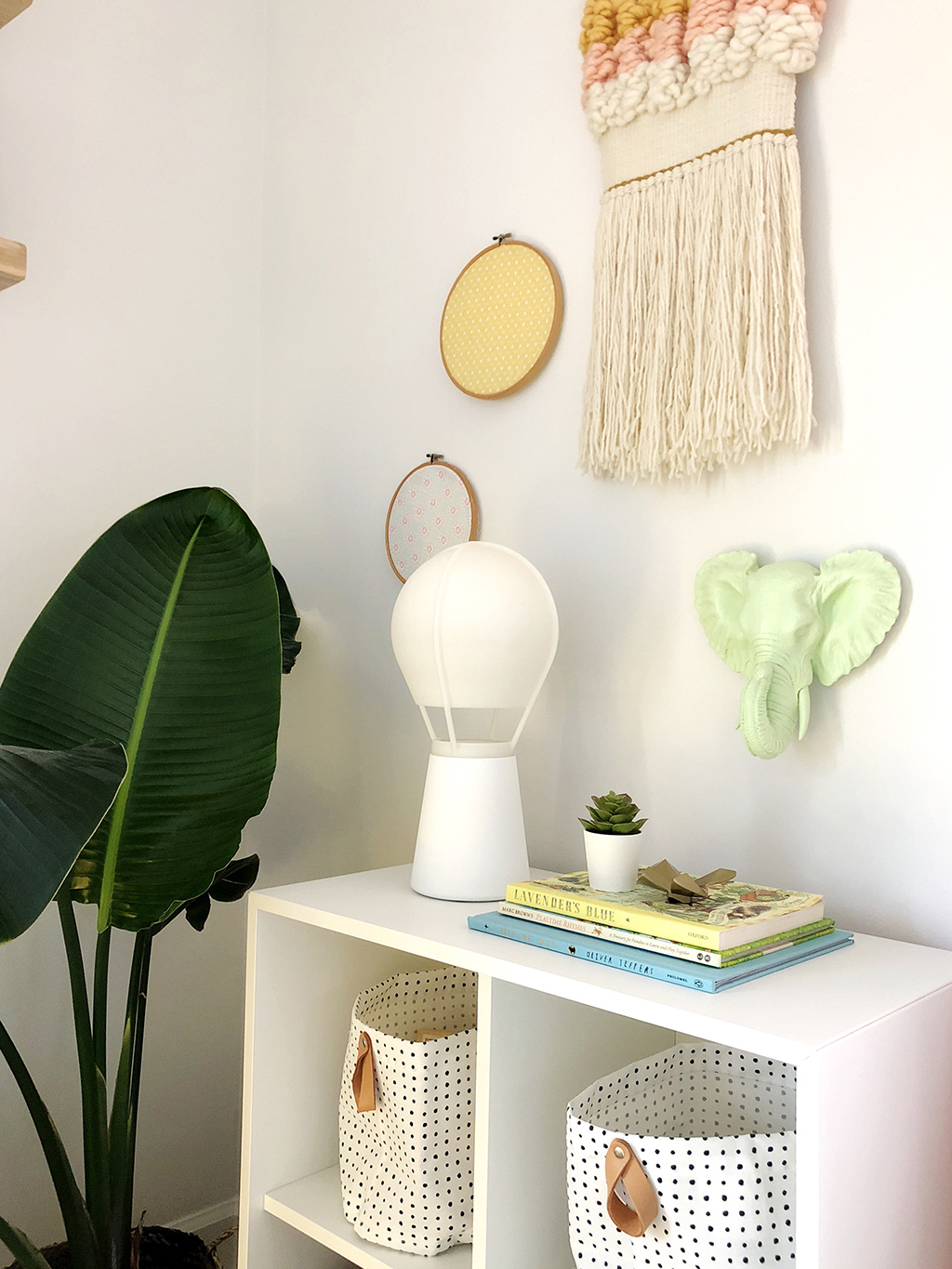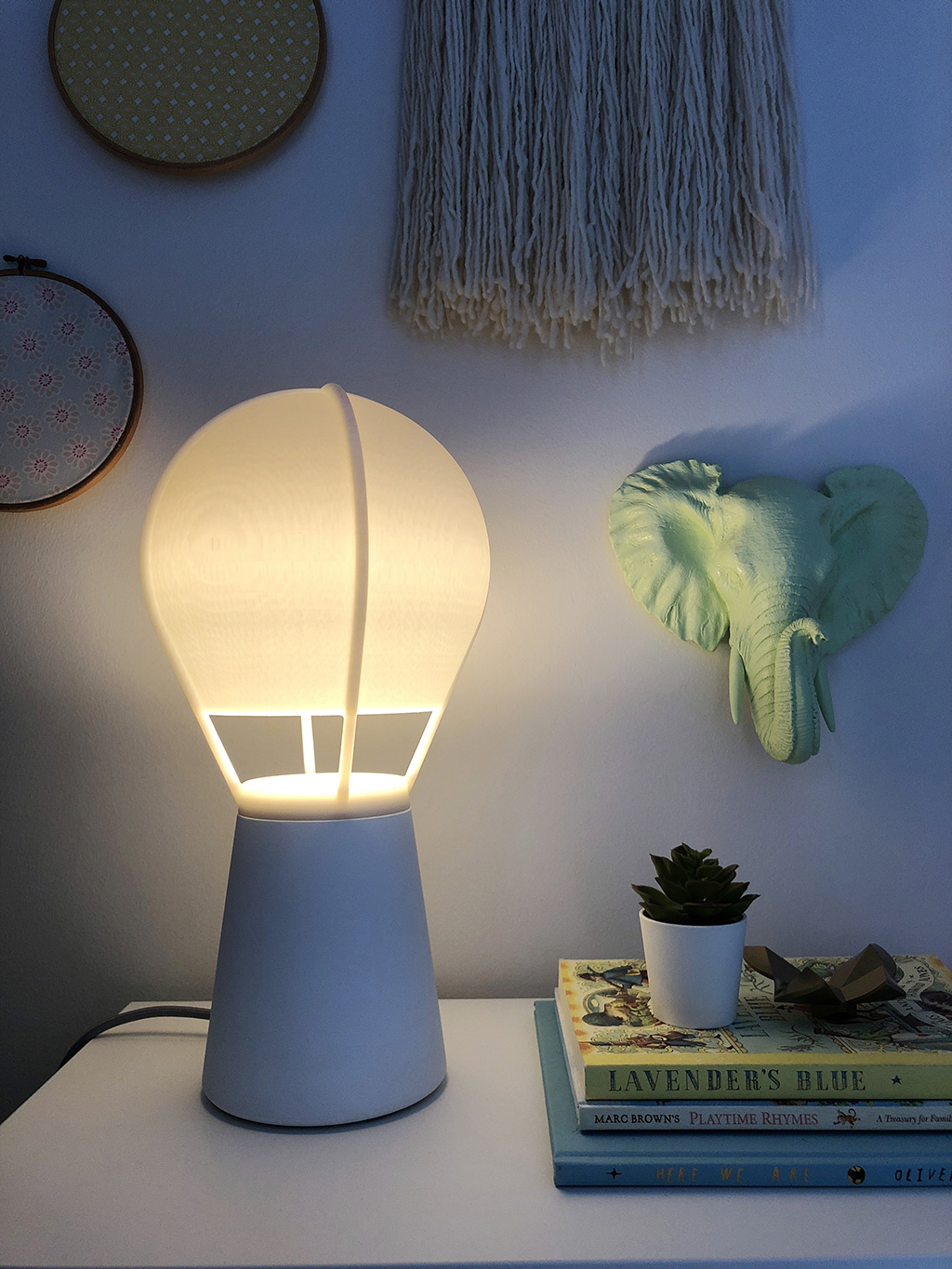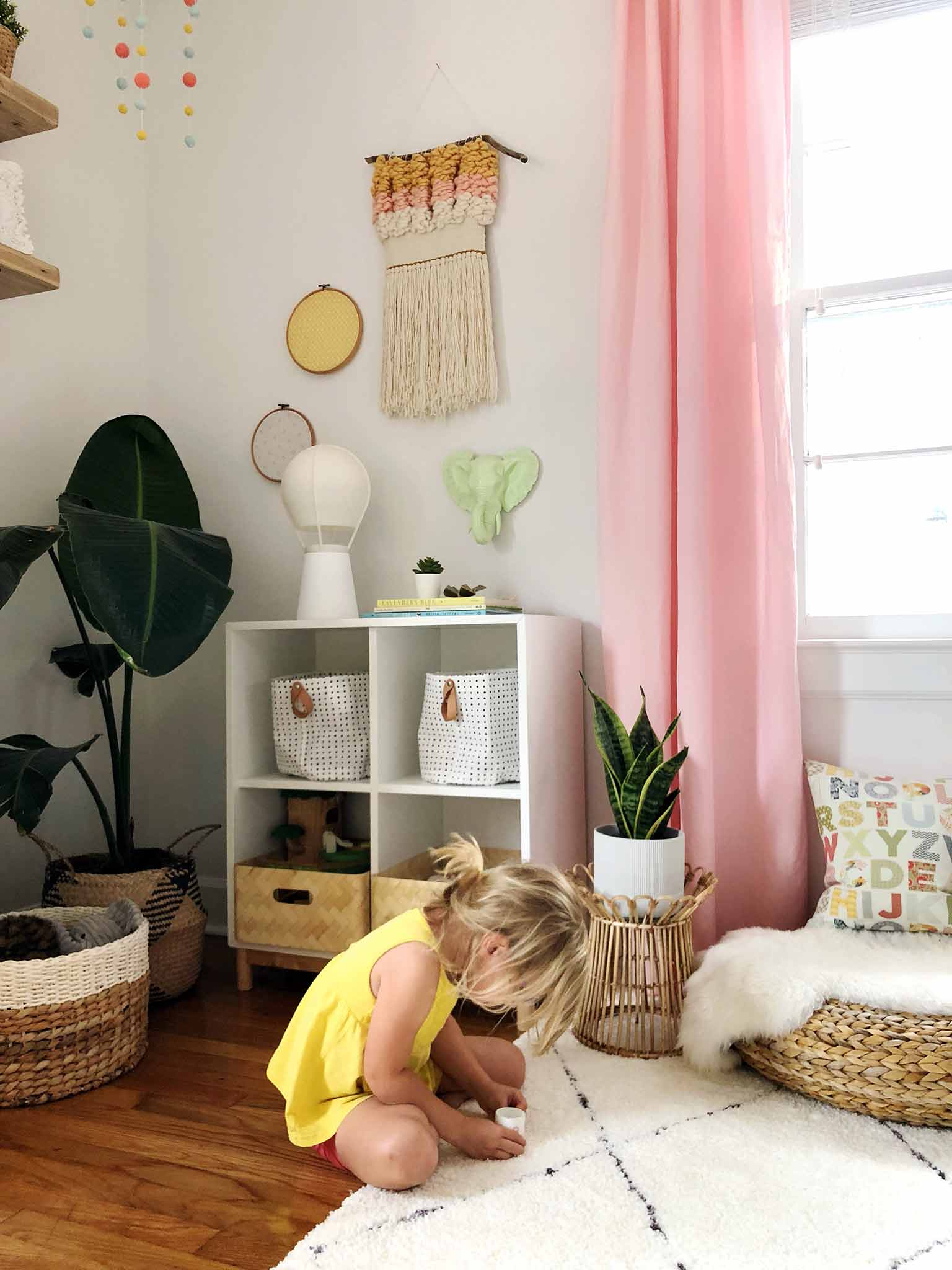 I kept the styling of the wall shelves pretty minimal and simple, with stacked books, a few sentimental items, a couple of faux plants and gold accents.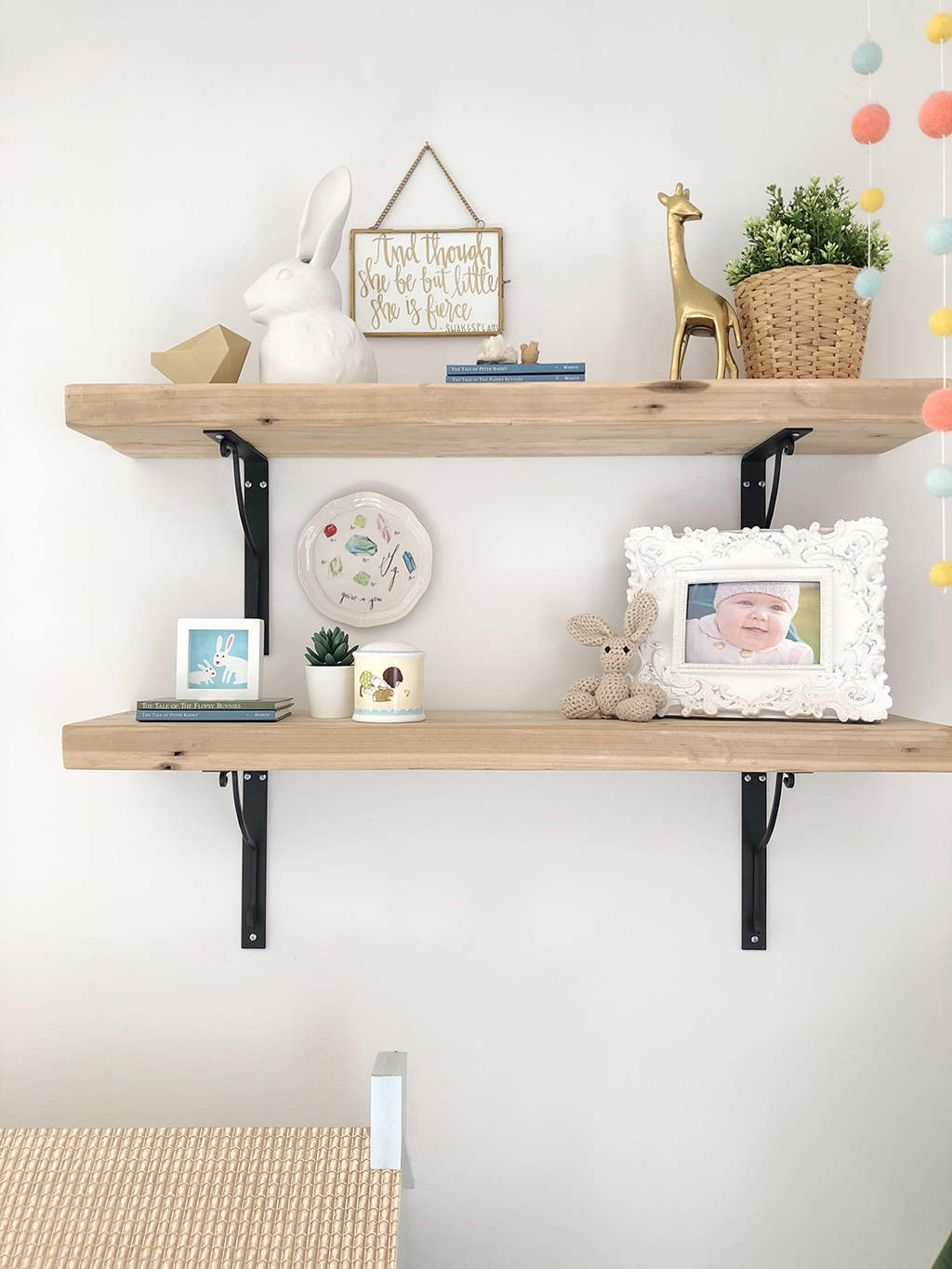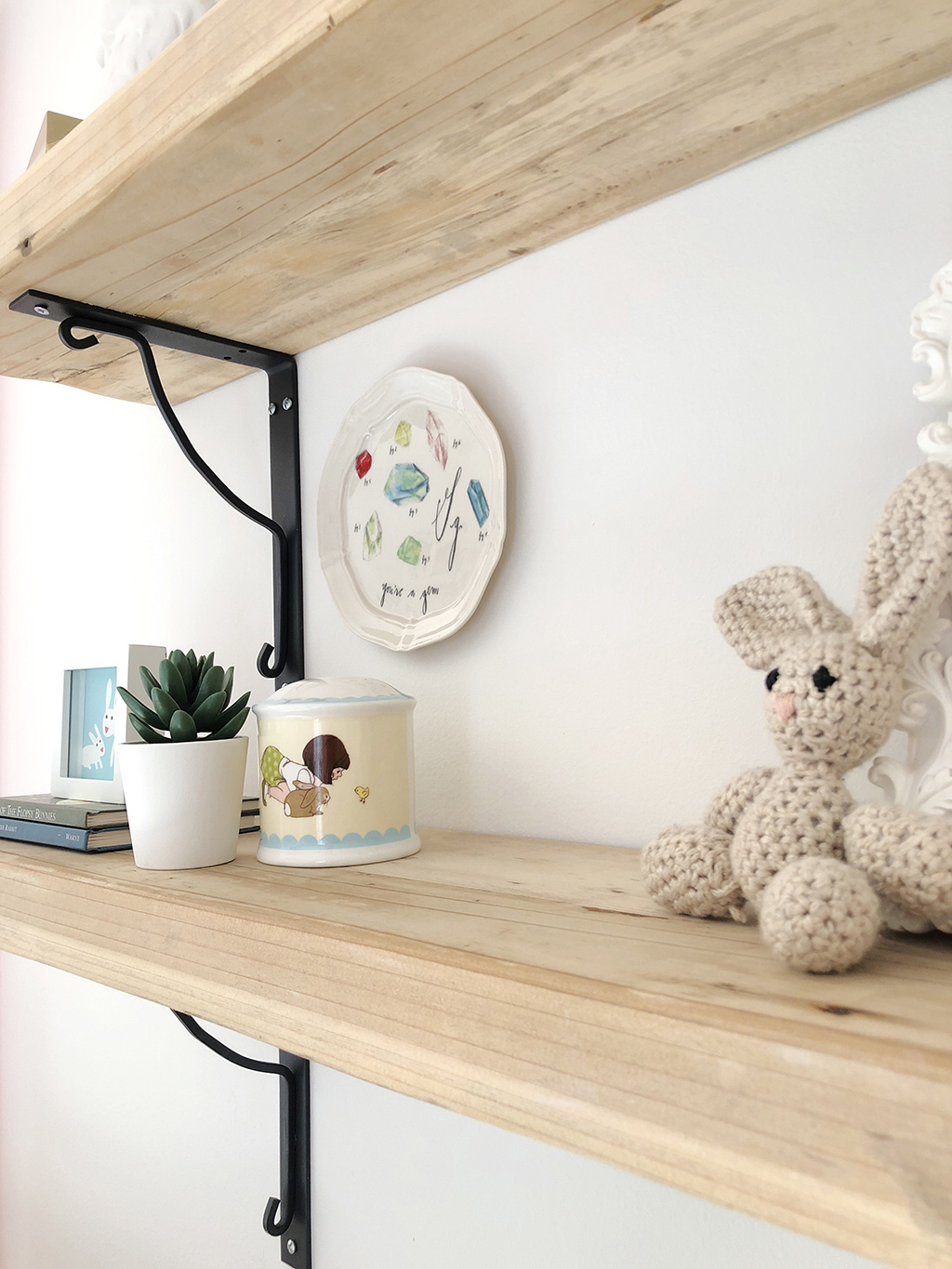 At the beginning of the process, I considered painting the doll house a different color, but in the end I embraced the colorful rainbow palette of the room and left it as is. The doll house was made for me by my Dad when I was a little girl, and I'm so happy that my girls enjoy playing with it now.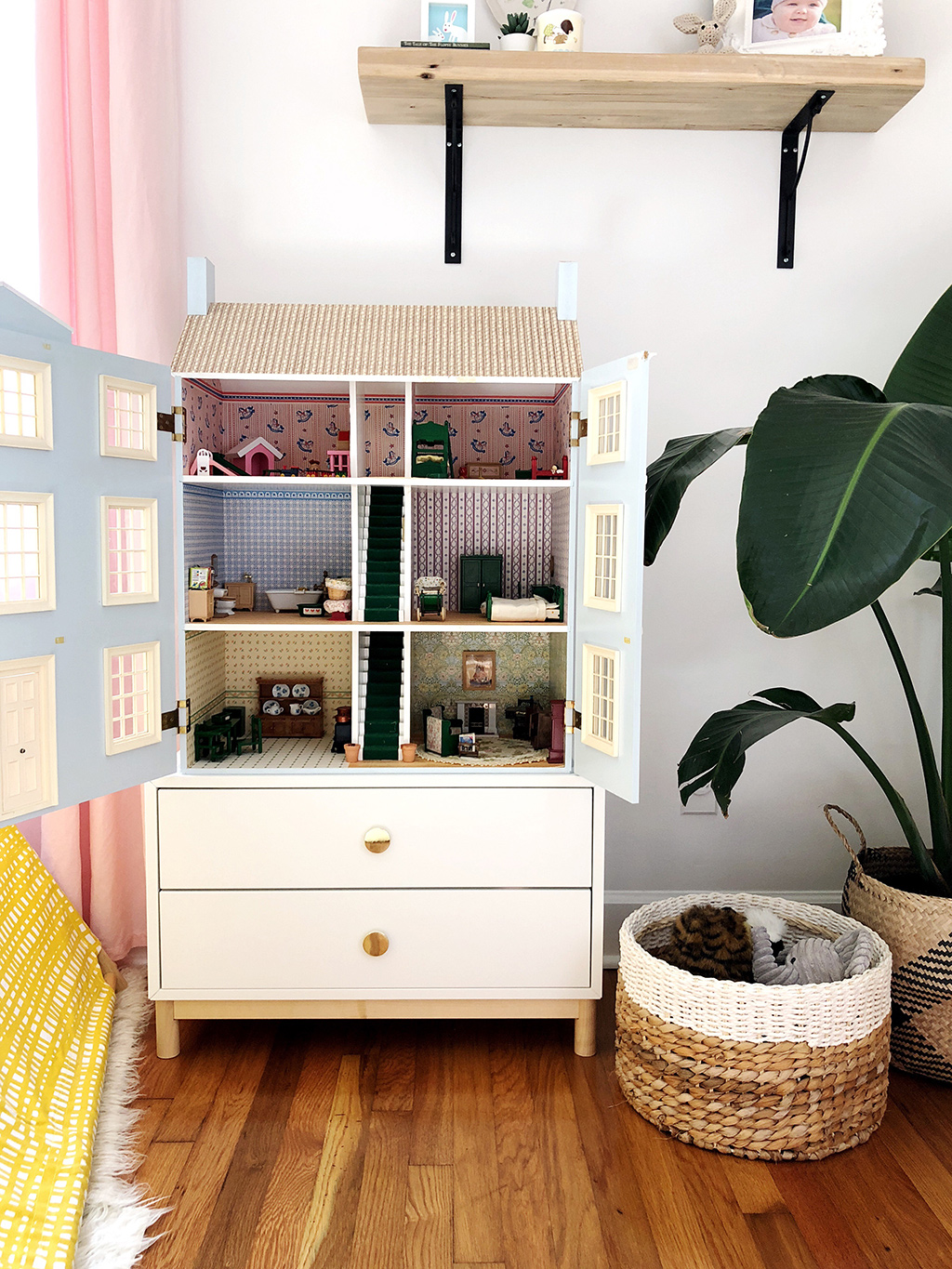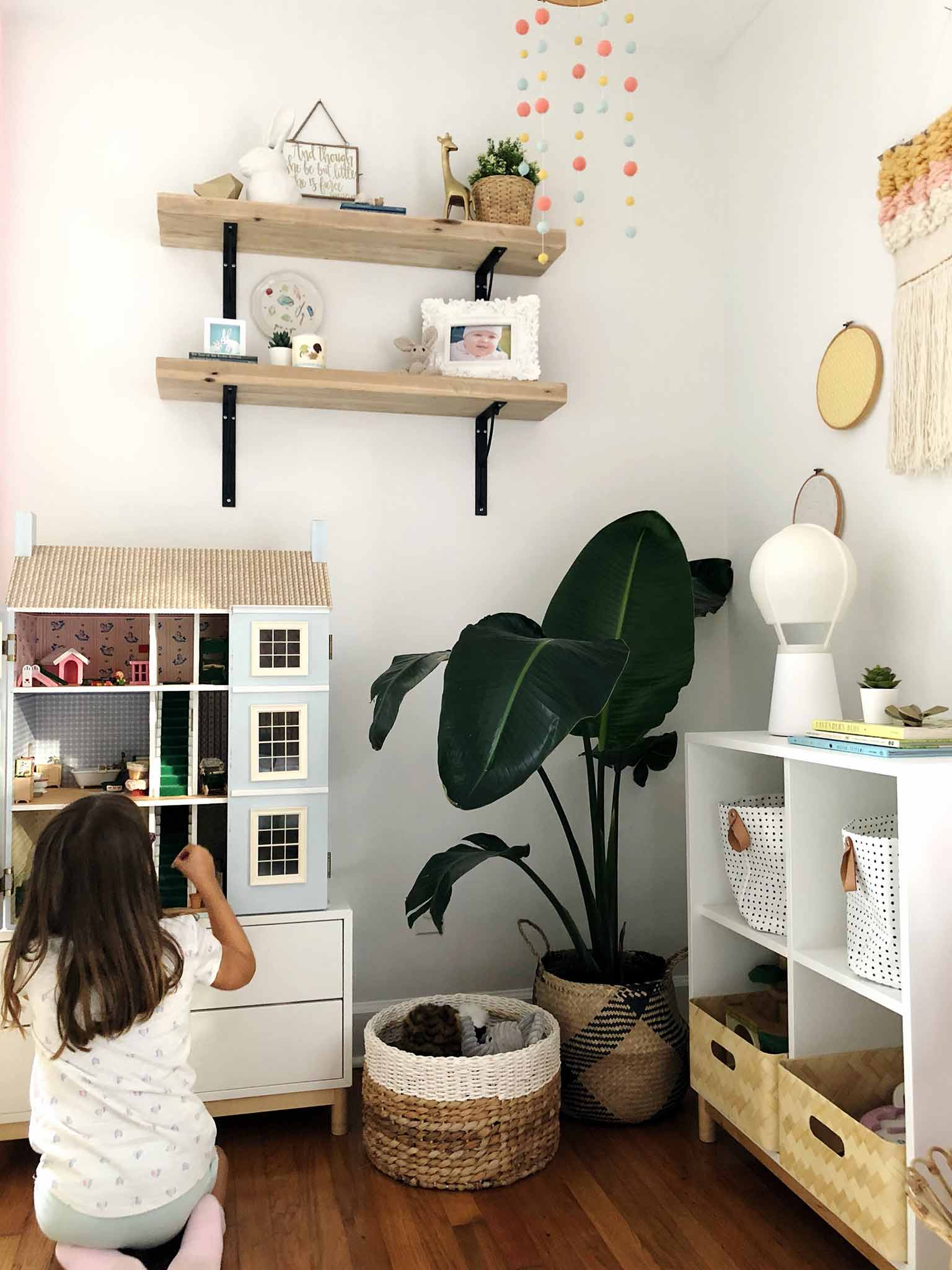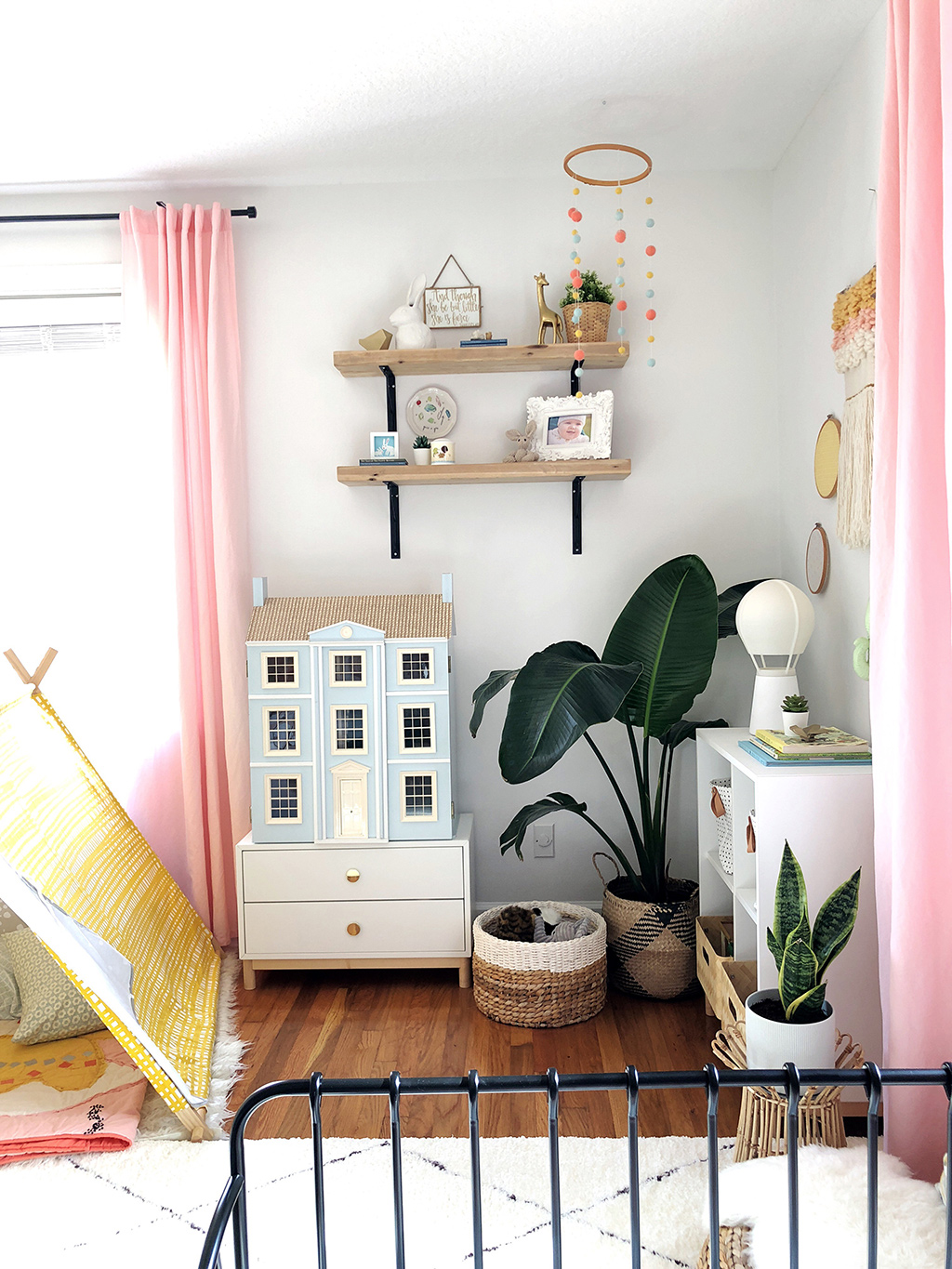 BEDDING
I have to say, one of my favorite new features of the room is the bedding. My eldest daughter is very particular about the way her bed is made, and so we ended up choosing Beddy's to go on their new IKEA beds. The simplest way to describe it is that it's like a super luxurious sleeping bag with a fitted sheet attached, so the sheets don't shift around and can be zipped right up each morning. This is the perfect solution for my sweet (fussy) girl, and the bedding sets I chose are the most gorgeous textured white fabric. It's definitely a feature of the room that I love for both function and aesthetic!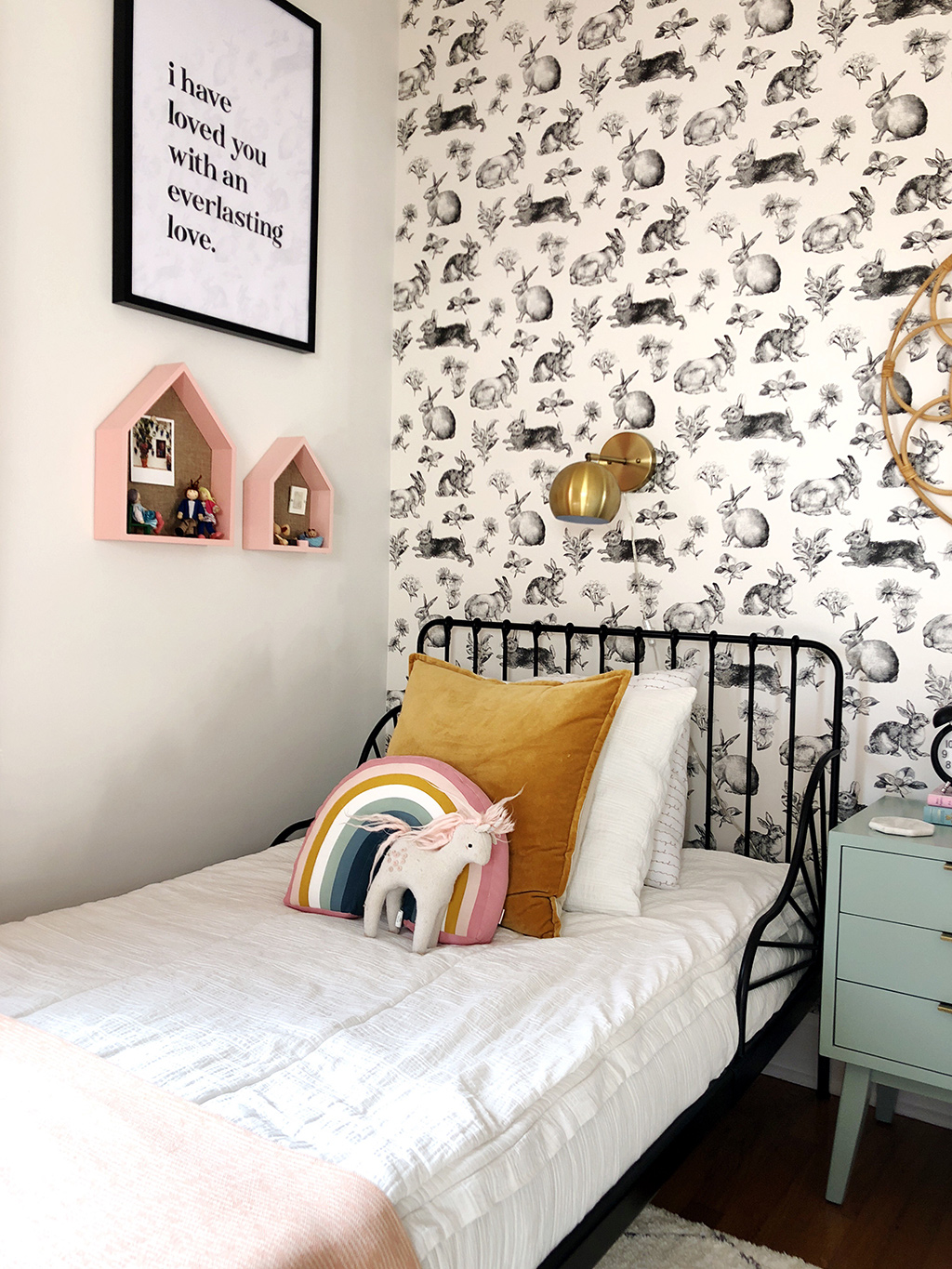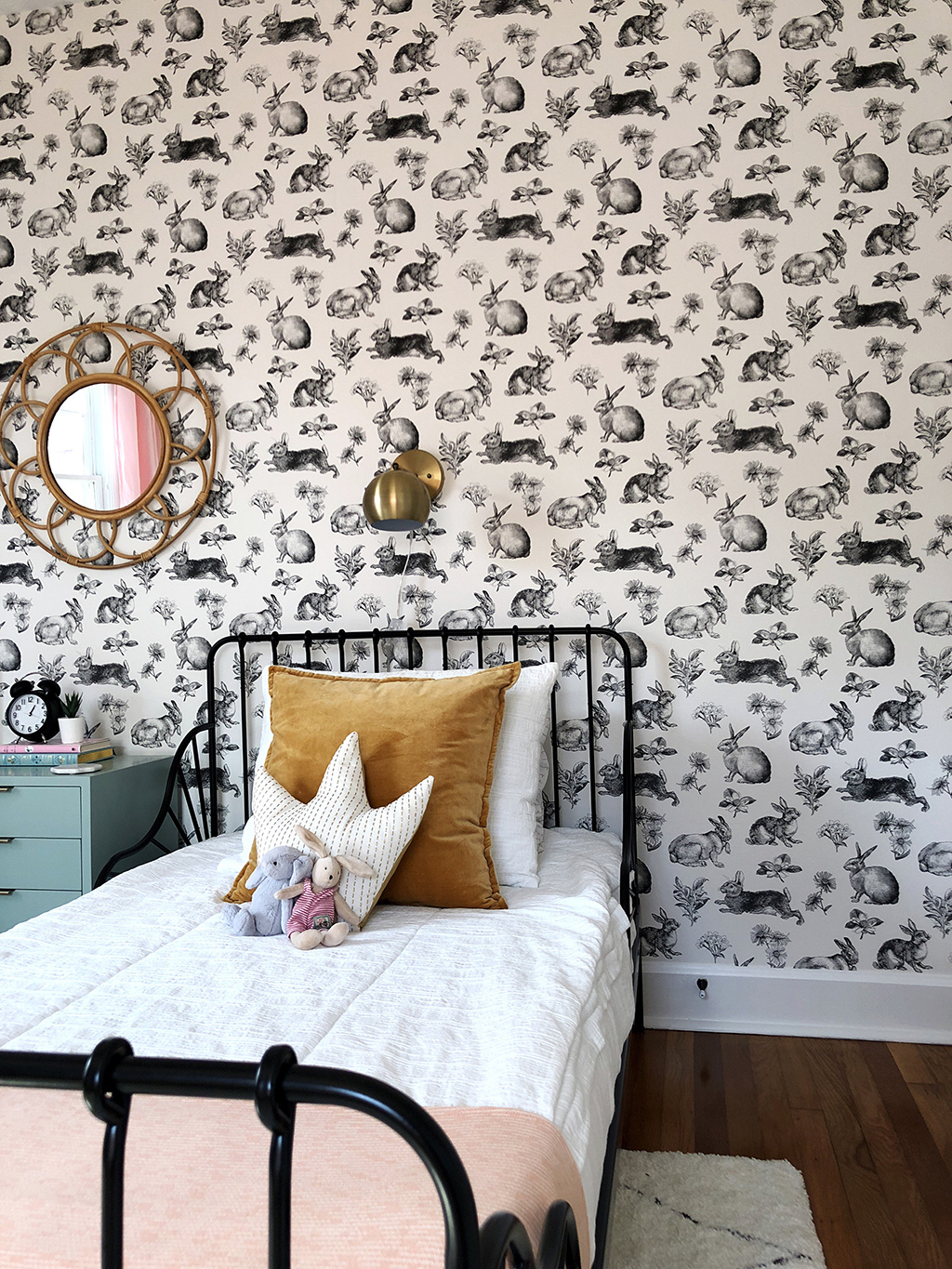 I accessorized the beds with a couple of velvet throw pillows and some gorgeous organic cotton throws from Echoview Fiber Mill. (Use promo code homebird20 for 20% off your purchase!)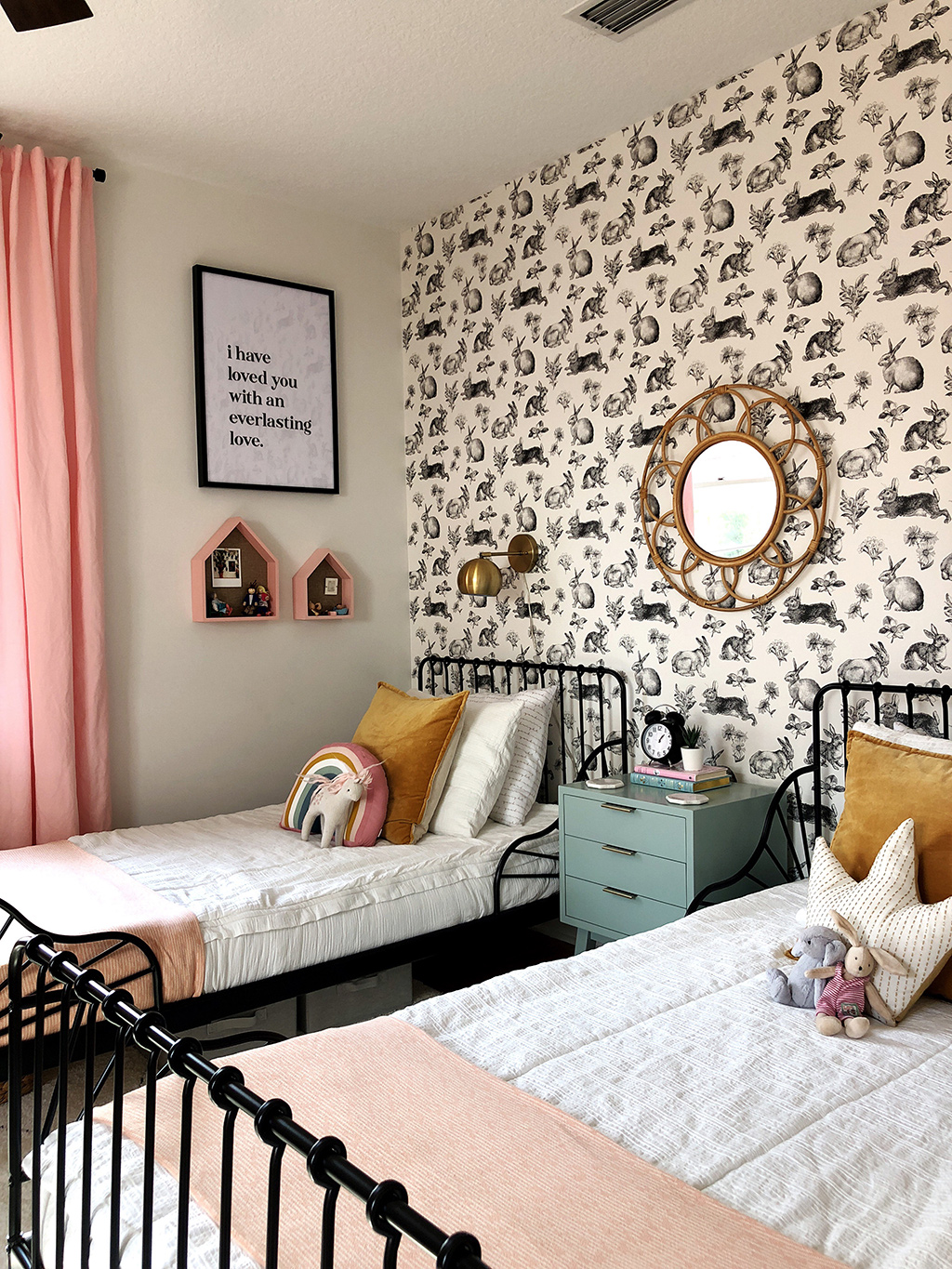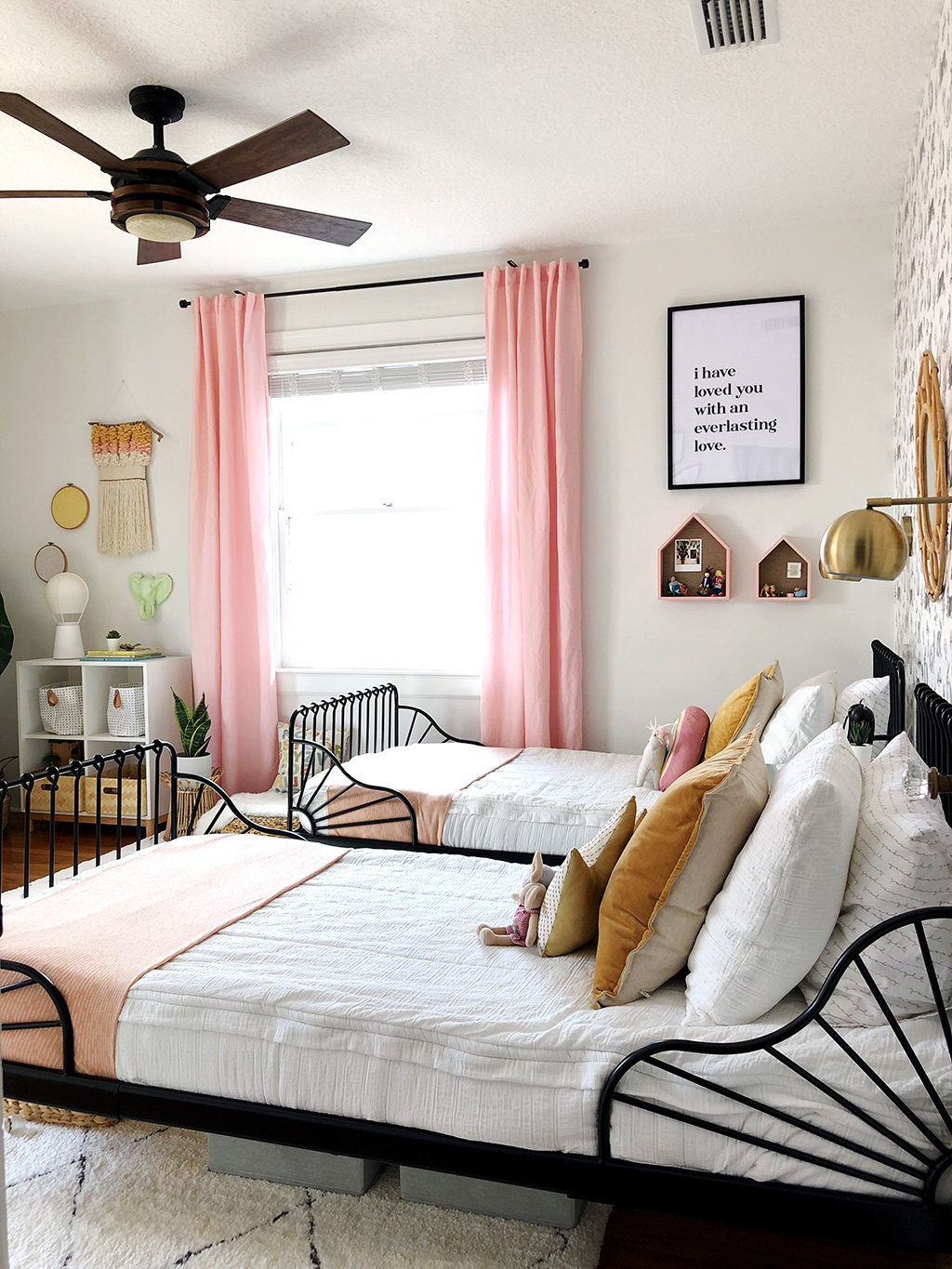 Overall I am so thrilled with how this room turned out! The process was exhausting and definitely frustrating at times, (uh, hello wallpaper) but I think the result has been well worth the blood, sweat and tears.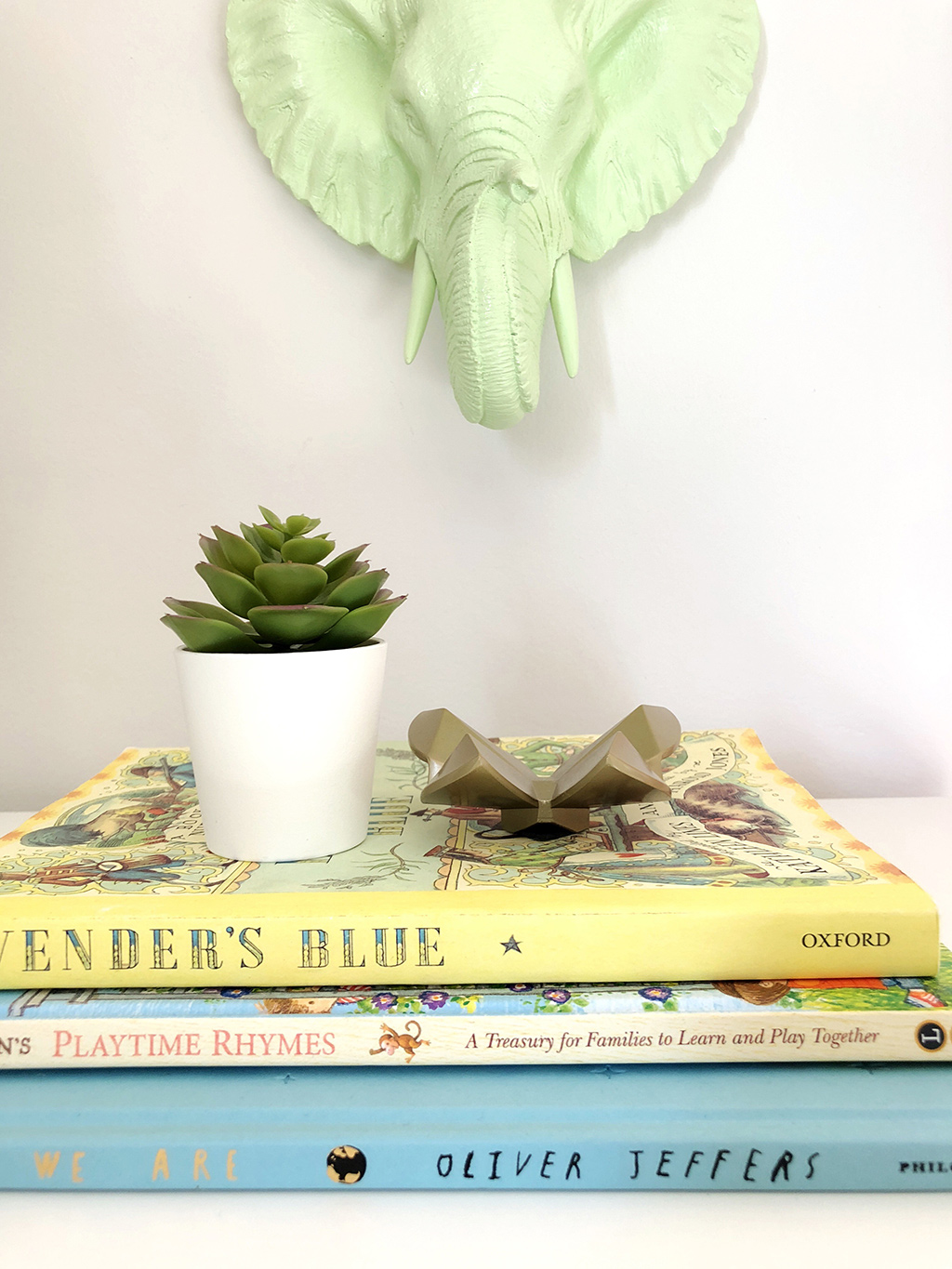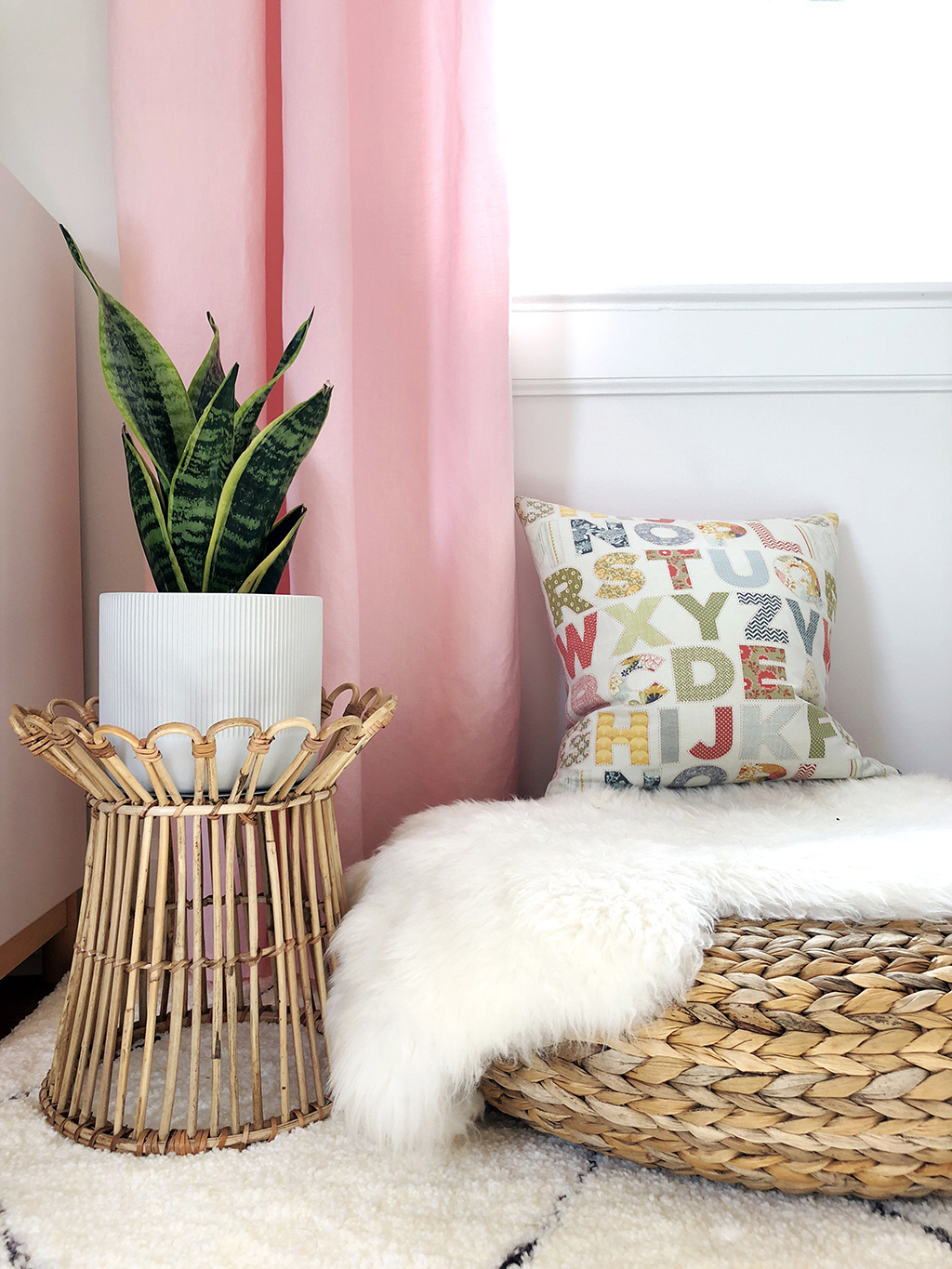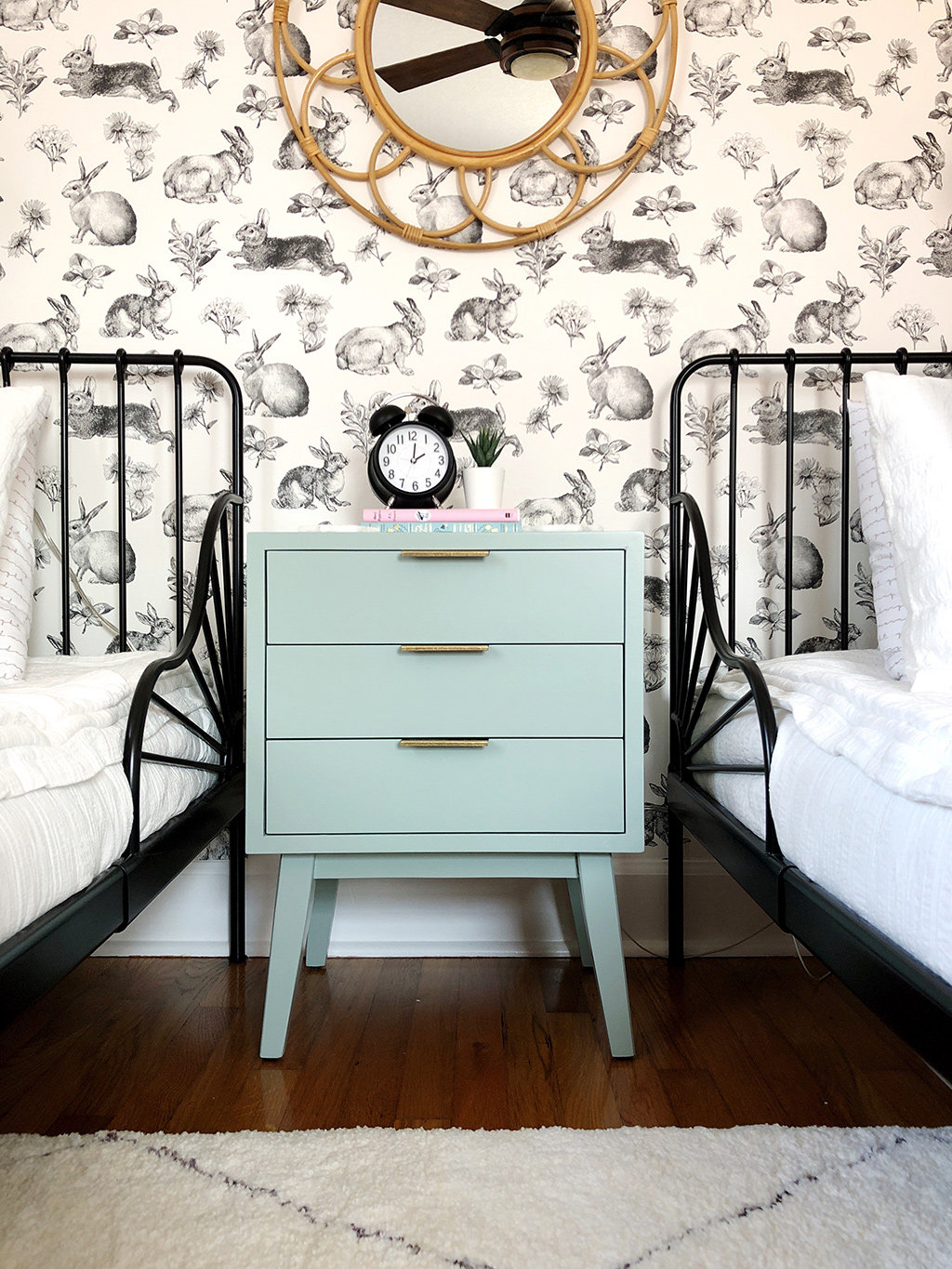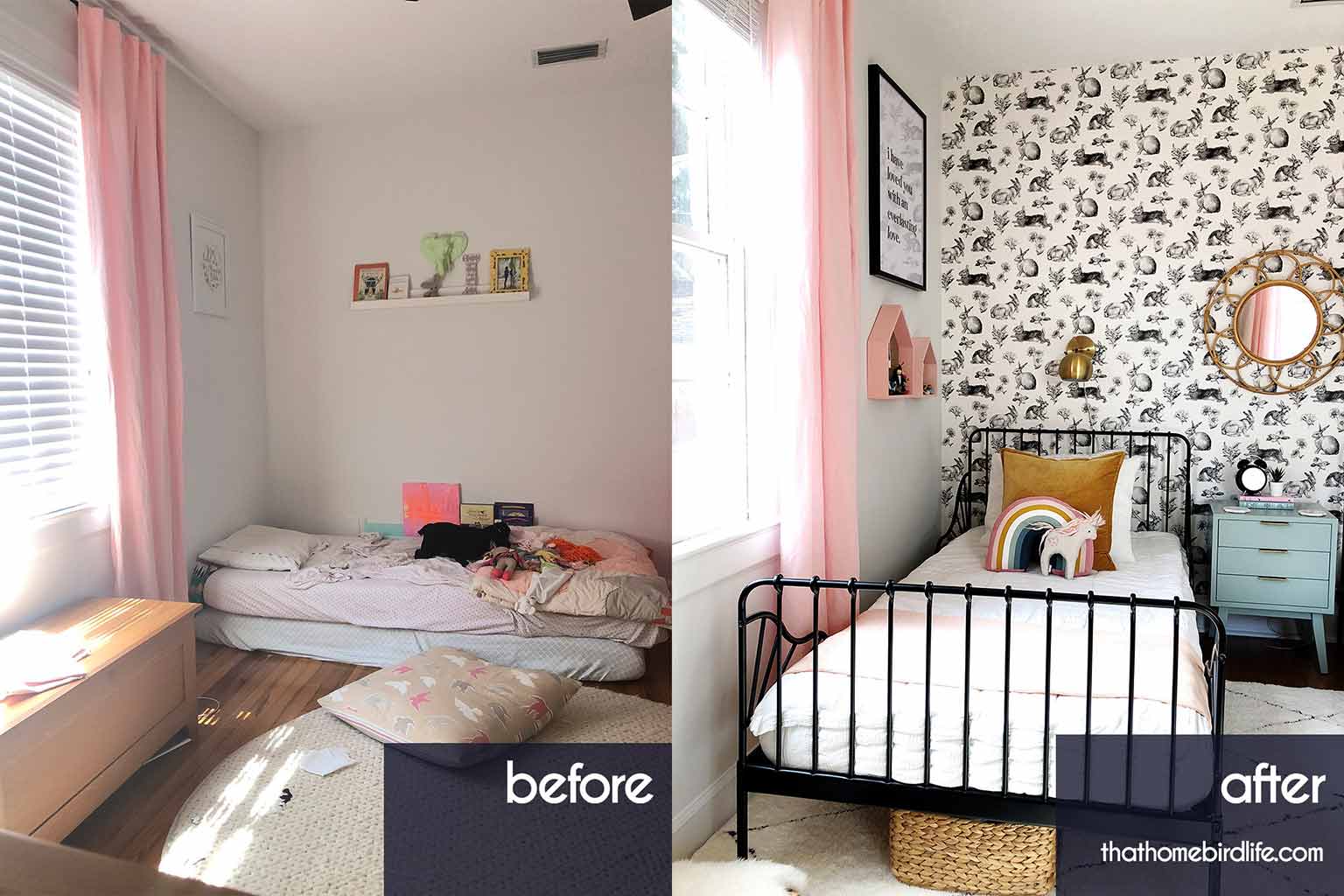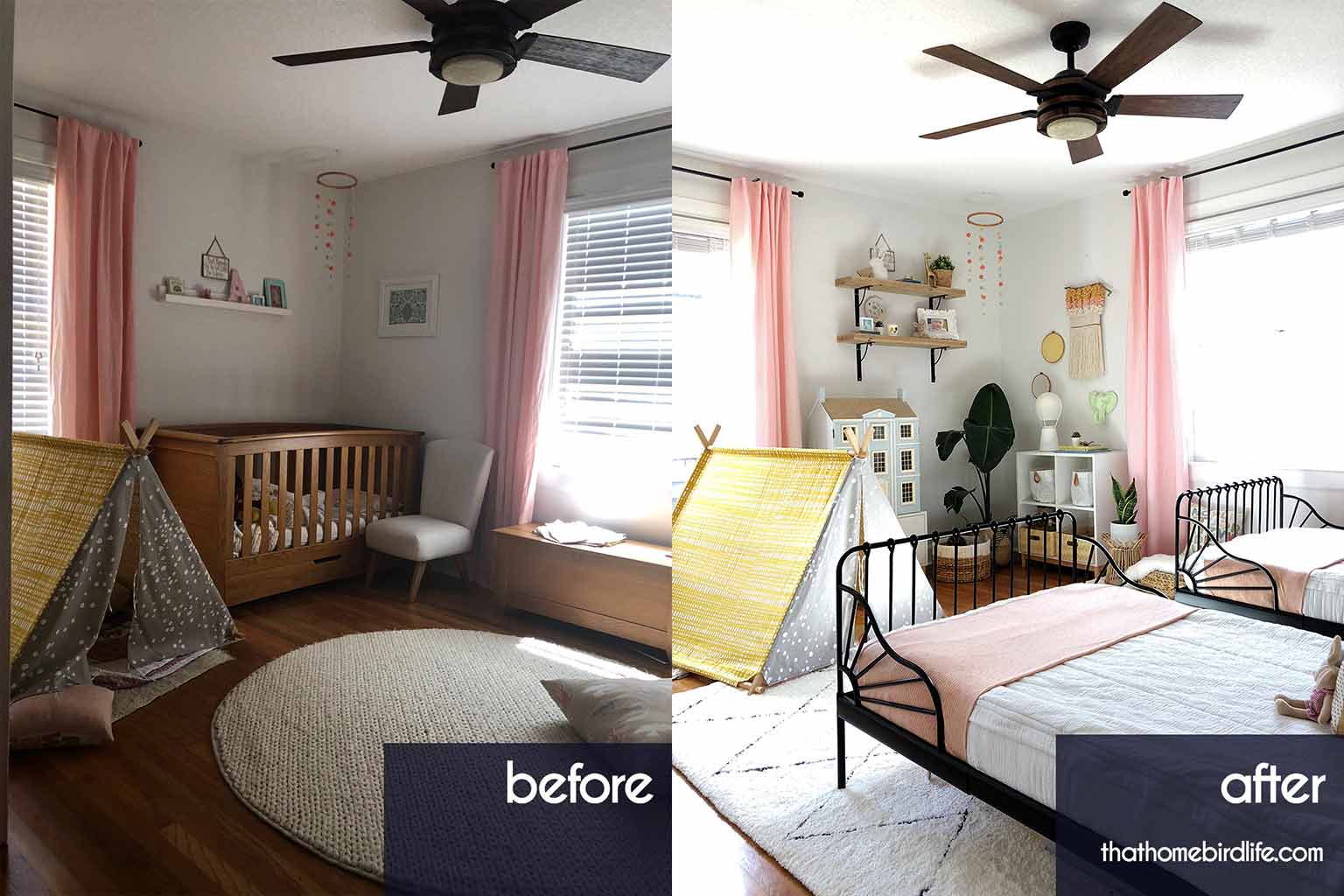 A special shout out to all the amazing sponsors who helped make this room makeover even more special:
Beddys
BT Design Co.
Custom Picture Frames (Use promo code THATHOMEBIRDLIFE20 for 20% off your purchase!)
Echoview Fiber Mill (Use promo code homebird20 for 20% off your purchase!)
Gantri (Use promo code HOMEBIRD for $20 off your purchase!)
Legrand

SOURCES
Wall Color: SW Snowbound
Trim Color: SW Pure White
Door Color: SW Repose Gray
Outlets, Nightlight and Switches
Wallpaper
Beds
Bedding
Throw Pillows (no longer available—similar)
Rainbow Pillow (no longer available—similar)
Crown Pillow
Nightstand
Wall Lamps
Rattan Mirror
Alarm Clock
Coasters
Rug
Felt Rug Pad
Plant Basket
Woven Stool
Dresser
Cubby Storage
Lamp
Elephant Head
Picture Frames
Hand Lettering Art
Alphabet Print
Play Tent (no longer available—similar)
House Wall Cubbys (no longer available—similar)
Underbed Storage
Alphabet Print
Curtains (no longer available—similar)
Wall Shelves—a DIY with brackets from IKEA
If there are any pieces not listed that you'd like to know about, then do get in touch!
You can catch up on the previous weeks of progress leading up to the big reveal by checking out these posts:
Week One: Design Plan // Week Two: Decluttering // Week Three: Wallpaper // Week Four: Storage // Week Five: Sneak Peeks
Are you a fellow ORC Guest Participant? I've written a guide (which you can read here) and designed a printable planner to help get you organized for the challenge! Simply put in your email below to have the PDF planner emailed to you: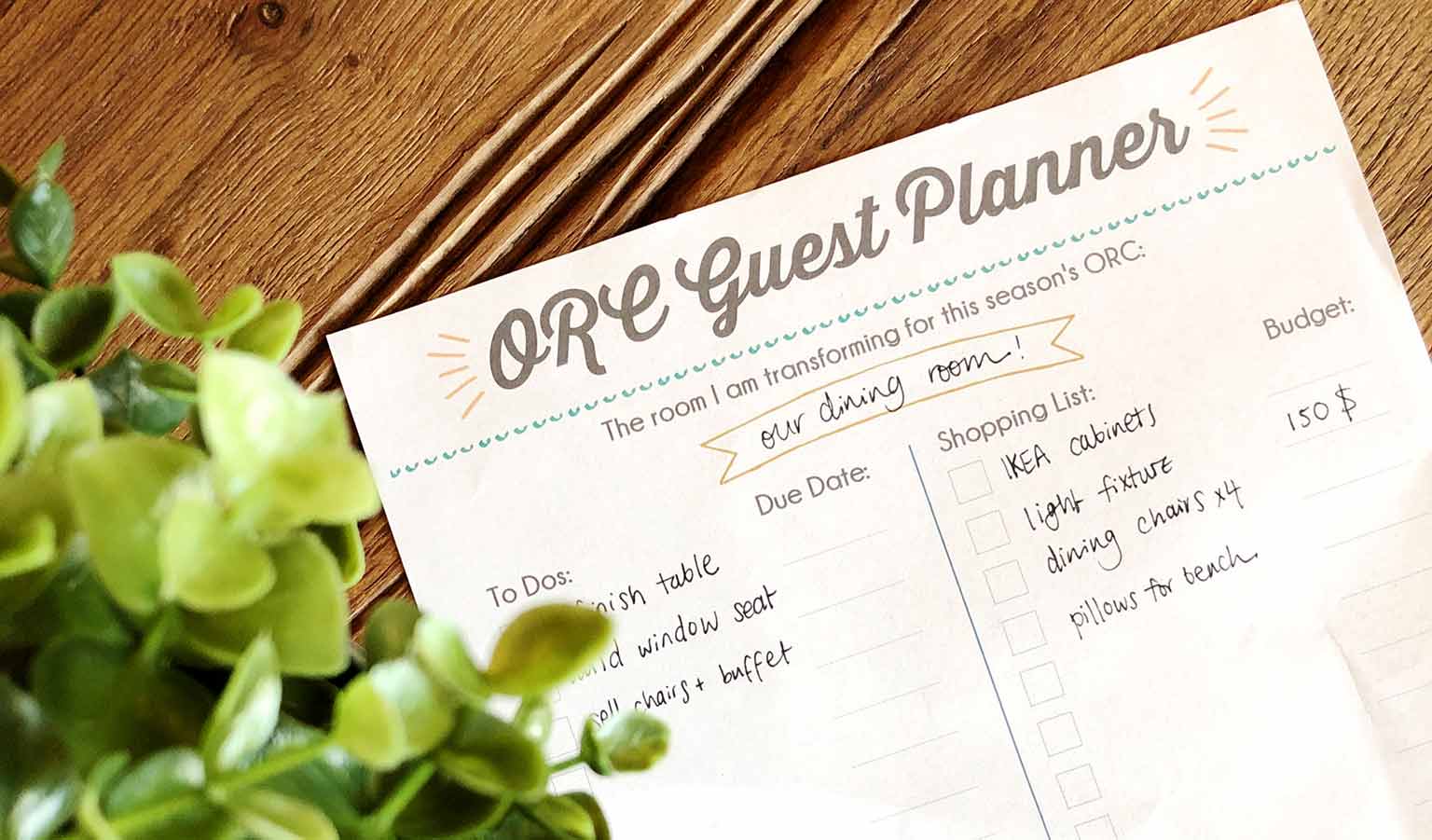 Don't forget to check out all the other ORC participants here—everyone has worked incredibly hard and it's an honor to be a part of such an awesome community of designers!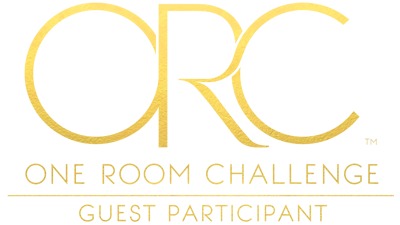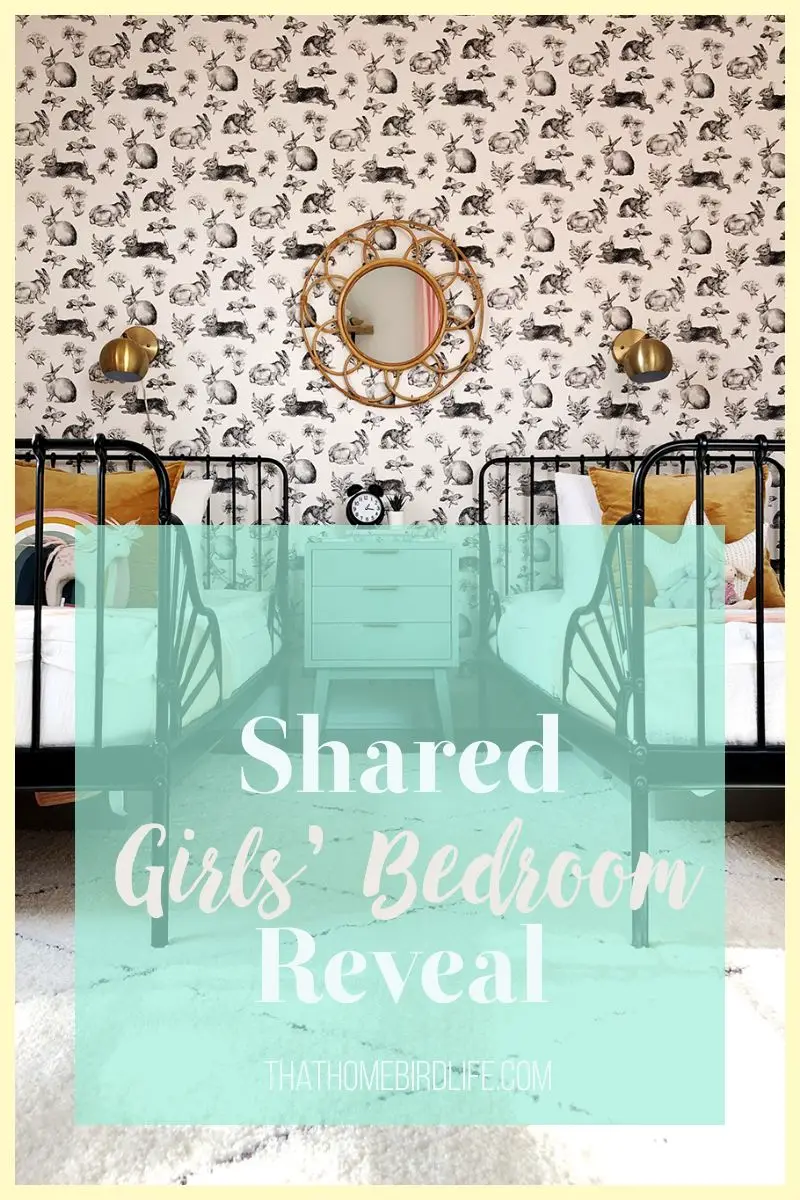 ---