I've had my heart set on soapstone countertops since the very beginning of the design process—almost a year ago now. When I initially shared that on Instagram, I got some very mixed responses—some people raved about it, and others warned me not to go anywhere near it!
I was initially drawn to soapstone because its classic beauty and of all the beautiful veining. I had also heard that it was durable and didn't require much maintenance. Could this be the perfect combination of beauty and function?! Perhaps. However I had received some stories of firsthand experiences of soapstone that concerned me a lot. I started to do more research into soapstone and tried to work out why there were such polarized opinions towards it.
Related: How Our Kitchen Plans Have Evolved so Far
SOAPSTONE ADVANTAGES
As I already mentioned, one of the main appeals of soapstone is its aesthetic. Soapstone varies a lot from quarry to quarry due to it's veining, which gives it a very individual and unique design feel.
Contrary to popular opinion, soapstone does not require any sealing as it is completely non-porous. However, many people choose to oil/wax soapstone countertops to give it a darker appearance and even out water marks/spills.
Soapstone is also heat resistant so you can put hot pans directly on the surface.
SOAPSTONE DISADVANTAGES
One of the biggest concerns with soapstone is how soft it is. There are different levels of hardness depending on the slab, but the chances are that with the normal wear and tear of kitchen use, it's going to get scratches and nicks to some degree.
I took home a couple of soapstone samples to mess around with and found that it did indeed scratch easily with a knife, but the scratches were easily "blended" with some oil to the point where they were hardly noticeable.
It is also possible to sand out deeper scratches, although I tried that with one the samples and it was very obvious where I used the sandpaper. I don't think I used a fine enough grit, and definitely would not be jumping into that project too quickly if it were my actual countertops!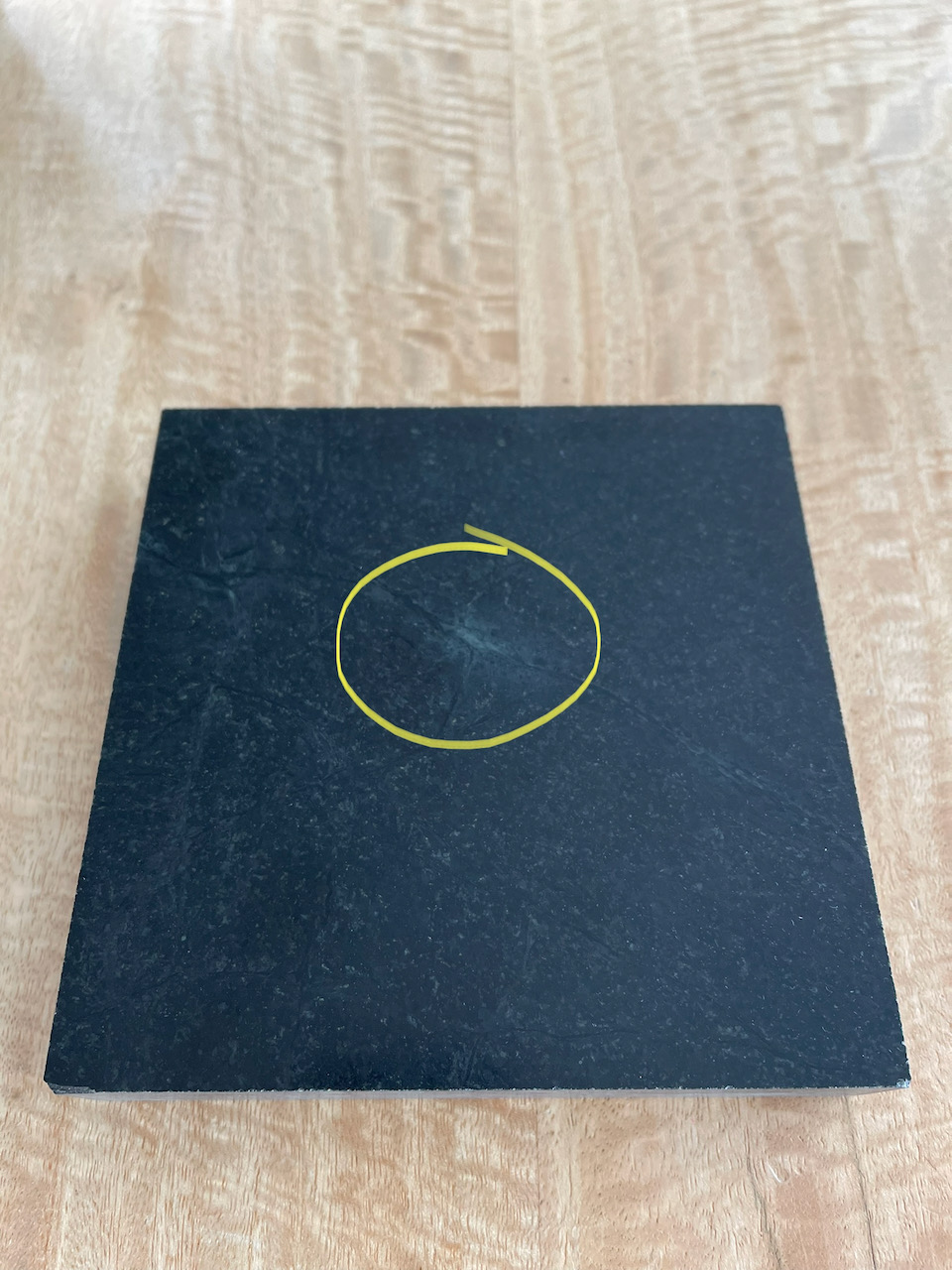 Cost is another disadvantage to soapstone—it is one of the more expensive options for a countertop, although it does vary from slab to slab.
SOAPSTONE ALTERNATIVES
We did our due diligence and looked at lot of options that would give us a similar aesthetic to soapstone without some of the disadvantages.
Honed Granite
The first alternative to soapstone that we looked at was a honed granite called Nero Mist which has a beautiful matte finish. It has a similar aesthetic to soapstone but it is a lot harder and doesn't chip or scratch easily. However, it is porous so requires sealing periodically to prevent staining. For our kitchen, the quote for the honed granite came in around 25% cheaper than the soapstone.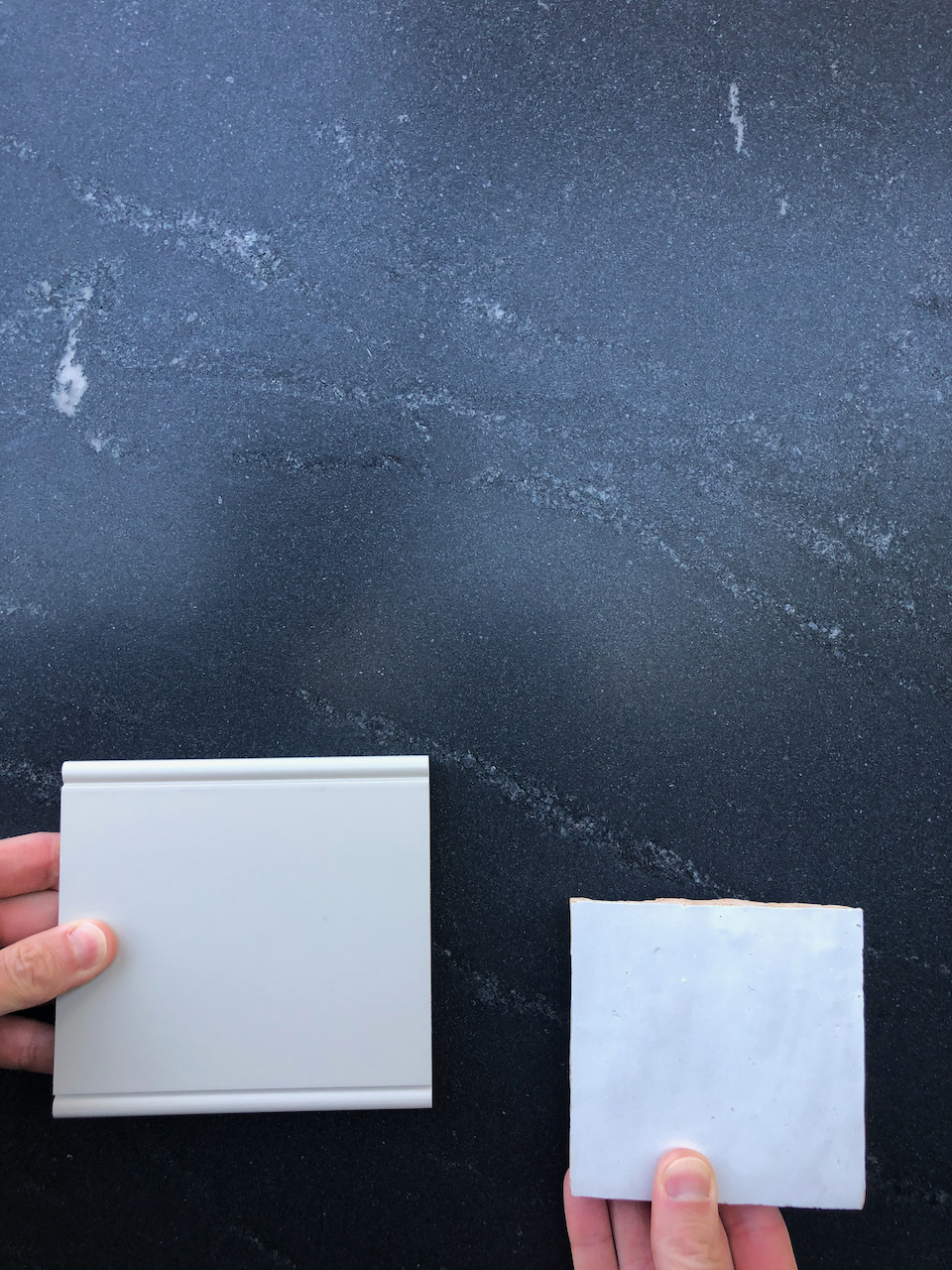 Quartz
We chose quartz for our last home and loved how easy to maintain it was—it doesn't need sealing and is a breeze to clean. There are lots of darker quartz options with veining, and some are available in a honed or suede finish—although these finishes do cost more than the polished quartz.
Quartz options that have a soapstone vibe:
Charcoal Soapstone by Silestone
Nero Soapstone by Corian
This choice was suggested by someone in the local area who had been following our build journey on Instagram. She was kind enough to give me lots of information and even let me come and see her PaperStone countertops in person. And yes—in case the name didn't give you a hint, it's made from recycled paper! This composite surface is extremely durable, easy to maintain and has a smooth, velvety texture.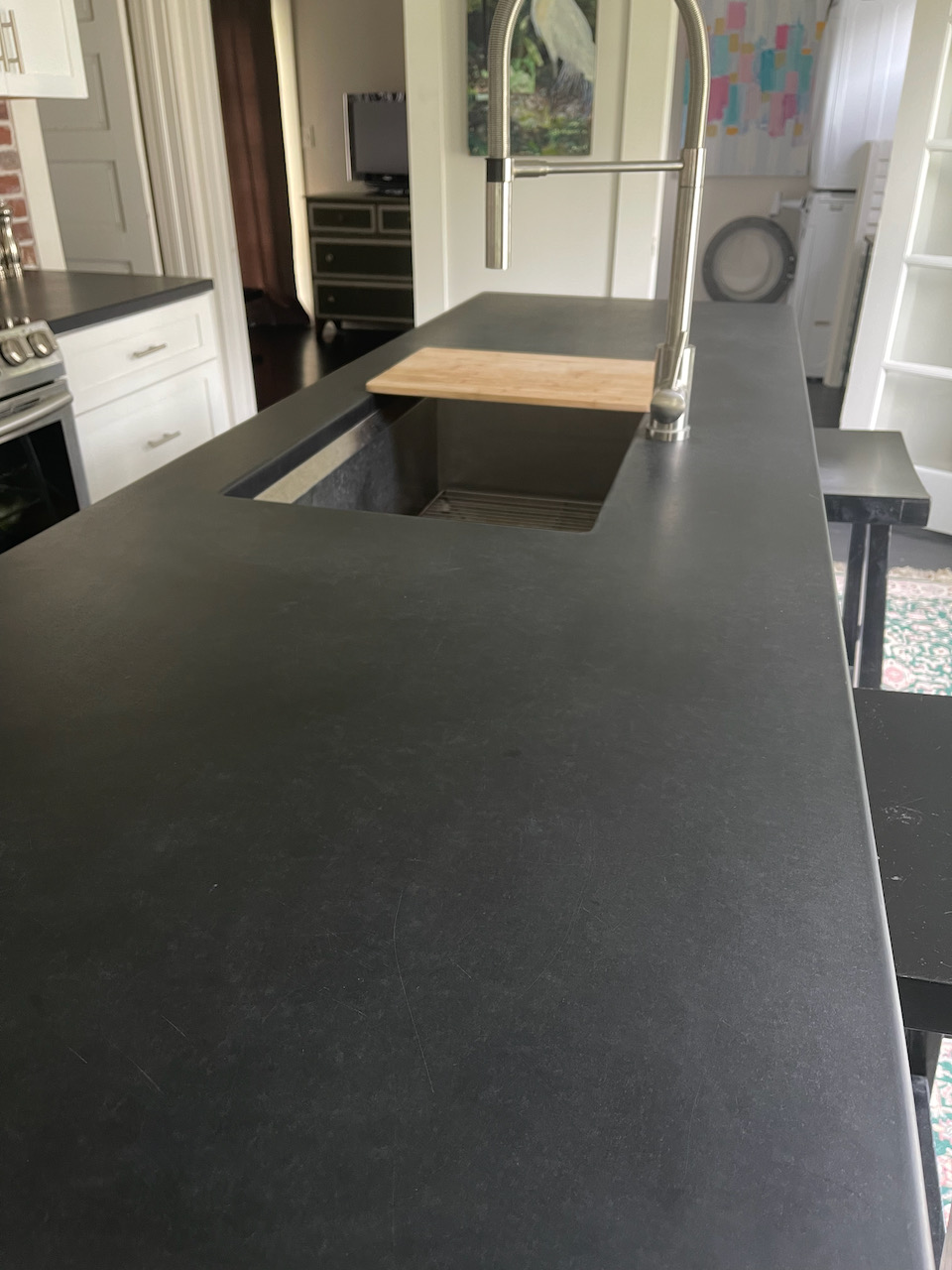 Dekton
I did some research into Dekton after a friend sent me a photo of a kitchen with what looked like soapstone countertops. In fact, they were Dekton which is a type of extremely durable man made quartz. This surface is heat-proof and comes in large slabs which is great if you want to avoid seams. I liked the aesthetic from the photos, but didn't get as far as looking at samples in person—I had read a couple of horror stories about incorrect installation leading to cracks and that was enough to put me off since it's not a widely used material in our area.
Ultimately, after all our resarch we came to the conclusion that every material has its pros and cons—the challenge is finding the material that is in line with your priorities and that will work best for the way you live in your home. It really comes down to personal preference.
OUR FINAL CHOICE!
After weighing up all the options, we ended up going with our original choice—soapstone! Here's our slab: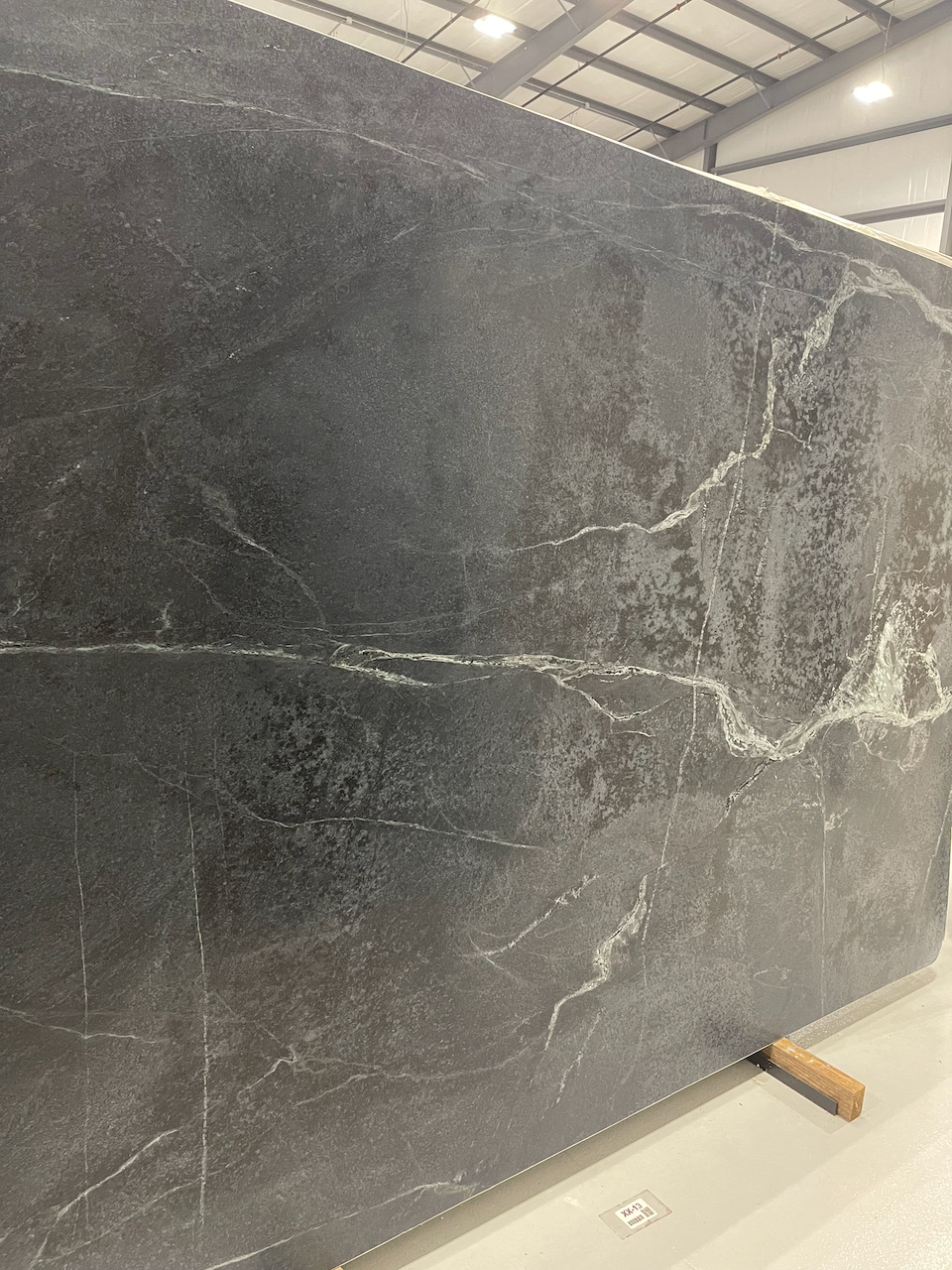 The big caveat is that I'm going into it with the mindset that it will get dents and scratches, and it will take time to settle in and patina. I'll probably commit to waxing it regularly to help the process along. (Tip: when looking at soapstone slabs, ask the salesperson to wipe it down with a wet rag—this will give you an idea of the appearance when it is waxed or oiled.)
I did give the slab a scratch with my fingernail and it held up fine—apparently the softer slabs can be marked as easily as that, so I wanted to road test it and make sure our choice was more resistant!
There is a lot of variation and movement in our slab which I think will help blend any scratches and nicks that are made along the way. The veining was one of the reasons we wanted to go with a natural stone countertop. I had already chosen some very modern features for our kitchen (slab front cabinets, minimalist sconces and stainless steel accents) and I wanted to balance it with some natural veining to give it that "organic modern" feel.
Related: The Vision for Our "Organic Modern" Kitchen
The way soapstone develops a patina is another feature that won us over—in a new construction where pretty much everything is going to deteriorate, it's a nice thought that our countertops will hopefully improve and show character over time.
As a perfectionist, I'll be honest and admit I am a little nervous about my choice. But then I look at our wooden dining table which has years of wear and tear showing on it, and it doesn't bother me at all that it isn't perfectly pristine—it's just part of the character. I'm hopeful it will be the same story for our soapstone.
FABRICATION
As soon as I had decided on a slab, I got in touch with the fabricator and explained that I wanted to use as much as the slab as I possibly could. I did a rough sketch and worked out that I could also use it for the primary bathroom countertop and shower threshold, the laundry countertop and shelves for a niche in the hallway.
This hack is making our countertop budget stretch a lot further as we are only paying for the fabrication for all the extra rooms. I'd definitely recommend looking at what you can squeeze out of a slab if you are in a similar position.
---