If you've been following along with my One Room Challenge, then you'll know that a big part of my room makeover was actually letting go of clutter. This included the contents of my closet, and I ended up purging and donating a helluva lot.
This then led to an impromptu decision to try out a capsule wardrobe again. It's something I attempted a few years ago inspired by Caroline of Unfancy, but it wasn't hugely successful for me. I spent a lot of money on a lot of clothing that wasn't really 'me'—which in fact is the absolute opposite goal of a capsule wardrobe.
(In retrospect, I probably shouldn't have attempted it 8 weeks postpartum. Blame that poor decision on the baby hormones.)
Anyways, that was then and this is now, and I have three whole years of wisdom and insight on my side. Hooray for getting older!
Over the last few months I have been slipping into the yoga-pants-for-days routine. There isn't anything wrong with that, but I have noticed that when I dress in my stretchy pants, I also feel kinda slothy and low energy. Great for a slow Saturday morning, but not so good when you want to put your best foot forward.
So, after my big old bedroom purge, I decided it was time to put together my Capsule Wardrobe 2.0, and so far, I'm liking it!
I thought it might be helpful to share my experiences and the things I've learned from doing this both unsuccessfully and successfully. If you love shopping for new clothes and enjoy expressing yourself through what you wear, then this approach may not be for you.
But if, like me, you are someone that wants to make getting dressed simpler without resorting to yoga pants every single day (been there) then this may help.
Firstly, to clarify—I like to think of a capsule wardrobe as a uniform. It's the clothes that you will spend most of your time wearing. Of course, you're also going to have other types of clothes in your closet—loungewear, active wear and occasion wear, for example, but the capsule concept focusses on the types of clothes that you are going to be wearing the most.
This depends both on the season and your lifestyle, and therefore you may want to create two capsules—one for work and one for home. However, as a stay-at-home, work-at-home mama, I'm pretty much casual all week long.
STEP ONE: PURGE
I think by now you've firgured out that I'm a big fan of purging. And clothing is no exception. I took it pretty seriously this time around and got rid of anything that I hadn't worn in a few months, even if I still liked the look of it. Life's too short to store things you never wear.
It's worth paying attention to any emotions that may come up during purging—for example, if you look at something and you feel guilt, or even anxiety, then chances are it's time to let go of it.
If you want a slightly softer approach to purging, you can put items that you are not sure about in a box out of the way. If you don't miss them in 'X' number of months, then they can be donated. It's a good way to get started if you are feeling overwhelmed by the task.
STEP TWO: ASSESS WHAT'S LEFT
By the time I was finished purging I really didn't have too much left. But everything that was left were items that I felt comfortable and confident in. I looked at common threads (pun intended) between the items that were left in my closet. I observed that I wore a lot of denim, neutrals and stripes. And I'm a sucker for anything comfortable. Those maternity jeans ruined me for life.
STEP THREE: DECIDE ON YOUR UNIFORM
This is the type of outfit that you will wear almost every day. For me, it's high-waisted jeans or shorts, a comfy neutral T and sandals or flats. I know—nothing ground-breaking. But I feel good when I wear this. And that's the main thing. I've learned the hard way that there is no point going too far outside of the box with a capsule wardrobe. Because honestly, they will just become clothes that you never wear.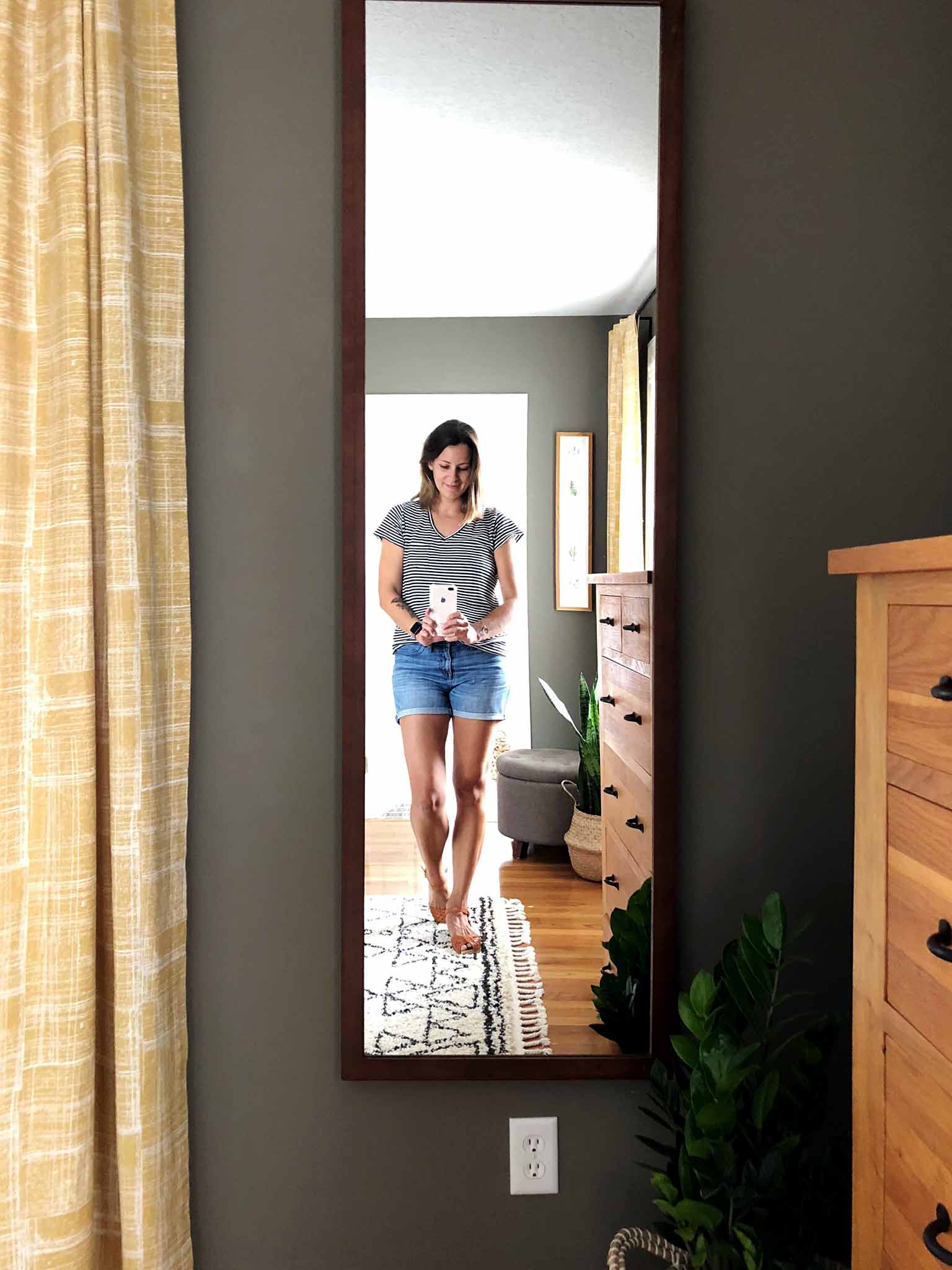 A lot of people shoot for specific numbers when putting together a capsule wardrobe, but really—it doesn't matter. Everyone is going to have a different idea of the "right" number of items. Your number is whatever feels appropriate for you and will fit in with how often you do laundry and how much space you have to store clothing.
STEP FOUR: FILL IN ANY GAPS (A.K.A GO SHOPPING)
The other thing you should know about me is this: I do not enjoy shopping for clothes. Nope. It brings me zero joy to a) find clothes that fit me well and that I feel good in, and b) drag everything home and find space for it. It's just a completely draining process for me.
But that's another reason why a capsule is a great idea for people who don't necessarily love to shop—once you find your winning combination, you just replace like for like items as they wear out! It's a bit of hard work in the initial stage, but it makes the day to day SO much easier.
If you feel the same way about shopping as I do, then I recommend finding two or three brands that you really love, and try and get the majority of your items from there. I personally love Madewell and Target's Universal Thread line. Those are my go-tos.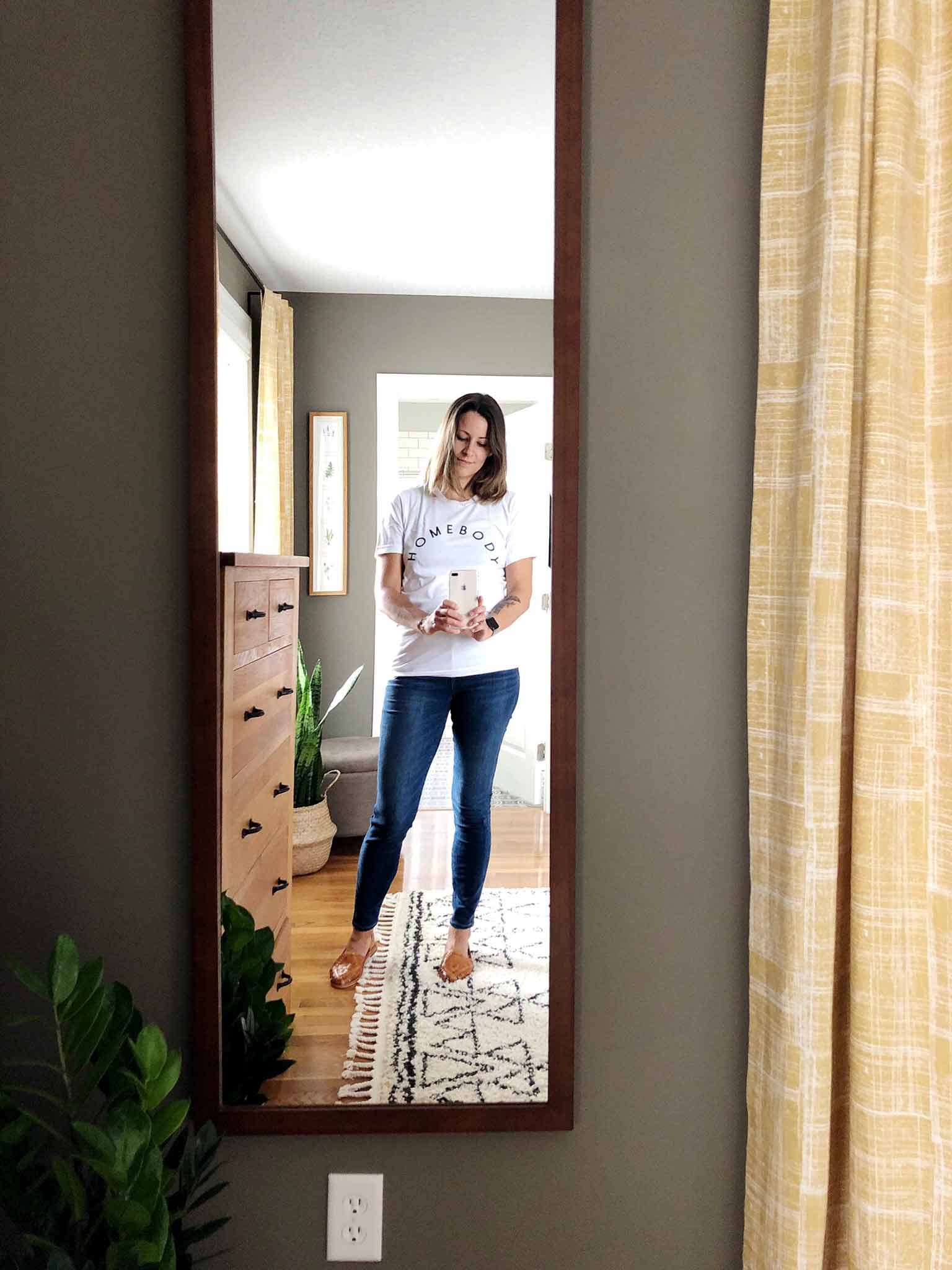 STEP FIVE: ORGANIZE
We have the tiniest closet on the planet, so a lot of my clothes storage is in dressers. I am a big fan of the Konmari folding method for making the best usage of small spaces. Nowadays, I now own a lot fewer clothes so I haven't maxed out my storage space, and the way I fold clothes is less critical.
So: here's what ended up in my capsule wardrobe:
Where items in my capsule are out of stock/past season I have linked to similar items.
Bottoms
High Waisted Jeans // Black Jeans // Blue Denim Shorts //Black Denim Shorts // Drawstring Pants // Pull On Shorts // Leatherette Leggings // Black Skirt // Denim Button Skirt
Tops
Stripe Button Down Shirt // Chambray Tank // White Ruffle Tank // Cross Back Tank // Homebody Tee // Cotton Tank // Stripe Tank // Oversized Tee // Stripe Muscle Tank // Black Muscle Tank // Gray Crew // Black Crew // Stripe Pocket V-Neck Tee // White Pocket V-Neck Tee
Dresses/One-Pieces
Midi Dress // T-shirt Dress // Jumpsuit // Romper
Outer Layers
Denim Vest // Gray Cardigan
Shoes
Swedish Hasbeens // Navy Saltwater Sandals // Black Sandals // Huaraches // Saucony Jazz Sneakers
This capsule works great for my lifestyle, which is basically working from home, running errands, looking after the kiddos and the occasional coffee with a friend.
I think the biggest lesson learned from the first failed attempt at this is to stick with what you already know. There is a reason we tend to gravitate to the same clothing items, and that is because we feel good in them. By all means, throw in a fun item (or three), but don't base a whole capsule on items that you will probably not feel super comfortable in. Trust me—I tried it and it was a waste of money!
I hope this has been helpful, and I truly recommend this process to anyone who isn't feeling like their clothing reflects the person they are. I've definitely been in that place too, and it's only been since hitting 30 that I have started to feel comfortable in my own skin. I'd love to connect with you in the comments below or over on Instagram!
---