Well it's been all of five minutes and we have already changed our newly renovated playroom. However, I'm a firm believer that design in the home setting is a lot of trial and error as there are so many moving parts, and our previous set-up wasn't quite working for us.
My main issue with the old set up is that it descended into chaos and mess very quickly, and the girls just weren't able to keep things tidy without my input. I want them to be able to take ownership of their space, so it was in the back of my mind that things might need to be tweaked.
Then I saw the new SKÅDIS series at IKEA and I was sold. This pegboard system is sturdy, affordable and beautiful. I cannot recommend it highly enough.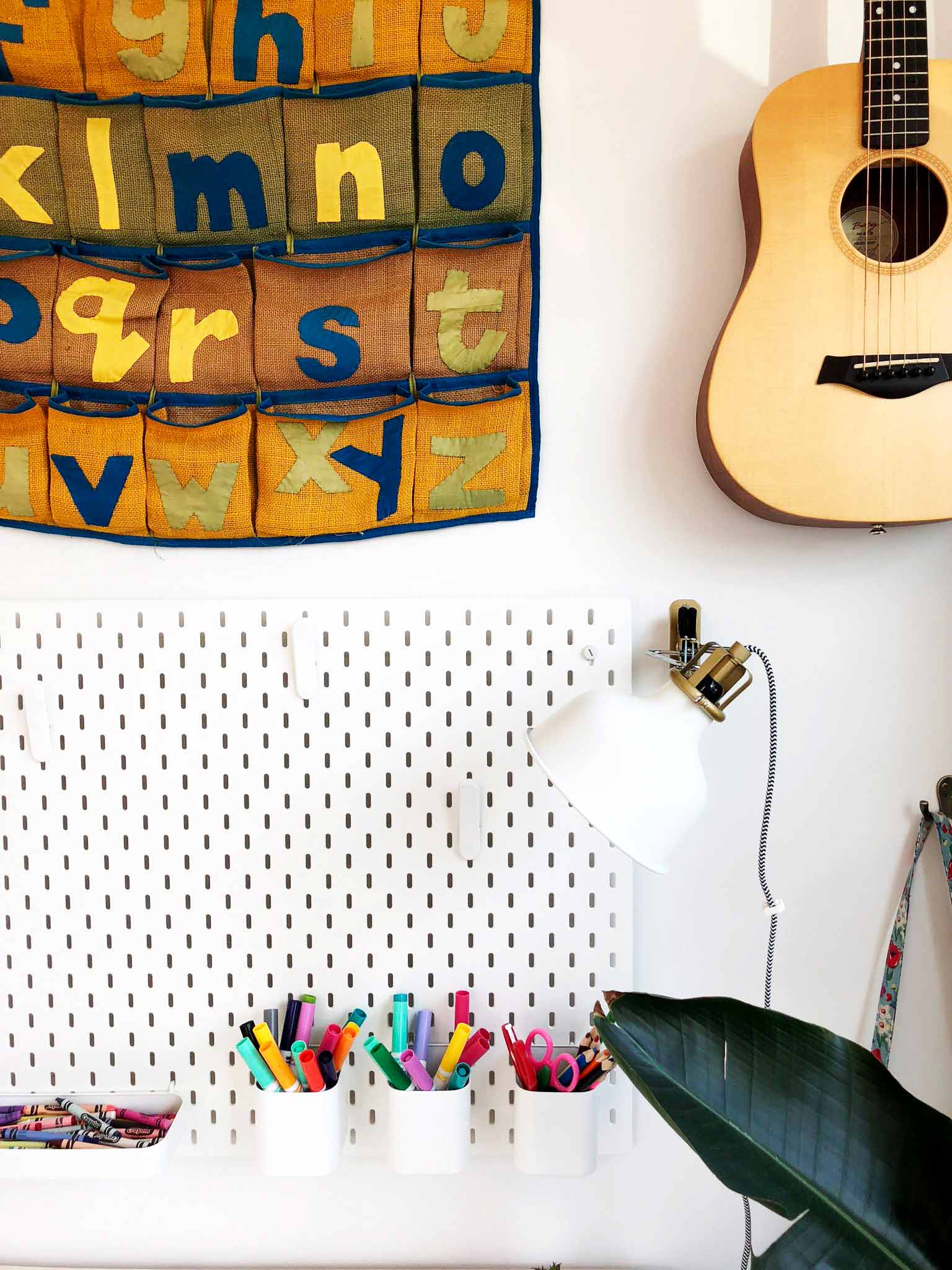 S0—WHAT DID WE CHANGE?
Let's start off with my youngest daughter's space. She had a round table (which kept moving around) and a wire basket on the wall for paper storage (which always overflowed and looked untidy). Of course, this photo was styled so it doesn't really show the issues—you'll have to trust me on that one!
I sold the table and chairs and the wire basket, and replaced it with the IKEA FLISAT table and stools. The storage is hidden in the desk which is genius—even if it gets a little untidy inside, it looks nice and neat from the outside. Then we installed a white 30" x 22" SKÅDIS pegboard above it and used a combination of containers, a shelf, and clips to organize all of her art supplies and to display her work. We also mounted a RANARP wall lamp which she absolutely loves.
The result? A fun, practical workspace that a three year old can easily maintain. Sure, I go in every week or so to give it a clean, but on the whole, she takes care of it by herself.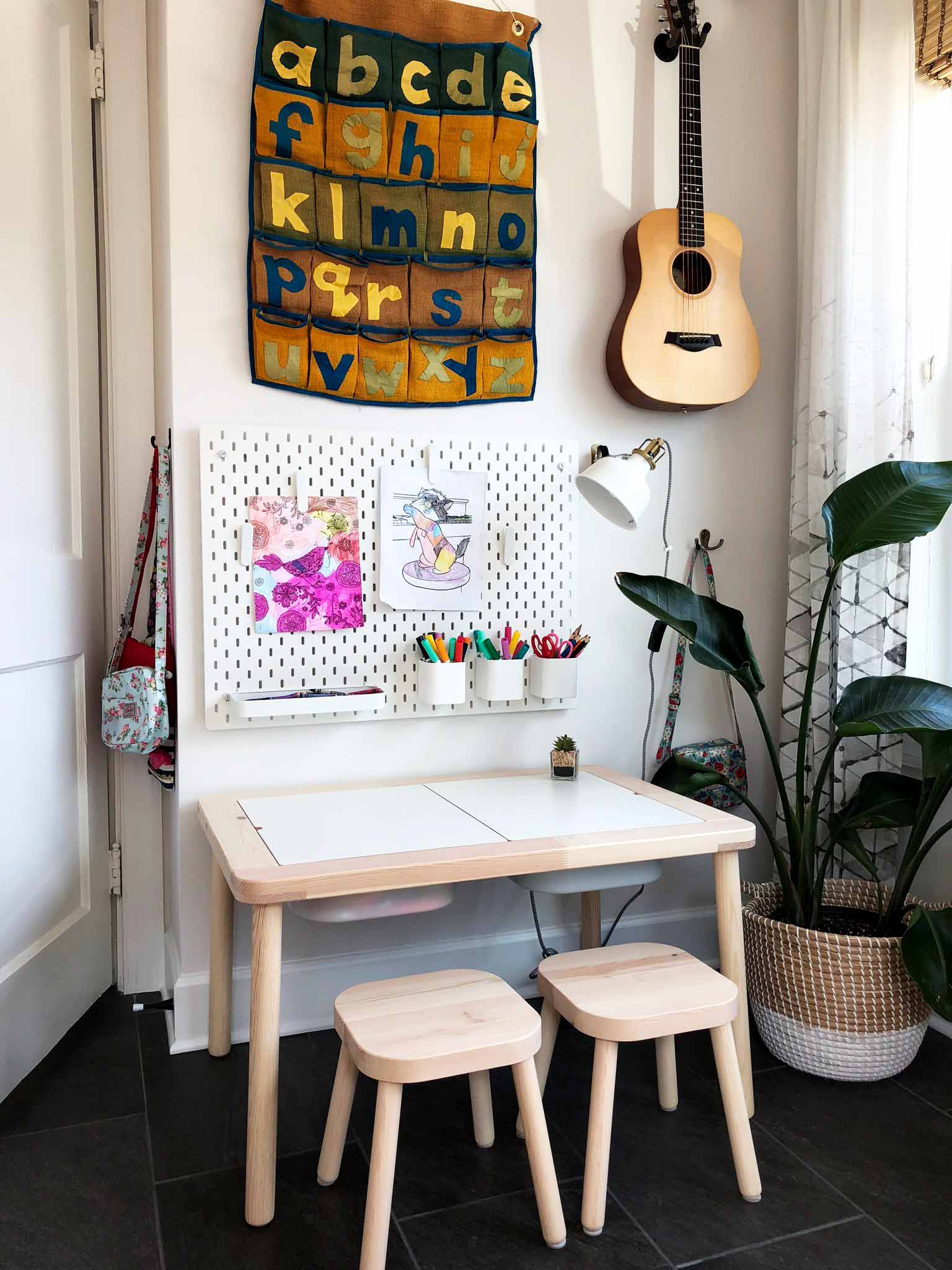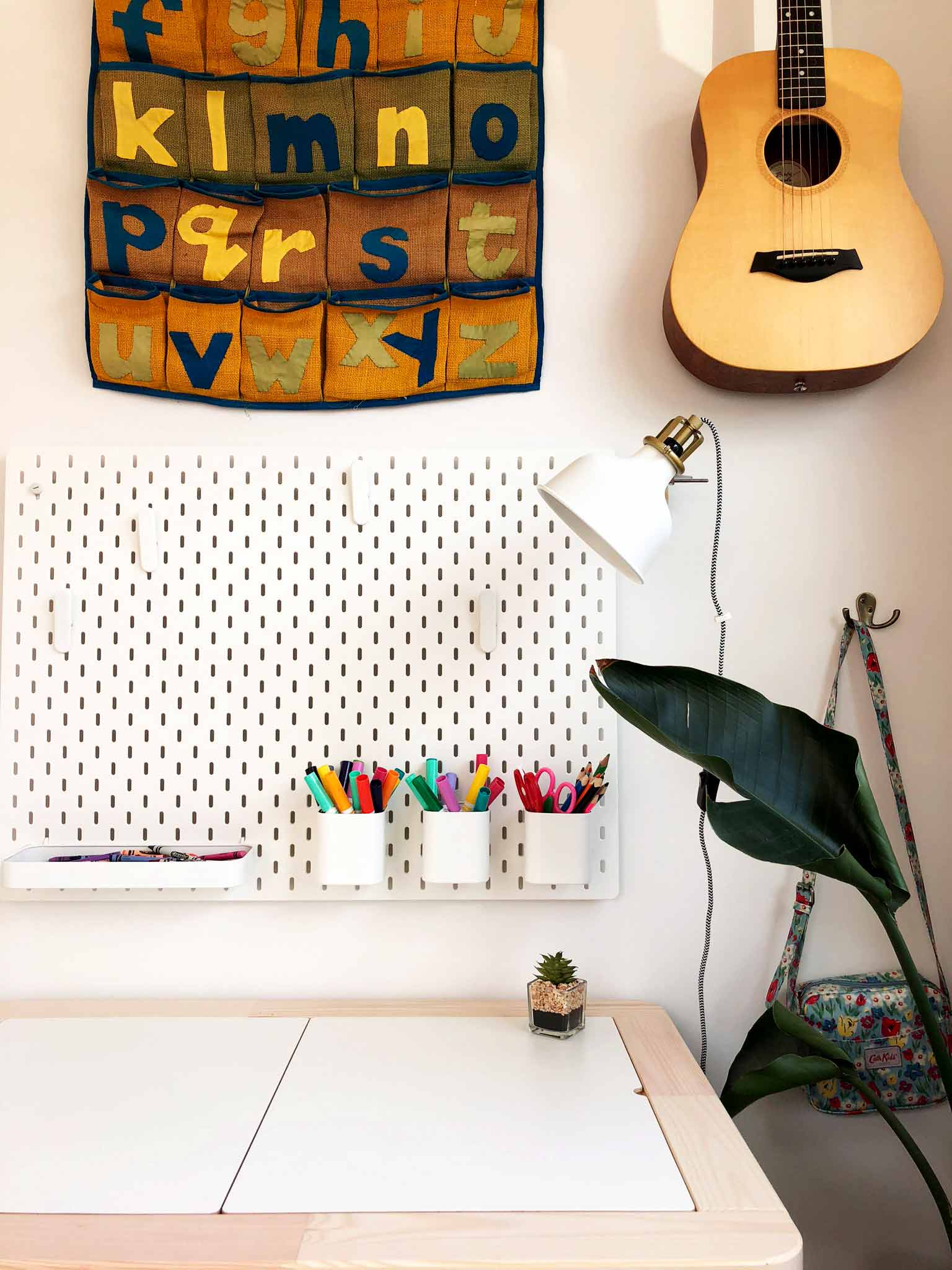 Now onto my five year old's desk. This girl LOVES to color, and also loves to keep all of her drawings. We had a real storage issue on our hands. The wire paper tray would be continually overflowing, as she couldn't manage to pin things up onto the pegboard by herself. We used the FINTORP utensil holders for her markers and pencils, but they would bang against the wall and make marks on it.
The magazine holders in the shelf area seemed like a good idea, but because she couldn't see what was inside, she never used any of the coloring books in there. Plus they are only cardboard so didn't really hold up to the job.
Because the wall space was larger, we were able to use two of the 30" x 22" pegboards, and this gave us a nice big space to work with. Along with the containers, shelves and clips, we also added a letter holder for her journals.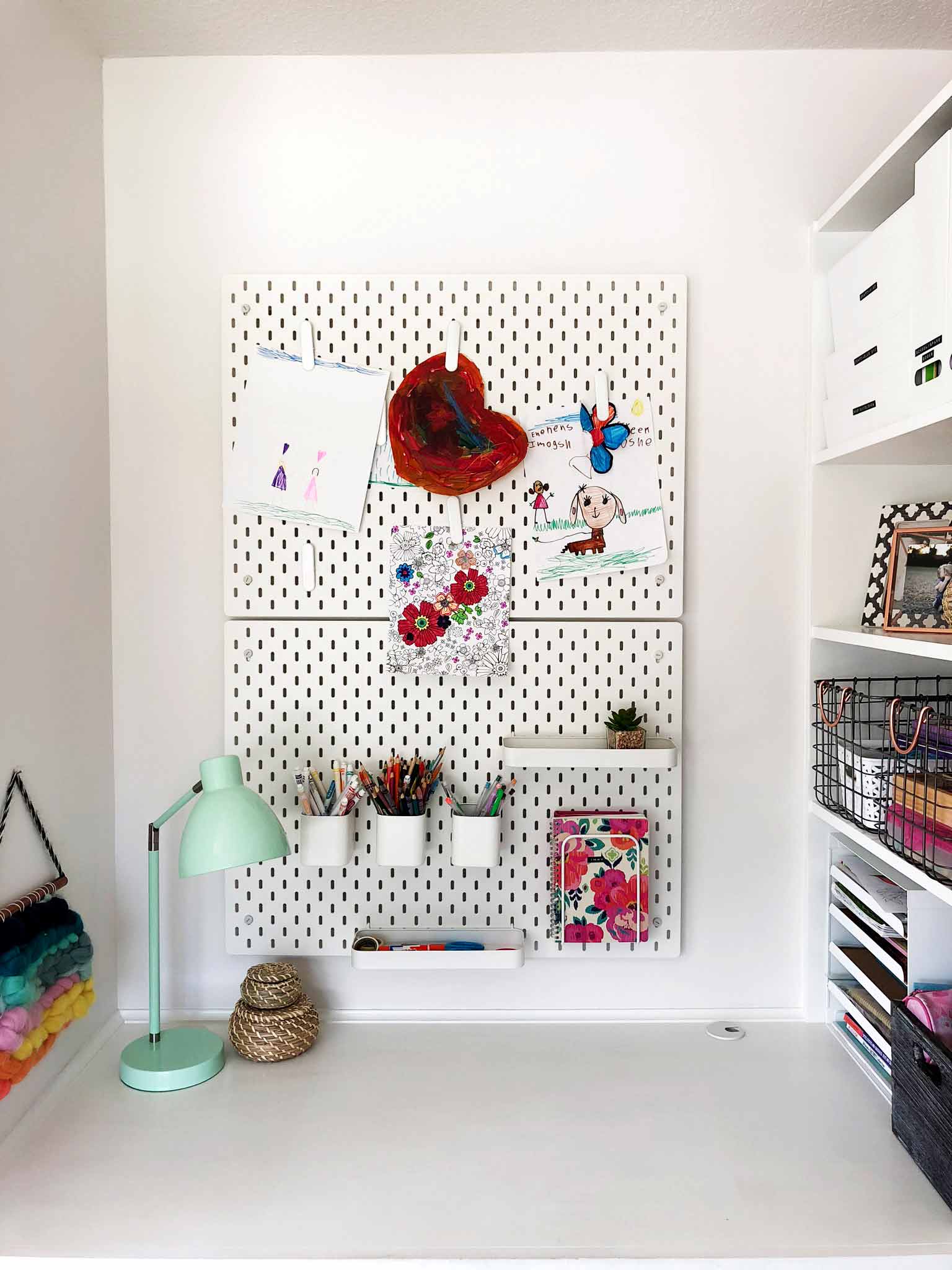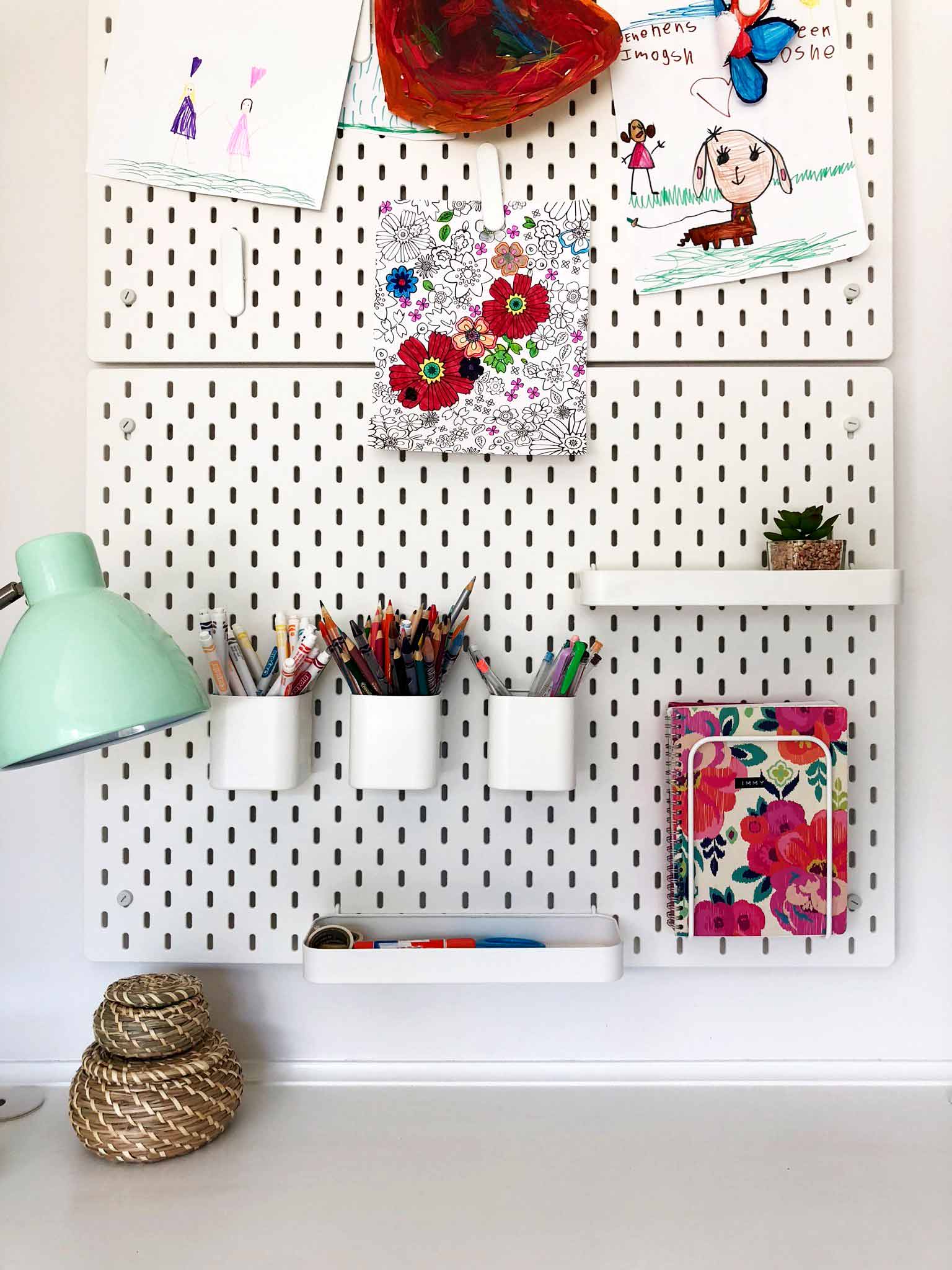 For the shelving system, I got sturdier boxes with lids for our craft supplies. I labelled everything with my trusty label maker. For papers and coloring books, I got the KVISSLE letter tray which has shelves that pull out— this means that she can see everything. She also has a box where she keeps "treasures"—A.K.A things from birthday parties and easter egg hunts that I would rather dispose of! By having a designated spot for them, they don't end up all over the house, and once the box is full she knows she needs to make some room for new things.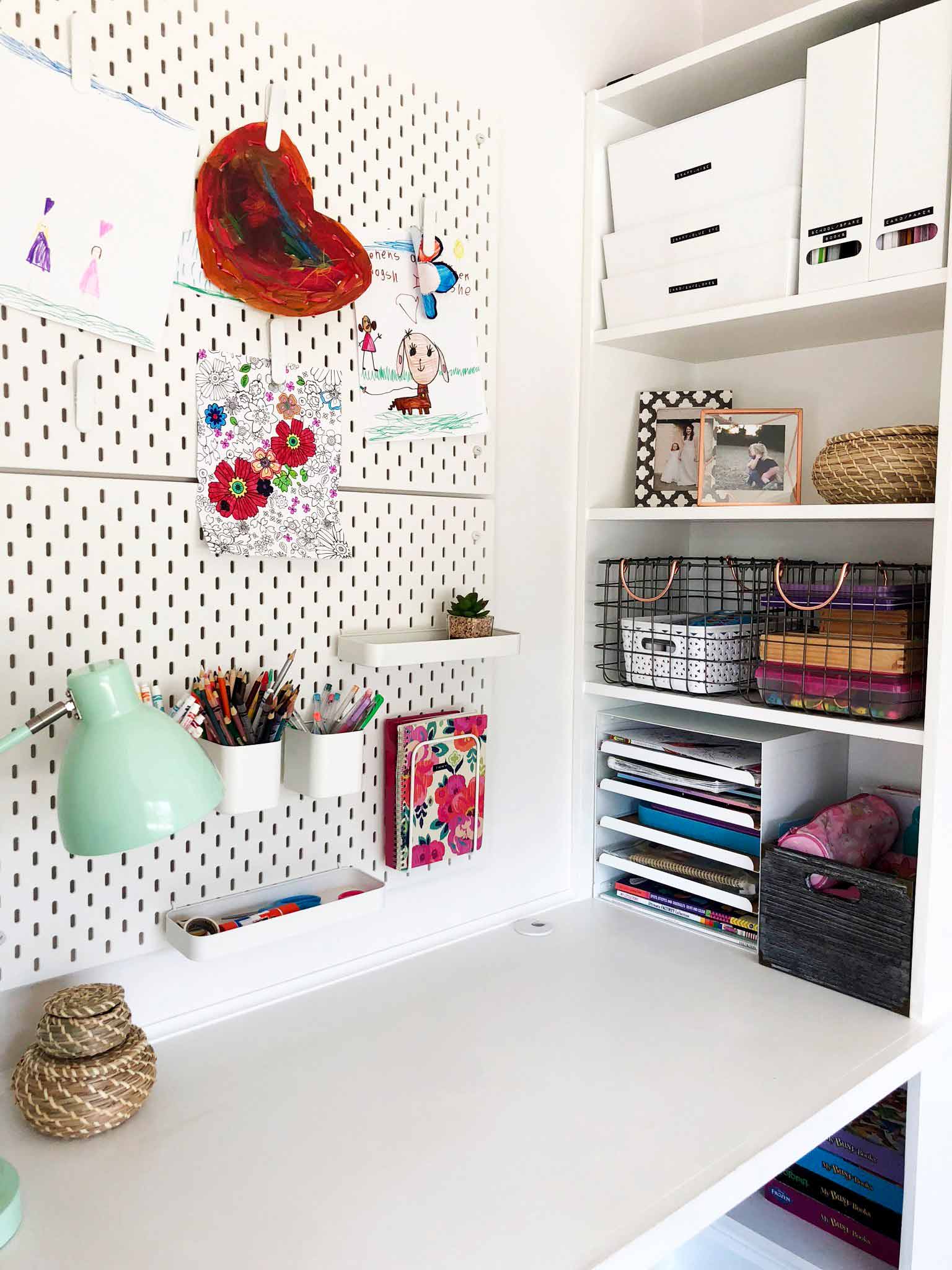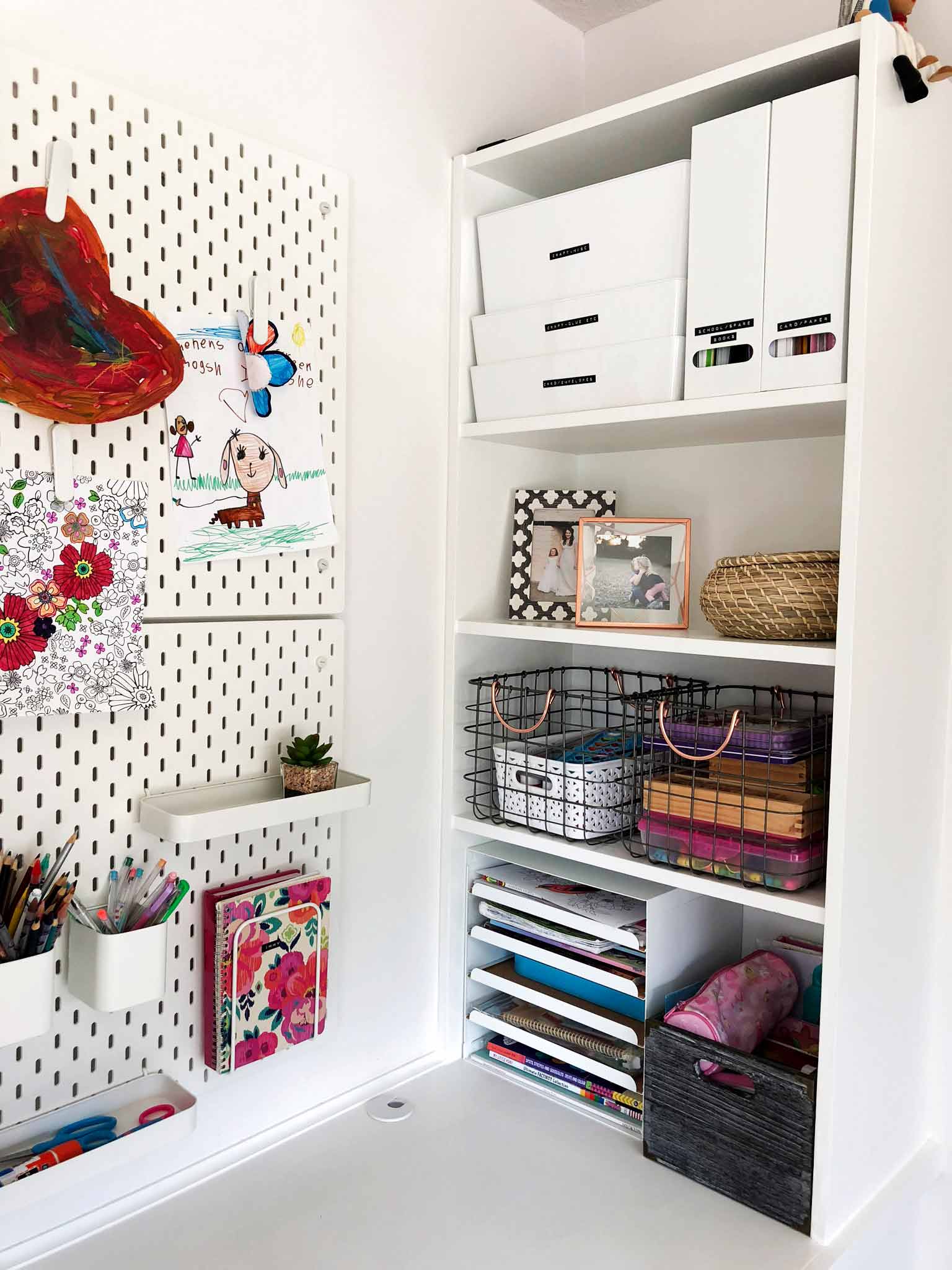 The result? A workspace that works for her! It's spacious, easy to clean up and she uses it every day.
I'm thrilled with these updates—sometimes it's those minor tweaks that can make the biggest difference to how a room feels. Our playroom is now so much calmer and feels more under control. The girls are learning to take some responsibility for keeping the room clean and they now take pride in their space. Good work IKEA!
---