Friends! I'm so excited to get started on my very first round of the One Room Challenge! I said a few weeks ago on my Instagram stories that the next room in our house that I would be tackling would be the girls' bedroom, but I've had a last minute change of heart.
I'll explain the reason behind my decision in a little bit. But first, in case you haven't already heard of it, the One Room Challenge (or ORC) is a six week long room makeover challenge for bloggers. There are 20 featured designers involved, and many more guest participants. It's a great way to get a room finished alongside a creative and motivated community. I'm pumped to be joining in as a guest!
So, let me formally kick off my very first One Room Challenge by introducing you to what I am referring to as our "half-baked bedroom makeover."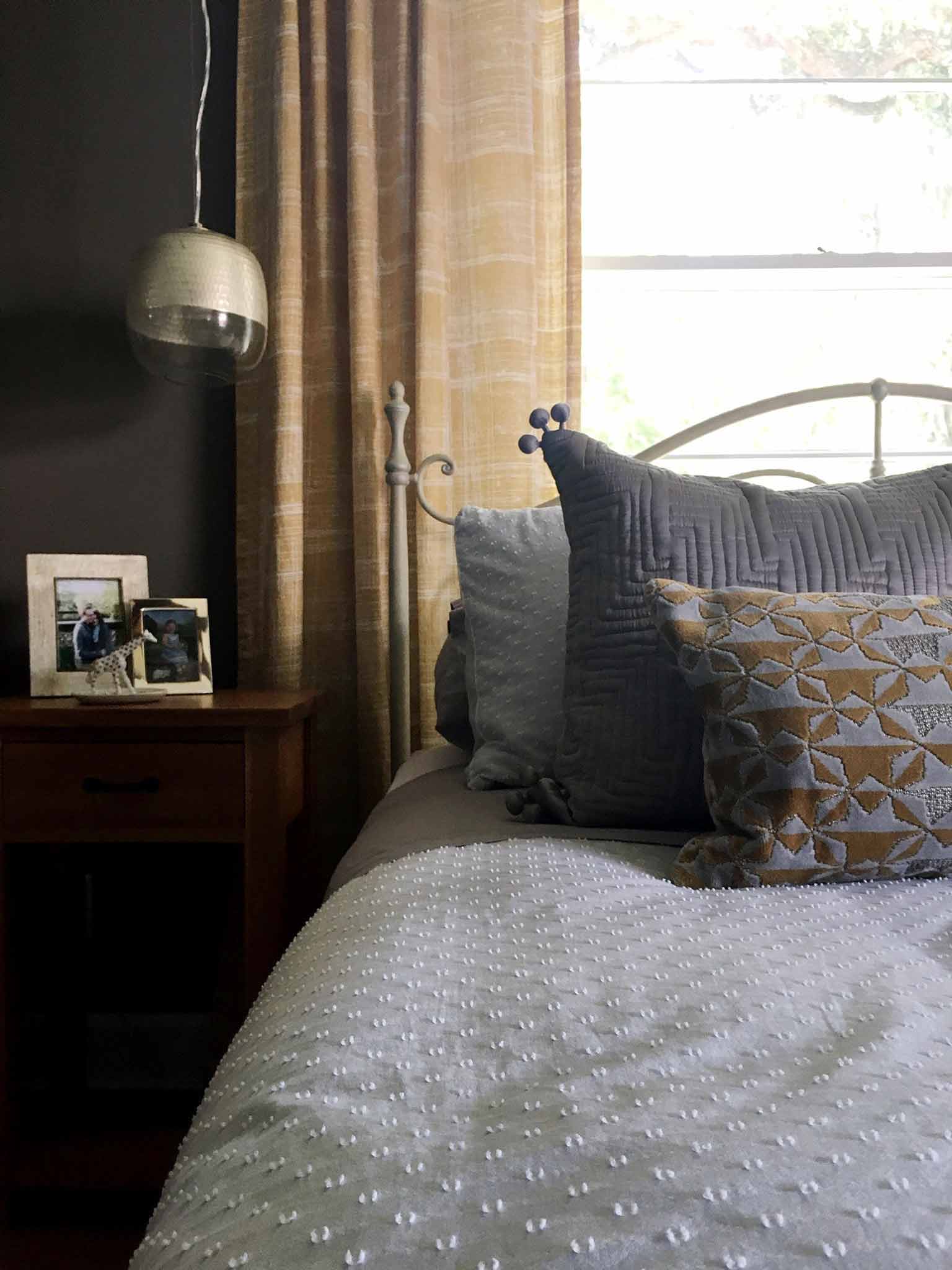 "But what's so bad about this room??" I hear you cry.
Well, let's take a quick tour: the following photos are not at all staged or carefully framed (unlike what gets put out on the Insta.)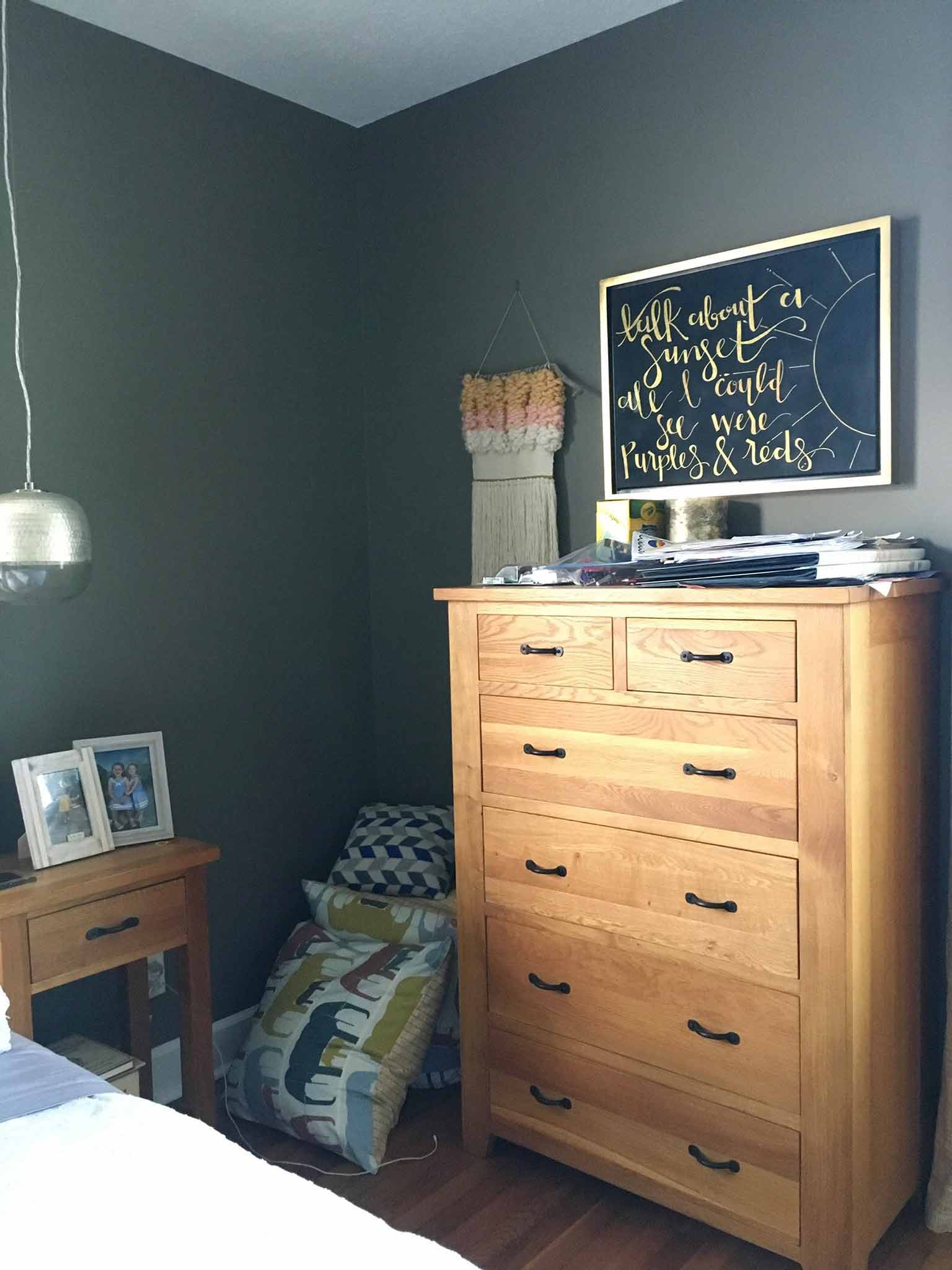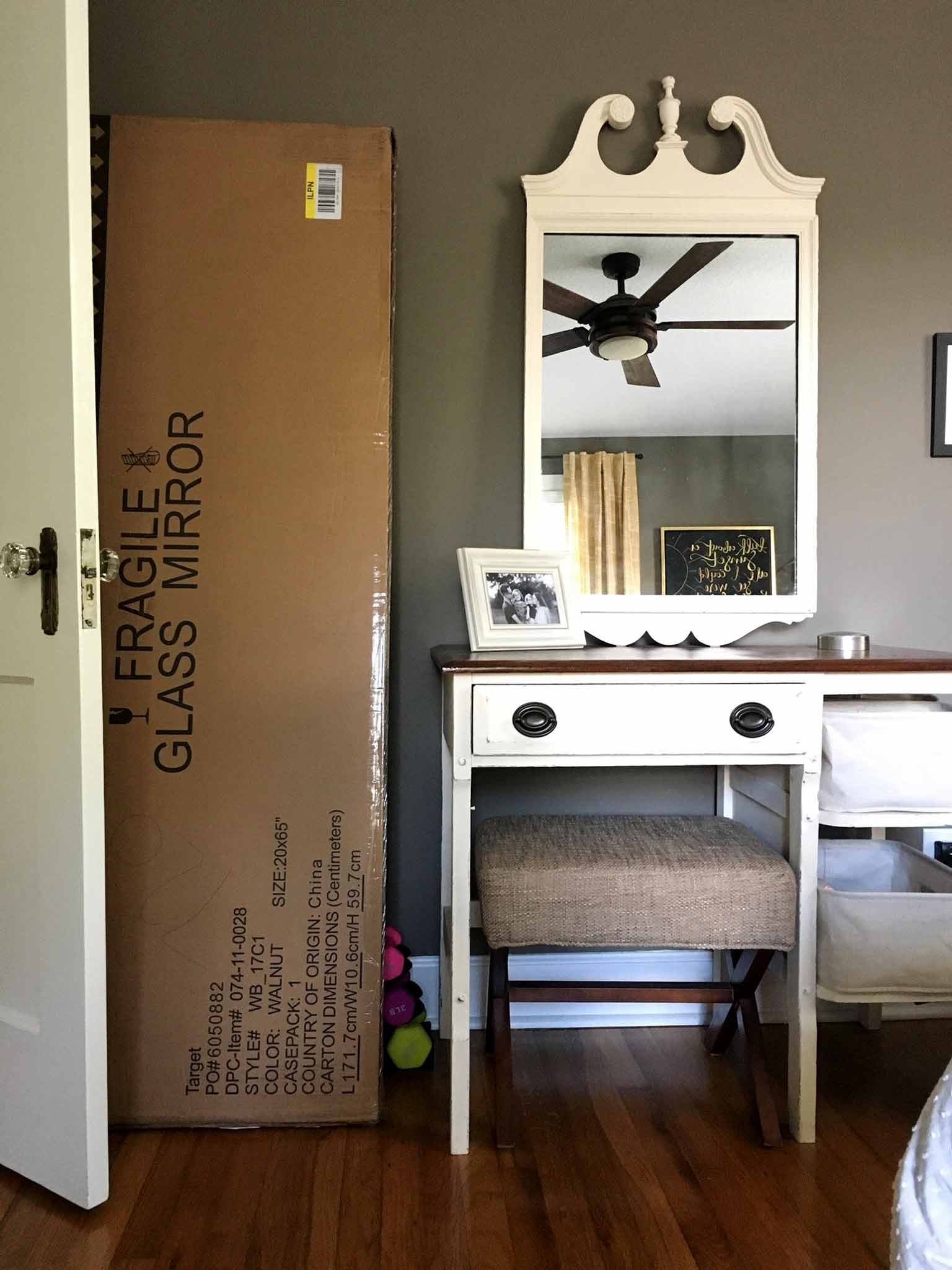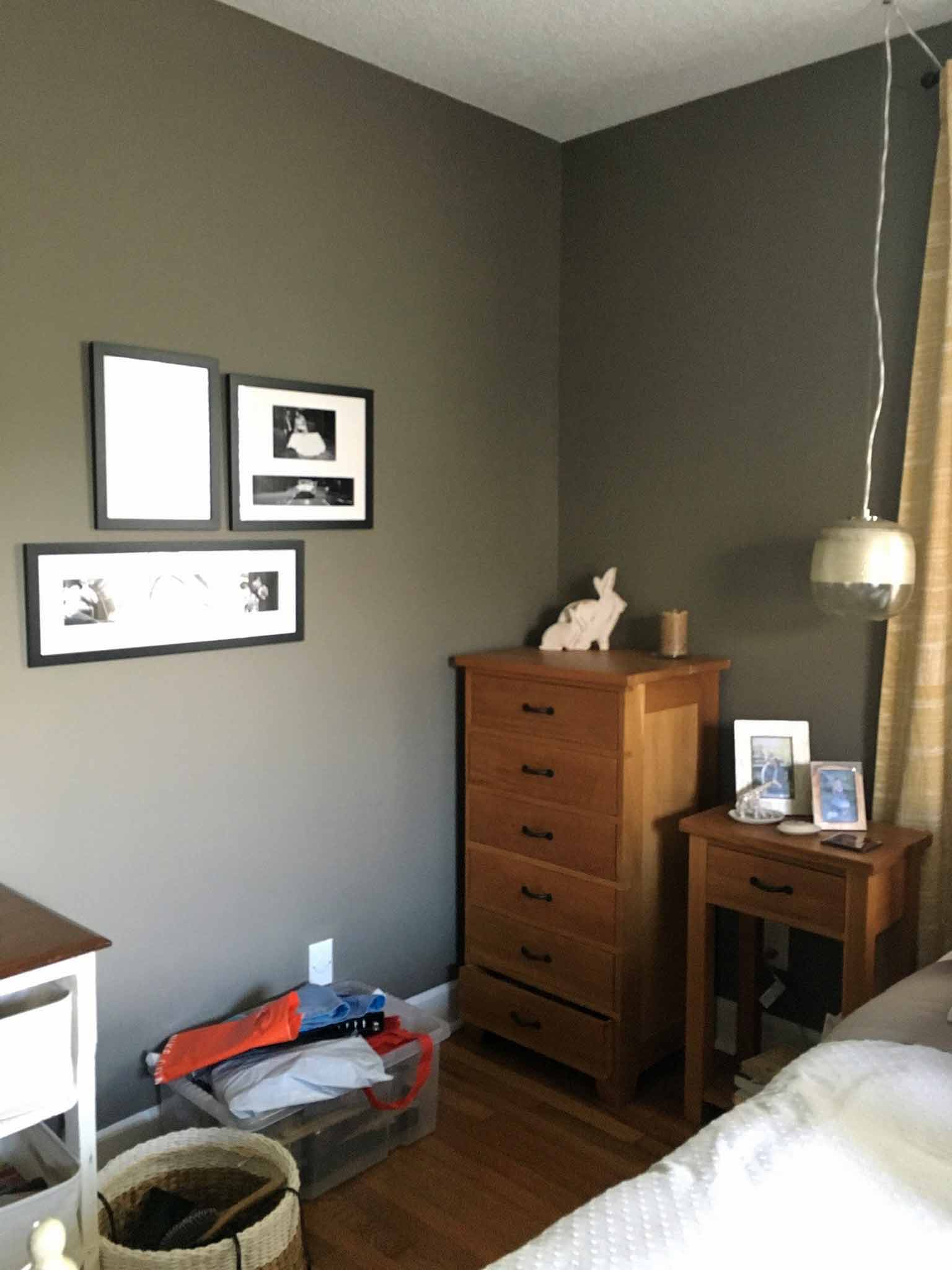 The truth is that somewhere along our construction journey, our master bedroom became a dumping ground for everything that we were trying to hard to hide throughout the rest of the house. And even though we've been out of major construction mode for a few months, the identity has stuck. So when I changed our storage closet into a pantry, guess where all the boxes of photos and things that didn't have a home got shoved? Yep, you've guessed it.
And let me tell you, this room feels NOTHING like the restful, sanctuary that it should be. I don't enjoy spending time in here. One. Little. Bit. And that's a problem, because we all know that Mama needs her space from time to time. (Hence why I've chosen to work on this room first, rather than the girls' bedroom. I think I can class that as self-care, right?)
So I'm really excited to get started on this journey and create the bedroom I always envisioned when I first started working on this room.
Let's start with the positives. Here are the elements that I like about the existing room:
The paint color, and the moody, dramatic look that it creates
The curtains. I bought these from West Elm last year and I love the color contrast against the taupe-gray wall, as well as the mid century modern pattern.
The bedding and the bed frame. This bed actually came with us all the way from the UK. I have my eye on a US sized upholstered storage bed, but right now it's not a priority for us to upgrade, and our UK sized mattress still has a couple of years of life left in it.
The oil painting. This was painted by my Granny and she gave it to us soon after we got married. I love the color scheme and it is going to be a key part of my design scheme for this room.
And now, the things that need to change:
The furniture layout. Firstly, we have too many pieces for the room and it feels way too crowded. Secondly, most of our pieces are from a matching set which we purchased when we got married, and I prefer a less matchy-matchy look now that I'm in my thirties. Finally, the bed is against the window because I didn't want my side of the bed to be the nearest to the door, and thus the first port of call for any small children who may need to use the bathroom/want a cuddle/need to get tucked in. What can I say—I value my sleep very highly...but now I've realized that in order for this room layout to make sense, the bed needs to move onto the adjacent wall. And anyways—my kids sleep pretty well these days.
The artwork. I mean, there's eclectic, and there's completely random. The artwork in this bedroom falls sadly into the latter category. This gallery frame currently has horizontal photos in it, and it's hung on the wall vertically. And I didn't have the emotional energy to replace them with photos that mean something to us. But that's going to change, and I'm on the hunt for pieces that will reflect our personality.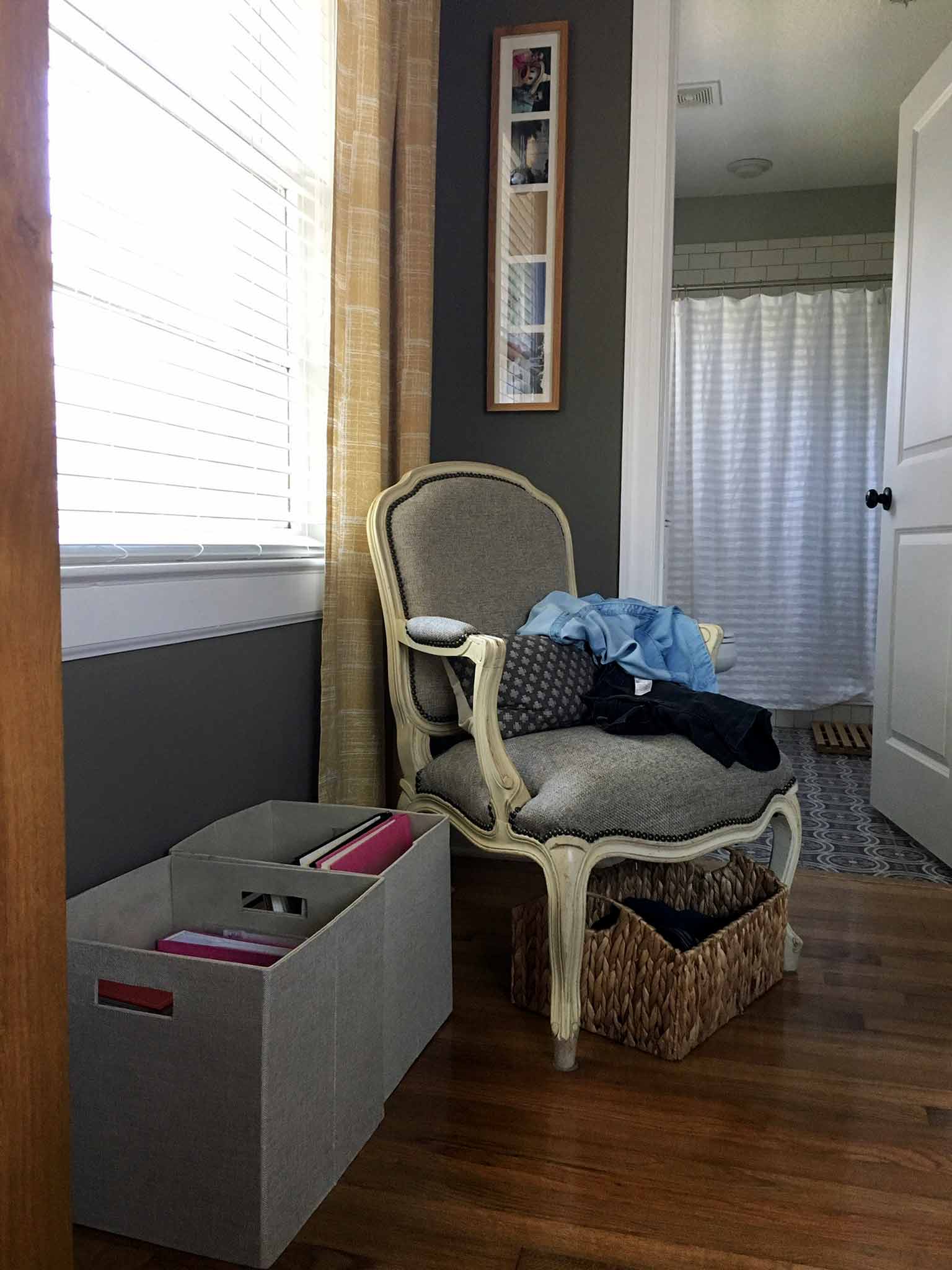 The lighting. I actually really love the pendants, but they are highly impractical for bedside lights as the light switches are in an awkward place, and therefore we just don't use them a lot. I have my eye on some plug-in wall sconces which I'm excited about!
The flimsy curtain rods. I've learned through experience that curtain rods should not be scrimped on. I'll be replacing them with something more substantial.
The general lack of style. Or rather, the coexistence of several competing styles. This room looks as if no thought has gone into the styling whatsoever, so I'm going to be sourcing a rug, pillows and plants amongst other things to all the loose ends together.
The storage situation. This room is clutter central. We have the tiniest closet because we sacrificed a chunk of it to create a master bathroom. I need to figure out a way of storing everything neatly, and may need to utilize the space under our bed for spare bed linens and out of season clothing.
In addition to all of this, we're also going to be moving our TV into this room and mounting it to the wall. After reading the book "Simplicity Parenting", I've been inspired to move our TV out from the center to the periphery of our home. Also, I do most of my TV viewing in bed on my laptop, and it would feel so luxurious to watch an actual TV. I've never had a TV in my bedroom, so this feels like a very grown-up decision for me!
With the TV out of the living room, it will allow me to change up the furniture layout in that room too, and that will make the flow of the main living space so much better. And it also means that you guys are going to be getting two room makeovers for the price of one over here!
Here's the moodboard that I've designed for this project: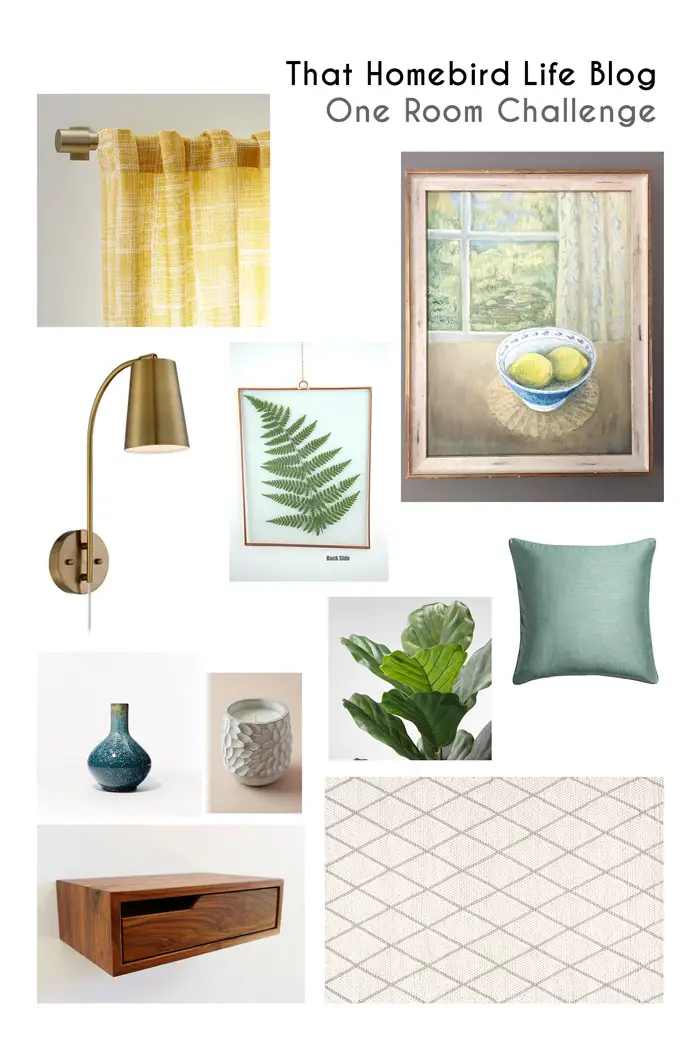 Come back next Thursday for a progress report! The first thing on my list is going to be selling the unwanted pieces in the room (thereby raising funds to put towards new pieces) and giving the room a big declutter. Hopefully I can whizz through those tasks pronto and get onto the fun stuff!
I'll tell you straight up, this project may not be the most dramatic before and after, but the effect it will have on my peace of mind will be AMAZING if I can pull it off. I'm feeling super inspired, and I can't wait to get going on it!
Are you a fellow ORC Guest Participant? I've written a guide (which you can read here) and designed a printable planner to help get you organized for the challenge! Simply put in your email below to have the PDF planner emailed to you: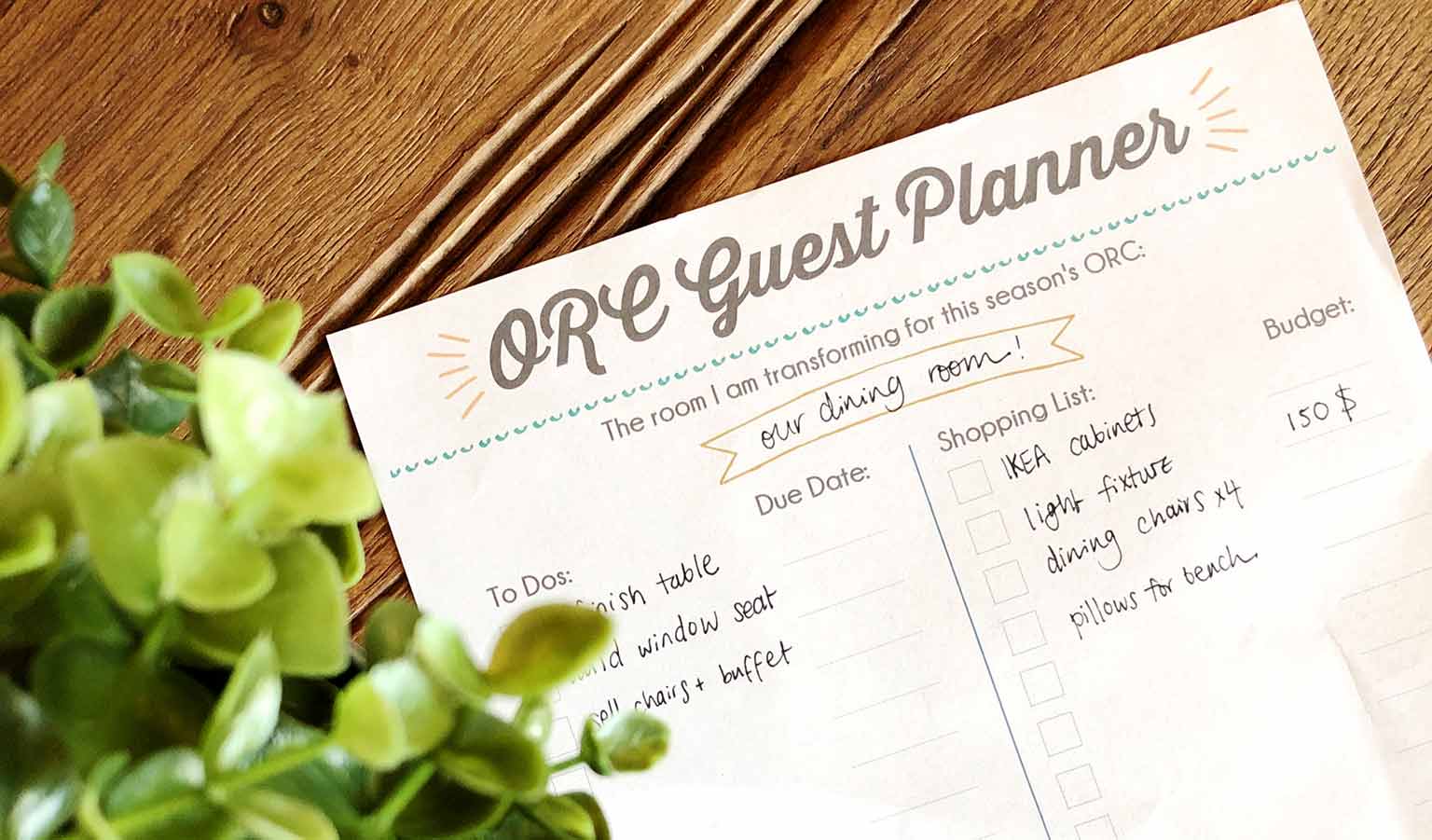 You can view all the other talented guest participants here—head on over and show them some love!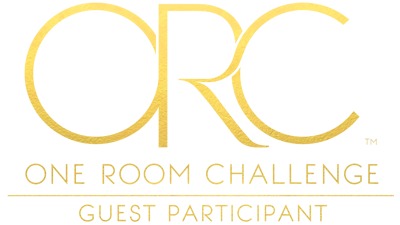 ---