Last week I signed off on a white oak floating vanity with a local cabinet maker for our main bathroom. It was exciting to get a major piece of the bathroom puzzle finalized, and with that momentum I was eager to work out some of the finer design details too, like vanity mirrors and metal finishes.
I took a look back at the inspiration photos for my bathroom design, and noticed that I'm drawn to rectangular mirrors with rounded corners. Another long-time favorite of mine is Alli's stunning bathroom—and look! More rounded corners: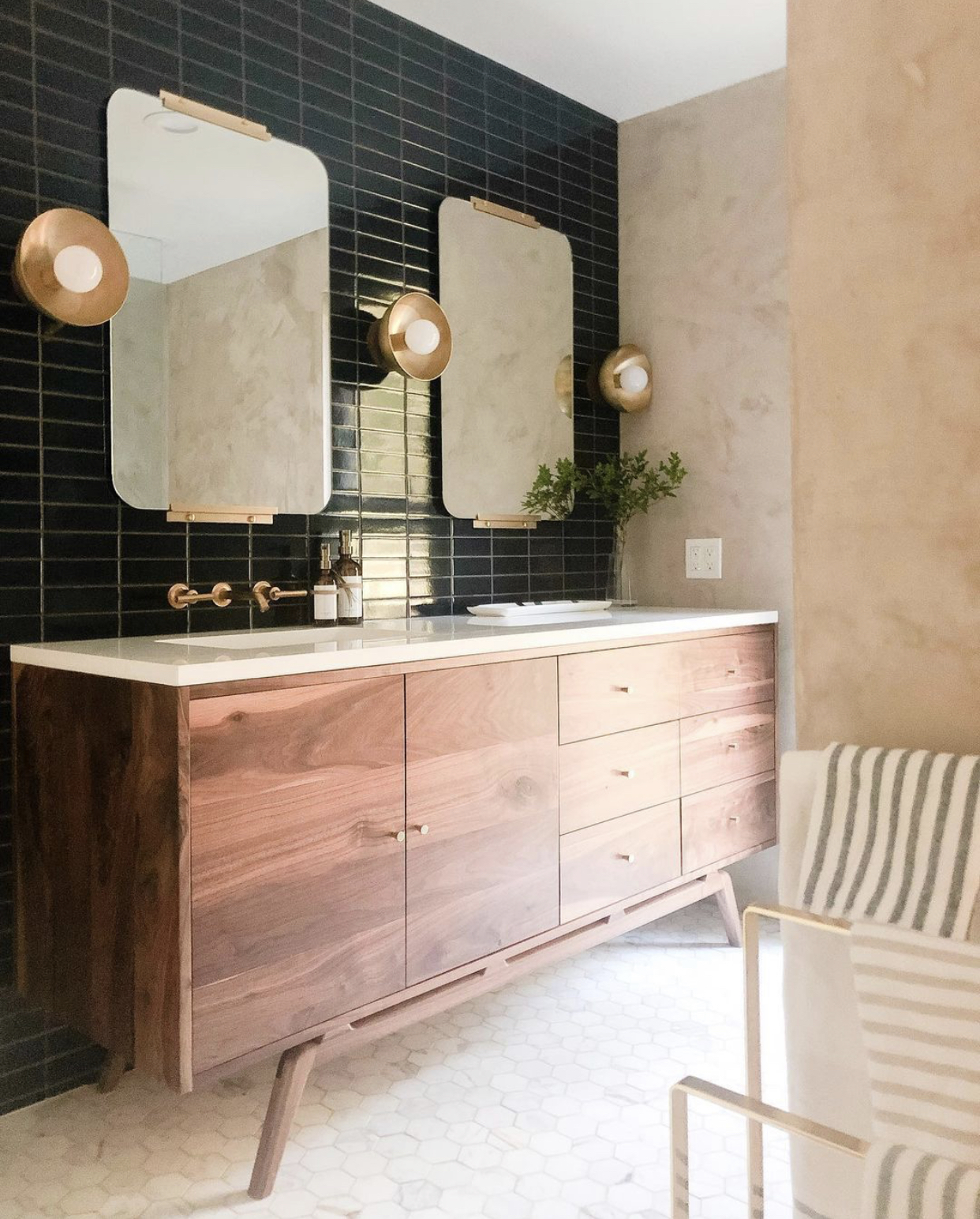 Source: @the.hoss.homestead
Since I've been researching alllll my options for vanity mirrors, I've put together a few of my favorites in case anyone else is on the lookout! I'm leaning towards a brushed gold finish for our bathroom, but I've included a variety in this round-up, and many of these options are available in multiple finishes:
As well as gleaning for mirrors, I've also been giving a lot of thought to the metal finishes I'll be using in this bathroom. Initially, I had planned to use matte black plumbing fixtures, but having since made a decision to use oil rubbed bronze bronze door hardware, I'm leaning towards something lighter and warmer in our main bathroom, like light bronze or brushed nickel.
I know it can be tempting to stick to one metal finish everywhere, but I think that when done intentionally, mixing metals is a great way to add interest and depth, without sacrificing cohesiveness. Whilst I don't consider myself an authority on "design rules", nor do I think rules are the be-all-and-end-all (rules < intuition), I wanted to share how I'm approaching this in our own home.
First off, I'm choosing three metals for the entire house, and sticking largely to those throughout. I'm not going to worry too much about keeping the same exact finish everywhere (eg. unlacquered brass vs. satin brass vs. aged brass) as these finishes can vary from manufacturer to manufacturer anyway, but I will try and limit the mix of finishes within a single room so that it doesn't get too choppy.
So which metals to choose?
I think the biggest "a-ha" moment I had was when I learned that much like paint colors, metals have undertones. Now here's where personal aesthetic and preference comes into play: I generally prefer the look of warm/neutral metals over cool metals, so that's what I'll be using. (There are a couple of places in our home where I'm incorporating cool metal tones...but I'll get to that later!)
There are plenty of designers who advise a mix of warm and cool tones to create contrast and balance, but that's just not my preference. I don't think there's necessarily a right or wrong way though, as long as you stay consistent with your choices. A good way to learn what you like is to study a few favorite inspiration photos and make notes on the finishes used in each photo. What metal undertones are being used? How many metals are used? What finishes and combinations are you drawn to?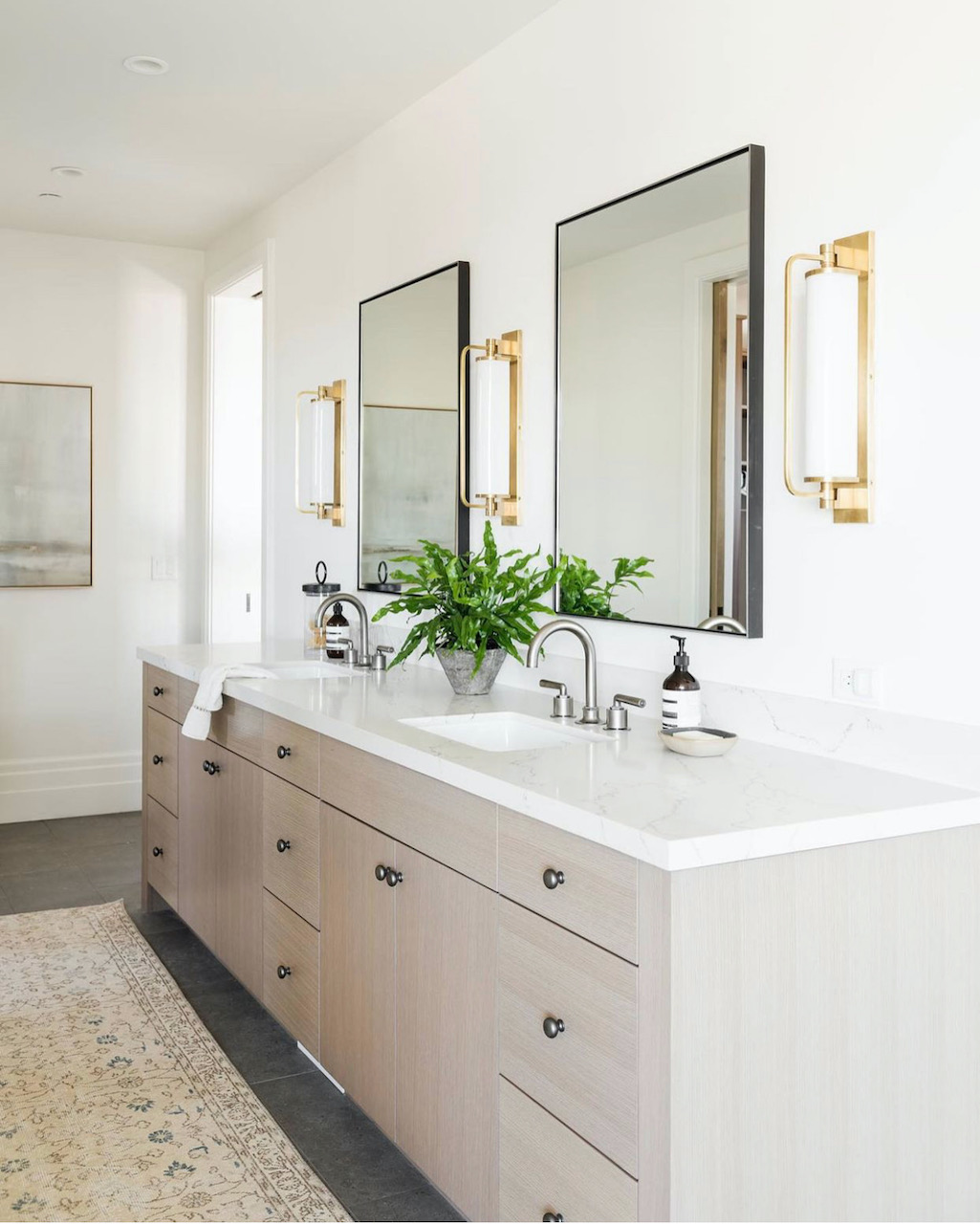 Source: Studio McGee
Here's a quick list of metals and their undertones:
Warm toned metals: brass, nickel, copper, bronze
Cool toned metals: chrome, steel, aluminium, zinc
Neutral metals: wrought iron, and other black finishes
For the interior of our home, I've chosen bronze, nickel and brass. All warm undertones, but the dark bronze will act as a neutral to anchor the brighter tones.
Let's look at how these metal choices might play out in our main bathroom: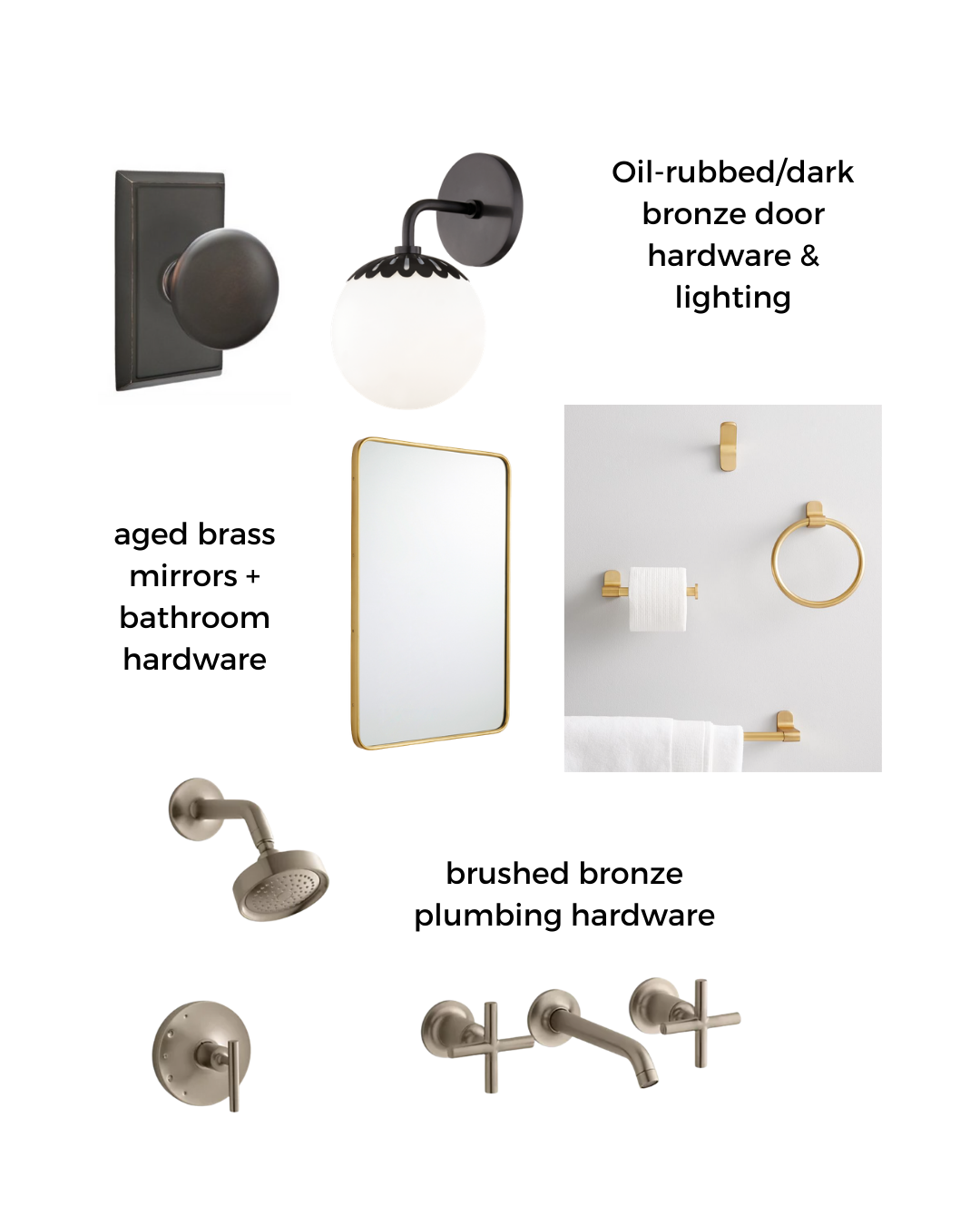 Notice there's a good amount of contrast between the metals, and I'm sticking to one finish for each "category" of hardware/fixture for consistency. I haven't used all three of my metals in this room, but that's ok—they'll be used elsewhere around the house.
How to break "the rules"
Now, I did say I was using a few cool toned metals outside of my three metal choices (bronze, nickel and brass), and this is how I'm working in other elements so that they become an intentional part of the design:
Our kitchen will have stainless steel accents (the appliance handles, the faucet and the stove knobs) which has a cool undertone. This is the only place I'm using stainless steel in the house, so I'm avoiding using too many other metal finishes in the kitchen so that it doesn't have too much to compete with. In addition, the dark countertops will act as a neutral backdrop for all of the metal finishes.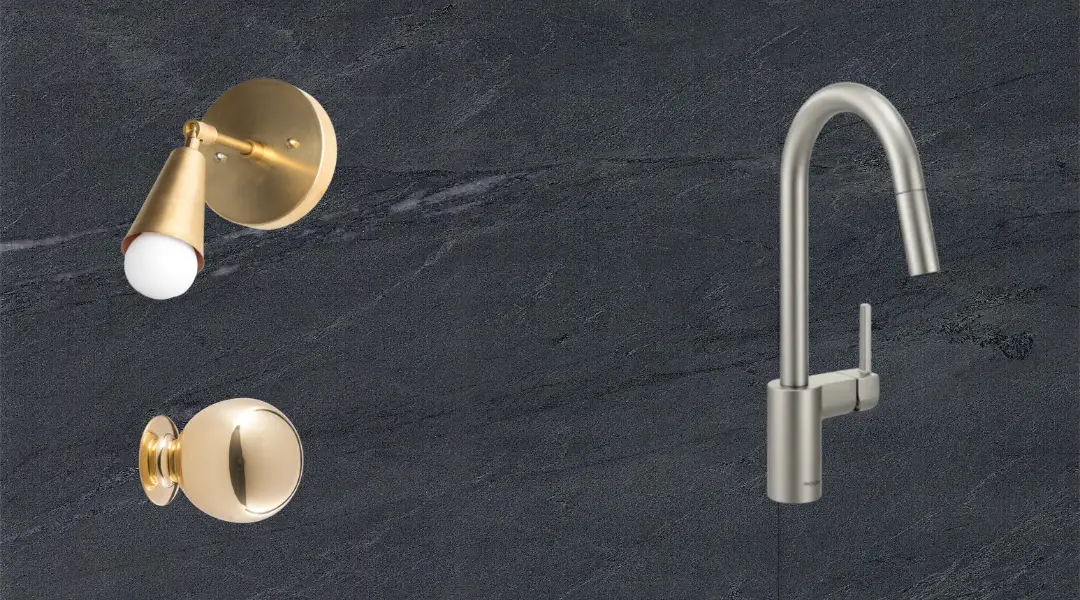 Our exterior will have bronze door hardware and zinc gutters/lighting. Warm (bronze) and cool (zinc). The roof shingles I'm leaning towards have a blend of cool/warm tones which ties the metal finishes together, with the black siding acting as a neutral.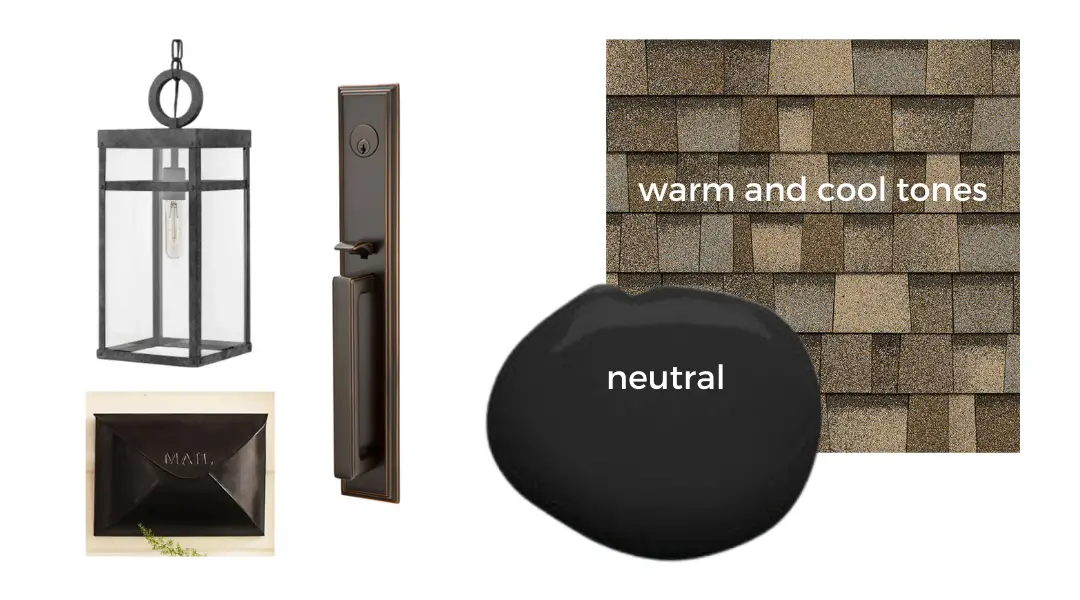 Ultimately, I think the essence of what I'm trying to say is that being intentional with metal mixing is the key. I bet you could make anything work (within reason!) as long as there are elements that support and complement your choices of metal. Choosing two or three metals that you like in combination with each other and within the wider context of your home is a great place to start—and taking note of what catches your attention in inspiration photos is the very first step.
Gosh! I had a lot to say on that topic. Now that I've shared the basic framework I'm using for choosing metals throughout our new build (and where I'm breaking my own rules!) what questions do you have? I'd love to dive into more detail in future blog posts so please ask away!
---