I posted over on Instagram a few weeks ago that I'd been working on a pro bono project for a local organization. It's been a joy to work on and I'm honored that they asked me to help. Today, I'm excited to share the full reveal of this modern, minimalist space!
The room that I have been working on is part of a house that is used to help local families in our community. The organization provides food, clothing and school supplies (amongst other things) to families that need extra support, and the house is also used by other groups as a gathering space.
I was asked to help because the living room (which is also the first room you see when you step into the house) needed a bit of love.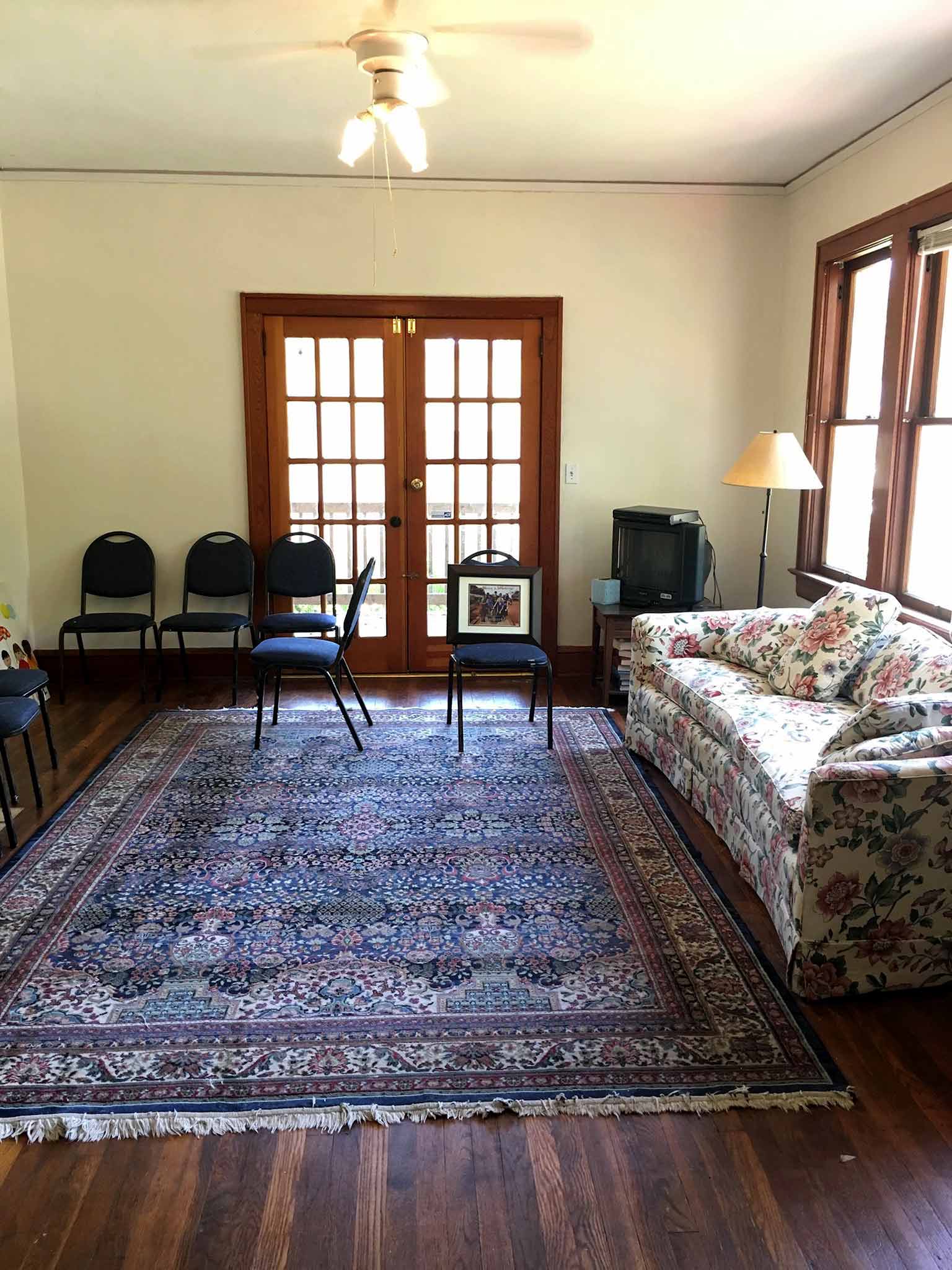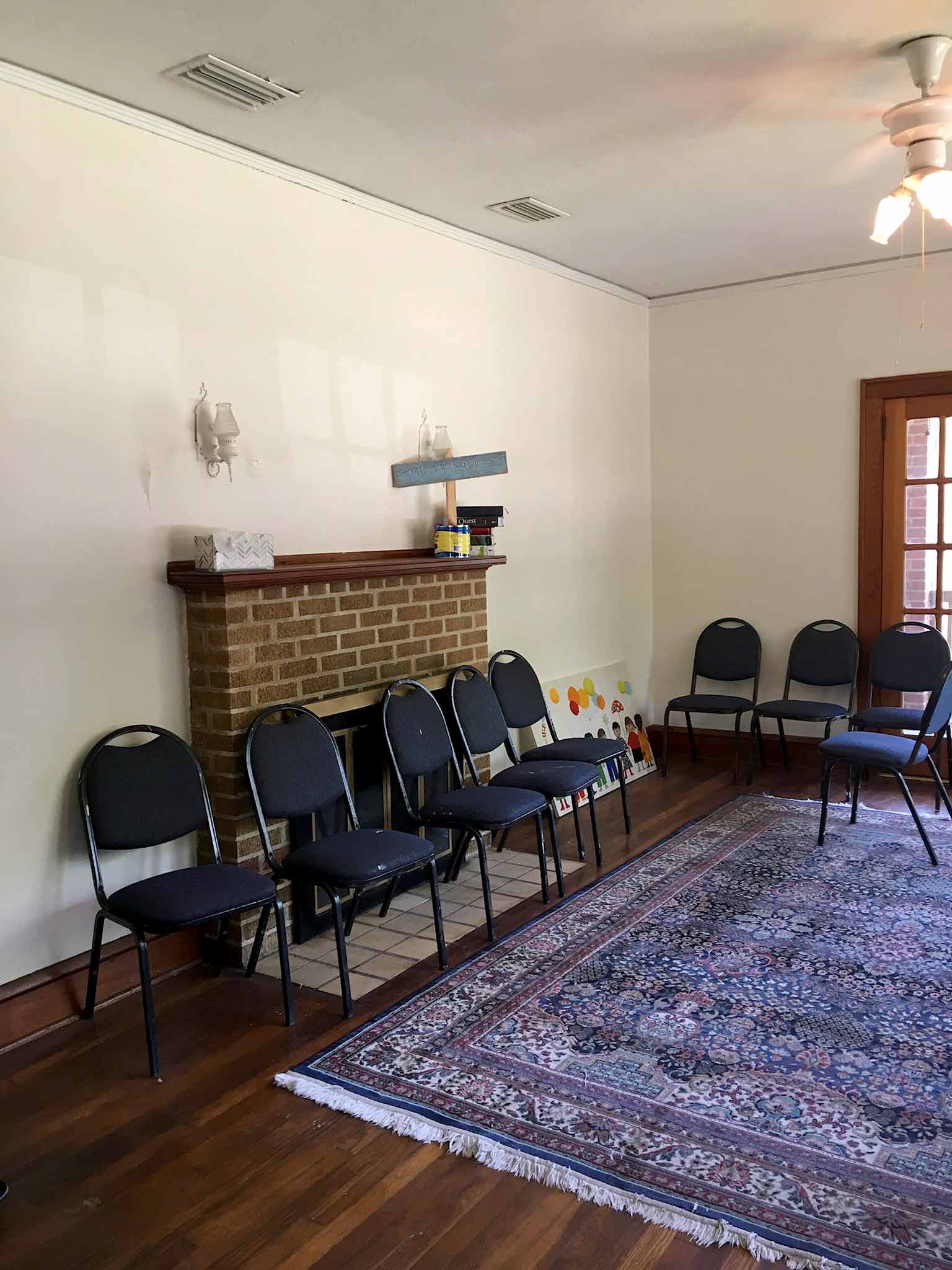 The main challenge was that the budget was extremely tight. So, I set to work on a design for the space and came up with some budget-friendly ideas to transform the space.
PAINT, PAINT, PAINT
Without a doubt, the most cost-effective way to makeover a space is with paint. I chose white for the walls to make it feel bright and open, and we painted over the brick fireplace in black to give it a more modern look. I love the way the crisp white walls contrast with all of the beautiful wooden trim. It was a feature of the room that was always there, but the white walls just help to elevate it.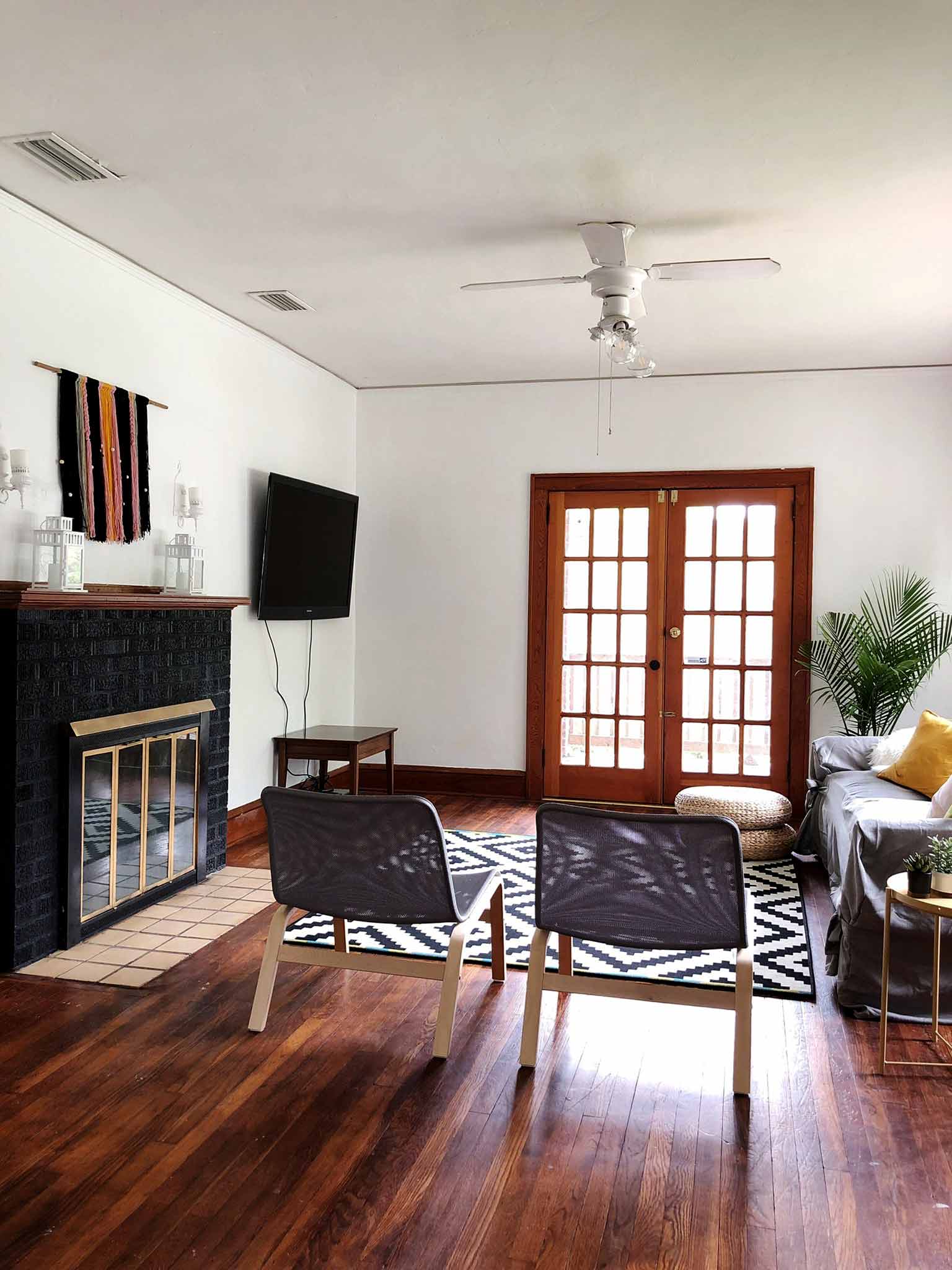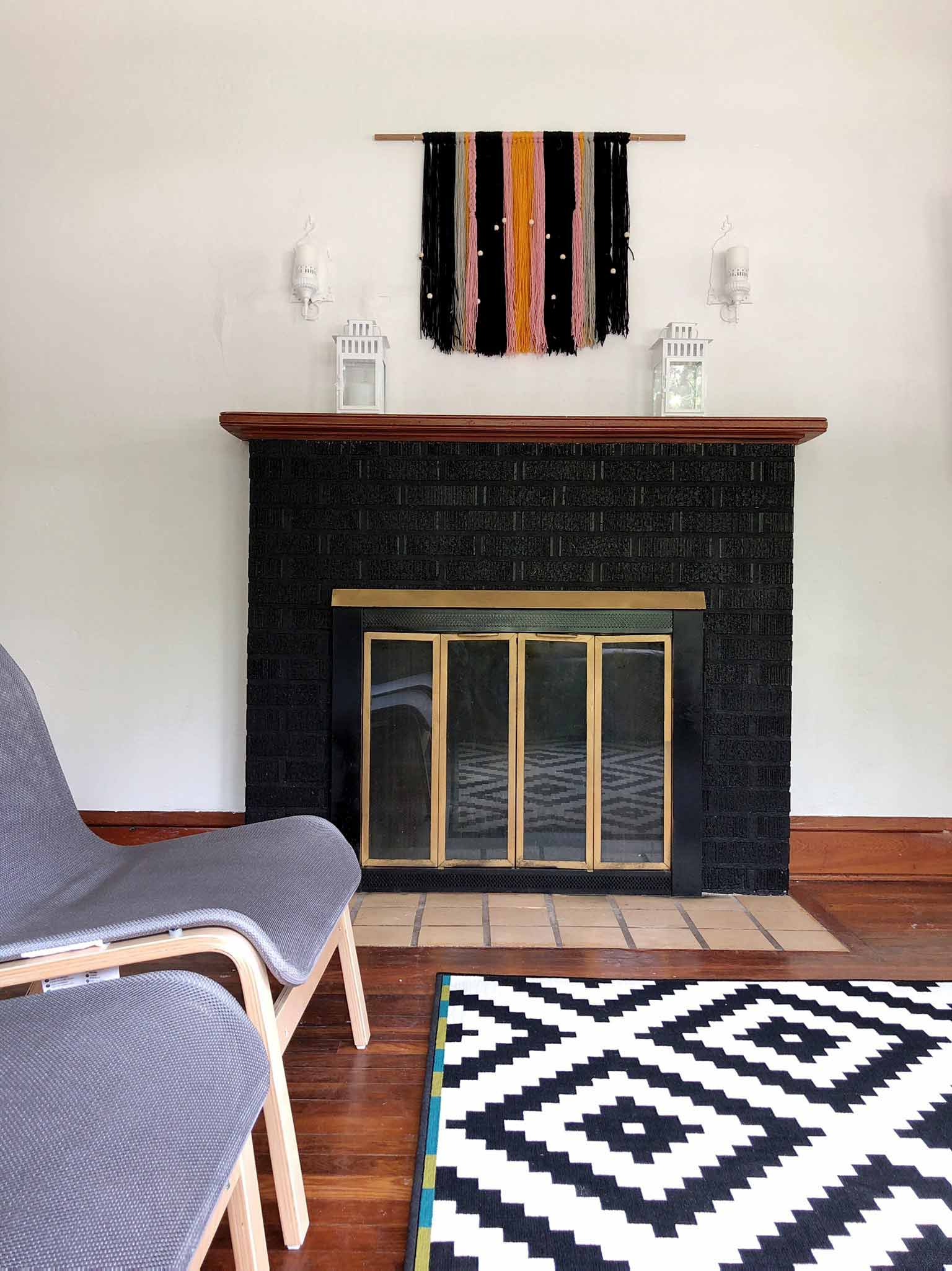 Cost: $100, and some willing volunteers
CLEAN IT UP
As is often the way with communal spaces, this room had become a bit of a dumping ground for donations, overflow furniture and random decor pieces. It made huge difference decluttering the room and emptying it of anything that wasn't necessary to the space. The extra bonus? There were also some treasures uncovered during this process, such as the two lamps, and some big pieces of framed artwork.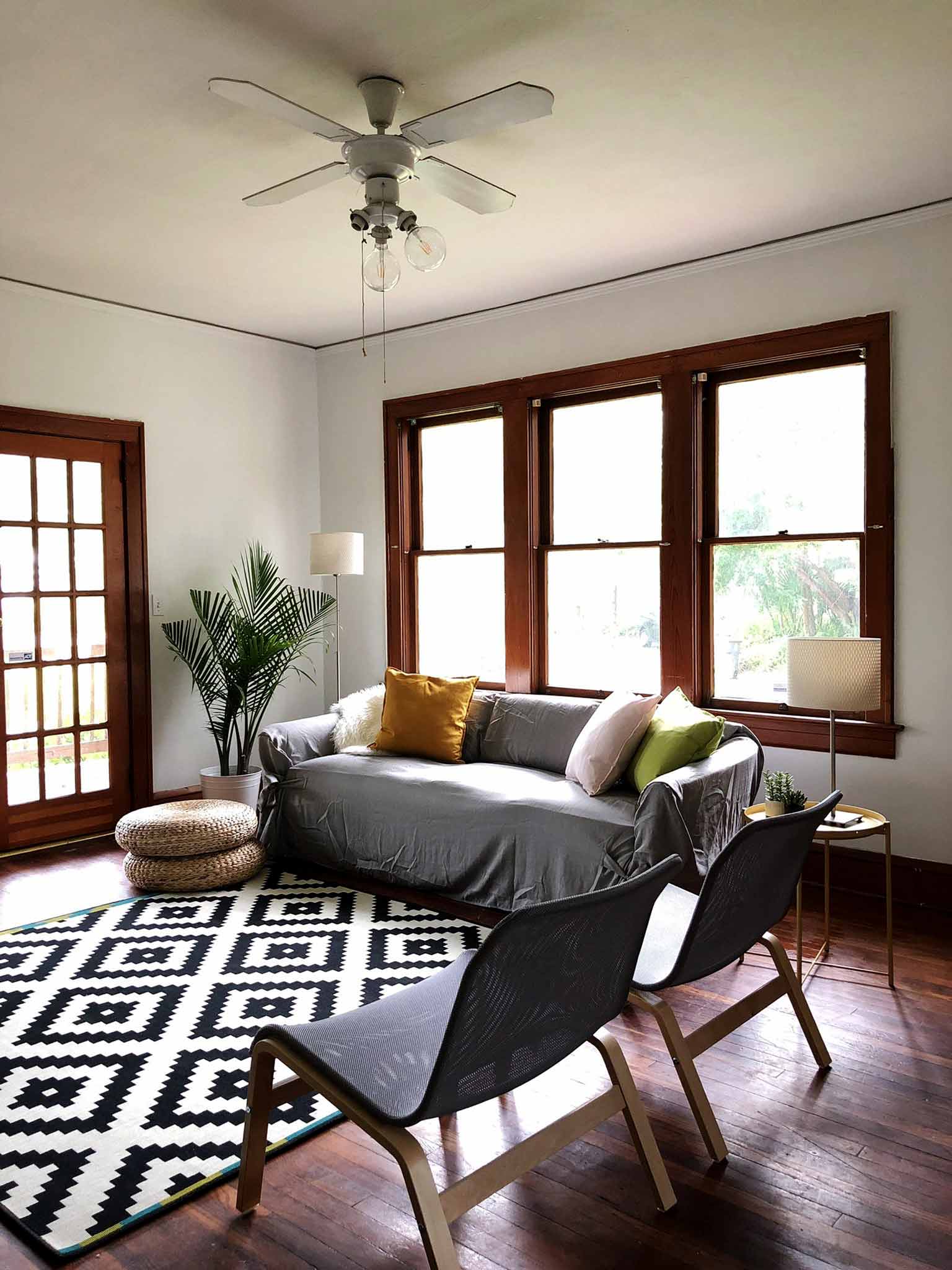 Cost: $0
SLIPCOVER THAT UGLY SOFA
The sofa provided lots of seating, and we didn't want to get rid of it as we didn't have the budget to replace it with anything else. Our solution was to buy a slipcover, and it worked surprisingly well! It's such an improvement on the floral number that is hiding underneath it.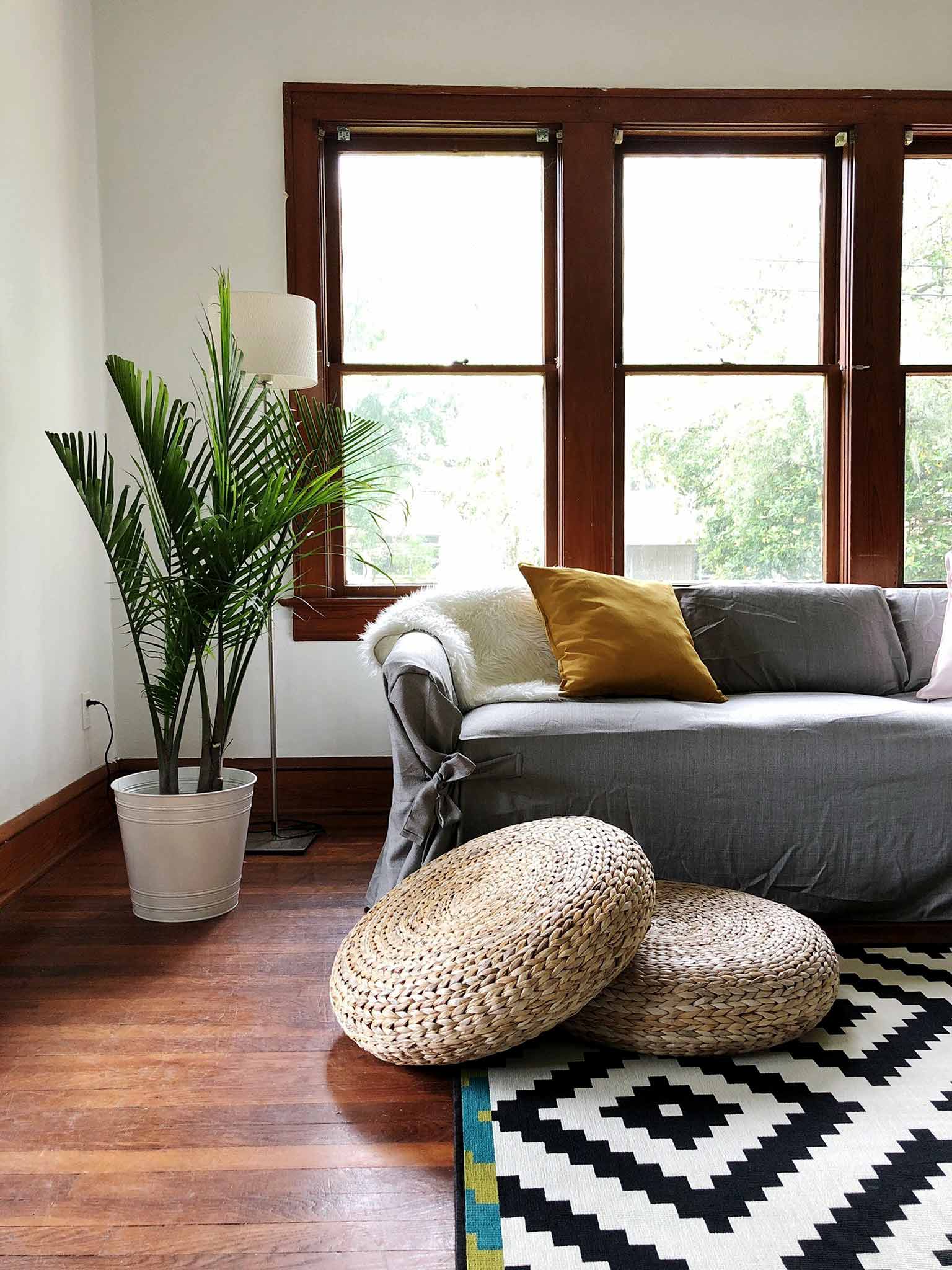 Cost: $60
IKEA TO THE RESCUE
We got most of the other pieces in the room from IKEA, and really you cannot beat the value for money. Our purchases included two comfy lounge chairs, two woven stools, a side table, a fun geometric rug and some decor accessories.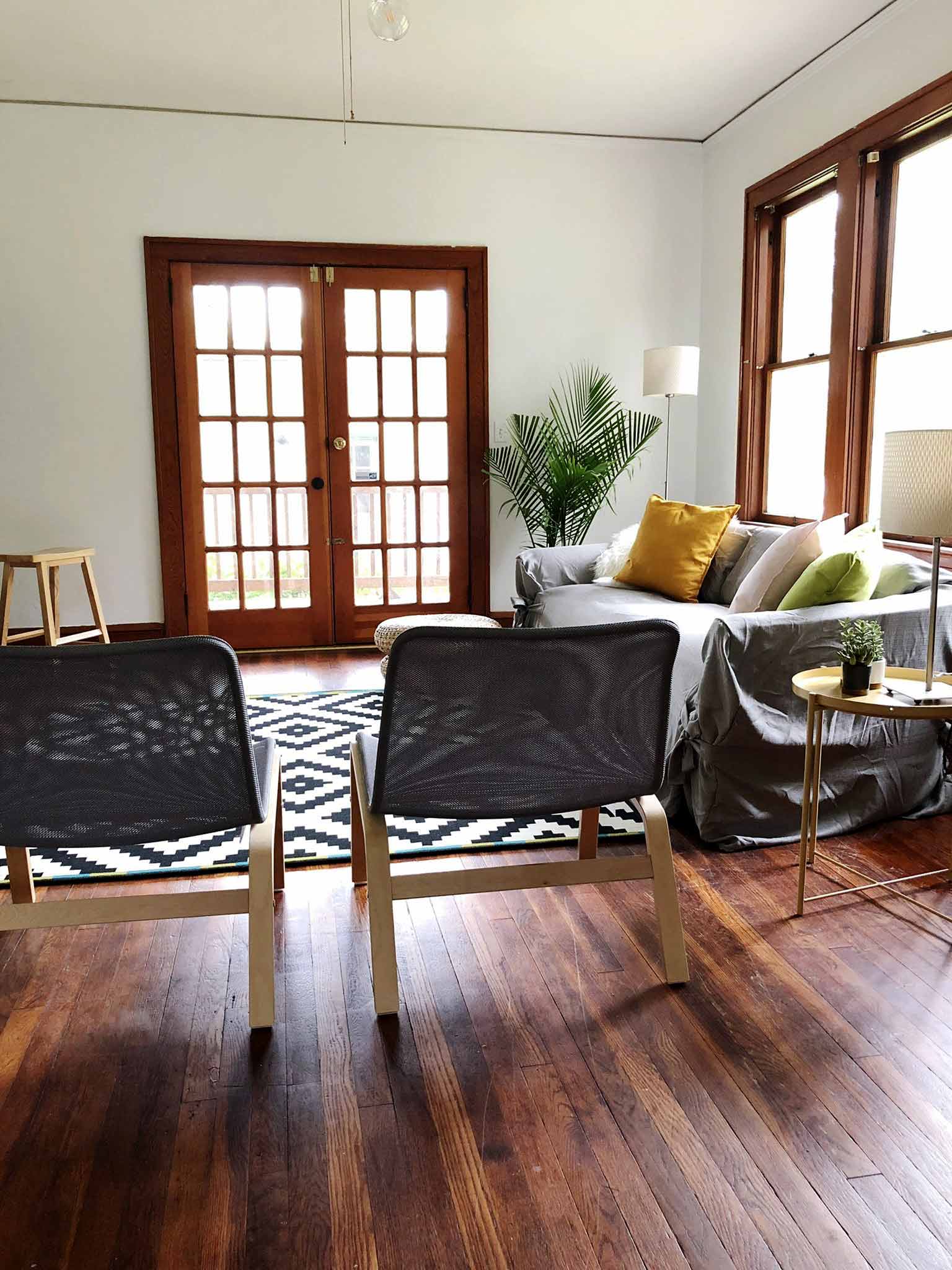 Cost: $300
DIY WALL HANGING
I made a large wall hanging to go over the fireplace—it's a variation on the one I made for the boho bedroom makeover that I did a while ago. This really is such an inexpensive and easy way to add a lot of texture and color to a space.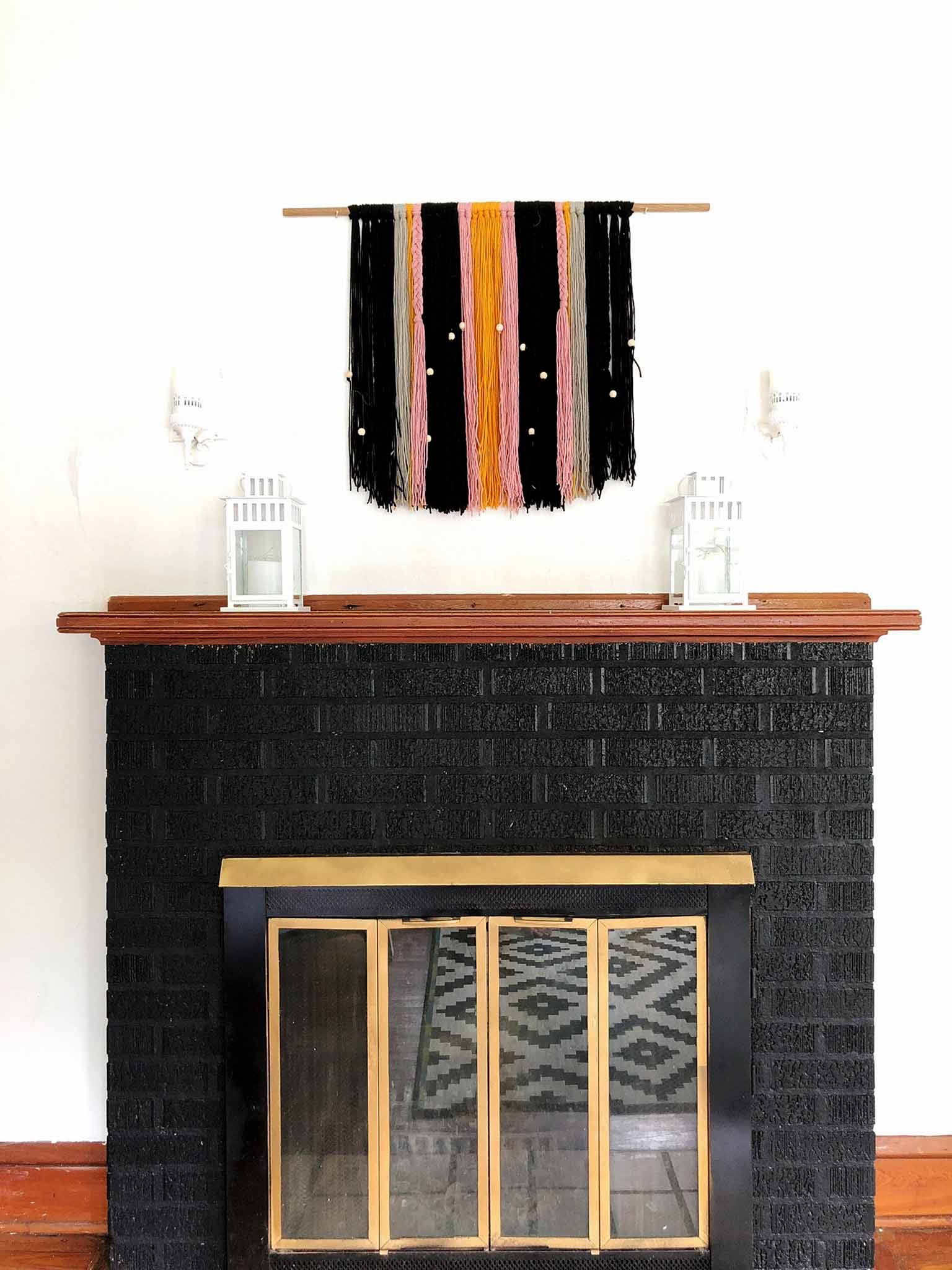 Cost: $8
ADDING GREENERY
When you don't have a big budget for decor, I think the very best thing you can put your money towards is green stuff. It immediately brings a room to life. We bought a big palm for the corner of the room, and I also purchased a couple of faux succulents which require zero maintenance and look so cute sitting on the side table!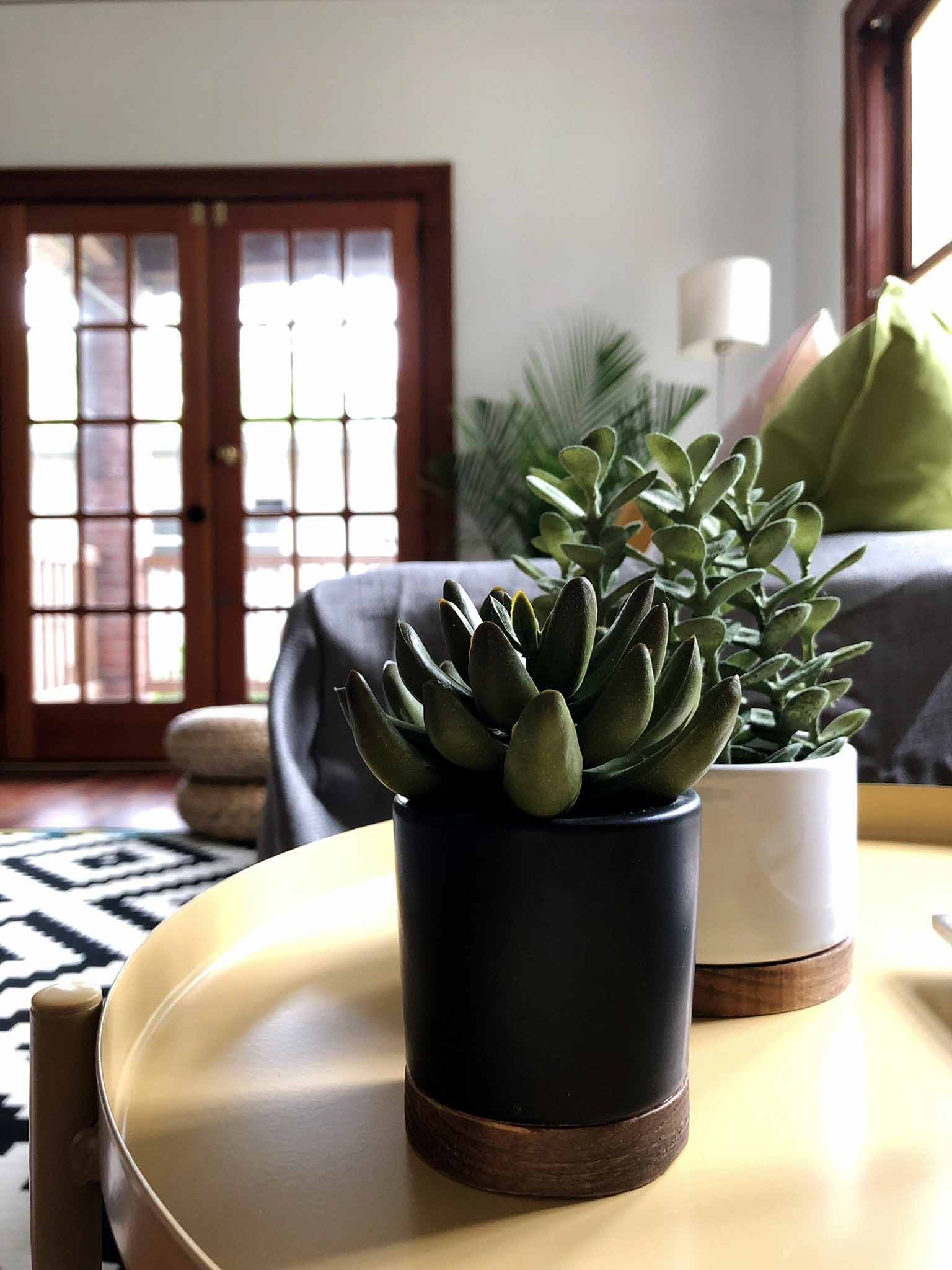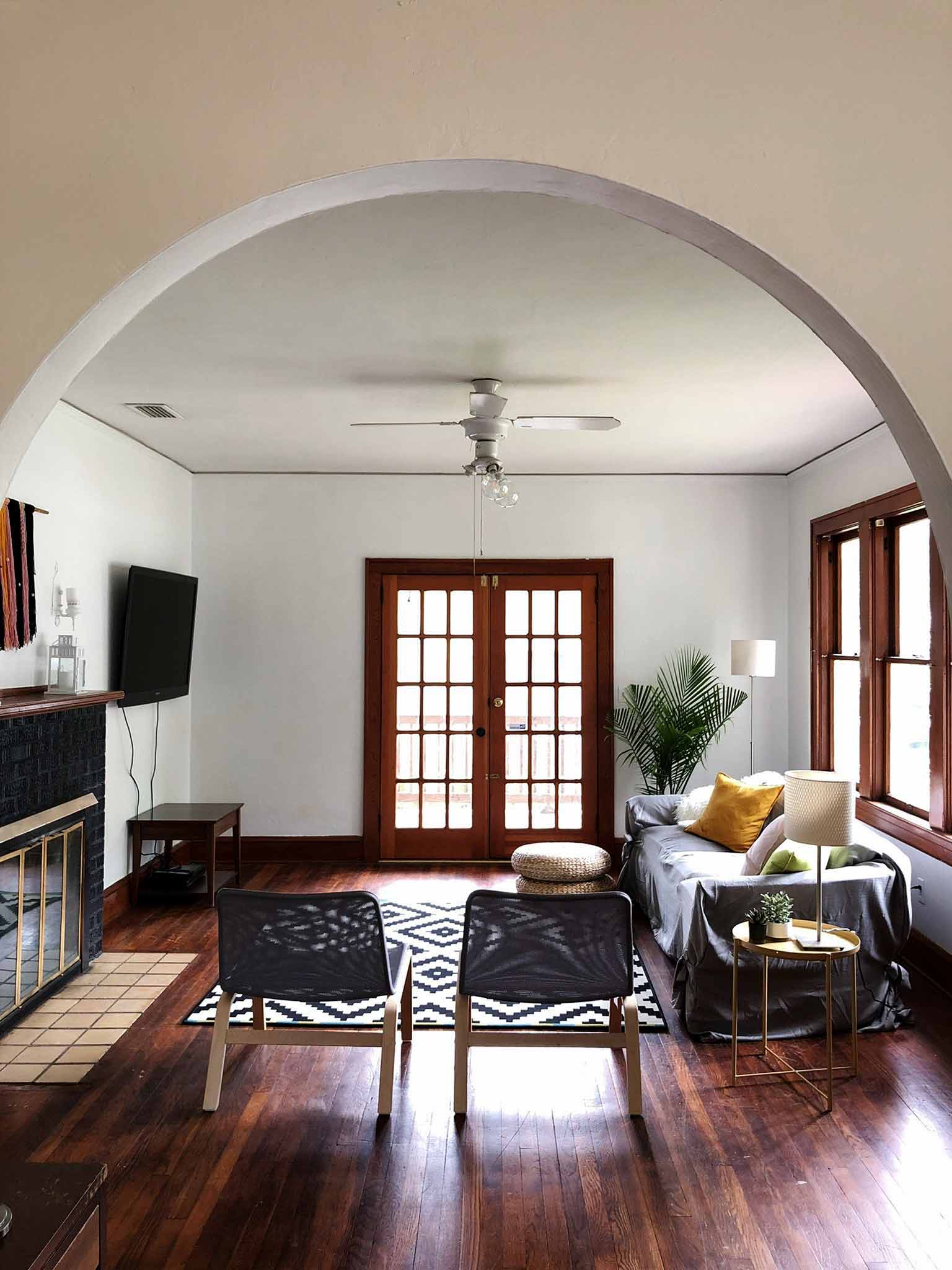 Cost: $30
With some hard work and a little bit of vision, this living room was transformed from a mismatched, outdated room into a bright and welcoming space.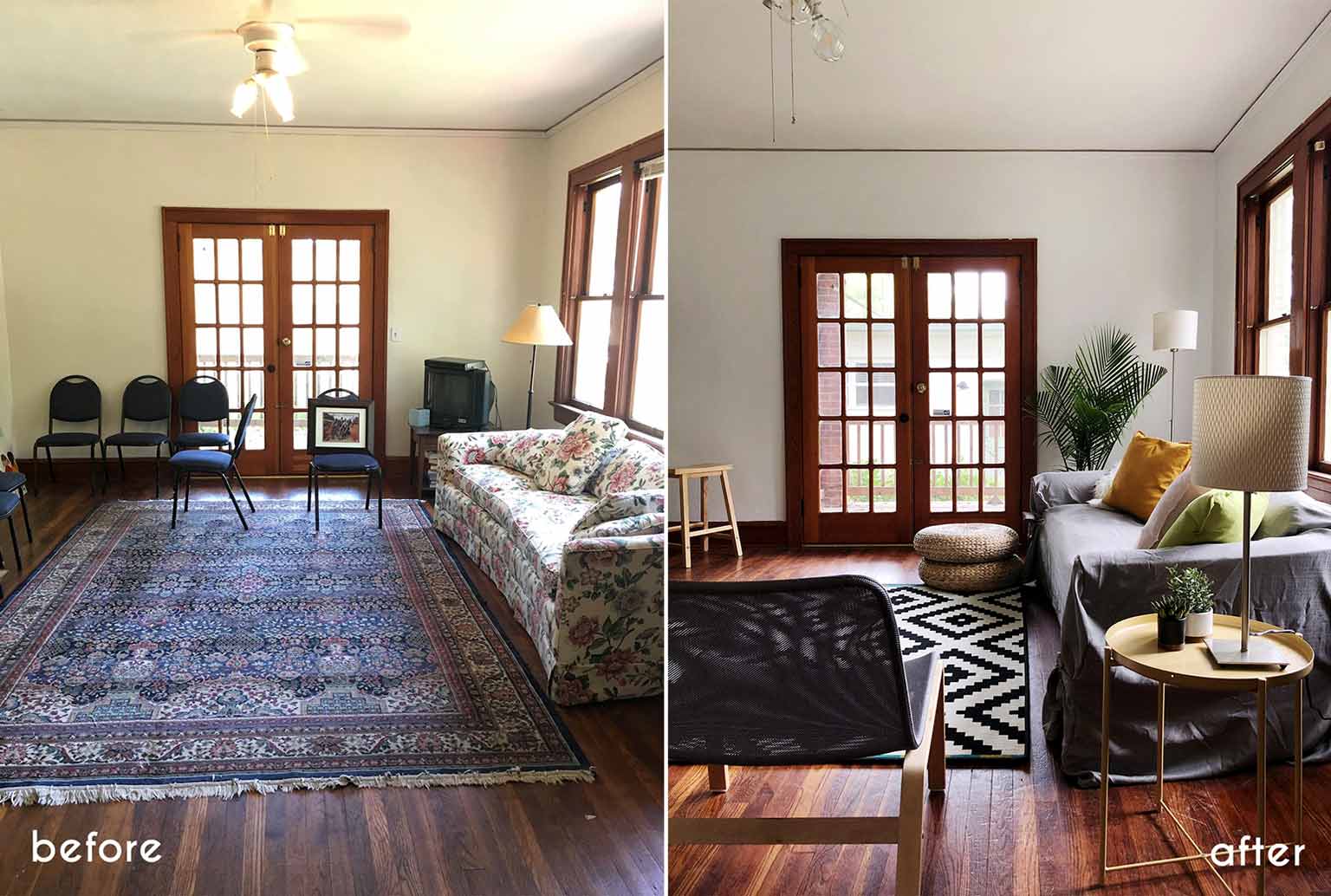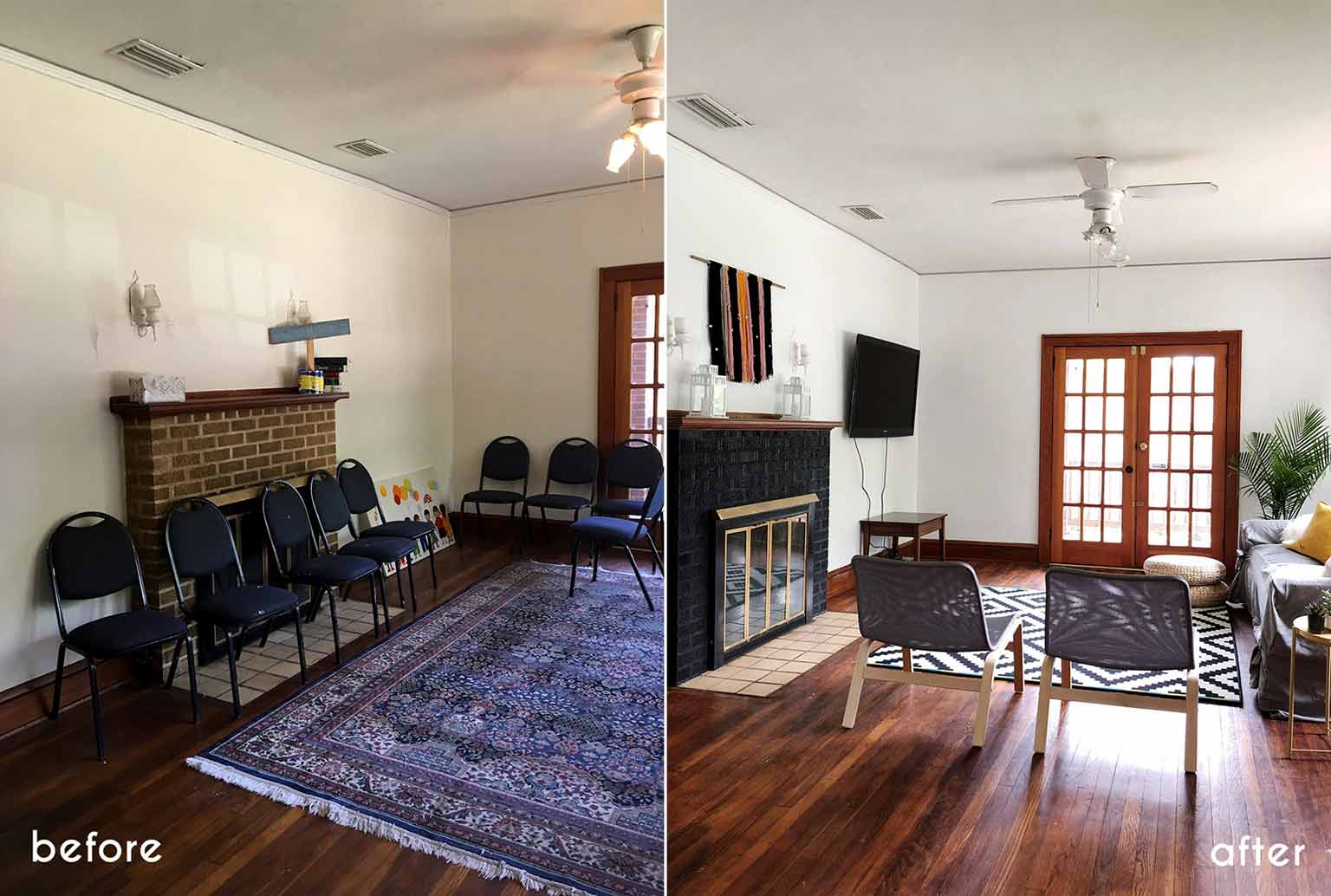 SOURCES
Rug // Chairs // Slipcover // Faux Succulents here and here // Tray table // Woven Stools
---