It's here! The One Room Challenge reveal day! There have been times over the last five weeks that I wasn't sure if we would finish in time, and so I'm incredibly thankful and relieved to have made it through! This project stretched us more than I ever knew it could. But the result is better than I hoped for, and the challenges we faced along the way make this space all the sweeter to enjoy.
Don't forget to check out all the other talented guest participants—there are SO many great room reveals, and it's well worth a look!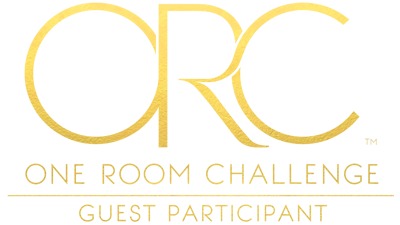 To refresh your memory, here's what the space looked like at the beginning of the challenge: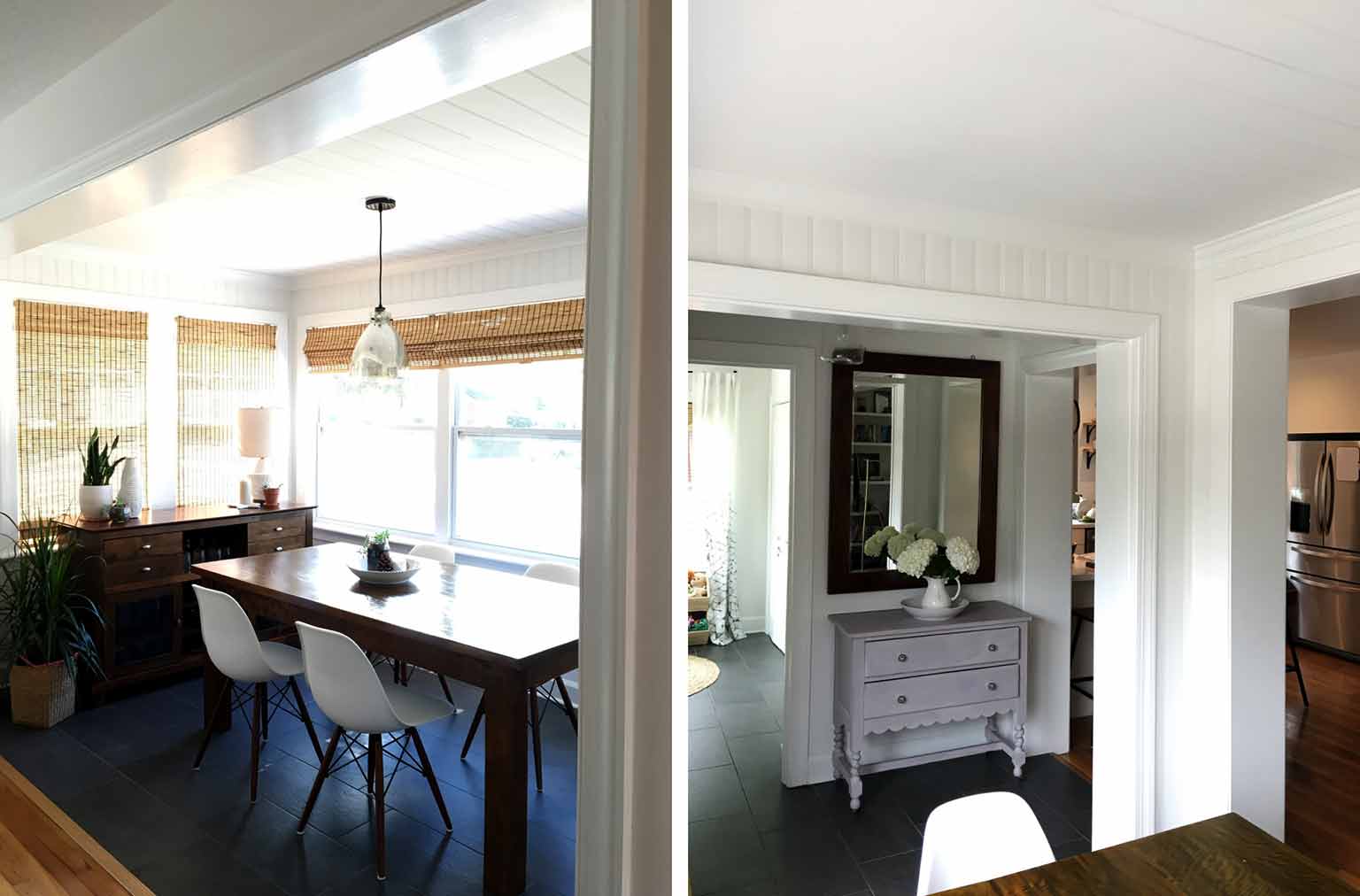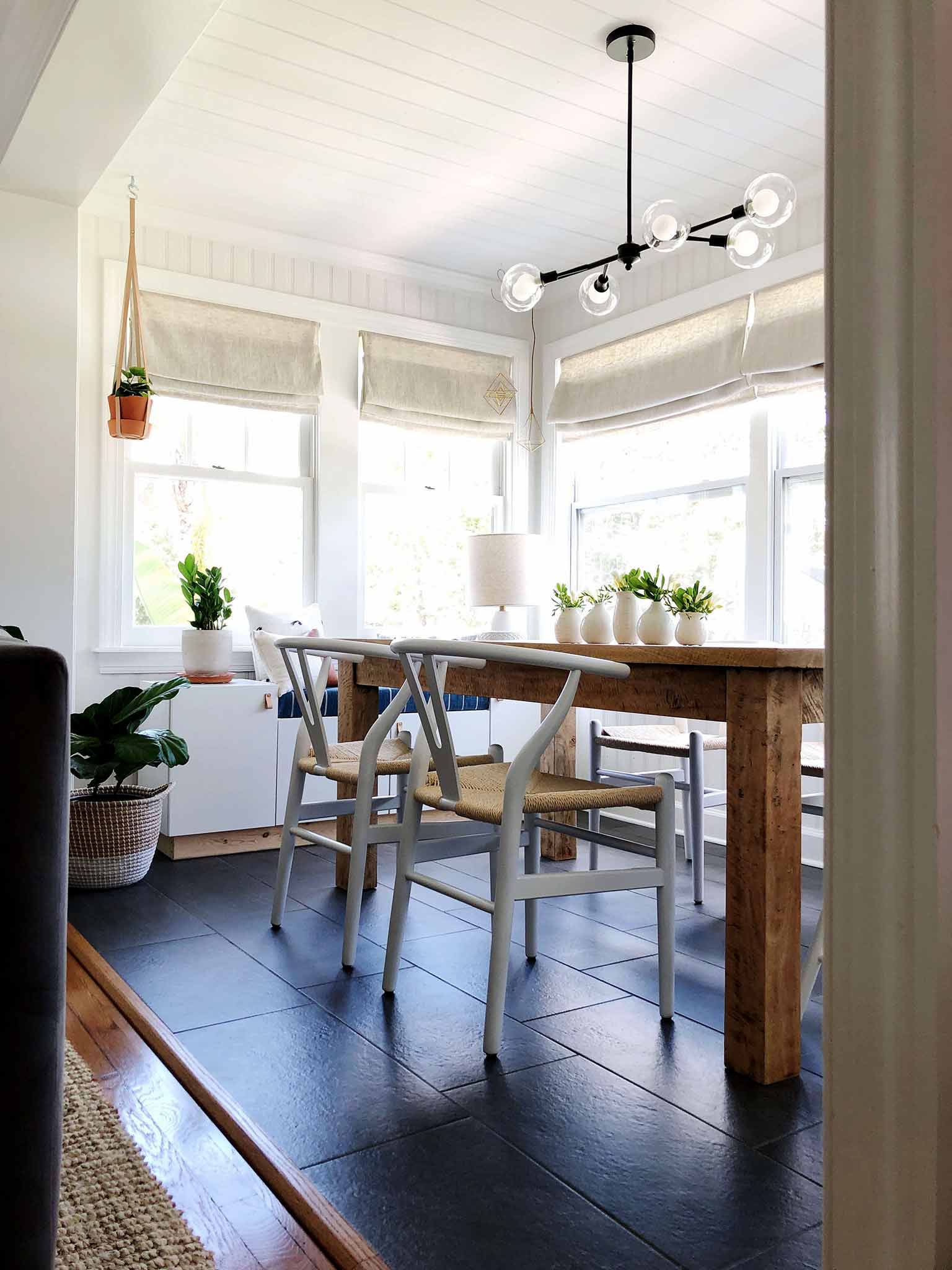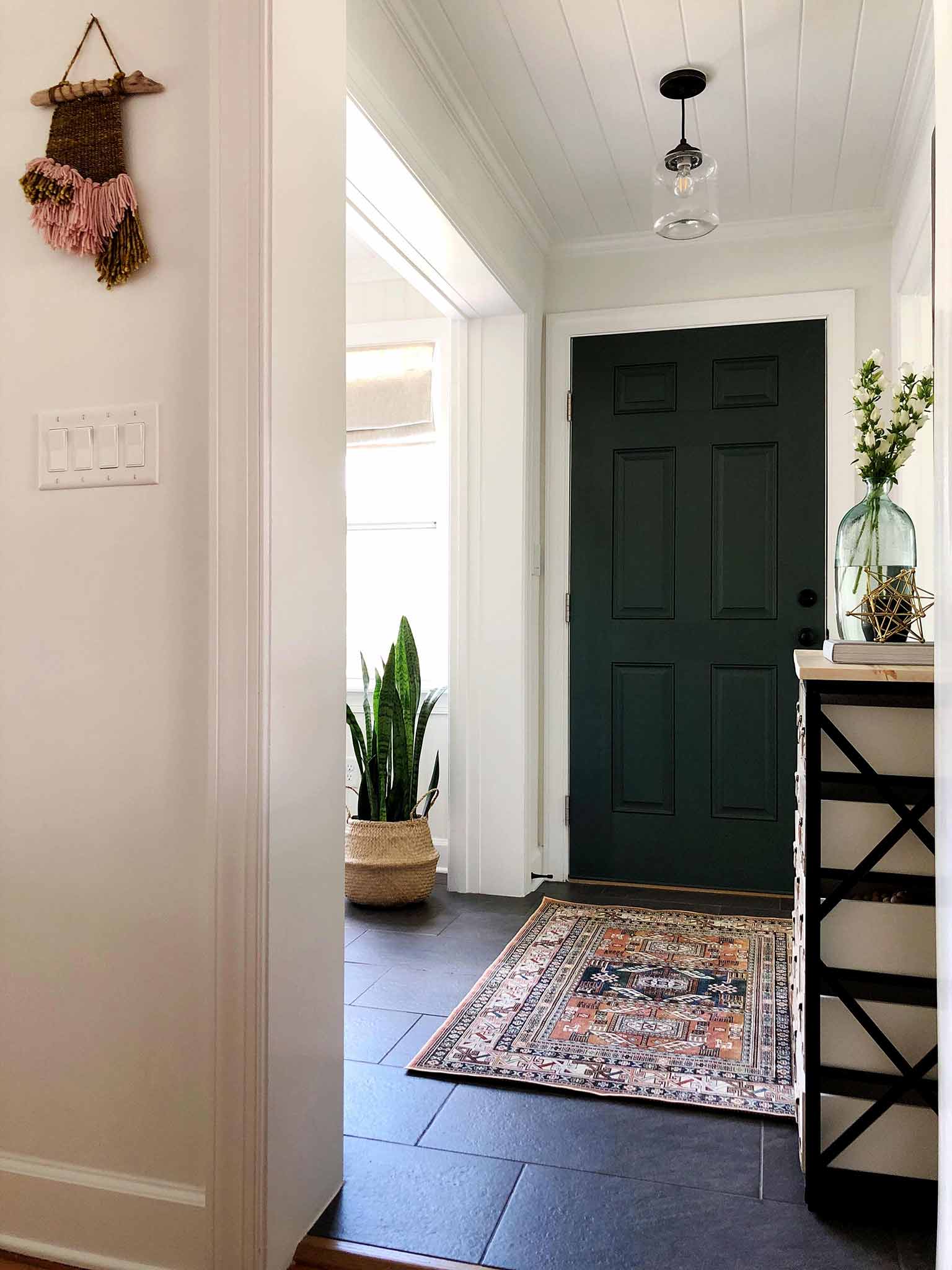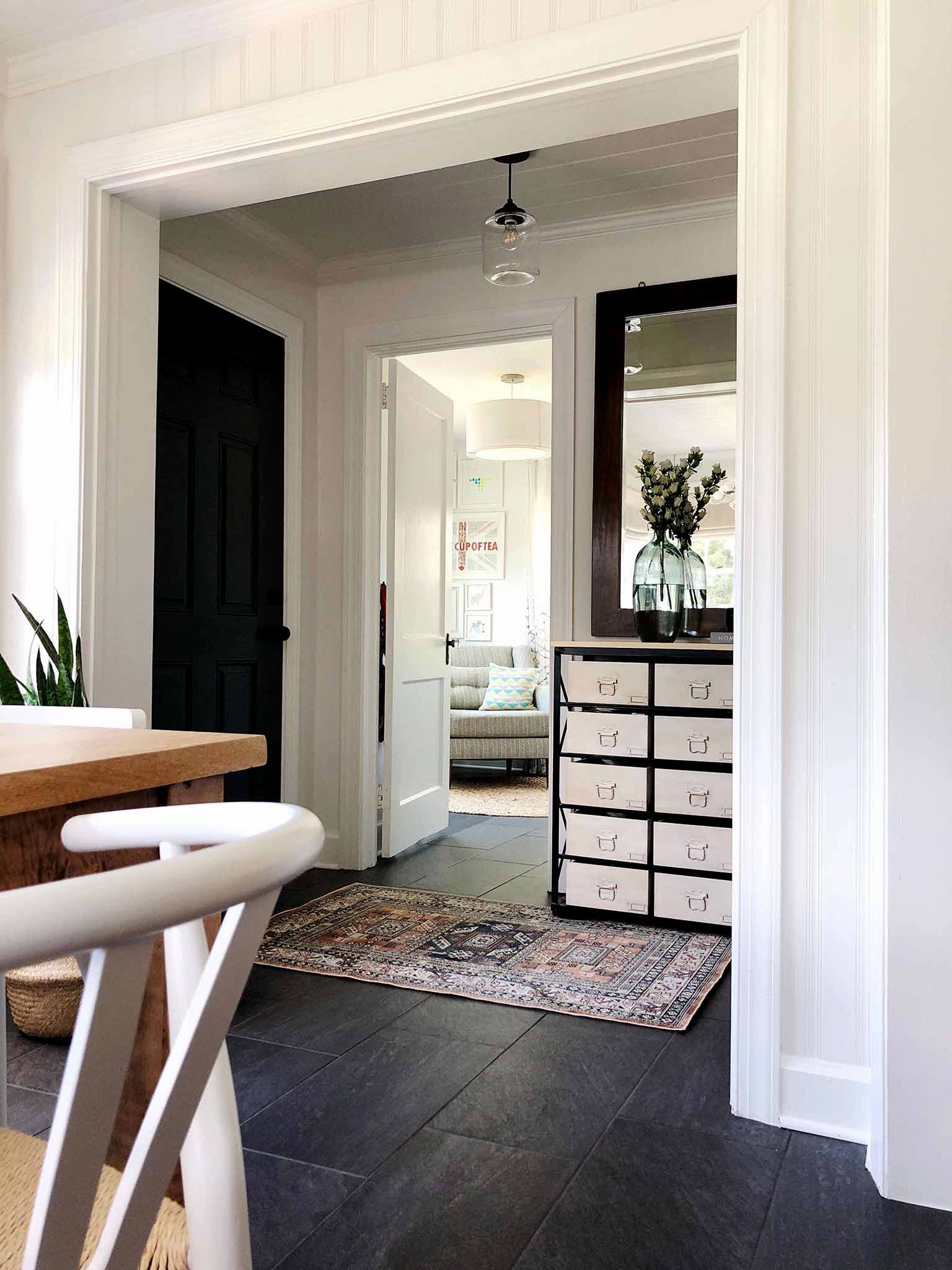 Want to find out where everything is from? Click here for sources!
The first major project we tackled was sanding the table down. I wanted to lighten up the room, and our big dark table was weighing down the room. Sanding the table was a risk that almost didn't pay off, and I'm so thankful for the stunning natural finish that we were able to uncover after a ton of hard graft!
Our new Poly and Bark Weave Chairs are the perfect addition to our spruced up table. They are sturdy, comfortable and beautiful. I love the woven seat as it adds a layer of texture to our simply styled dining table.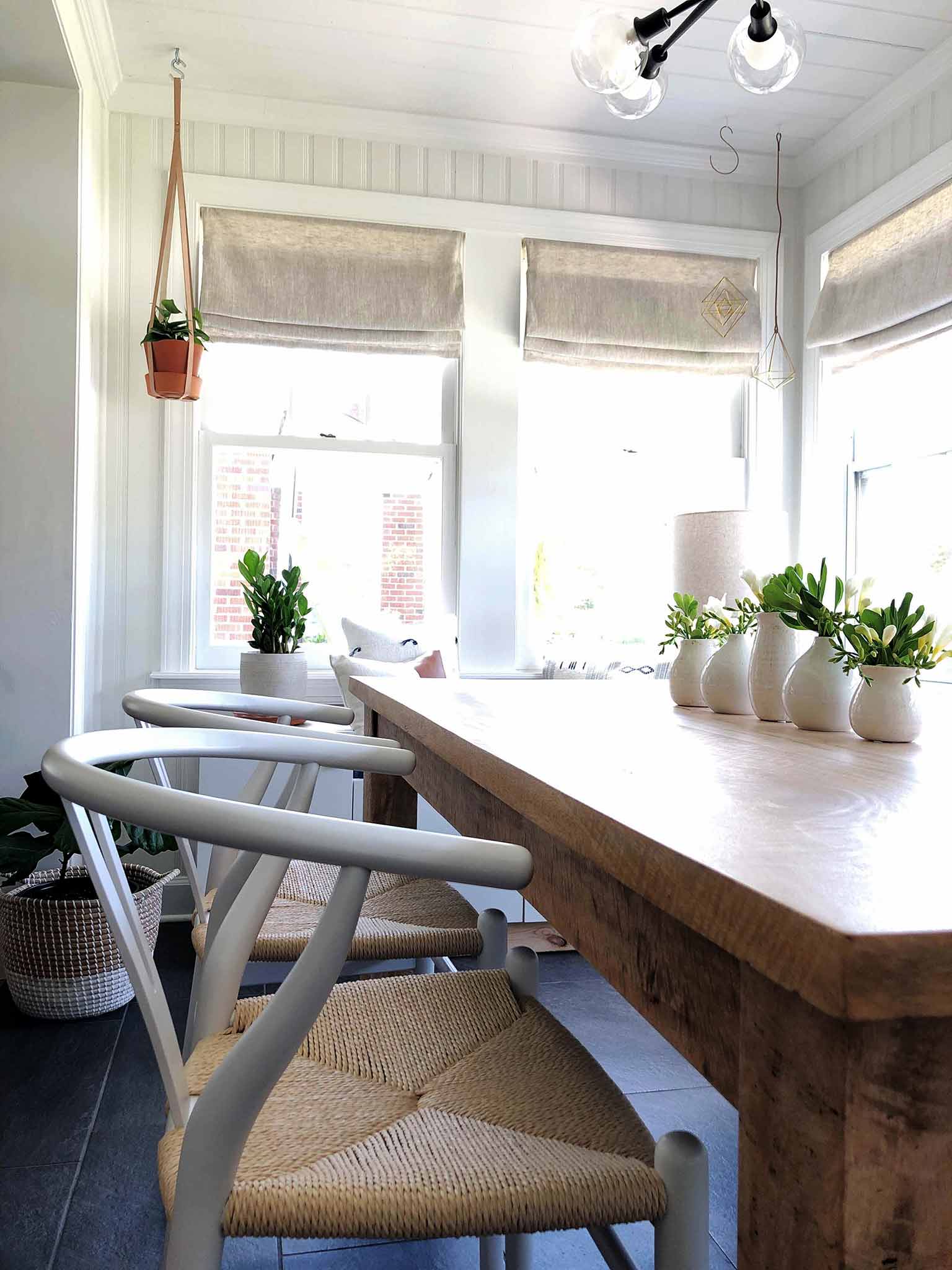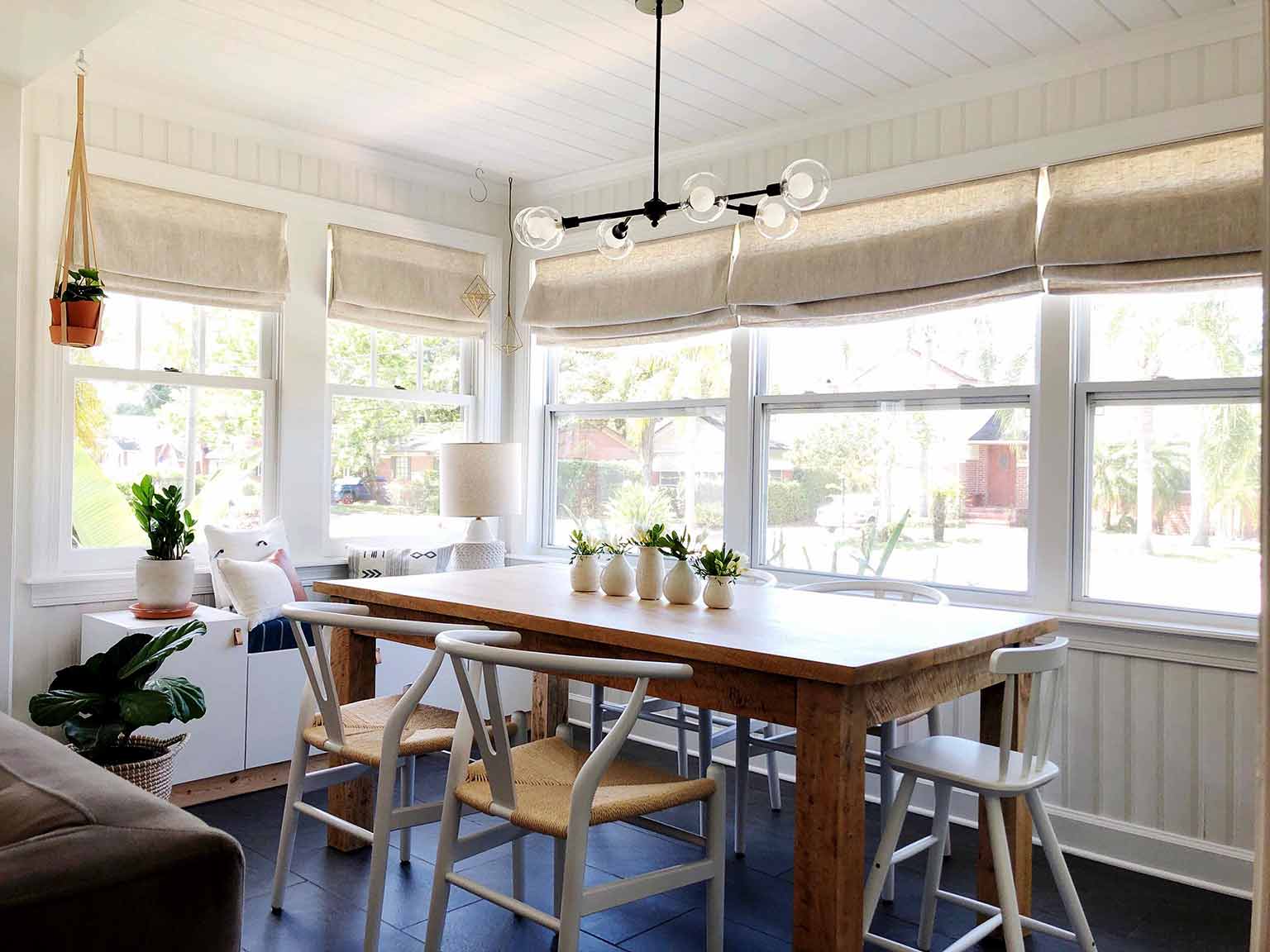 Updating the light fixture was a quick win that has totally transformed the space! It illuminates the room much better than the old single pendant, and the touch of black helps to anchor the room to the rest of our open concept layout, as it ties in with the other black accents throughout our home.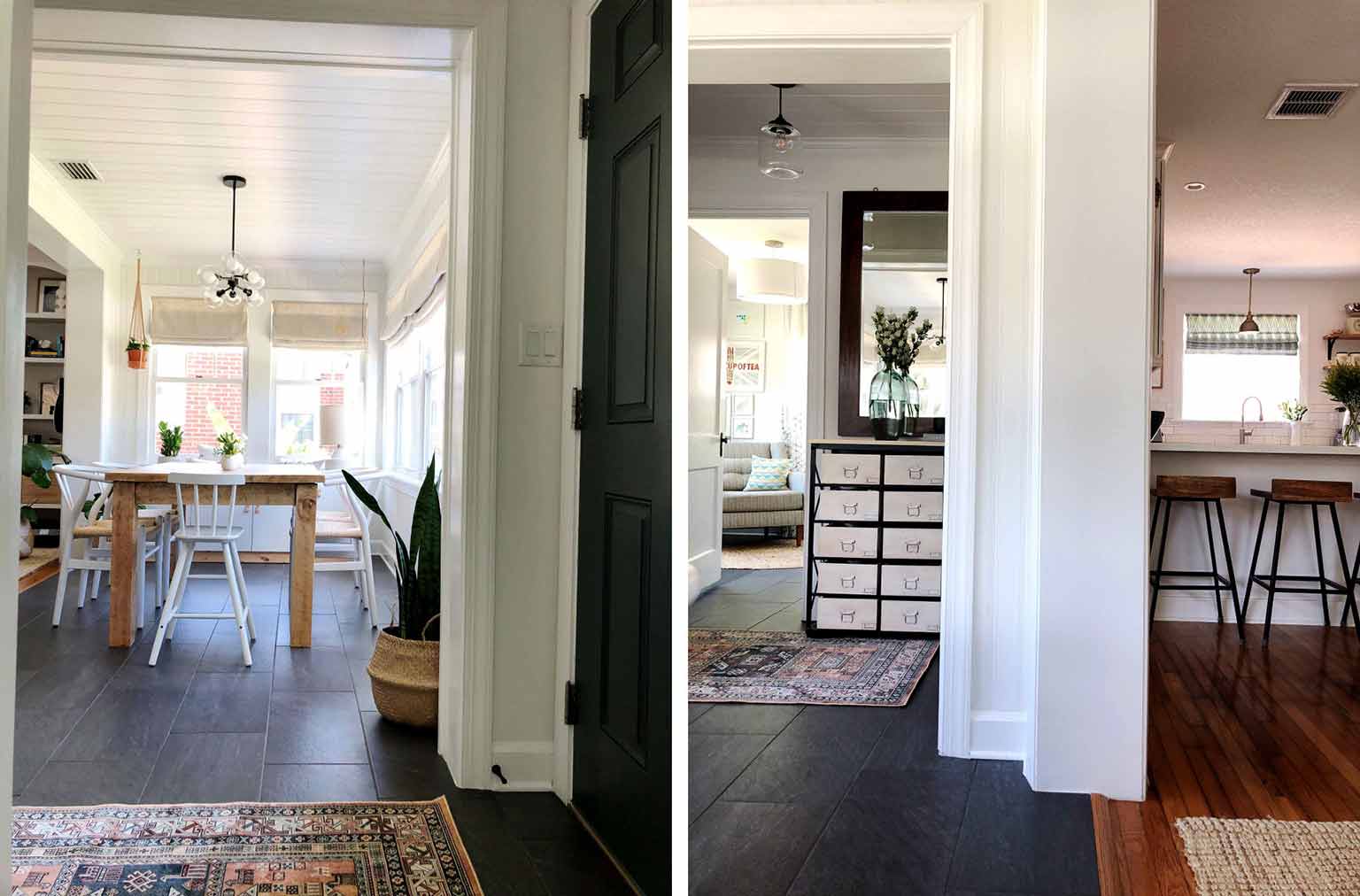 Building the window bench out of IKEA cabinets was perhaps my favorite DIY of the project. I loved the creativity of building something that suited our space perfectly, and I loved adding accents color and texture with layered fabrics and the gorgeous leather pulls. As soon as I finished up the bench, my 6 year old immediately curled up with a book and told me it was her new favorite spot!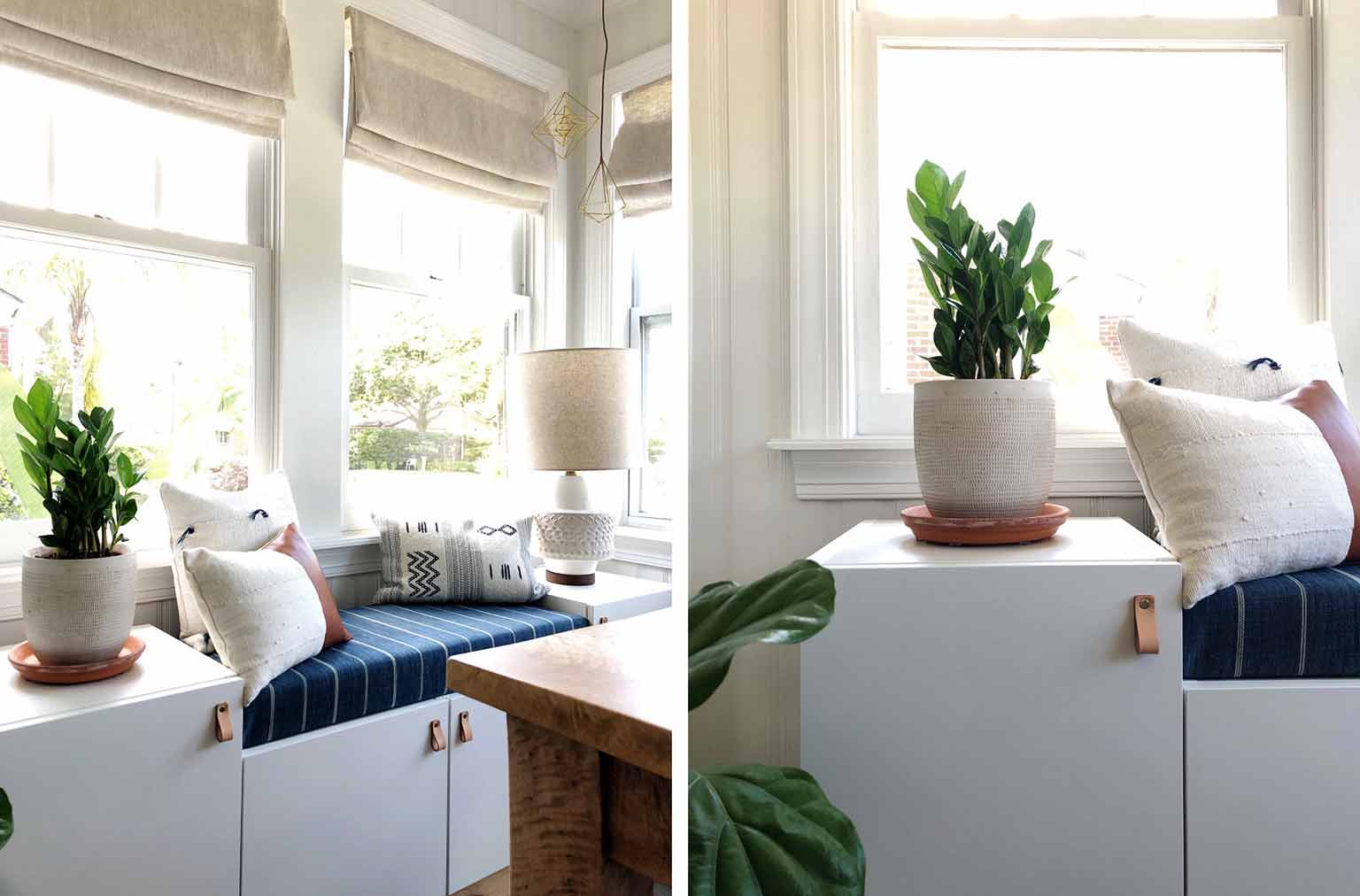 Making the fabric blinds was just as challenging as I knew it would be. Am I glad I took it on? It may still be too early to say as I only finished them a few days ago, but at this point, I think so. I struggle with being overly perfectionist about EVERYTHING, so making blinds that required sewing in straight lines when I am not that experienced with a sewing machine was definitely tricky. But I think I managed to pull it off—from a distance, at least! Custom blinds were way out of our budget, so this was definitely worth the DIY in that respect.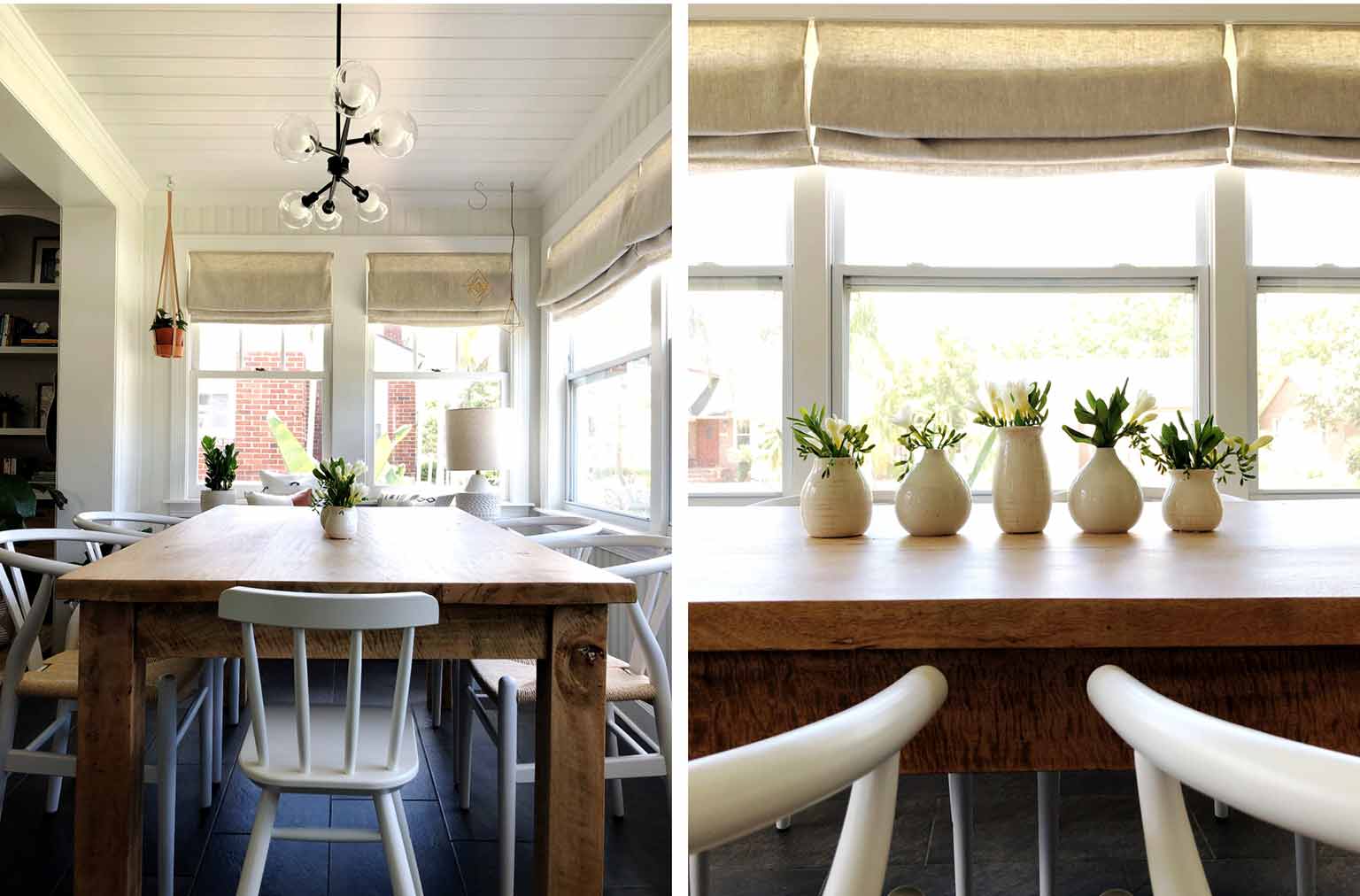 I wanted our entryway to feel spacious and uncluttered, and the industrial storage unit was a key part of that. Unfortunately it was delivered with a damaged top and legs, and there was no time to wait for a replacement, so my husband gave it a little upgrade by updating the top with solid wood and replacing the legs. Bonus: it also made the piece a little shorter in height which meant that we didn't need to move our big heavy mirror up! We keep everything from paper and pens to gift wrap and napkins in this unit, so it has definitely helped keep the clutter under control.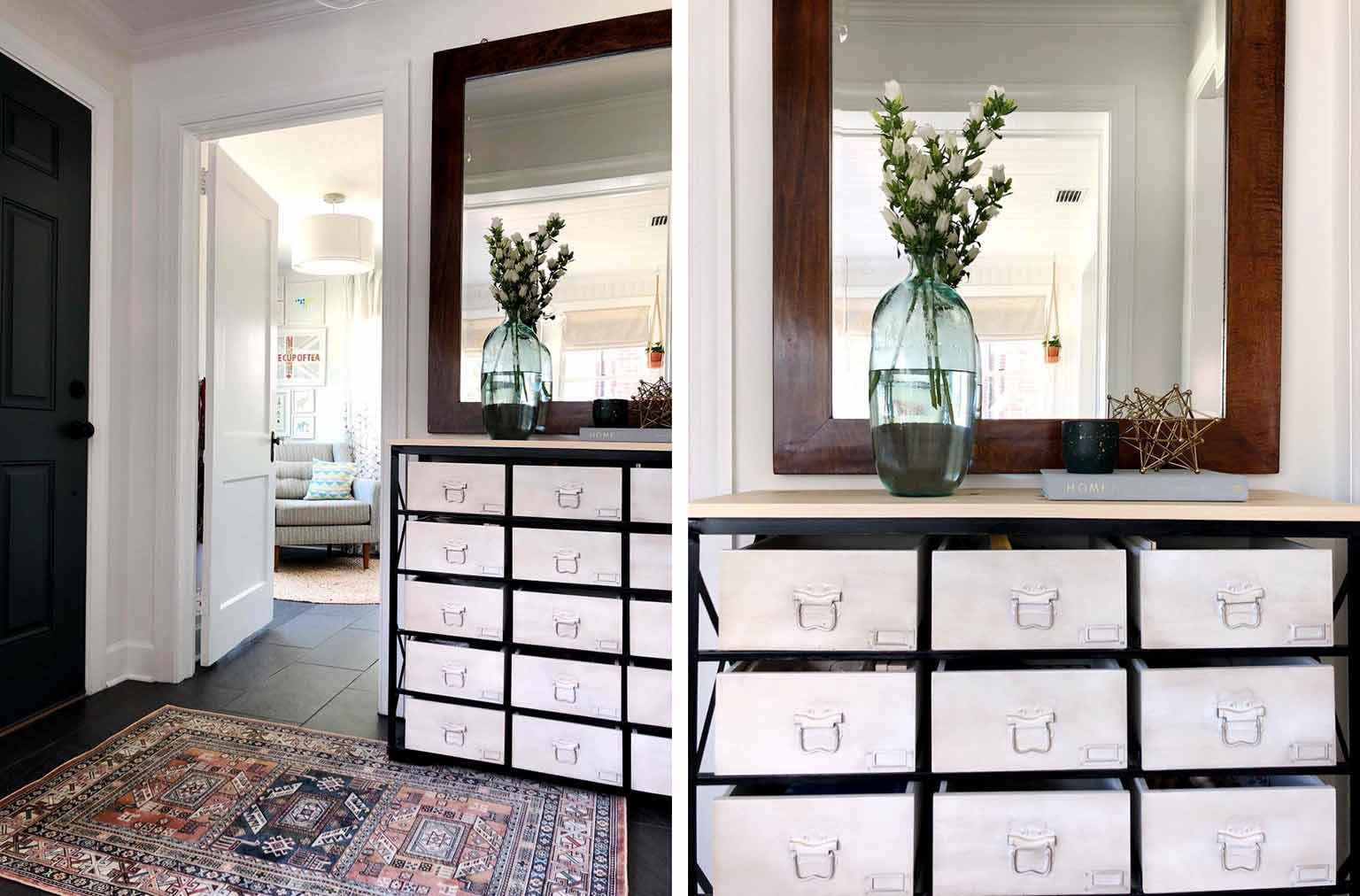 Painting the door and adding the super affordable patterned rug helped add some pizazz to our previously dull entryway. It's incredible what these simple changes have made to our space!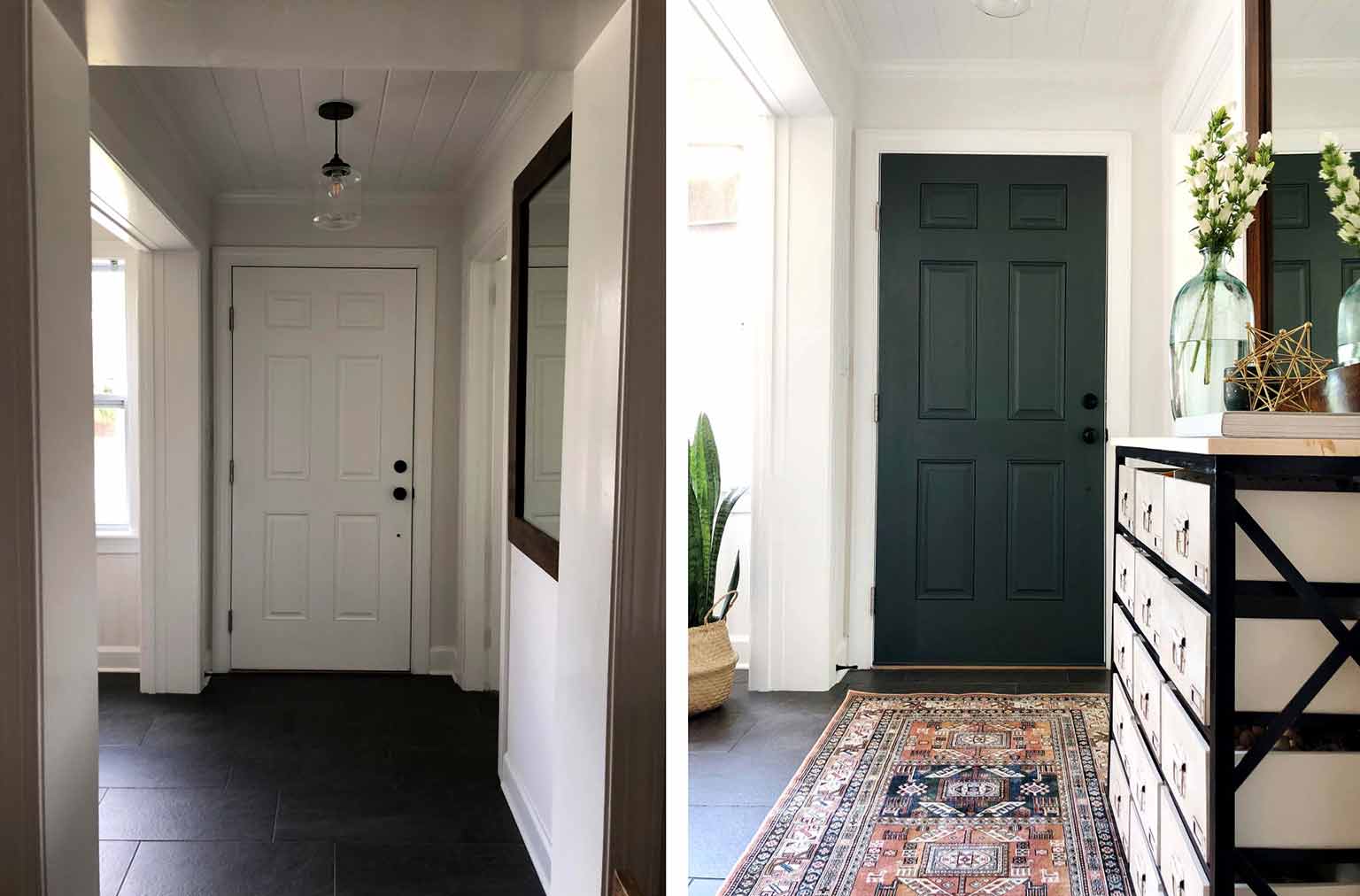 I tried to keep the styling of this space fairly simple overall as it is so heavily used—and not just at mealtimes. I focussed on adding greenery, natural textures and some small accents of gold and leather. My favorite pieces are the Teak&Tides leather plant hanger, the brass mobiles from Industry West and the bargain recycled glass vase that I found at TJ Maxx for $8!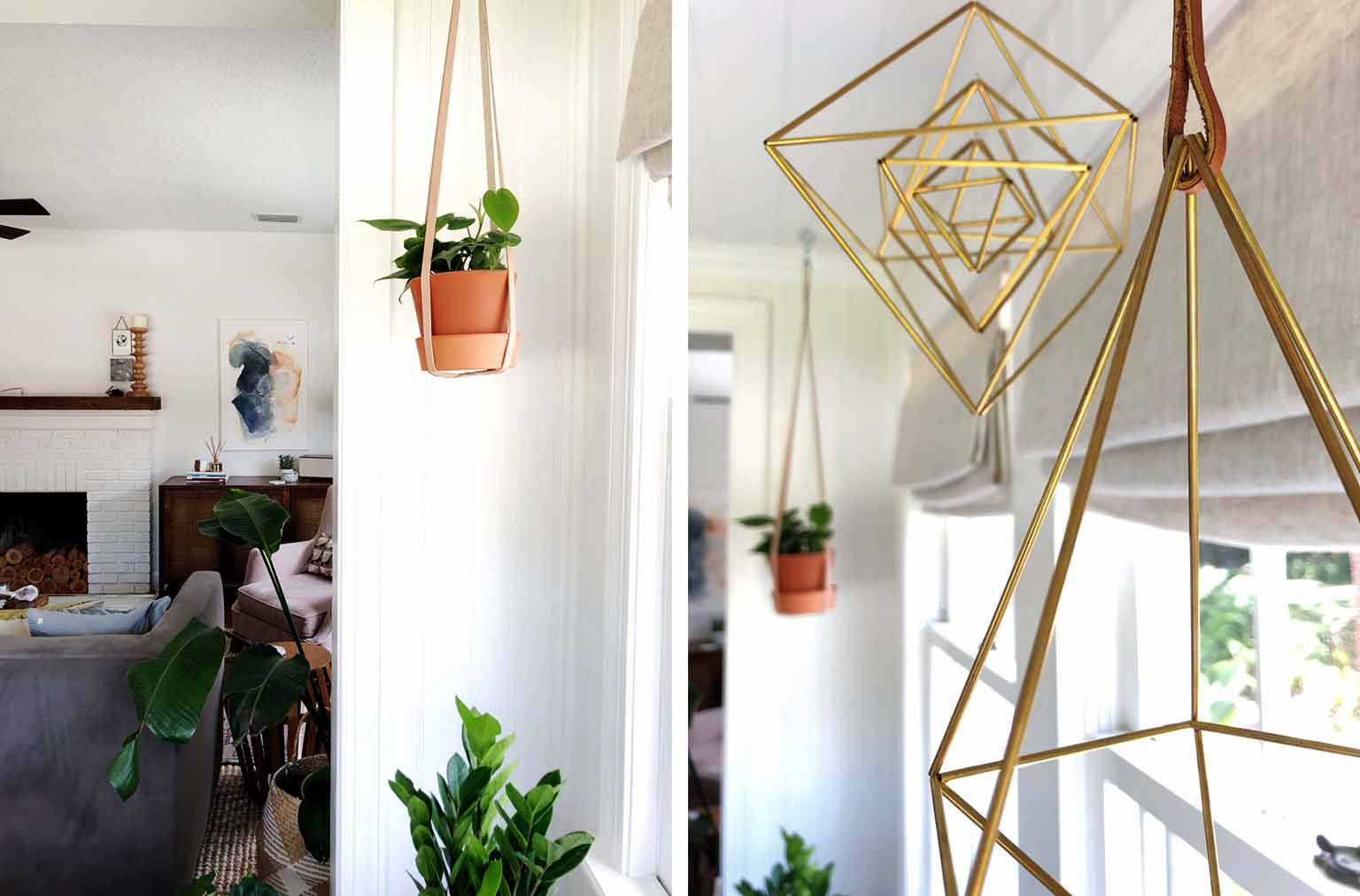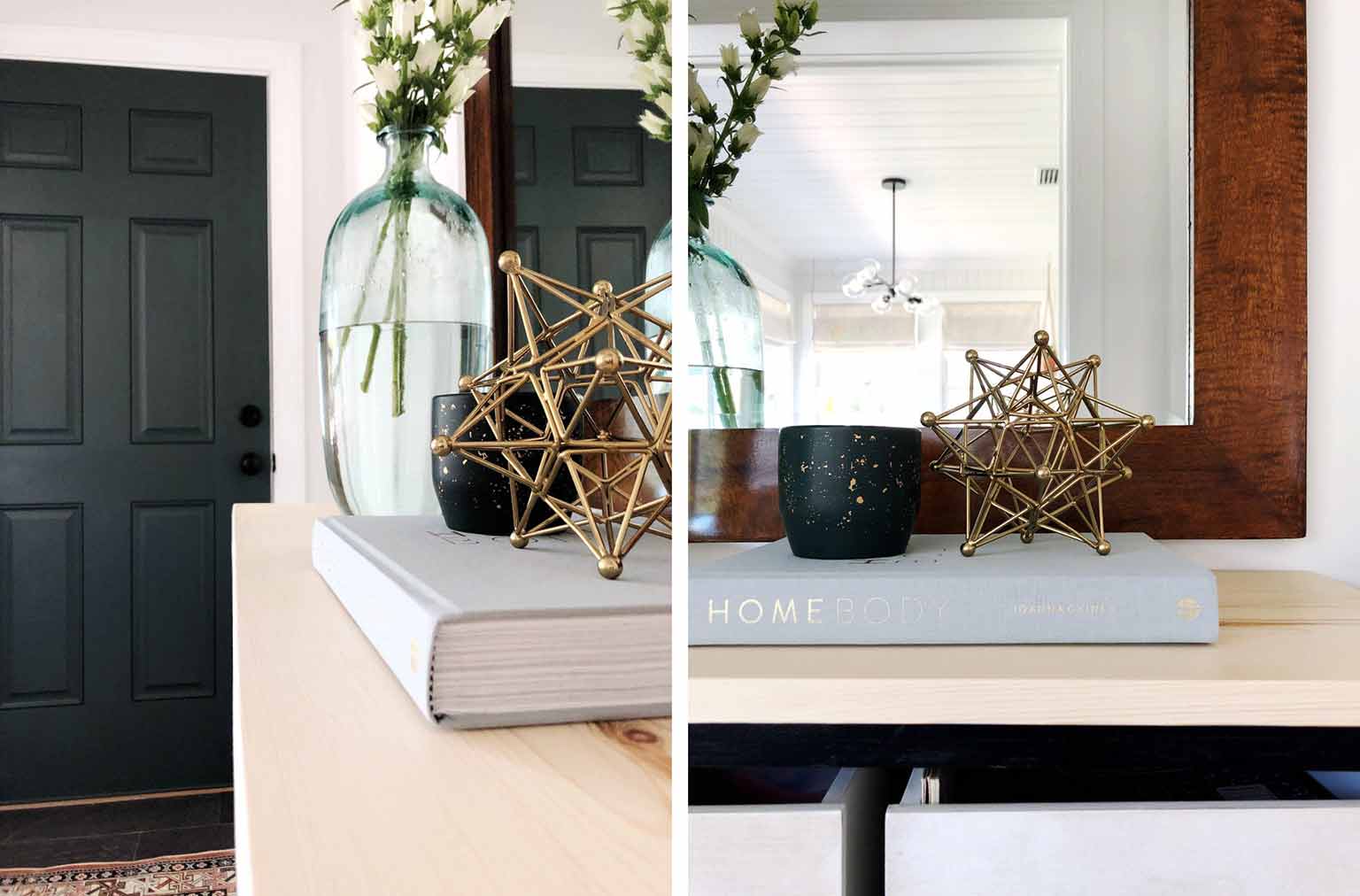 Overall, I am so happy with how this space turned out. Although there were a lot of bumps in the road, I'm still glad we took on so many challenges and it has definitely grown and stretched our skills. Our entryway feels so much lighter and more spacious than before, and our dining room feels like it belongs to the rest of our home now. I'm so glad that we took a risk and decided to take part in this challenge, and I'm equally thrilled that it's all finished so that we can enjoy it as a family and hosting others.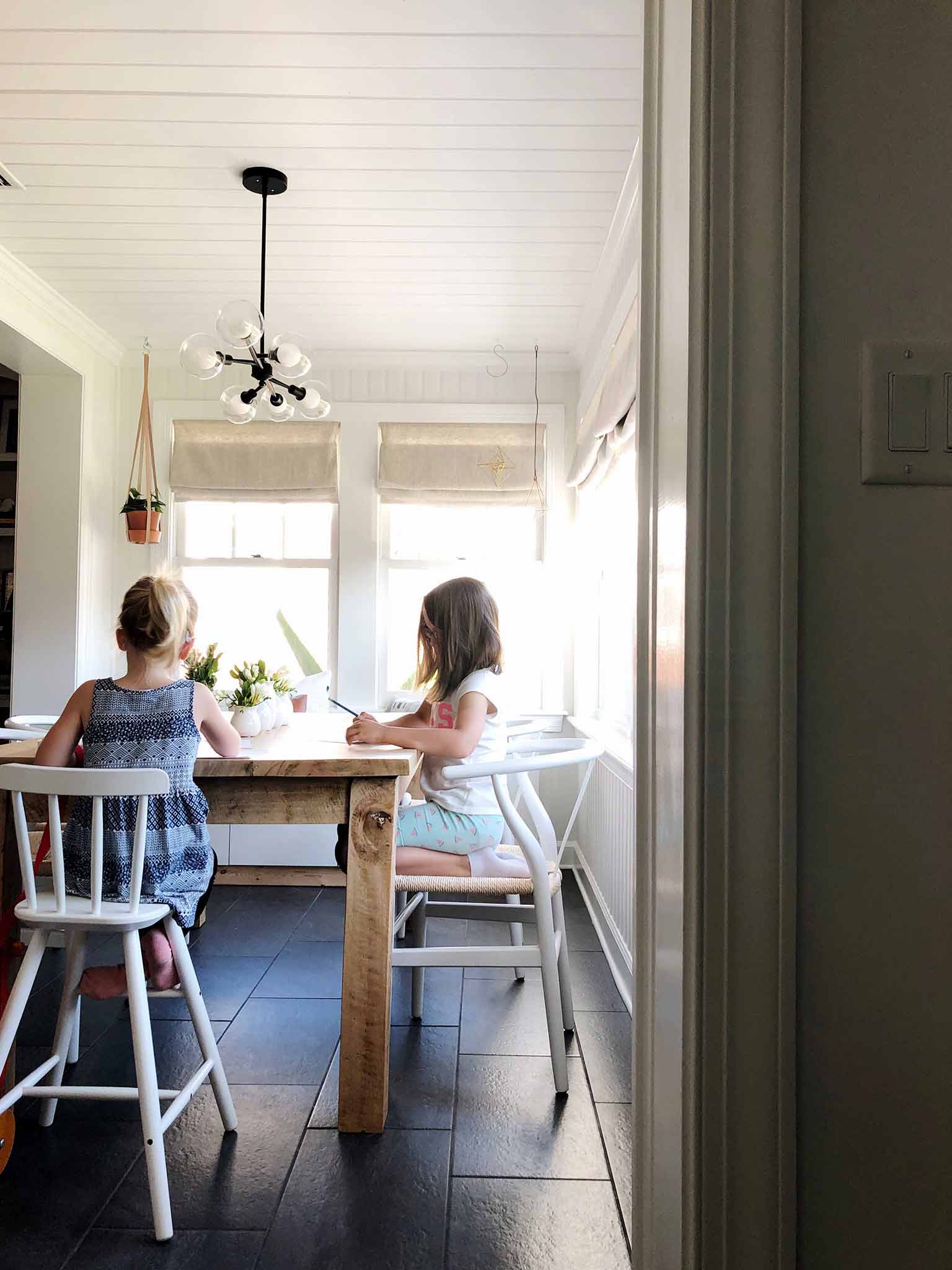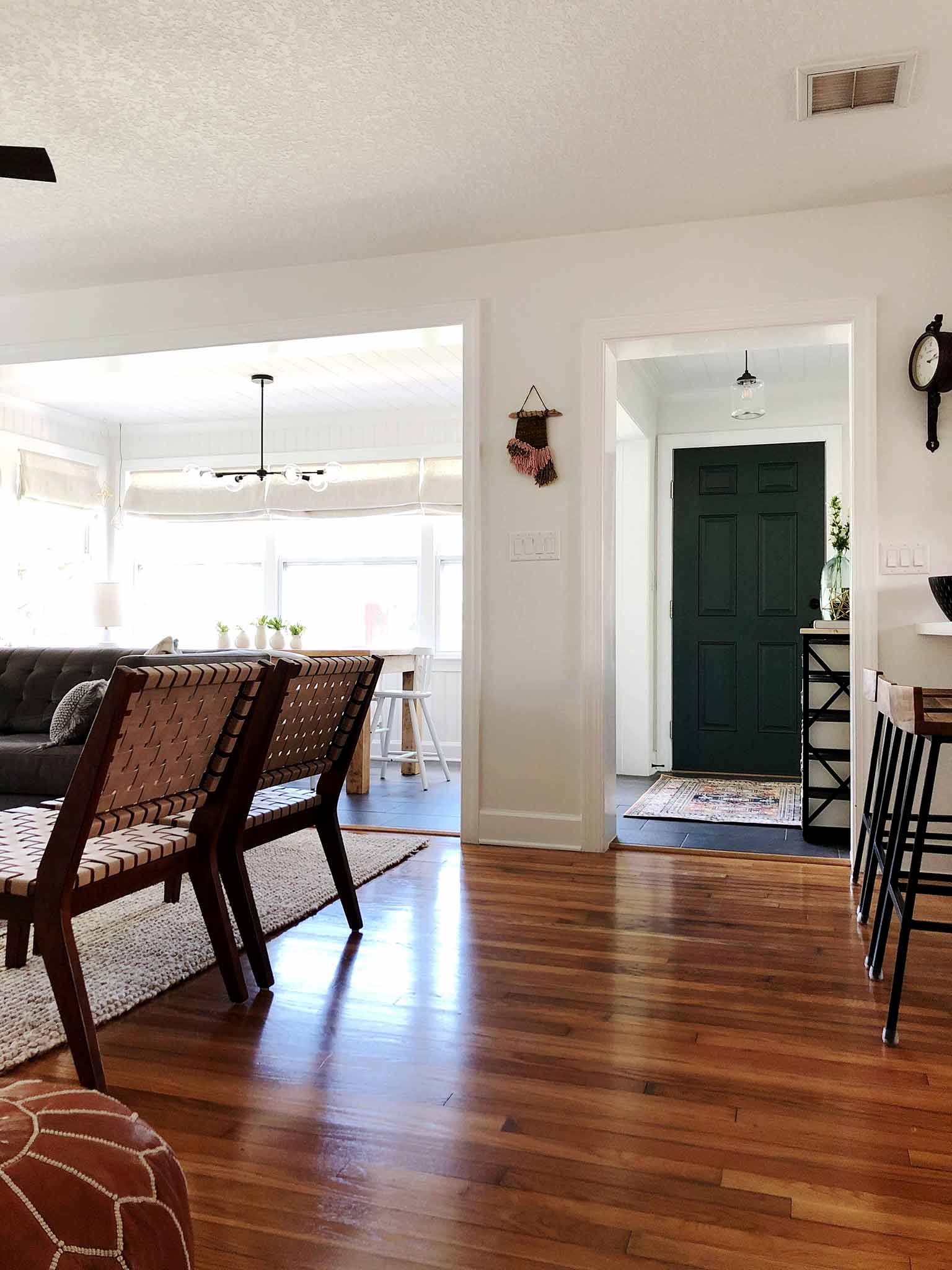 THANK YOU for all your support and encouragement along the way. I couldn't (and wouldn't) have done this without all of you.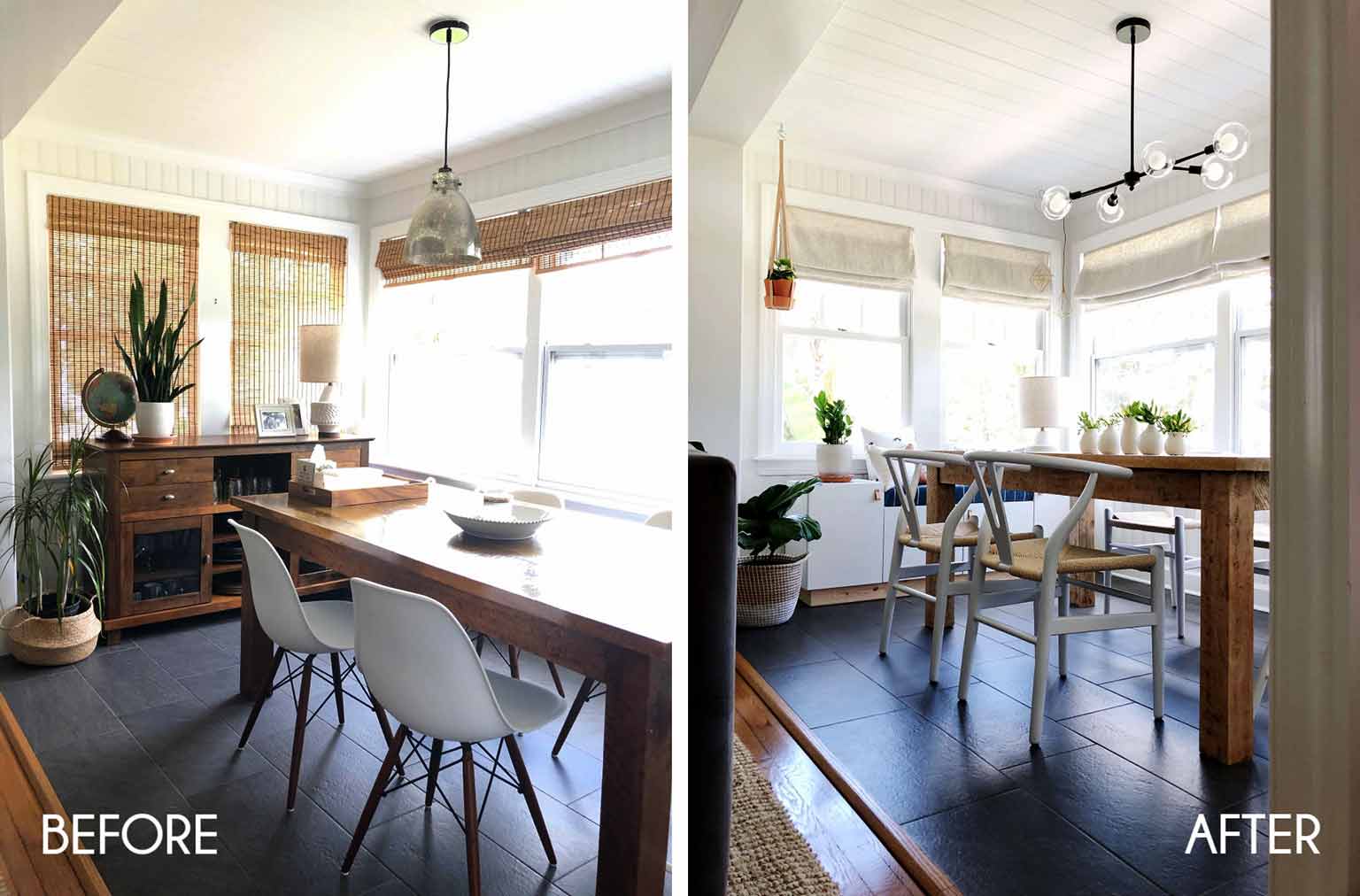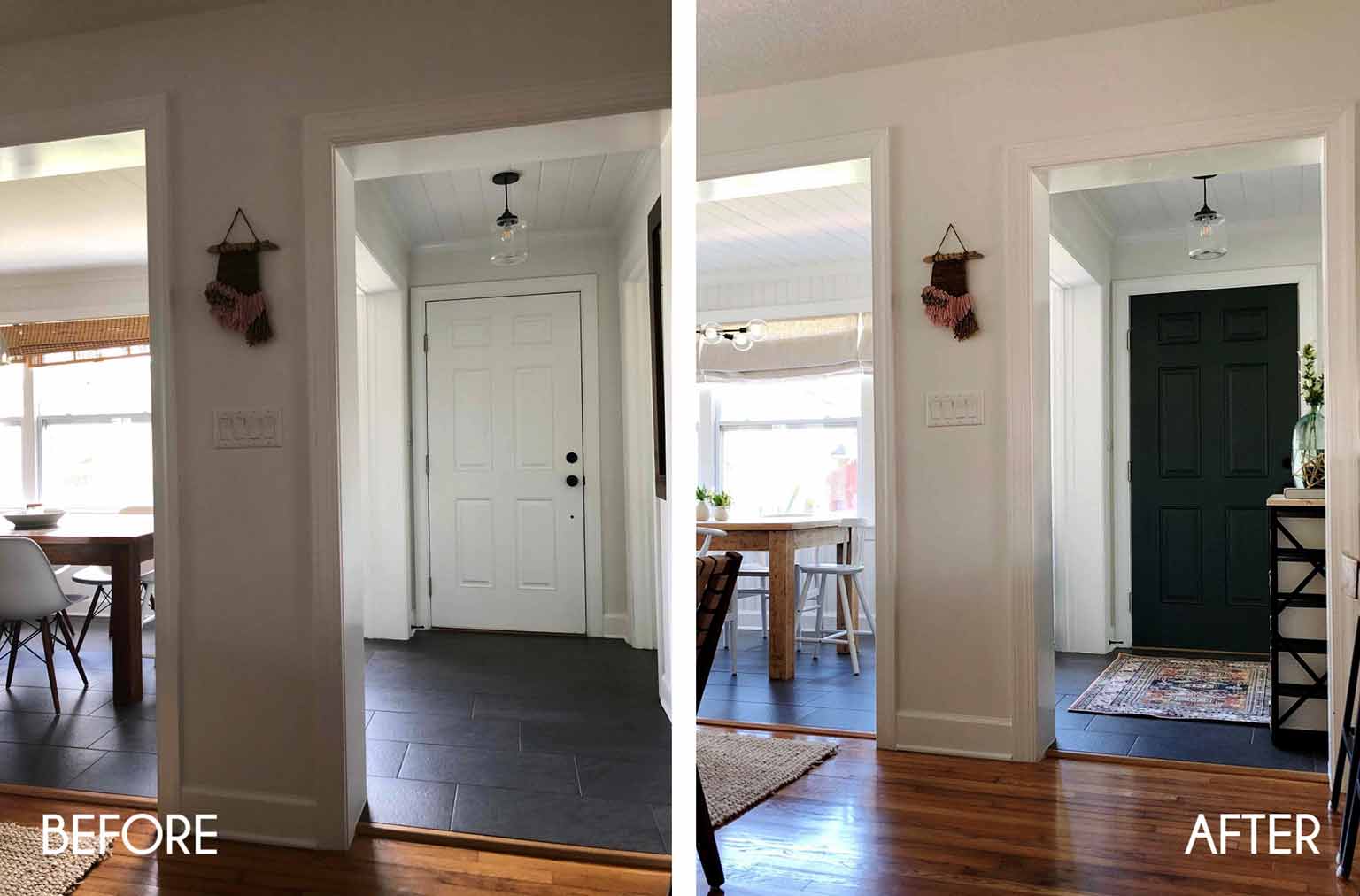 SOURCES
Wall Color: SW Snowbound
Trim Color: SW Pure White
Door Color: SW Pewter Green
Table (purchased years ago—similar here and here)
Dining Chairs
Junior Chair
Ceramic Bud Vases
Globe Chandelier
Leather/Mudcloth Pillow
Blue Embroidered Pillow
Mudcloth Tassel Pillow
Leather Cabinet Pulls
Table Lamp (no longer available-similar)
Leather Plant Hanger
Storage Dresser
Accent Rug
Recycled Glass Vase (bought in store—similar)
Star Accent Decor (bought in store—similar)
Catch up on previous weeks...
Week One: Inspiration, Mood board, and Plans
Week Two: Refinishing the Dining Table
Week Three: Favorite Finds so Far
Week Four: Building a Freestanding Window Bench
Week Five: DIY Cordless Fabric Shades
Are you a fellow ORC Guest Participant?
I've written a guide (which you can read here) and designed a printable planner to help get you organized for the challenge! Simply put in your email below to have the PDF planner emailed to you: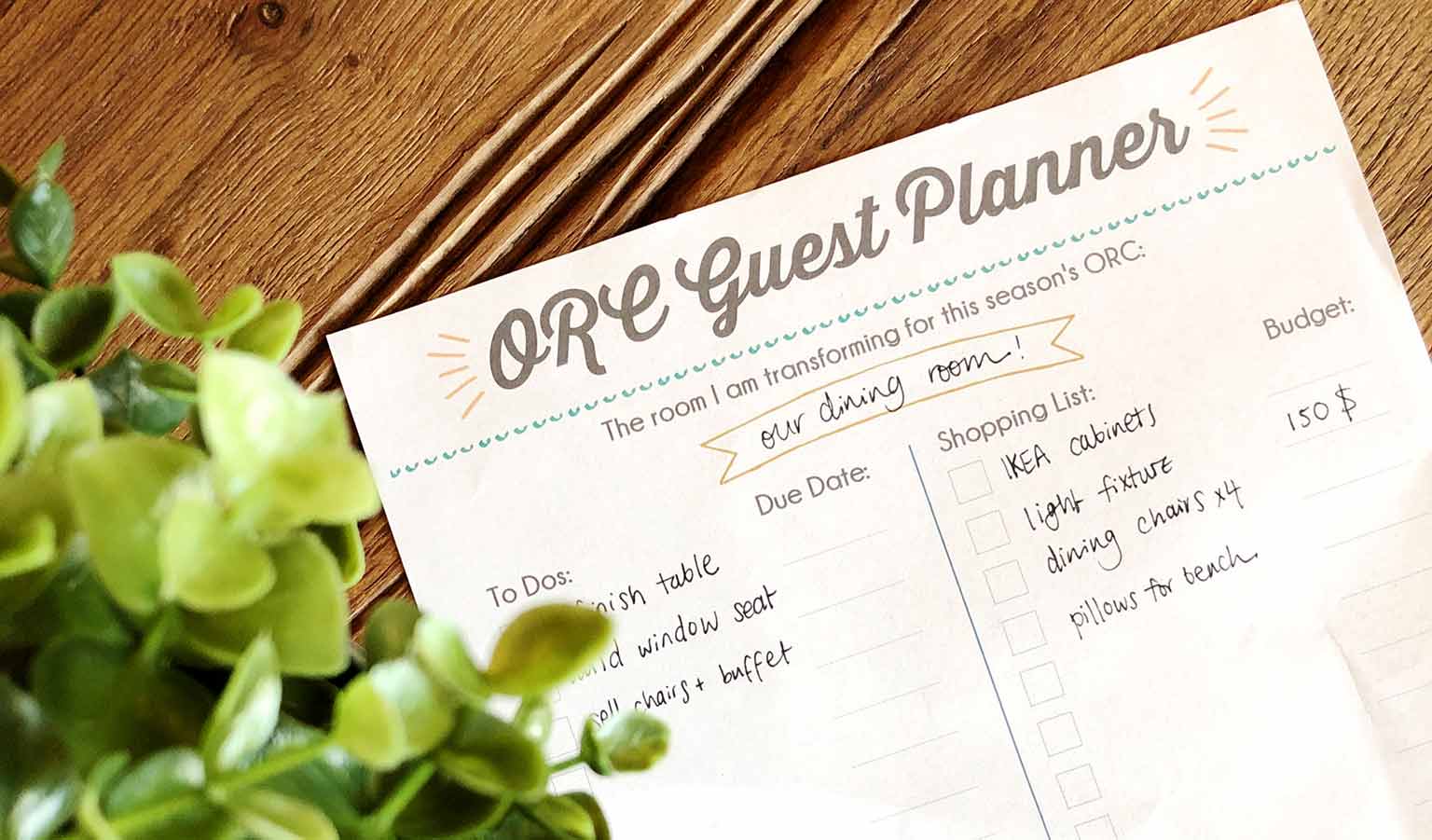 ---