After sharing the kitchen design, this week I'm moving a few steps over to the living room. This room is a little different to the other spaces I've shared so far, because we plan on using key furniture and decor pieces from our last living room. But I still want this room to feel intentional and collected—not just like we've transplanted our old living room into a new location.
It's very easy during the house build process to get distracted and hung up on All The Shiny New Things, but the reality is that a large percentage of our furniture pieces in the new house will be from the old house. We don't have the budget to replace everything on a whim (nor would I want to) so the key is going to be choosing carefully where to incorporate new pieces so that everything works together.
With that being said, let me share some of the images that I've been drawing from for fresh inspiration:
Source: Whitney Utesch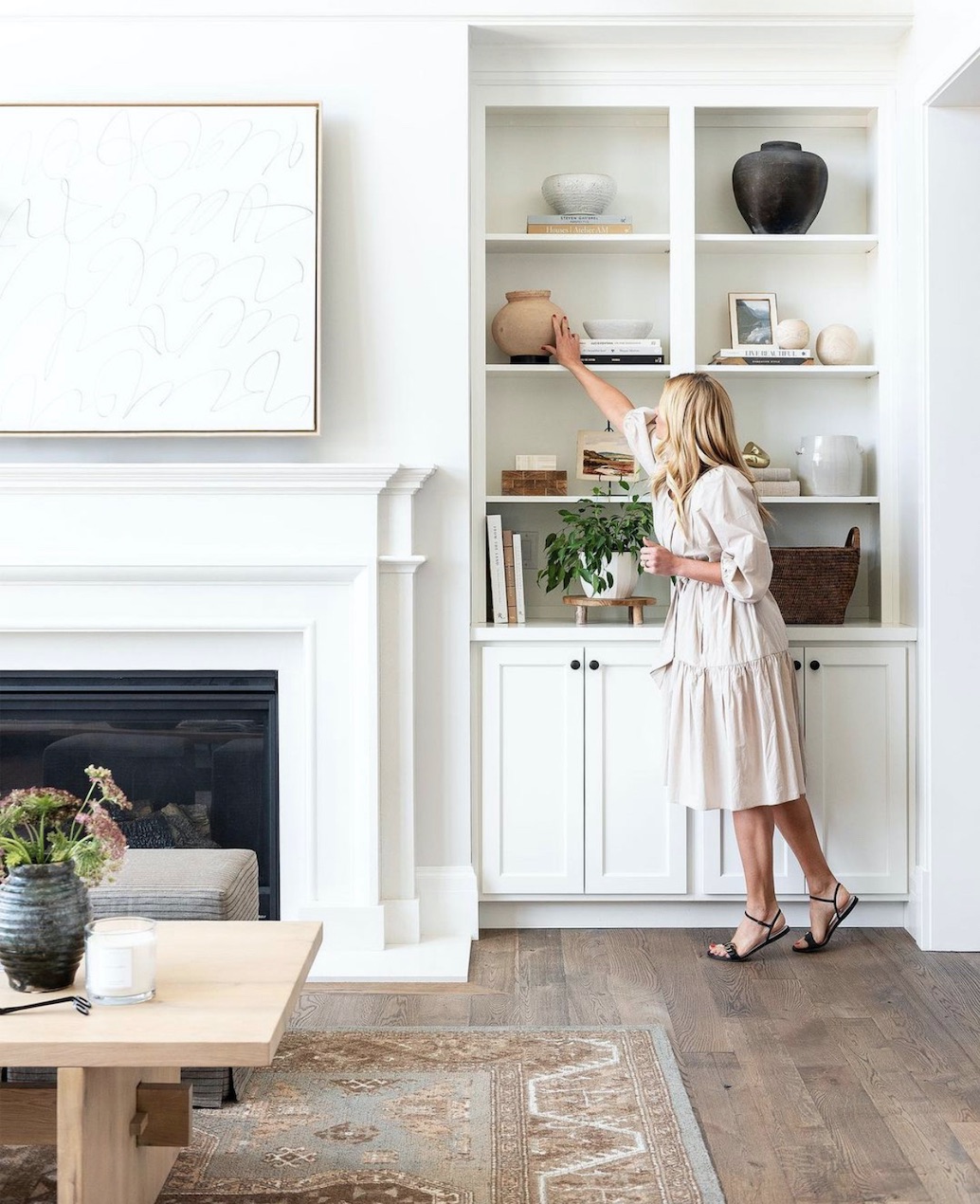 Source: Studio McGee
Source: Kismet House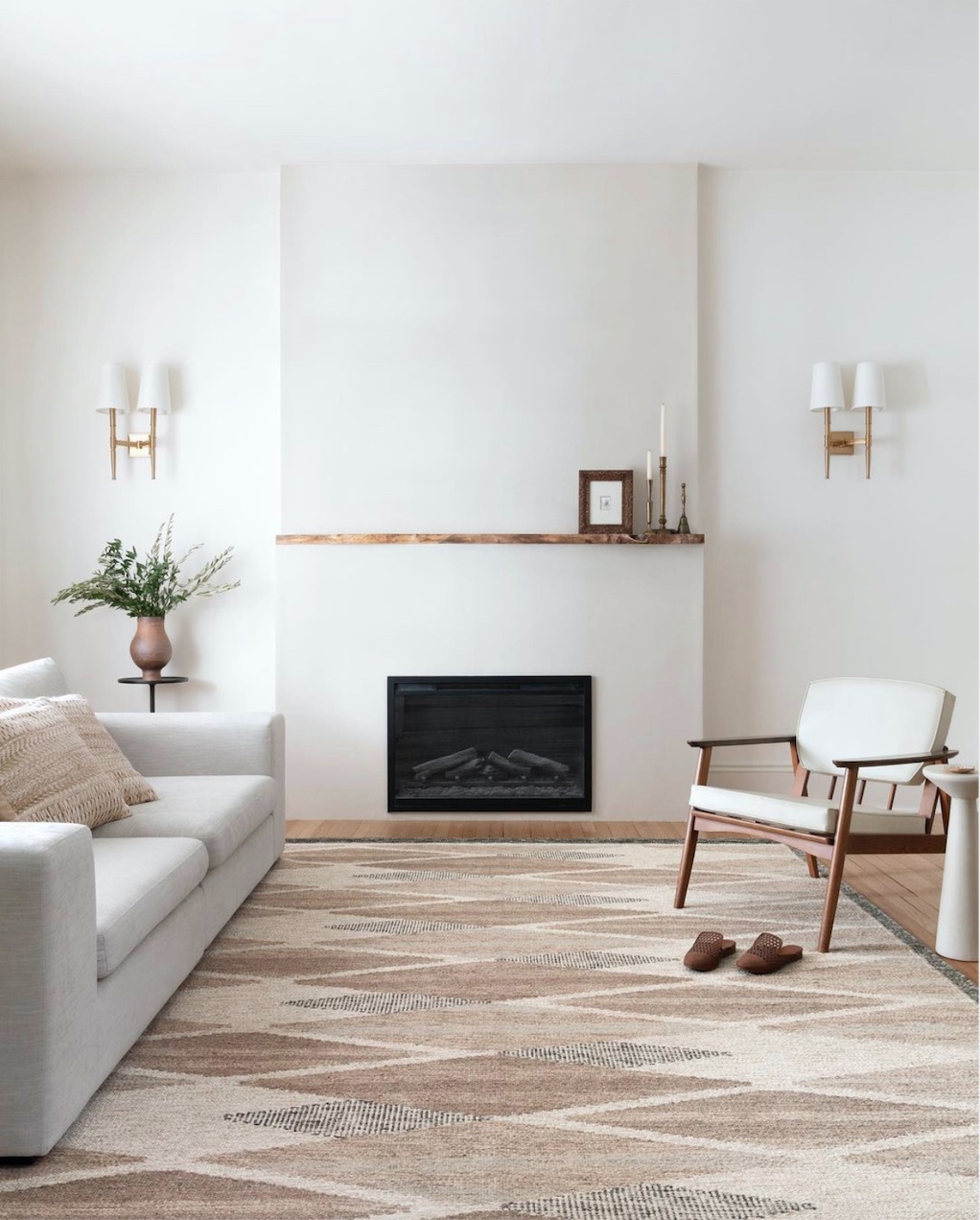 Source: I Spy DIY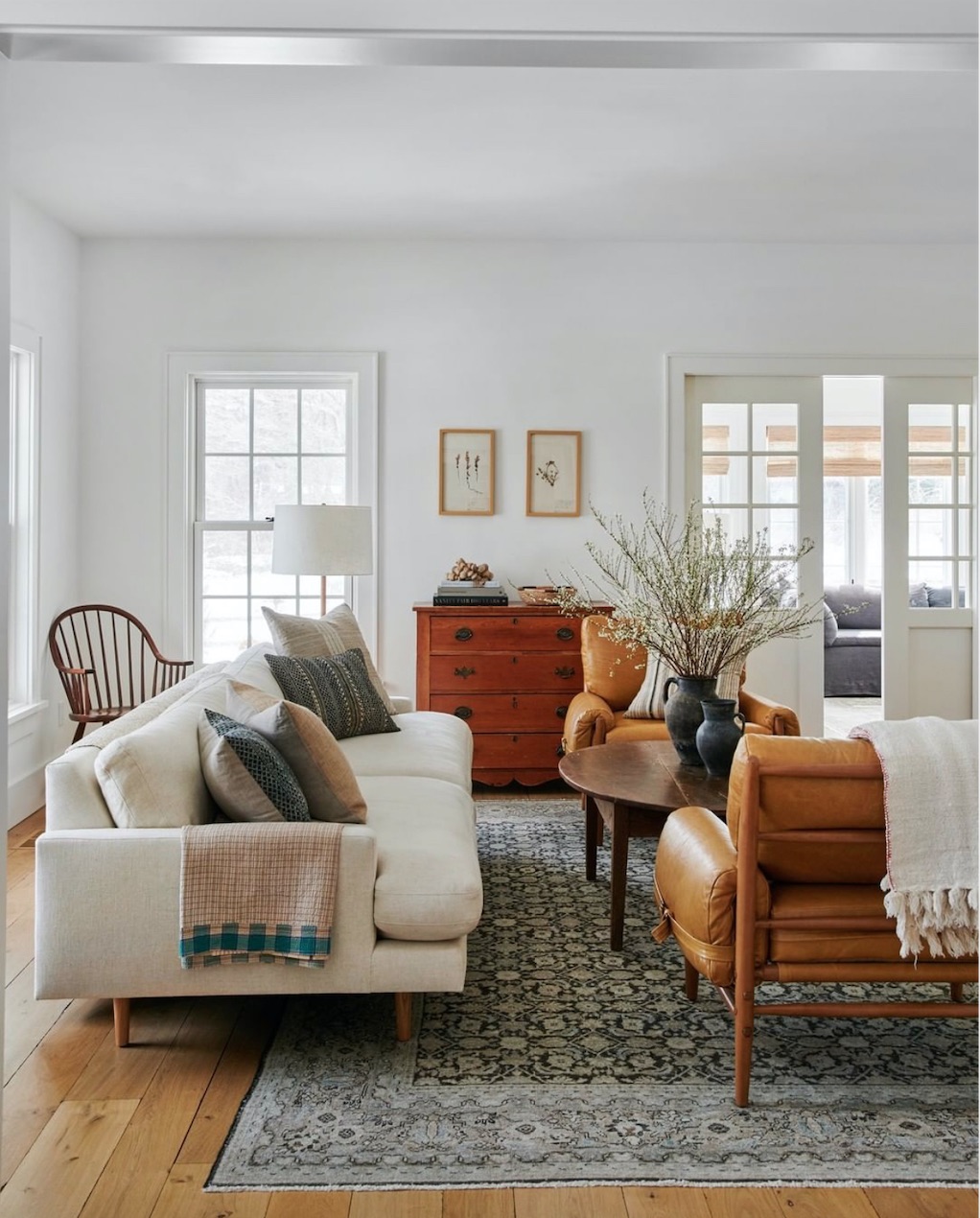 Source: Amber Interiors
And here's our floor plan: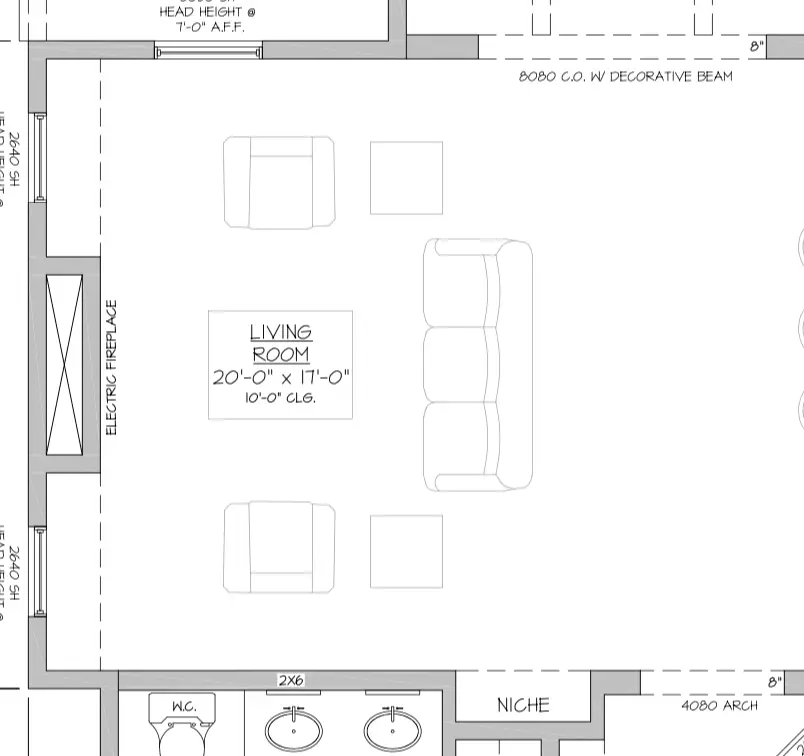 I'm especially excited about the archway leading from the hallway into the living room. I wanted to incorporate a few thoughtfully-placed archways, and this transition seemed like the best place for it—it's the entrance to our open concept space where we will likely spend most of our time, so it deserves something special.
Before I go into too much detail, let's look at the mood board for this room: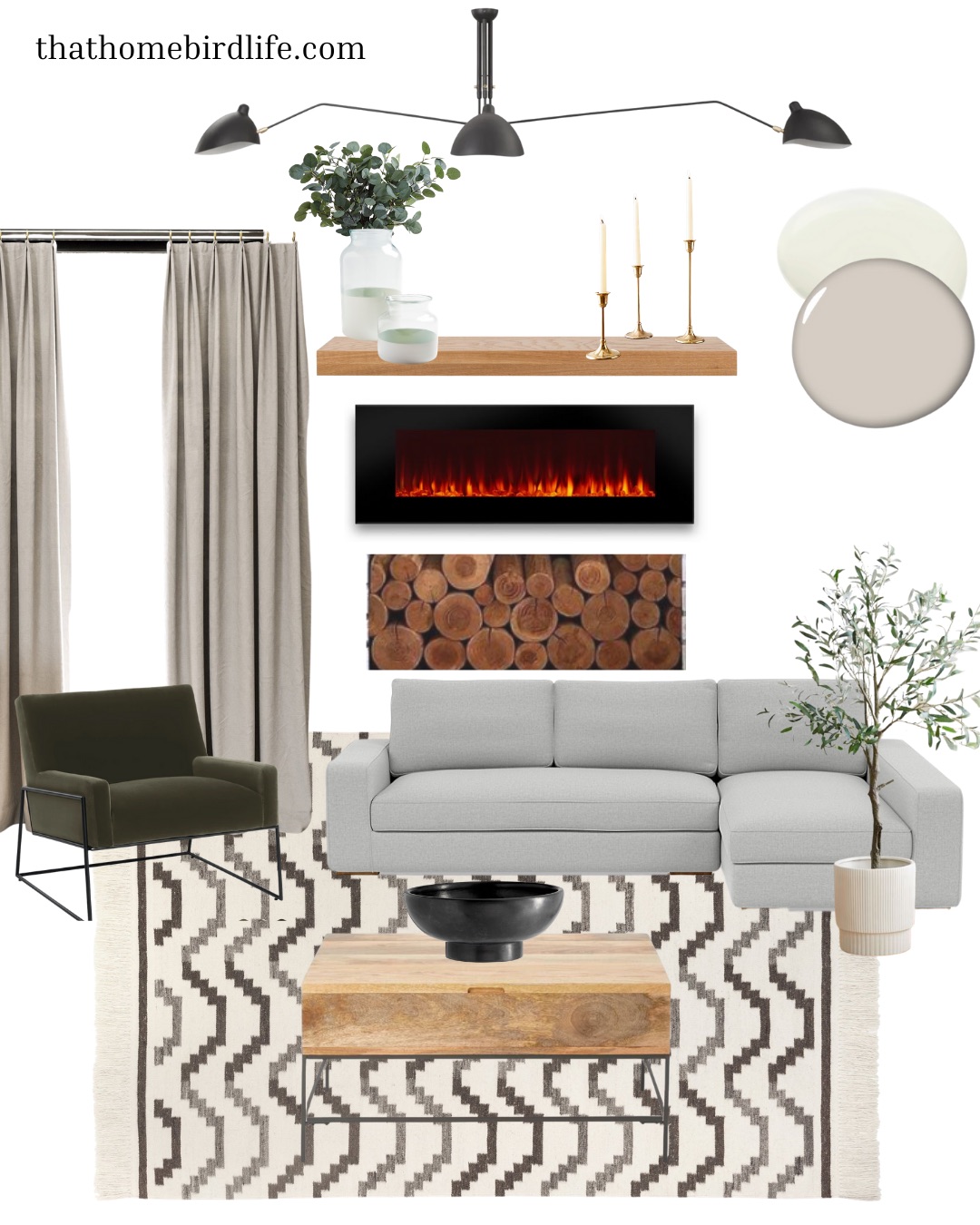 Paint colors: SW Alabaster & SW Modern Gray | Chandelier | Rug | Sectional | Accent Chair | Coffee Table | Pedestal Bowl | Drapery | Mantel | Electric Fireplace | Olive Tree | Dipped Glass Vases | Faux Eucalyptus | Brass Candlesticks
You might recognize a few things...namely the rug, our oh-so-comfy sectional that we are missing so much right now with it being in storage, and...our decorative fireplace logs! These logs go back a long way (a 2013 eBay purchase, to be precise) and we are building a niche into the fireplace wall to accomodate them—because why not?! The perks of building a custom home! There will be an electric fireplace above, and a floating white oak mantel. Originally I planned window benches either side, but decided to remove them from the plans for one big reason: I want to put a big Christmas tree in one of those recesses next to the fireplace. It might seem trivial, but imagining key traditions and celebrations in a space is actually a really great way to get clarity on design decisions.
No TV? Not in this room, no. We will have a guest room at the front of the house which will double up as a den. For family movie nights, we plan on bringing setting up the projector so that we can get comfy on the sectional.
We'll be painting the walls and ceiling a soft, ever-so-slightly creamy white (SW Alabaster) and the window trim and baseboards will be a soft taupey gray (SW Modern Gray). (Truth: I just had a bit of a crisis of confidence when I typed that out and spent 30 minutes squinting at a paint sample, so that trim color is not set in stone ;)
The living room will also have a built in niche to the side of the archway with cabinets on the bottom half, open shelving above and a brass picture light. This will add some character, and provide some much needed storage in this space for board games and puzzles.
In terms of furniture pieces, we will have space for two accent chairs in this room. I'm planning on these dark green velvet chairs with clean modern lines. We'll be using the storage coffee table we had in the guest house of our old home, and I will add a woven bench in one of the windows—mostly for decorative purposes, although it could be used as extra seating in a pinch.
Like the kitchen, this room will be a balancing act—this time between modern and traditional elements. The traditional elements include the trim style, drapery, the built-in cabinetry and the styling accents (think brass candlesticks and vintage ceramics.) This will be juxtaposed with the sleek fireplace wall, the statement chandelier, the clean furniture lines and the geometric rug pattern.
The one tiny decision that I can't quite seem to make my mind up on is whether or not to put in a floor outlet. This will be a larger room that we are used to, so perhaps it makes sense—but what if it ends up being in an awkward spot, or we want to change our furniture placement? This is the kind of thing that keeps my brain ticking over at night, so if you have any wisdom on the topic you'd like to share, then it would be gratefully received!
Want to be the first in the know? Sign up to my mailing list!
Catch up on our house build plans:
Exterior
Kitchen
Main Bathroom
Dining Room
Mudroom
Guest Room/Den
Laundry Room
Kids' Bathroom
Guest Bathroom
---