Last week I took a trip to Boise, Idaho to visit one of my dearest friends who moved out there a couple of months ago. The trip was not just a friendly visit. Heck no. I was there to work. And by work, I mean helping my friend and her family settle into their new home in just two short days! My biggest project was the master bedroom, and I'm so excited to share the result!
This room really was a blank (very beige) canvas. My friends had sold their bedroom furniture prior to leaving Florida, as it didn't really fit their preferred style. She actually said that they had never really invested in their master bedroom space, so I was really thrilled to help them come up with a design that worked with their style and preferences.
I knew they loved blues and creams from the outset, and when we started looking at furniture, it was clear that they also like clean, mid century modern lines.
So, before flying out to Idaho, we emailed back and forth and picked out a bedframe, bench, nightstands, dresser, and a few other pieces.
Here is where we were at when I arrived at their home: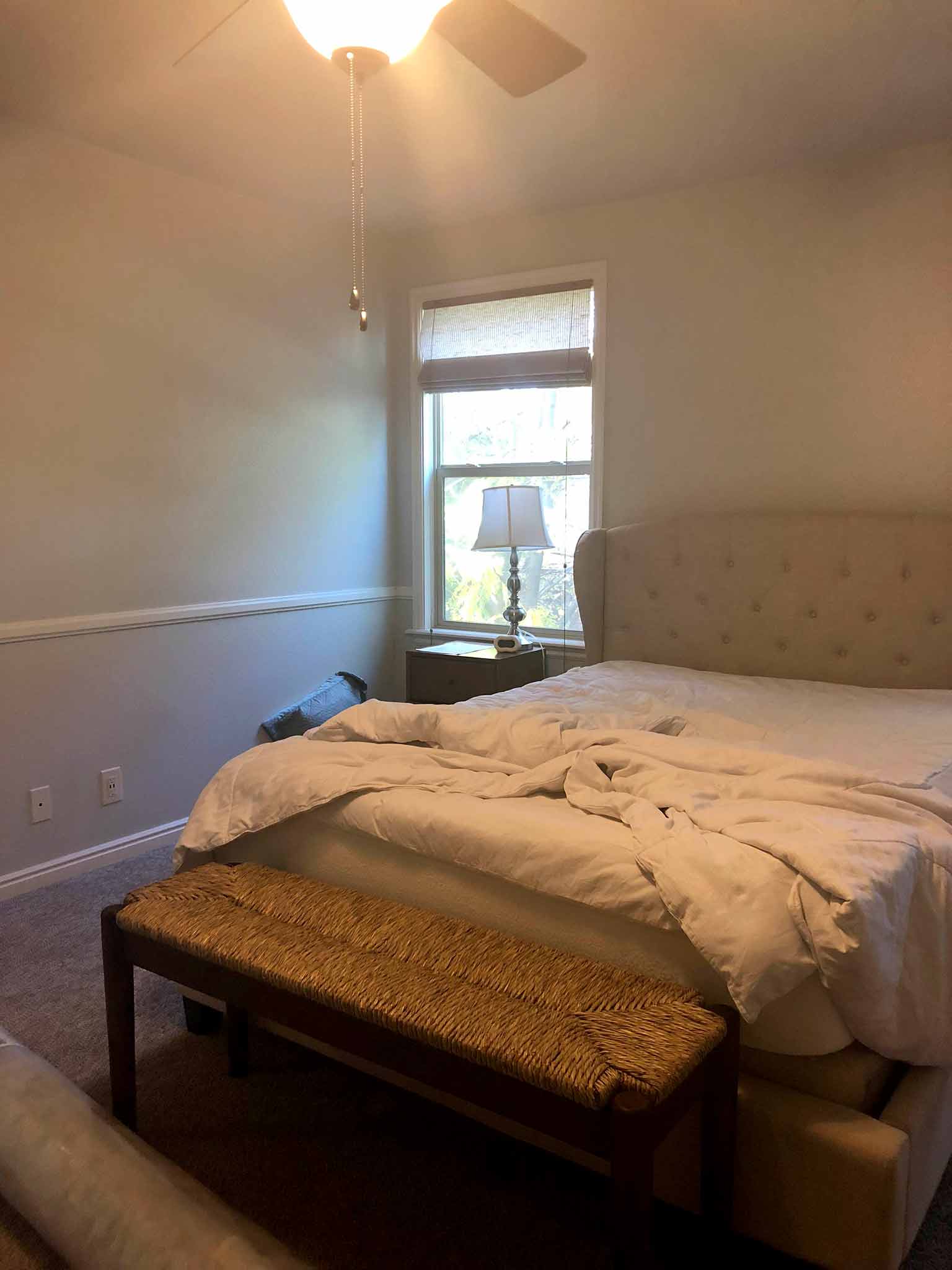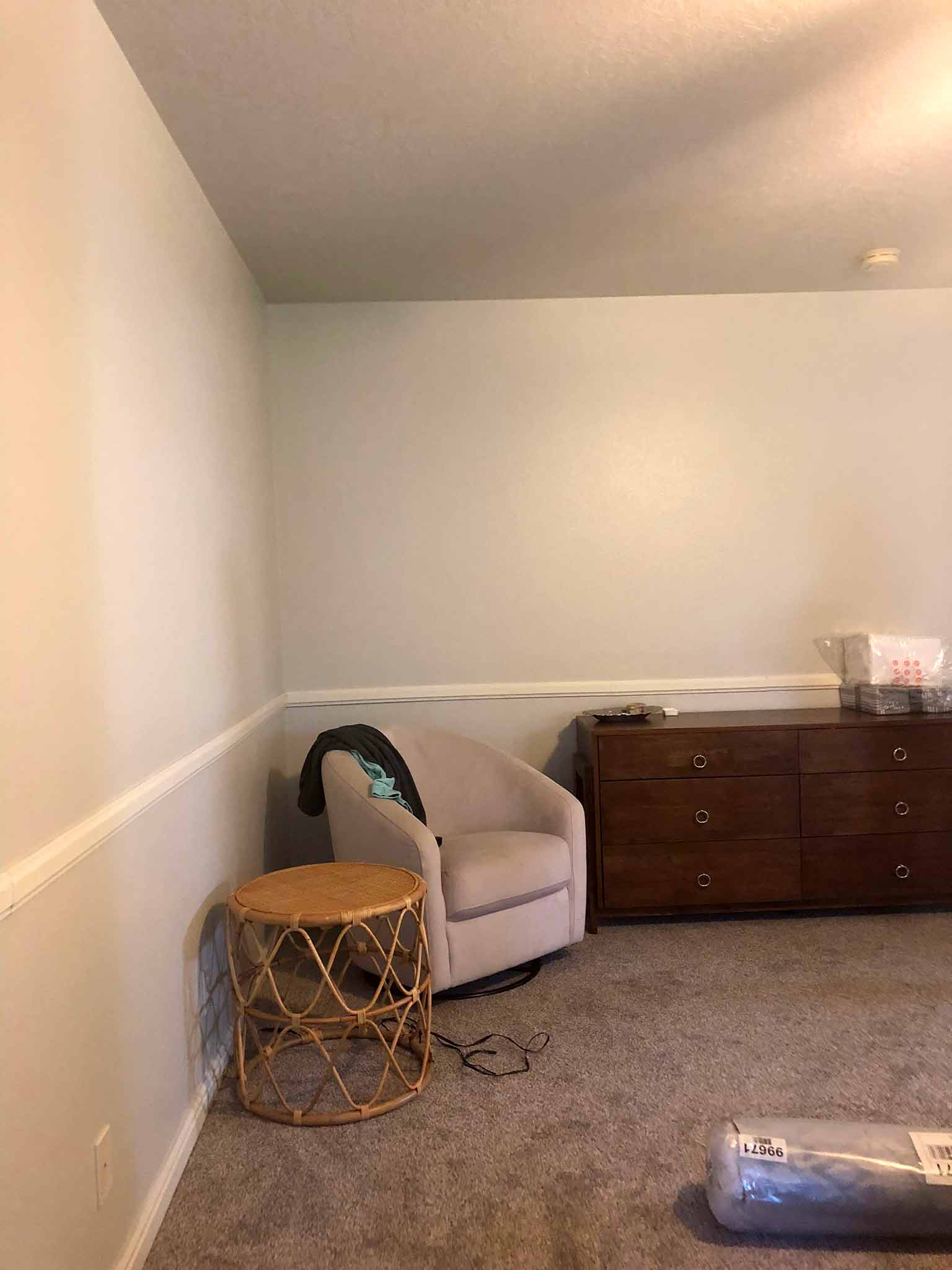 And here is what we achieved just two short days later!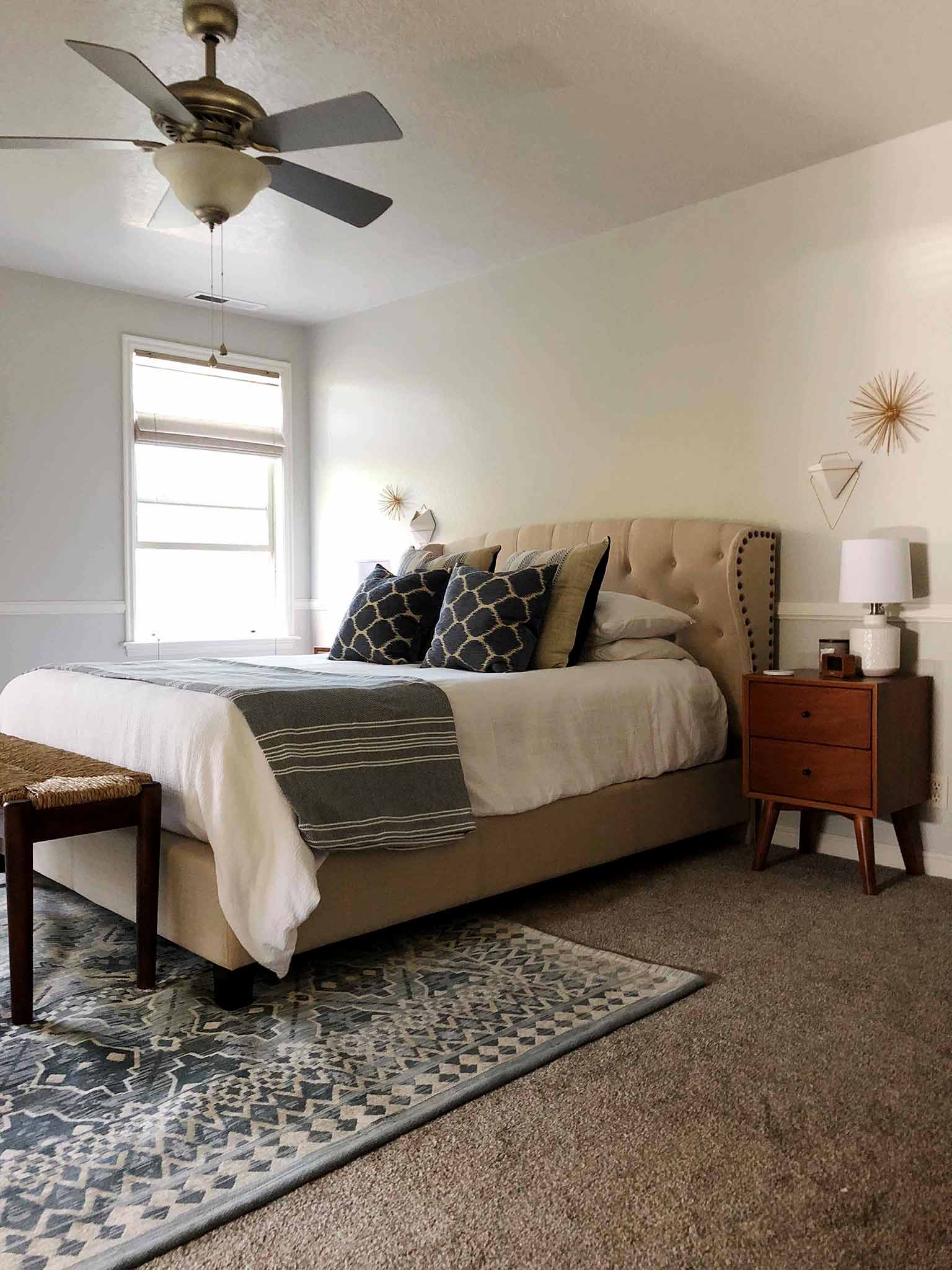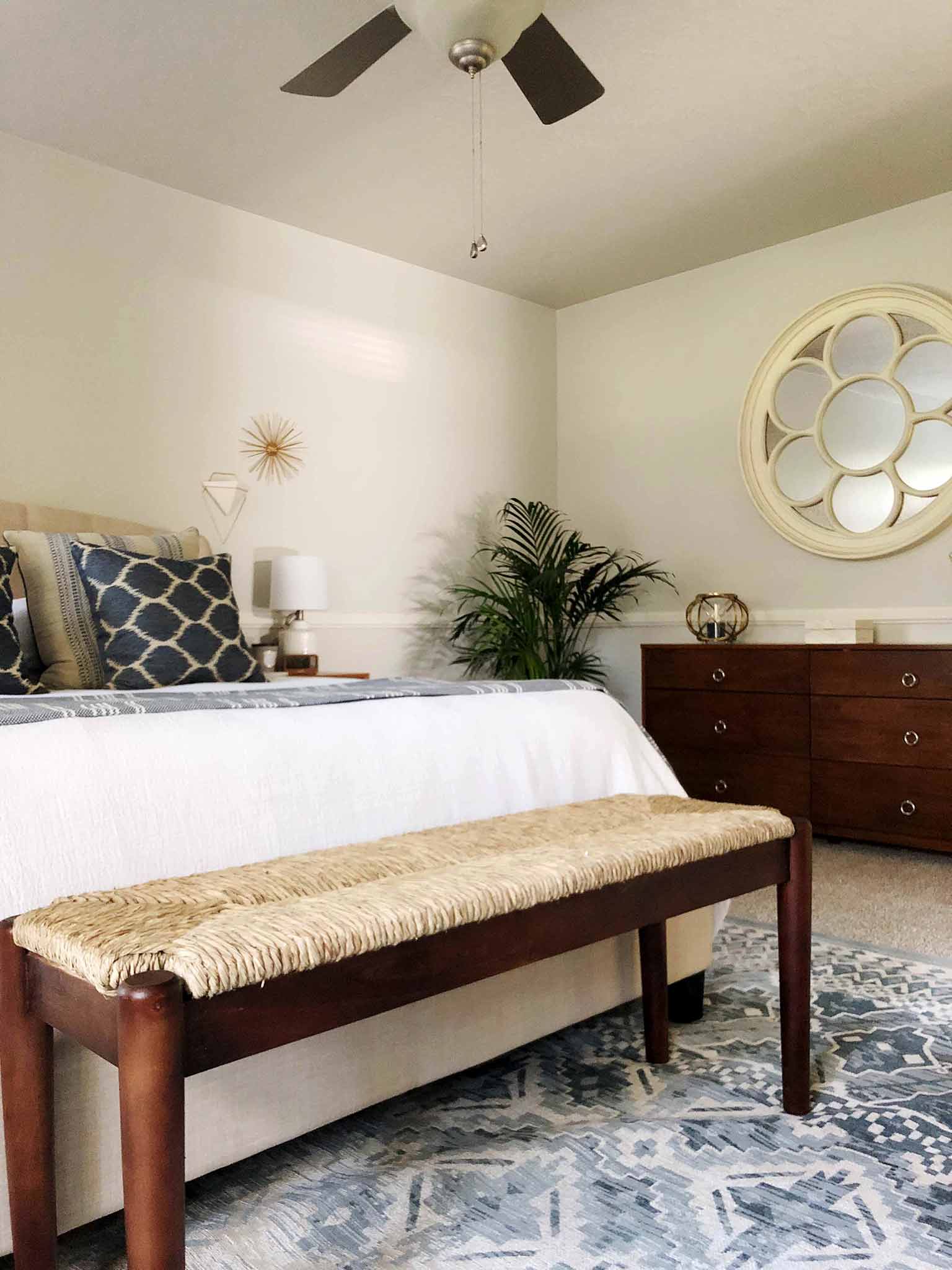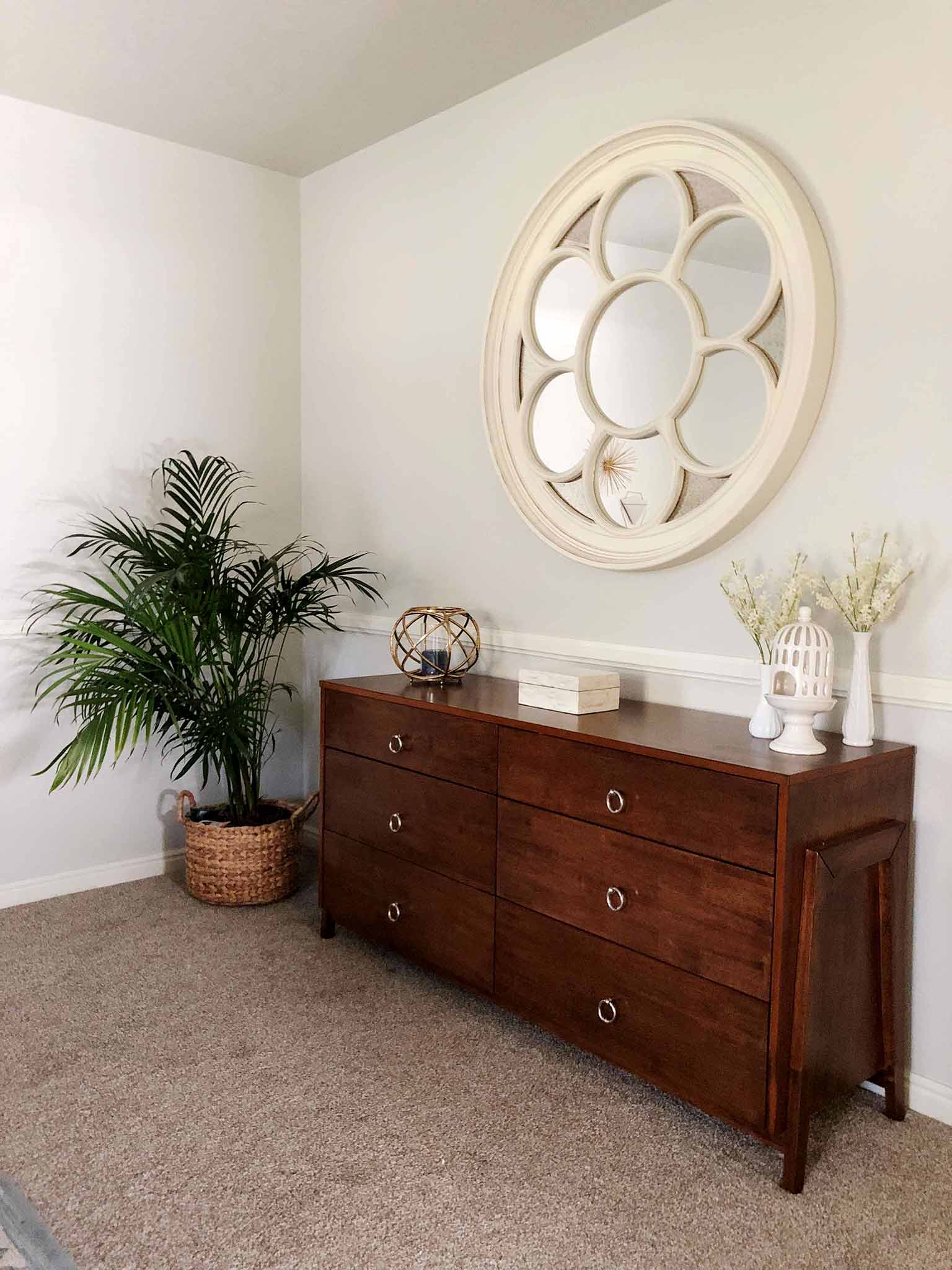 So, what makes a good master bedroom design?
Depending on the space you have, I would say that every master bedroom needs a great bedframe, functional nightstands, a storage piece, an ottoman or bench, a mirror, and a rug. These pieces do not need to match, but they do need to feel coherent as a whole. A good way to achieve this is to stick within a particular color palette, or a particular design style.
For this space, we decided on a color palette of blues, creams, whites, warm wood tones and rattan. We were less specific about style—there are MCM, coastal and boho elements throughout the room, which has created a layered look.
In our case, we decided upon a classic upholstered bedframe, a mid century modern-style dresser and nightstands, a woven bench and a beautiful statement rug in blue hues. We re-used a large scale mirror that they had previously had in their living room.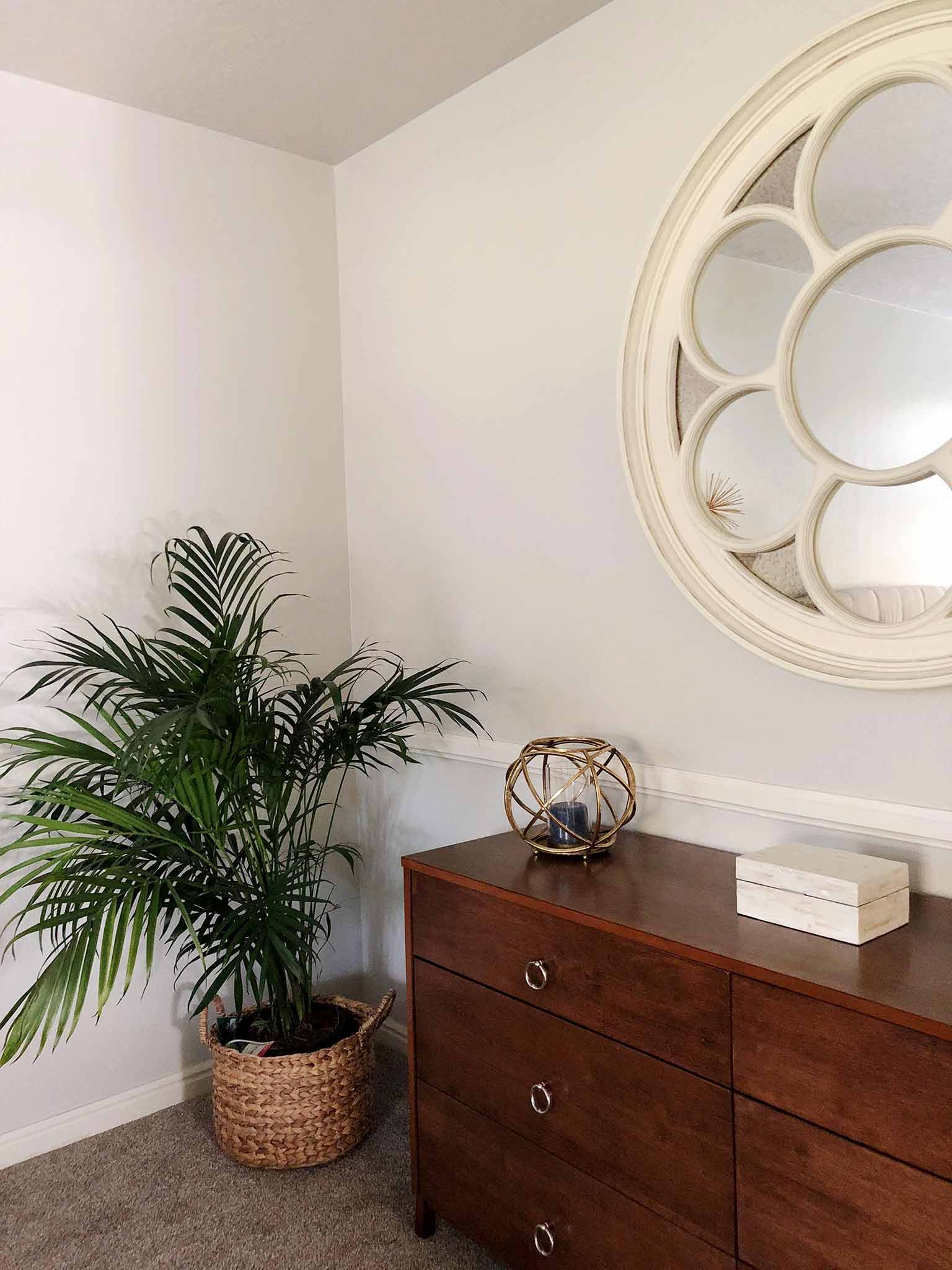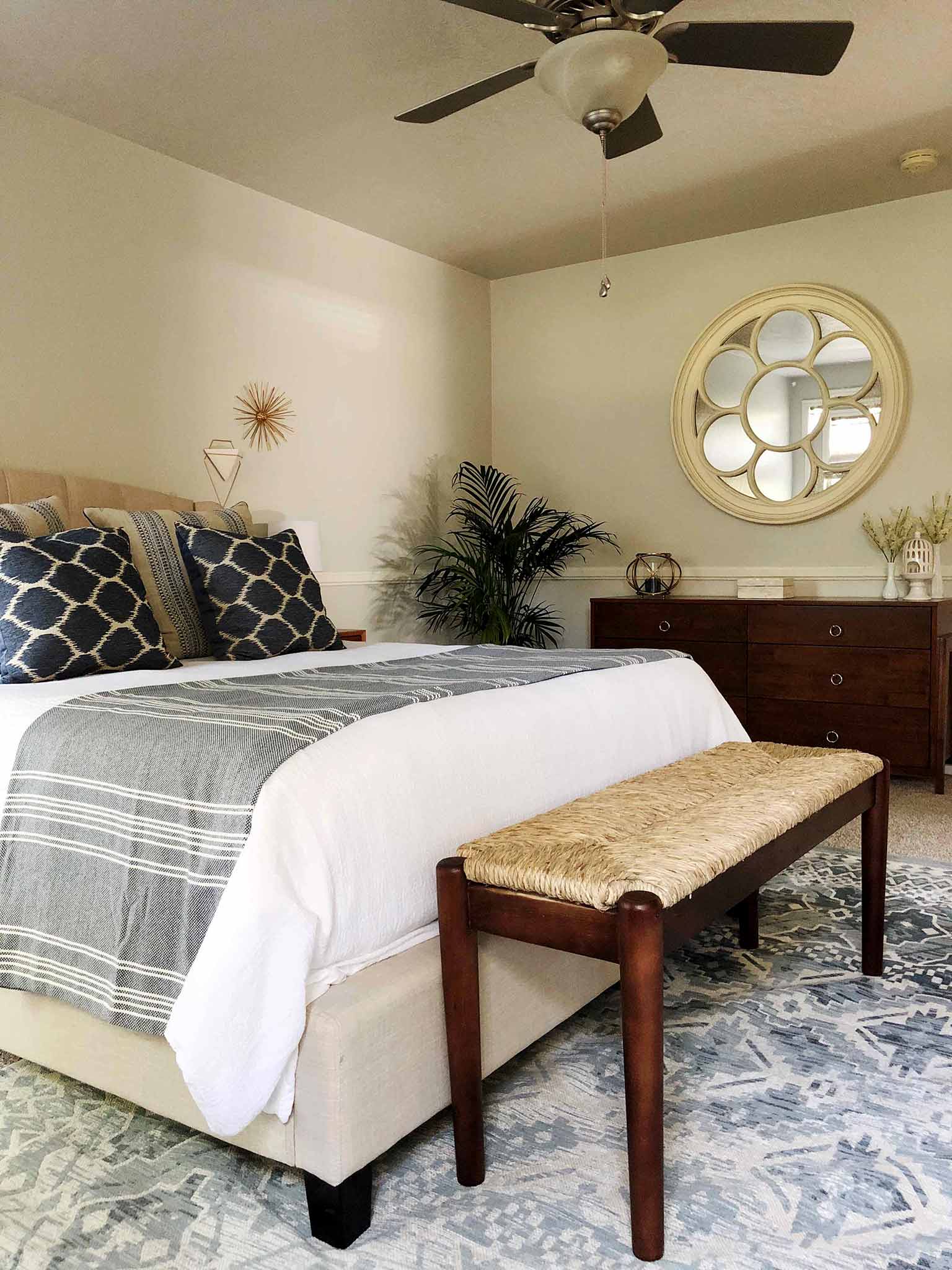 In terms of bedding, we went with super simple textured white bedding, with blue throw pillows and a blanket. The combination of the white and blue against the neutral upholstered bed frame worked so well, and it was a great way to bring pops of their favorite color into the space.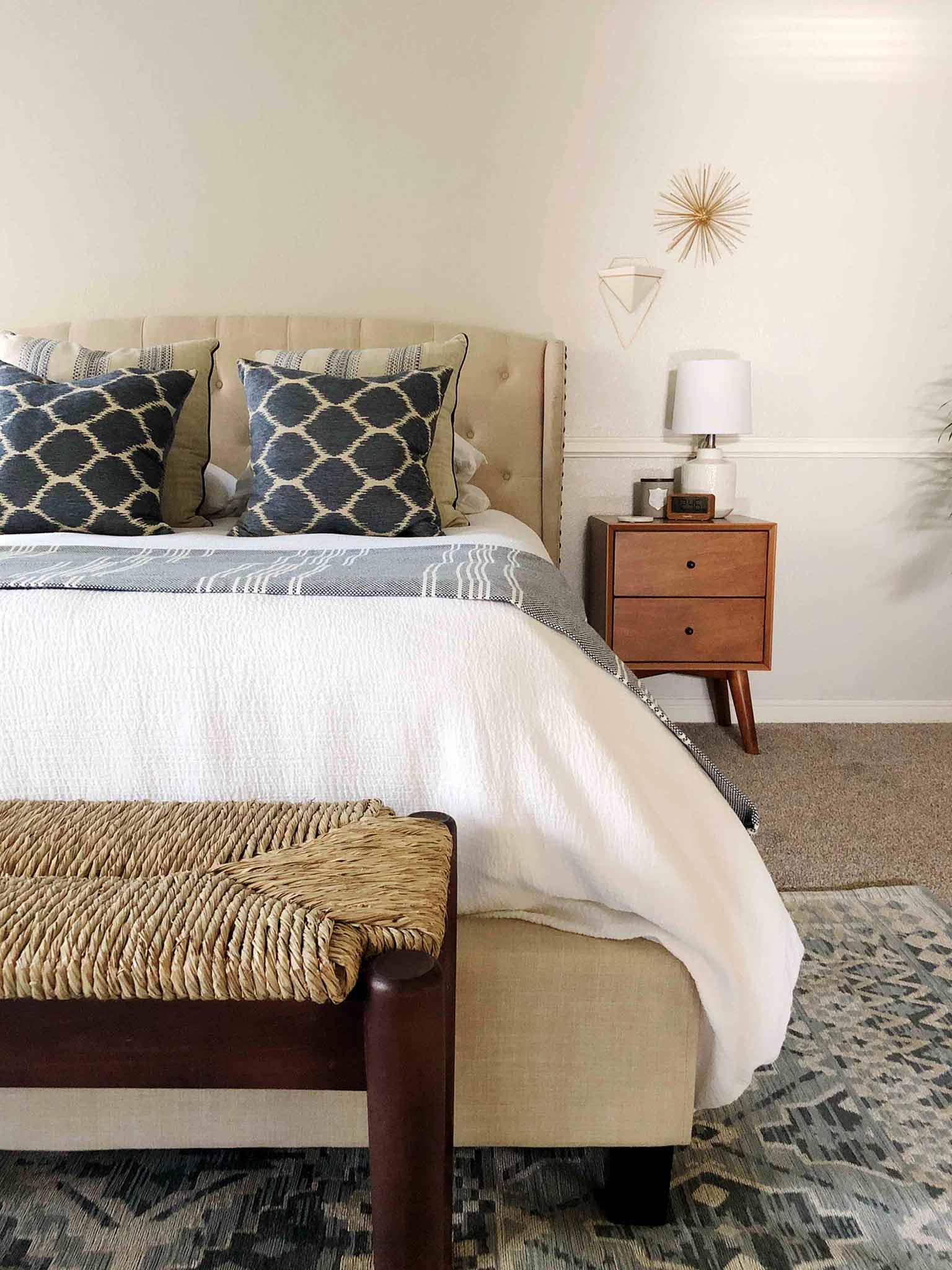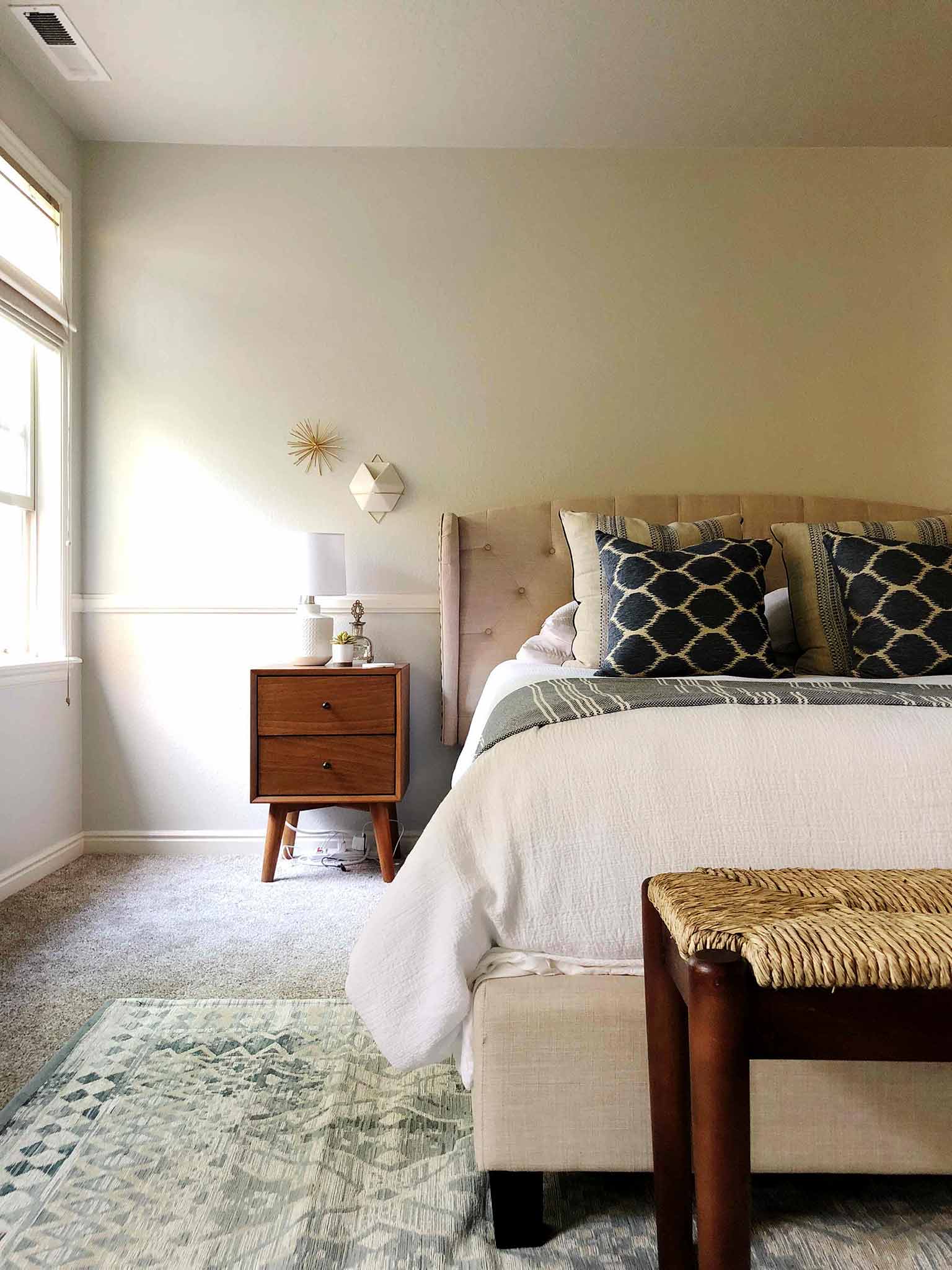 This sunny spot by the window is a favorite of mine. Eventually my friends plan on adding an accent chair there, but for now, it's working as is! We found this gorgeous textured art piece at HomeGoods.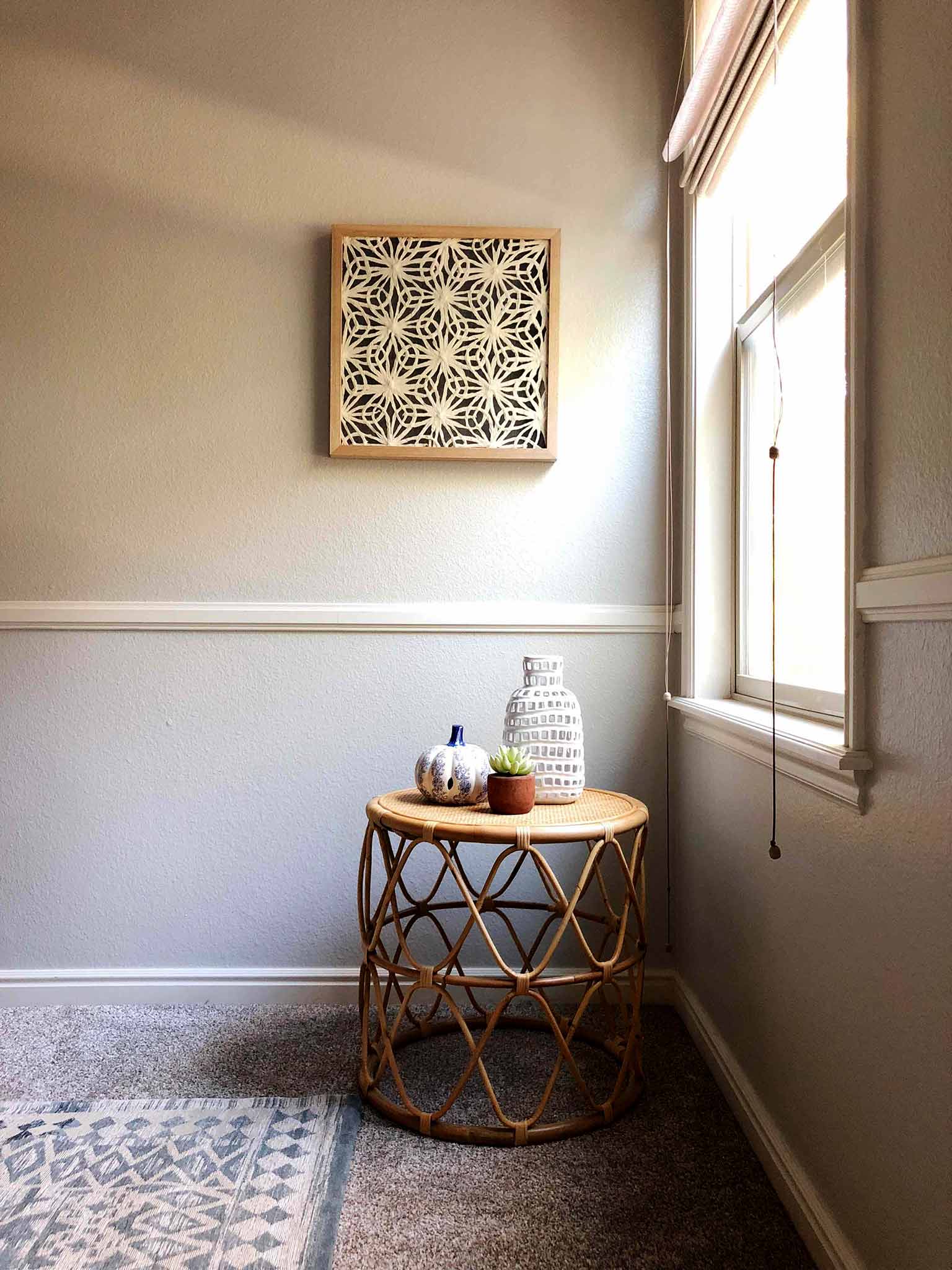 Another triumph of the room is the patterned flatweave rug. I actually cannot take any credit for this as my friend found it, but once I saw it I knew it would work perfectly with the rest of the room!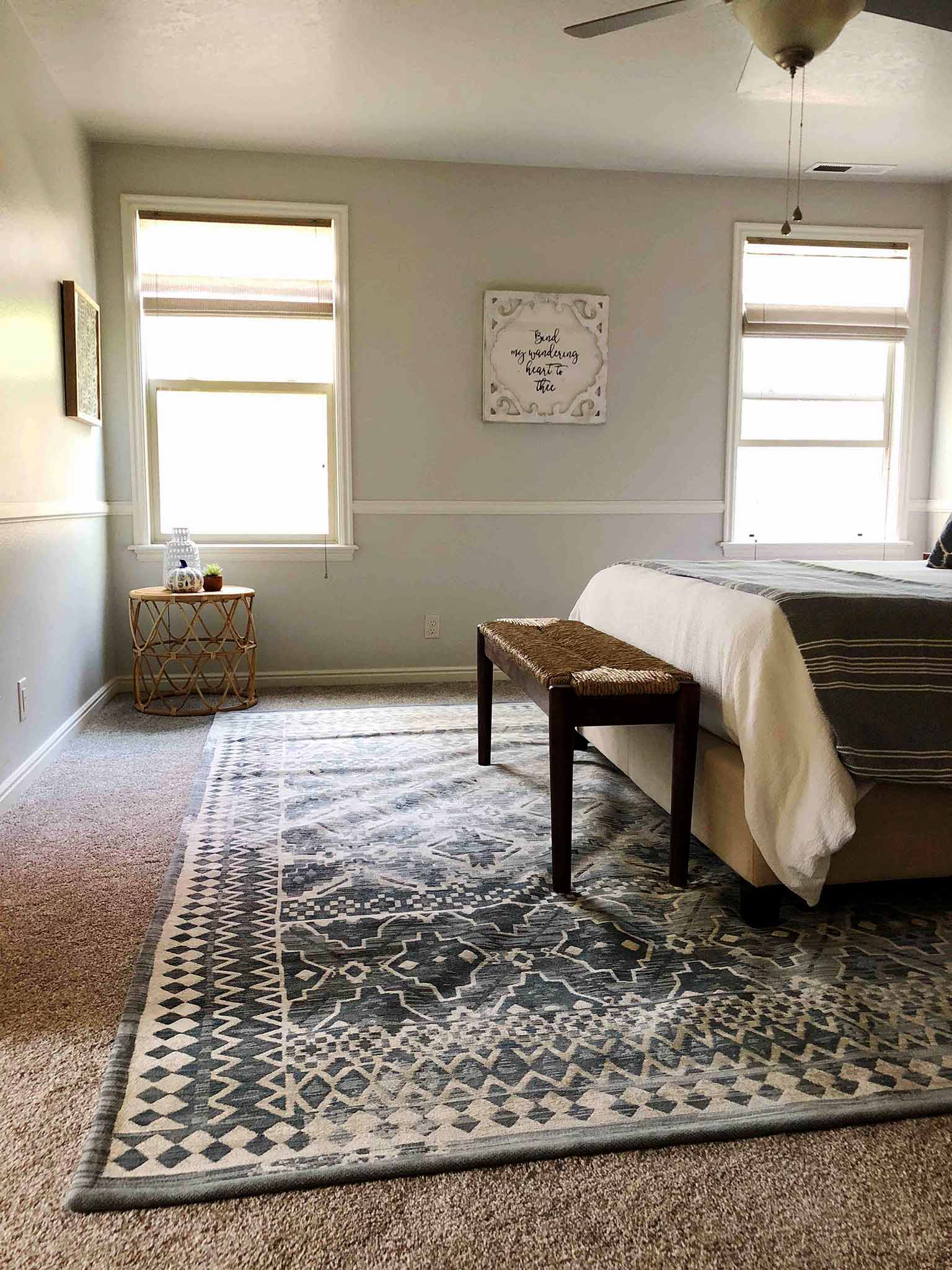 All in all, this felt like a very successful outcome—especially with the short timeline. It shows that you don't need much time to put together a room if you have a clear vision and pick your pieces carefully.
Of course, more pieces can be added to layer the room over time, but for now, it works, and most importantly, it feels like home.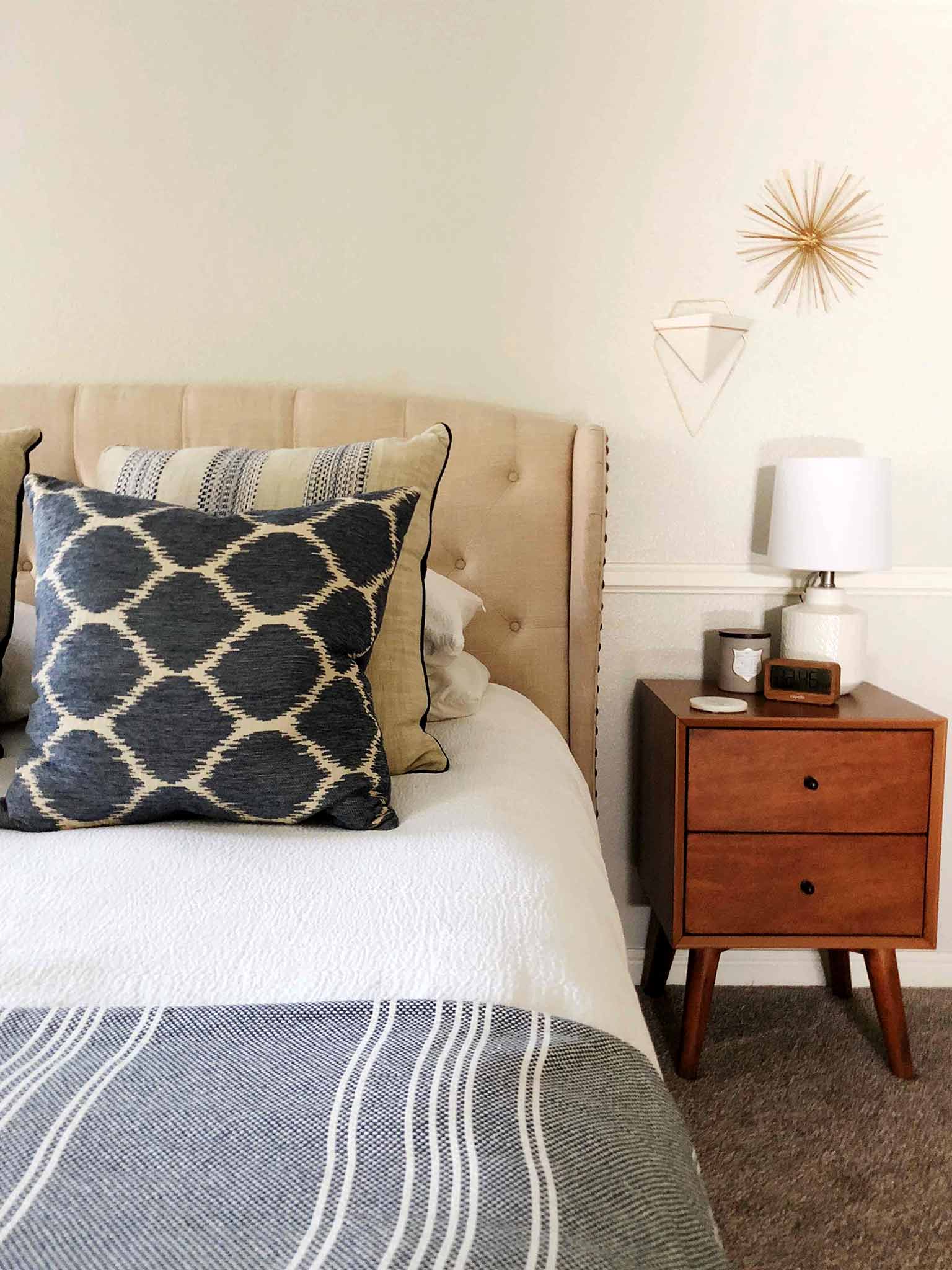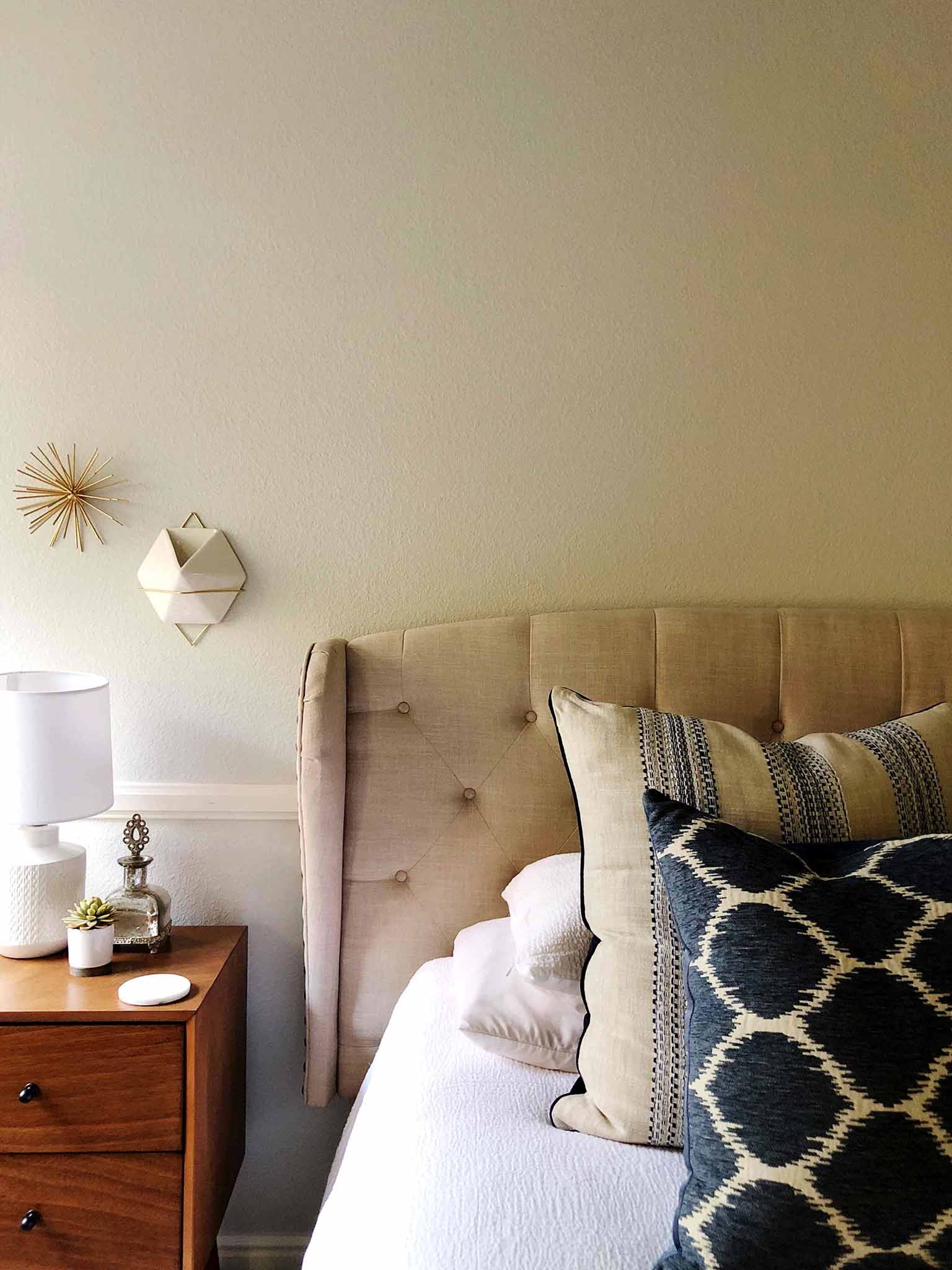 CREATE YOUR OWN MASTER BEDROOM RETREAT
If you love this look, then I've made it super easy for you to create it in your own space. Here is a round-up of all the products that we used in this room makeover. We researched and read A LOT of reviews before ordering, and we loved every product that we ended up choosing! (For the products that are no longer available, I've included a couple of similar alternatives.)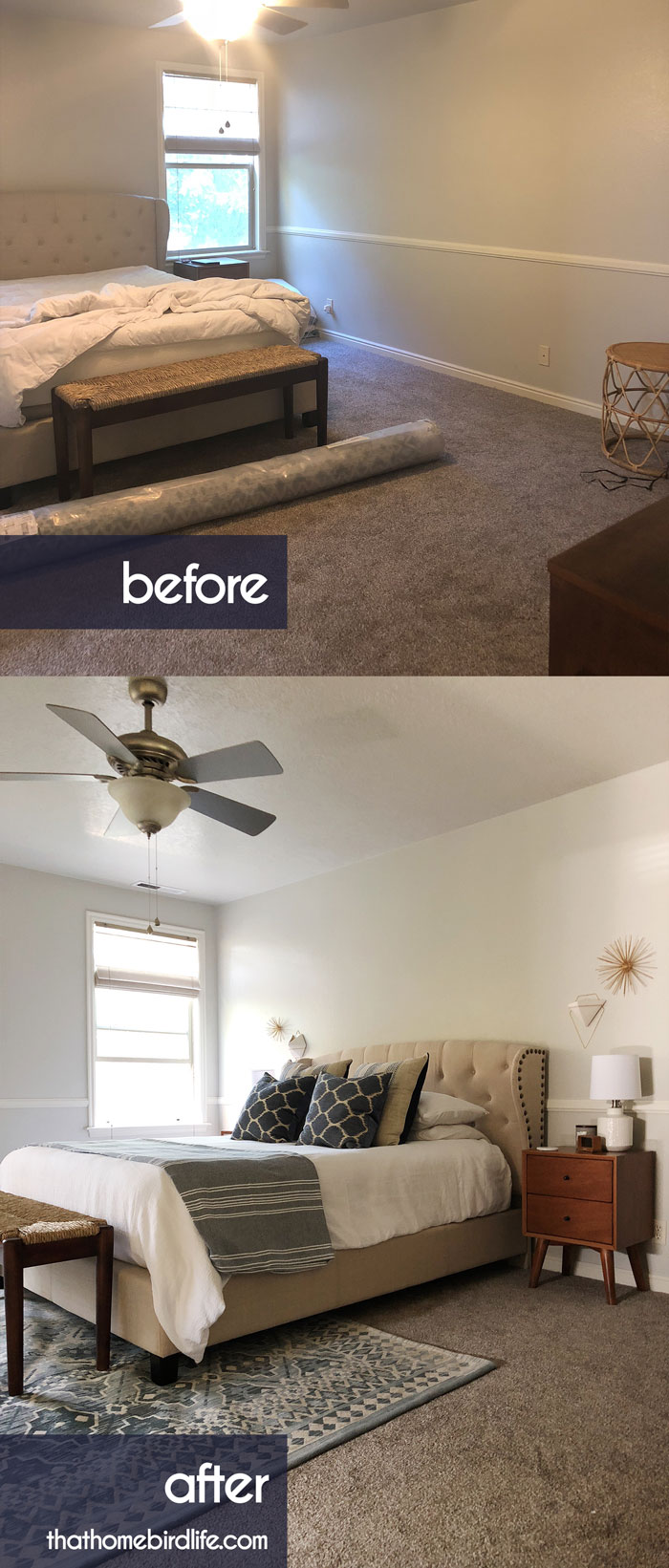 I would love to answer any questions you have about these products, so please do contact me and I will respond as soon as I can! You can even send me photos of your own space that you want to transform and I will do my best to help! I truly believe that everyone deserves a master bedroom that they love.
---