This post is sponsored by Joss & Main. All opinions are my own.
It's the holiday season! One of my favorite moments each year is pulling out the Christmas boxes and rediscovering all our favorite ornaments and treasures. But this year has called for a slightly different approach as we are living in a small rented apartment, which means I've been much more intentional about how I decorated for the holidays.
First off, I probably need to catch you guys up...there has been A LOT going on over the last 6 months and you might have caught some of the story if you've been following me on Instagram—in fact, this news hasn't become "blog official" until now!
The short version of the story: we decided to list our first home for sale in August of this year. We loved our house so much, but could see that our girls were outgrowing the space and there was no way of adding on any more square footage, so it was the right time to let go of it. The original plan was to sell our house and move into a rented apartment for a while to take a break and really think through our next move. Our house was on the market for a week before going under contract, and the week after we closed on it, we bought a lot of land! So, in 2021 we'll be building a home from scratch.
More updates on that to come in the New Year...because Christmas decorating is far more important right now ;)
Our apartment is a good size, but since there are four of us living here, it's definitely a little cramped at times. Our open plan kitchen, dining and living area is a high traffic zone and I didn't want our Christmas decor to get in the way. Yet I still wanted it to feel like the holidays, even if we are in a little bit of limbo this year. I think we managed to achieve both goals—simple AND festive, and here's how we achieved that look.
Related: How I Kept My Christmas Decor Simple Yet Cozy This Year
THE RIGHT TREE
We decided for the first year EVER to get an artifical tree rather than a real tree. It's much less messy and I have visions of TWO trees next year when we are in our house, so I figured it would be a good time to get an artificial tree! I selected a pre-lit aspen green fir because I liked how realistic it looks, and the sparseness in between the branches gives it that minimalist look I'm craving. It's the perfect size for this corner, and doesn't get in the way of the door out to the balcony. Plus no fir needles to sweep up this year—win!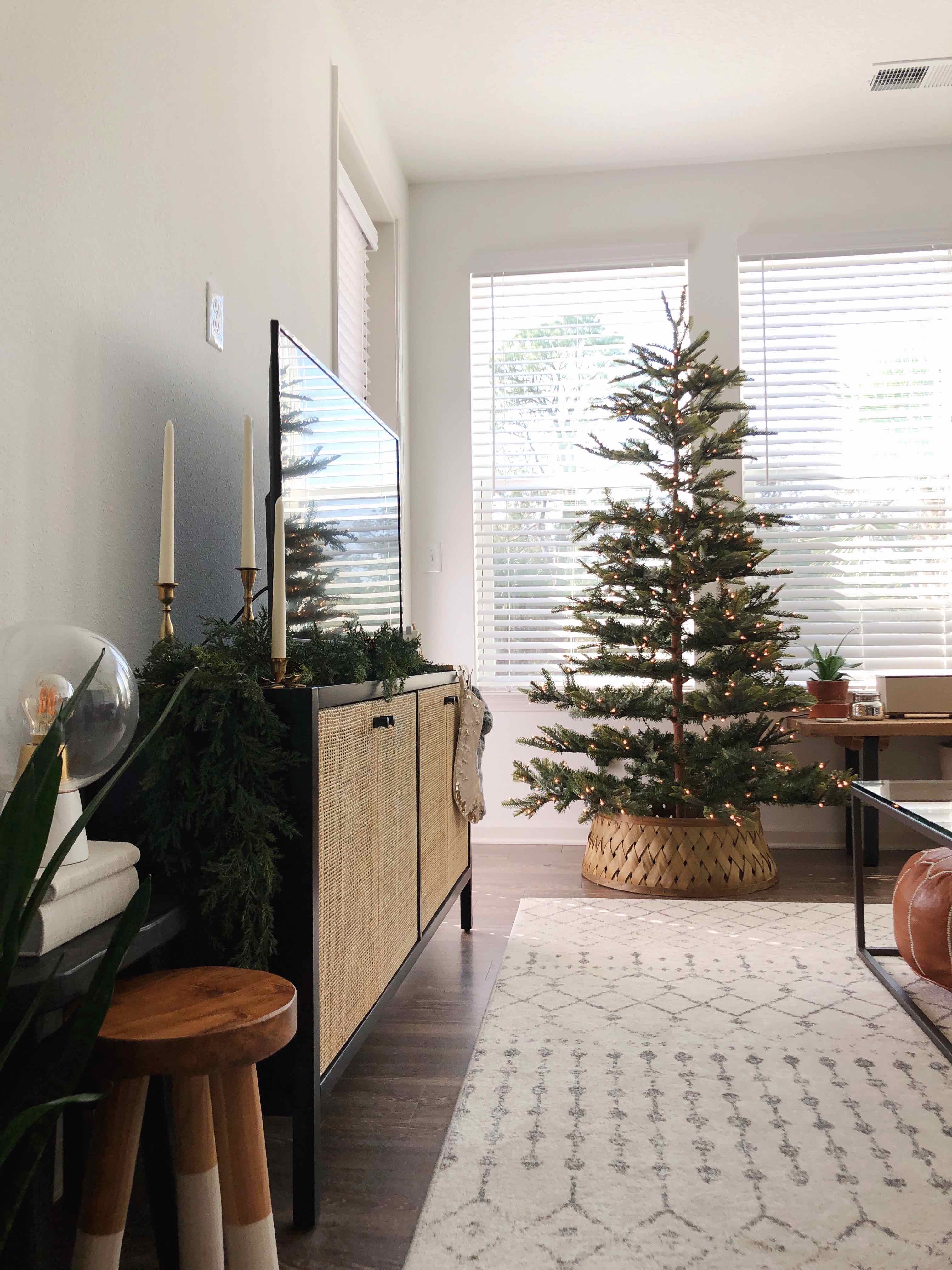 We left it bare for a week or so, but then the girls added ornaments to every branch. Not so minimalist, but definitely festive!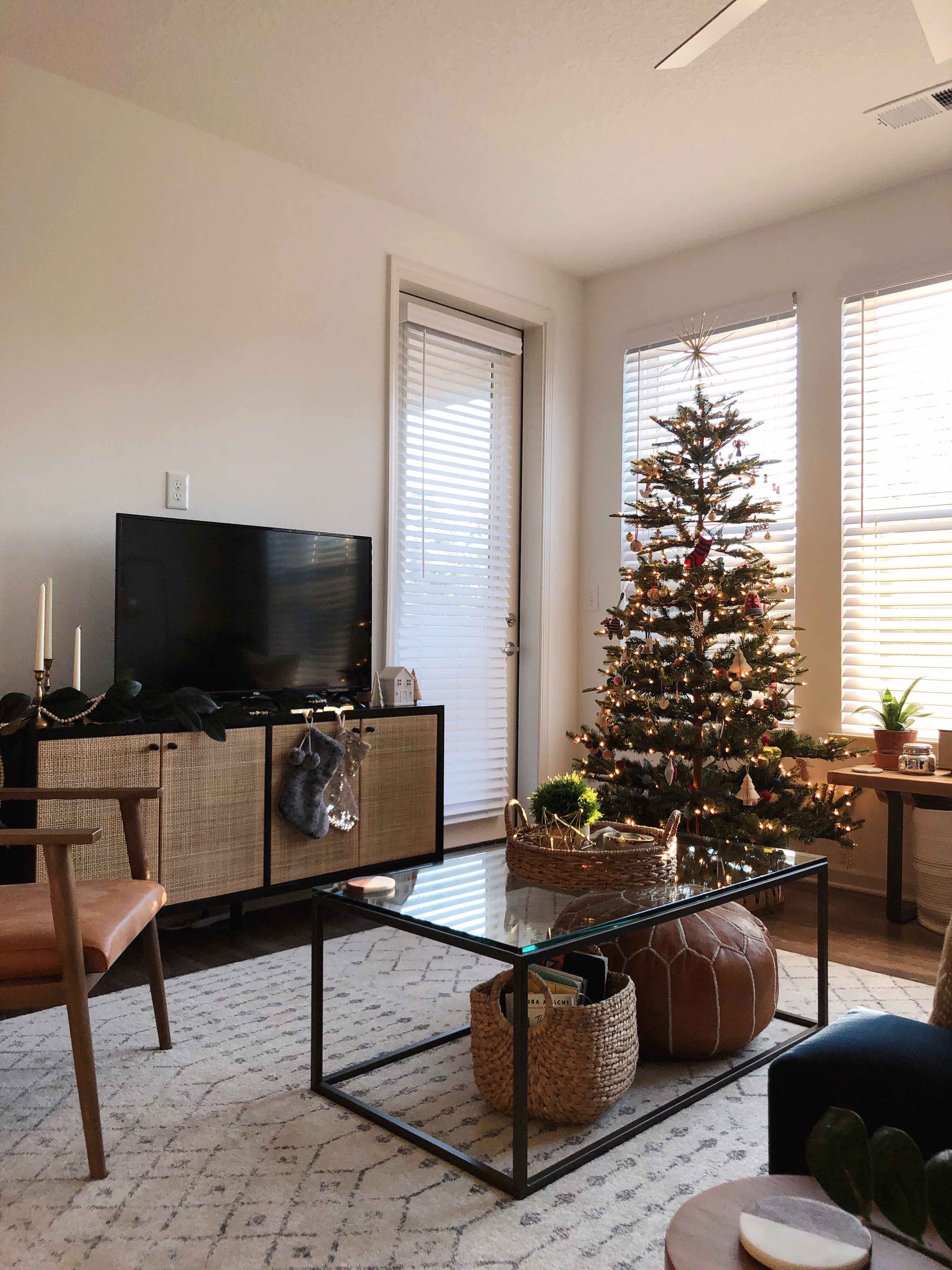 NO MANTEL? NO PROBLEM
Without our mantel to decorate this year, I had to get creative so I layered our media console with faux garland and styled it with brass candlesticks, stockings and accessories. I think it works just as well, and hopefully Santa will get the memo!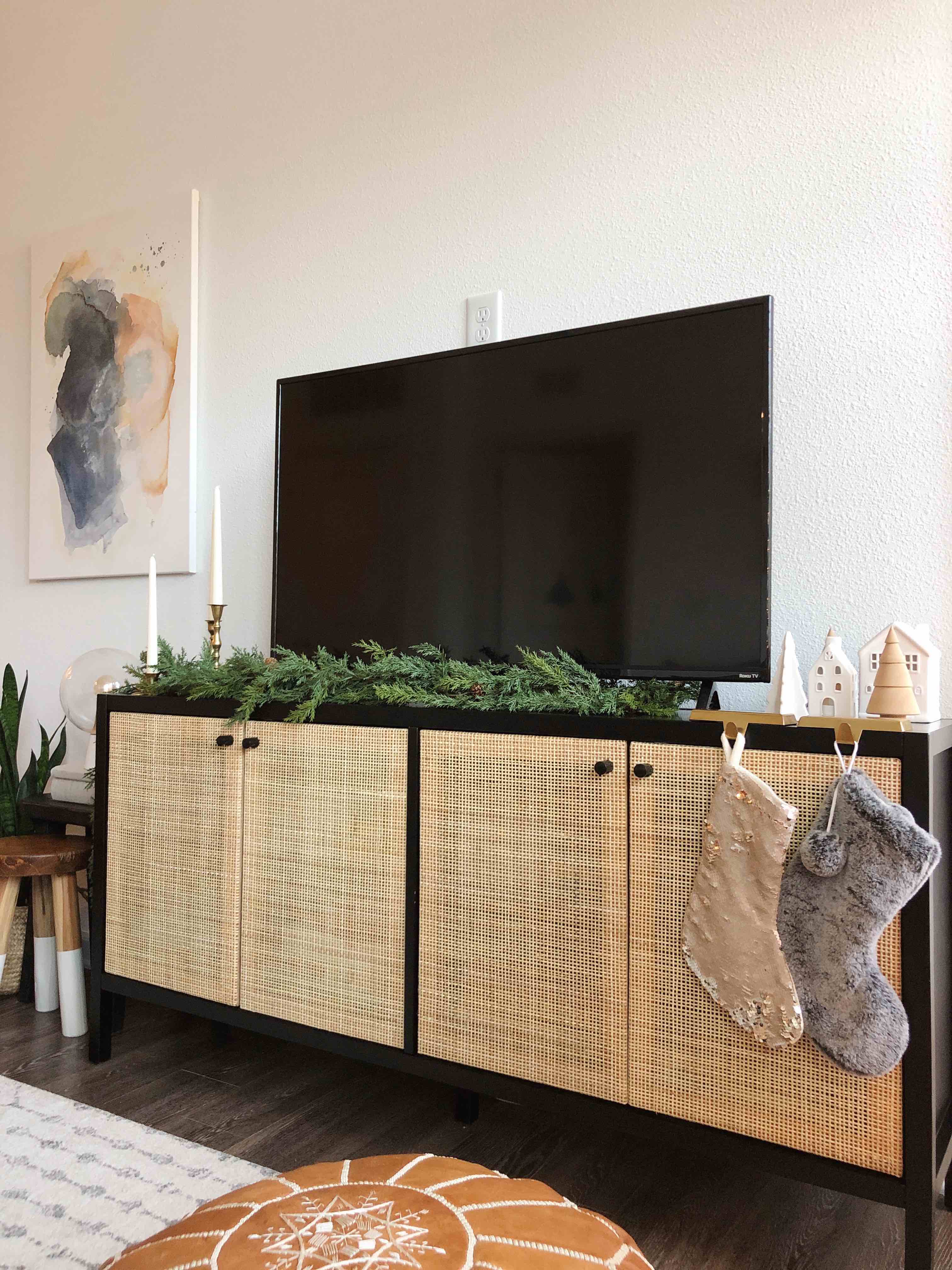 ADD A WREATH
I also added a gorgeous magnolia wreath, but instead of putting it on the front door to our apartment, I hung it on an interior door. It was such a simple way to add another touch of festive greenery in our space.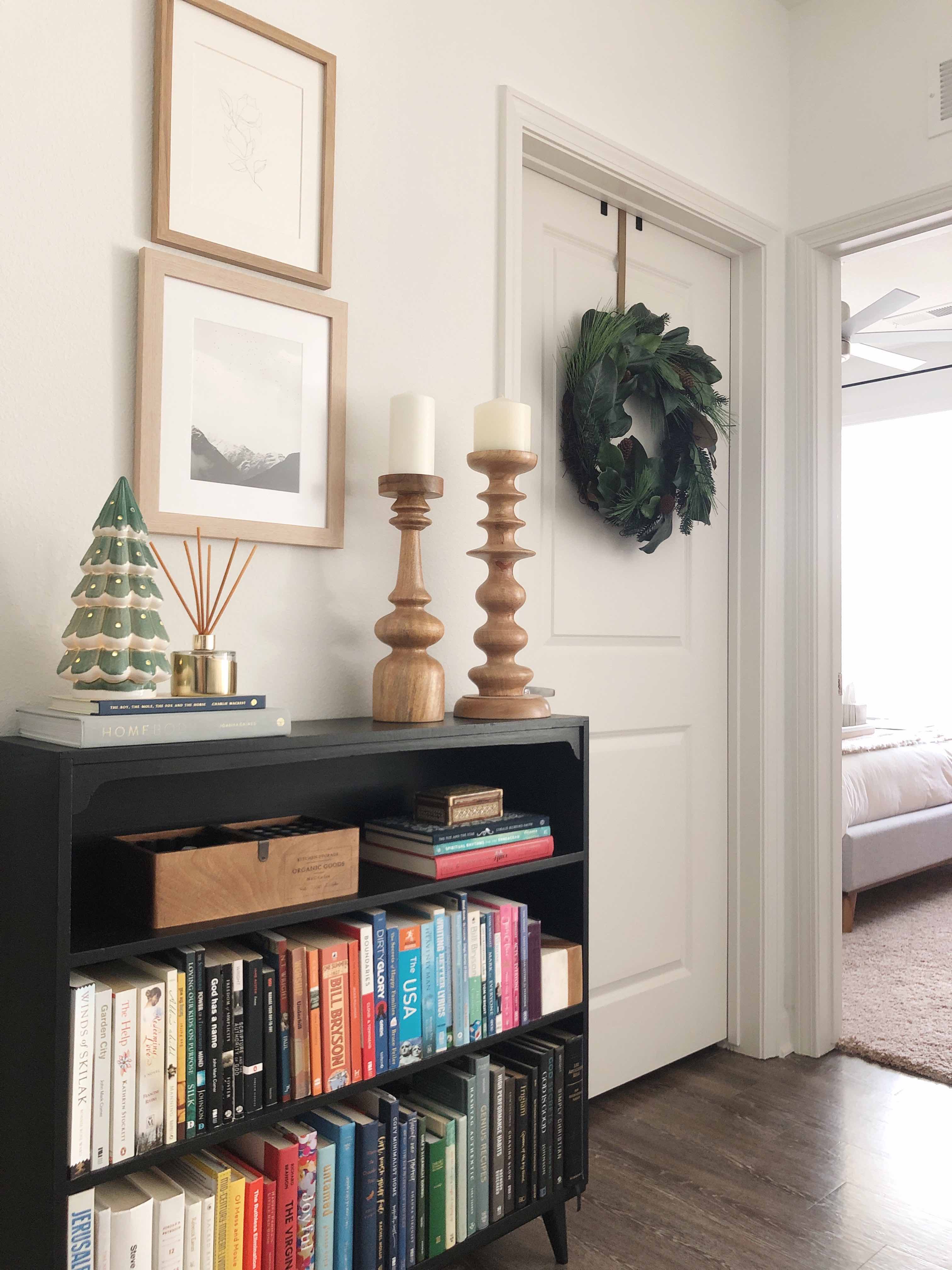 LAYER IT UP
To layer in some extra coziness, I also switched out some pillows and blankets for more festive options. This is a great way to change up your space for winter without adding more clutter. The grizzly peak fleece throw is the snuggliest we have ever owned and we all fight over it!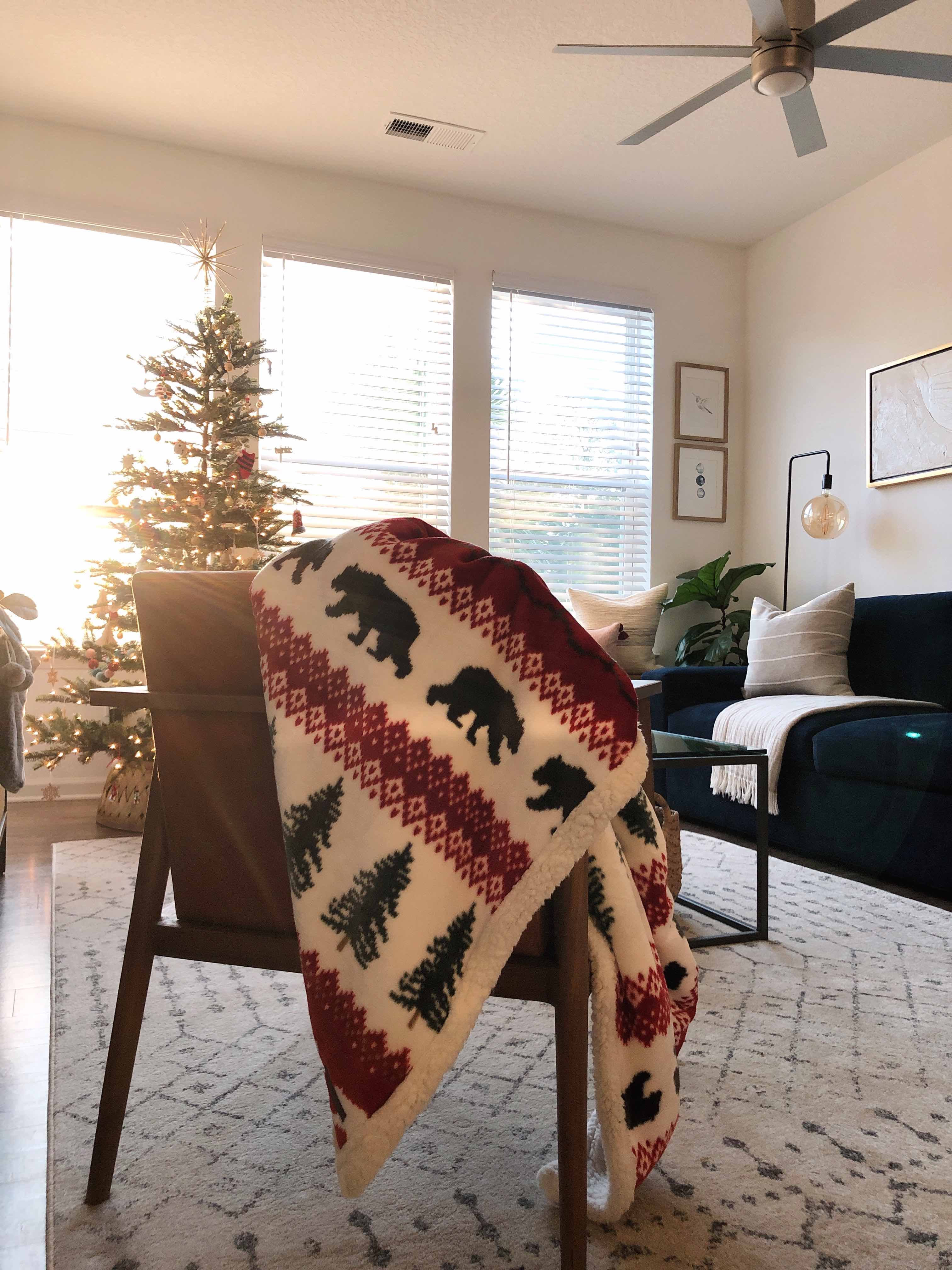 So there you have it! Simple, yes. But still cozy and festive. It's exactly what our family needed this year.
Thank you to Joss & Main for helping us decorate for the holidays. Check out The Winter Edit at Joss & Main for more inspiration to make your home feel cozy this season.
---