As is becoming tradition for my One Room Challenges, I spent Week Two purging the old to make space for the new. I sold the crib and a couple of small storage pieces, and to go in their place we purchased new twin beds, storage units and a nightstand, along with lots of accessories!
THE NICEST CRAIGSLIST INTERACTION I'VE EVER HAD
We sold the crib to a sweet lady with six children (including a set of twins!) I was feeling a little emotional about letting the crib go. (We may still have more children in the future but it was time to make room for the present moment, and my four year old has no need for it anymore.)
On the morning of the sale, my husband had neglected to tell me that someone was picking up it up, and then he forgot about it himself. So it was a surprise all around when the lady showed up that evening. My husband had to disassemble it (which was painstakingly slow), but while he did that I chatted to the lady, and my kids kept her entertained. She seemed pleased with the crib and we parted ways.
Roll on a few days and we received a thankyou card in the mail. Yep, you read that right! I have never ever experienced this, but honestly—it made my day. I may even pay it forward sometime! And it's nice to know that a piece of furniture that meant so much to us is now in a great home.
A BIG IKEA HAUL, AND SOME CUSTOMIZATION
As per the moodboard, we purchased a couple of MINNEN beds from IKEA, and the girls are delighted with them. We haven't put the bedding on them yet, so they look kind of messy, but here they are slap bang in the middle of the room! (Don't you ever accuse me of not keeping it real on here!)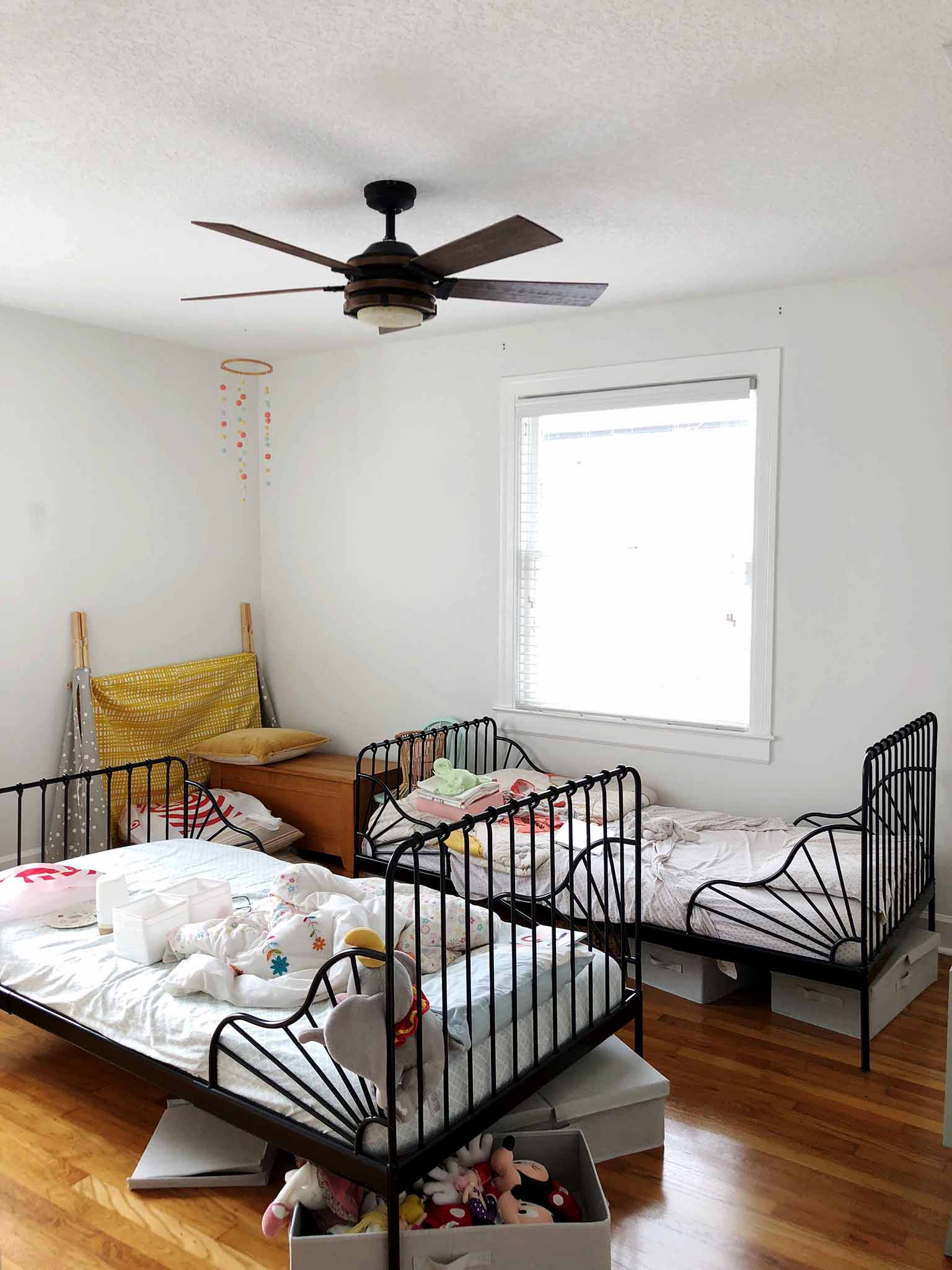 We also purchased two EKET storage units for toys, and I was able to customize the dresser with some knobs by Pretty Pegs that I actually won in a giveaway a few months ago. I was saving them for something special and this was just the ticket! They have totally elevated the design of an otherwise plain dresser.
I'm leaning towards painting the doll house a soft gray as the current shade of blue doesn't really fit into the color palette of the room. I'd love to hear your thoughts on this in the comments section!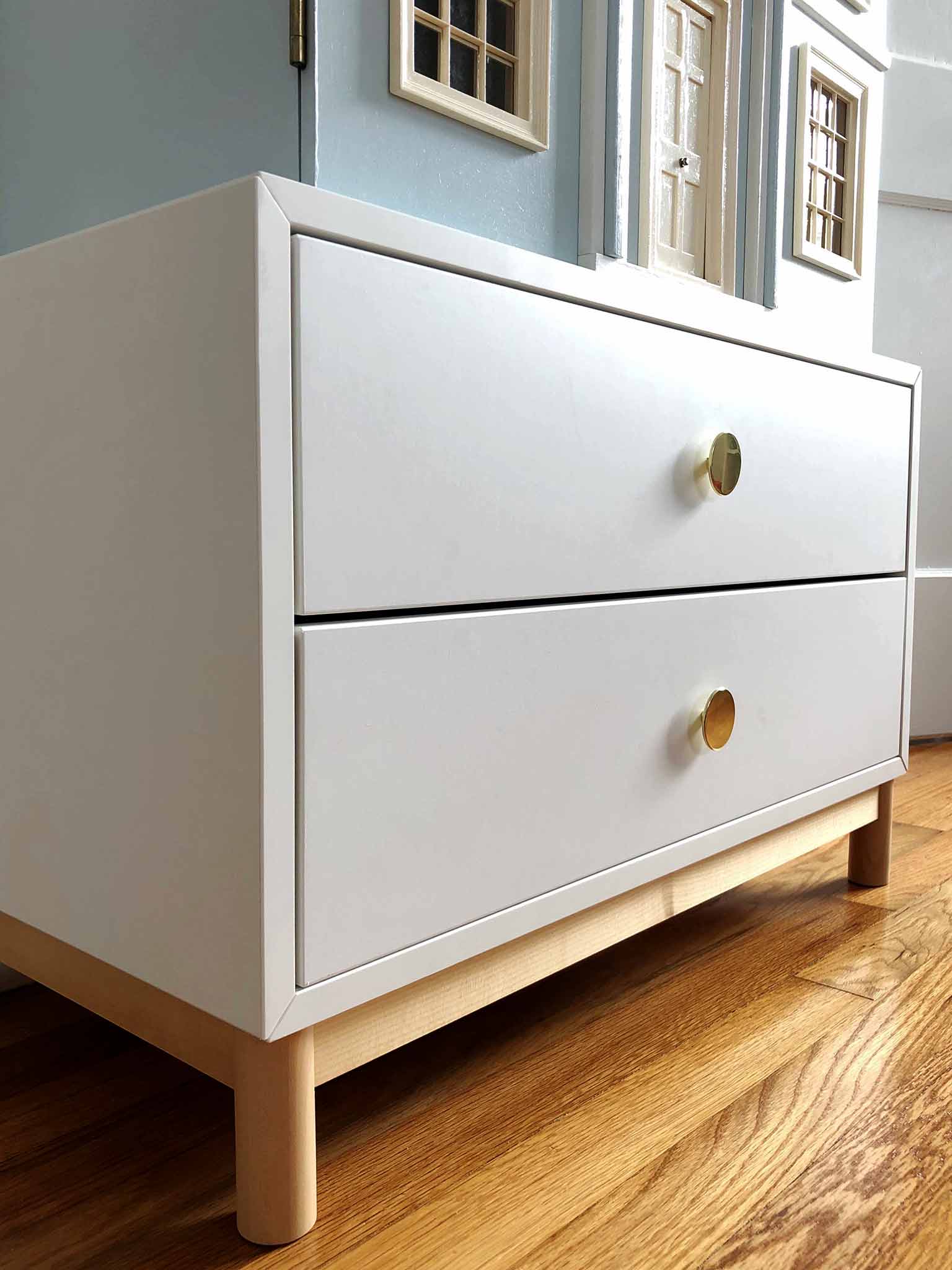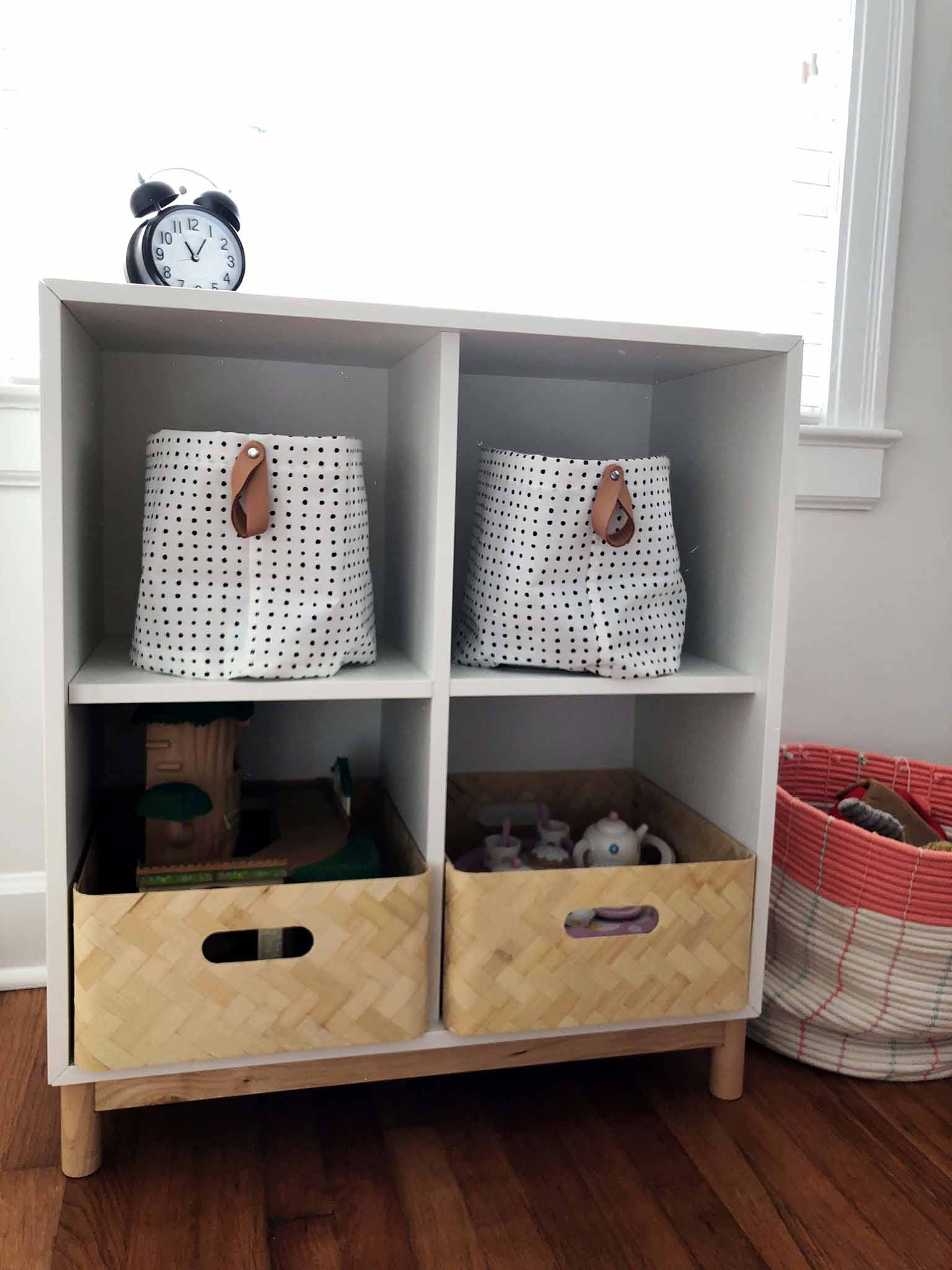 FUN MAIL
I've been a lot more organized with my ORC this time around, and things have been arriving all week! It's fun to be able to visualize the end point of the project, but is also useful as it is giving me time to return things that aren't quite right for the room. I had picked out some pink throw pillows, but exchanged them for some gold/mustard ones as there was just too much pink going on in the room.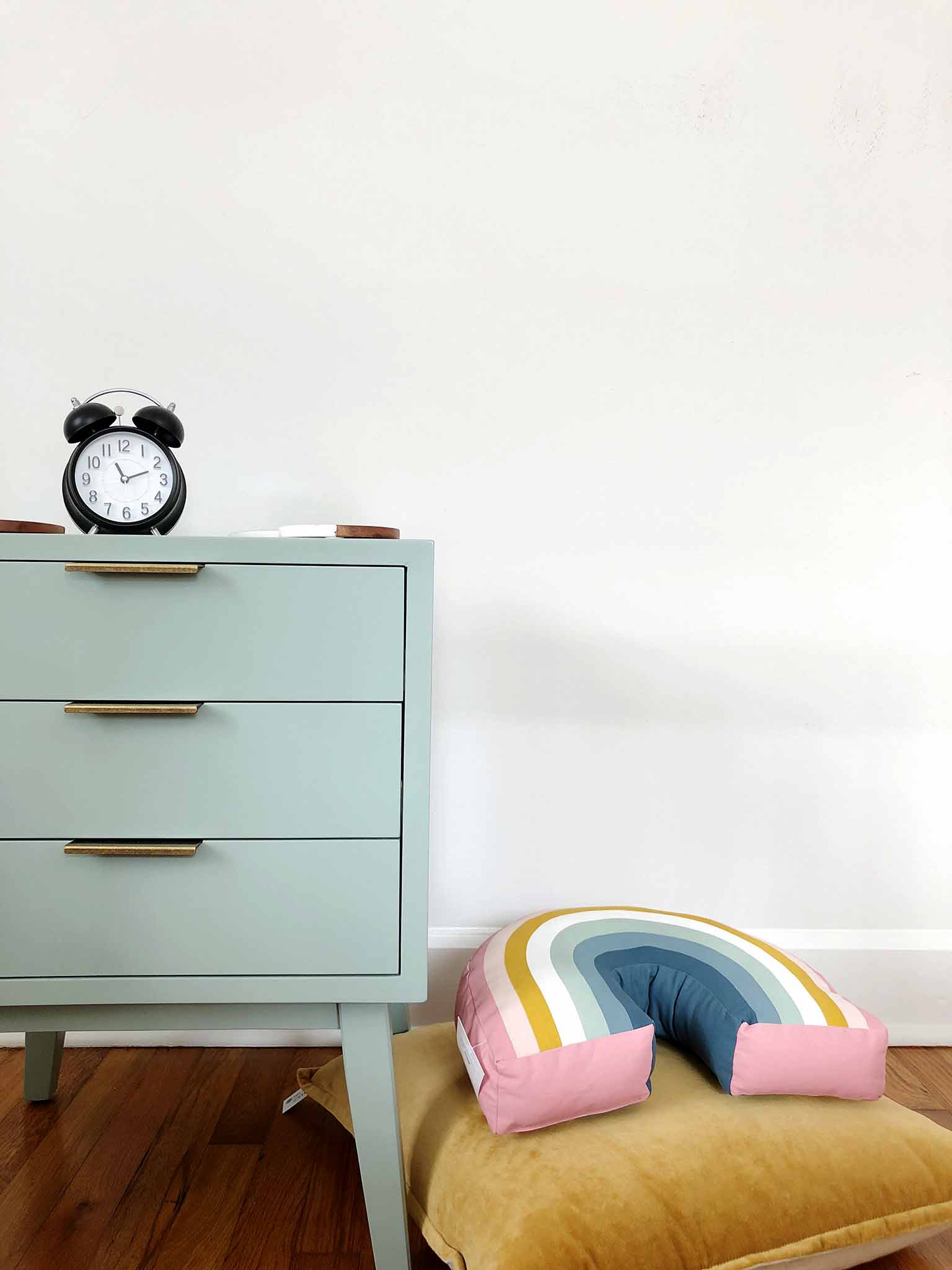 I'm also loving the nightstand, which helpfully arrived fully assembled! The color is absolutely perfect. I can't wait to reveal more of the beautiful items that I've been able to source for this room!
WHAT'S UP NEXT?
Over the next week we will be getting down to the nitty gritty. The walls need patching and touching up with paint. The floors are badly scratched in places and need a coat of Zep refinisher
. These kind of touch ups are definitely not my favorite part of a project, as they don't yield the dramatic results that every designer longs for. But this is a high traffic room that needs some love, and so I'm going to get it done!
And of course...WALLPAPER! Yikes. I write my blog posts a few days in advance, so if you follow me on the gram, you may already have seen the outcome of our wallpaper experiment! Update: Yup! It's on the wall! Check out my IG story highlights if you want a sneak peek!
Come back next Thursday for the next installment of the challenge, which will be coming to you from Boise, ID! I'm taking a trip out there to visit a friend and help with her new home, so I've got a lot to get done in the girls' room before I leave!
Are you a fellow ORC Guest Participant? I've written a guide (which you can read here) and designed a printable planner to help get you organized for the challenge! Simply put in your email below to have the PDF planner emailed to you: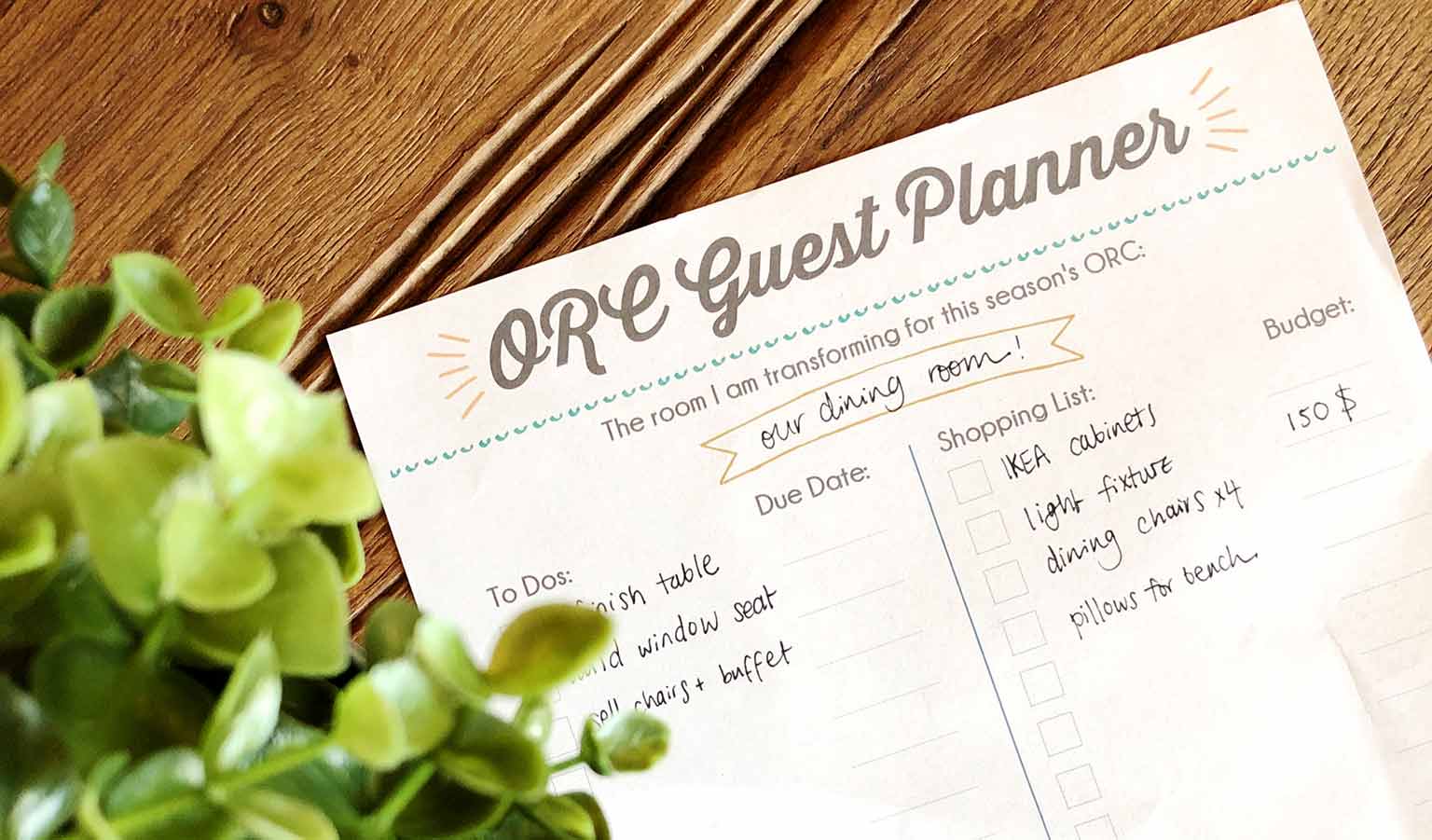 And of course, you can view all the other talented guest participants here—head on over and show them some love!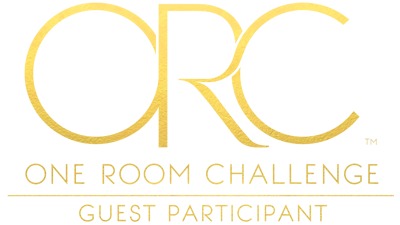 ---