This post is sponsored by Joss & Main. All opinions are my own.
It's no secret that the one space that I have struggled with over and over is our backyard. I naively promised a reveal two years ago, but then took a few steps back as we learned what works and what doesn't work in the Florida humidity. After knocking out the final few tasks on the list, I'm thrilled to be sharing the reveal with you—even if it's a little later than I wanted it to be!
The backyard really has been a trial and error process for us. This is the first home we've owned and there have been some decisions along the way that we wouldn't make again if we had a do-over—but it's all part of the adventure that is home-ownership. We have bought several pieces of furniture that haven't survived (RIP), and learned how to keep on top of maintenance so that it doesn't get too out of control. This space has evolved slowly over time, with a much more layered and "mix and match" feel than we were first intending—and I have to say that like it that way!
Related: Planning a Backyard Space
Anyhow, we are finally at the "reveal" stage and it turns out that the final push I needed to get this project "done" (for now...) was a little help from Joss & Main. I decided to replace our huge 8-10 person dining table with something a little smaller. Why? Well, we do love to host friends (when we are not social distancing), but it always ends up being a casual affair. I can't think of a single time that we have used this big ol' table for a dinner party—which was my original plan for it. However, our family of four often sits outside at the table to eat dinner, and it was just too big for us (and probably a little oversized for the space, too.)
Here's the table in question: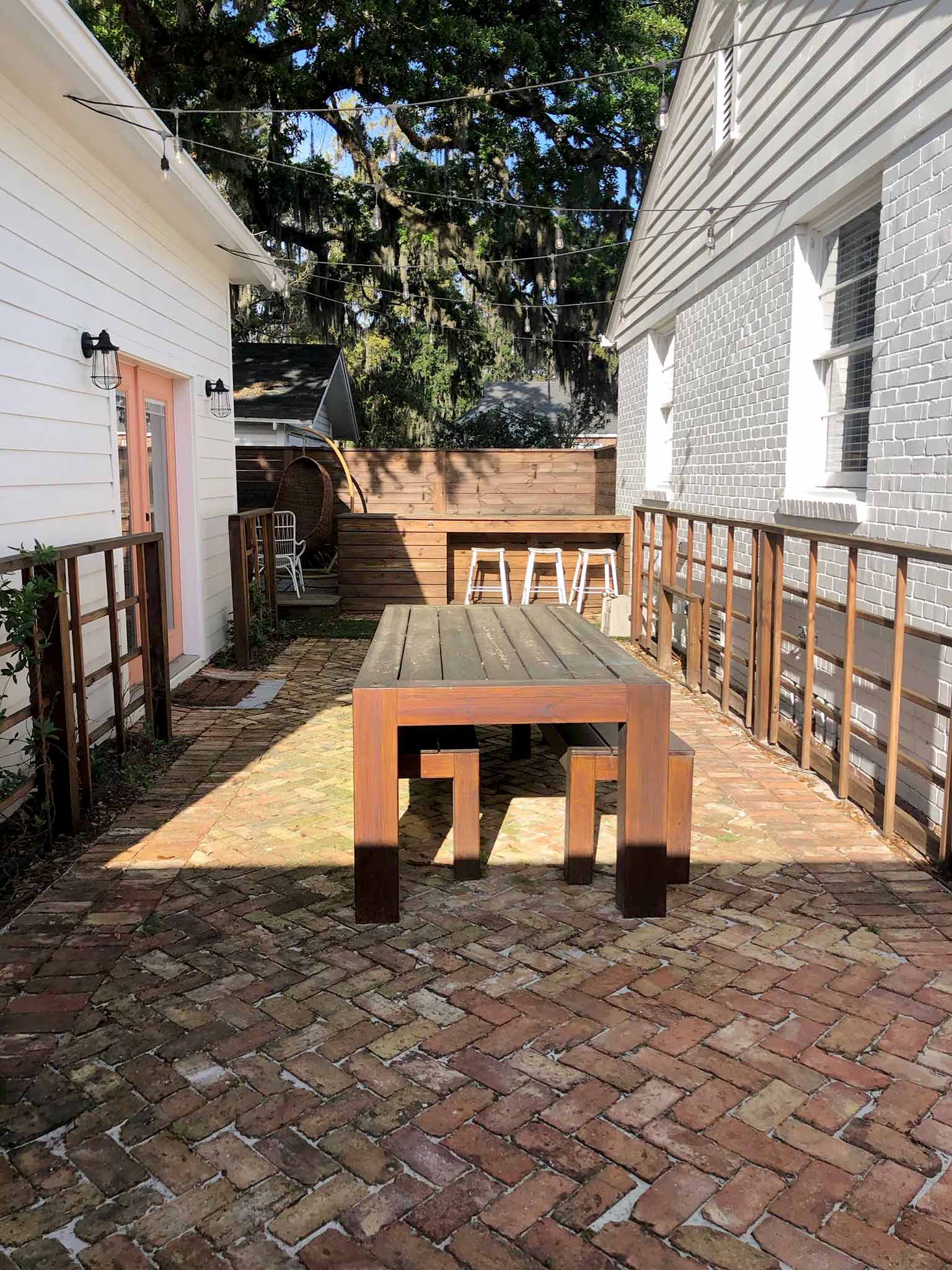 And here's our updated dining space with the new dining set courtesy of Joss & Main!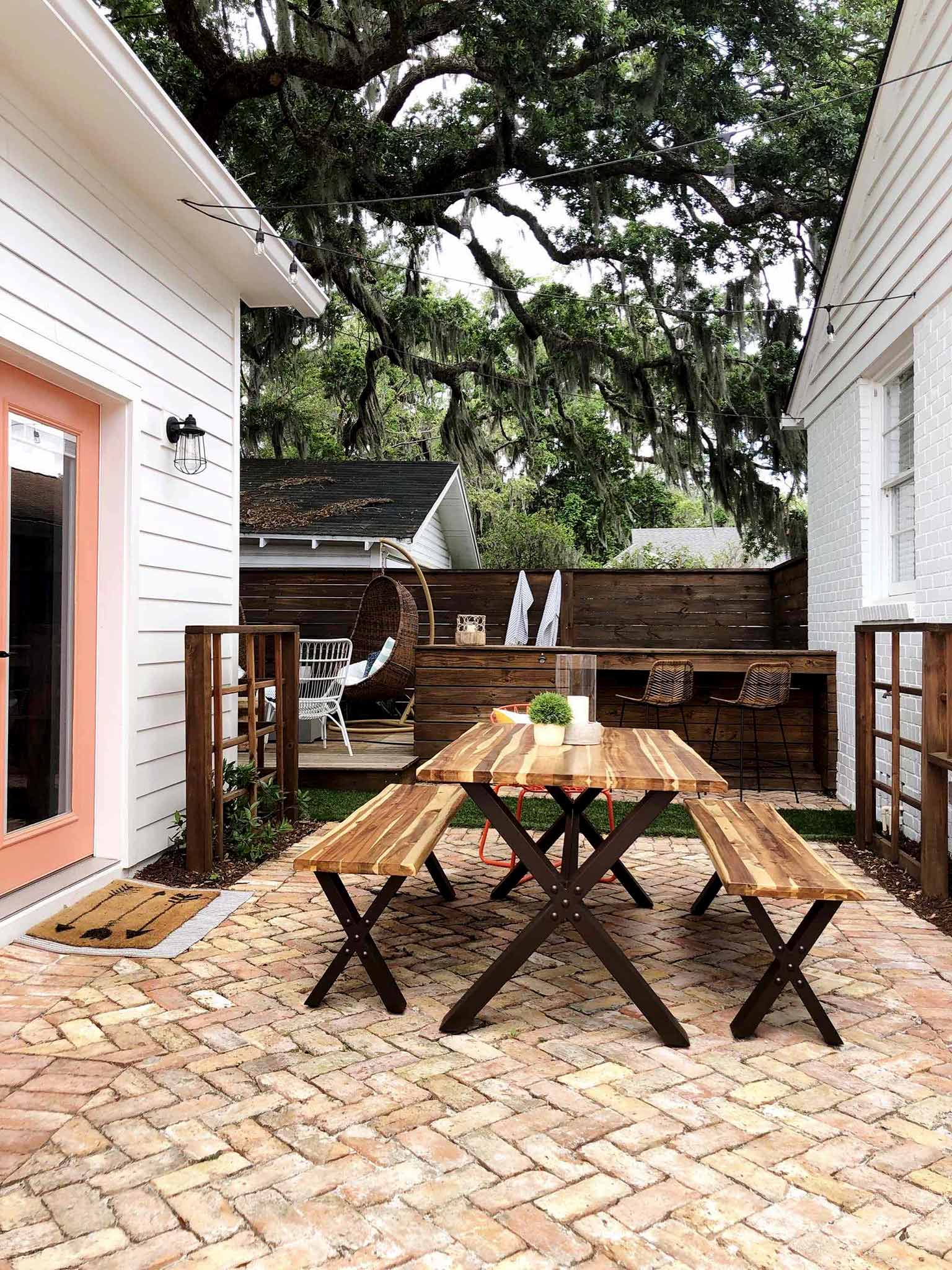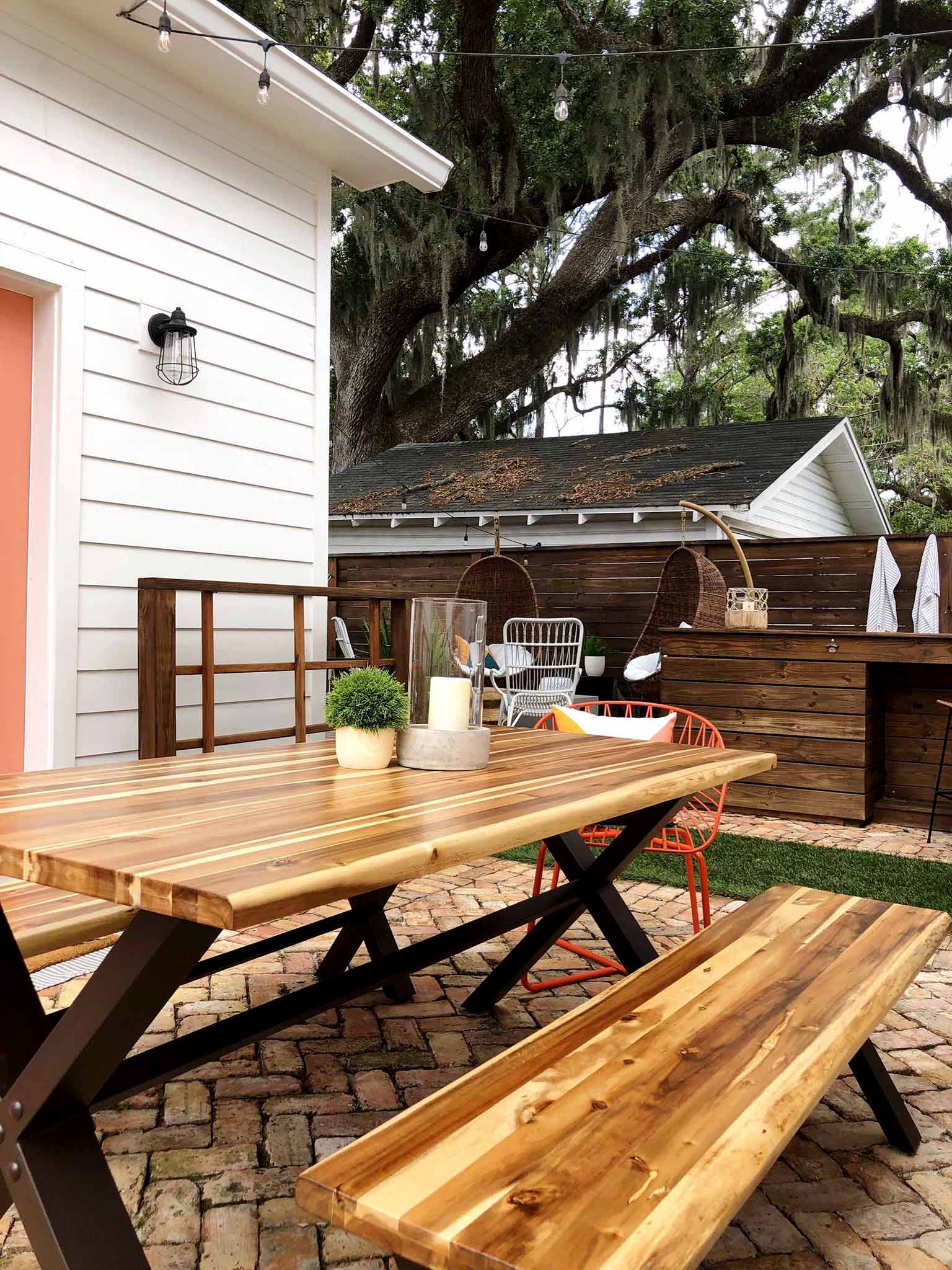 Doesn't it look so spacious now? I feel like we've gained an extra patio!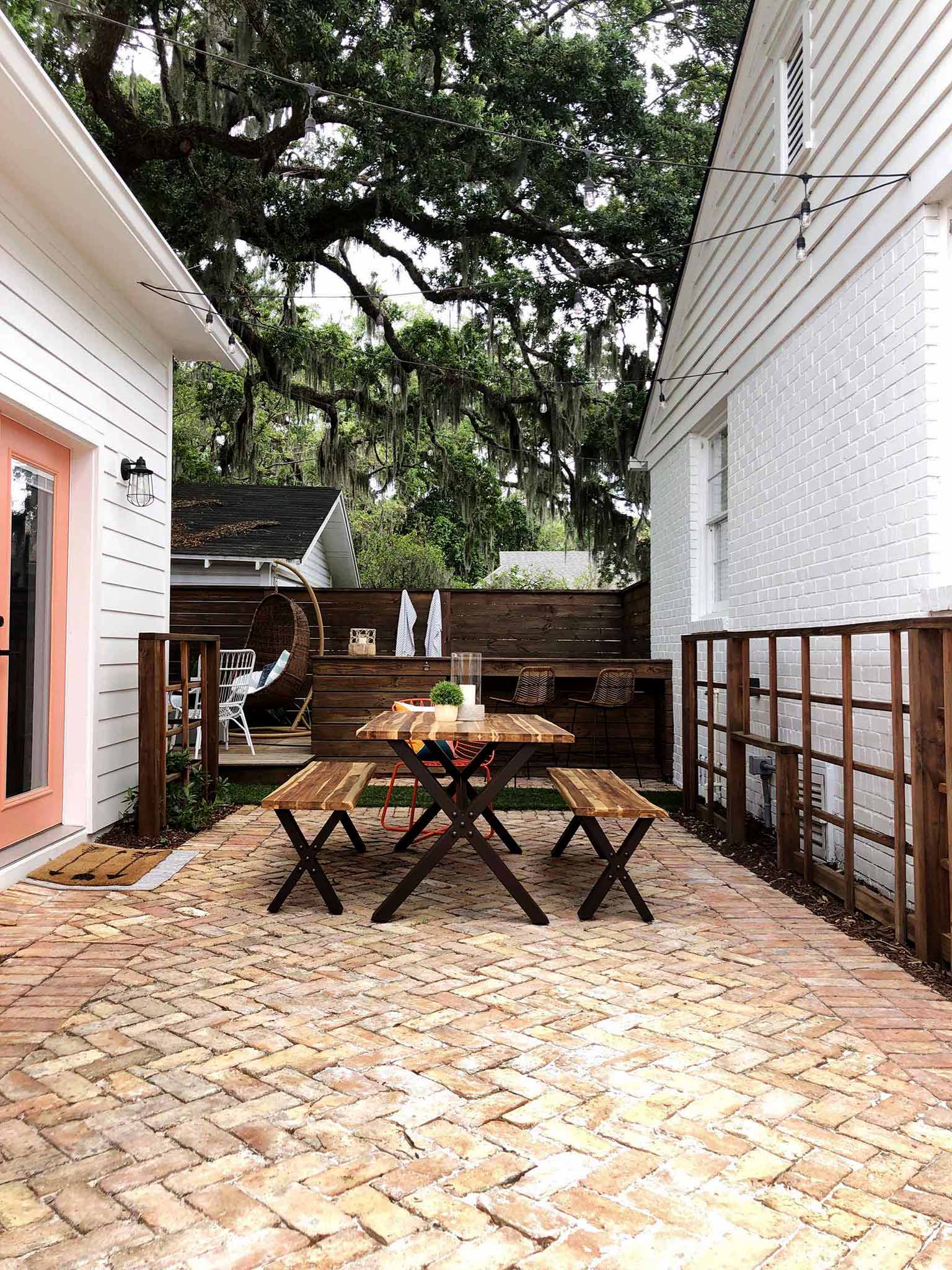 In addition to updating the dining table, I also cleaned up the brick (again), and we added plants and mulch to the trellis beds—I can't wait for them to grow and fill in!
Related: How to Clean Brick Pavers (And My Love/Hate Relationship with Pressure Washing)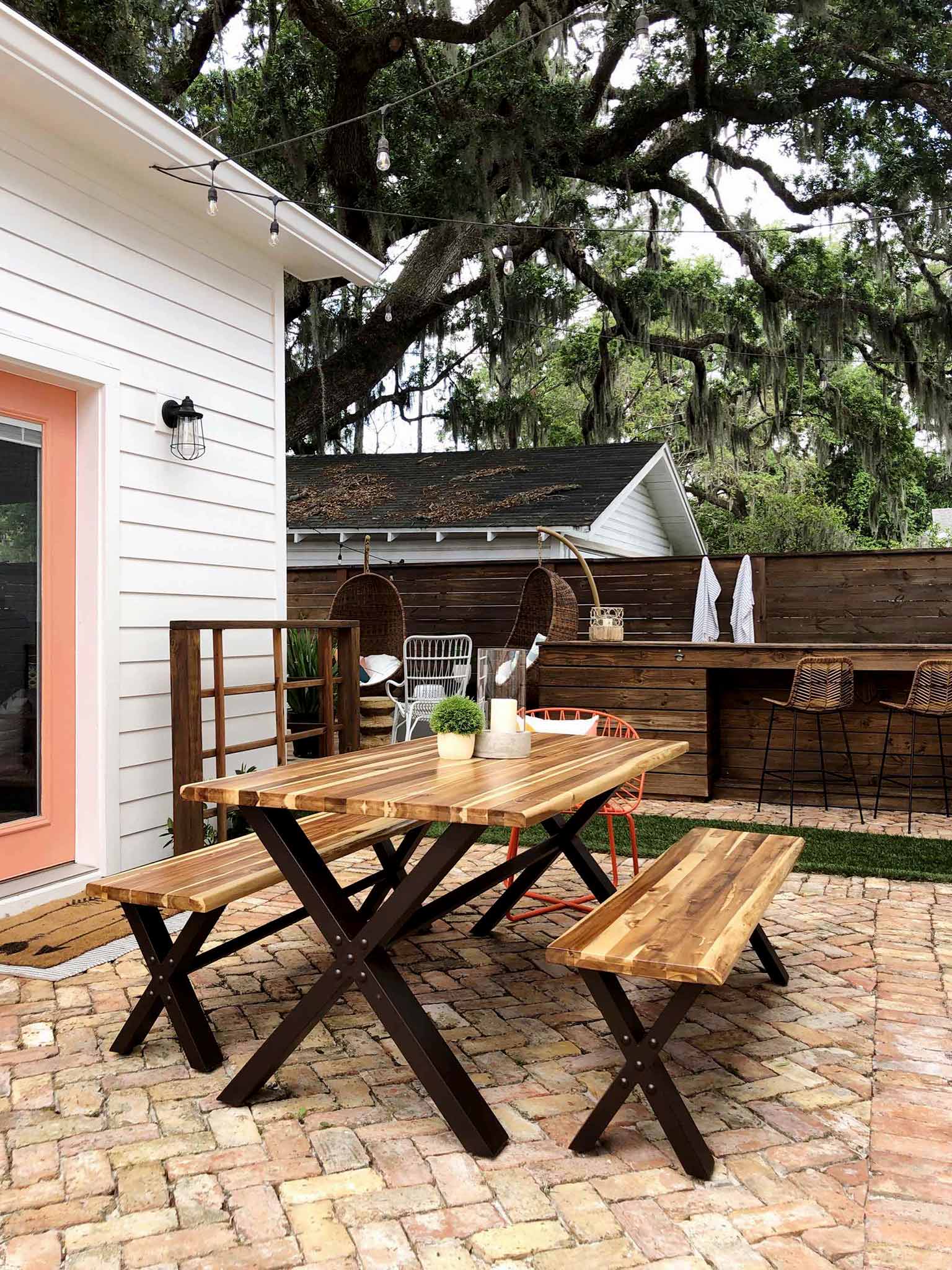 Knowing how wooden furniture tends to hold up in the Florida humidity, I decided to get one step ahead of it by lightly sanding the table and adding a few coats of an oil-based sealer that I'm confident will do a good job of protecting it! Any if not, the wood is excellent quality so I can sand it back and reseal as necessary. The table and bench legs are powder-coated metal—nice and solid and, most importantly, rust resistant!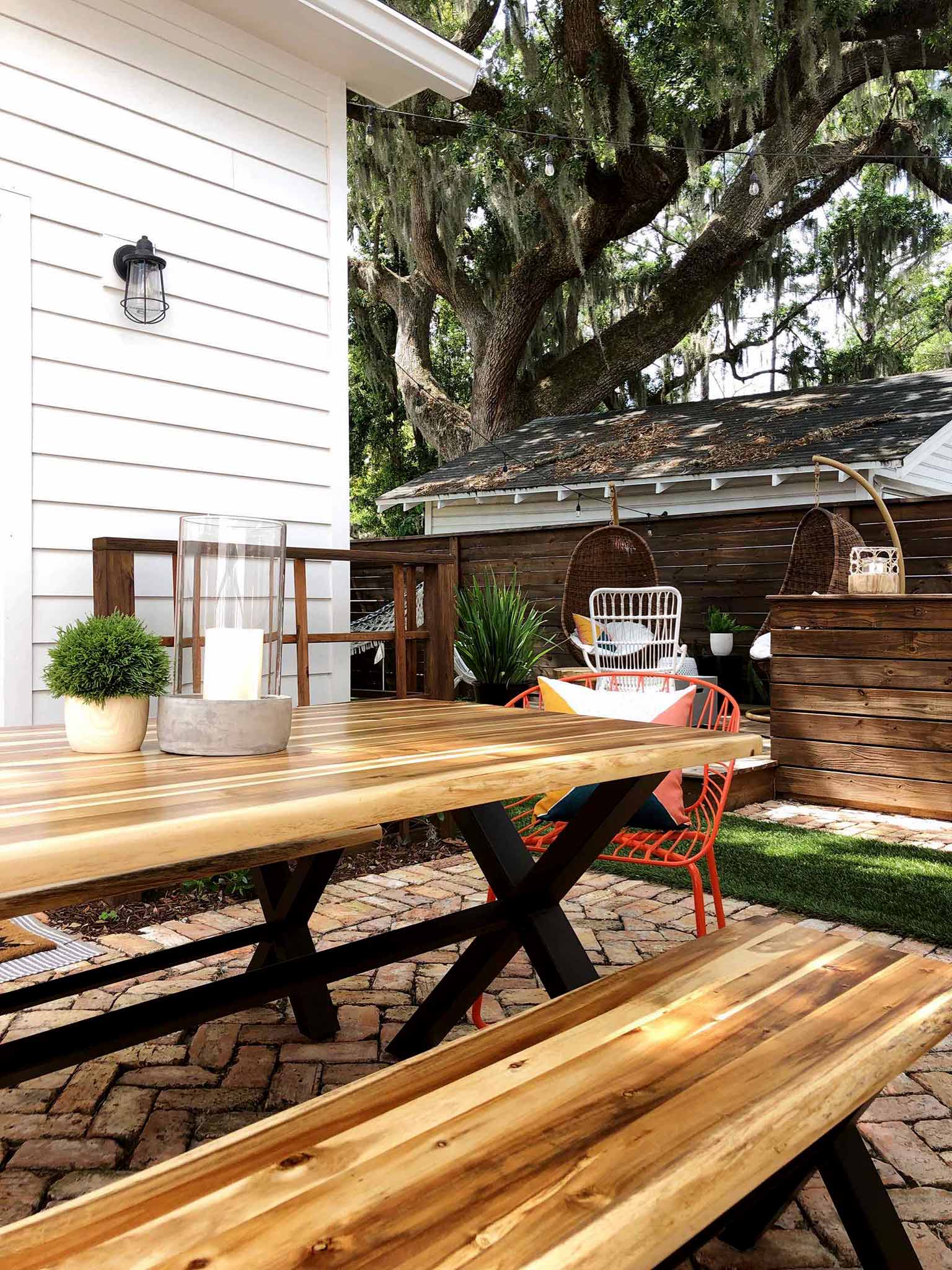 Since I'm sharing the dining patio, I'll give the rest of the backyard a moment to shine as well. We gave it a good clean up and although I'm spotting things we need to re-do (for example, the deck could use a fresh coat of stain) there's nothing that feels so urgent that we can't enjoy it right now. I'm learning that the backyard is a constant process—you can't just finish it and leave it like you would do a room makeover, because there are other elements involved (like that big gorgeous oak tree!)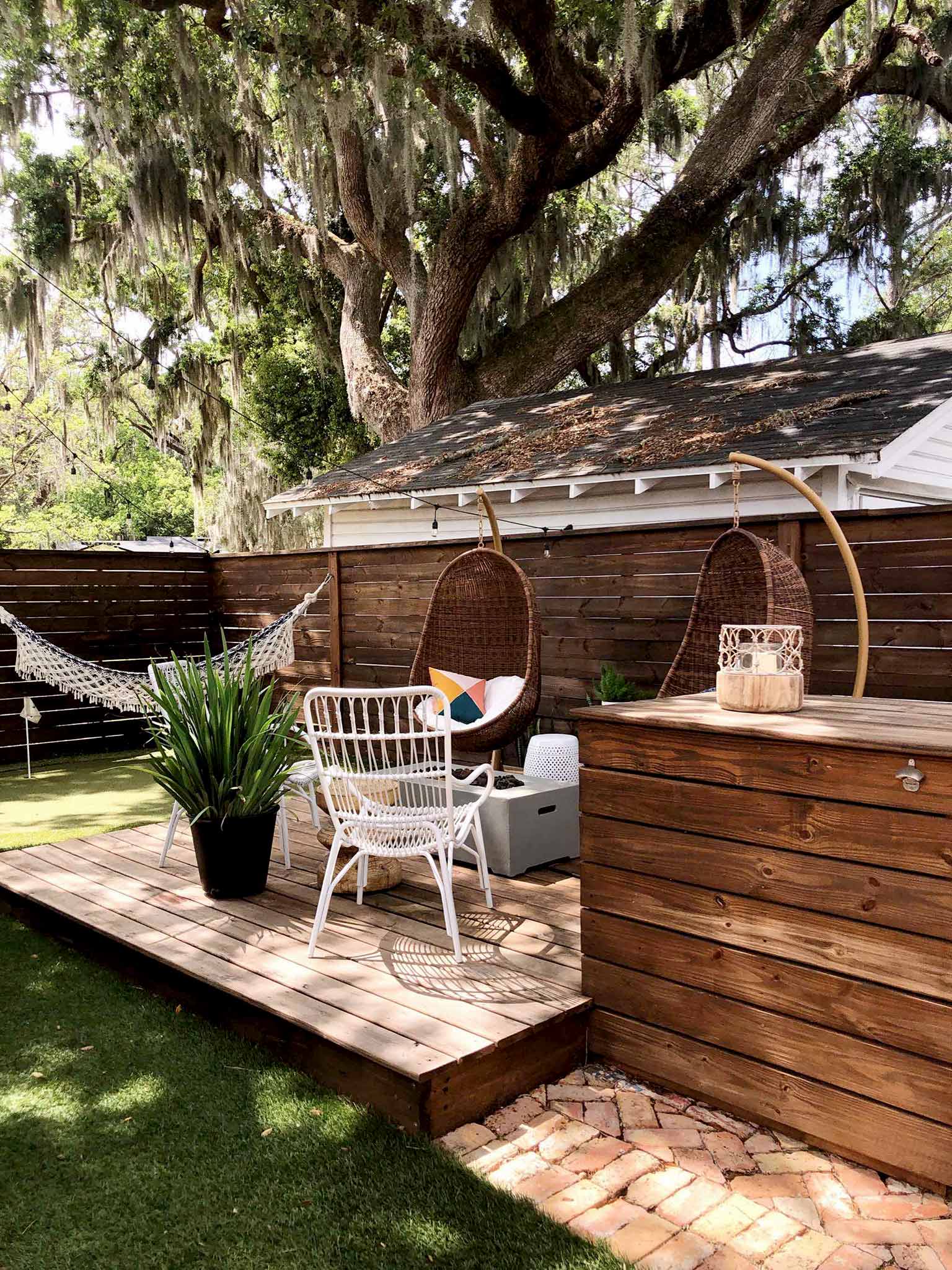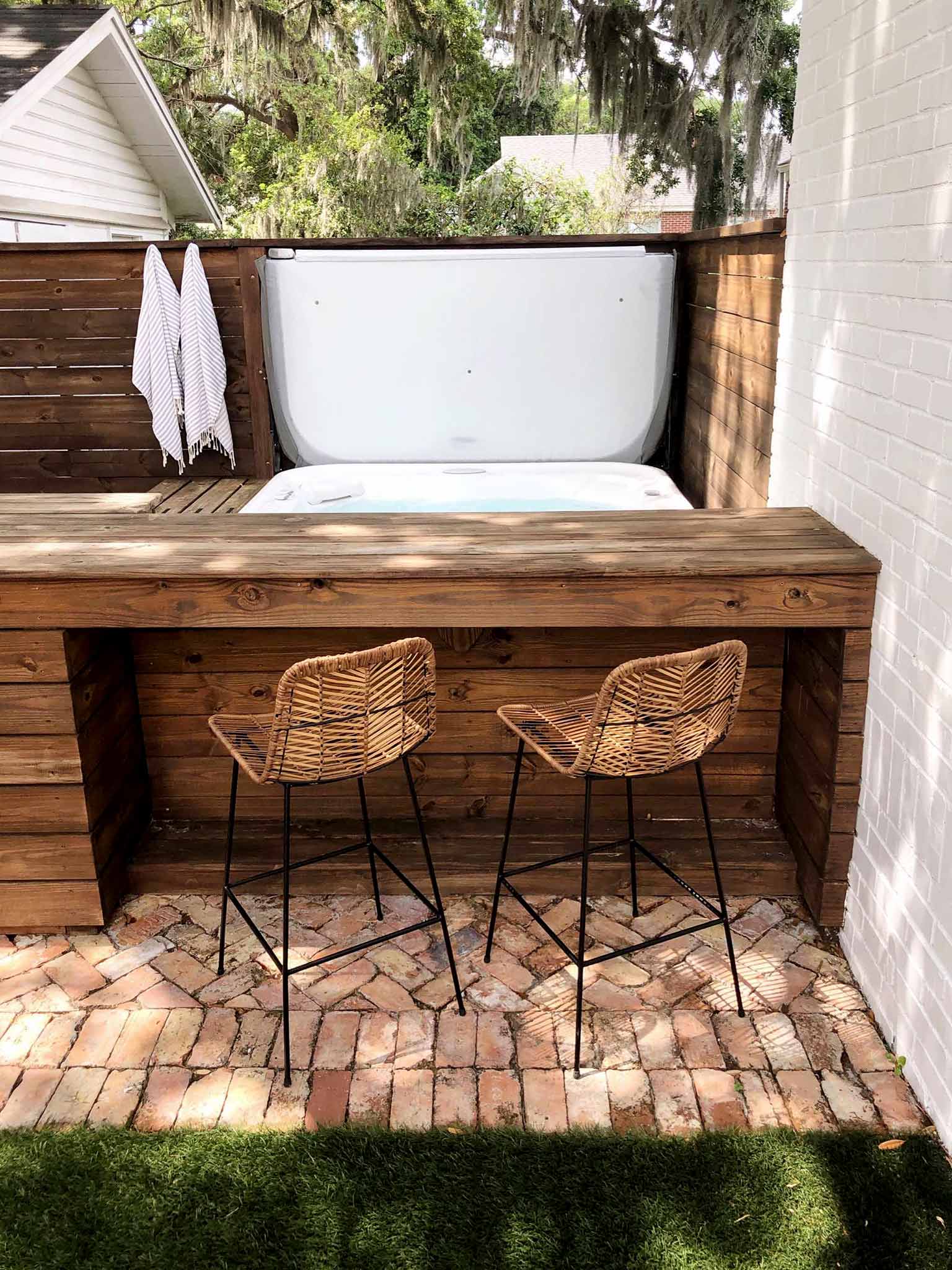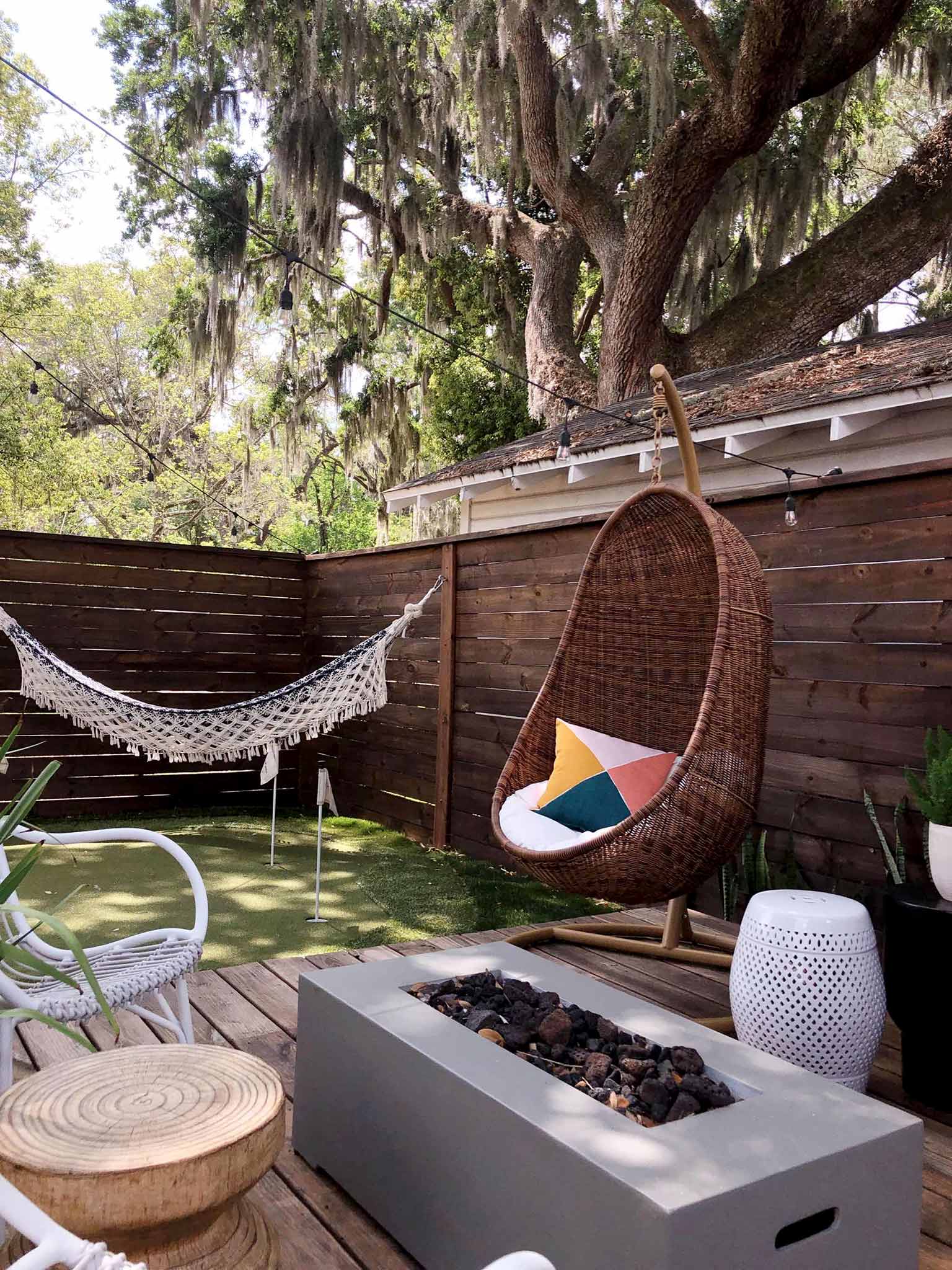 I love the way all the pieces I've purchased over the last few years are working together. I love the mix of materials, textures and tones in this space, with pops of color in the accessories and bright coral doors.
But my favorite thing of all? The way everything comes to life at dusk under the soft string lights.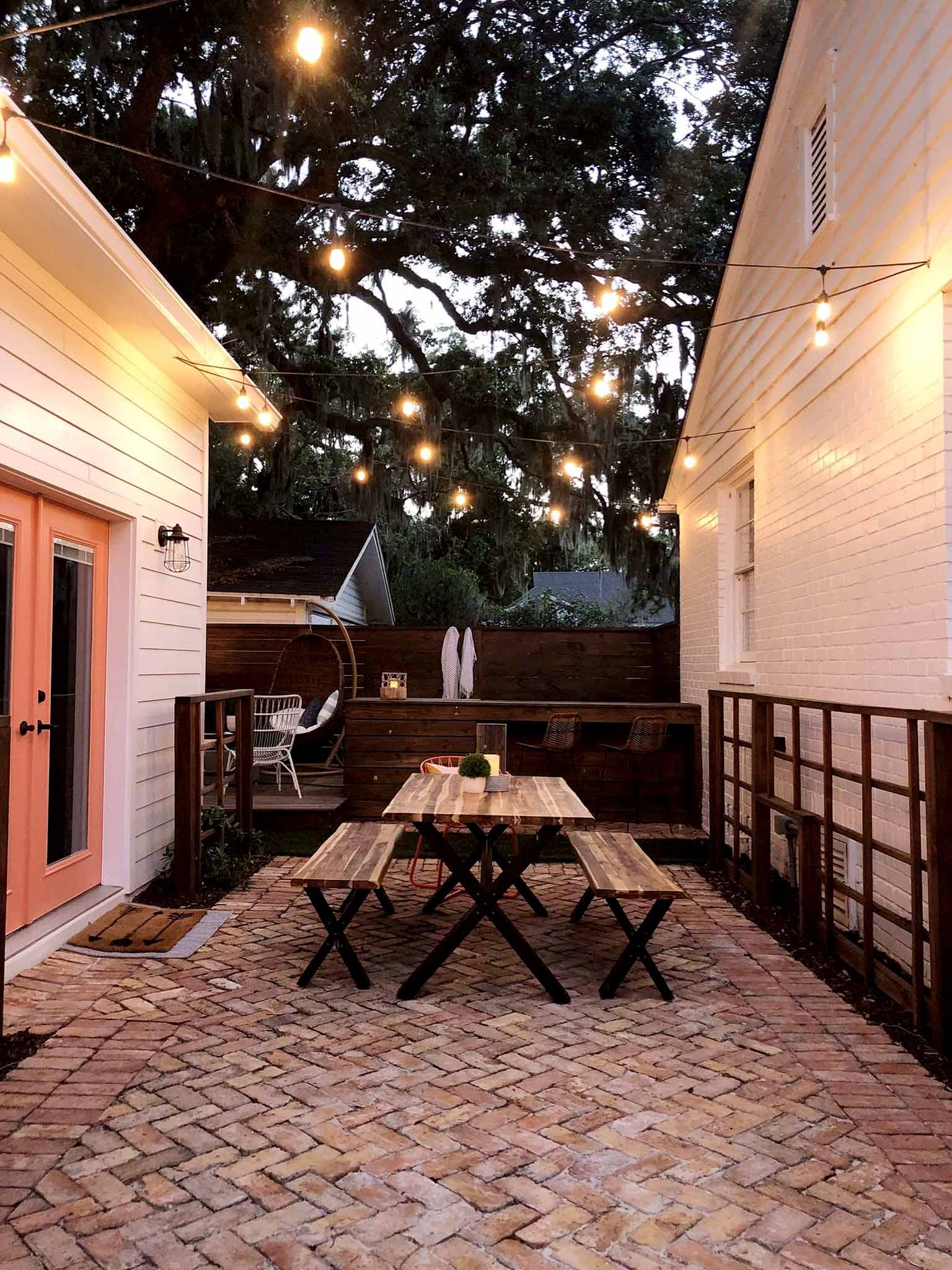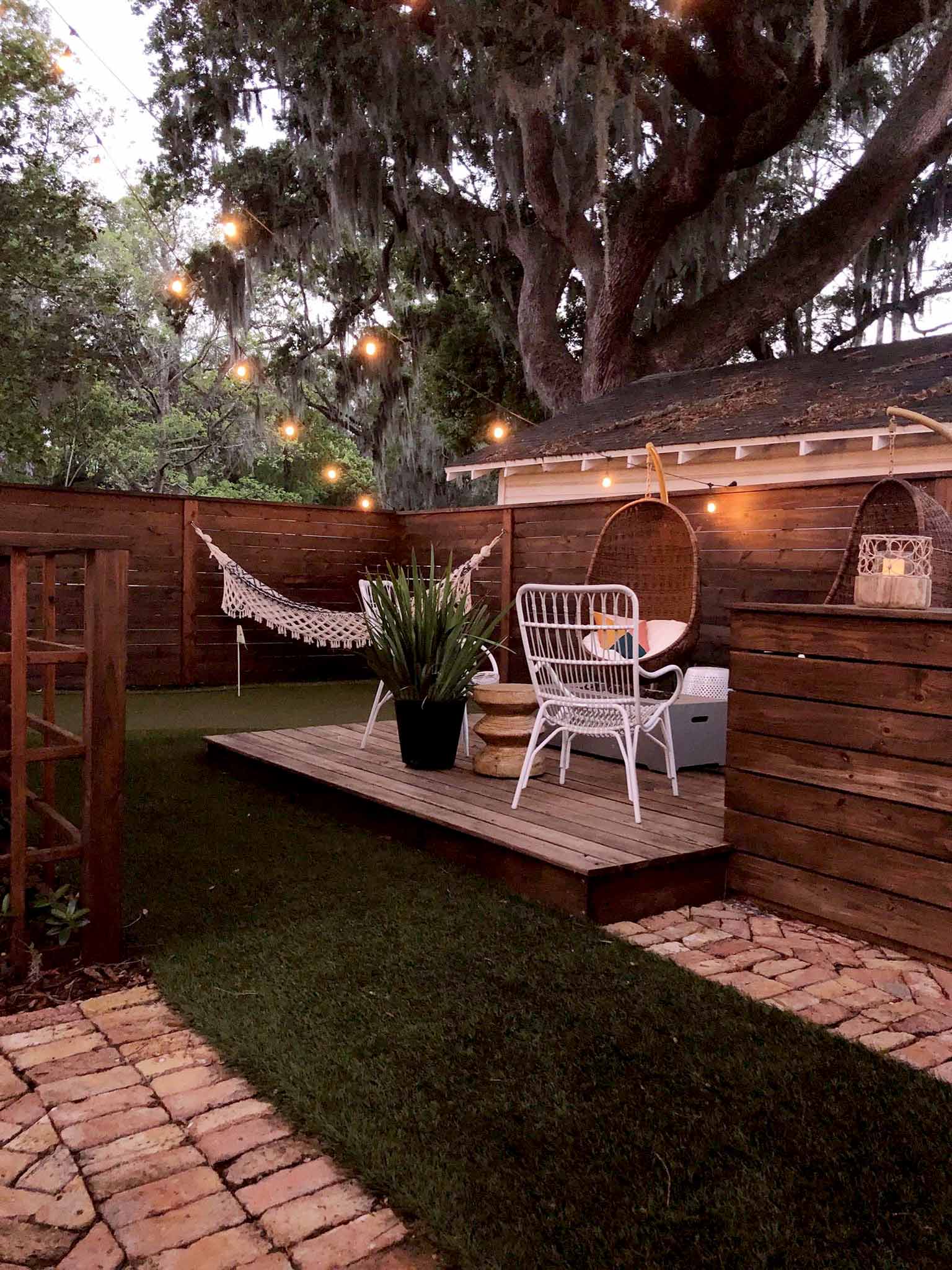 Finally, a note about styling: I've tried to keep it VERY simple out here. All those gorgeous Pinterest images that I was originally drawn to with layered rugs and pillows and throws everywhere—that's just not going to work in reality. At least, not in our climate. I've had to compromise, and I'm ok with it, because I want to actually USE this space, not spend all my time maintaining it. Because isn't that what creating a space you love is all about?
Big thanks to Joss & Main for helping me finish this space! The timing couldn't be better since we are spending so much time at home. If you're looking to update your outside space, I highly recommend checking out The Outdoor Edit at Joss & Main. And friends, we can't wait to have you over...when it's safe again. In the meantime, stay well! <3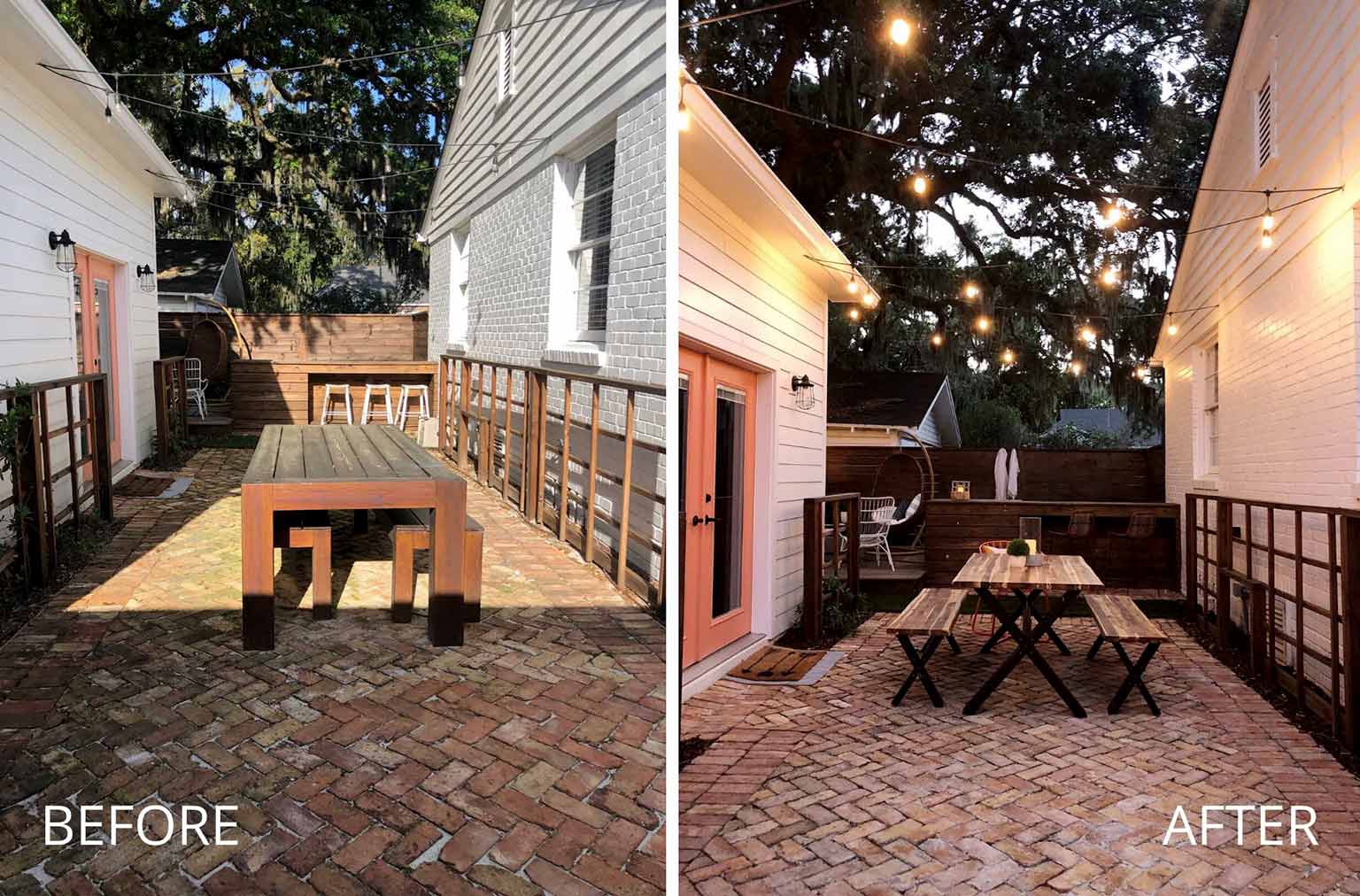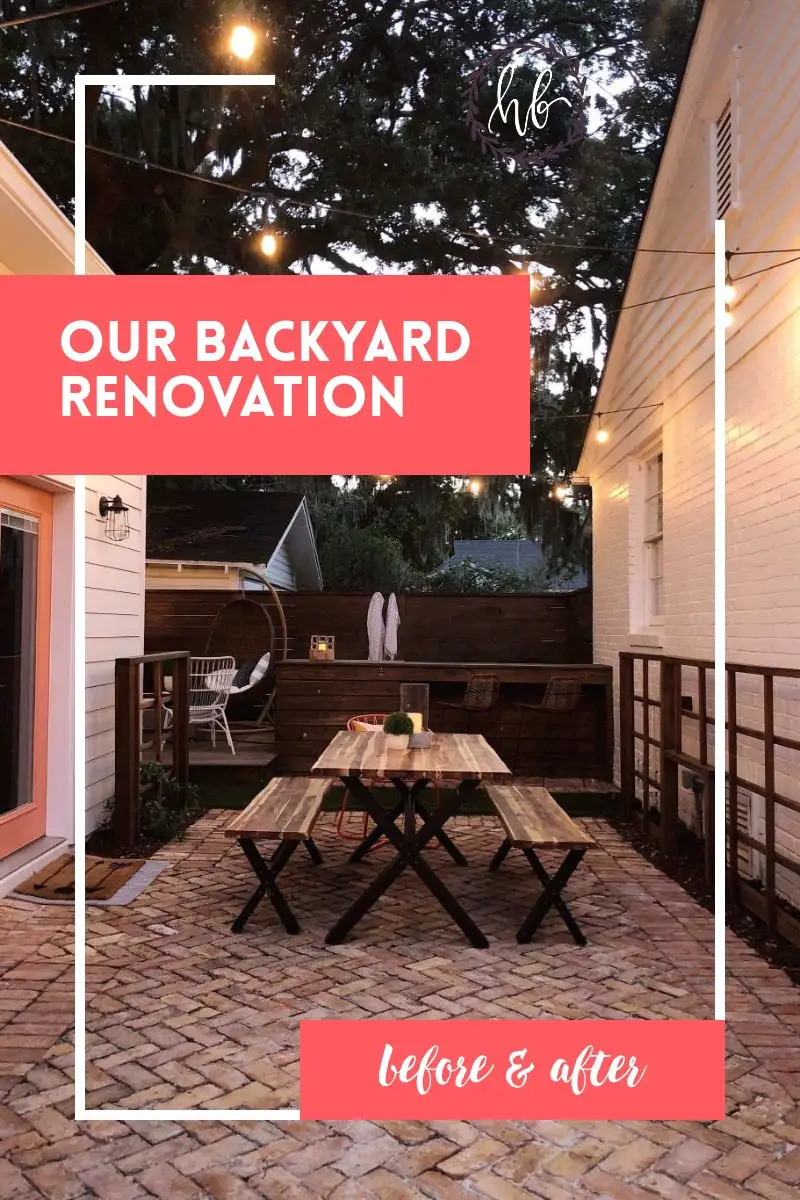 ---