We're around ten months into plans our new home (yes...it's taking some time!) and that's given me some time to make tweaks and adjustments here and there to the finishes. There has been absolutely no need for me to rush into any decisions given our build timeline!
Some changes have been subtle, and you might not even notice them if I didn't point them out. But in the case of our primary bathroom there's been a complete change of direction.
WHY CHANGE IT??
I really liked the original plan, but it wasn't quite sitting right with me, and I couldn't quite put my finger on what it was. That "gut feeling" is so important to me in this house build process—if I don't feel good about something, I can't help but keep trying different things out until it feels right!
As I played around with different combinations of finishes and went down a rabbit hole of tile, I came to the decision to start with a blank slate, and the new version came together from there.
TILE CHOICES
I thought I had my heart set on patterned tile for the primary bathroom, but since I'm using it in every other tiled room in the house (!!) I decided to do something a little different in here. I played around with using a geometric shape on the floor vs. a patterned tile, and found some hex tile that I liked. When I went to the store to check it out in person, I stumbled upon a rhombus shape which worked perfectly with some pretty special marble mosaic tile. (Budget tip: save those $$$$ splurges on smaller area like a shower floor or niche!)
For the shower surround, I landed on some textured tile a couple of shades darker than the floor for a tone-on-tone look: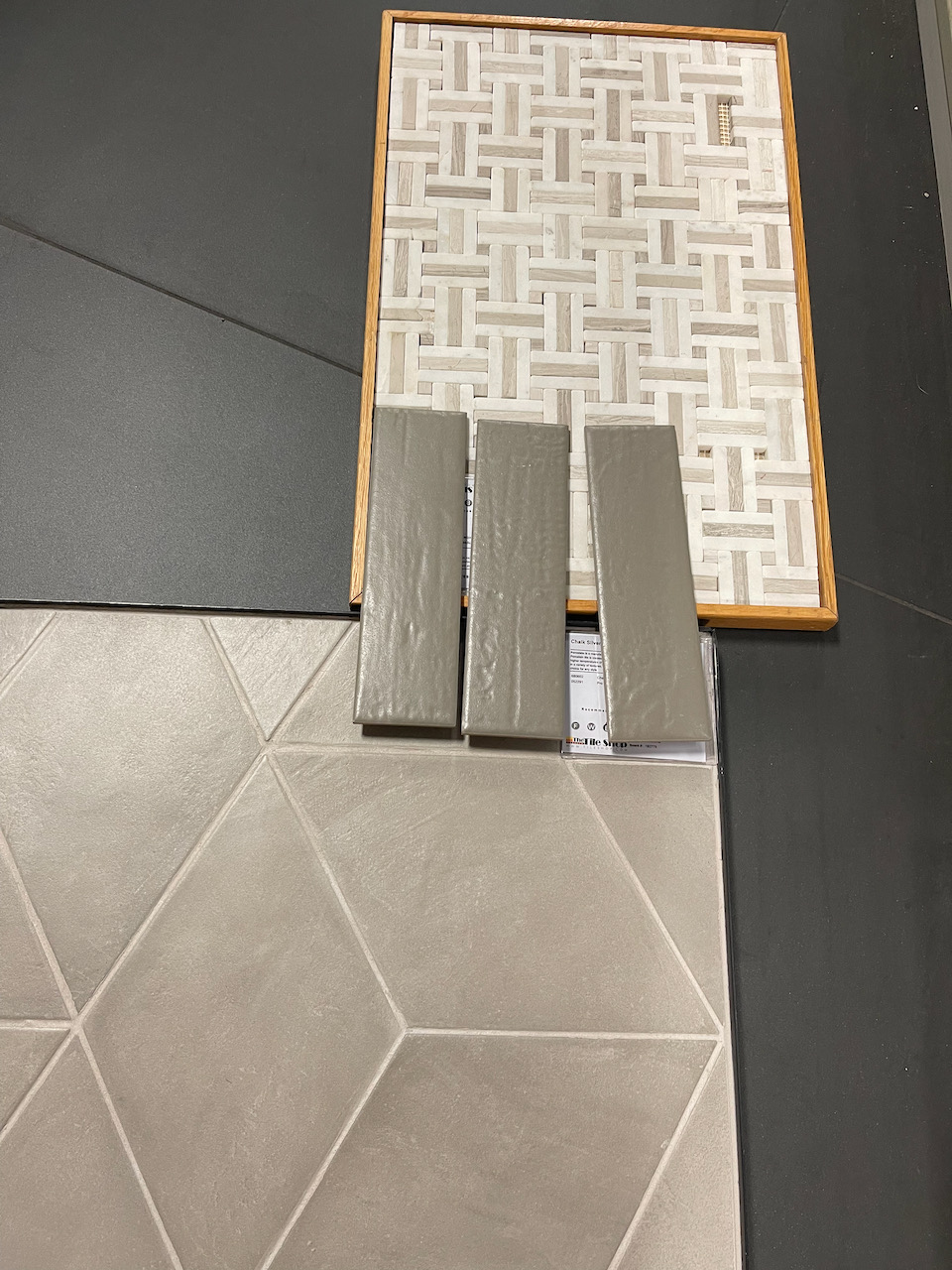 WALL TREATMENTS
Since I am going pretty neutral with the tile color palette, I wanted to add a fun accent of color and pattern with some wallpaper in the water closet. I'm going for something bold and organic, to add contrast to the geometric tile shapes. Here's my shortlist, and how they'd look alongside our tile choices: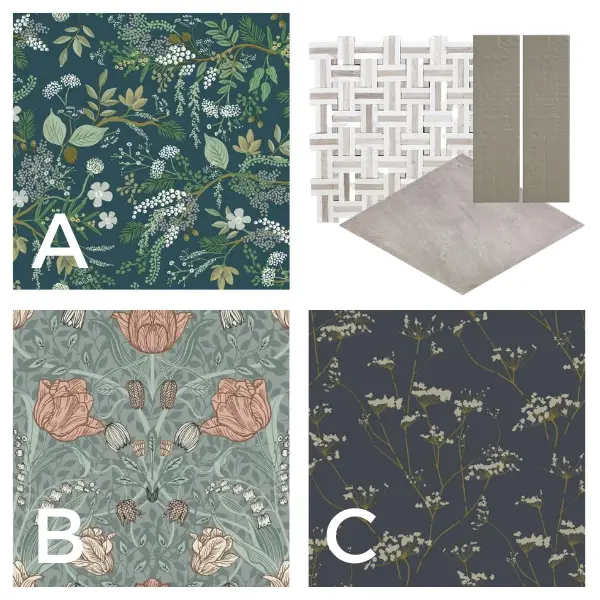 I'm leaning towards option A, but wallpaper will likely be installed after the build is complete, so I don't have to make a decision on it just yet.
I orginally planned on doing a half wall of vertical paneling to break up the pattern, but that isn't going to be possible with the pocket door framing, so it will be floor to ceiling wallpaper. (Go big or go home, I guess?!) And although we can't do vertical paneling in the water closet, I'll be adding accent walls behind the bathtub and vanity.
Related: A Guide to Choosing Wallpaper for Your Home
METAL FINISHES
Somewhere along the line, I made a decision to switch to oil rubbed bronze for all the interior door hardware. This meant that the matte black plumbing fixtures needed adjusting, as I didn't want to mix the black and dark bronze in one space. I'm sticking with the same fixture line (Kohler Purist) but I'll be going with "vibrant brushed bronze"—at first glance it looks very similar to brushed nickel, but it's got a much warmer undertone which will look great with the tile selections.
Here's the Kohler finish sample next to the brushed nickel handles in our apartment—see the difference?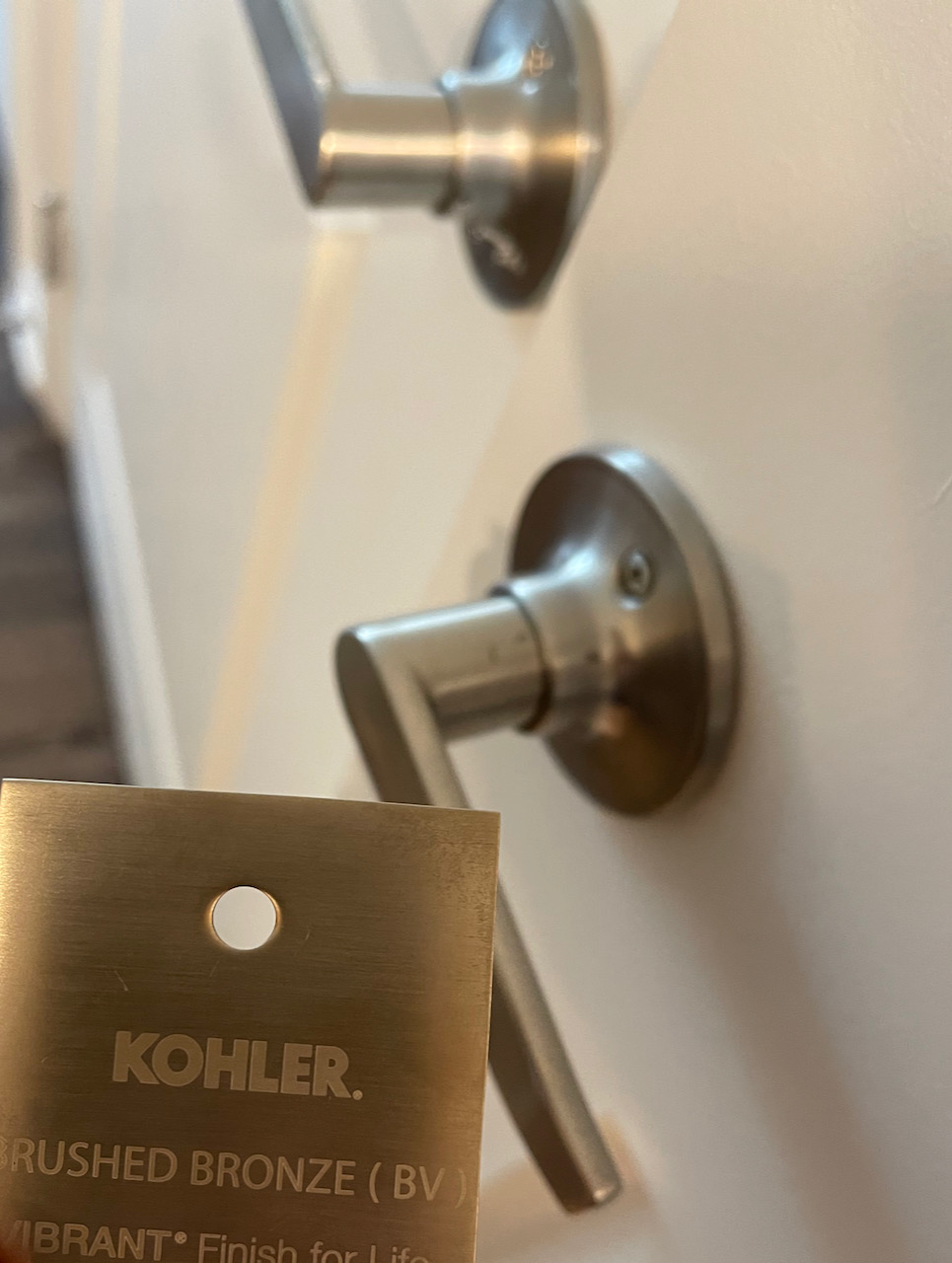 Since the metal tones in here are quite subtle and muted, I'm adding some polished nickel mirrors as an accent.
Related: Vanity Mirror Round-Up, and Some Thoughts on Mixing Metals
THE MOOD BOARD
Ready to see an updated moodboard?!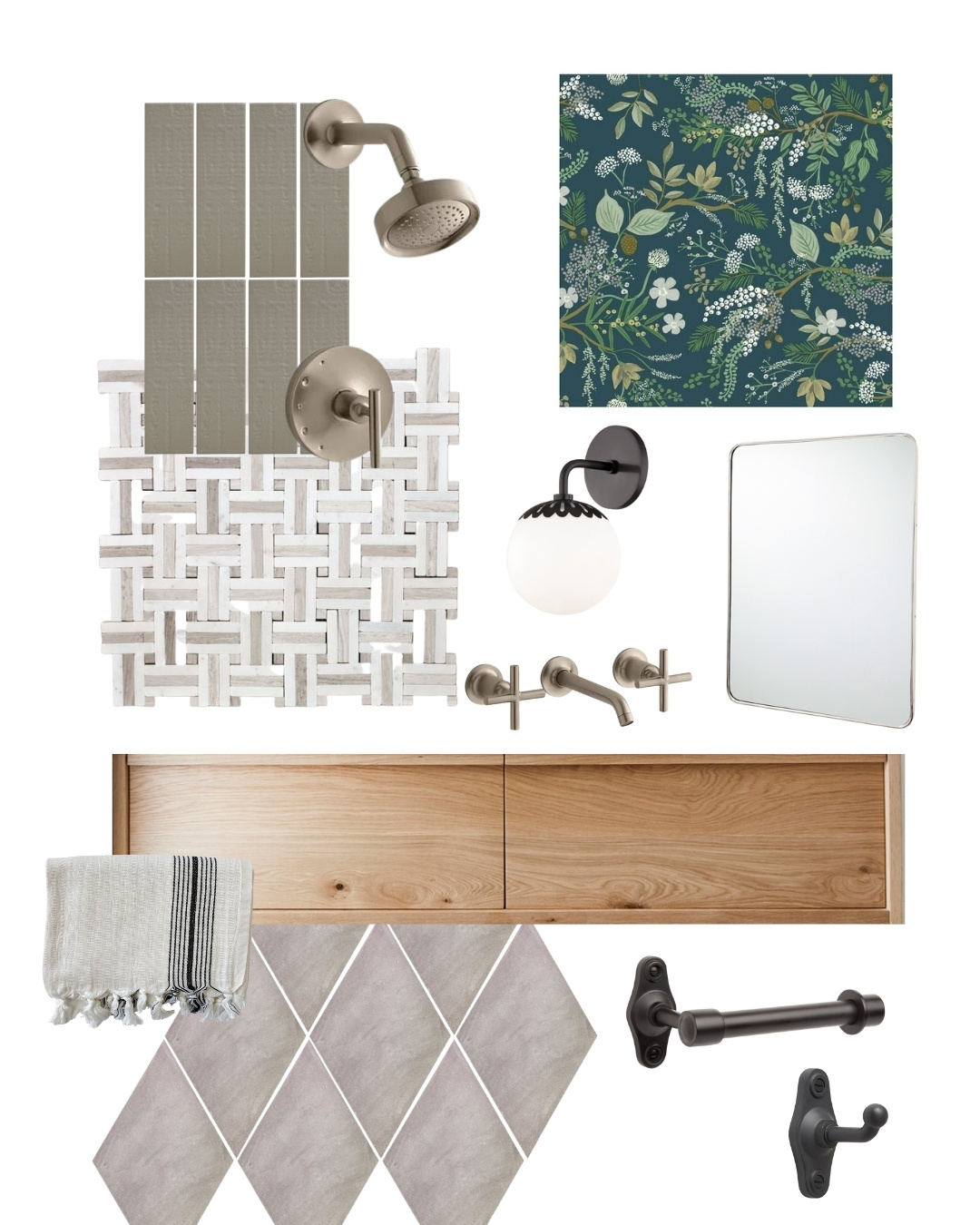 I've said it many times, but I think one day I will be grateful for the delays to our build. As frustrating as the waiting feels sometimes, the extra time to mull over decisions and ideas has been a huge advantage. I'm pretty confident that this version of the primary bath design is "the one"...but watch this space to find out!
---