There's two types of people in the world...those who make their bed each morning, and those that don't. I used to be the latter, but after having kids making my bed felt like a simple thing that I could do to take care of myself in a tiny way. It made me feel like at least one thing was checked off the list.
A few years later and it's turned into a daily habit that I don't even think about—it's automated. I'm trying to encourage my girls to develop the same habit...but they are less enthusiastic about it than me. Oh well.
I thought I'd share my "bed-making formula" layer by layer—it's simple, but it works for us. It's changed over the years a little, but since refreshing our primary bedroom at the beginning of 2020 it's stayed pretty much the same, so I feel like I've landed on a solid combination that I won't be changing anytime soon. I love that it looks put together, but it never takes me more than five minutes to make.
LAYER ONE: A GOOD SET OF SHEETS (TOP SHEET OPTIONAL)
In the last year or so I have acquired two really great sets of sheets, and what a gamechanger they are! (Annnnd I just realized how grown-up that last sentence sounded.) I have a set from Cozy Earth which are 100% bamboo. I love them because they are super soft and bamboo is temperature regulating—they are my favorite option for summer since it's oh-so-humid here.
My other set is a luxe sateen set from Brooklinen, and they are very high quality and luxurious—I think they are excellent quality for the price. I have the windowpane print, which I love because I can get my sheets lined up "just so."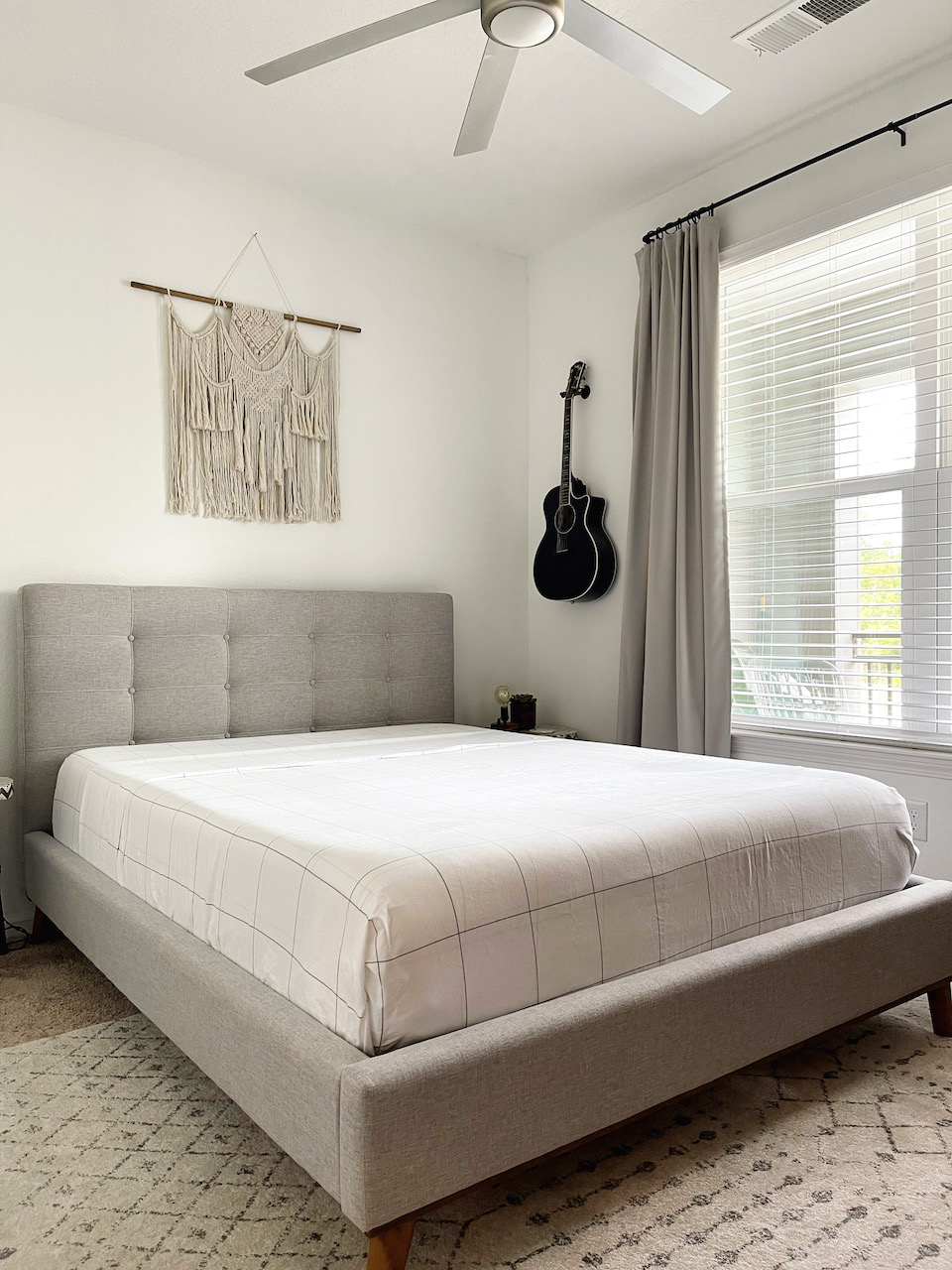 A note on top sheets: obviously, this is personal preference, but I'm a top sheet fan out of sheer laziness, because it extends the length of time that the duvet cover can go between washes. And speaking of duvets...
LAYER TWO: DUVET OR COMFORTER
Duvet or comforter? There is no right or wrong, it's just personal preference. I love the fluffiness and relaxed style of a duvet, but it's also just what I'm used to as a Brit! We have a couple of different weights of duvet that we switch out depending on the time of year.
Styling wise, I tuck the end of the duvet into the bed frame to stop it from shifting around, and leave the sides untucked. Then I fold the top portion of the duvet down, leaving enough room for the sleeping pillows and the first throw pillow (we'll get to that later...)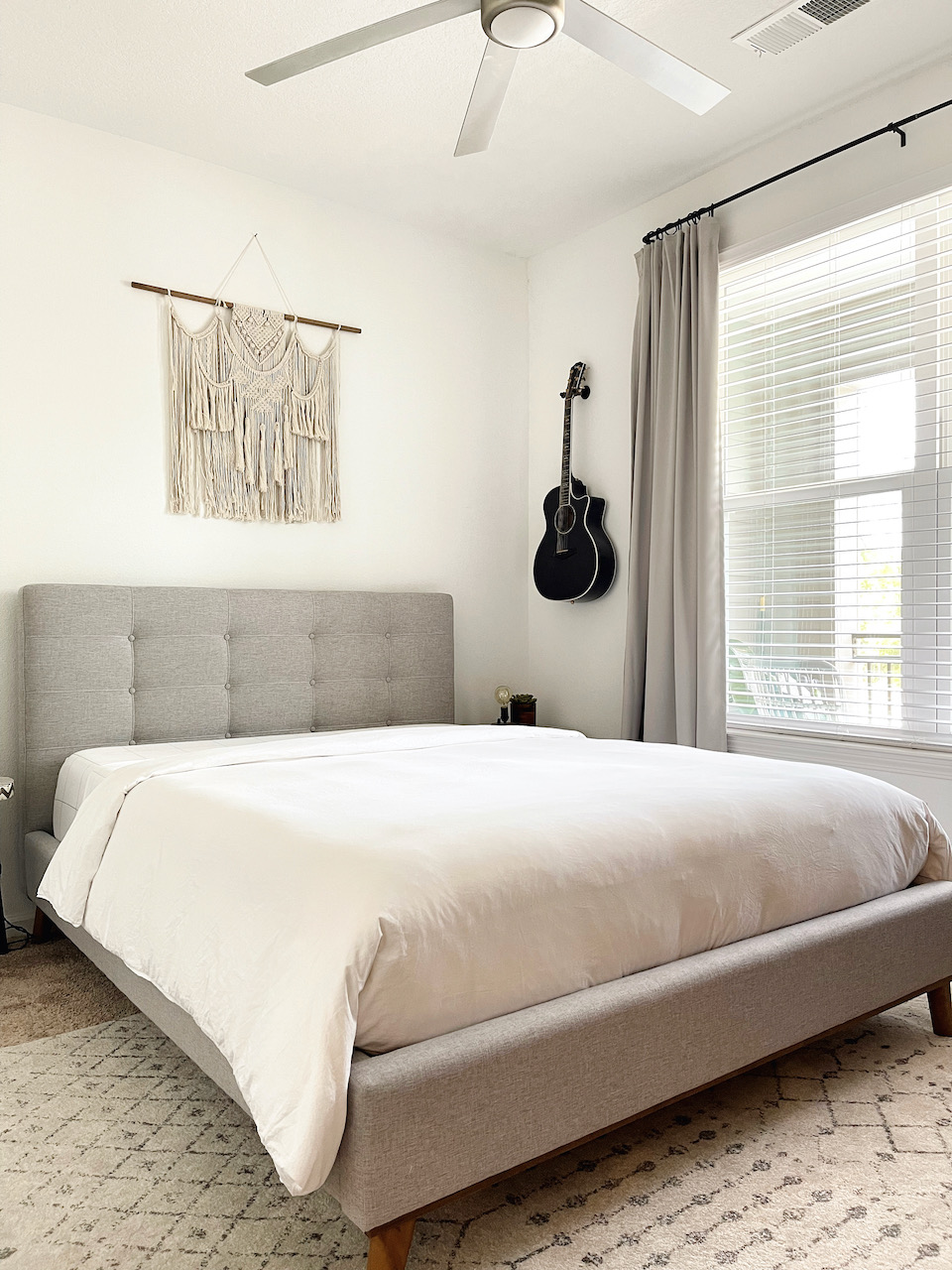 LAYER THREE: STACKED SLEEPING PILLOWS
I like to stack two pillows on each side of the bed, the bottom is the one we actually sleep on, and the top one is a squishier, down-filled pillow using the pillowcase that matches the duvet cover. The reason I stack the pillows rather than standing them up is because it provides a nice stable base for the throw pillows in front. And when speed is of the essence, this matters.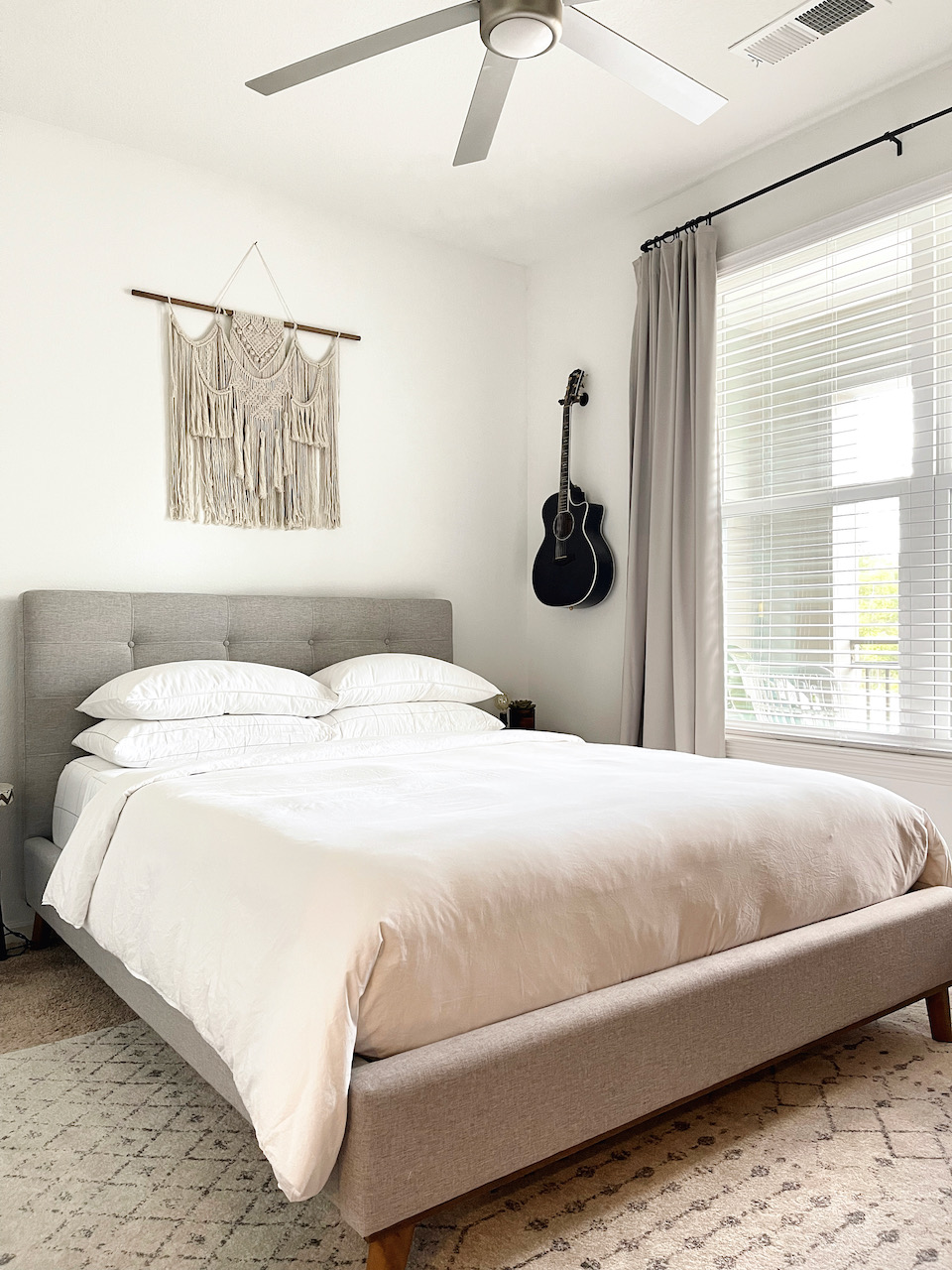 LAYER FOUR: PILLOWS/BLANKETS
I keep my styling simple here as this is a repeating daily task. I used to pile on the pillows, but now I stick to 3 or 4 max. Use inserts that are one size bigger than your pillow cover as it will give the pillow ooomph. A quick fluff and karate chop in the middle gives it a polished look.
I also like to layer in a throw blanket or two, but since we live in Florida they are usually for decoration only—it rarely gets cold enough for us to need them for warmth.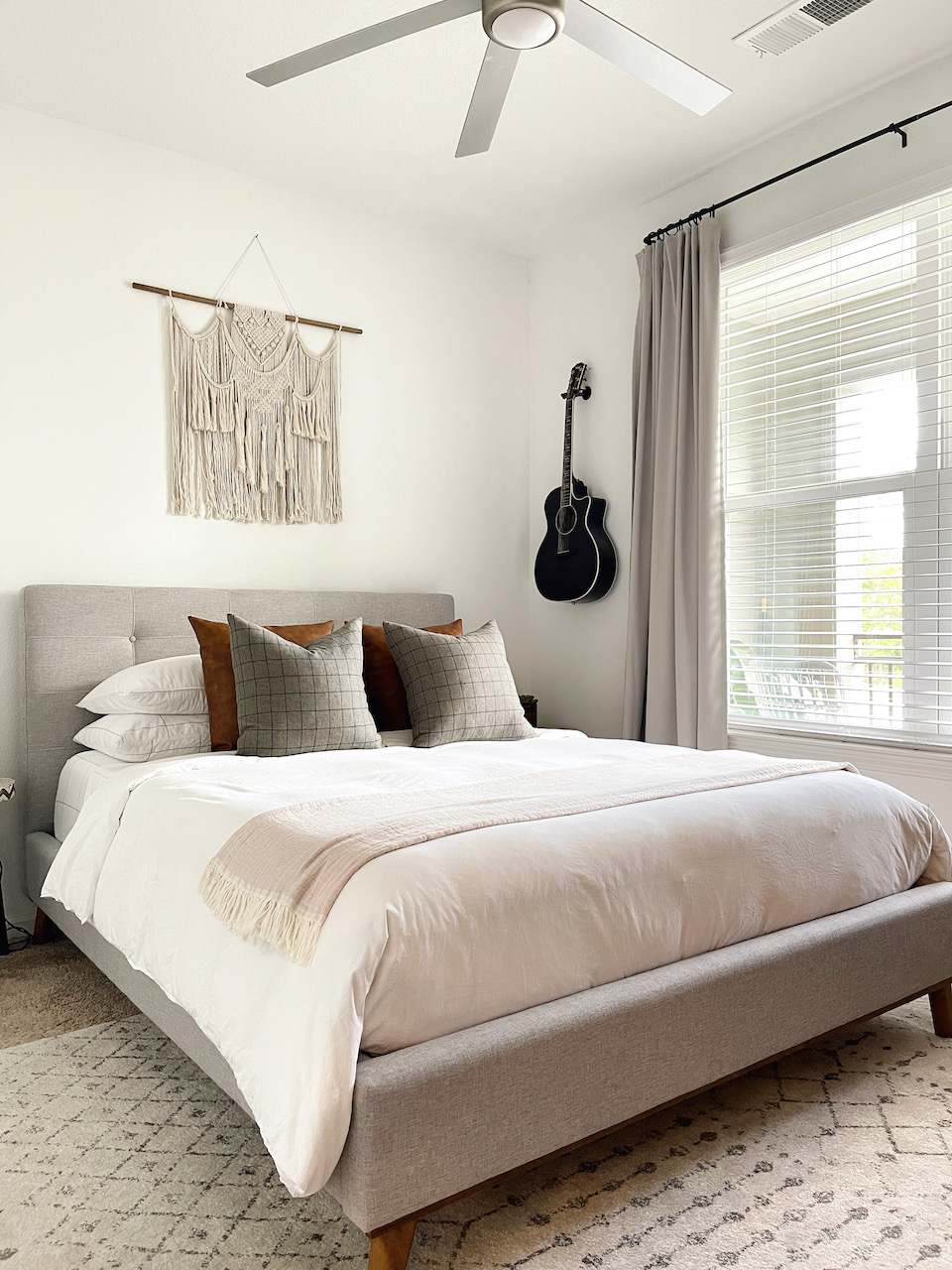 Here are four super simple formulas for styling throw pillows on bed: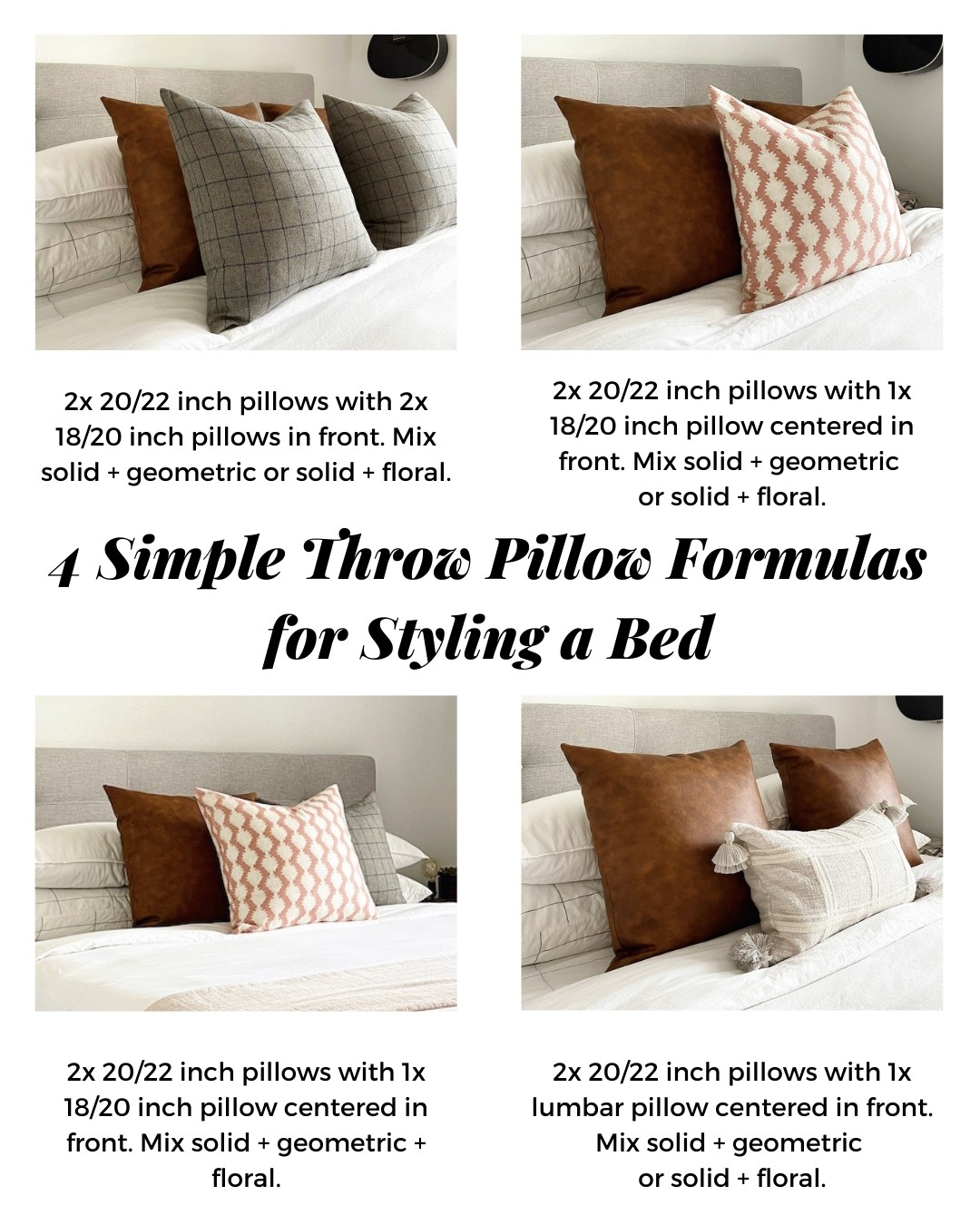 Another option is a single long lumbar pillow—I love this look and plan on investing an oversized lumbar once we move out of the apartment and have space to store rotating pillow options!
WHAT ABOUT KIDS' BEDS?
My kids are currently using Beddy's. I like them a lot, and it makes it simple for them to keep their beds tidy. I use a similar pillow combination for their beds (two stacked sleeping pillows, one 20X20, and one "fun" pillow in front). I also tuck a throw blanket in towards the foot of the bed. Since it's tucked in, it doesn't move around much so it just needs a quick tidy now and again.
If I wasn't using the Beddy's, I don't think I'd bother with a top sheet under a comforter/duvet. My kids definitely prefer fewer layers, and it's easier for them to make the bed...in theory, that is.
I hope that breakdown of how I make our bed was useful—it just takes a little bit of trial and error, but once you have the routine in place, it's almost like a daily self-care practice. Did I miss anything from your list of must-haves? Let me know what your perfect bed set-up includes!
---