Friends, I can hardly believe that I've made it to this point, because this project has dragged on for SO long, but here it is! Our guest house in all it's beautiful FINISHED glory! And not a moment too soon...so let's dive straight into it.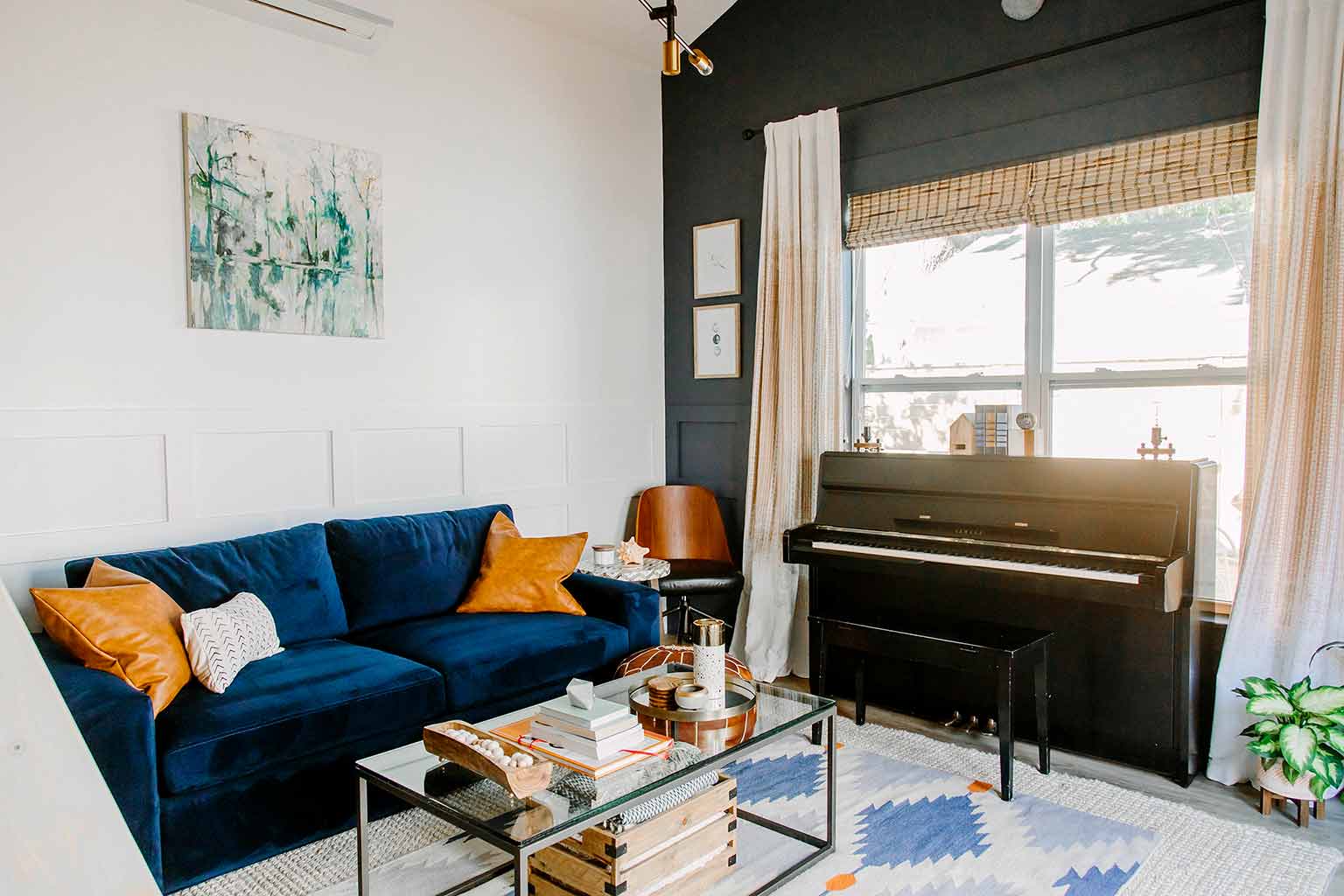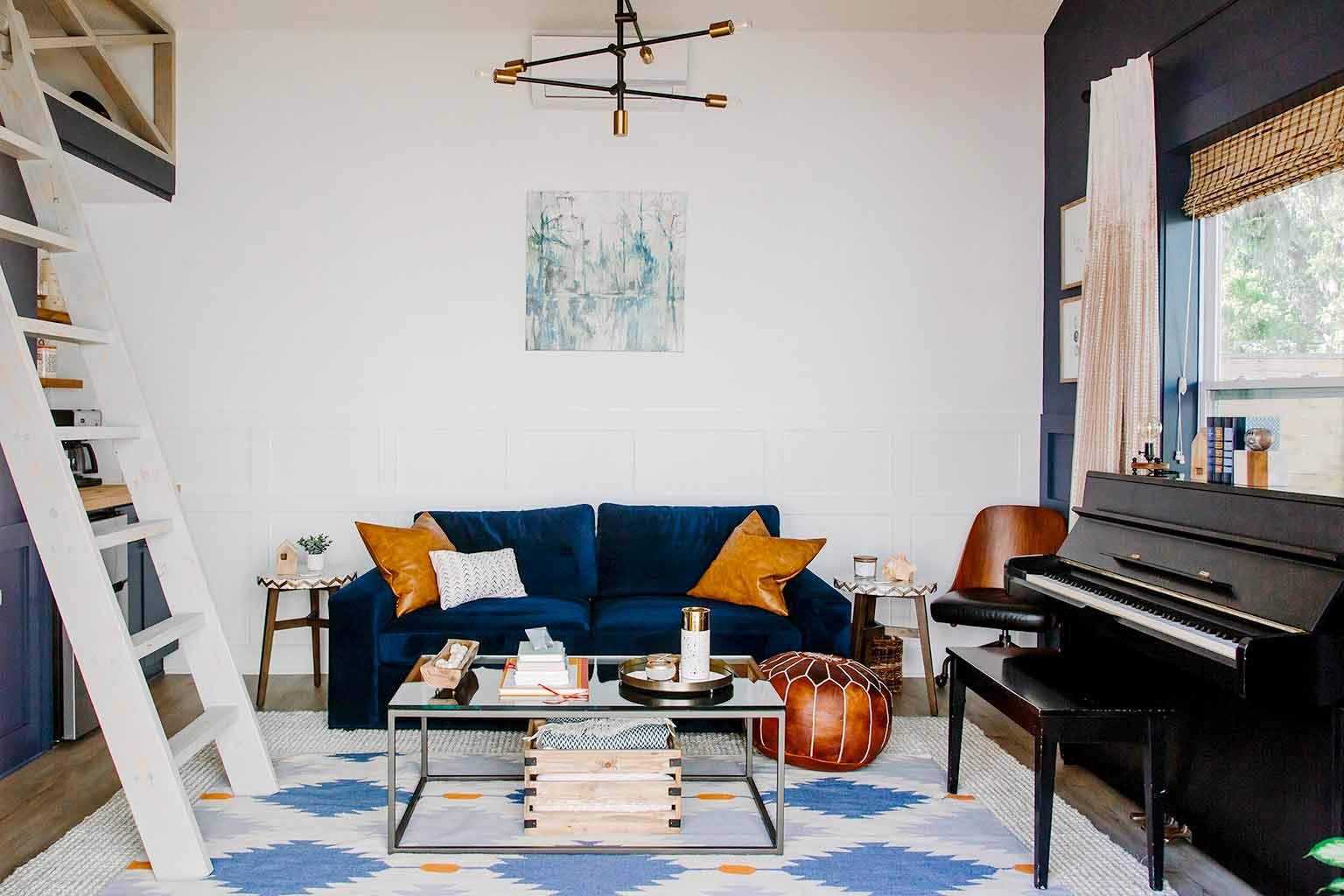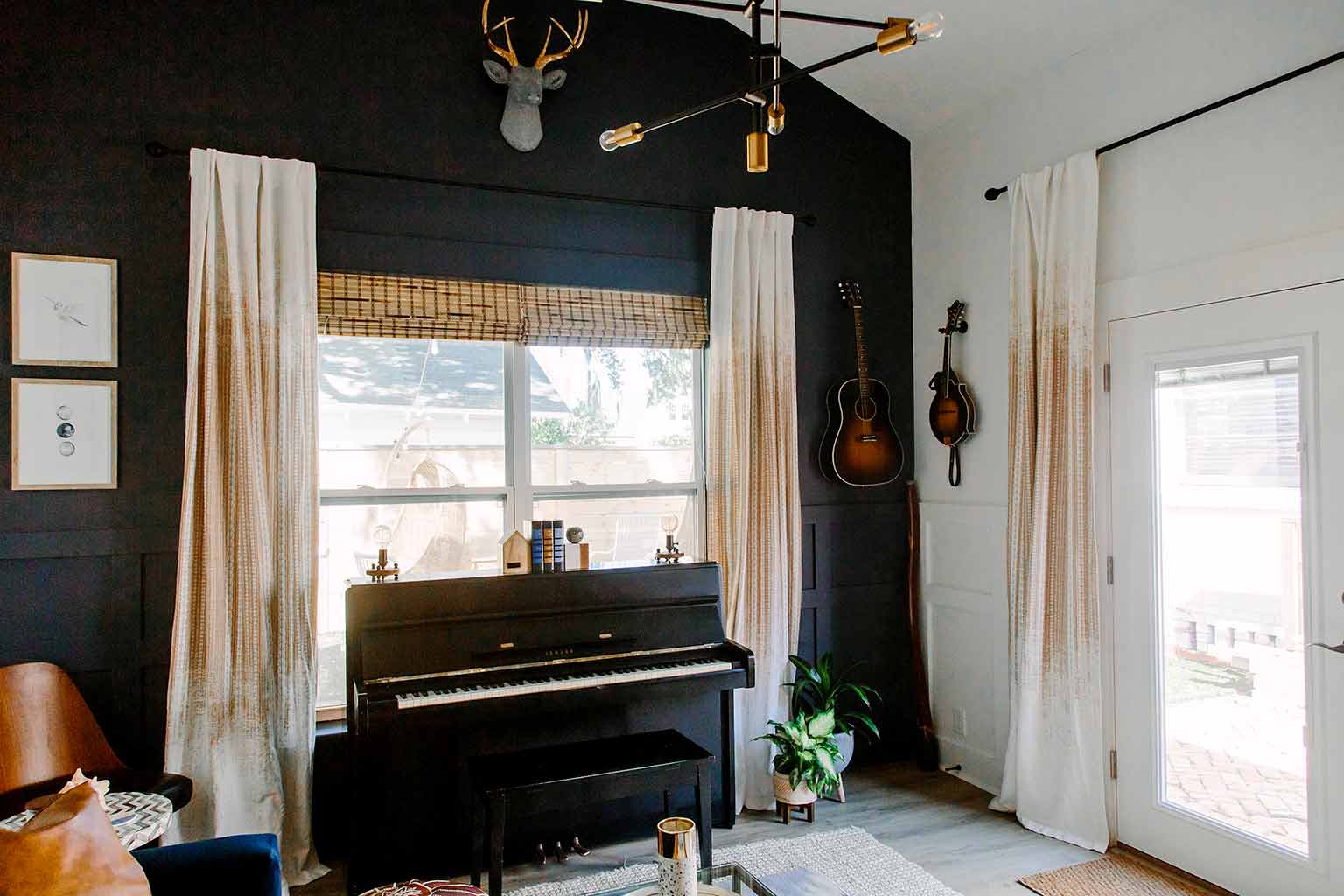 To remind you where we started out, in July 2017 we tore down our falling-apart-garage and started building a guest house in its place, complete with bathroom, storage loft and outdoor storage room: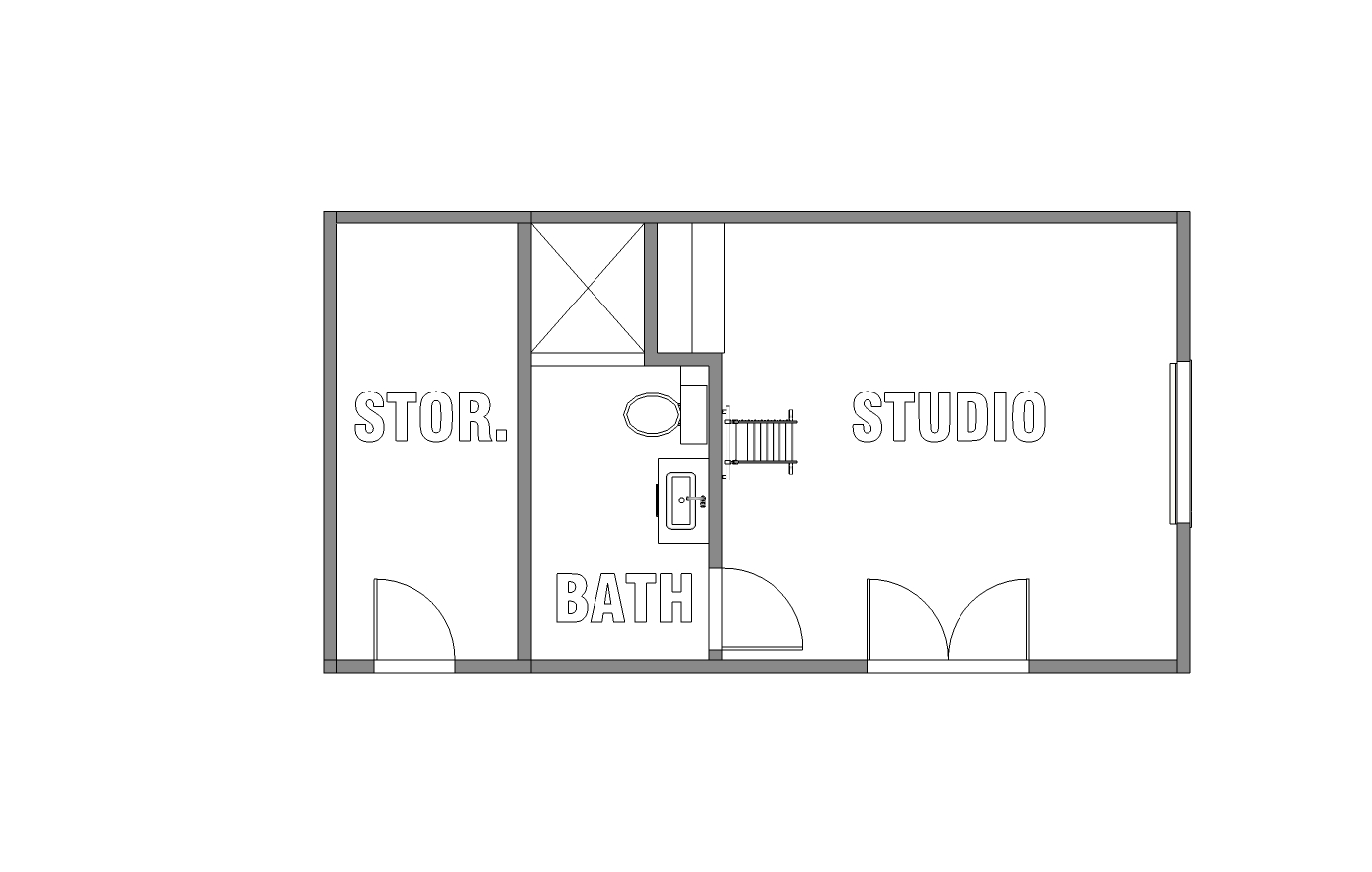 Guest house floor plan (designed by our friends at Make Marks Design)
Here's the original moodboard I first came up with for the decor:
Faux Taxidermy // Chandelier // Terranium // Agate Coaster // Chair // Moroccan Pouf // Mud Cloth // Side Table (no longer available—similar) // Sofa (no longer available—similar) // Wool Dhurrie Rug // Jute Rug
I'm actually surprised at how close the room ended up being to the moodboard!
In terms of style, I would probably describe this as mid-century modern with a touch of boho/eclectic. I personally love drawing from multiple decor styles, but I'm learning that it's also important to create a coherent look. Therefore I stayed pretty close to the mid-century modern aesthetic.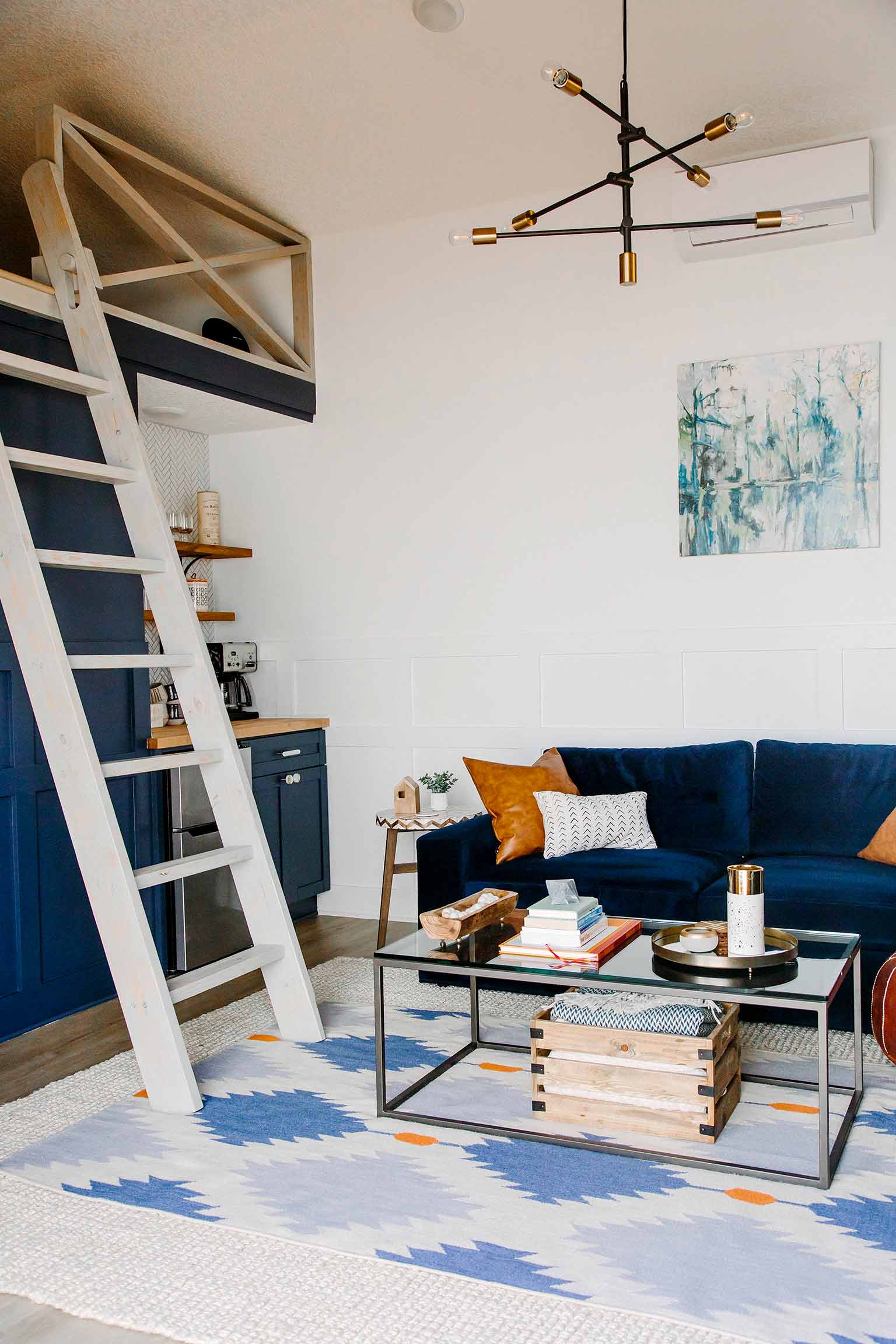 The color palette was easy enough to decide on as I already had the blue and orange rug saved from the guest bedroom in our rental house, and knew that I wanted to use it for this space.
I had been drawn to dramatic navy walls for a long time, and I knew that I wanted to incorporate that into the design. Benjamin Moore Hale Navy won my heart, and we ended up using it for two full walls (including trim), the cabinet, the bathroom door, the bathroom vanity and the upper bathroom walls. So far I haven't regretted the decision, and it certainly makes a statement!
The navy sleeper sofa from Room & Board is super comfy both for sitting and sleeping, and I love that the velvet adds another layer of texture into the room.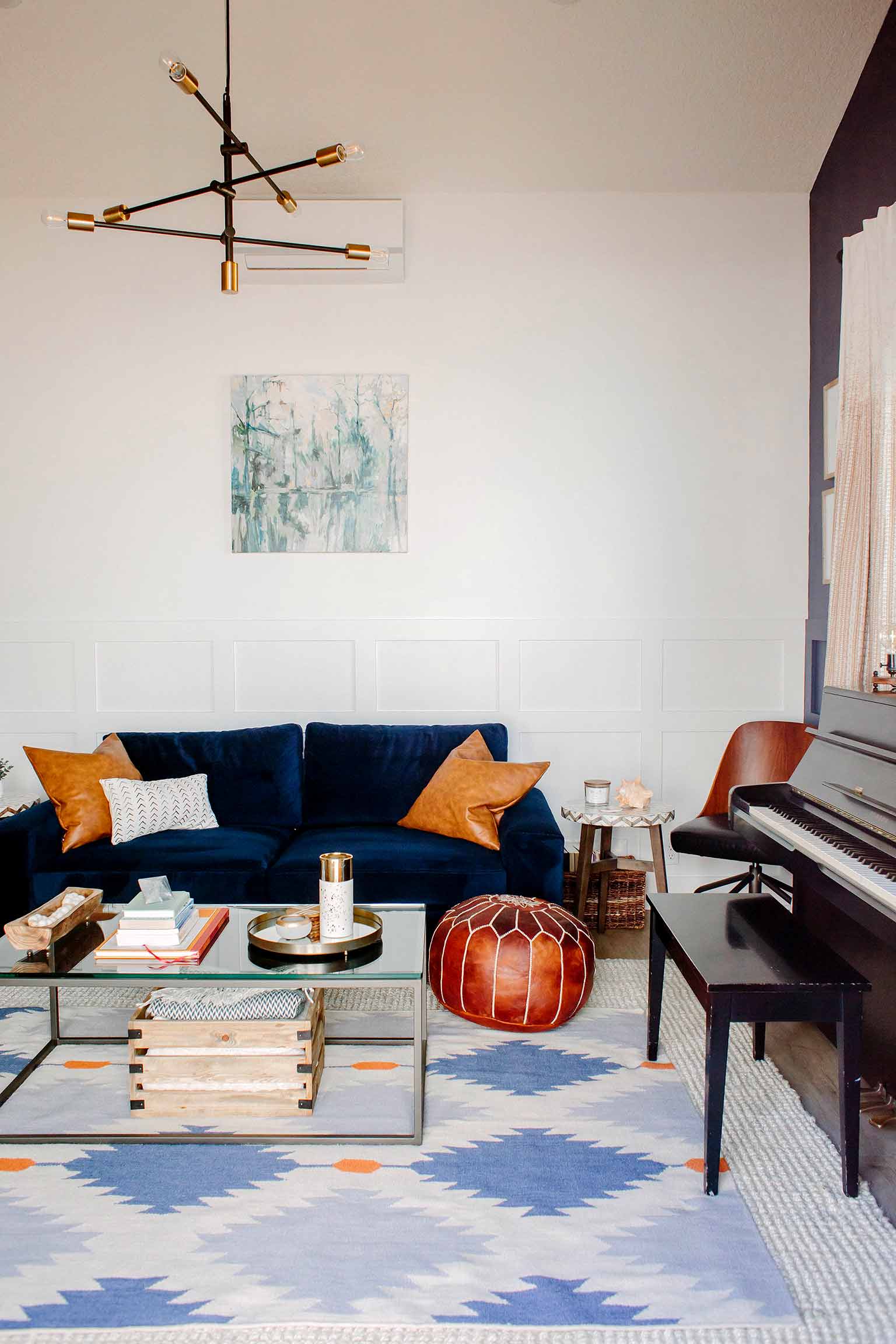 The artwork was painted by Carol Ann Cain and gifted to me for my 30th birthday, so is very special to me. At first, I wasn't planning on putting it in here, but I got curious and tried it. I love the contrast of the greens in the painting, and it is the perfect piece for that big white wall. I'm planning on making a frame for it at some point—all in good time of course!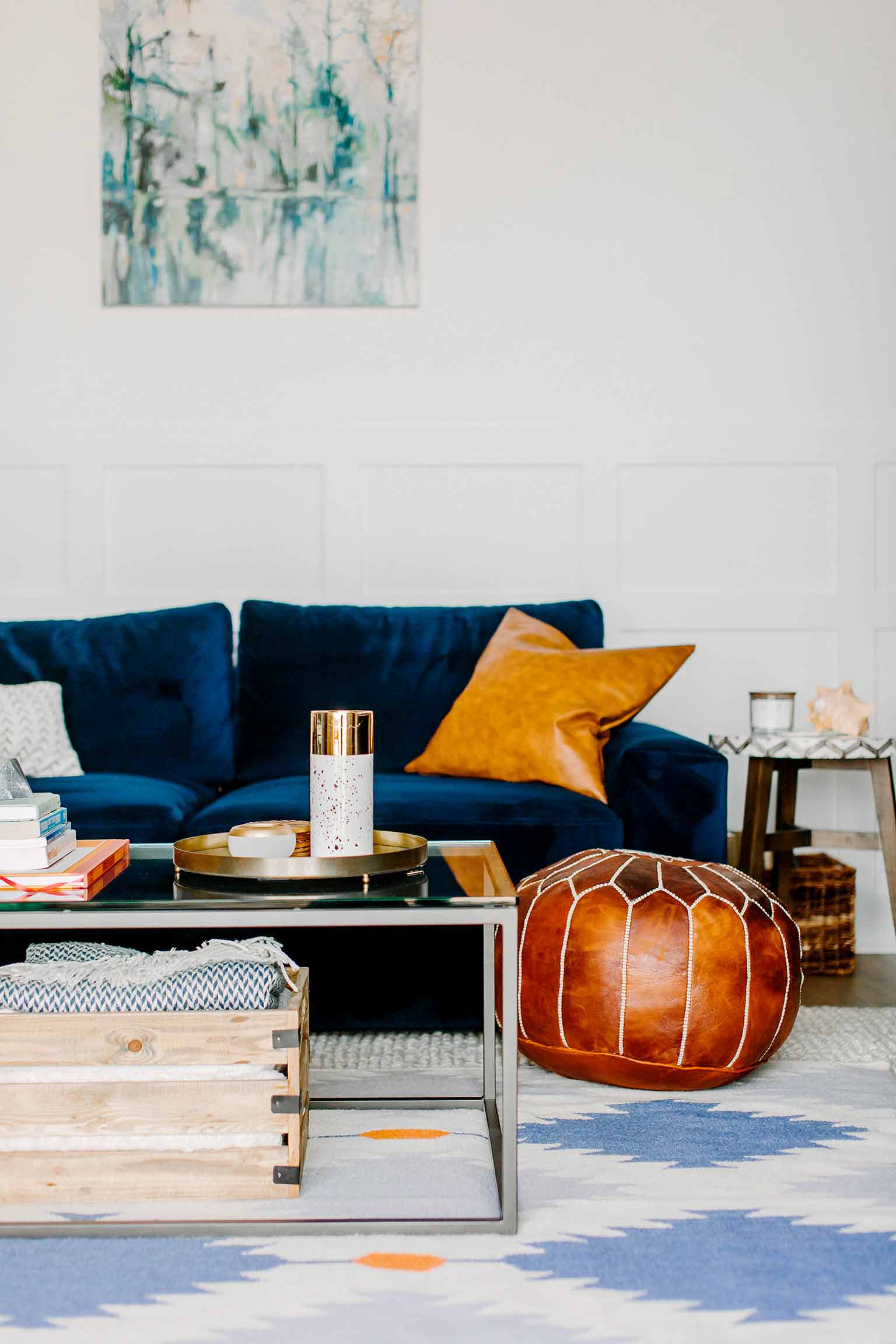 I also framed two beautiful pieces by friends of mine—Kristina Boothe of That Good Night and Melanie Etemadi of The Printed Home. I love incorporating personal touches into the design of my home, and these pieces make me smile when I look at them.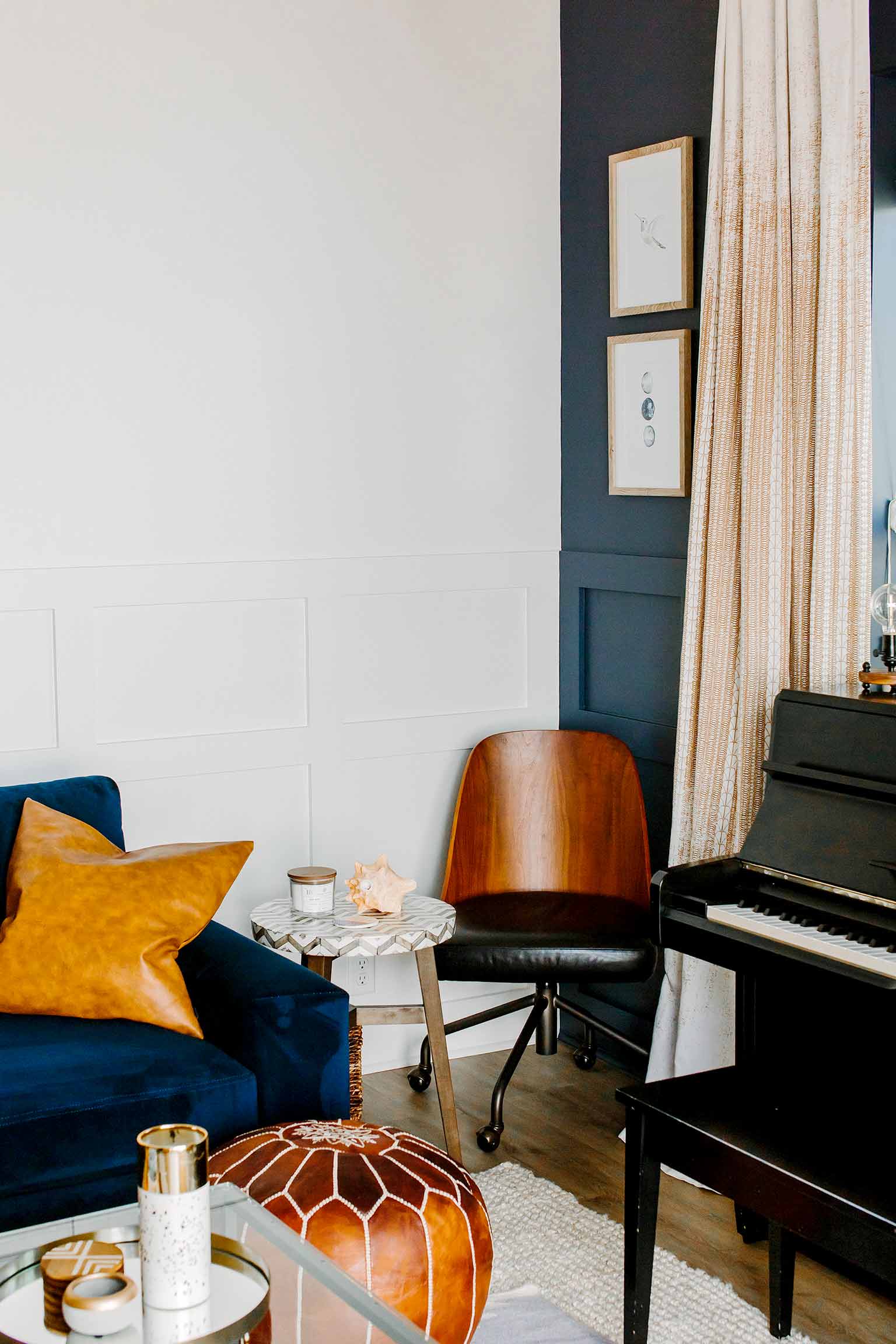 Instruments play a big part in this room, as my husband and I are both musicians. I love having them out on display as they are beautiful in themselves, and having a dedicated space for them really lets them shine.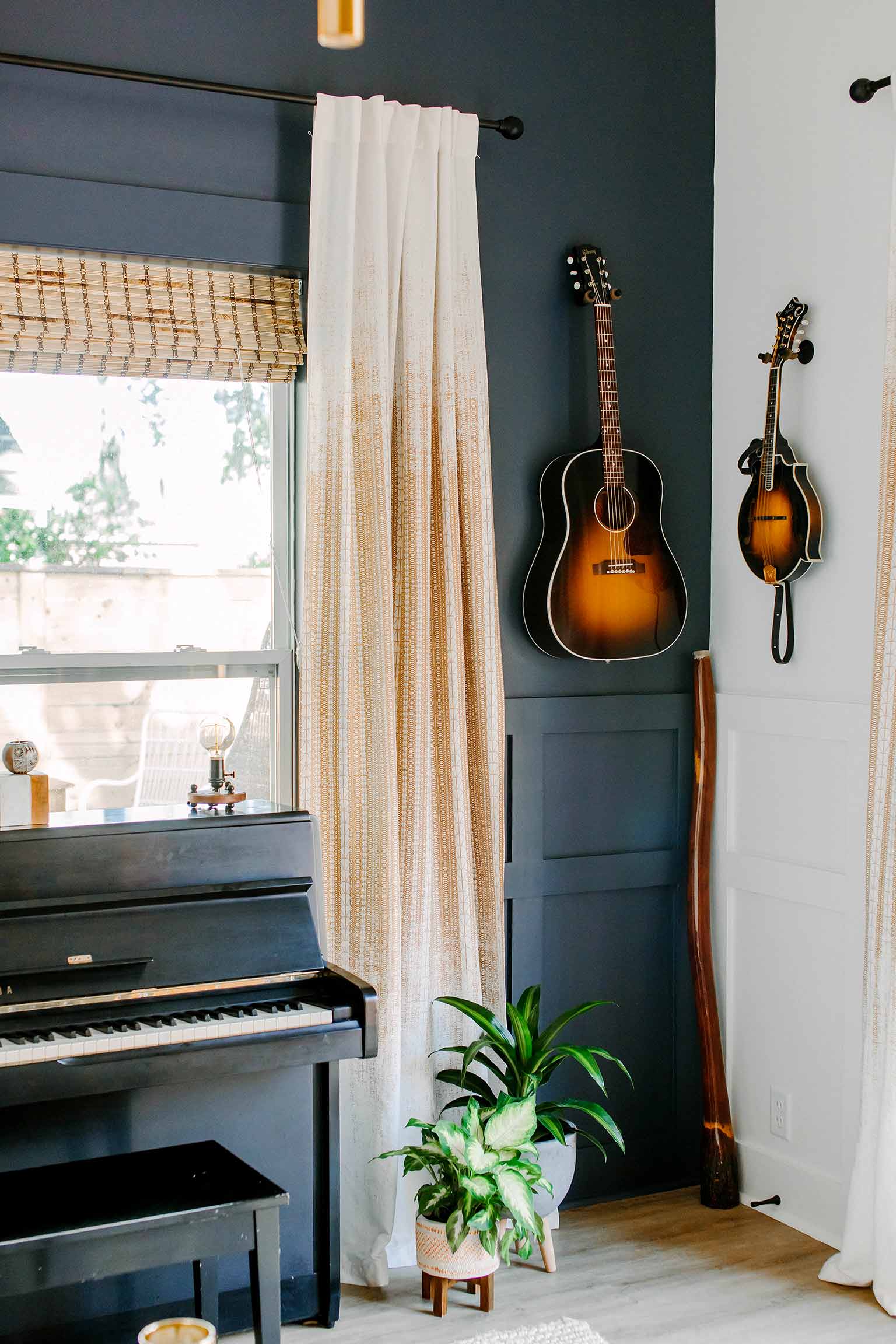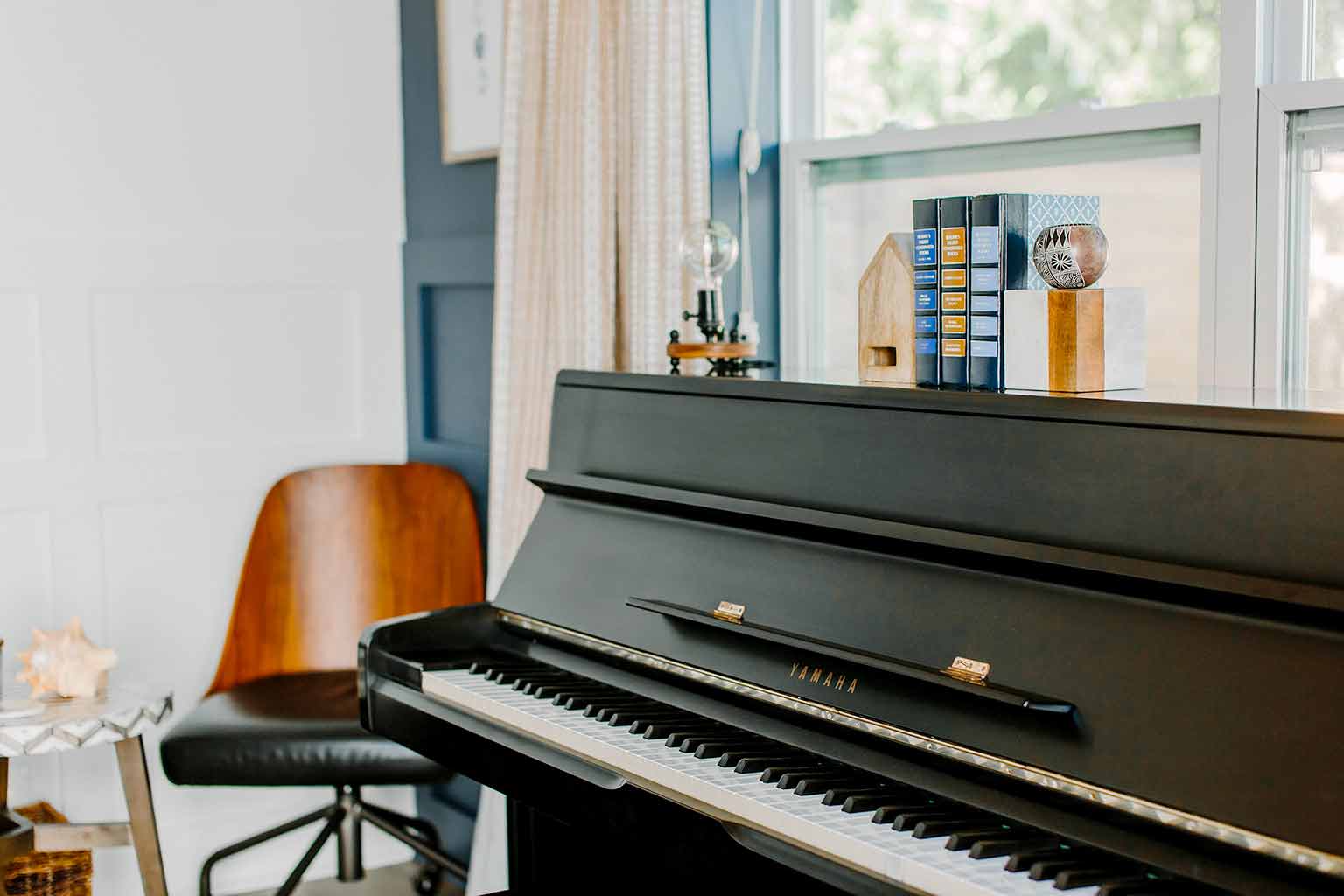 Styling this space was surprisingly simple once I had decided on artwork, as I didn't want to clutter up the space with "too much stuff." I mostly used accessories that I had in my home already, and bought some new plants and fresh greenery to give the room some life.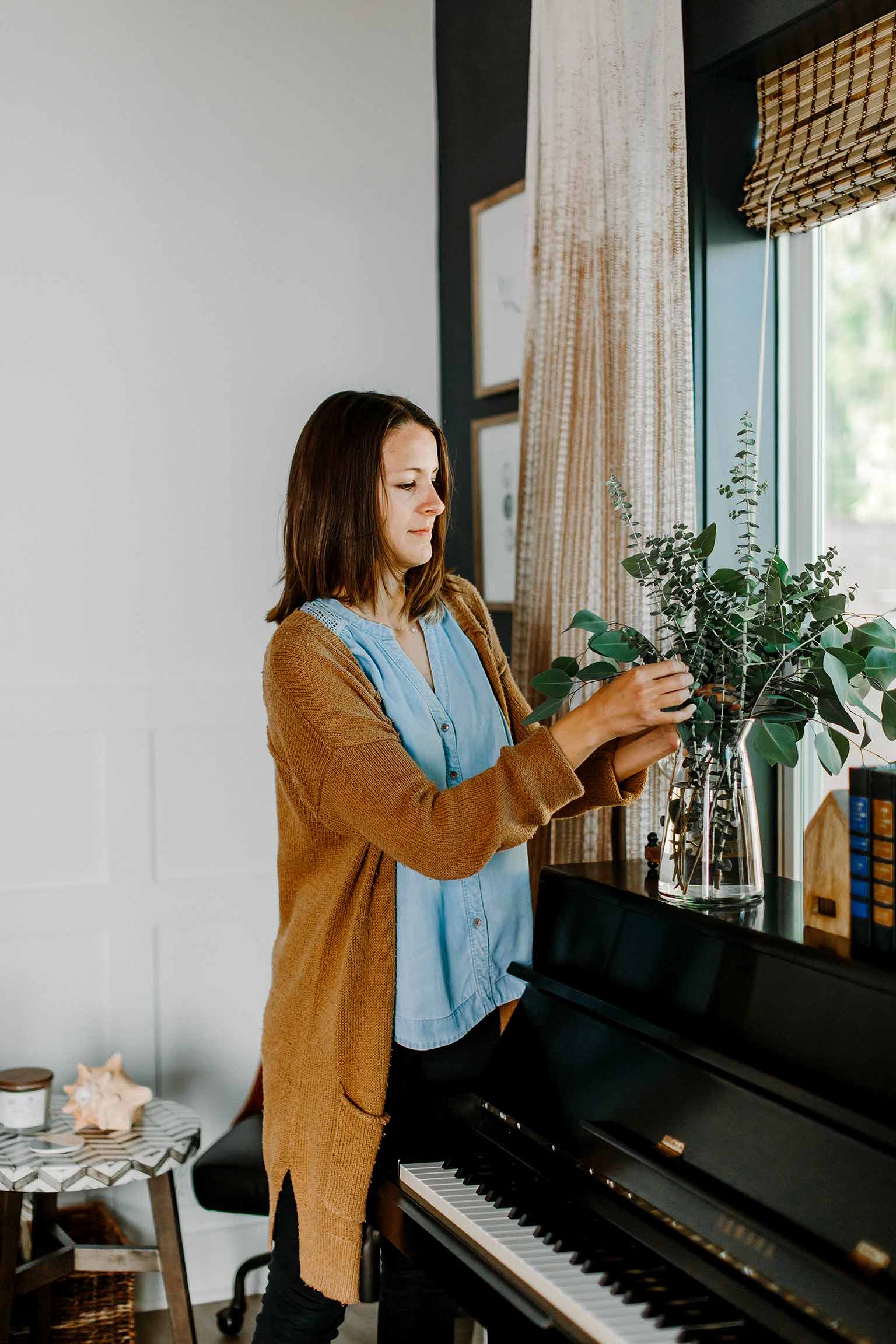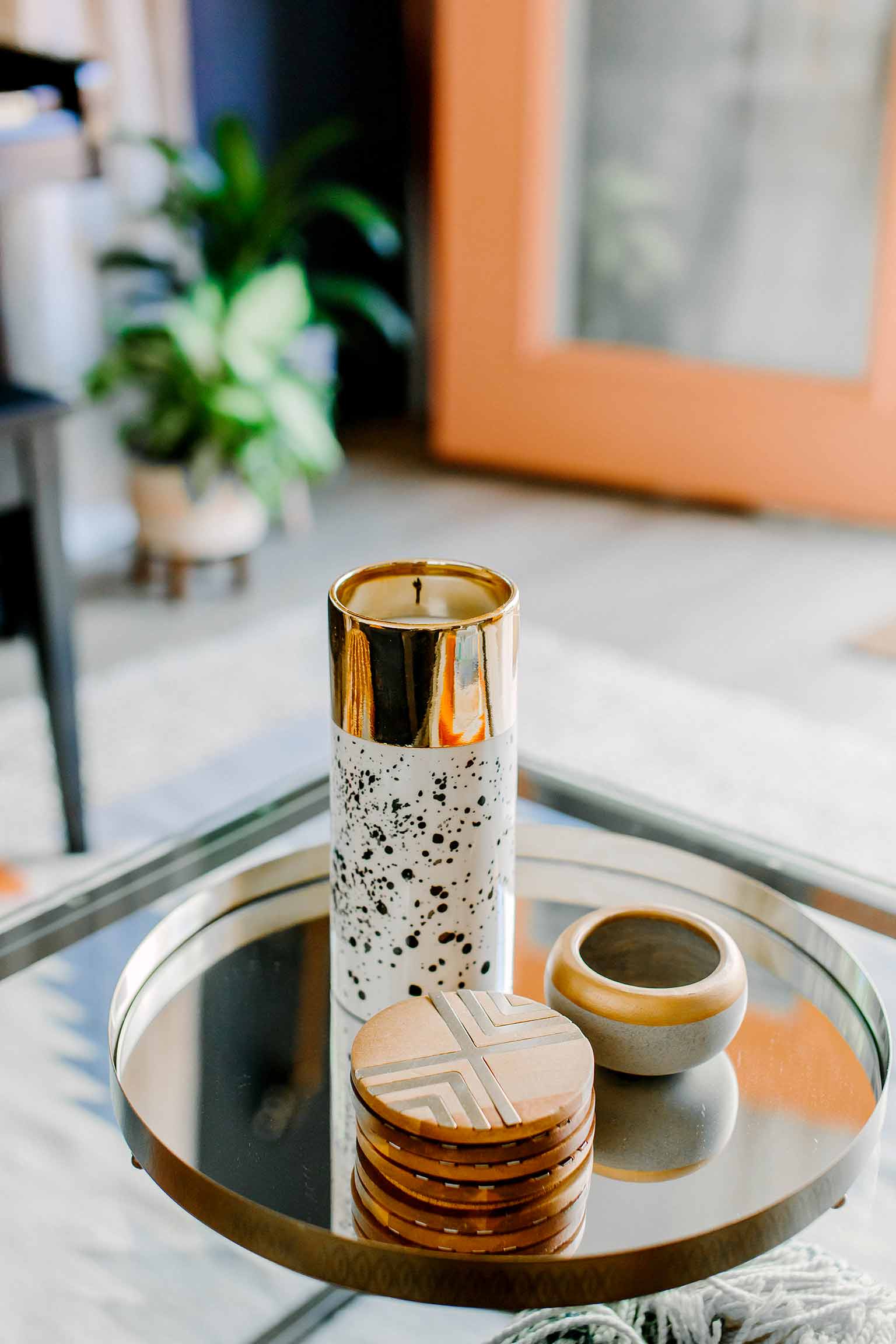 When coming up with the decor design plan, I wrote that I wanted this room to feel moody, relaxing and inspiring. I think that these words are true to the space, and have loved coming in here by myself for a peaceful moment to escape.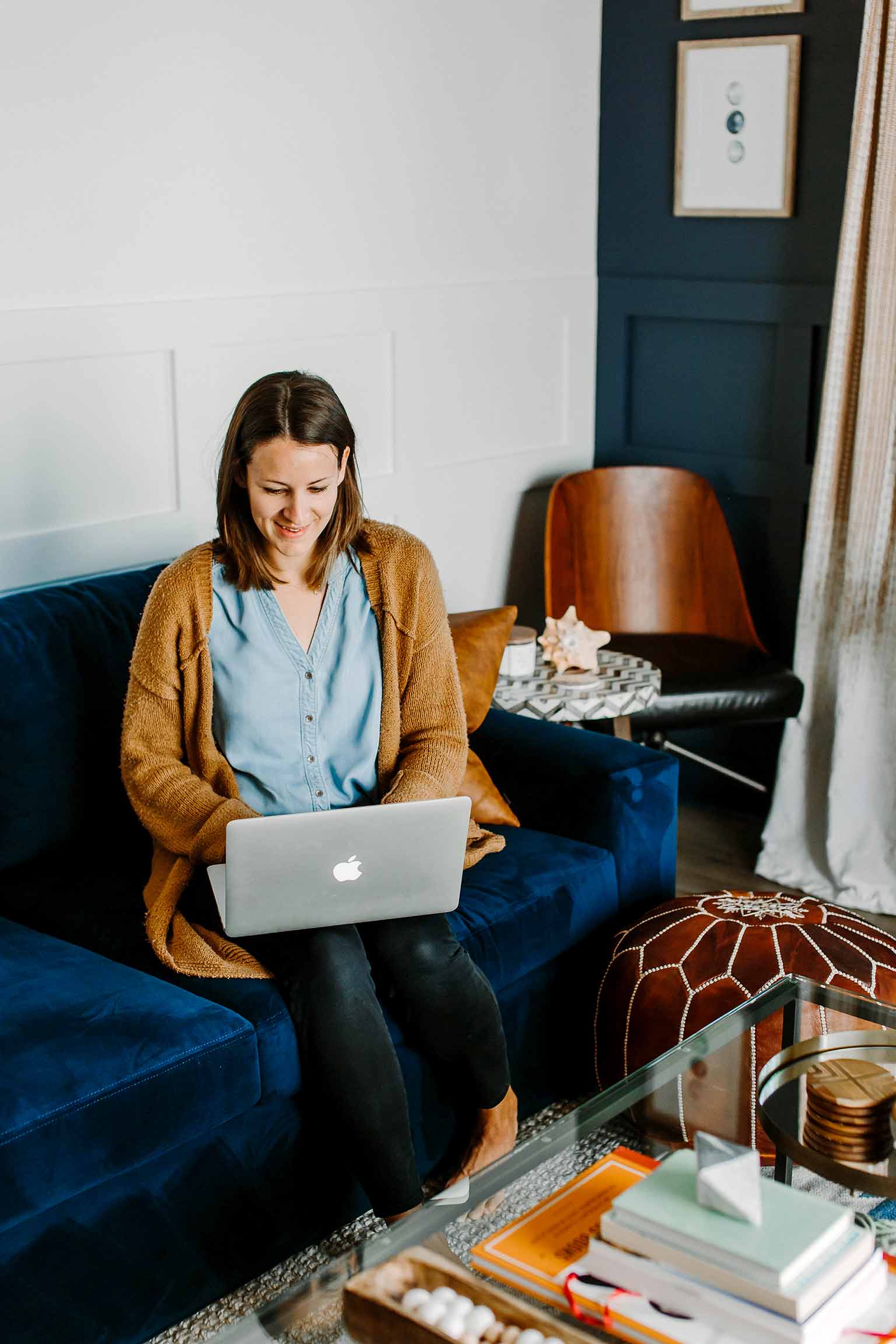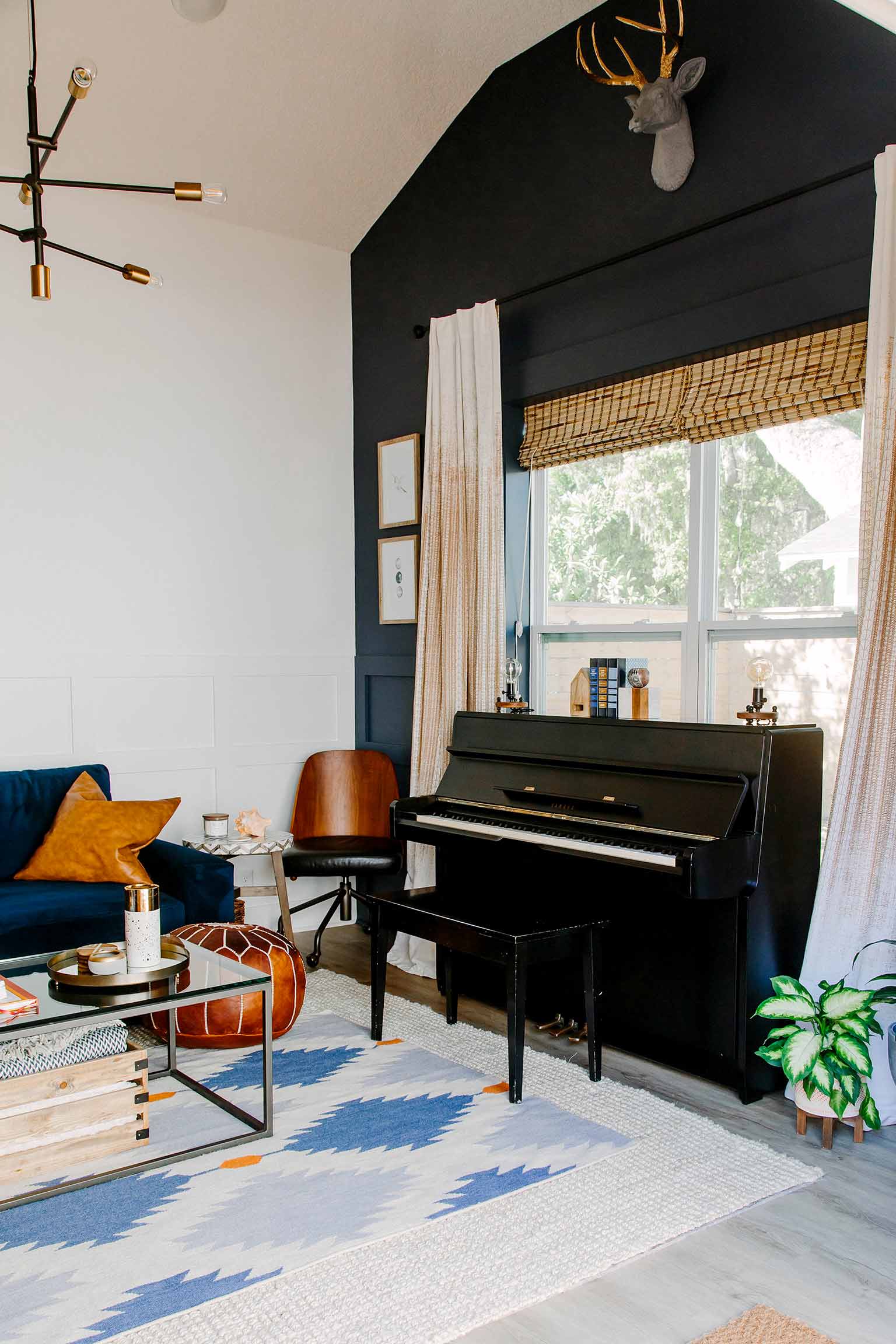 THE KITCHENETTE
The kitchenette space serves two functions: a spot for our overnight guests to make themselves at home, and an accessible place for us to grab drinks and snacks when we are hanging out in the backyard. The cabinet hides away a lot of the practical necessities, but my favorite part is definitely the open shelving.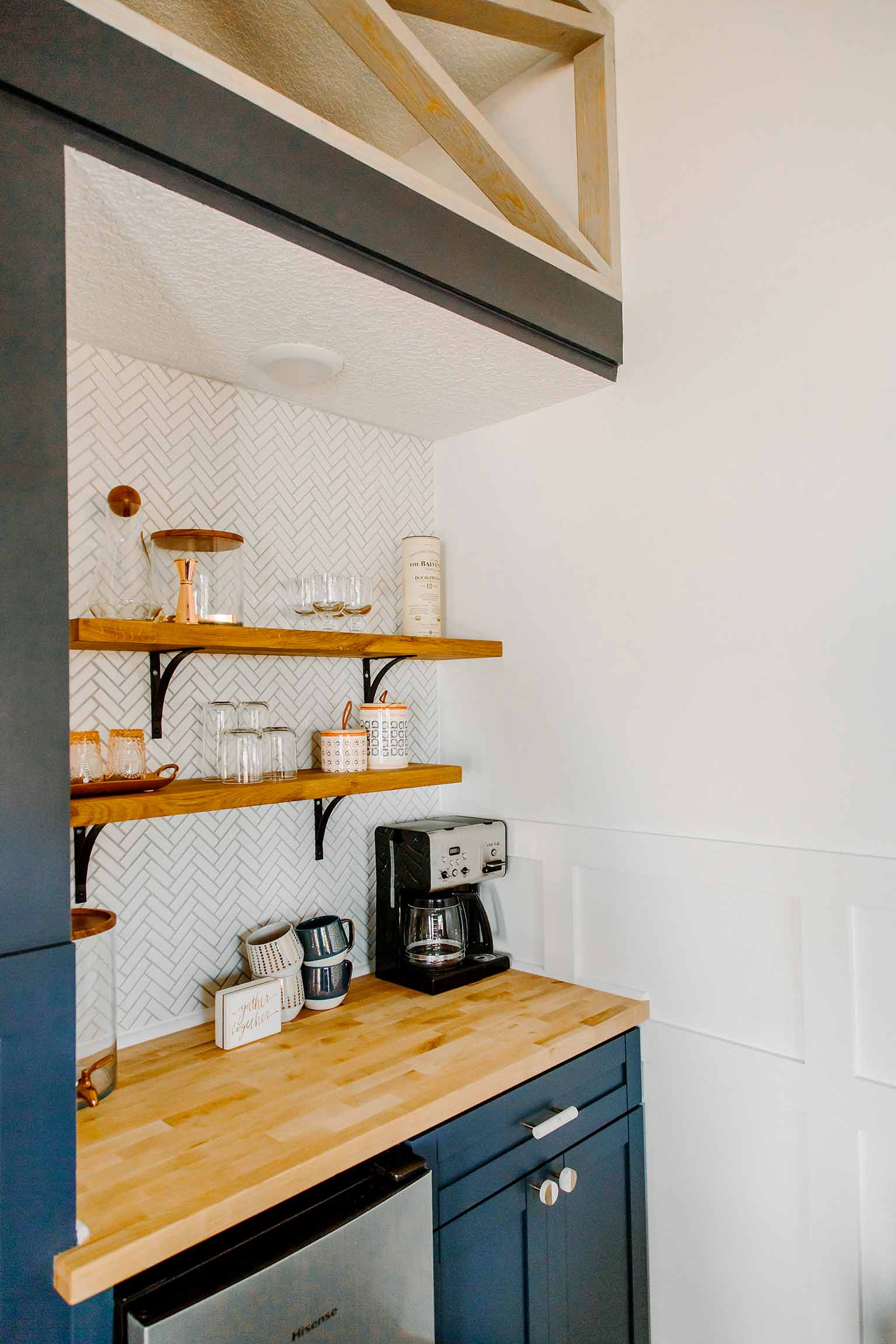 I was torn between this herringbone tile and a beautiful geometric cement tile. I think either would have worked, but the herringbone perhaps has more longevity and ties in nicely with the bathroom floor tile.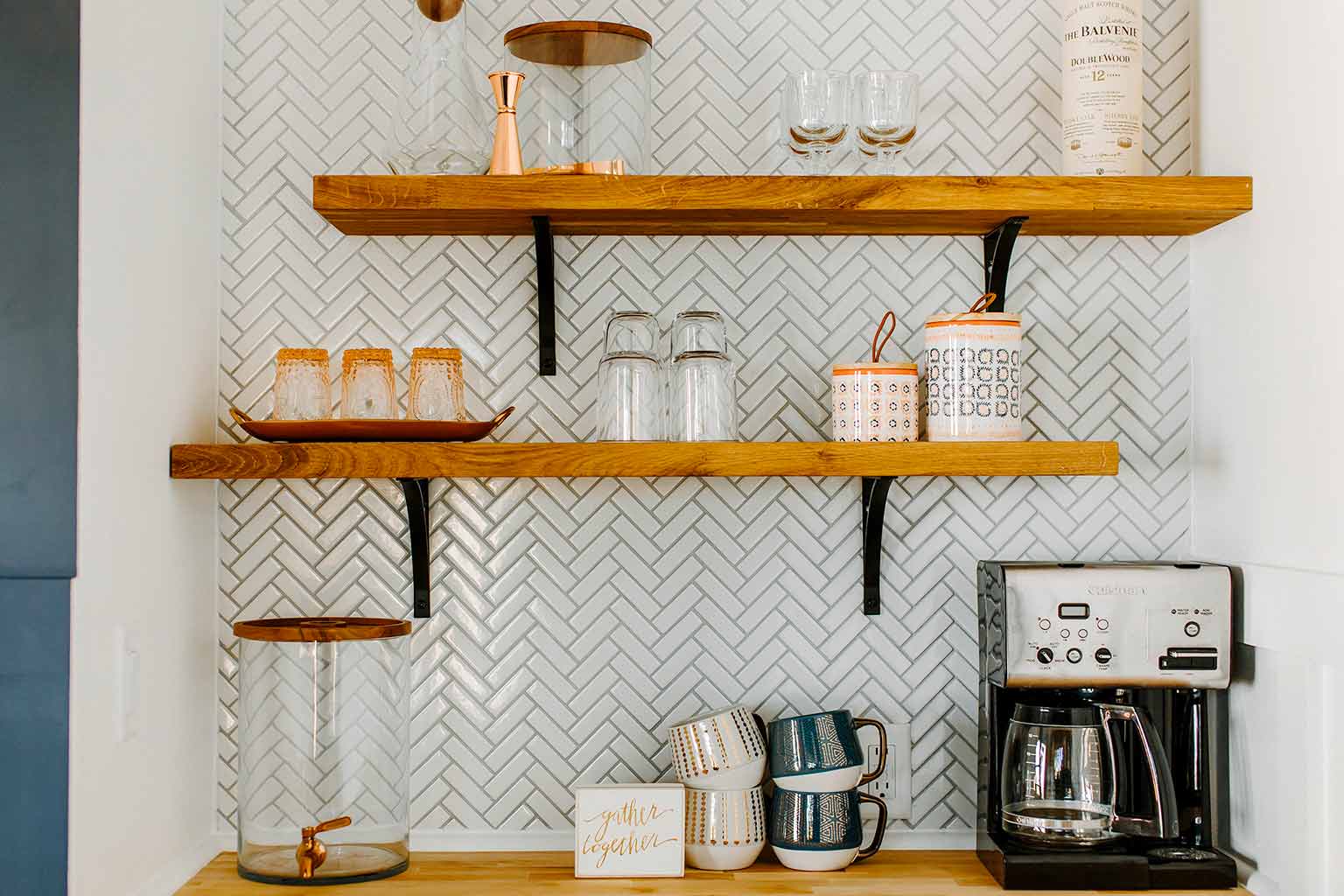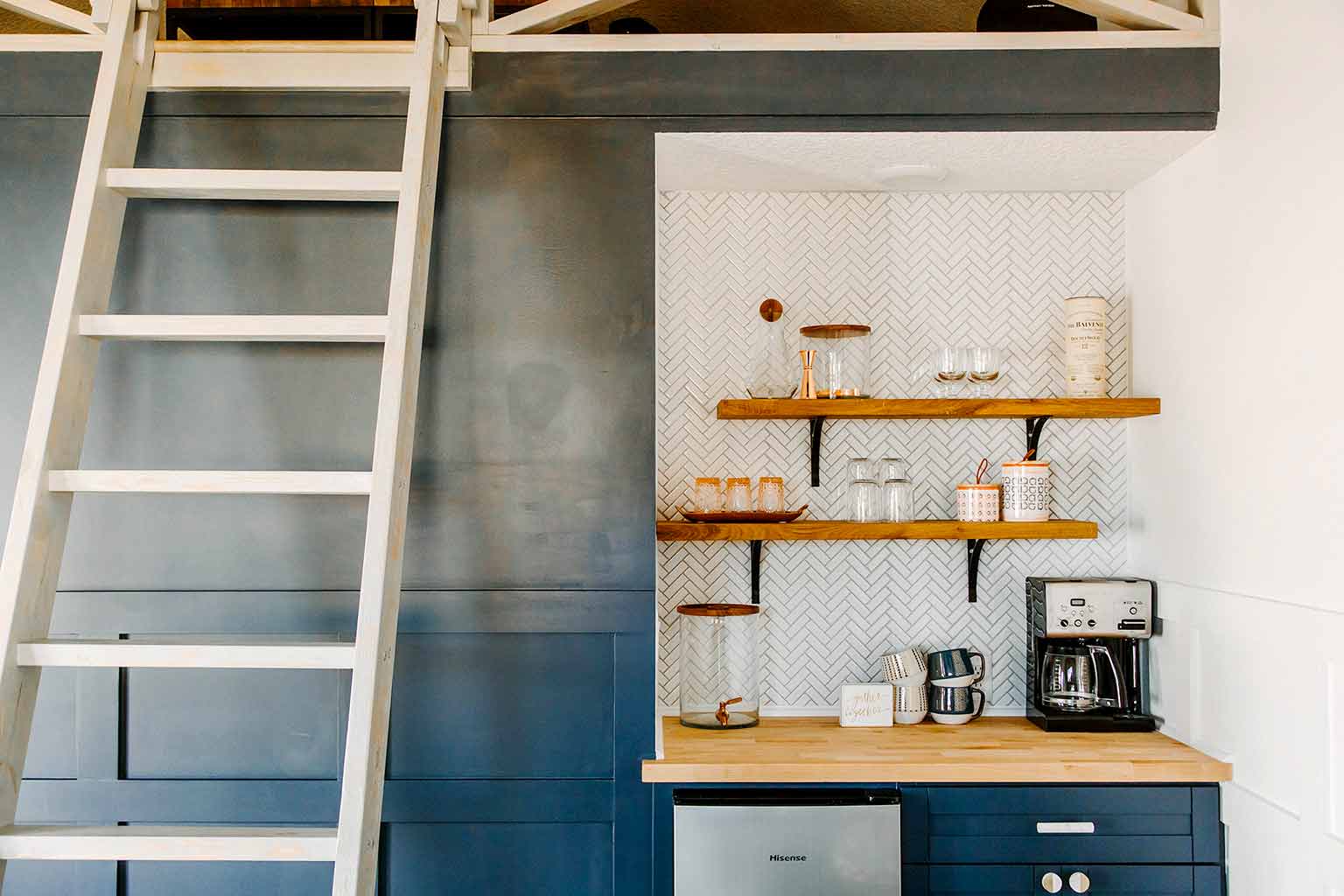 THE BATHROOM
I went for a slightly more traditional bathroom design with the white board and batten and Hale Navy walls above.
Here's the moodboard I originally designed:
Marble Herringbone Mosaic Tile // Classic Subway Tile // Mini Subway Tile // Shower Curtain // Hexagon Cabinet Knob // Towel Bar // Baskets // Stools // Mirror // Shower Trim // Faucet
Lots of the elements are actually very similar, but I added in some blush accessories in the towels and shower curtain to soften the navy a little.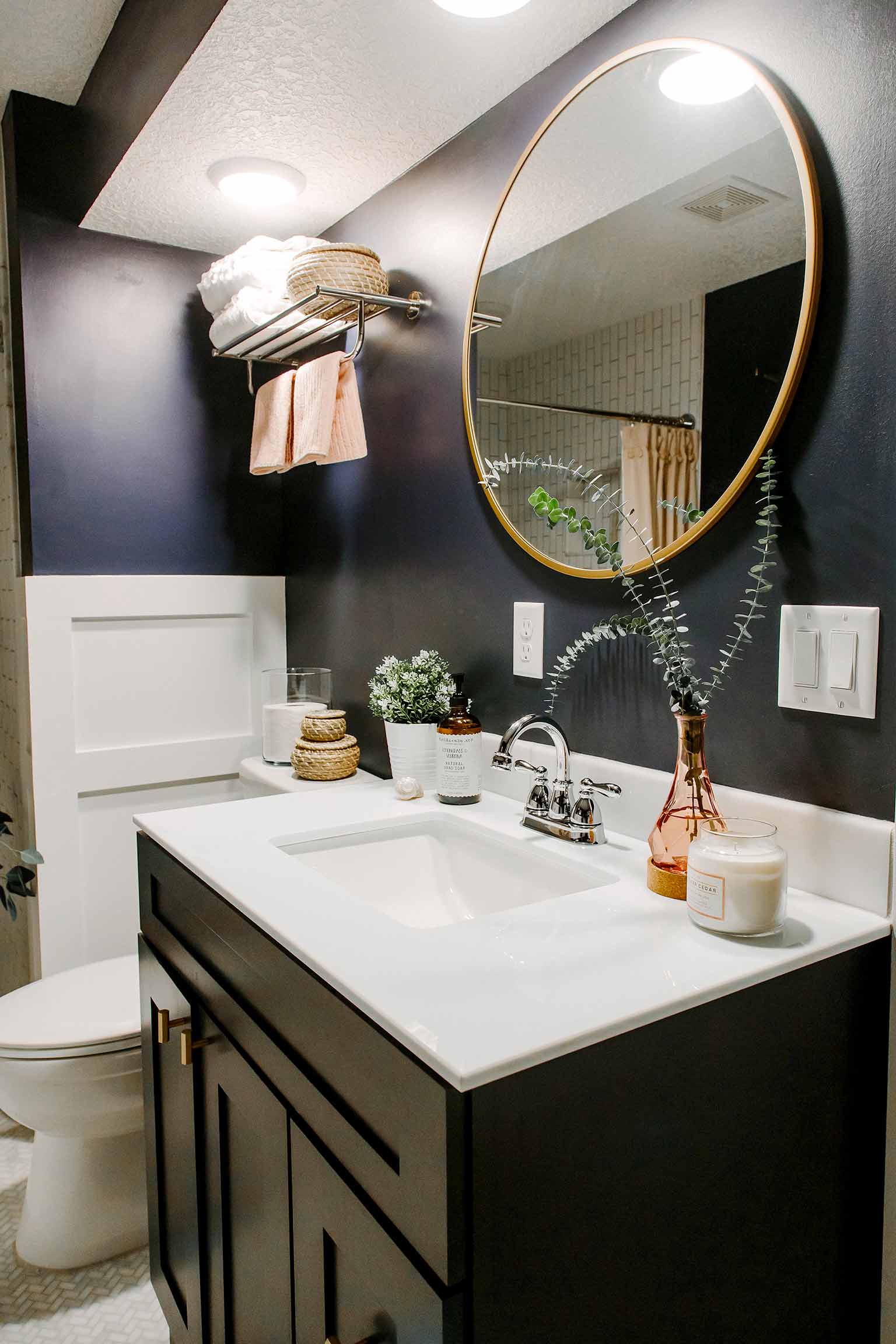 I did a little bit of metal mixing in this room to create depth and interest, and picked out some shiny chrome faucets and brass accent hardware.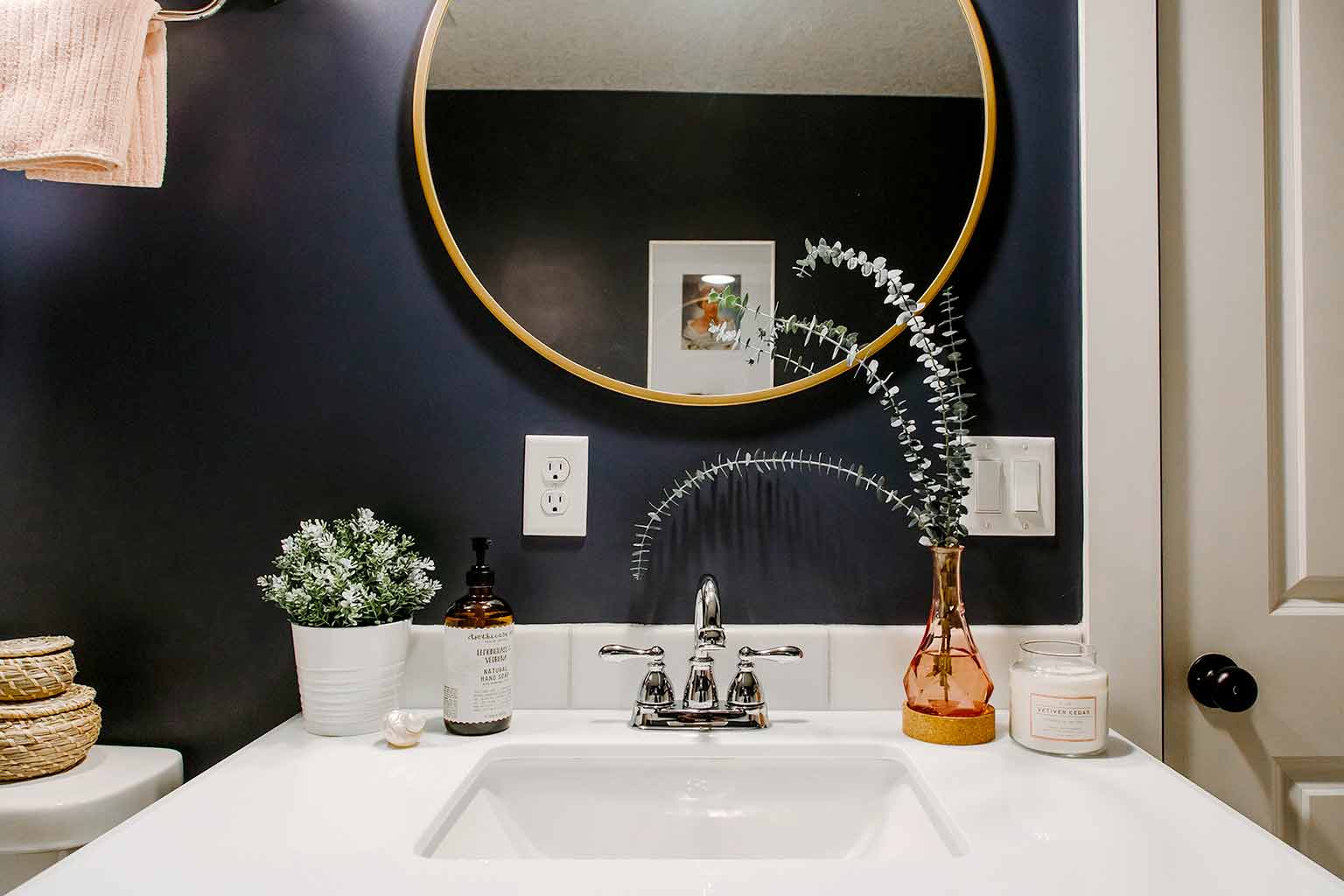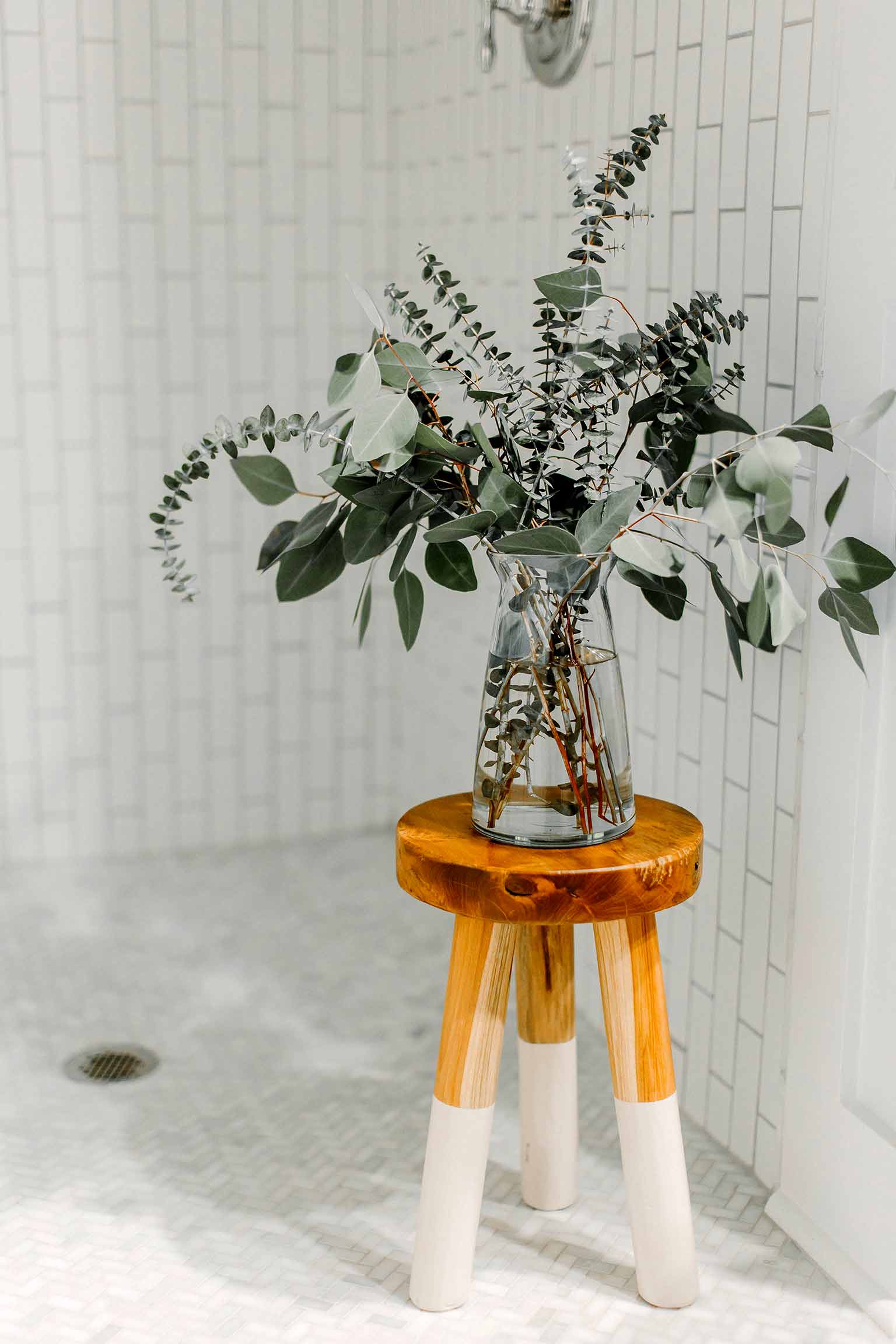 The vintage framed photos of the Queen are a little nod to my homeland—they were given to us by our neighbor and I love their quirkiness!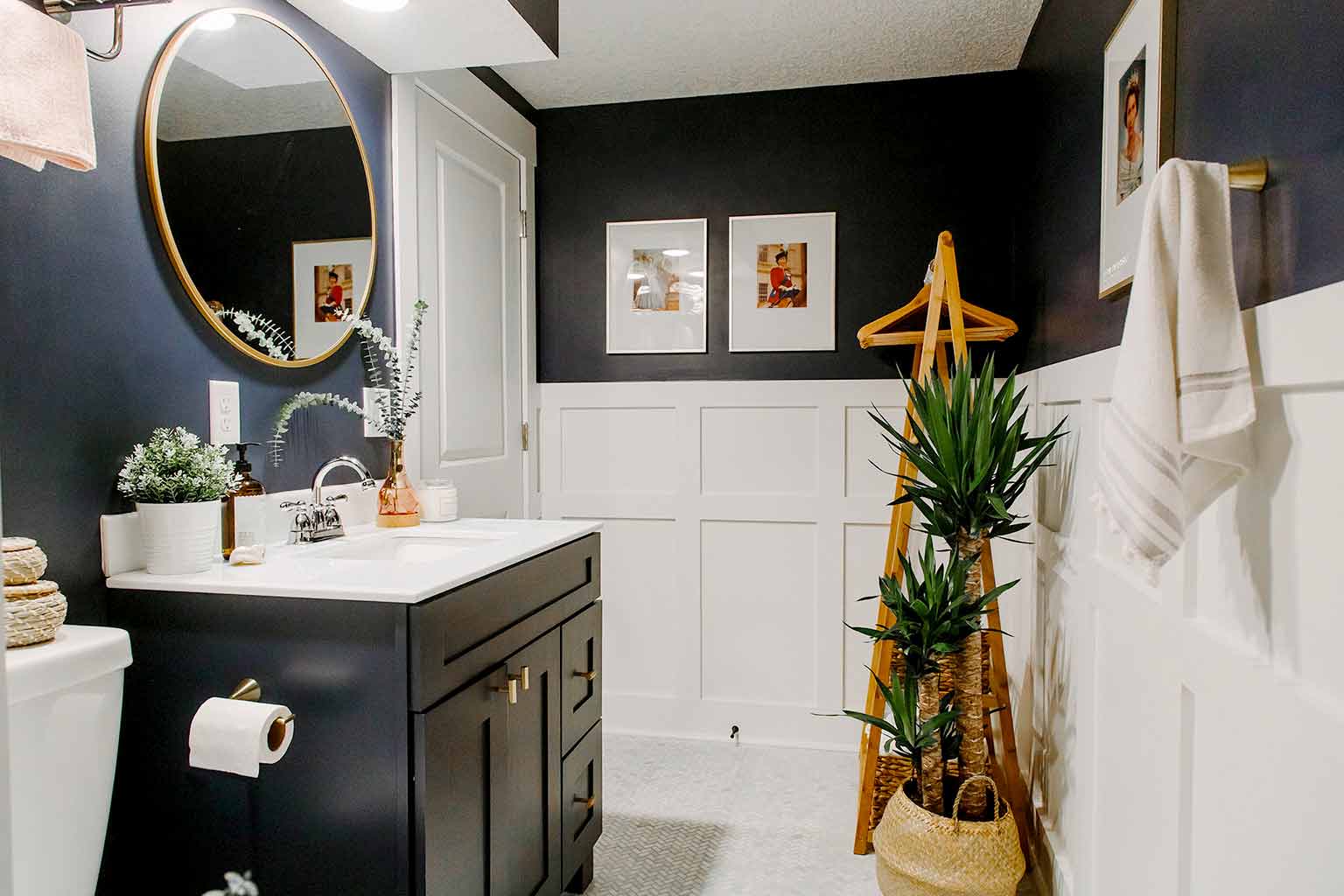 THE LOFT
The loft railing design was important to me as I wanted it to be a feature of the room. I saw the 'X' design on Pinterest and my contractor was able to build something similar, with a chunky ladder which also goes flat against the wall if we want it to. I didn't want to introduce another competing wood tone so opted for a weathered gray stain to contrast with the navy wall.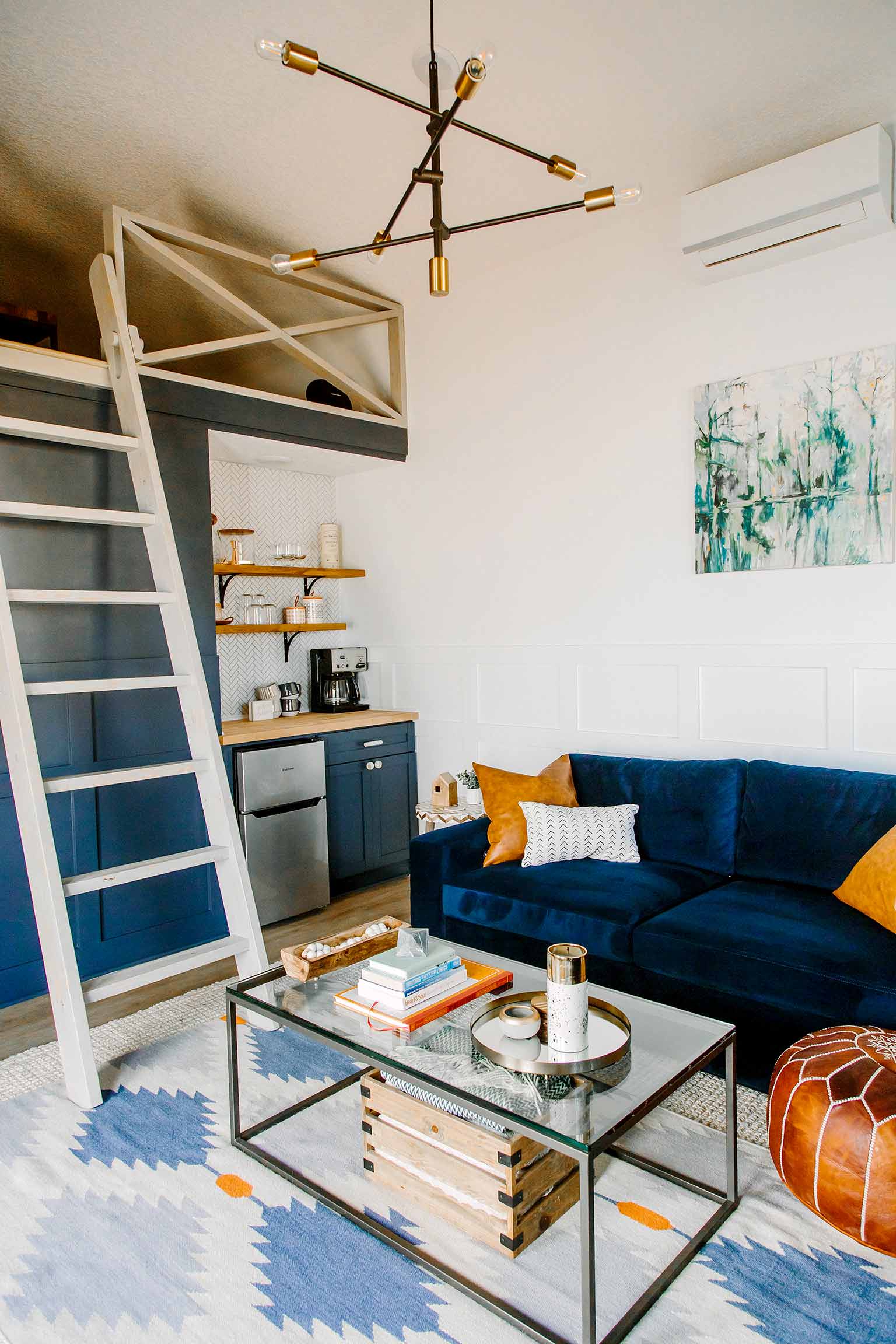 The loft itself was a bit unexpected—I was expecting it to be used solely for storage, but as soon as my kids discovered it, it became their favorite place to color and do puzzles. Therefore, I decided to make it an intentional spot for them, and put a cozy rug, some coffee tables and ottomans up there. The coffee tables can be moved to each side of the loft leaving enough space for an air mattress for overnight guests if we need space for more than two people.
The shelving was an IKEA hack that I'm pretty proud of. It's not easy to find attractive storage for guitars—especially for a space this tight, but by cutting down the HEJNE posts we were able to customize the shelving to fit the shape of the loft. The guitar cases slide right in, and the rest of the shelving is taken up by my sewing machine and fabric.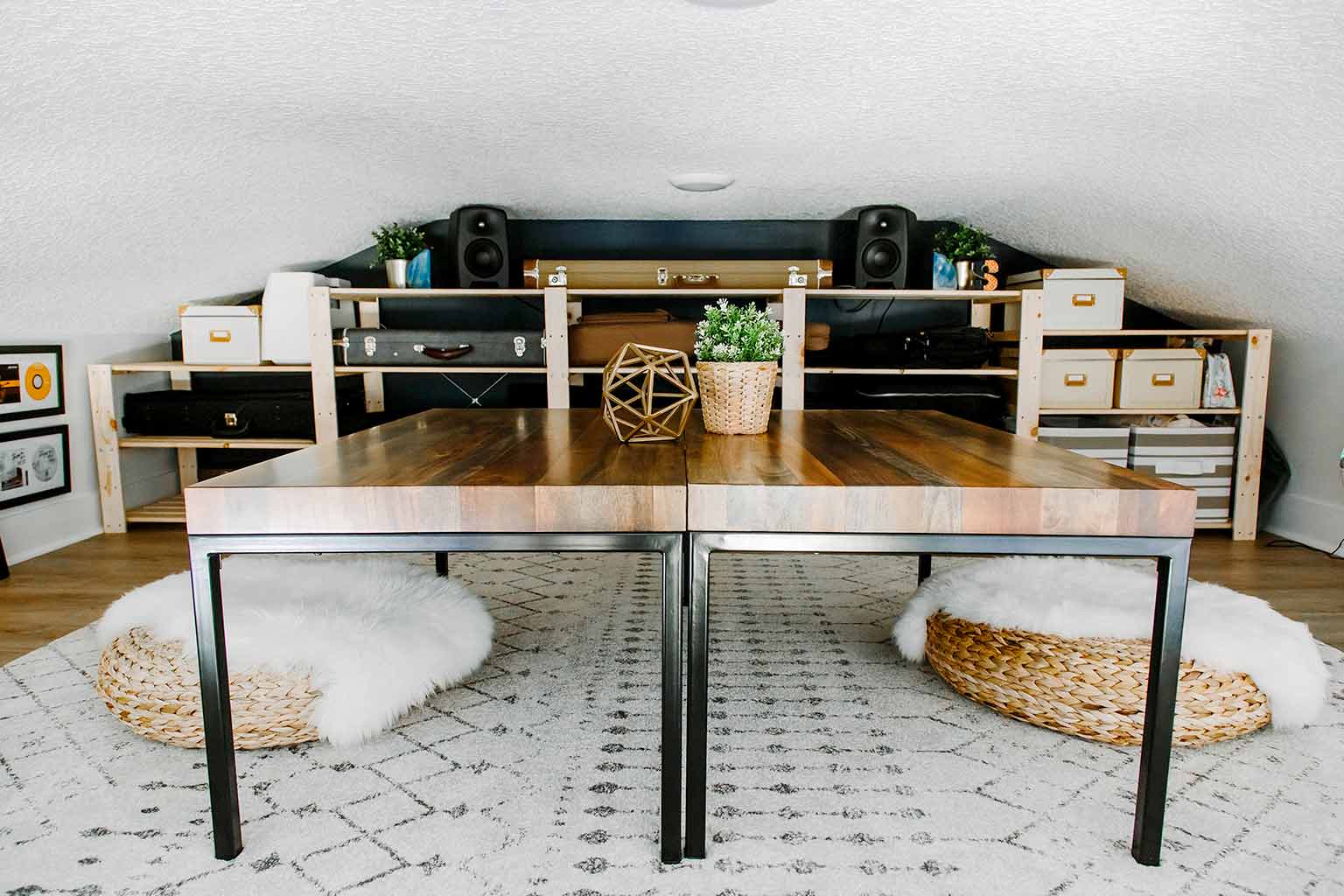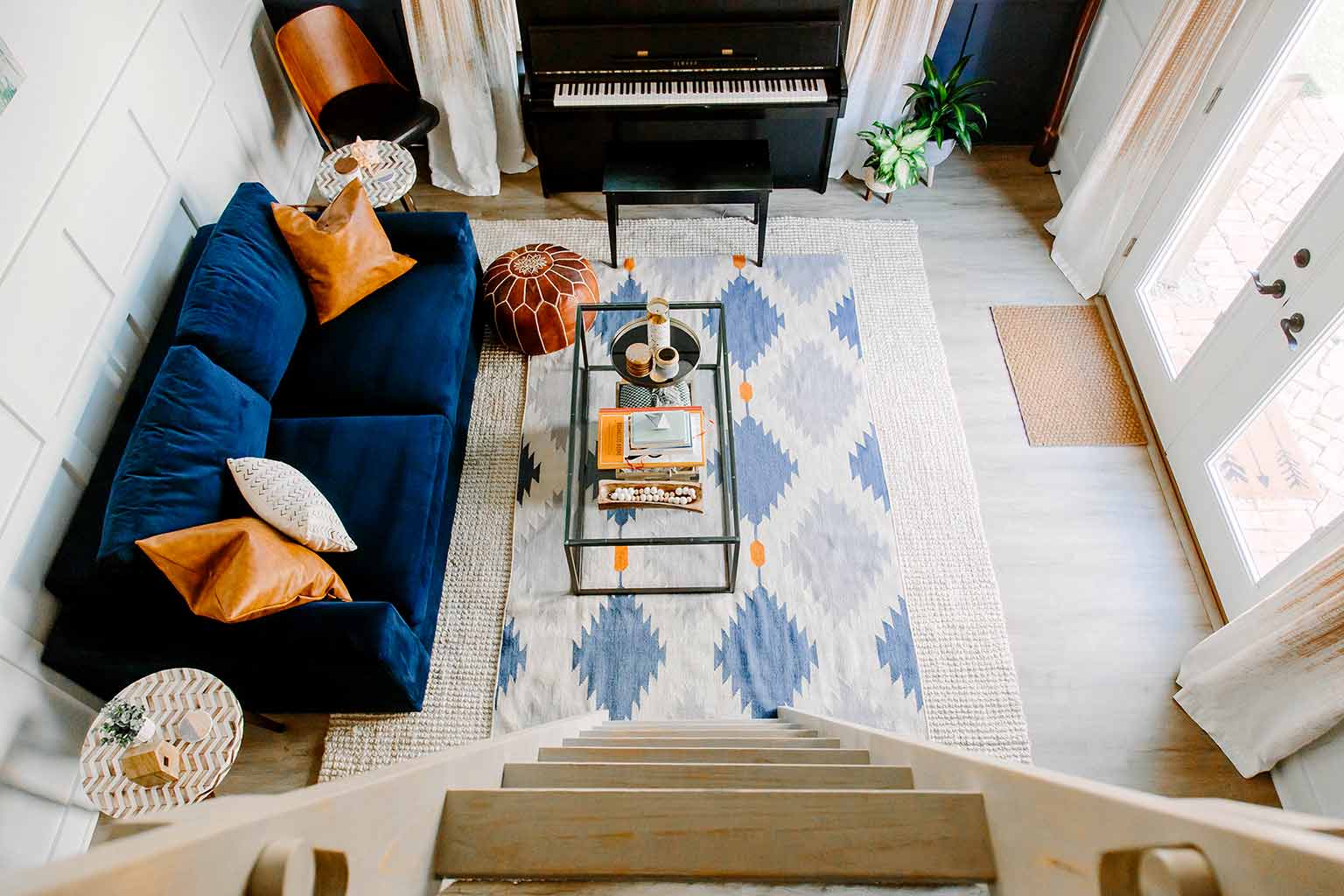 We are fully enjoying having the extra space and I am so happy with how this space turned out. And I am overjoyed that it's finally completed! It's definitely been a bumpy ride, but I would do it all over again in a heartbeat. Thank you for following our journey—now onto the next project!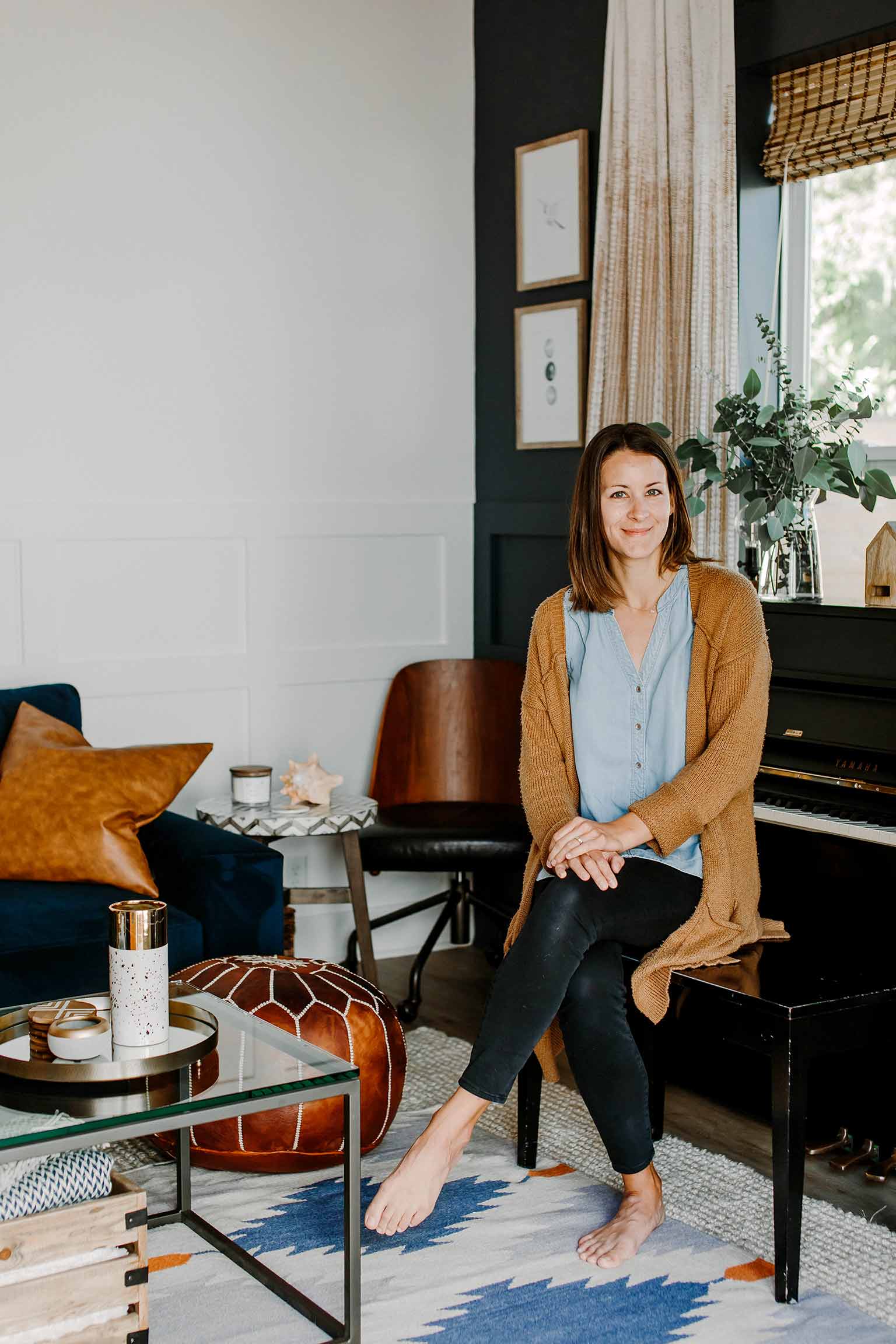 Photo credits: Cole LoCurto
SOURCES
Wall color: Benjamin Moore Hale Navy and Sherwin Williams Pure White
Chandelier
Curtains
Curtain Rods
Jute Rug
Wool Dhurrie Rug
Office Chair (no longer available—similar)
Coffee Table
Mirrored Brass Tray
Coasters
Wood and Wool Beads
Sofa (no longer available—similar)
Side Tables (no longer available—similar)
Faux Leather Pillows
Mud Cloth Pillow
Moroccan Leather Pouf
Faux Taxidermy
Canvas
Moon Watercolor
Hummingbird Print
Wood Picture Frames
Guitar Hangers
Kitchenette
Decanter
Glassware here and here
Canisters (no longer available—similar)
Coffee Mugs here and here
Backsplash Tile
Shelving—custom made, with these brackets
Loft
Coffee Tables
Rug
Ottomans
Sheepskin
Shelving
Bathroom
Shower Curtain
Mirror
Picture Frames
Stool
Bamboo Clothes Rack

Hardware
Robe Hooks
Toilet Paper Holder
Chrome Towel Rack

Faucet
Shower Trim
Floor Tile
Shower Tile
If you want to catch up on the journey of our guest house from start to finish, check out these posts:
The Story So Far: Farewell Ugly Addition!
Guest House Construction Progress: It Finally Looks Like A Building!
Guest House Progress: Decor Plans for the Interior
How to Stay Positive During a Long-term Home Renovation
Guest House Progress: Flooring, Trim—and some Tile Drama
Five Steps to a Clutter-free, Organized Outdoor Storage Space
---