This week I've been working on plans for another room in our new build, and this particular space is going to be serving two purposes: a den/TV room that will also a double up as a guest bedroom.
As with the living room, there are lots of pieces of our current furniture that will be used in this space—in fact, when we move in it will almost be a transplant of our current apartment set up, using the existing sofa bed, coffee table, media console and rug: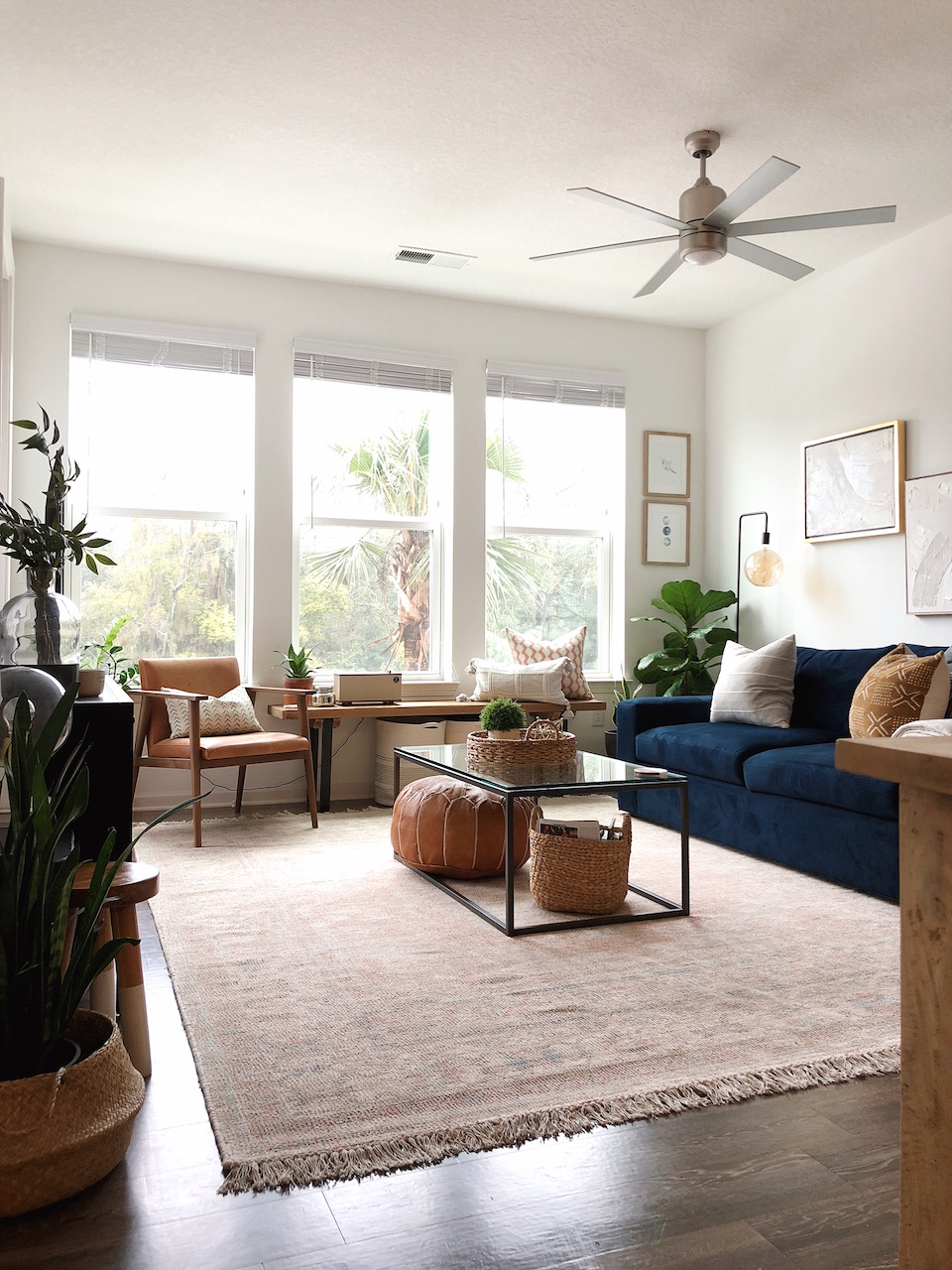 Longer term I am hoping to switch out the rug for something with a bit more color saturation, like a vintage rug or a vintage style flatweave with a bit more color, but the one I have is a great placeholder in the meantime. With lots of expenses all at once, I'm definitely going to be decorating this house in phases.
Even though I'll be using lots of my existing furniture in this design, this room will have a very different vibe thanks to a bold paint color and decorative trim...but before I get into the details, here's the mood board I put together: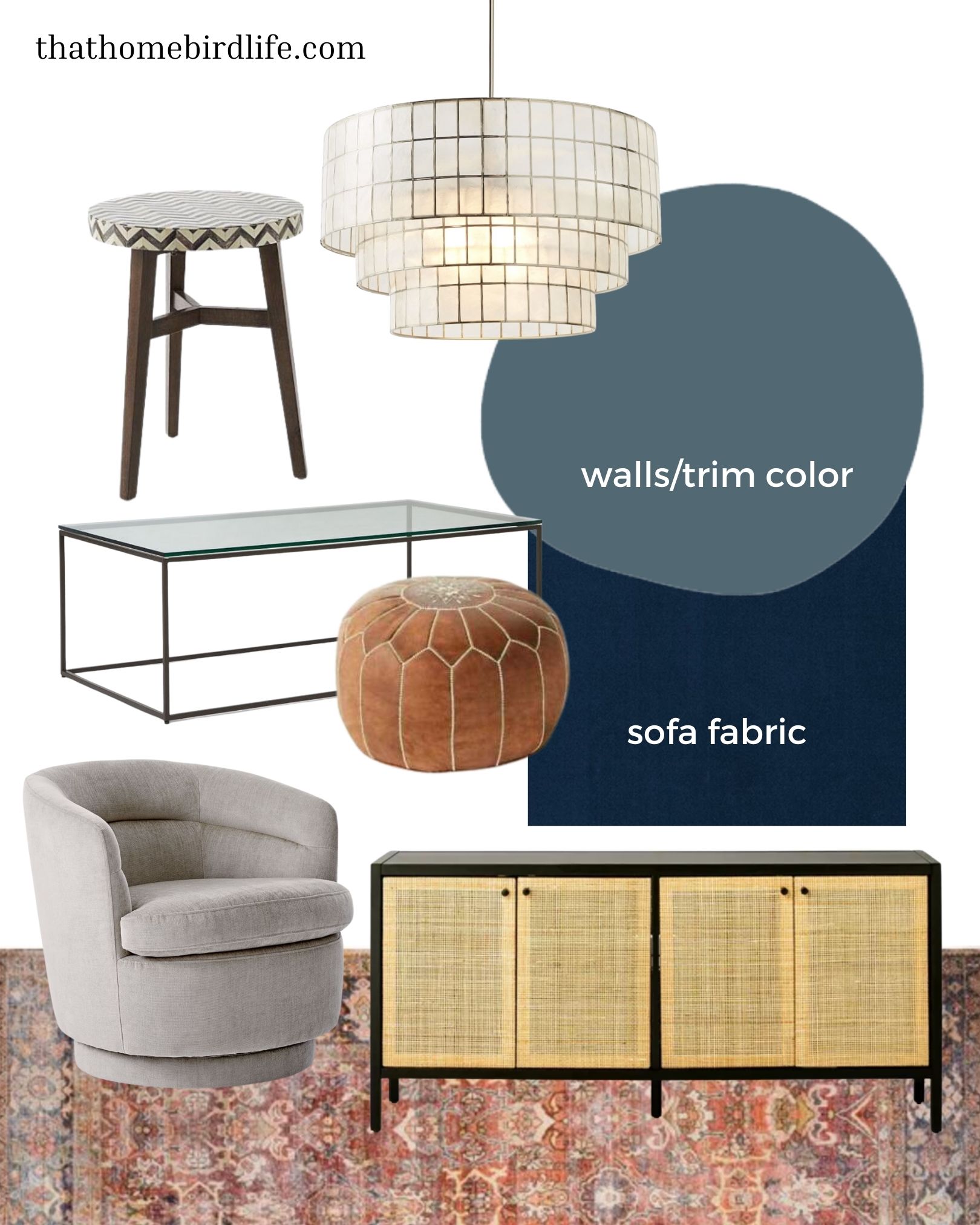 TO PAINT OR NOT TO PAINT...
The key piece of furniture in this room will be the navy velvet sleeper-sofa from our guest house, and that is directing me in the color palette for the room. Similarly to our guest house, I want to use some rich blue paint on the walls, but this time I want to carry it around all four walls to make it feel more cohesive and cozy. In the guest house, I put the sofa against a white wall, but it will be more of a tone-on-tone look this time around which I think will work great. I am going a little lighter in tone (Sherwin Williams Waterloo) and my biggest question mark is whether to paint the ceiling to match the walls, or to paint the ceiling white.
Here's some moody walls with white ceilings: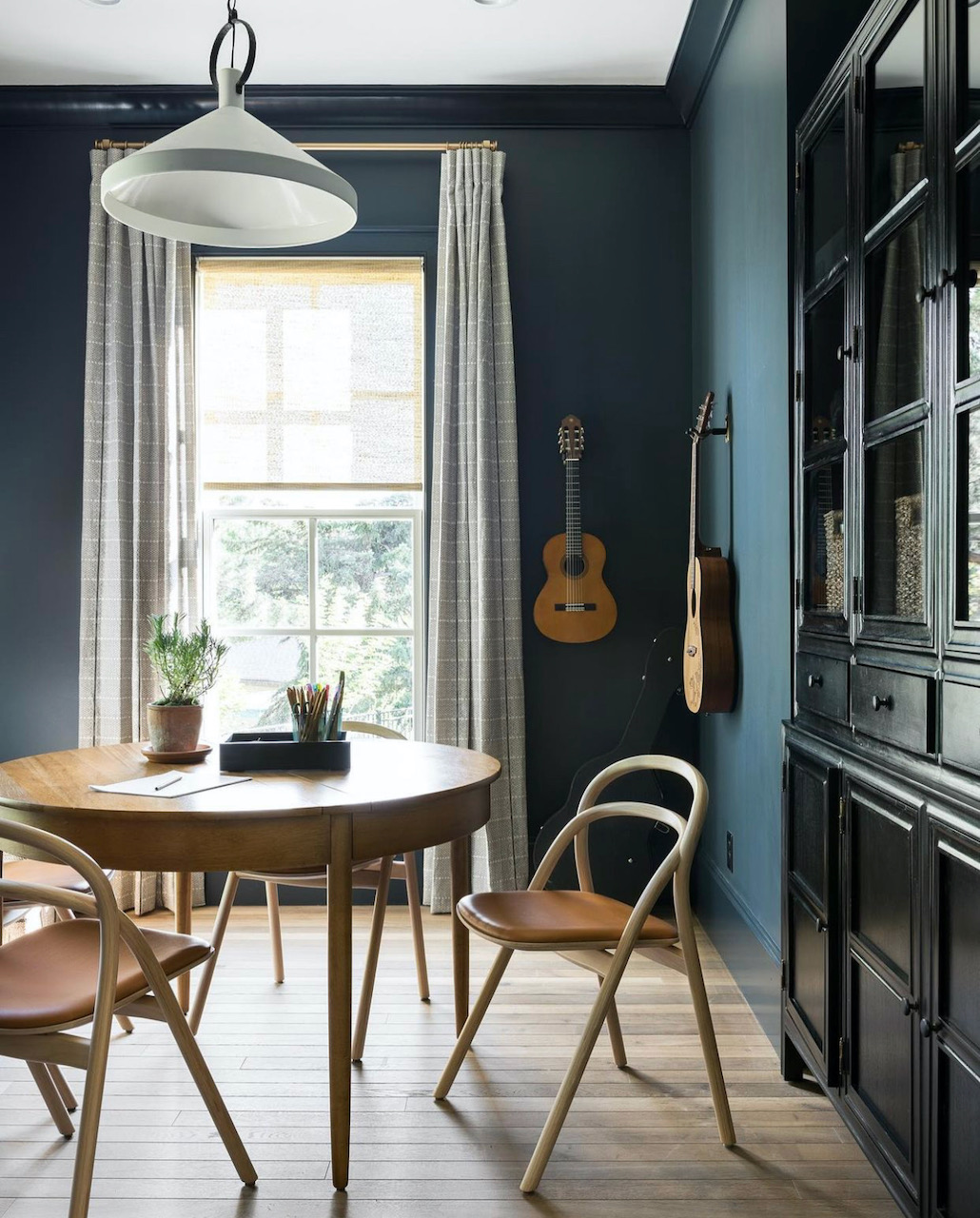 Source: W Design Collective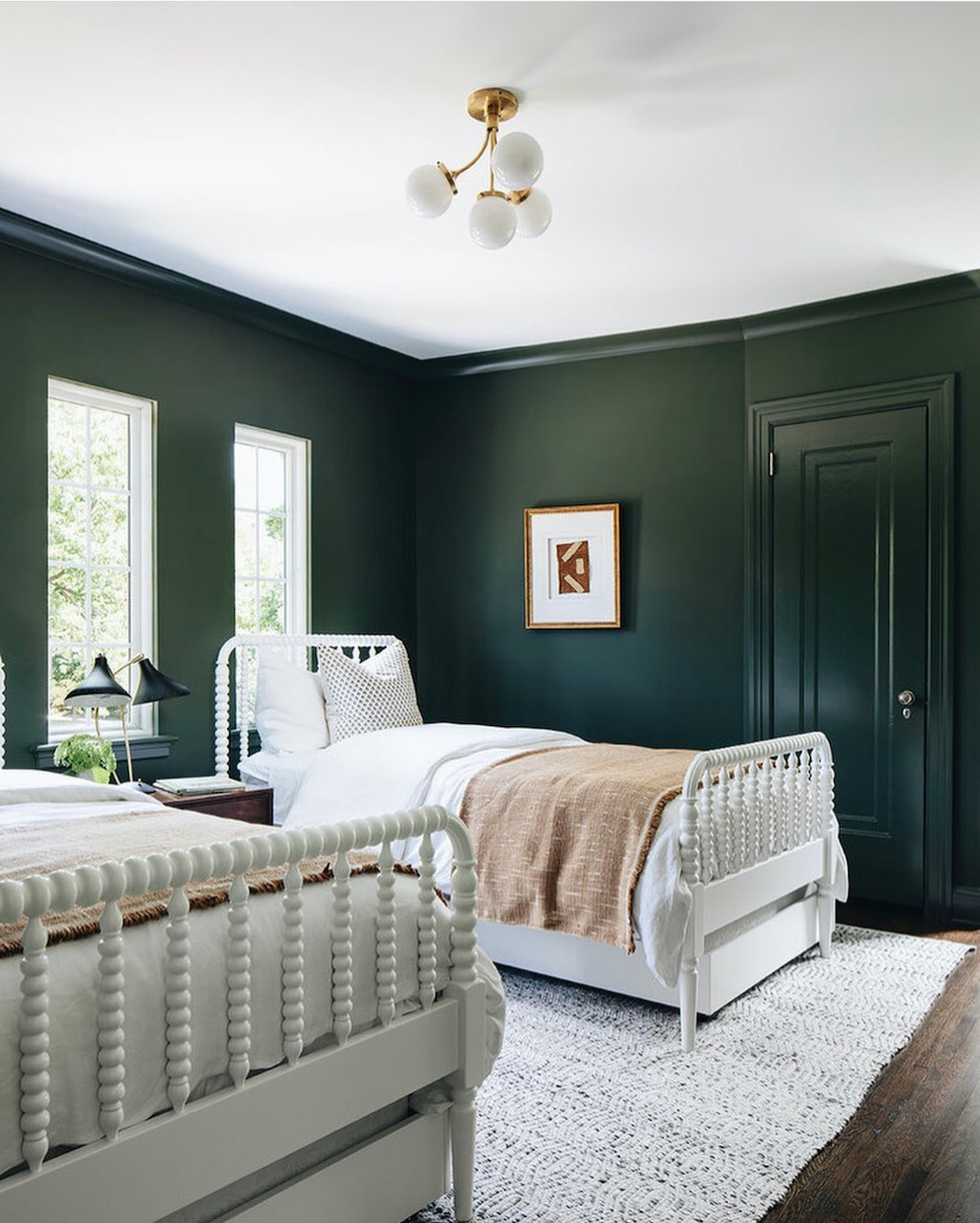 Source: Jean Stoffer Design
And here are a couple of examples where the ceiling is painted too: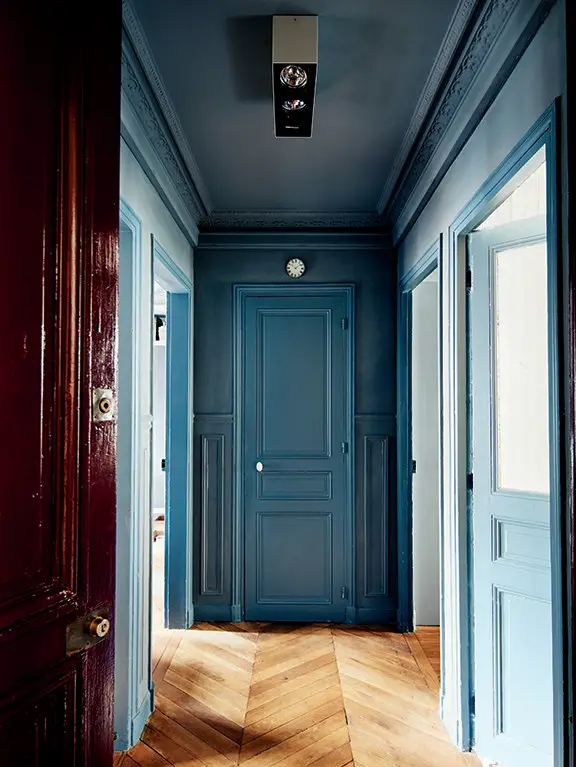 Source: Domino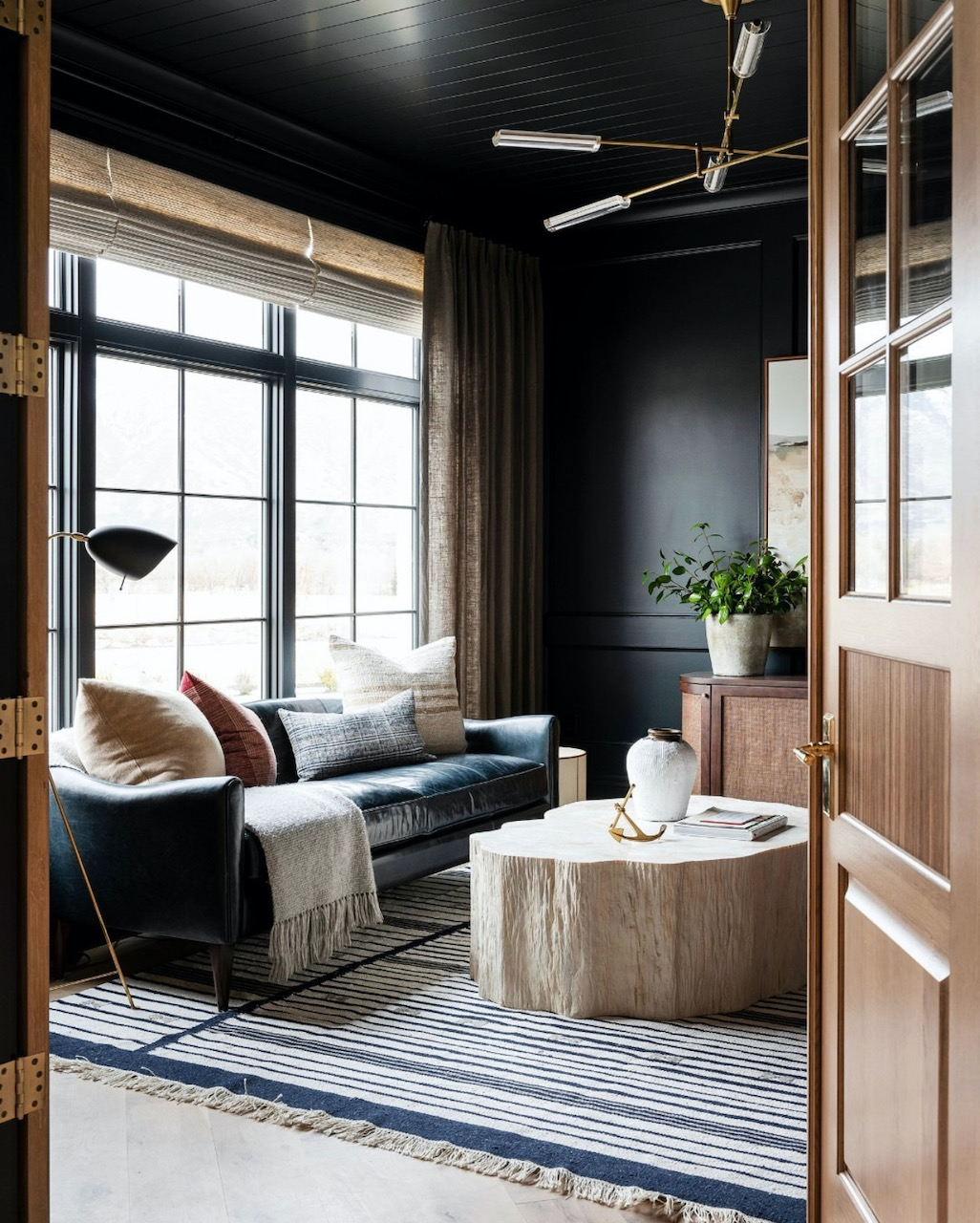 Source: Studio McGee
At the moment, I'm leaning towards painting everything (including the doors, baseboards and crown molding) blue, and leaving the ceiling white. My main reasoning: it would be easier to paint the ceiling (or even add wallpaper!) later on down the line, than it would be to do the opposite and paint over the blue. (I call this a "deferred decision" and it's a strategy I'm using to stop myself from going crazy over all these details.) Plus I have some very moody plans for the office, so it might be nice to have a different feel in this room. Saying that, I've changed my mind approximately 5729 times already so ask me tomorrow and I might give you a different answer...
A LITTLE BIT OF TRIM GOES A LONG WAY
With a sea of blue walls and trim, I'm adding some detail in the way of crown and picture molding. I love the proportions of this picture molding by @jaci.daily: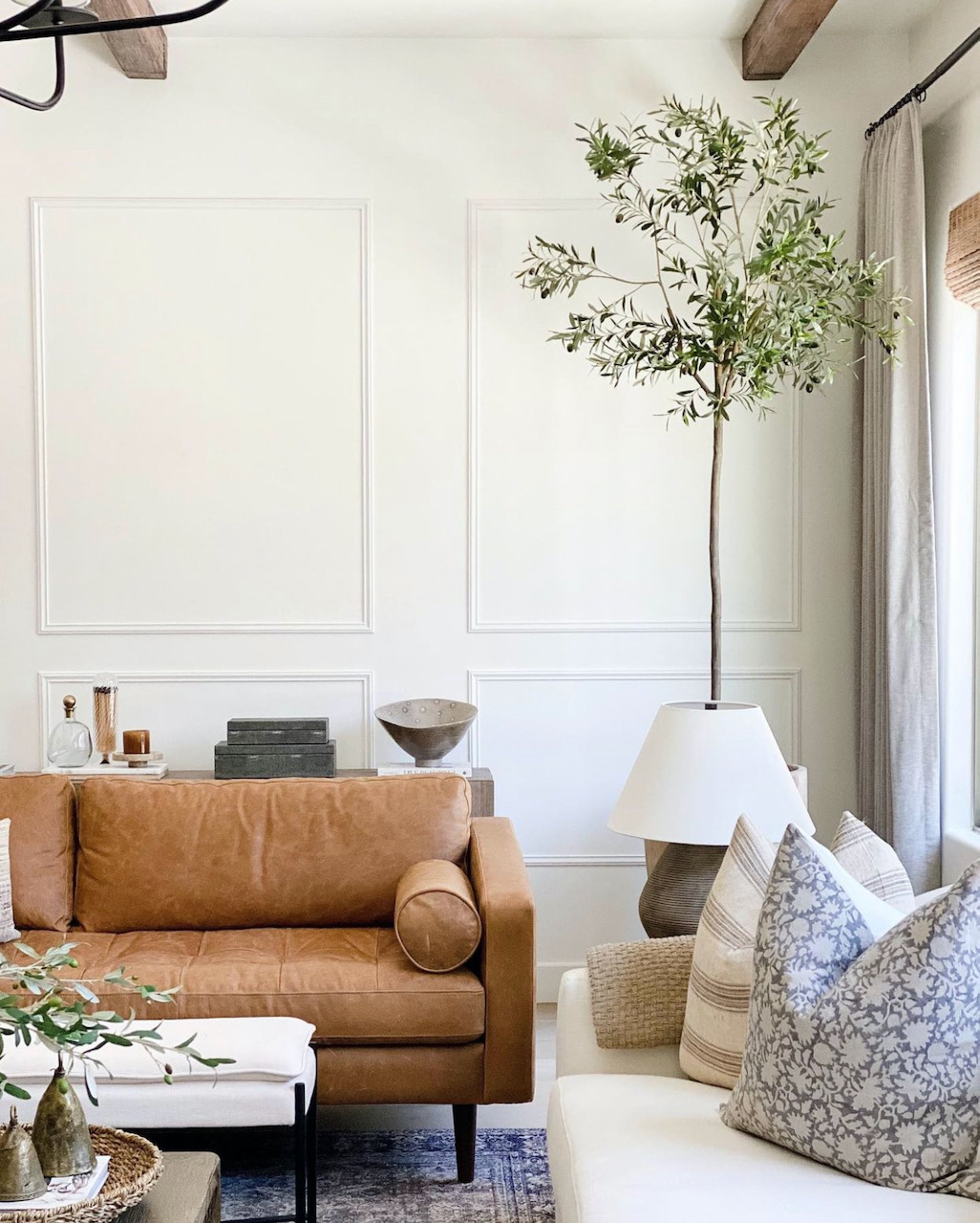 Source: @jaci.daily
I'm also adding a ceiling medallion to accentuate the beautiful capiz light fixture. It's details like these that will hopefully help our new build feel a little more historic.
DECORATIVE DETAILS
Since the walls, trim and sofa will all be blue, I'll add some light neutral curtains for some contrast. I'll be keeping the surface styling pretty simple to make it easy to switch from den to guest room without having to move a lot of things around. The artwork is something I'm going to "wait and see" on—although I am thinking the minimalist flower prints that we had in our last living room will be a good fit for this space:
FUNCTION AND FORM
Since this is a guest room as well as a den, I want to make sure we are set up for guests. I love our cane media console, but it won't provide clothes storage. Rather than squeezing in a dresser as well, I'll be keeping it streamlined and incorporating drawers into the closet design. Side tables either side of the sofa will act as bedside tables when the bed is folded out.
So that's how our den/guest room is shaping up so far, and I think it will be a nice contrast to our light/neutral living room! I'll be sure to let you know when I make a final decision on the ceiling paint color...
Want to be the first in the know? Sign up to my mailing list!
Catch up on our house build plans:
Exterior
Kitchen
Living Room
Main Bathroom
Dining Room
Mudroom
Laundry Room
Kids' Bathroom
Guest Bathroom
---