In our last home, our mudroom was probably the trickiest area of the house to keep tidy. We used our side porch door as our main entrance, and so the mudroom was a constant drop zone for shoes, school stuff, sand/dirt and random miscellaneous items.
There are a few things I would have done differently had I known how heavily used this room would be. Some of my design choices weren't the most practical, but I'm learning from those mistakes now—that's the fun part about doing this all over again!
So first here's the mudroom mood board, and then I'll share my three top tips for designing a high traffic area like this: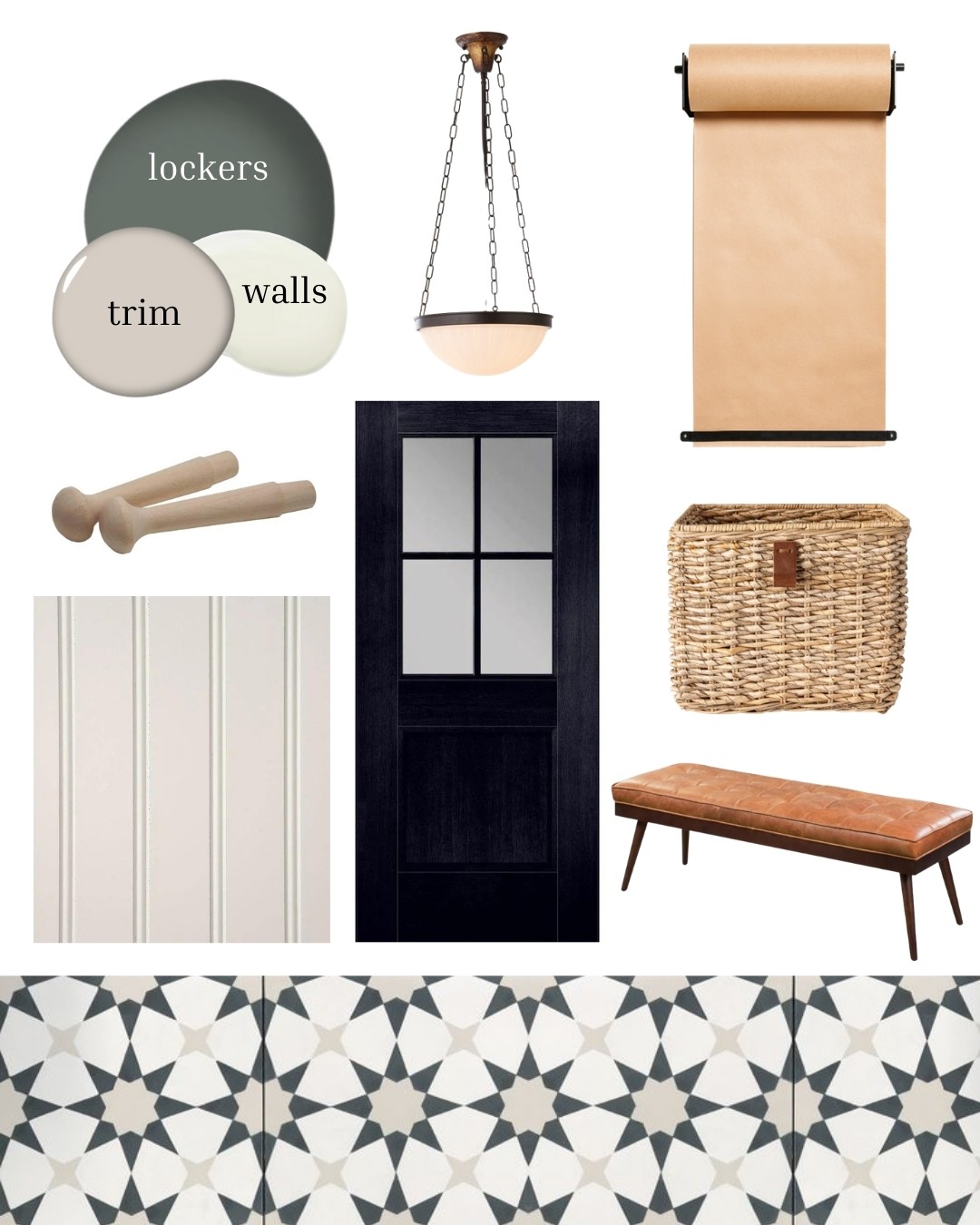 TIP #1: CHOOSE DURABLE FINISHES
This one might seem obvious, but a high-traffic area needs to hold up against whatever gets thrown at it. We used flat white paint in our last mudroom which never stayed clean. I did my best to keep it white by using a magic eraser and touching up the paint when needed, but it never stayed smudge-free for very long.
I'm planning to do a half beadboard wall in our next mudroom, which will be painted in a satin (scrubbable!) finish. I'm also choosing an off-white putty color (SW Modern Gray), which will be much more forgiving than white.
I love this example by Francois et Moi: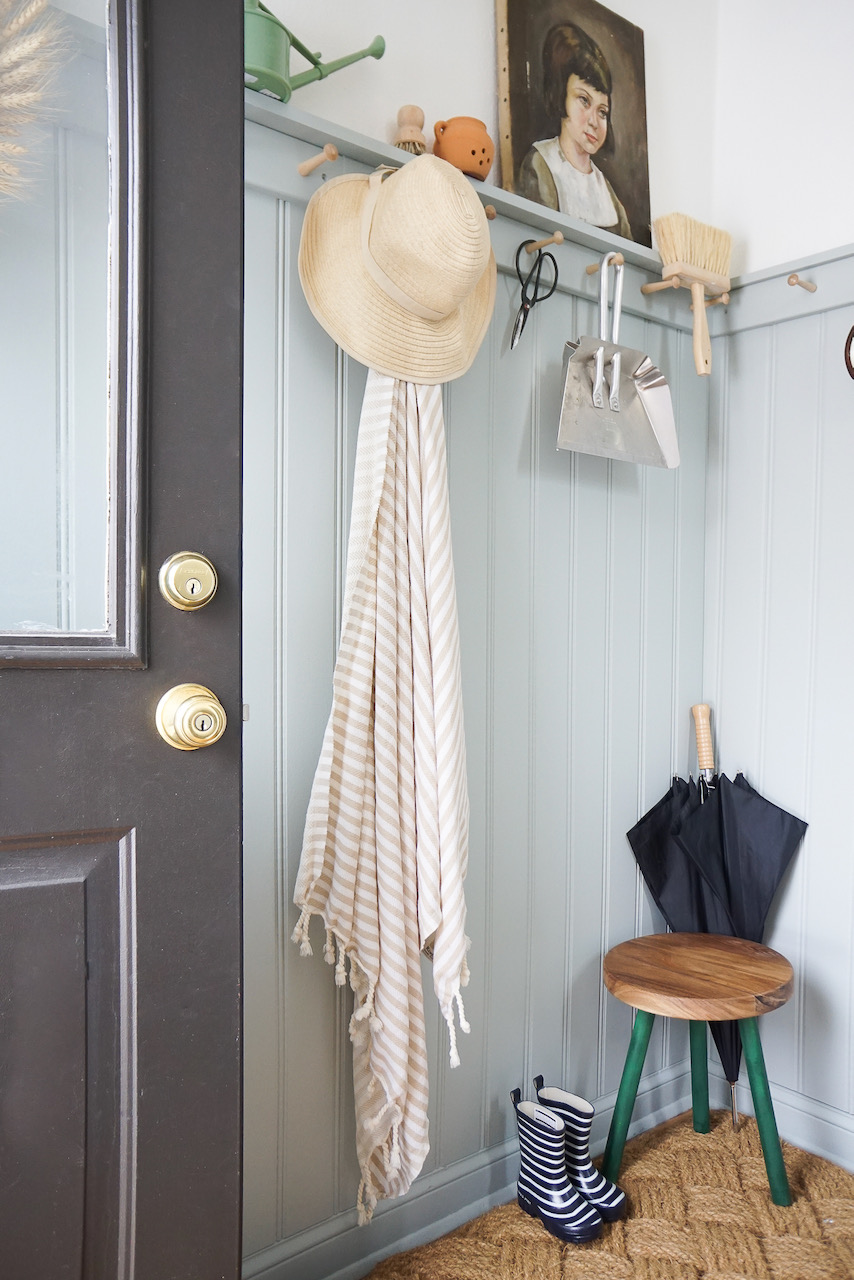 Source: Francois et Moi
I'm also thinking about durability when it comes to the floor tile—my choice is encaustic cement tile which is incredibly durable, and will be sealed with a penetrating sealer to protect it from stains.
TIP #2: THINK ABOUT THE TRAFFIC PATTERN
By considering how a high-traffic area will be used on a daily basis, you can make design choices that help support its natural flow. This means you don't have to work so hard at keeping everything in order, because there are systems in place that make sense for your space.
Our mudroom will be the place where everyone gets ready to leave in the morning for school, and the spot where everything lands upon their arrival home. Therefore I'm thinking through storage options, and how I can make as easy as possible for my kids to grab what they need and put things back in the right place (baskets for shoes, hooks at their level, a tray for school papers).
Our last mudroom had open storage, which ended up looking messy and cluttered more often than not. So for this mudroom I'm opting for closed lockers with pull out baskets underneath for shoes.
As a design detail, I'm thinking about incorporating an element of the cement tile pattern as a cabinetry cutout. This is a beautiful example by Kate Marker Interiors:
Source: Kate Marker Interiors
TIP #3: KEEP IT SIMPLE
High-traffic areas get dirty more quickly than other areas of the house, so if there's ever a space to channel your inner minimalist, it's here. I'll be keeping the furniture and styling simple in here so that I don't have too many things to clean around. A bench, some framed prints and a hanging plant will probably be enough as it's a small space. To hide the electrical panel, I'm going to add a paper roll like we did in our last house.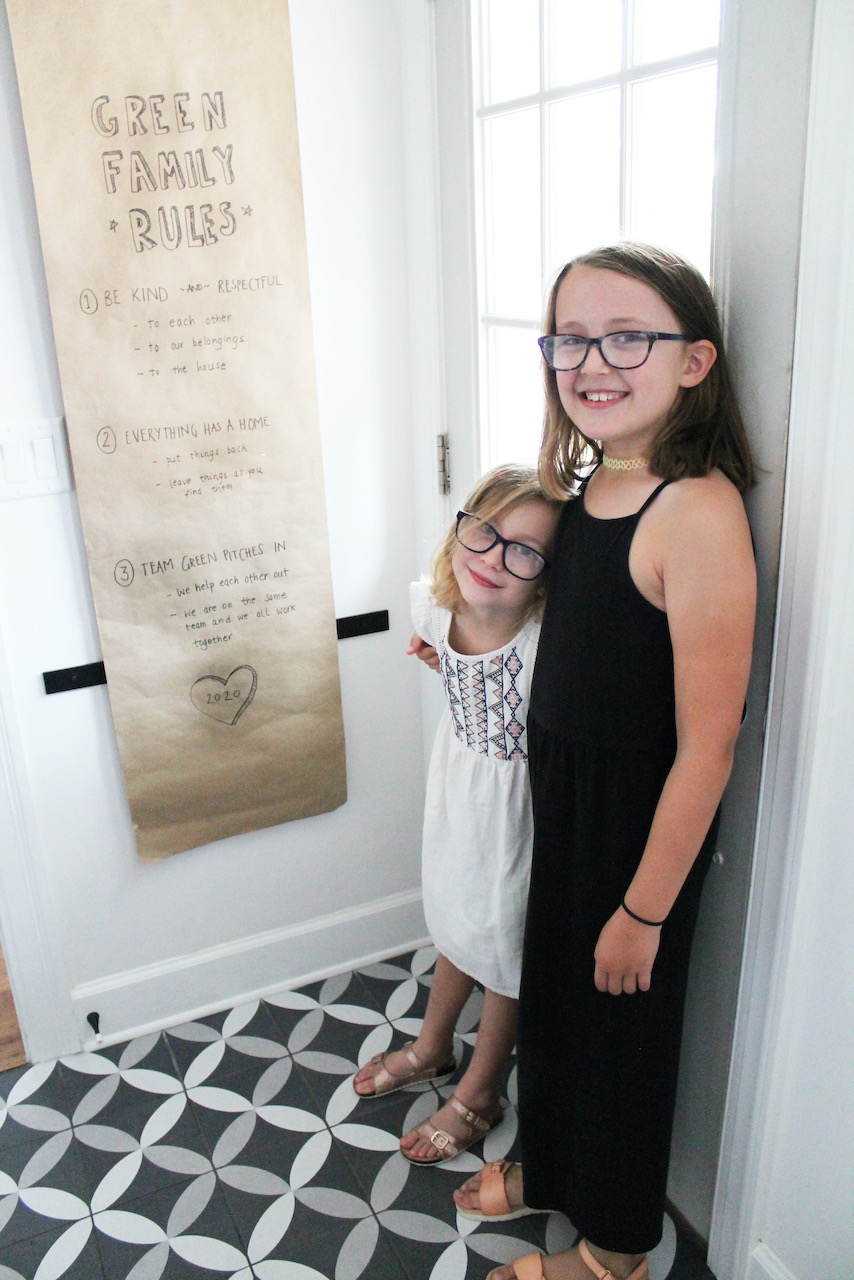 Want to be the first in the know? Sign up to my mailing list here!
Catch up on our house build plans:
Exterior
Kitchen
Living Room
Main Bathroom
Dining Room
Guest Room/Den
Laundry Room
Kids' Bathroom
Guest Bathroom
---