This feels like an exciting post as I'm sharing the very first peek of our new home which we will be building this year! It feels like it's taken us a long time to get to this point, but in reality, we only started working on plans three months ago, and we've made approximately one million decisions since that initial meeting with our architects in October.
So here we are, and I'm kicking things off with the front exterior/porch plans. I thought I'd begin by sharing a few inspiration photos that I've been pinning over the last few months: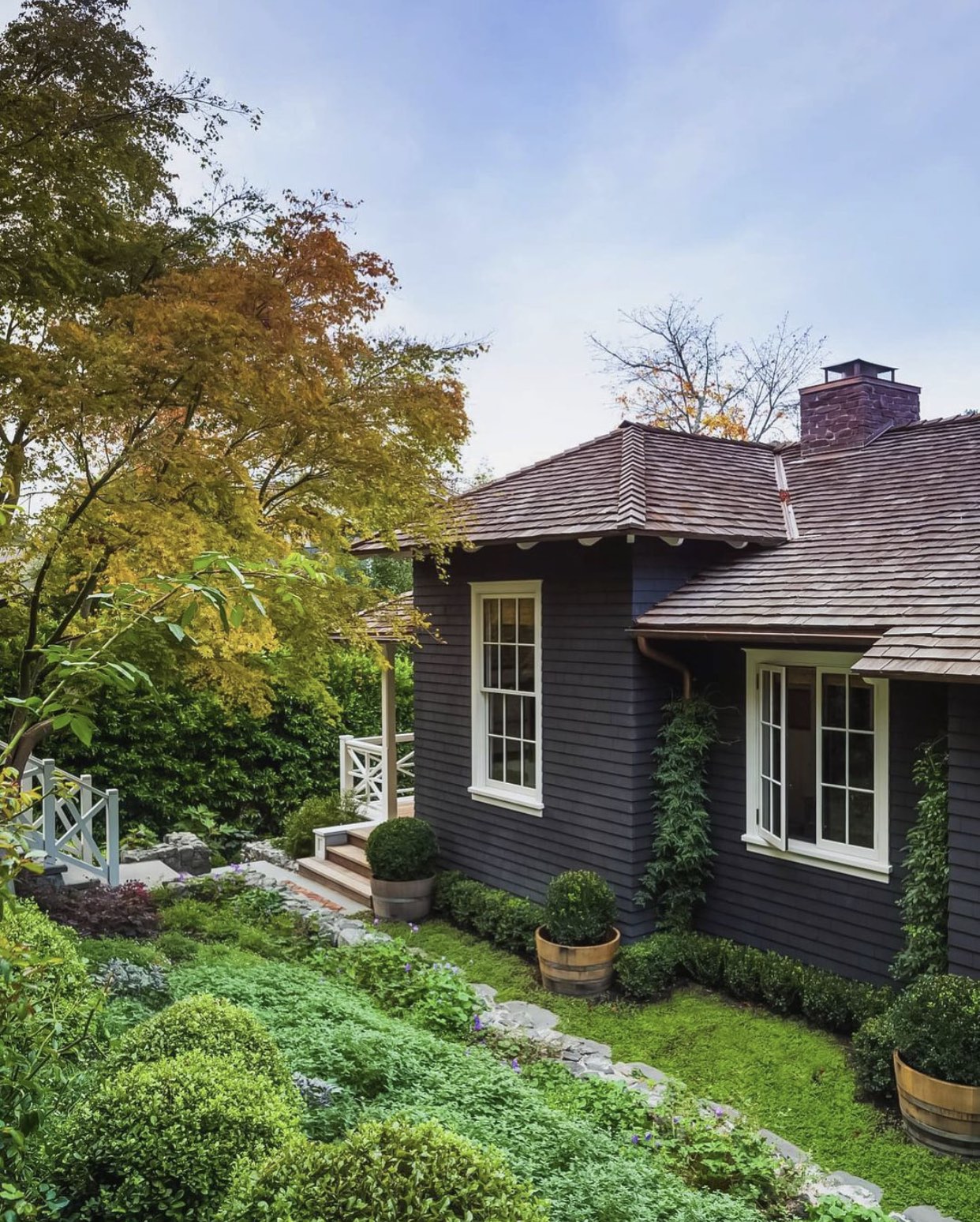 Source: G. P. Schafer / Rita Konig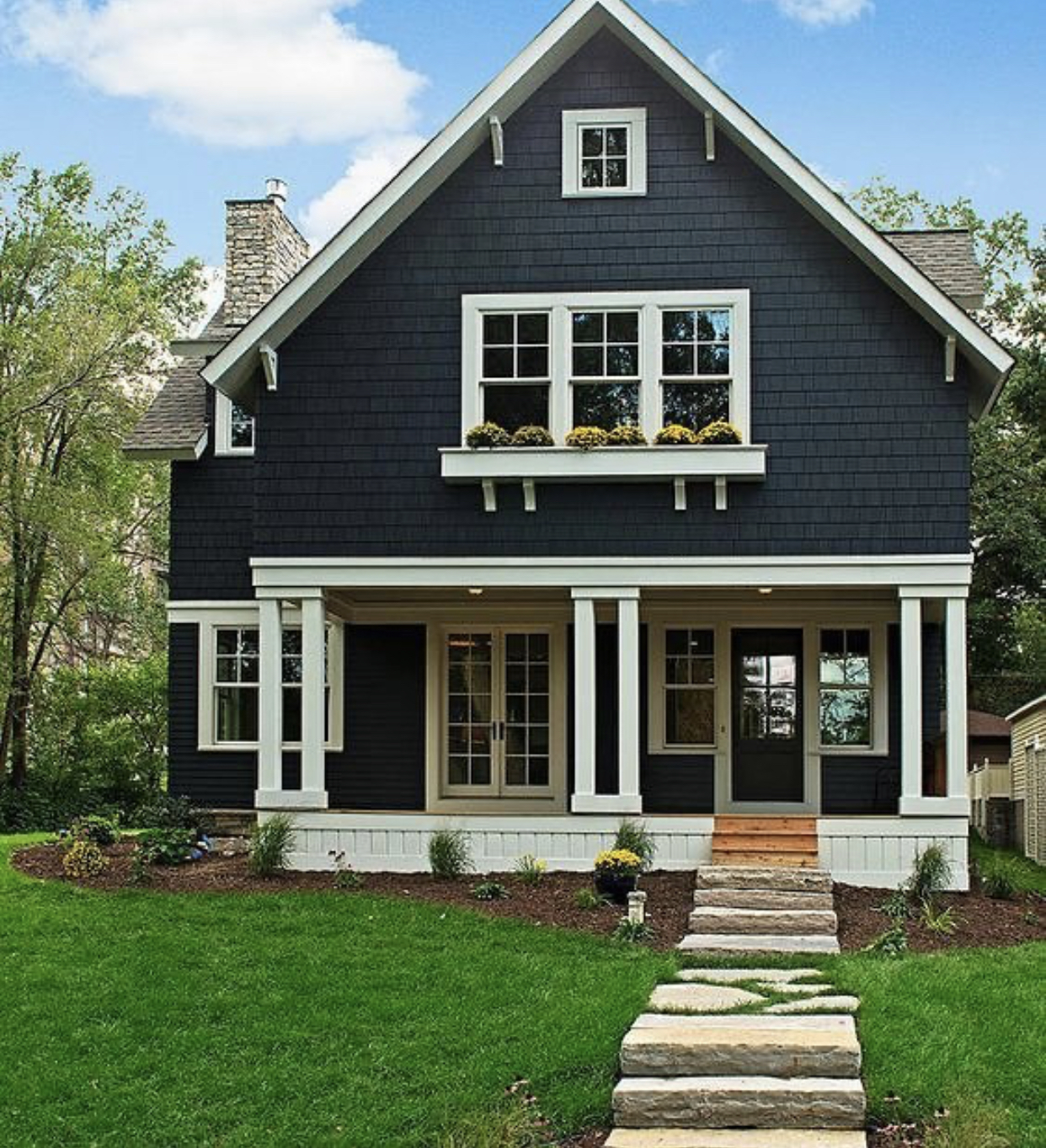 Source: Wallauer's Paint & Design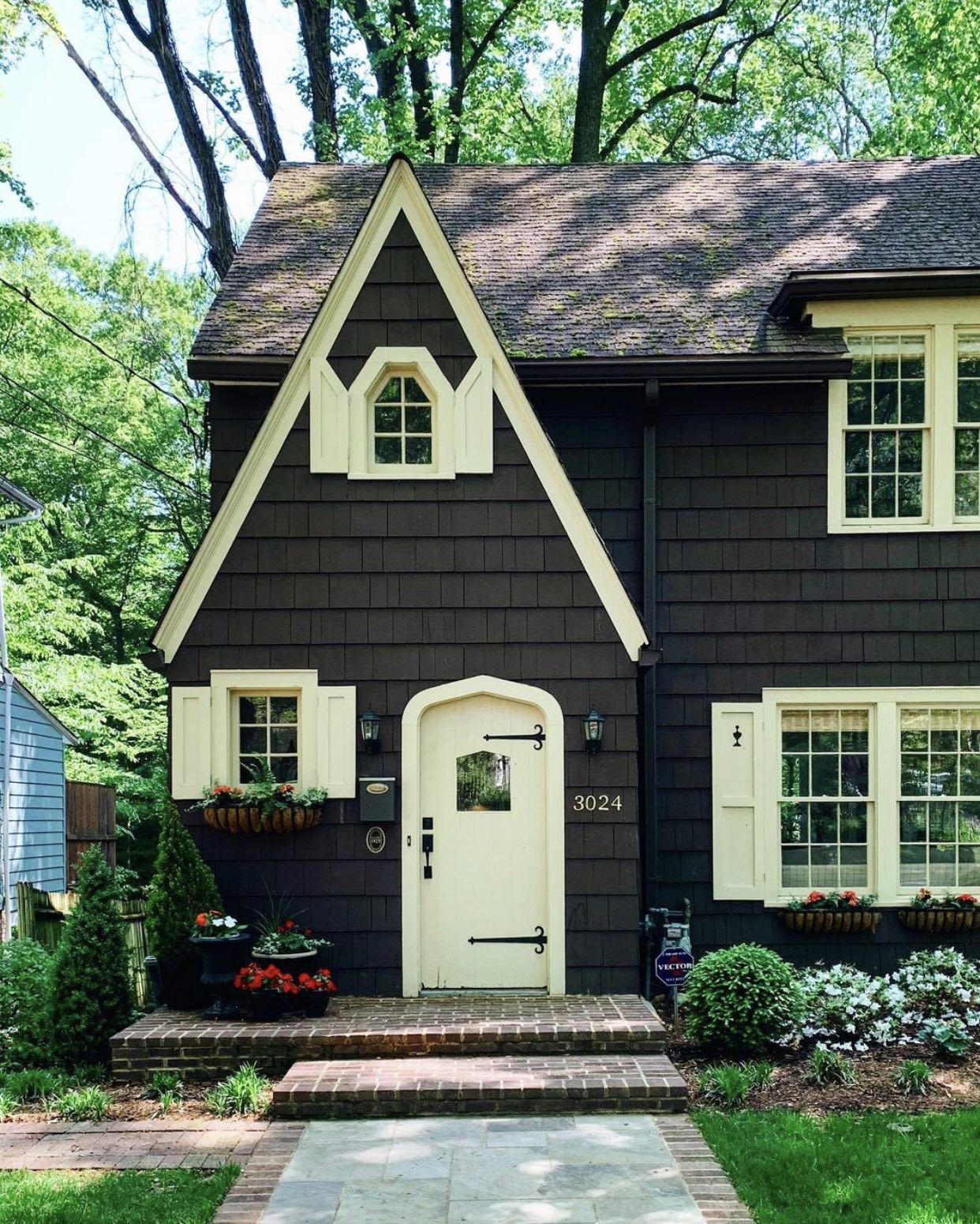 Source: @awalkinthewild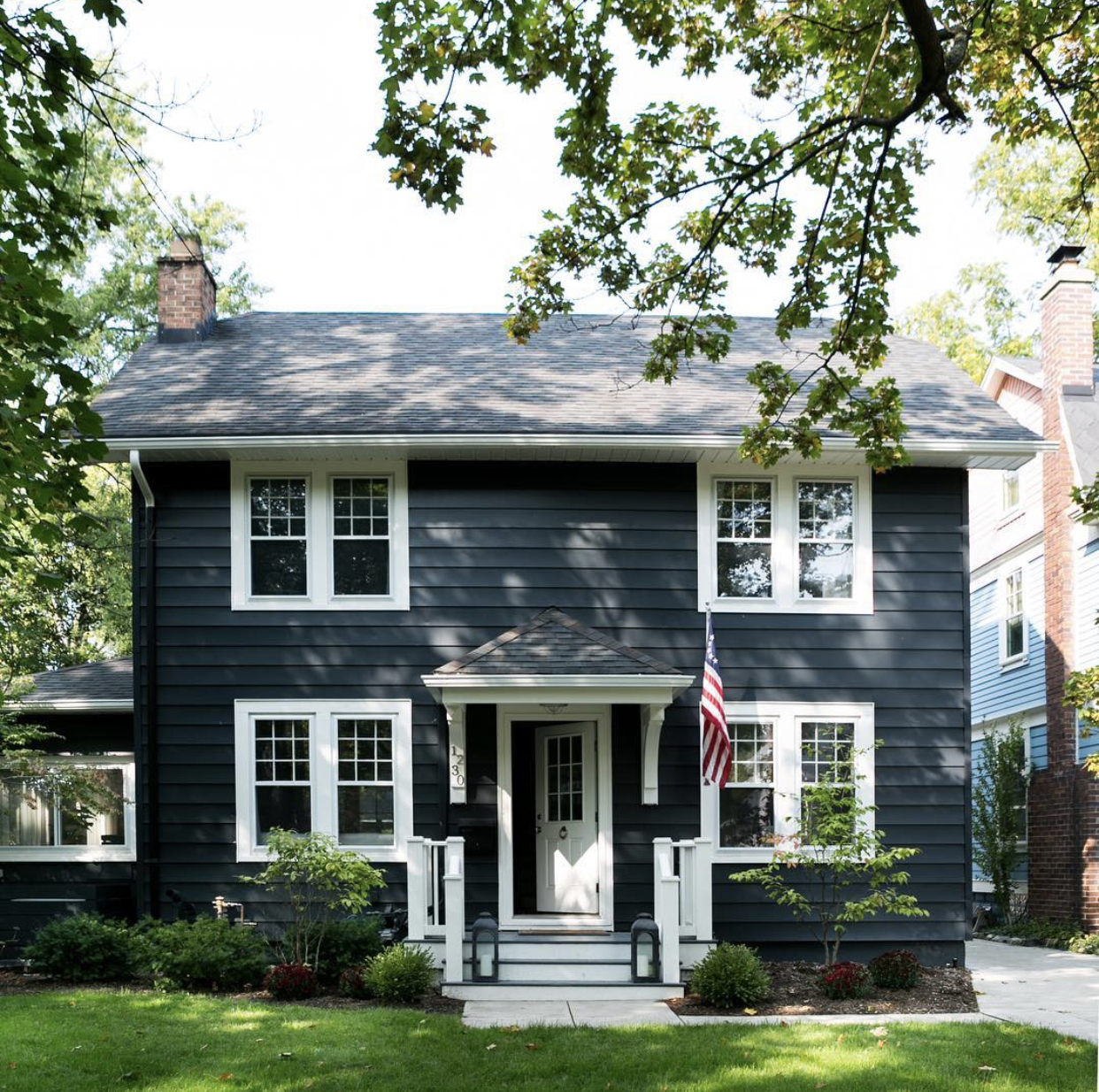 Source: Michelle Adams
You guessed it. We are going dark and moody! More on that in a little bit. Let me show you the front elevation of our home before we get into all the details: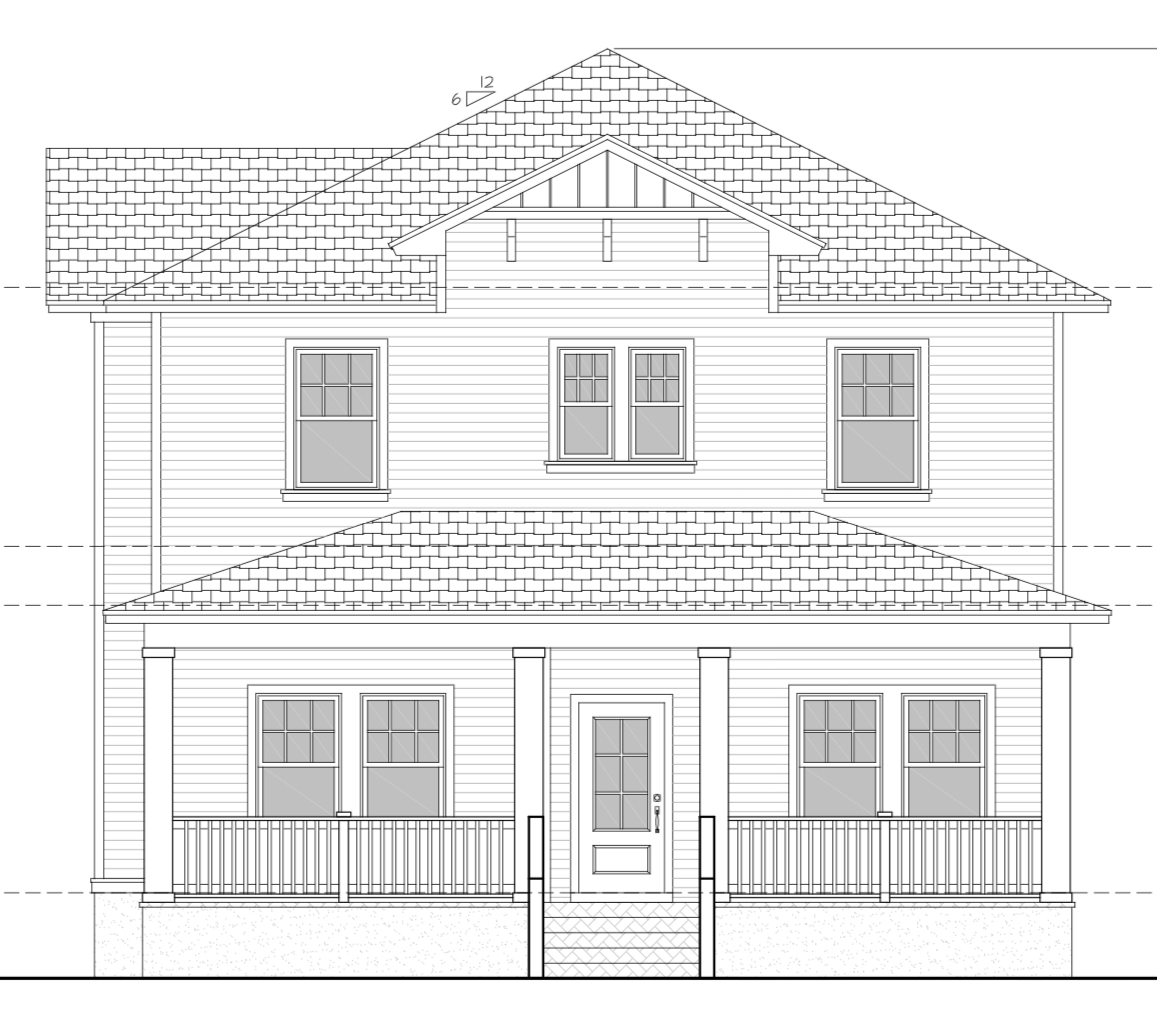 We are building in a historic area, which means that all new construction has to meet certain requirements so that it maintains the style of the neighborhood. Luckily for us, we love the look of historic homes, and I'm actually thankful for the limitations as it's narrowed down our options (decision fatigue is real!) It really feels like the best of both worlds—the perks of an energy-efficient, new construction with the character of an older home.
Here's the moodboard I've put together for the exterior and front porch: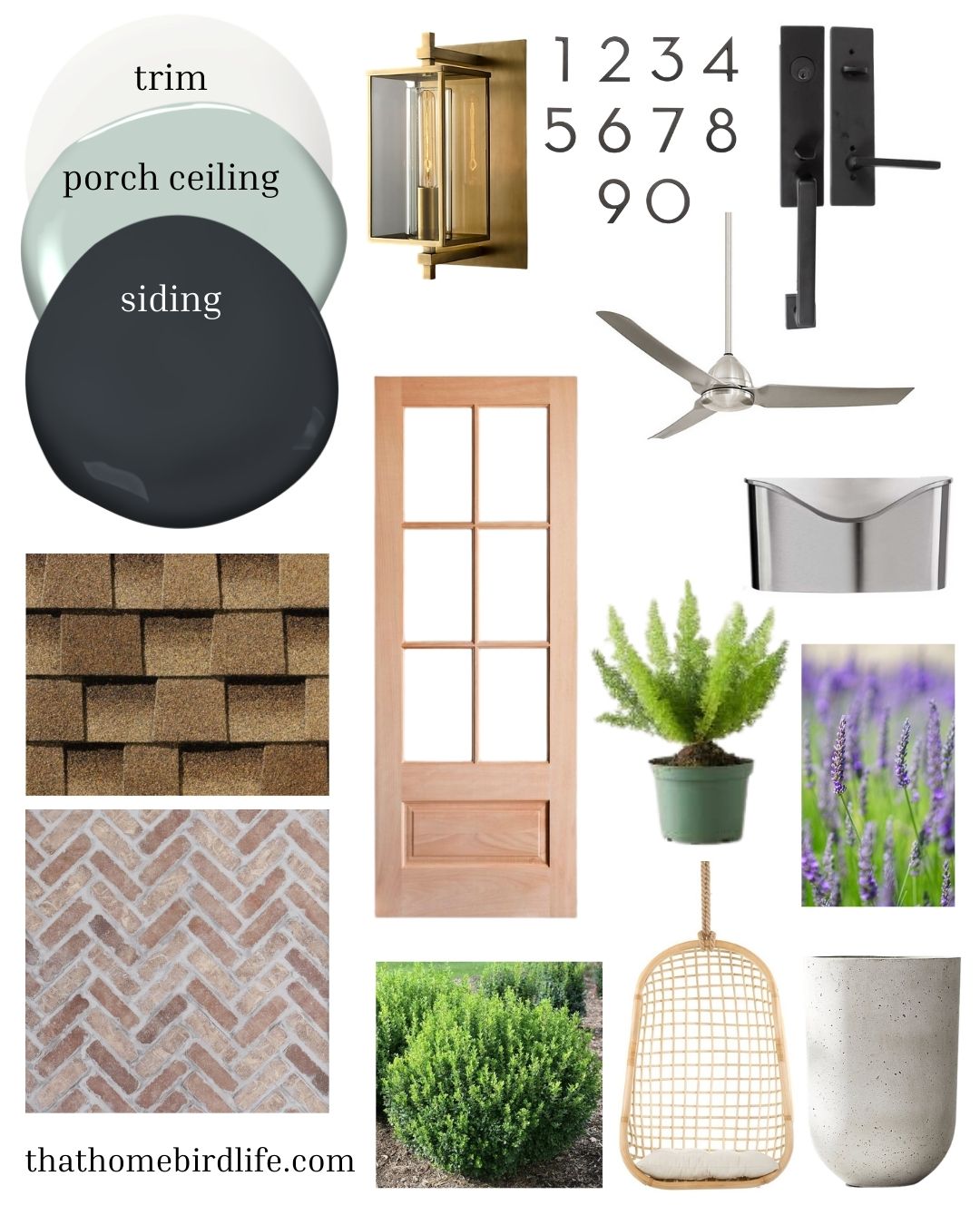 Dark exteriors are definitely popular right now, but it also works with historic style of the house so I don't think it will feel outdated if the trend moves on. We painted our last home white, and we wanted to try something a little different with this house. Our frontrunner is Benjamin Moore Soot which is a softer black with a slight blue undertone. This cooler tone will be balanced by the warmth of the brown shingle roof, wood door and brick tile porch floor. The crisp white trim (SW Pure White) will add contrast, and the porch ceiling will be a soft blue to keep the mud daubers away—according to a neighbor, it works!
As a nod to the herringbone brick driveway at our last home which I loved and hated, I want to use brick tile in a herringbone pattern on the porch and steps. This time it will be filled with mortar and mostly under a roof, so I don't think I'll have to pressure wash it quite so frequently.
Related: How to Clean Brick Pavers (And My Love/Hate Relationship with Pressure Washing)
I wanted to mix metal finishes to add some depth and interest. I think these little details really make a difference to the overall look of a house, The black door hardware and house numbers are a good neutral, and the warm brass sconces will balance the cool stainless steel mailbox.
Instead of a traditional porch swing, I want to add a couple of hanging chairs which will bring a mid-mod accent to our historic-style home. (I love the clean lines of mid-century modern design so you can expect more "nods" to this style throughout the interior.) I'll be choosing all weather wicker for these chairs rather than rattan so that they will withstand the Florida elements!
So there you have it. Light and dark, warm and cool—it's all about balance with this exterior. Now I have the vision for it, the wait feels longer. Yet in other ways I'm thankful to have had time to really work on ideas and sit with them for a little while. When we did our inital renovation on our last home we made snap decisions because we had a deadline, and I made a few hasty choices as a result. So, I'm reframing this waiting period as a gift, and the end point will be all the sweeter, I'm sure.
Want to be the first in the know? Sign up to my mailing list!
Catch up on our house build plans:
Kitchen
Living Room
Main Bathroom
Dining Room
Mudroom
Guest Room/Den
Laundry Room
Kids' Bathroom
Guest Bathroom
---