Well I suppose it was likely to happen at some point or another, but I feel like I've hit a bit of a wall with decision making this week. Up until this point, everything has been flowing pretty easily, but the dining room has me stumped. Decision fatigue is real!
I thought I would still share where I'm up to, and I'm hoping that documenting the process will help me get unstuck with whatever it is that is blocking me from moving forward with this space.
First—let's talk about the function of our dining room. Our dining table is a workhorse and is used for pretty much anything and everything, including (but not limited to) eating meals, craft/sewing projects, working from home and playing board games. For this reason, I want to keep this room simple and uncluttered as it's such a multifunctional space.
Related: Dining Room & Entryway Reveal: One Room Challenge Week Six!
However, it's also worth noting that our last home was half of the size of our new construction, so I think the new dining room may get a little less usage—we'll have a large kitchen island, plus everyone is getting their own desk which will ease the burden on our very well loved wooden table. So, I guess I'm stuck somewhere between wanting to keep this space simple, yet also not wanting to overlook it in terms of design.
Related: How NOT to Refinish a Dining Room Table: One Room Challenge Week Two
Here are some of the spaces that have been inspiring me: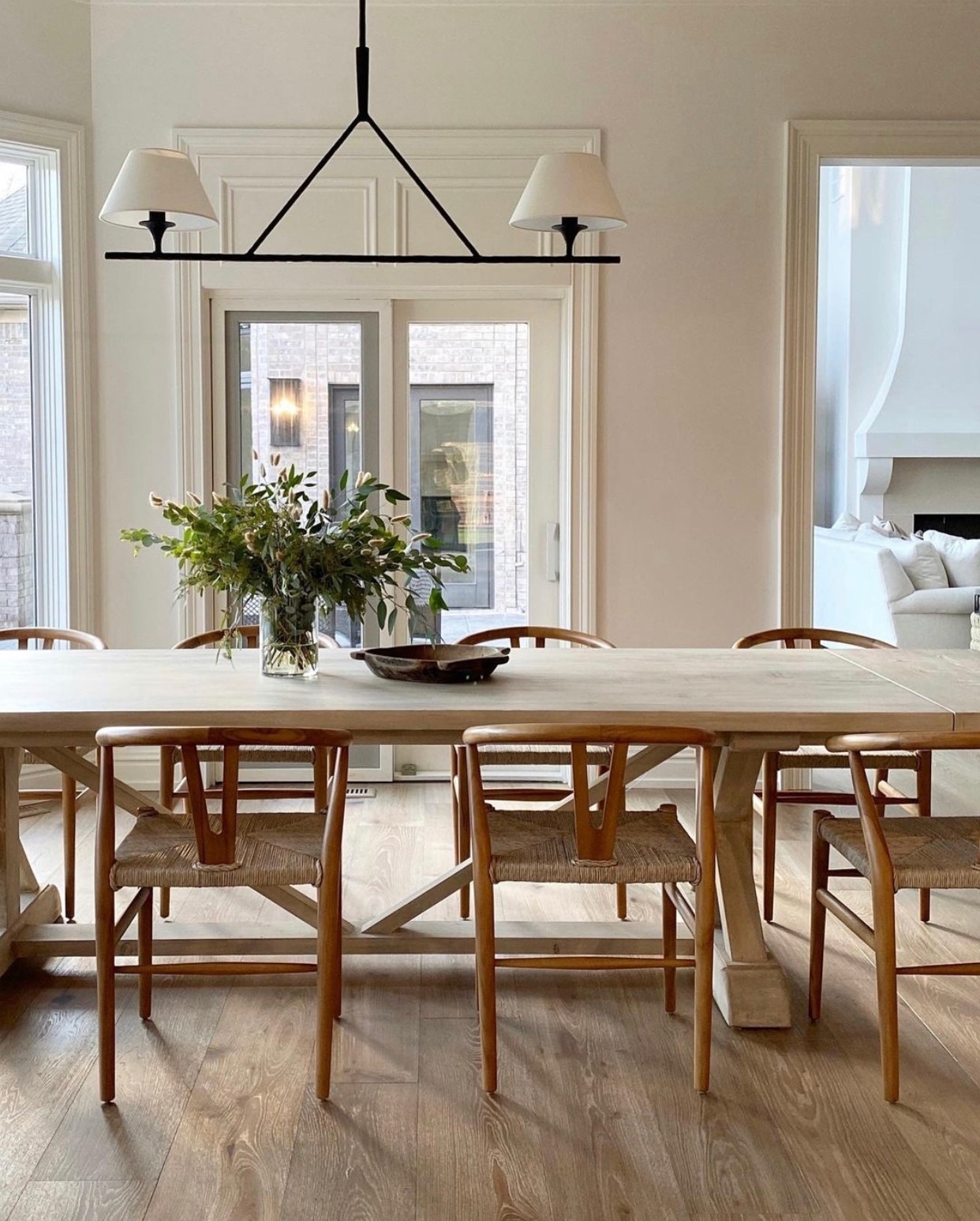 Source: HOUSE SEVEN design+build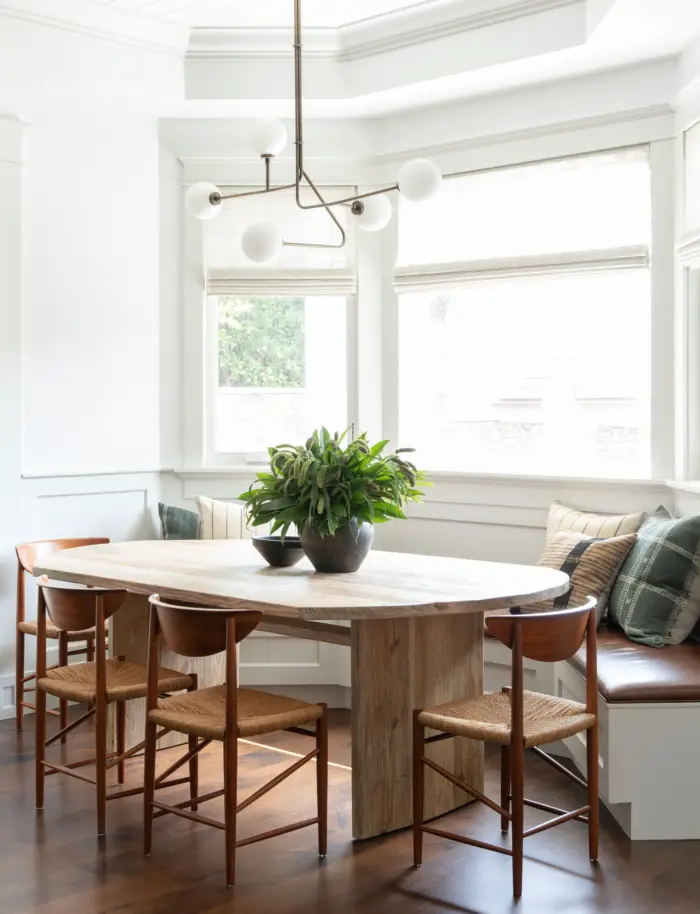 Source: Amber Interiors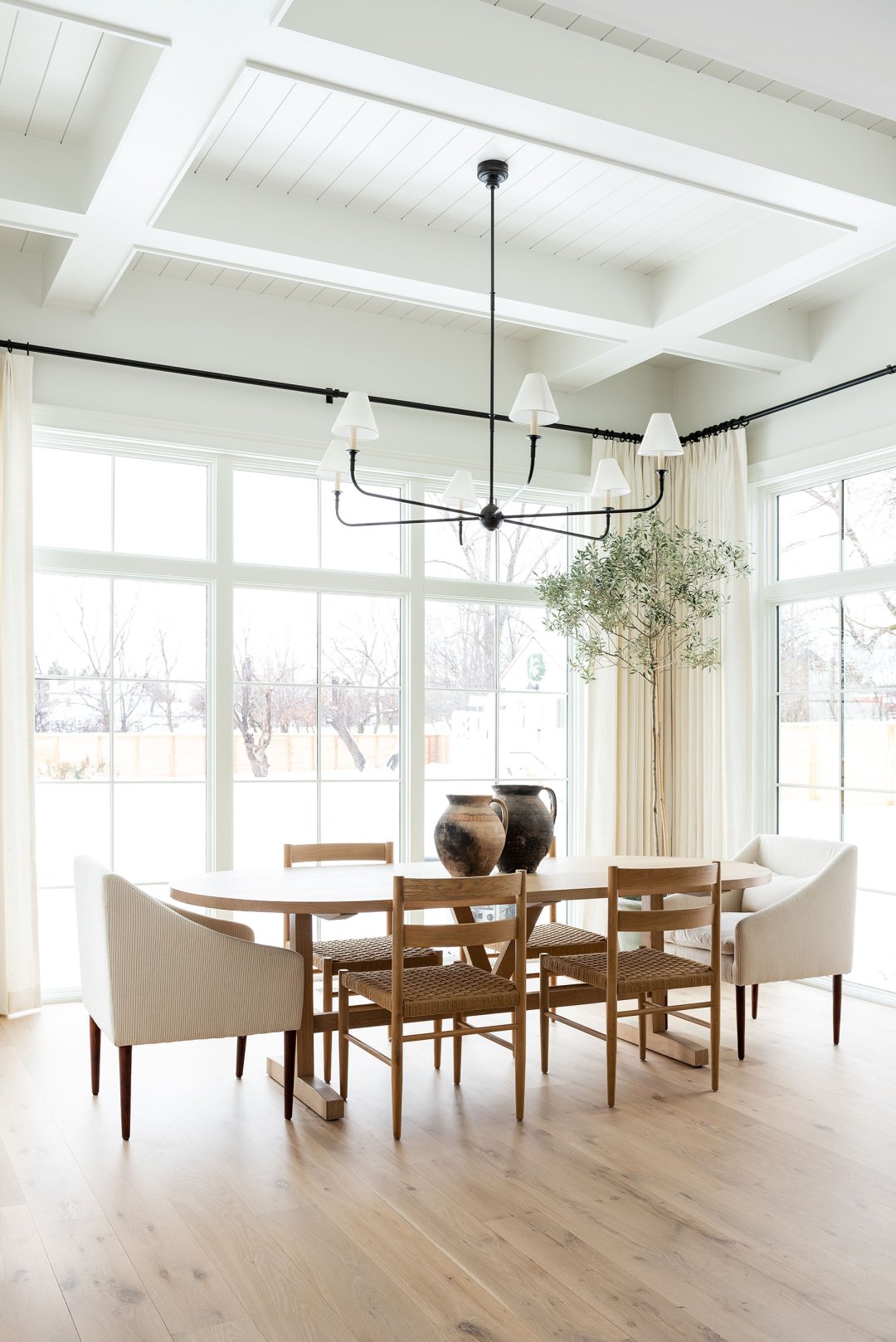 Source: Studio McGee
All of these spaces definitely check the "uncluttered" box with minimal styling—the natural light and warm wood tones do most of the talking. Our refinished wooden table, a decorative beam and hardwood flooring will fit nicely into this scheme, along with all the windows and french doors providing ample natural light: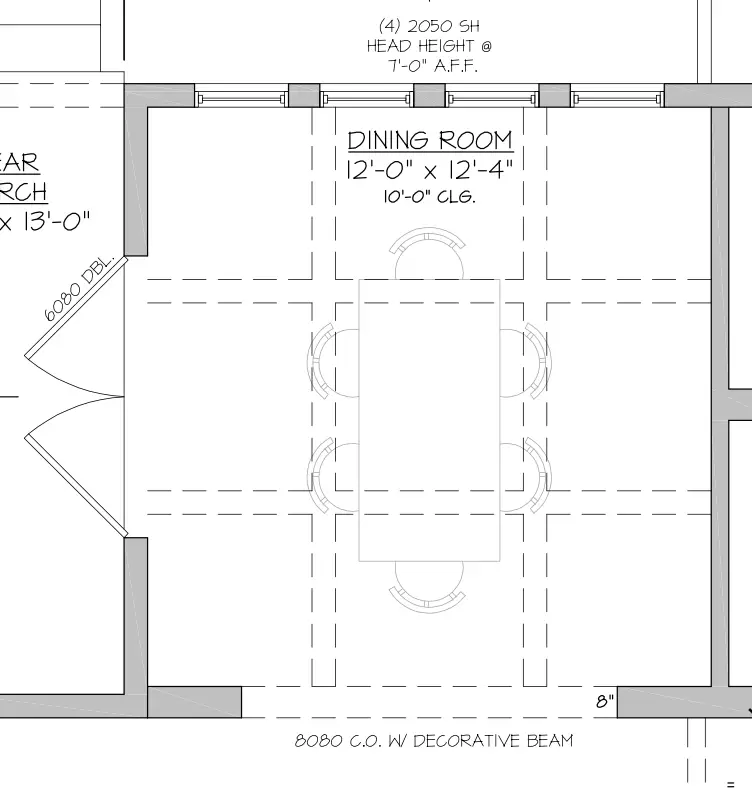 The other key feature to note is the coffered ceiling. This was originally planned for the living room but I decided to move it into the dining room as I thought it would have a lot more impact in a smaller space.
So, we have lots of wood tones, natural light and some beautiful ceiling trim. The foundational elements are in place...but what about those all-important details?
CURTAINS OR BARE WINDOWS?
Unlike our last dining room which was at the front of the house, we won't need window coverings for privacy purposes since this dining room will look out over the backyard. But from a design viewpoint I'm on the fence over whether we need curtains in this room for coziness and warmth. I won't be adding a rug (because kids) and so curtains would definitely add texture and softness to the space. On the other hand, the trim will be contrasting to the soft white walls in SW Modern Gray, so it might be nice to keep the windows minimalist and let the trim take center stage. I can see it working well either way!
A STORAGE PIECE
We didn't keep the storage window bench from the last house so we'll need a new storage piece for our nice-ish dishes and serveware. I think I've decided on a black piece, as it will add some nice contrast against our light table and chairs, but I'm undecided between a low wide credenza with a gallery wall above, and a tall arched cabinet flanked with large scale art.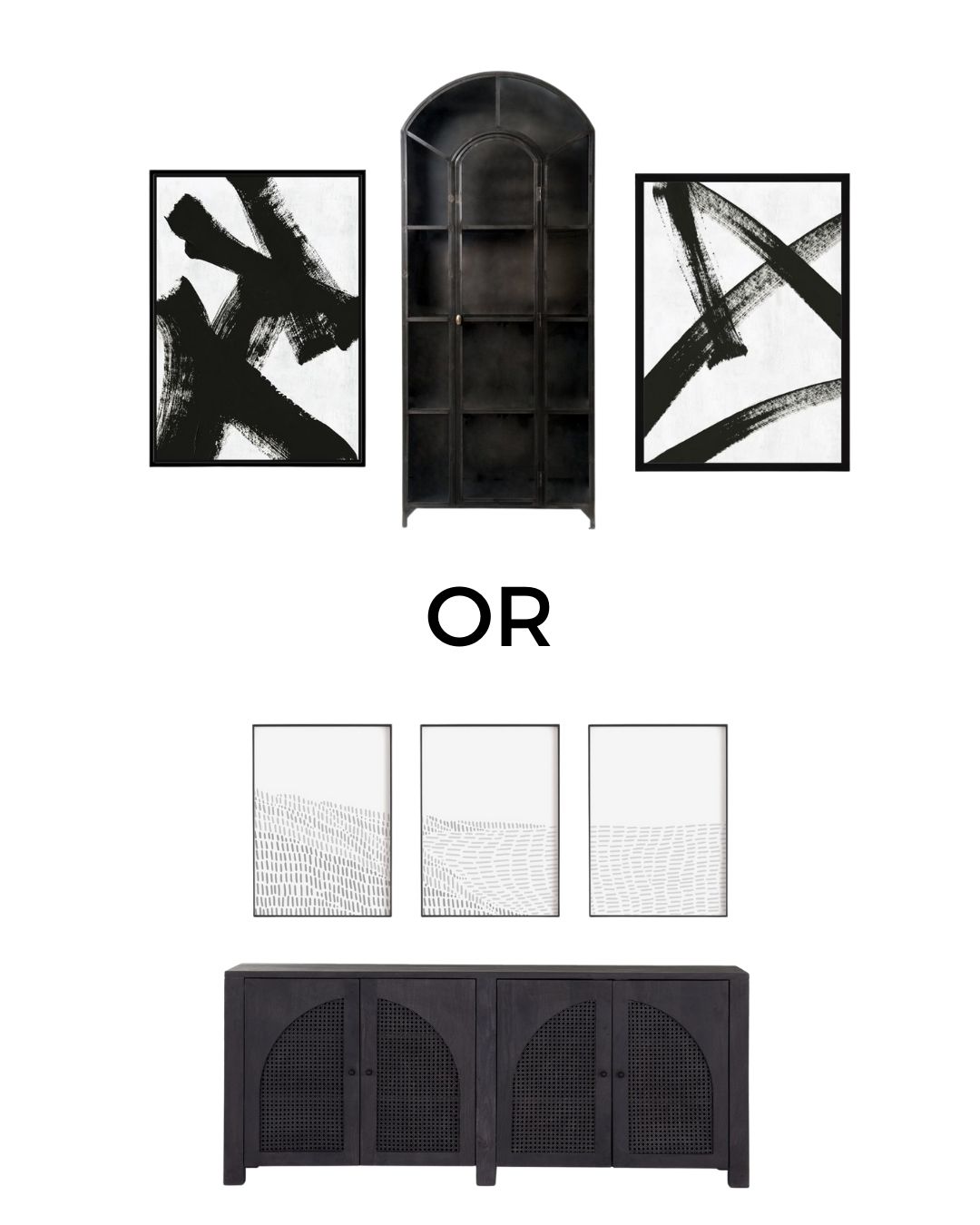 CHANDELIER OPTIONS
I already have the kitchen pendants and the living room fixture picked out, and with these in place I need to find the perfect chandelier to blend with those choices. I found an ultra modern chandelier which could work really well but Stu is not a fan of it at all. This aged iron option is gorgeous, but will the finish be too rustic alongside the sleek black living room fixture? I think a curvy globe chandelier would fit right in...but I don't know that I love it. This modern sputnik fixture is probably the frontrunner at the moment, but is it classic enough?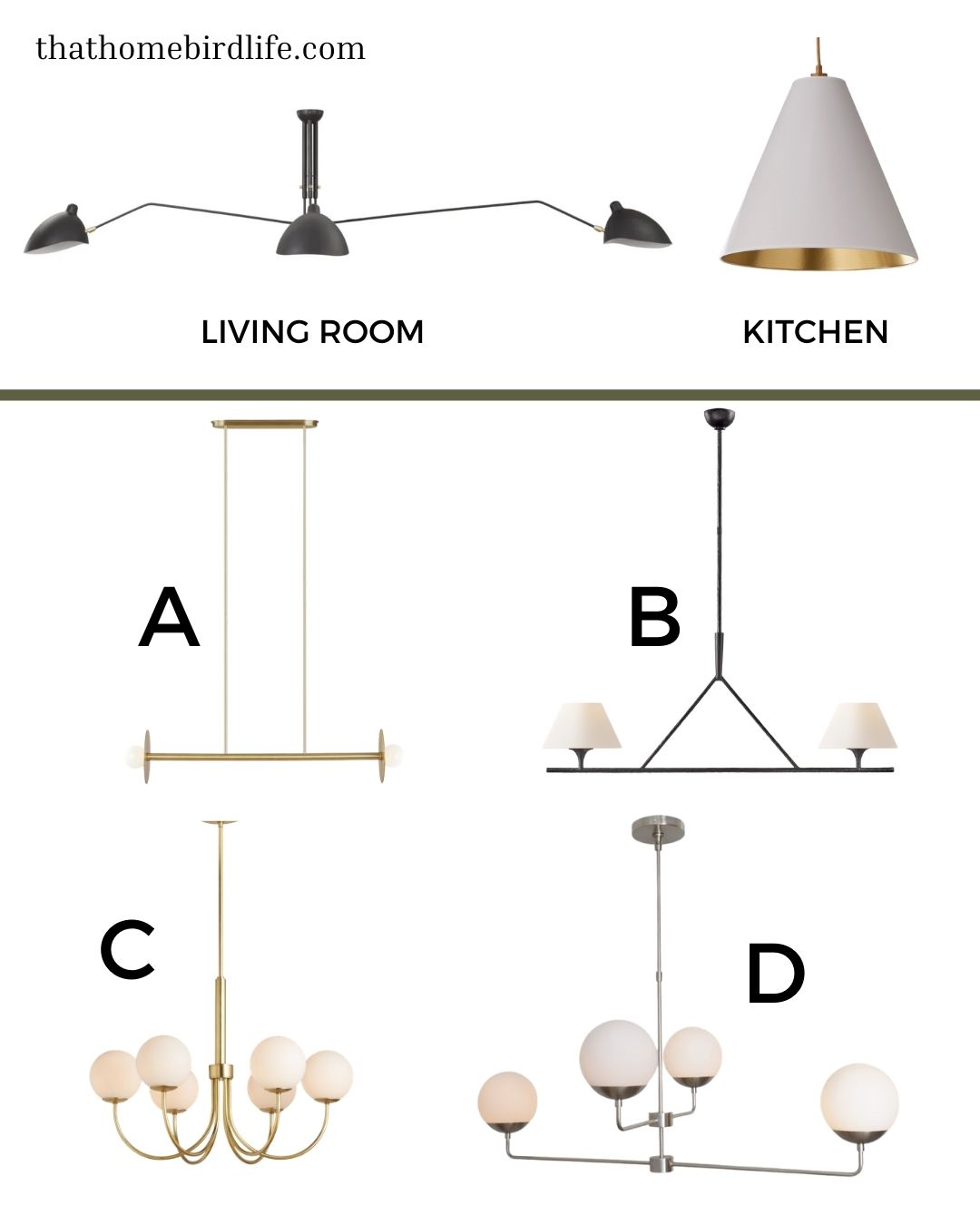 As much as I want to have a clear plan, the reality is that it's not coming easily. I think the main reason for this is that we don't yet have a clear vision of how we'll use the space. And if I take a step back, honestly the only decision we need to make anytime soon is the lighting. Focussing on that one decision definitely feels less overwhelming than trying to figure out everything all at once.
I'll admit this doesn't make for a very satisfying room design reveal, but I wanted to share this part of the journey with you as well—sometimes decisions take a bit of time to settle in. I'm choosing to be patient and give this room a bit of breathing space, and we'll just have to wait and see how it unfolds over time.
Want to be the first in the know? Sign up to my mailing list!
Catch up on our house build plans:
Exterior
Kitchen
Living Room
Main Bathroom
Mudroom
Guest Room/Den
Laundry Room
Kids' Bathroom
Guest Bathroom
---