Drumroll please for the very last mood board reveal for our house build!! This also happens to be the only post of this series where I could share a snap of the actual room in 3D since we are all framed and ready to roll, so this post feels like a bit of a milestone.
So far I've shared a light & bright primary bathroom and a whimsical yet functional kids bathroom. In contrast, this downstairs guest bathroom will be bringing allll the drama.
I started off with a 1x6 black mosaic tile which I bought almost a year ago now after being inspired by Audrey's showstopper of a shower: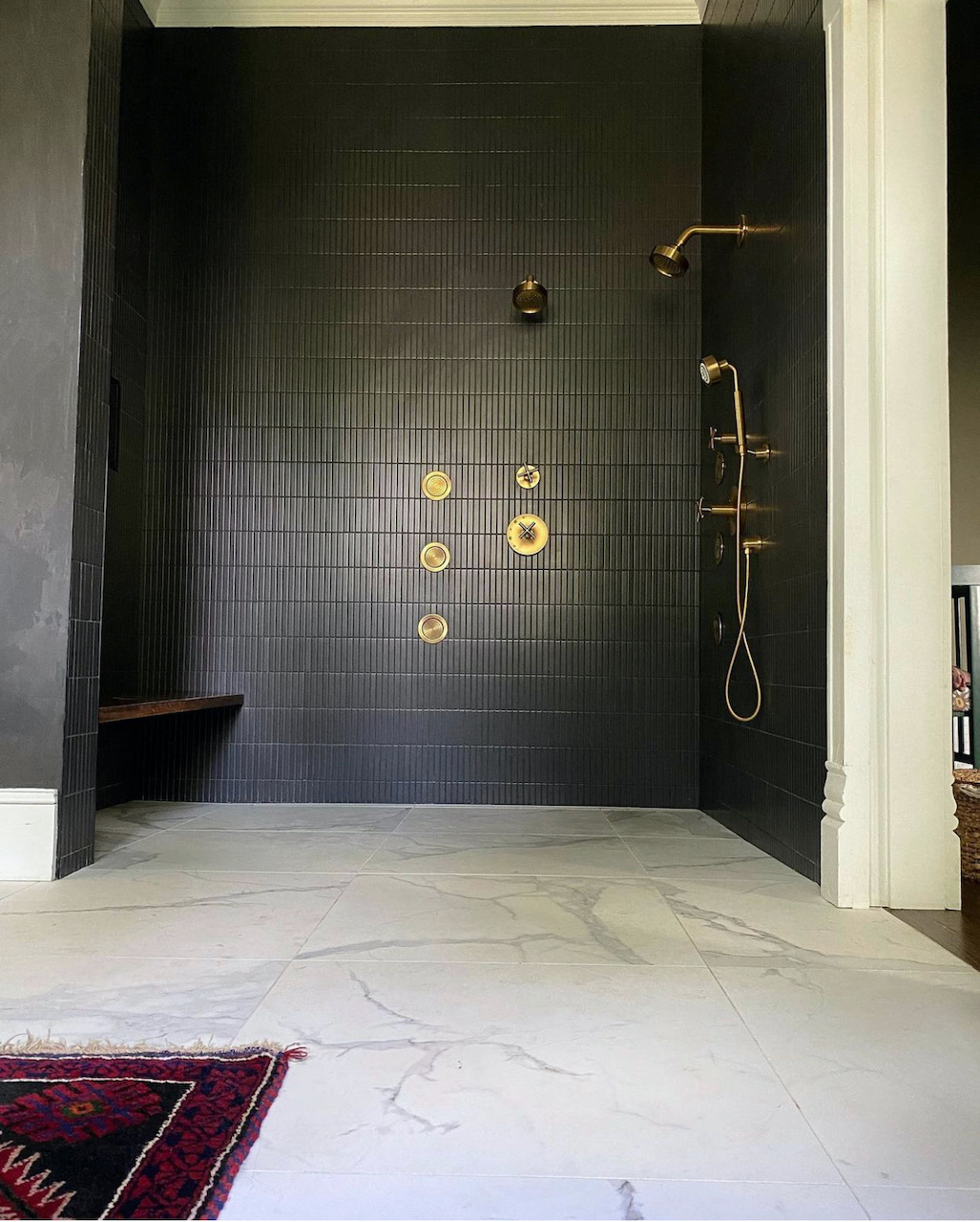 Source: The Black House on the Corner
The tile is currently gathering dust in our storage unit but I wanted to snag it because it was on clearance. Then I stumbled upon some very affordable patterned ceramic tile which gave me a color palette for the rest of the bathroom design: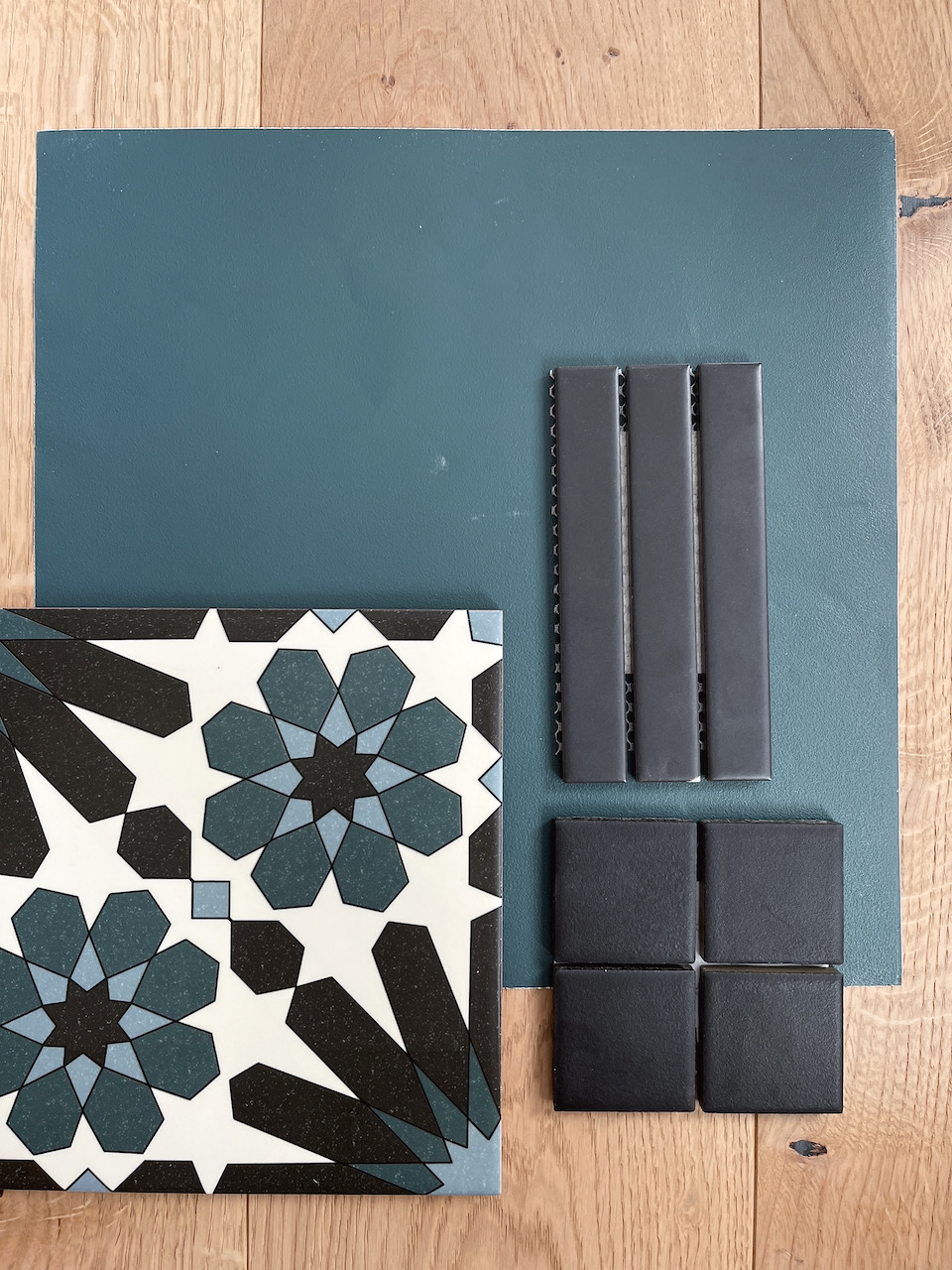 The hardest tile to figure out was actually the 15 sq ft of shower floor tile! Gosh I must have ordered at least 8 samples, but I finally landed on some simple black 2x2 mosaic.
Since this is a small-ish bathroom, I thought it would be a cost-effective room to add a trim treatment. I decided on beadboard to tie in with the mudroom, but this time it will be painted a deep green (Sherwin Williams Still Water). We'll carry that green around all the trim work (the door and window casing included) to give it a cohesive feel. The walls above the trim will be painted in SW White Flour.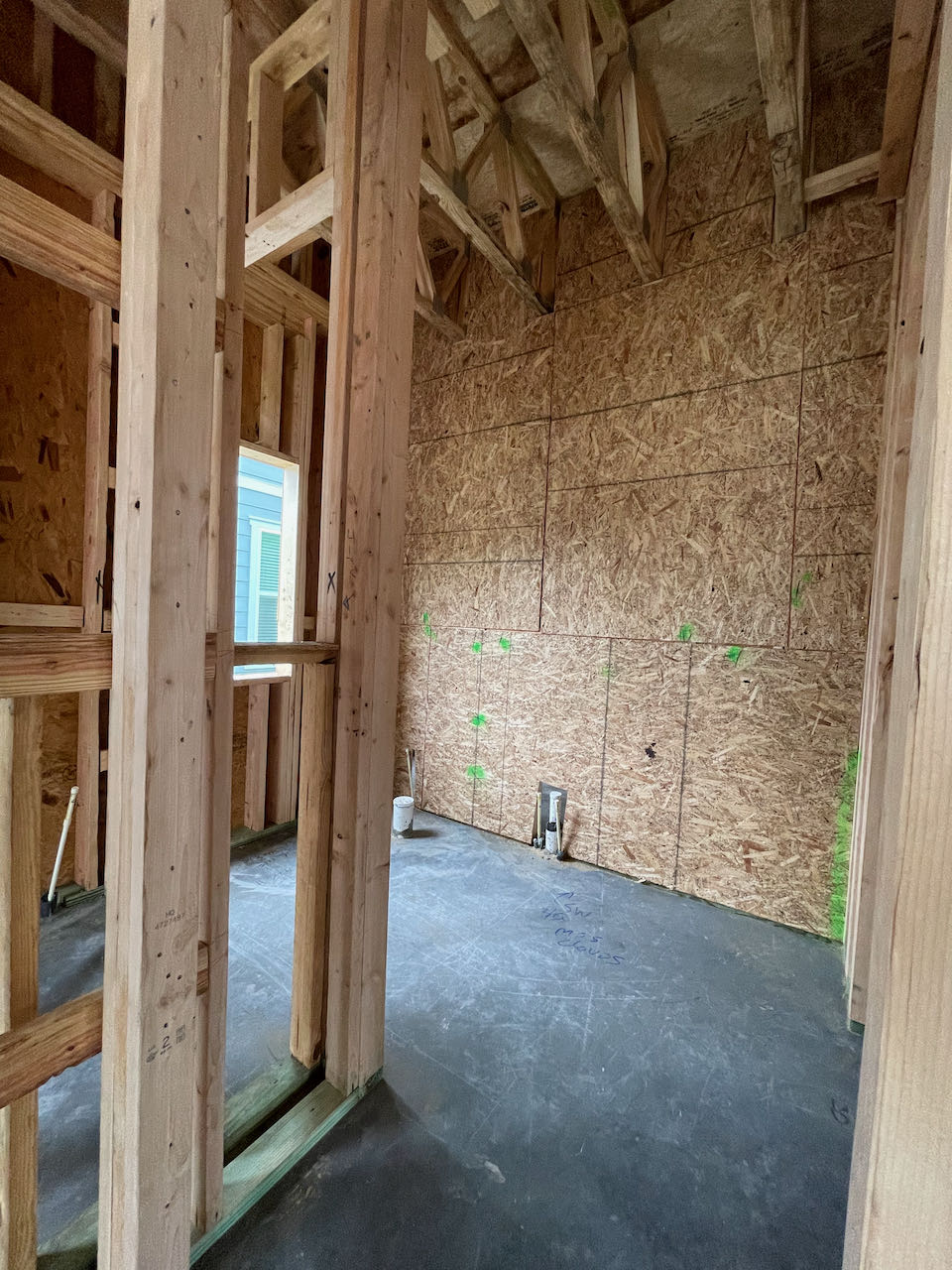 For the metal finishes, I'll be going with brushed gold plumbing fixtures and lighting, and oil rubbed bronze for the bathroom hardware. The fixtures are classic in style to contrast with the modern shower tile. I want the overall feel of our home to be transitional...which to me means the best of both worlds.
I had originally wanted a console sink for this bathroom, but I ended up changing direction on that as I couldn't find a good metal finish match for the exposed plumbing. I'm definitely pro mixing metals in a space, but I try and keep it consistent withing a category (eg. plumbing, lighting, hardware...) and there was no good option that I could find to go with the Moen brushed gold faucet.
Related: Vanity Mirror Round-Up, and Some Thoughts on Mixing Metals
I ended up going with a pedestal sink which gives us that vintage/traditional style but will hide the pipes. We won't have any storage with this choice of sink, but we do have a linen closet nearby and since it's a guest bathroom I think we'll be ok. It's probably one of the few choices in our home where aesthetic is winning over functionality!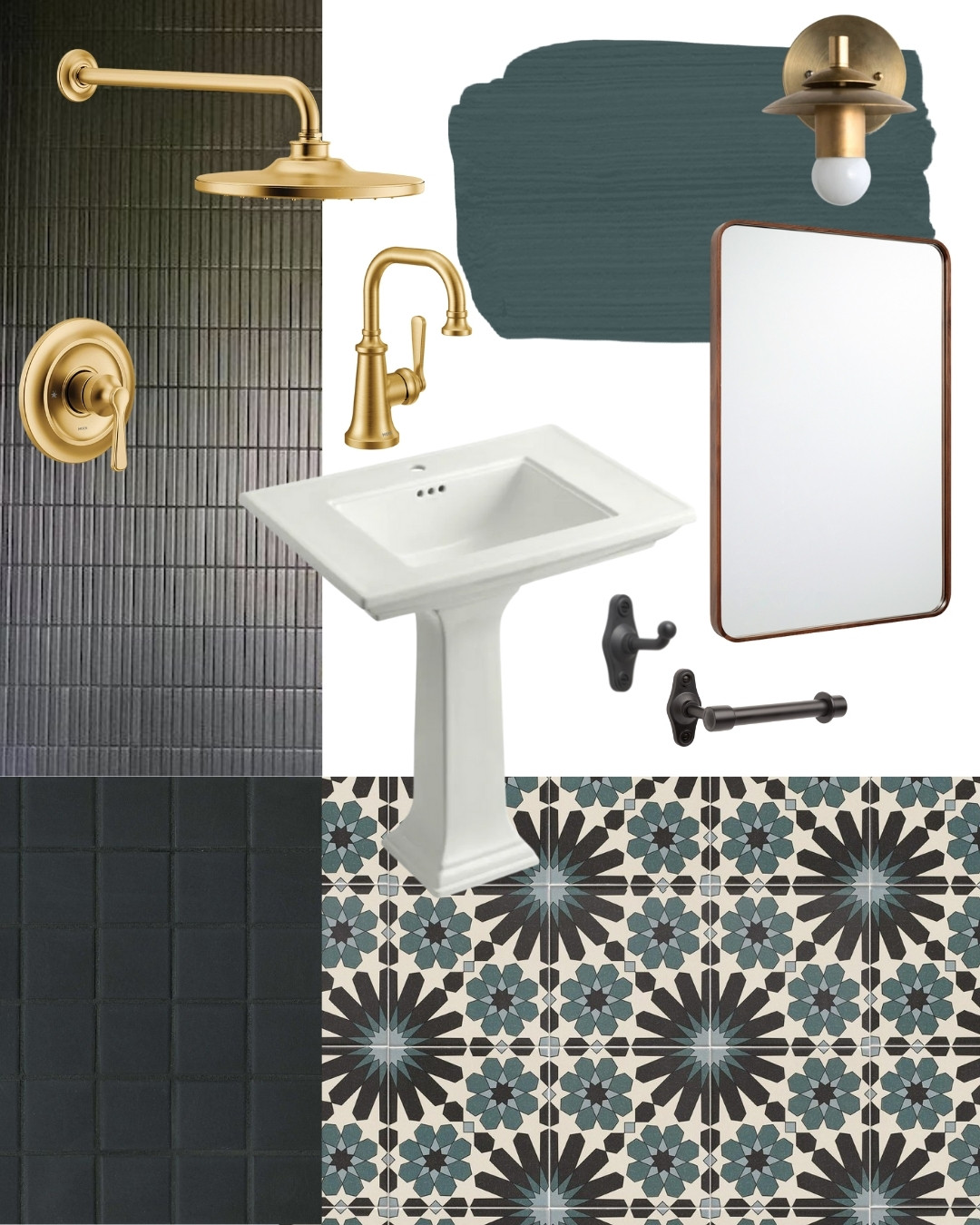 The last detail I wanted to share is the color of the toilet/pedestal sink as they are actually off-white. I would never have thought of going with anything other than white for a bathroom, but the more I stared at our cream based tile the more I thought a crisp white toilet and sink pedestal would "pop"...and not in a good way. So, after much deliberation I opted for Kohler's "Dune" which is a very very light beige. It's subtle, but I think it will make a huge difference.
I think that just about covers it! Three very different bathrooms each with their own personality. This one was especially fun to design, and it's not long now before it will really start to take shape.
Want to be the first in the know? Sign up to my mailing list here!
Catch up on our house build plans:
Exterior
Kitchen
Living Room
Main Bathroom
Dining Room
Guest Room/Den
Laundry Room
Mudroom
Kids' Bathroom
---