Well folks, here it is! I've been sharing some not-so-sneaky peeks of our living room for a while over on Instagram, but I hadn't managed to put it all in a blog post. But here I am now with the full reveal! Out of all of the rooms in our home, this one has been trickiest for me to figure out, but I can finally say (after a lot of work) that I'm HAPPY with it. Phew. That feels good to write.
So are you sitting comfortably? Because let me tell you—there have been many, many phases and reworks to this room. Let's dig in!
PHASE ONE: RENOVATION
Let's start at the very beginning. This is what the room looked like when we purchased our home in March 2016: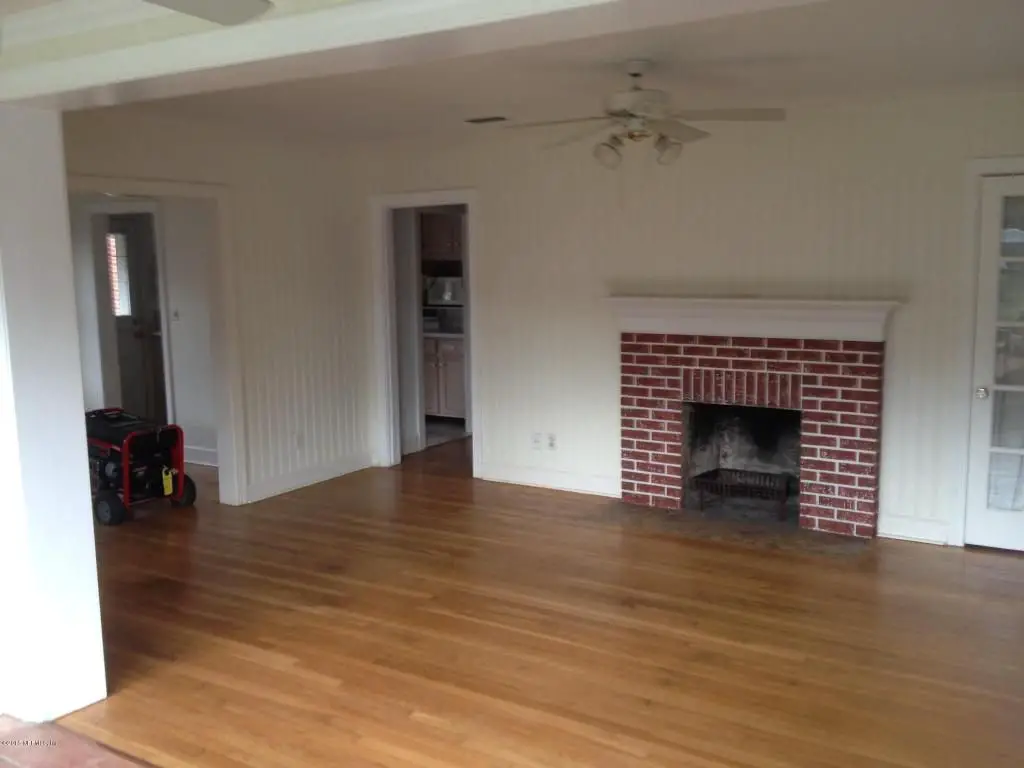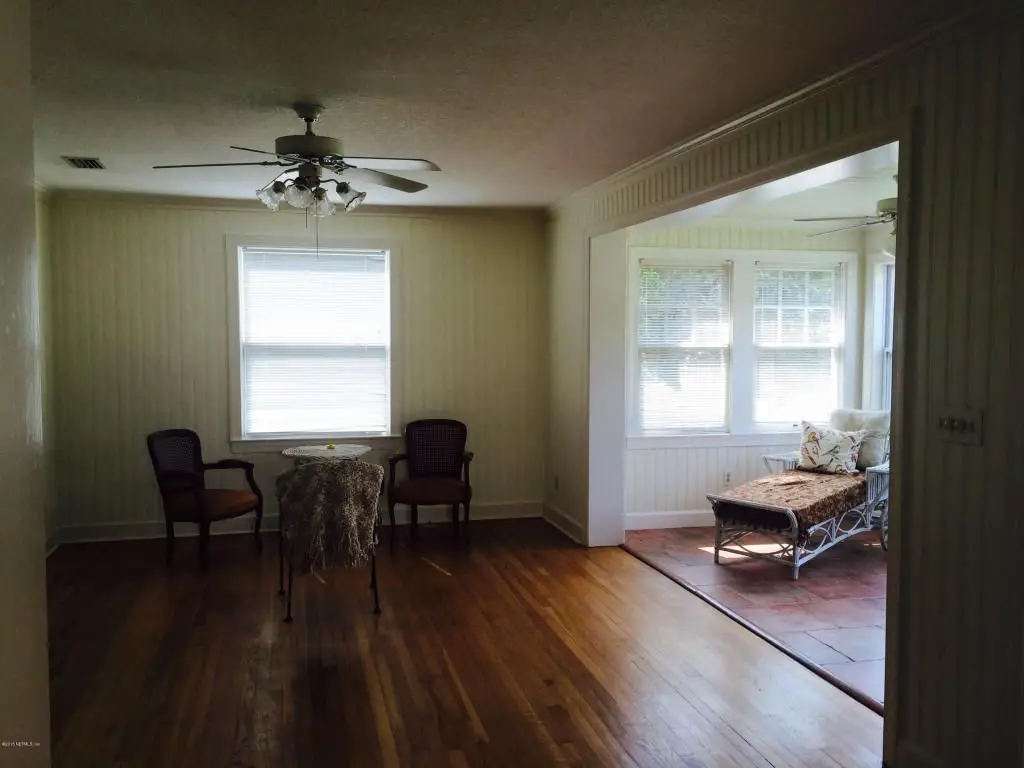 The renovation work included closing off the small awkward closet (because we were using that space for our master bathroom), removing the paneling from the walls, redoing the ceiling texture, replacing the window trim and baseboards, and refinishing the hardwoods. We also put in a new ceiling fan, and covered everything with fresh white paint all over (SW Snowbound for the walls and SW Pure White for the trim). Quite a list! The fireplace got a makeover with a paint job for the brick, new hearth tile, and a chunky wood mantel. Shortly after we moved in, we had our carpenter return to install some custom built-in shelving.
This is what the room looked like after all of that was completed: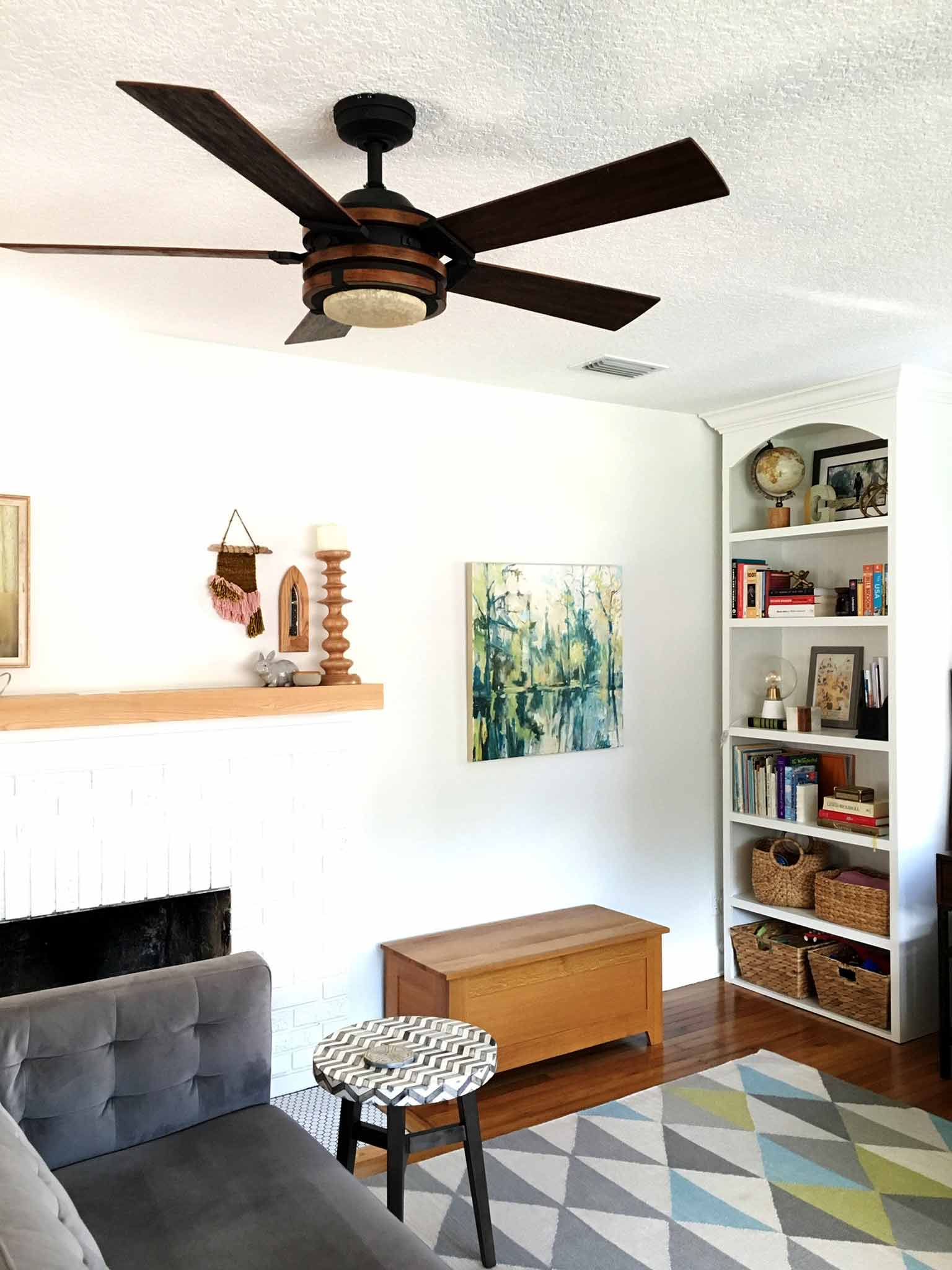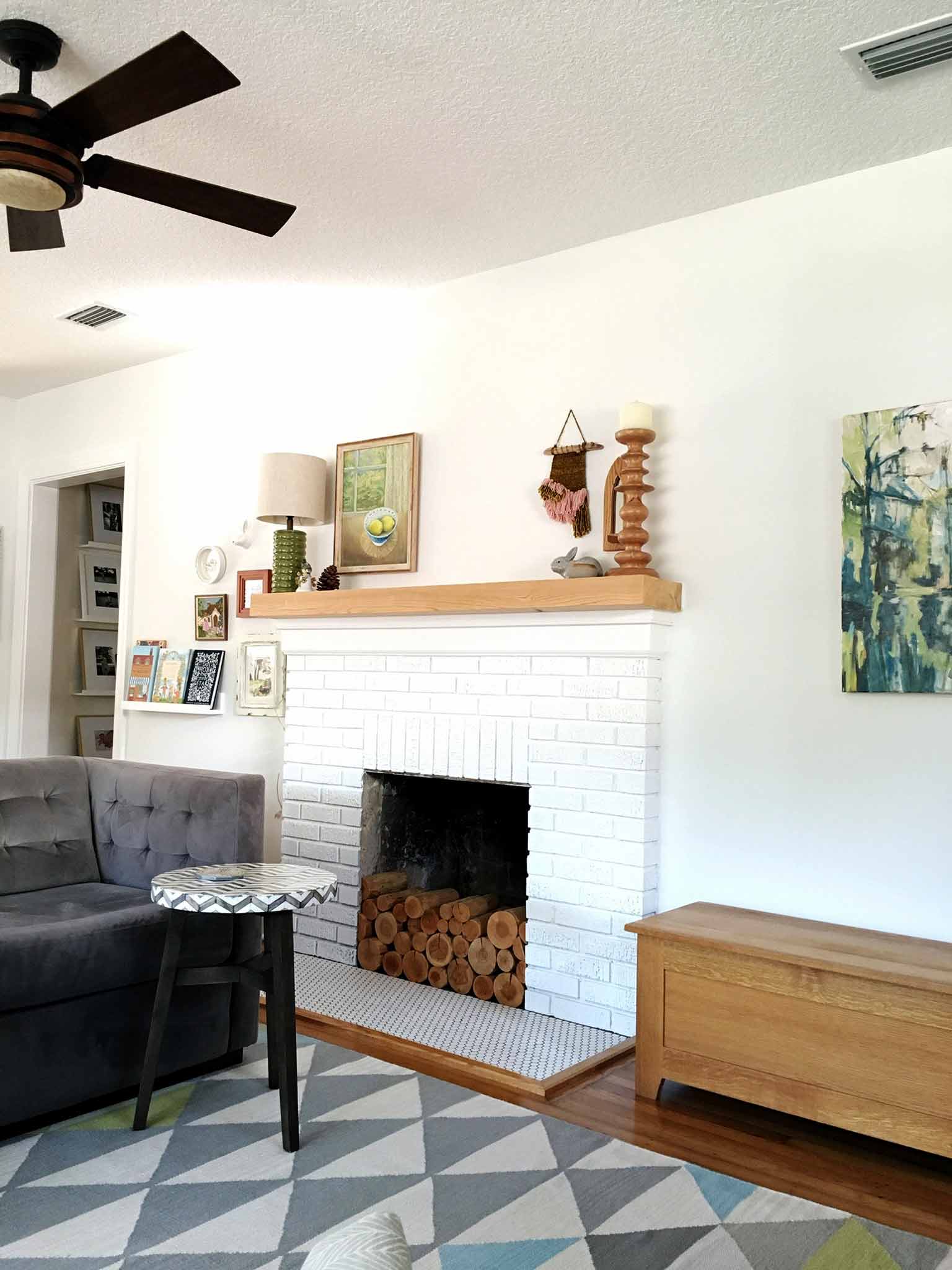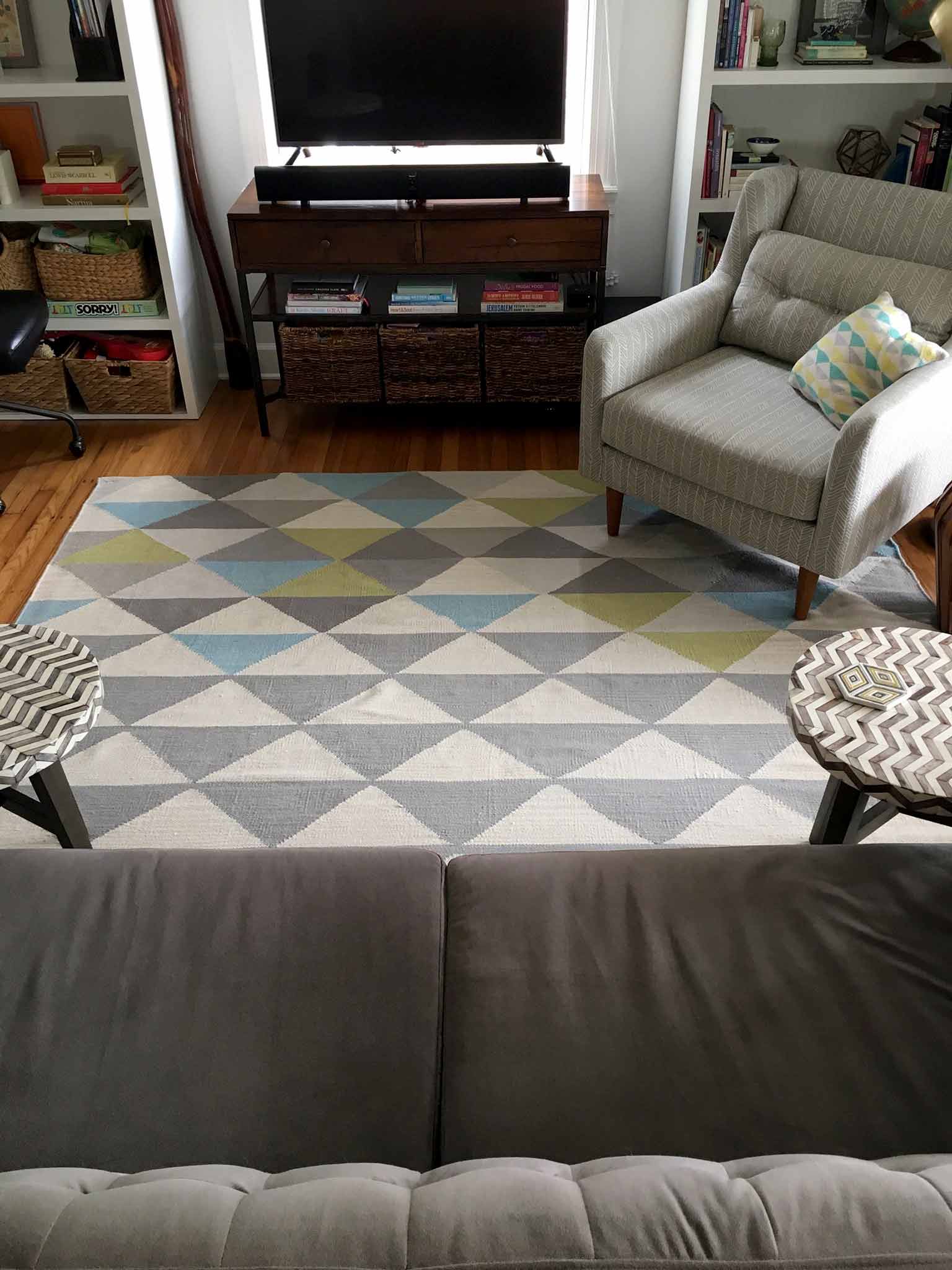 A huge improvement, but I just knew that it wasn't working for me. It felt busy and disjointed. I think this was partly because I had literally dumped all of the pieces of our last living room into this space, and partly because my tastes had changed since I purchased the big geometric rug. It just didn't feel like it was working for me. Which leads me onto...
PHASE TWO: QUIETENING DOWN THE LIVING ROOM
About a year on, I decided to change things up in the playroom. I was searching around for the right chair to put in there, and then I had the idea of using the herringbone chair from the living room. That started a bit of a chain reaction, the end point being that I decided that I was going to make some changes in the living room by replacing the colorful geometric rug, and moving some other pieces into new spots around the house. (You might have noticed the chevron side tables and oil painting in our guest house.) I wanted the space to feel less crazy and more sophisticated and grown-up.
I was in quite a fragile mental state at this point with our renovation fully underway but not showing any signs of being finished, and I think I was trying to make myself feel better by "fixing" other parts of the house. Not a bad goal in itself, but I did make a few unwise purchases. I ended up getting TWO rugs—the first one (which I should have just returned) was too small for the space, so I bought a bigger jute rug to layer underneath it. I also got a new coffee table, a blush velvet chair, throw pillows, and a couple of new lamps.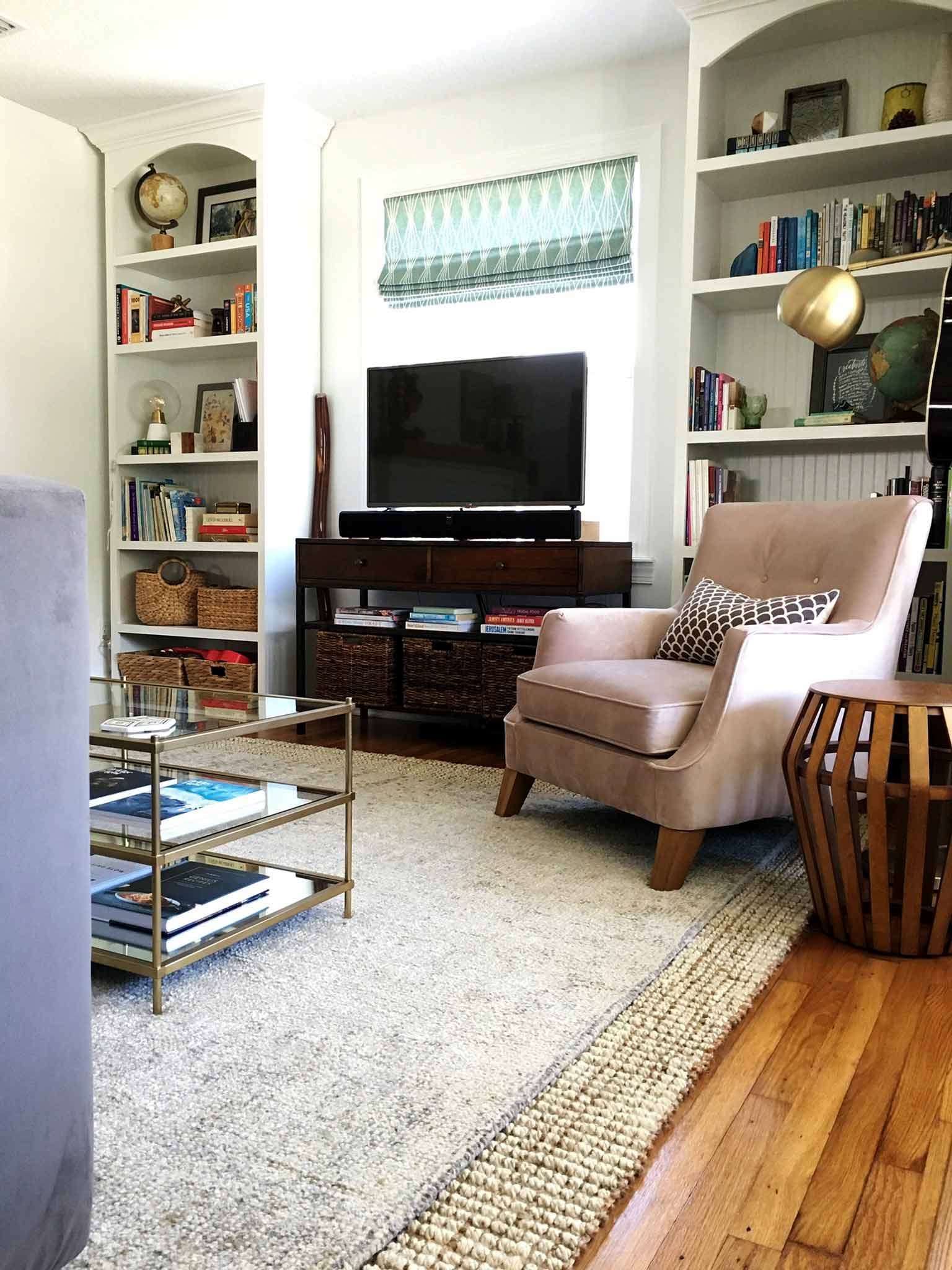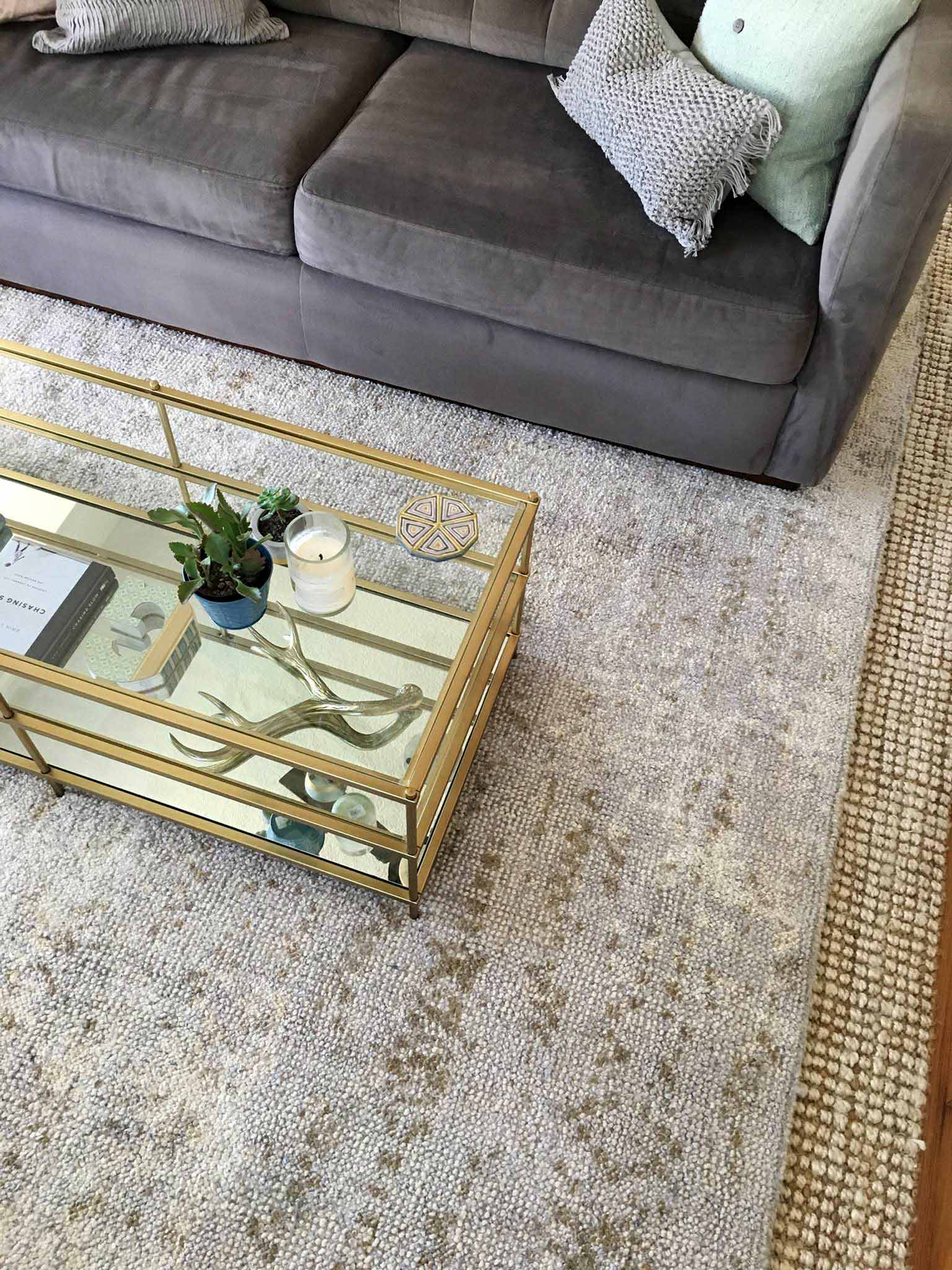 It pained me to realize it, but I knew that the space still didn't feel right. And I knew that the smaller rug was the culprit. I also knew that I couldn't justify changing anything as I had spent so much money already. So I just sat with it for a couple of months.
Until the rug fairies answered my subconscious prayers in the most unexpected way.
PHASE THREE: THE RUG MAKES THE ROOM
My husband is creature of comfort and always sits in the same spot on the sofa. I noticed that the part of the rug under where he was putting his feet started to look very worn after only a couple of months. And in other places on the rug, there were snags and pulls showing up. Basically, this rug was wearing far quicker than I would have liked or expected. It wasn't cheap, and so I got in touch with the West Elm to see if there was anything they could do. They kindly offered me a refund which was amazing, and so we sent it back and were left with the big jute that was layered underneath.
You already know the cautionary tale of my hardwoods and the jute rug—but I still love it despite the damage that I had to fix! It hides the dirt so well and the chunky texture feels great under bare feet.
Related: How I Wrecked My Hardwood Floors (and How I Fixed Them)
However, the jute alone did feel a little bit too plain for my taste. I started browsing Etsy and came across a small vintage turkish wool rug which I fell in love with. However I was worried about my history of purchasing the wrong rug for this room, and so I held off for a while. After many hours over many days of looking for alternatives, I kept on coming back to the same rug, and so I finally pulled the trigger.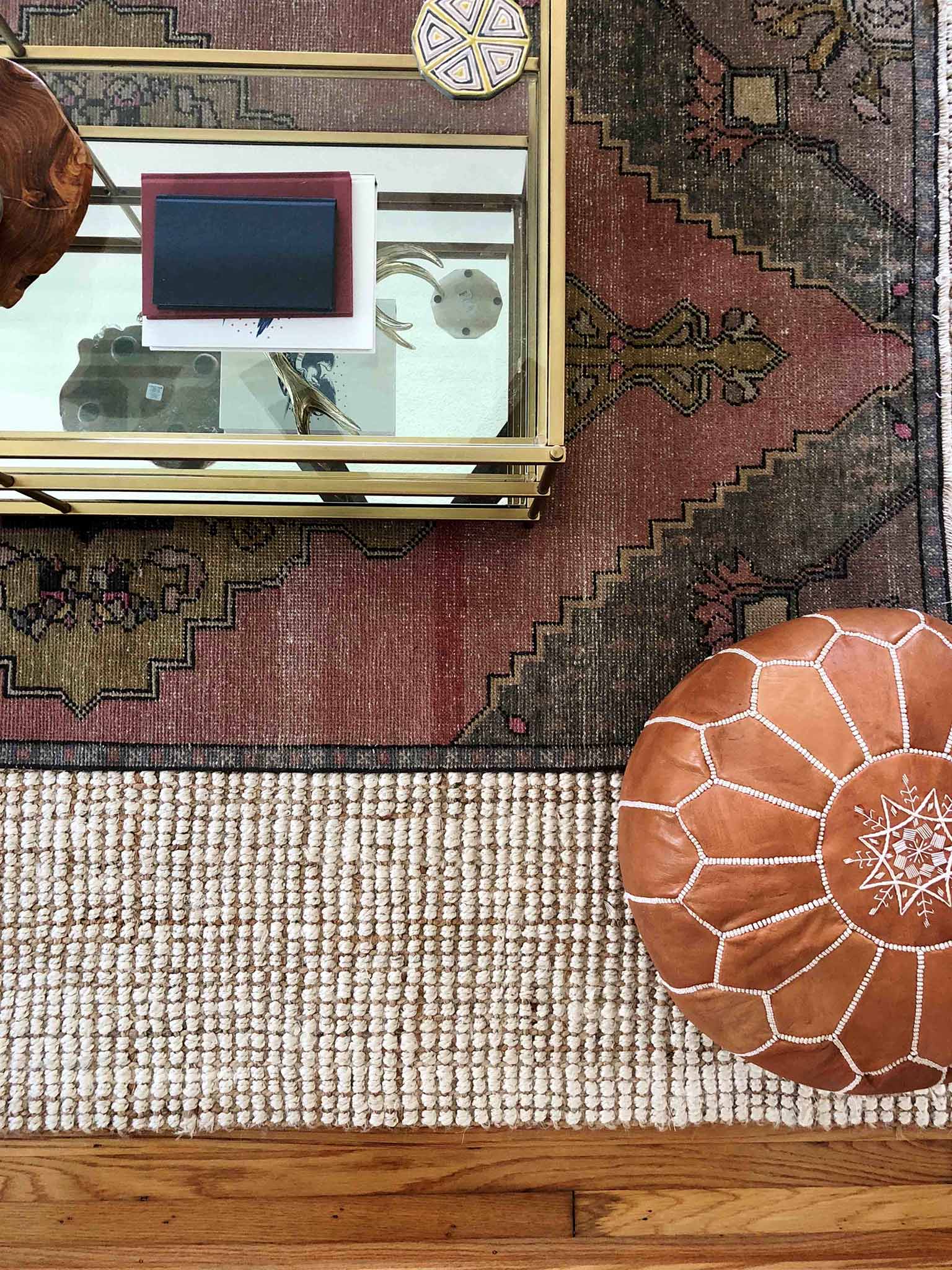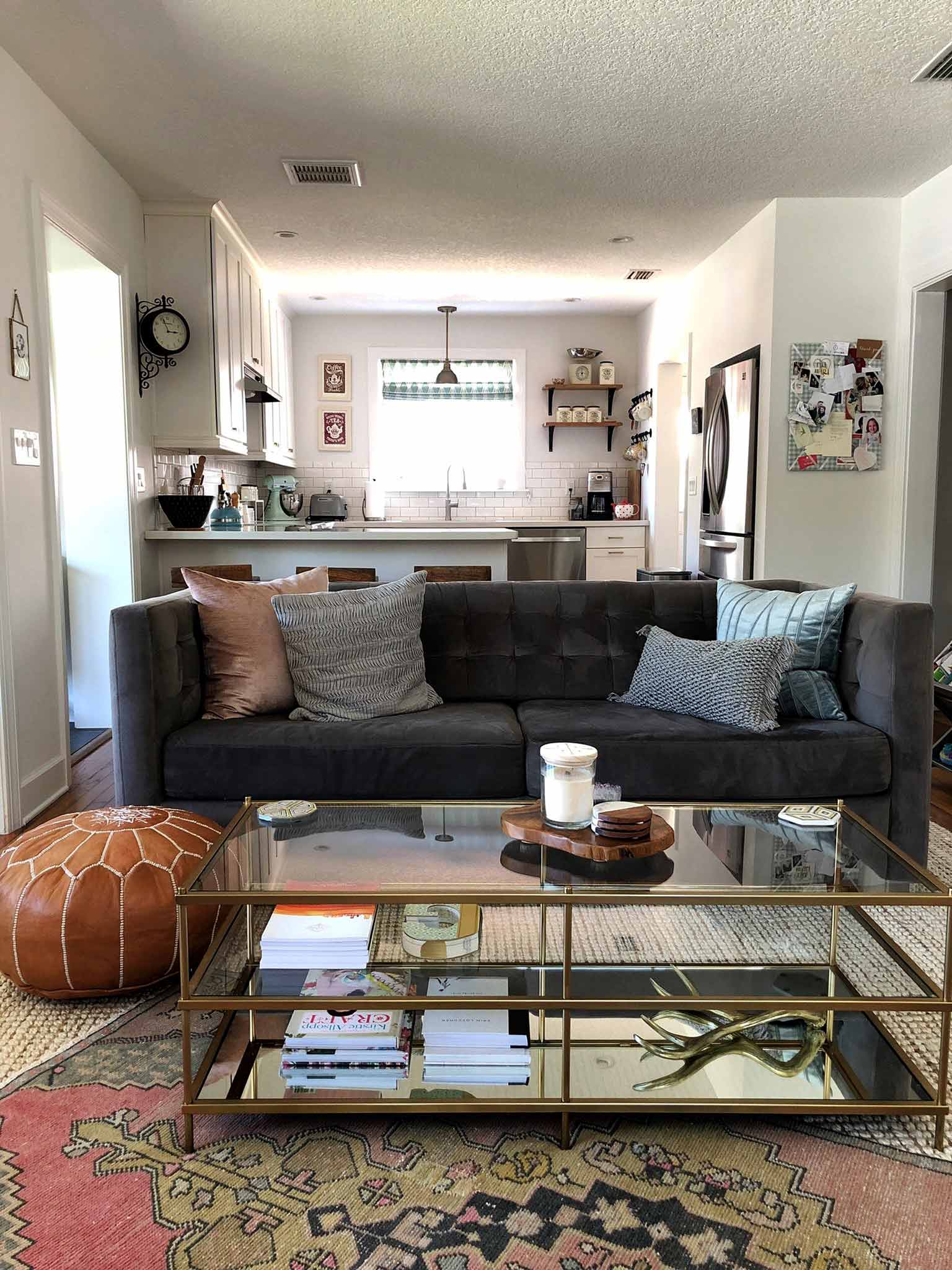 At this point Target were also having a Black Friday sale, and I snagged this great media console at 40% off to replace our very cheap-looking console table. (I was able to sell that on Craigslist, which offset the cost.)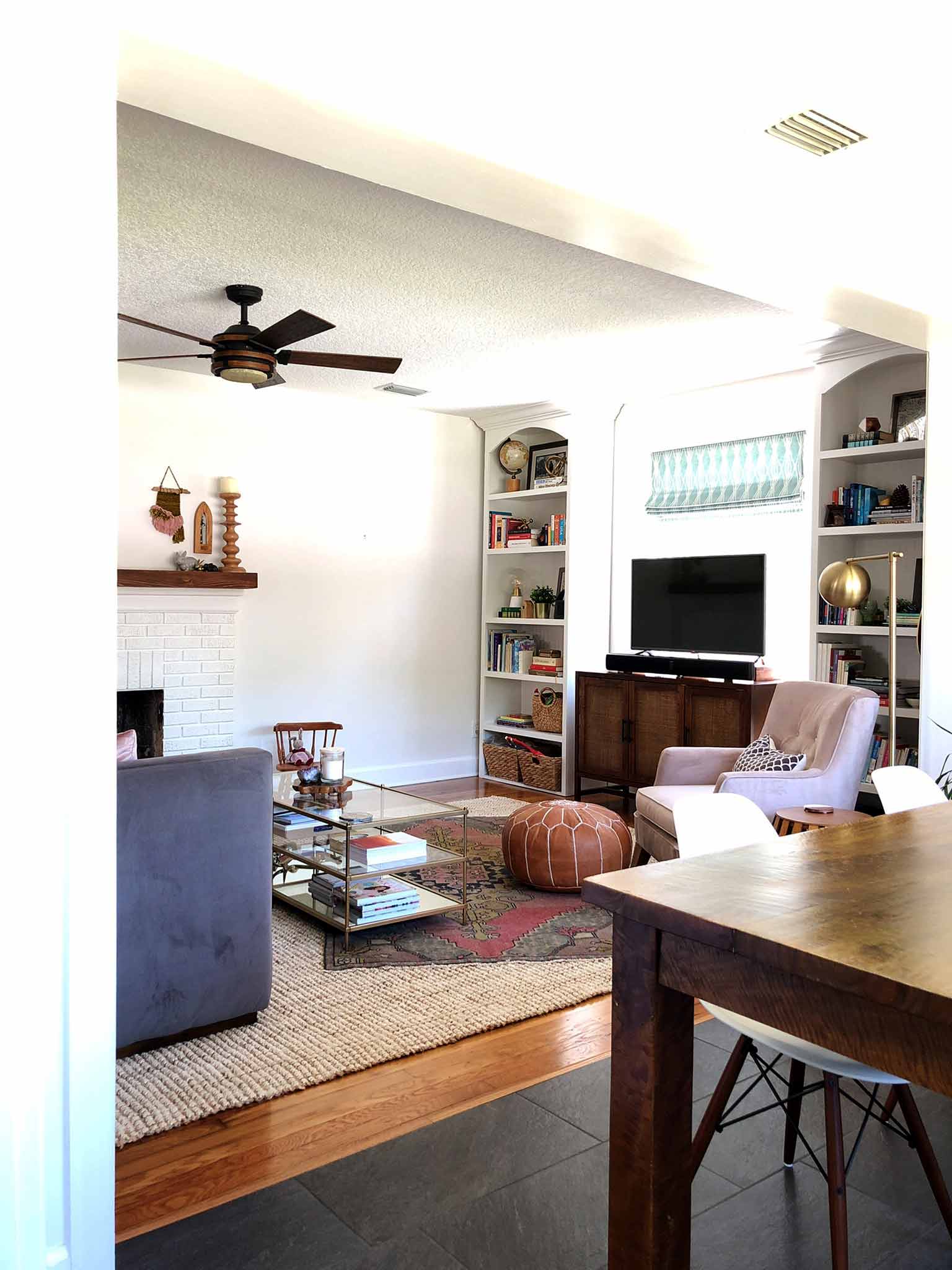 I also got around to staining the mantel, which had been on my to-do list since moving into the house. I wanted it to tie in with the wood tones of the ceiling fan.
PHASE FOUR: PIVOT! PIVOT!
Things were finally feeling hunkydory, until I took part in the One Room Challenge. We made the decision to move our TV into the master bedroom, because I was spending most of my evenings watching Hulu on my laptop in bed. After we did that, the empty media cabinet with no TV on it in front of the window just looked odd. I didn't want to get rid of it as a) I love it, b) it hides all of our games and puzzles, and c) my husband would probably ban me from buying a piece of furniture ever again—so I started measuring the room for different solutions. I thought that things might just work if we pivoted the cabinet, armchair and sofa 90 degrees.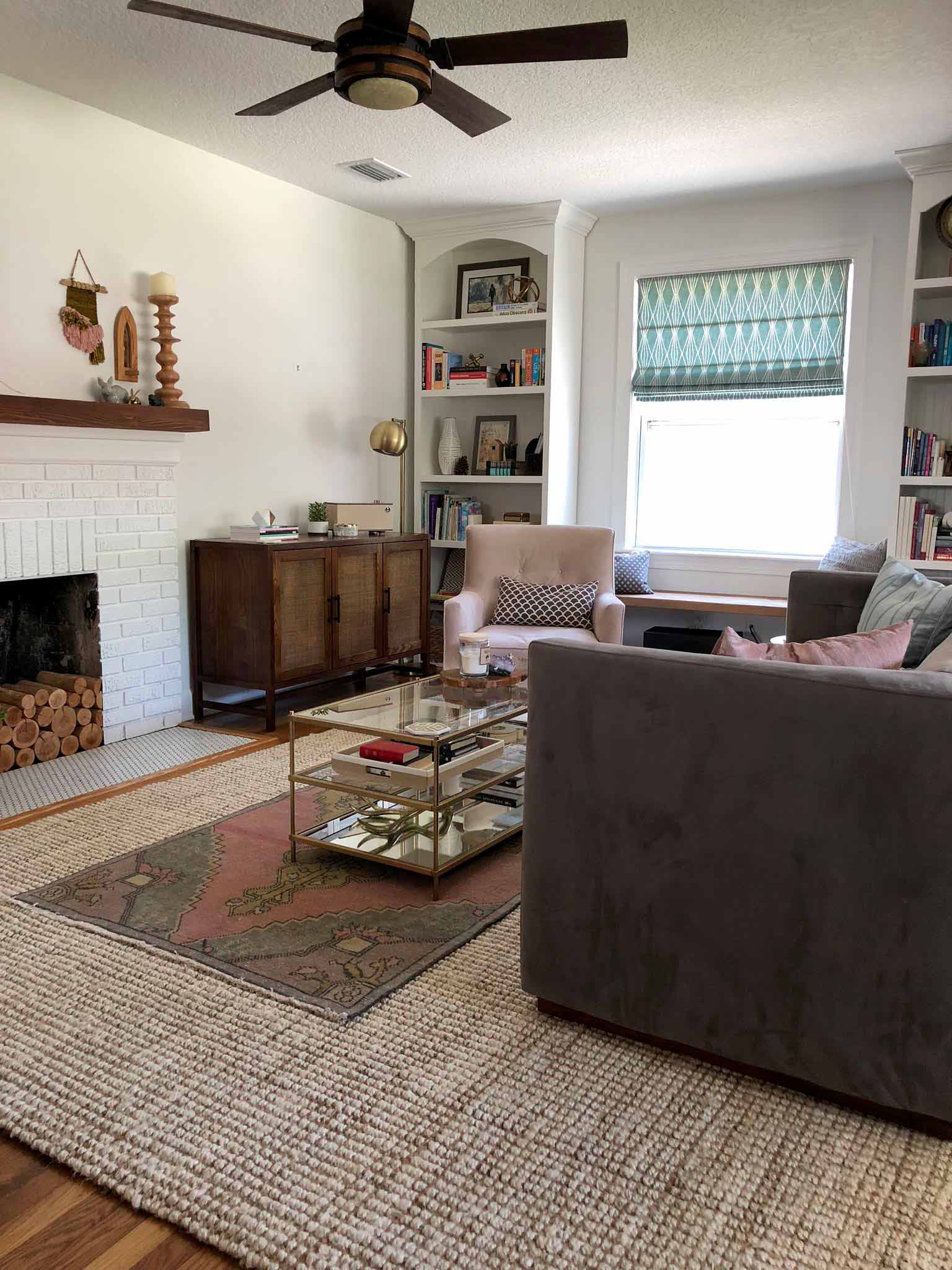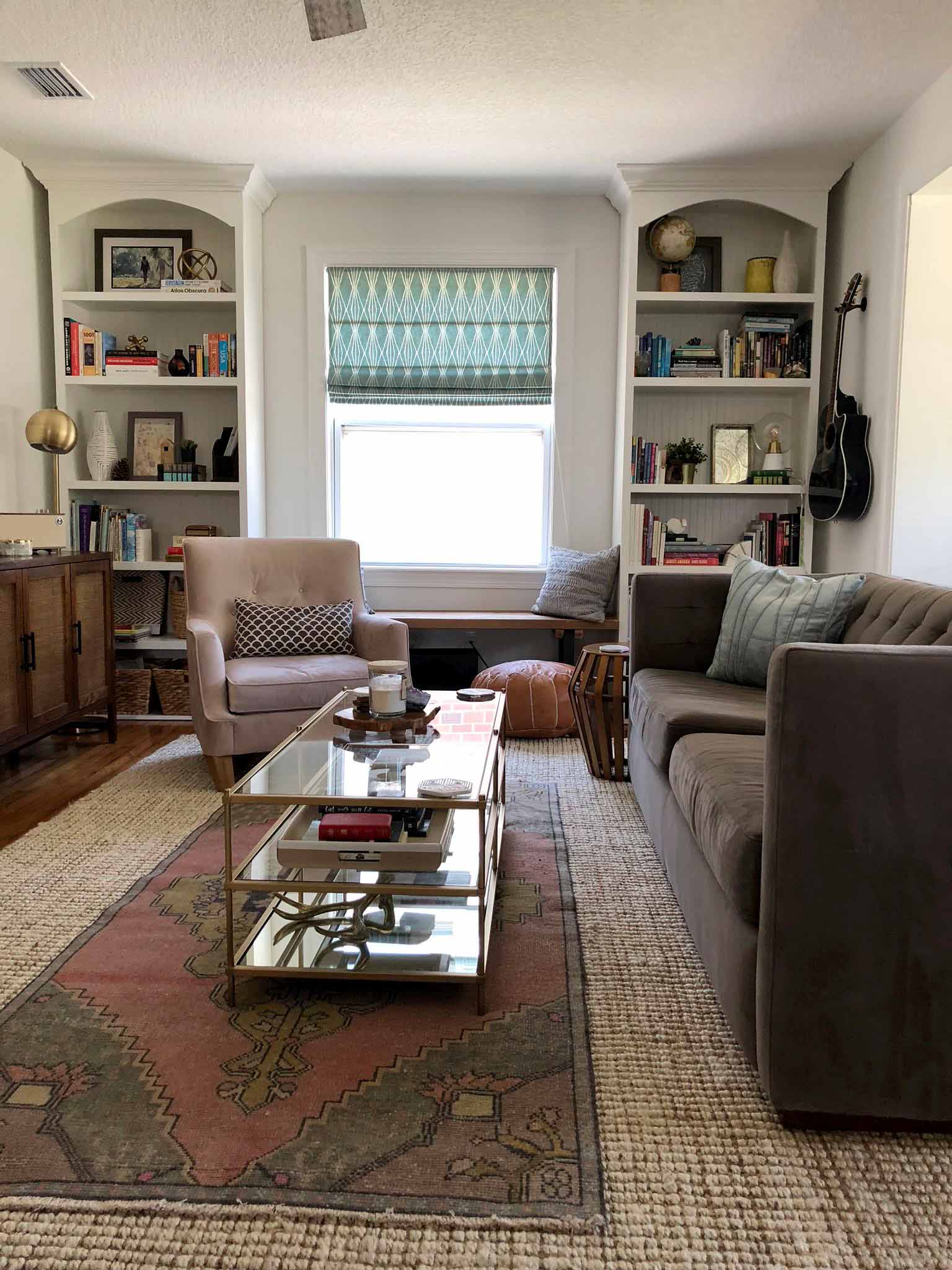 This left an open gap at one end which was the perfect spot for a pair of accent chairs. I saw these ones from Project 62 at Target and immediately fell for them, but for some reason I ended up purchasing some that I'd seen recommended on another blog. I still don't really know why I did that—they are lovely chairs but the style wasn't really in keeping with my style, and the whitewashed wood tone did not mesh with anything else in the room. They just didn't feel right.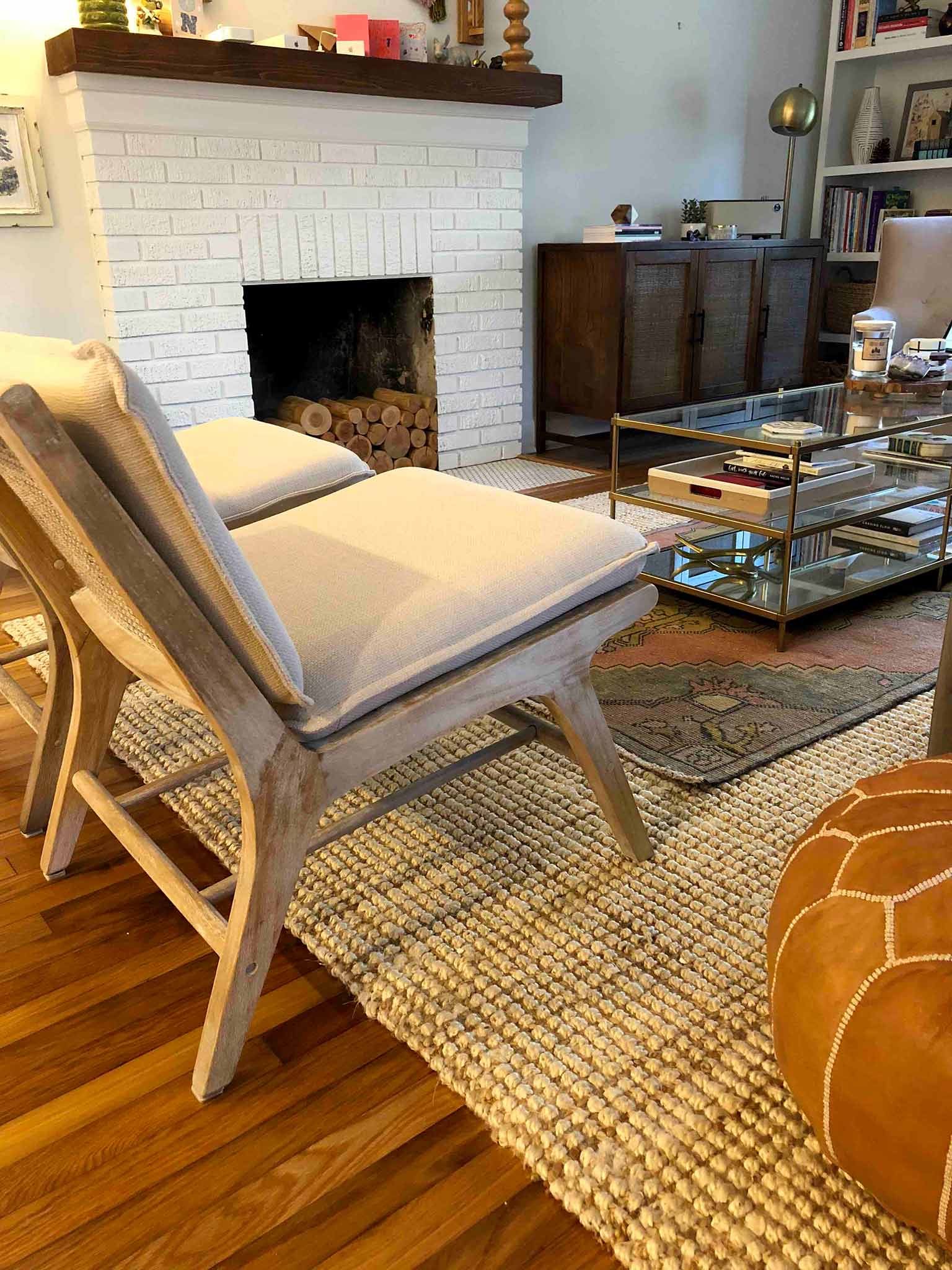 Luckily, I learned from my earlier rug debacle and took them straight back to Target for a refund. I bought the ones that I originally loved and they also happened to be on clearance! Win!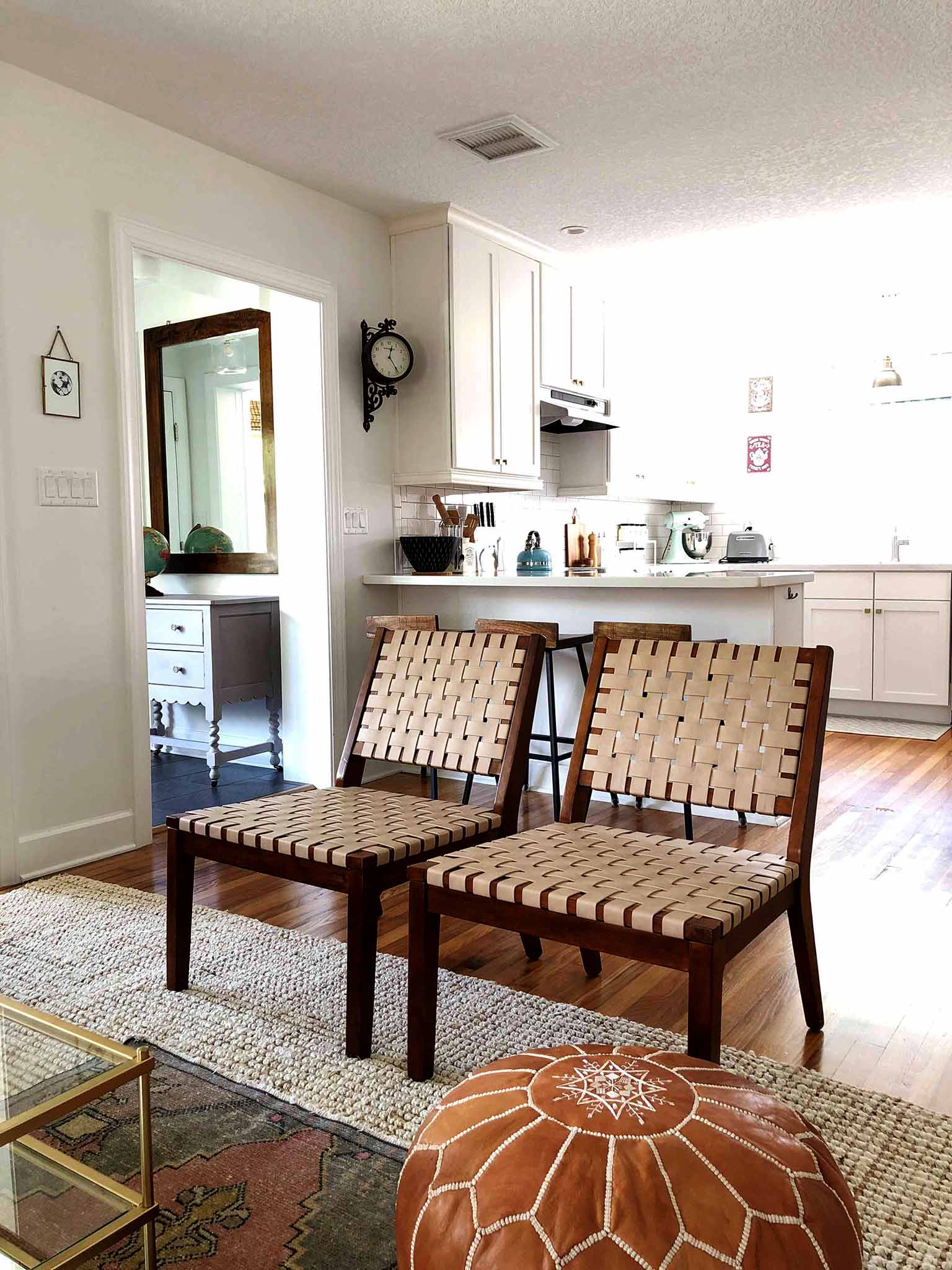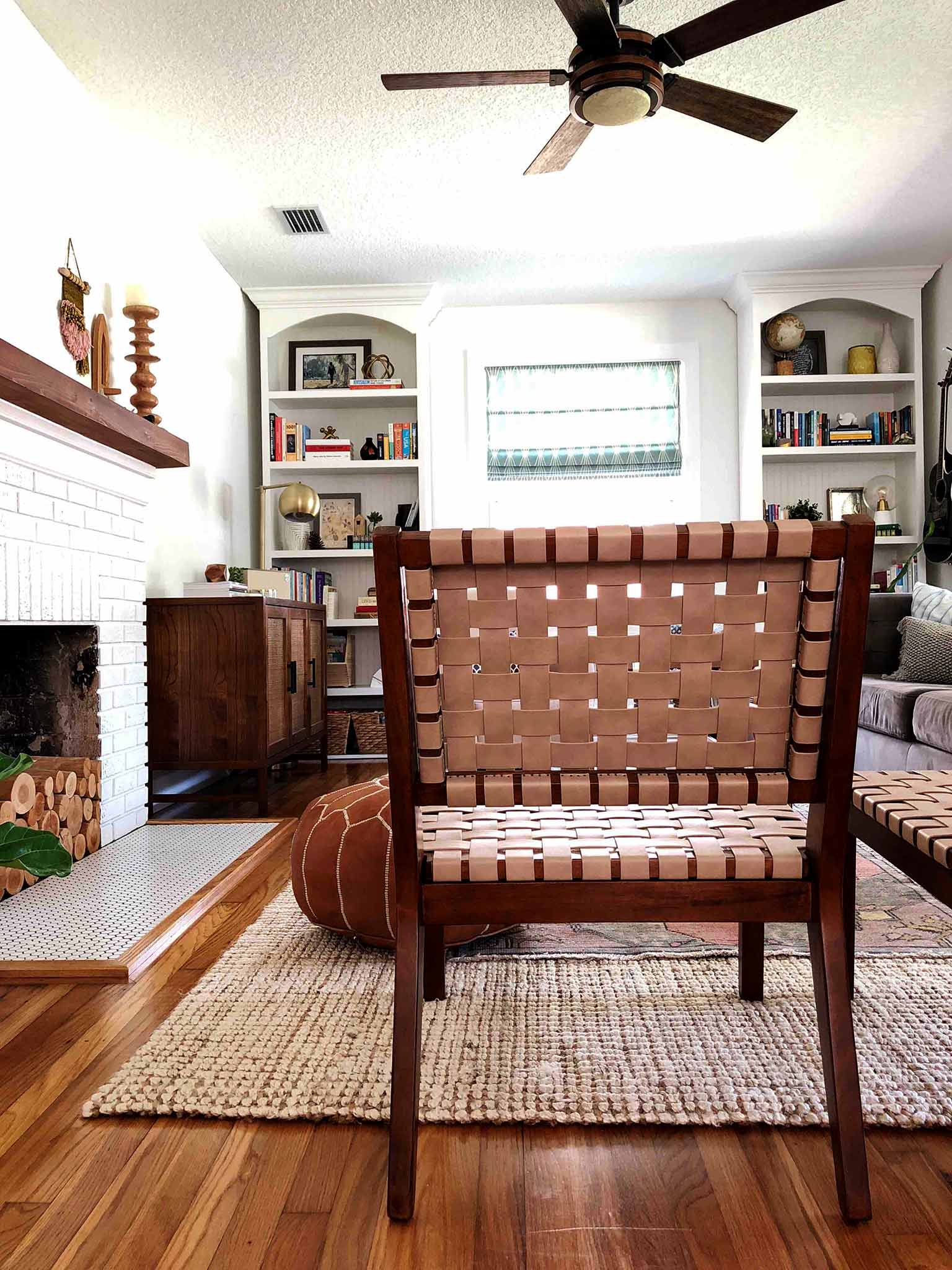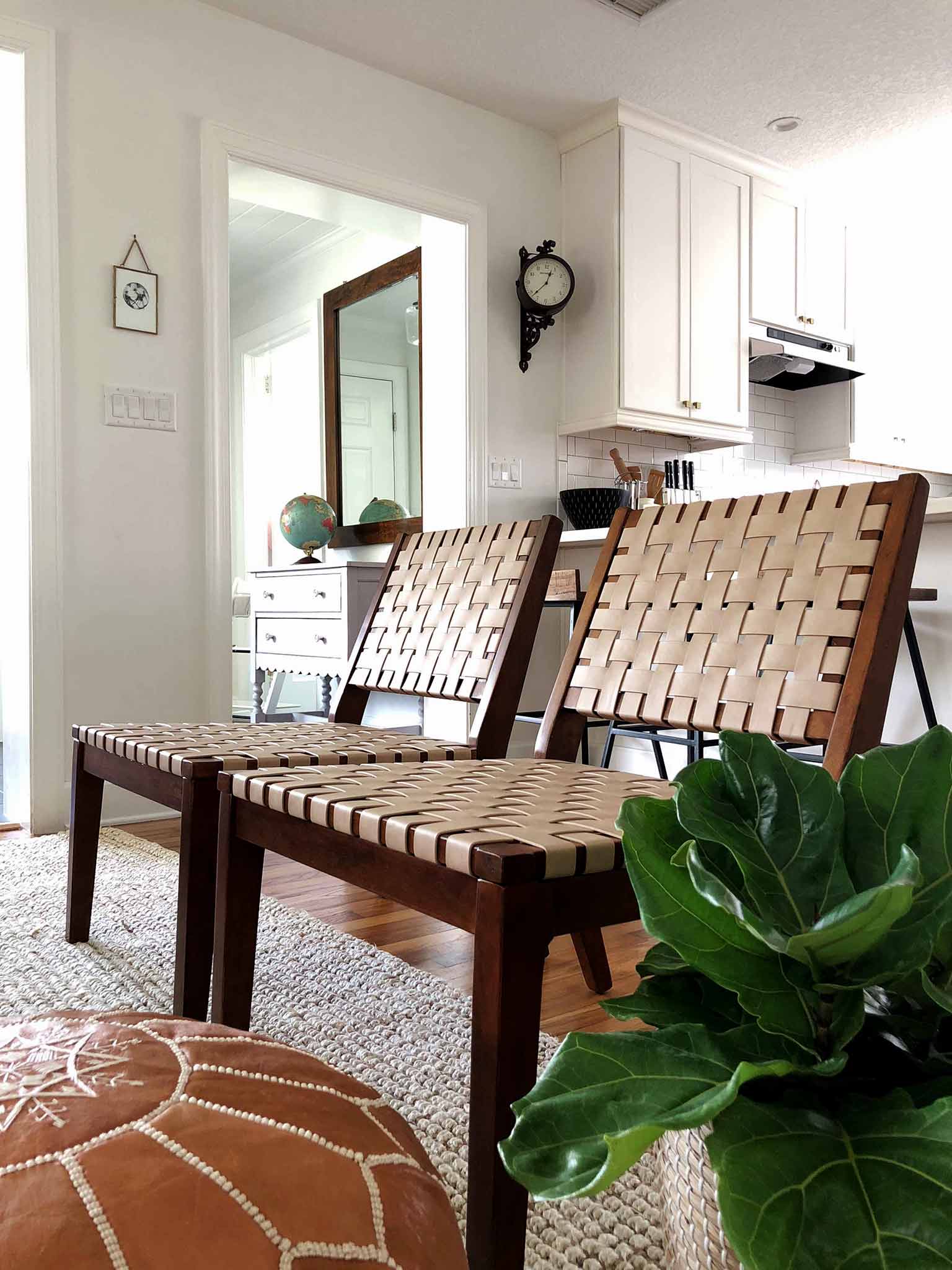 The window bench was an unexpected (and totally free!) addition that I absolutely love. I actually swapped our old nightstands with a friend for the bench, which had been made from an offcut from a Restoration Hardware kitchen island. The bench was too big to fit in the space, but with the help of a kind neighbor we were able to cut it down and create a cute little window seat for the empty spot where the media cabinet used to be. We hid the router in a basket underneath.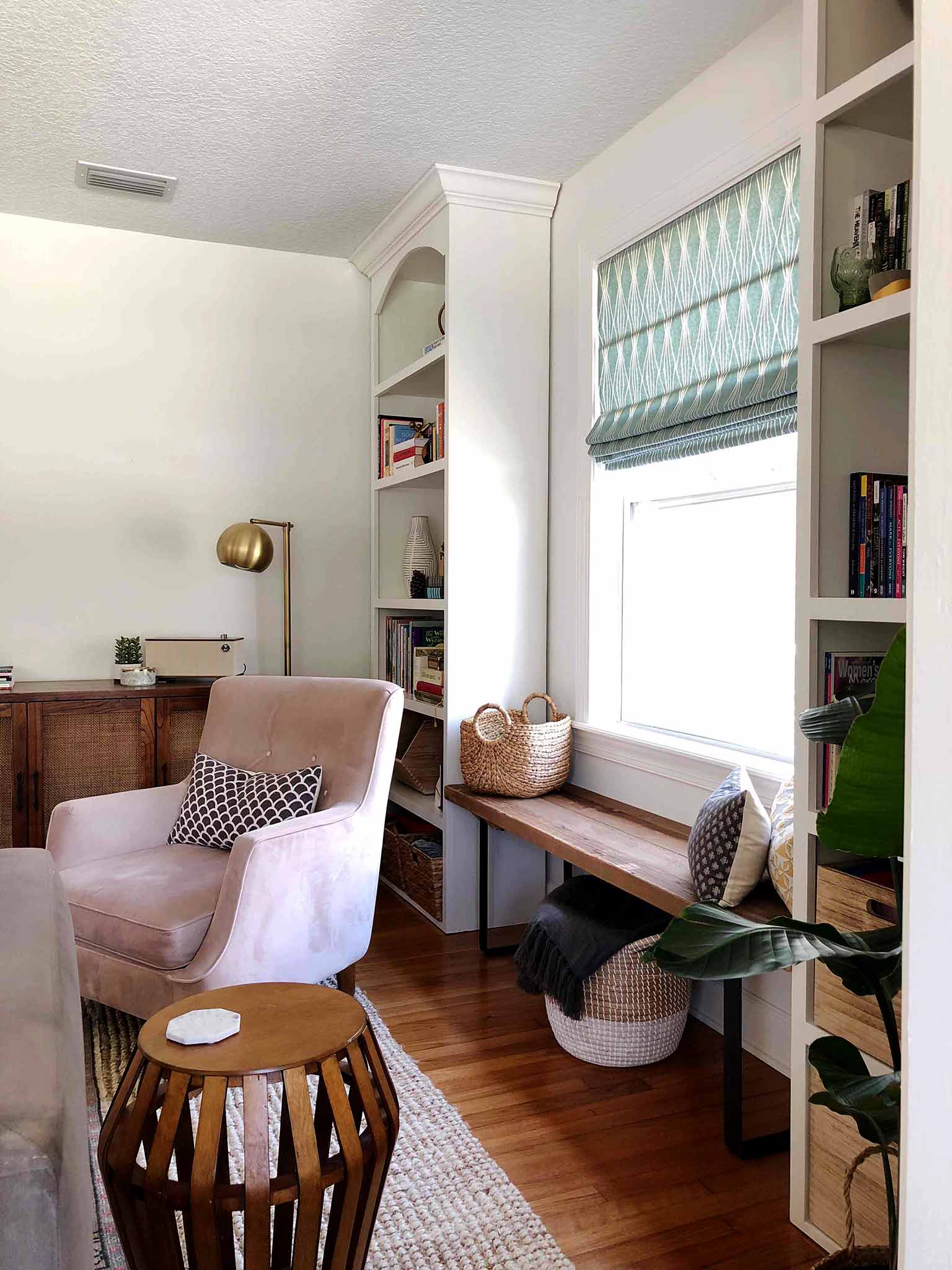 My styling method is pretty simple in this room, and I'm planning to go into much more detail on shelf and surface styling in a future post. I chose some gold accent pieces to tie in with the coffee table frame and floor lamp. I also love using candles and plants to add smells and texture! The bluetooth speaker is still one of my favorite purchases for the room as it streamlines all the cables as well as looking and sounding AMAZING.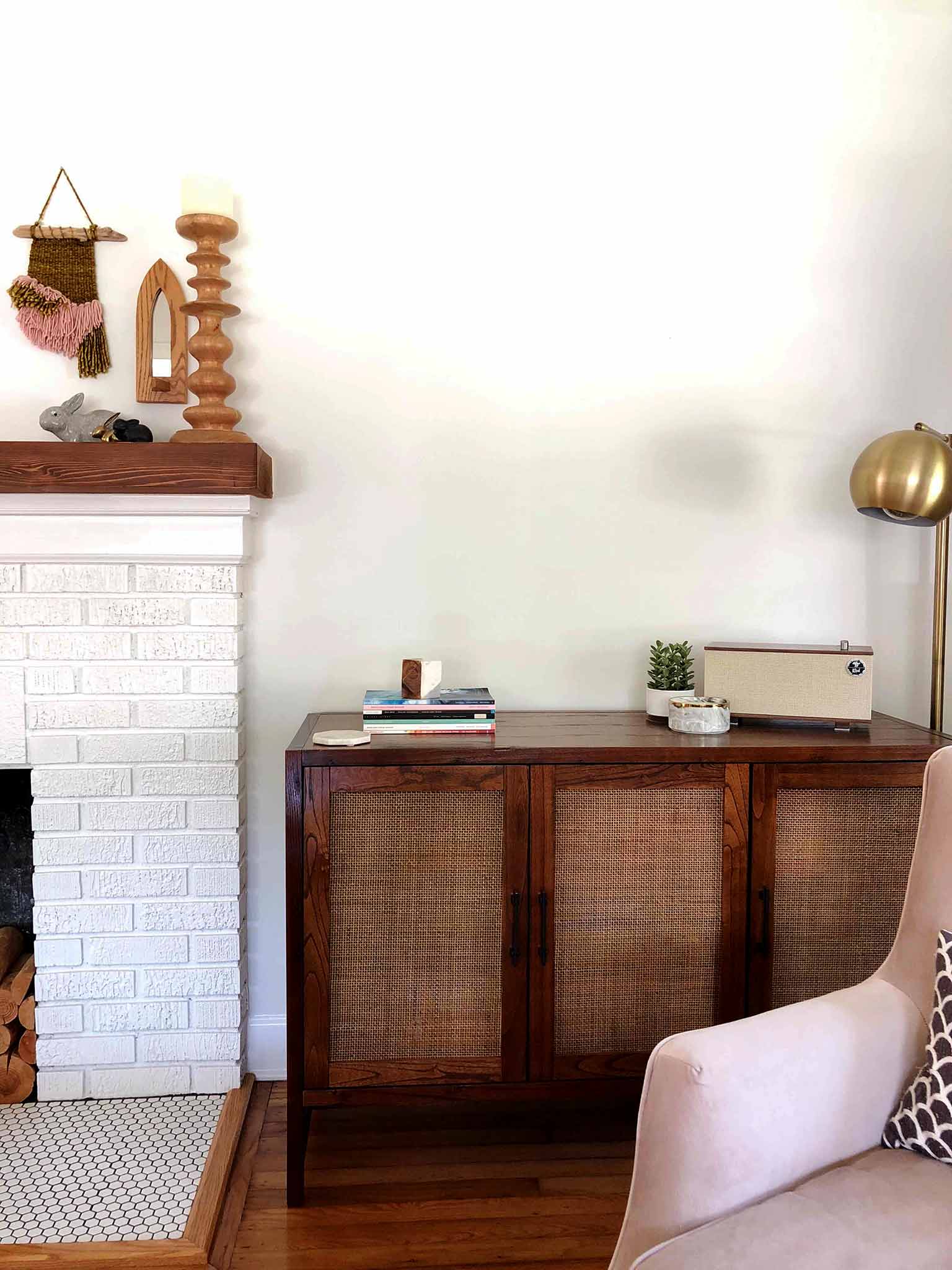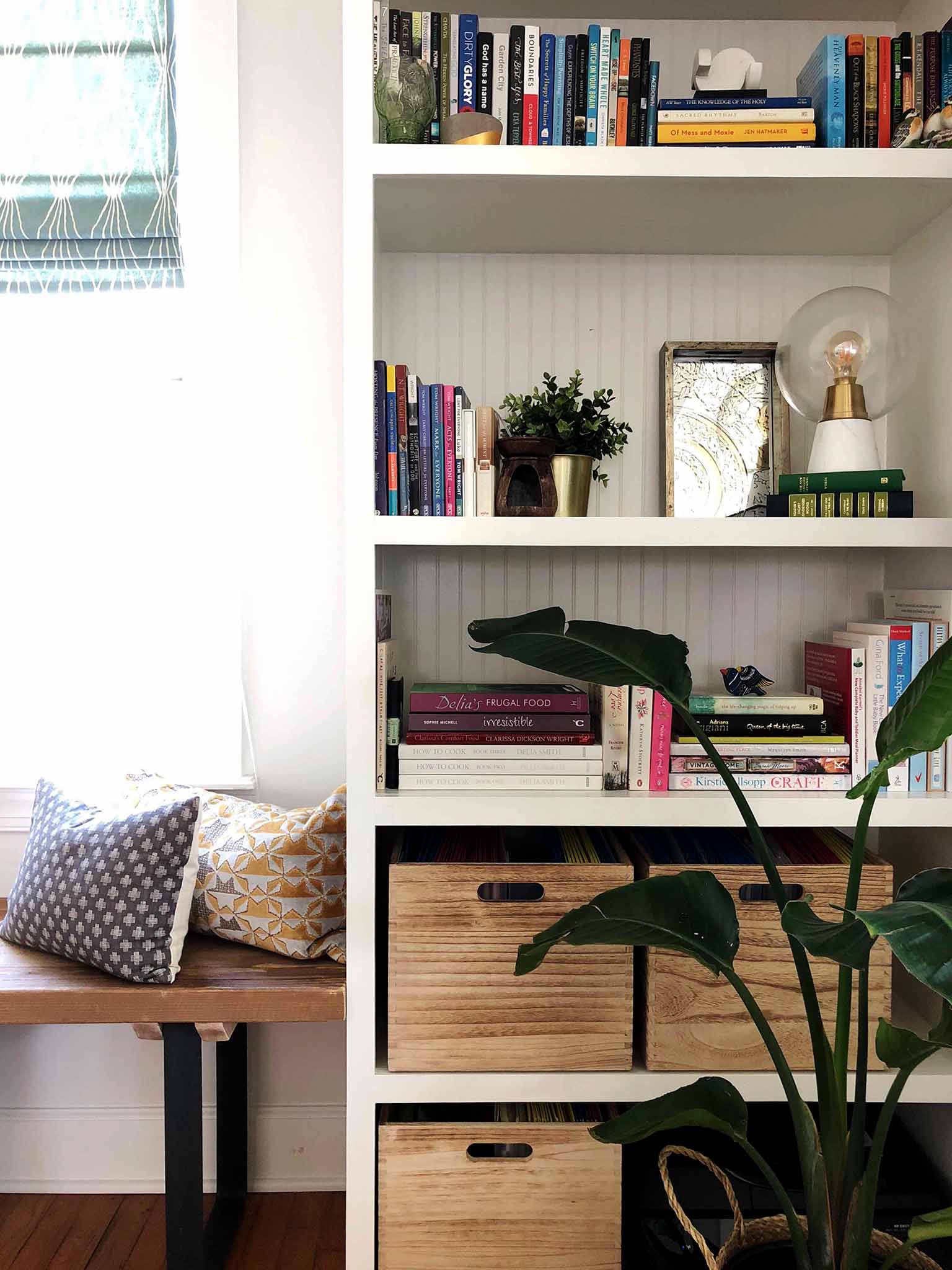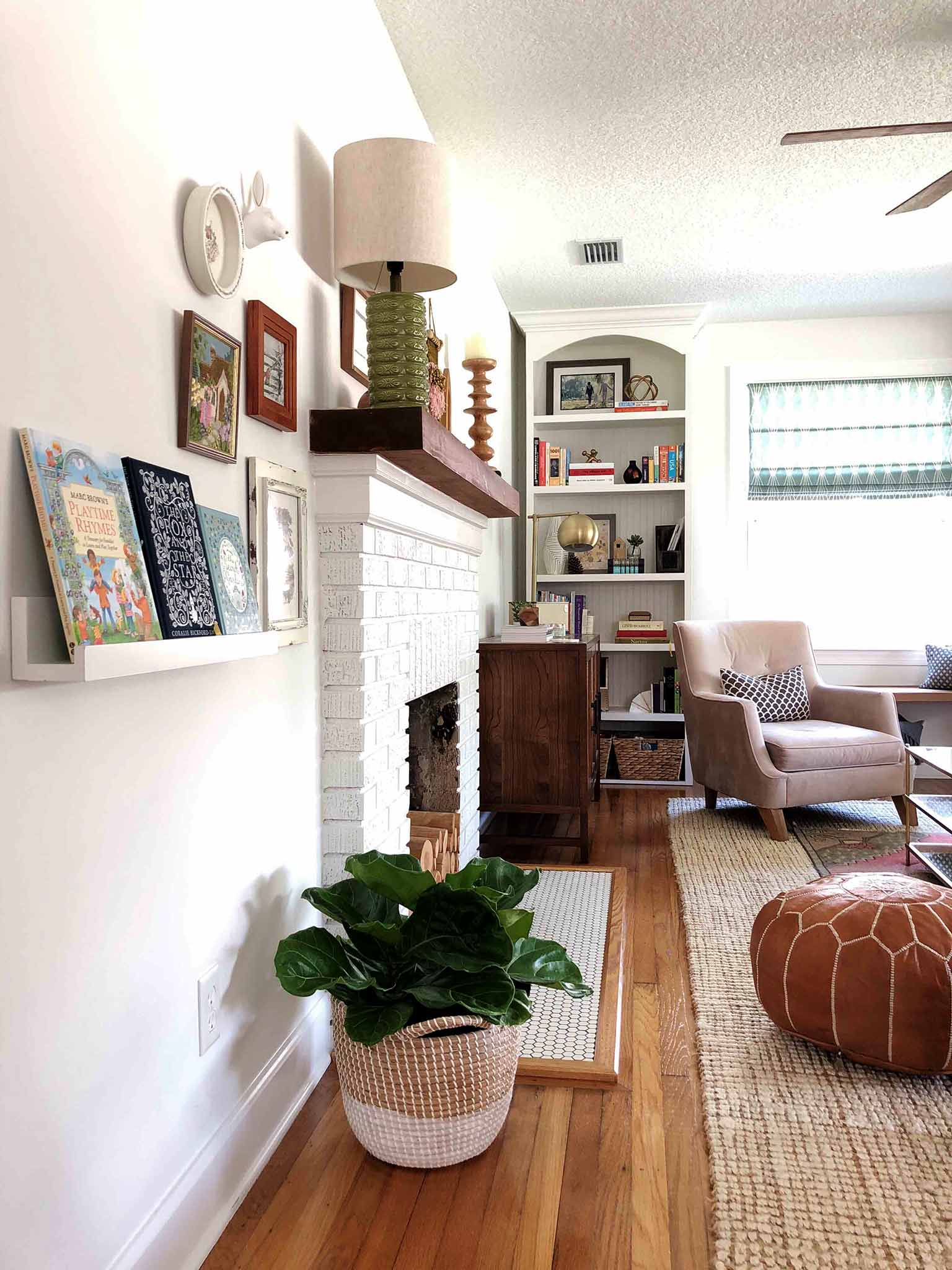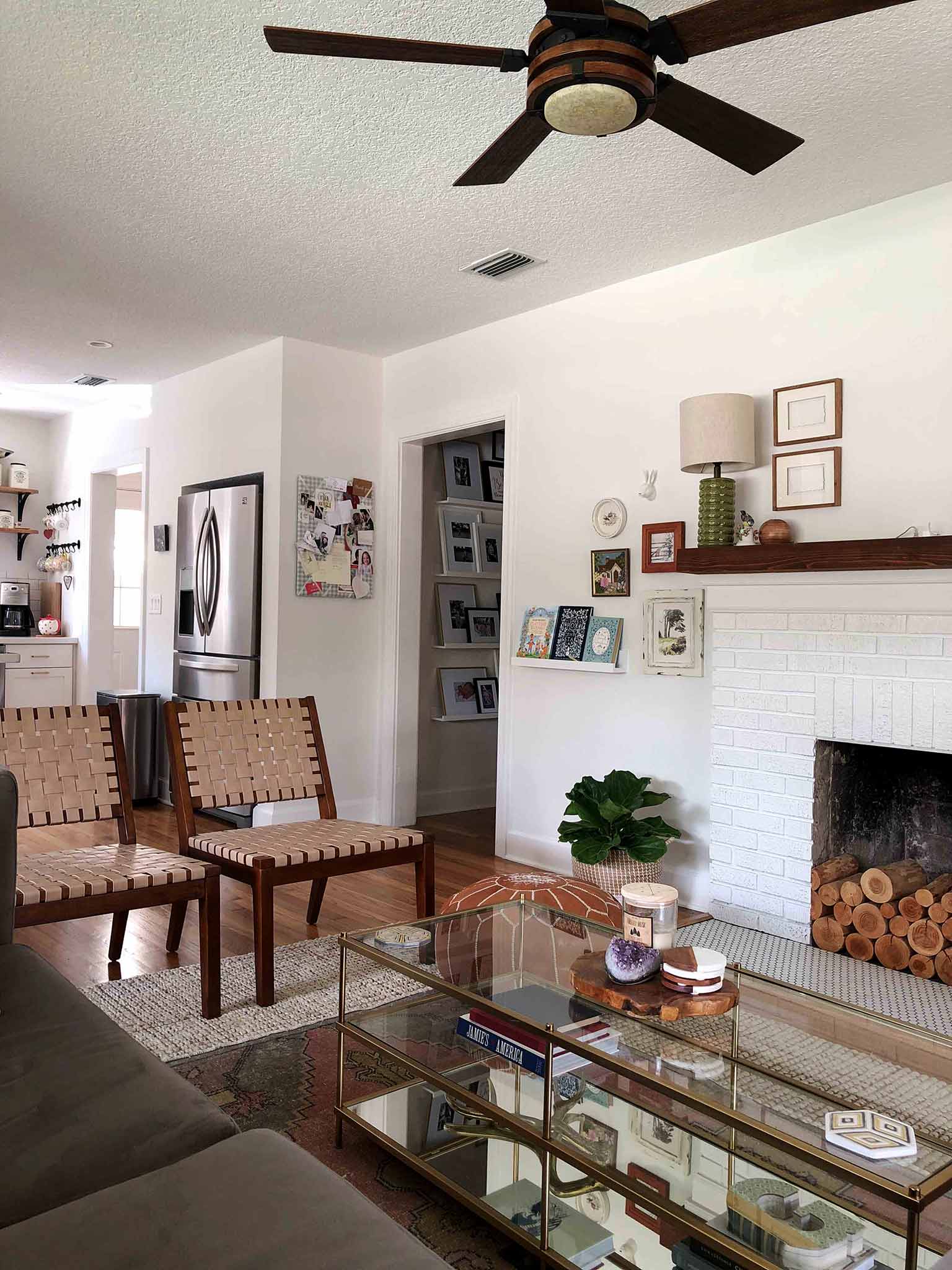 I made the roman blinds myself to go with the original geometric rug, but I actually like them more in this setting. It wasn't at all planned, but they pick up the teal accent color in the vintage turkish rug, as well as adding a touch of pattern and interest to the room. I will be honest and tell you that they are very wonky up close, and it's not a DIY I would recommend to the fainthearted, but on the upside I did end up with something custom for a fraction of the price. I also made one for the kitchen window.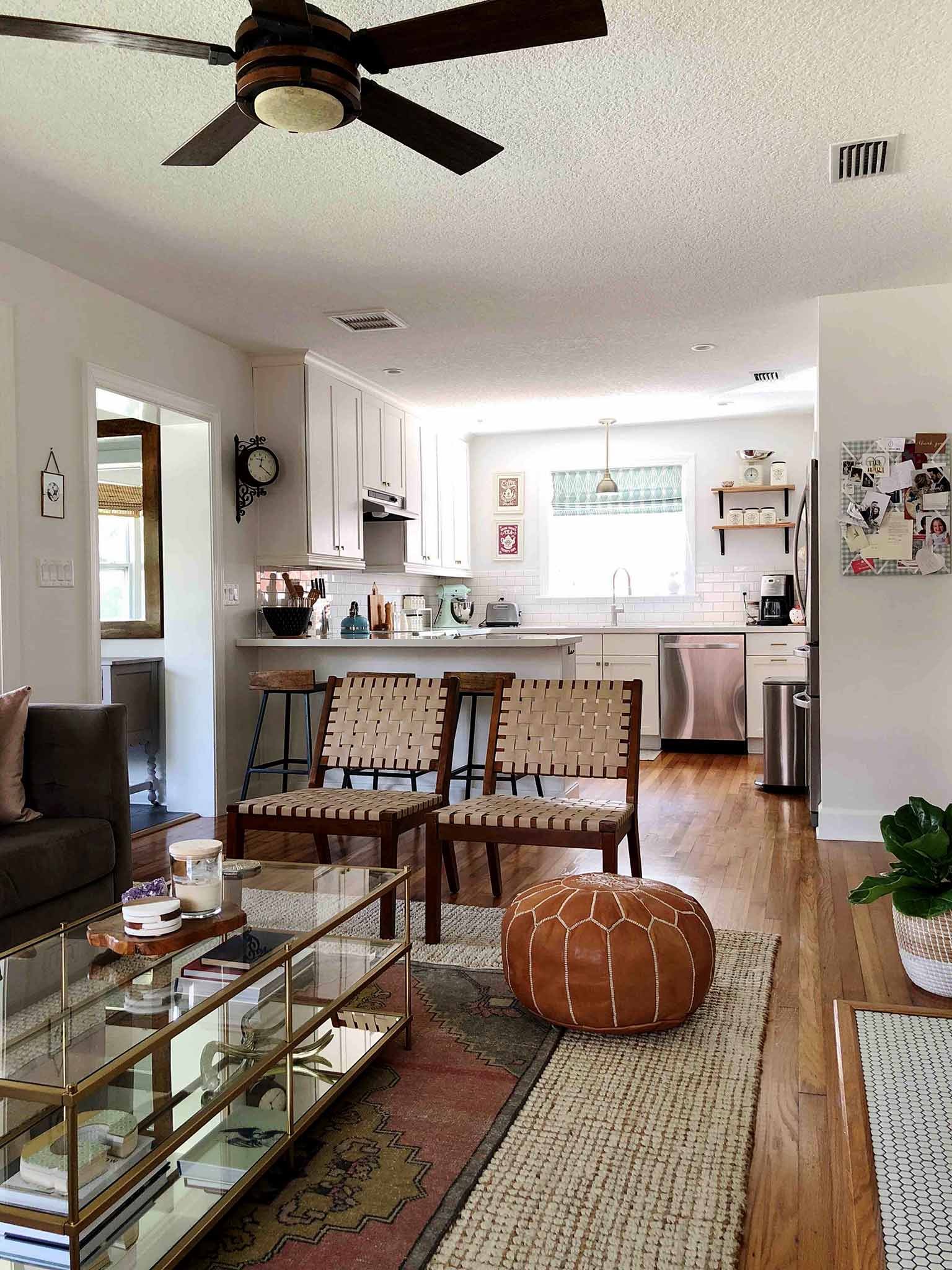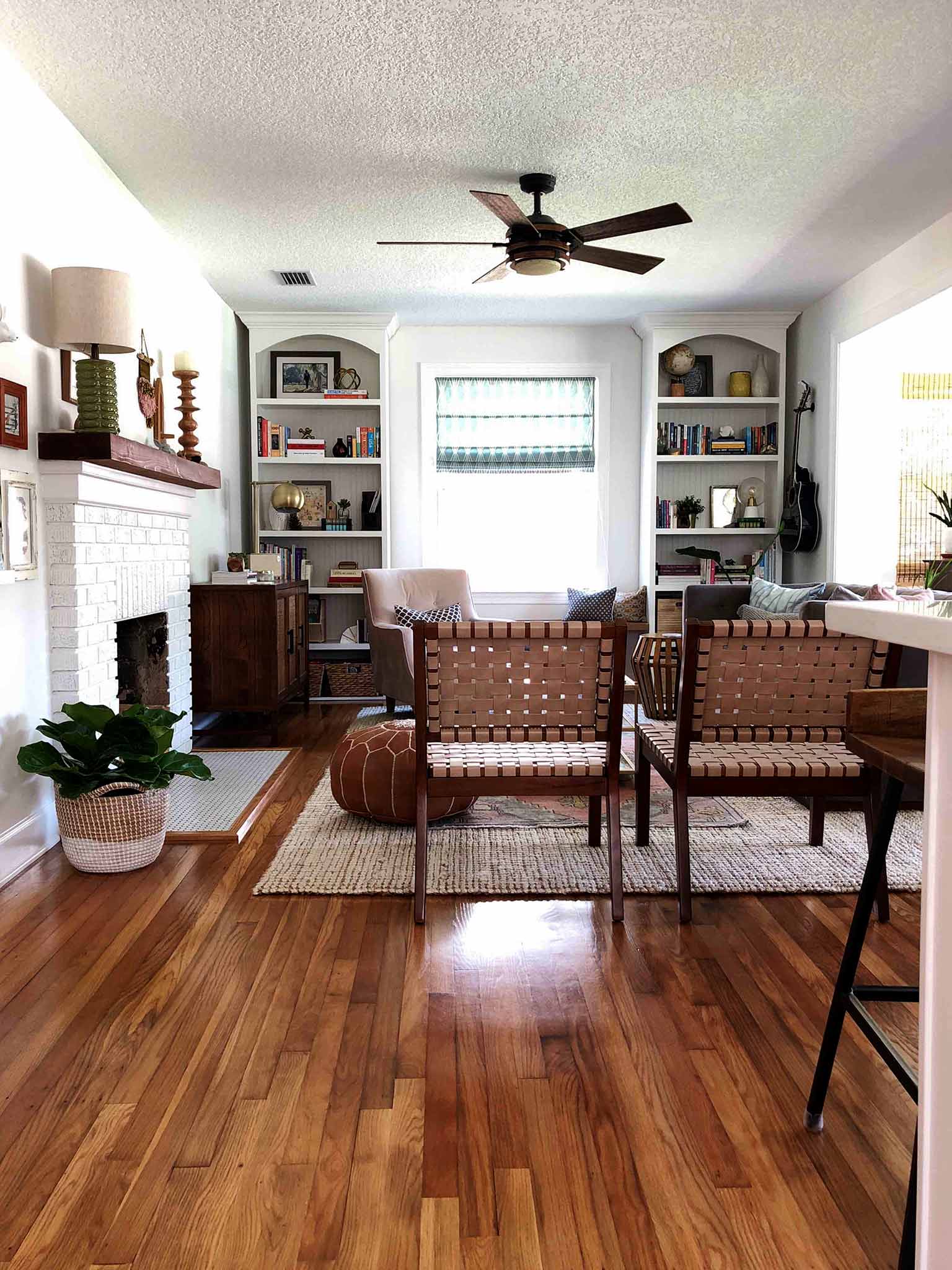 I've been switching up and adding to the pillows over time. I'm not a super matchy-matchy girl and so I love the eclectic mix of pattern, texture and size. The blues, grays, blush and gold also help to make the color palette more cohesive, which is something I was struggling to achieve earlier on in the process.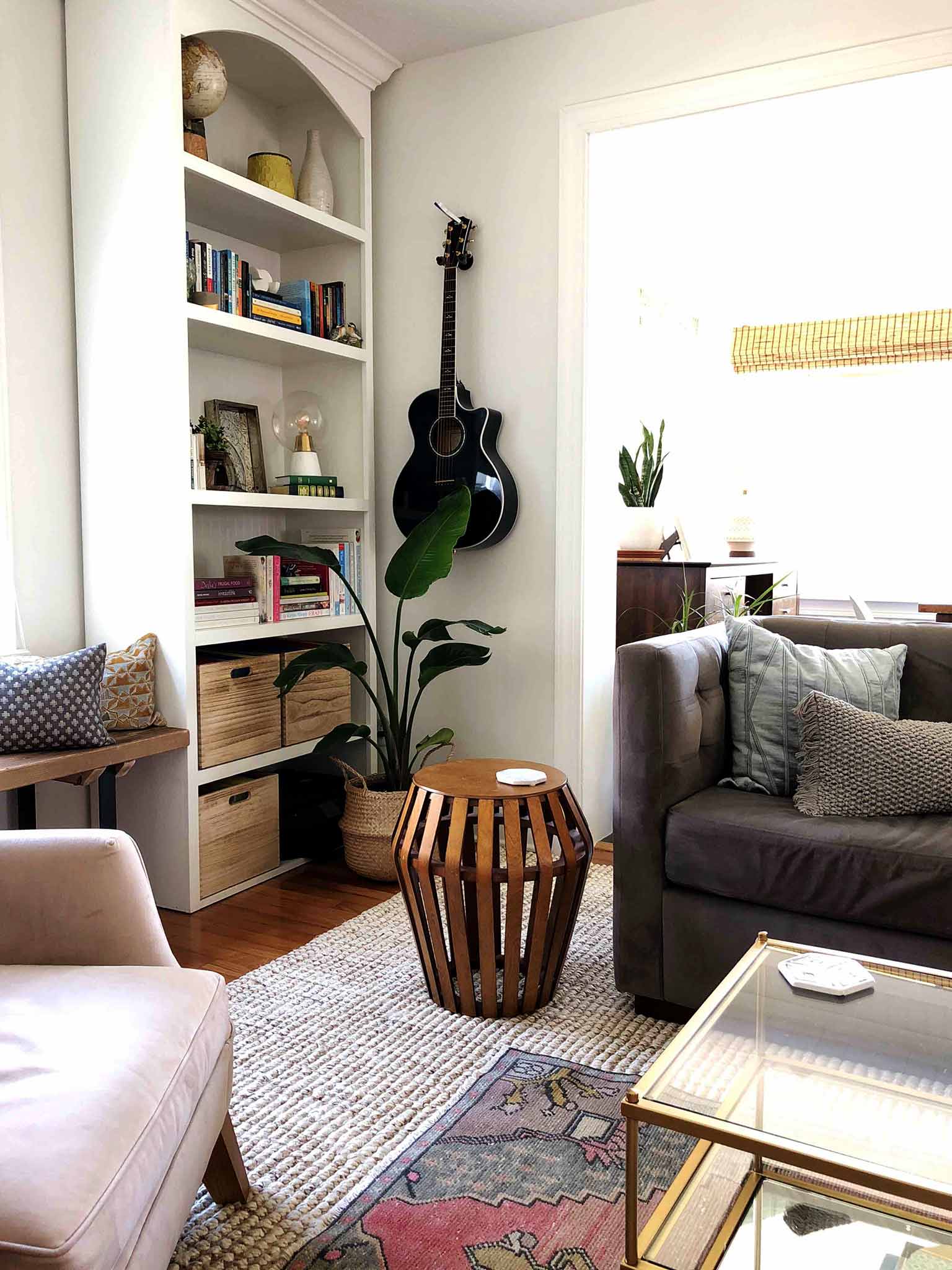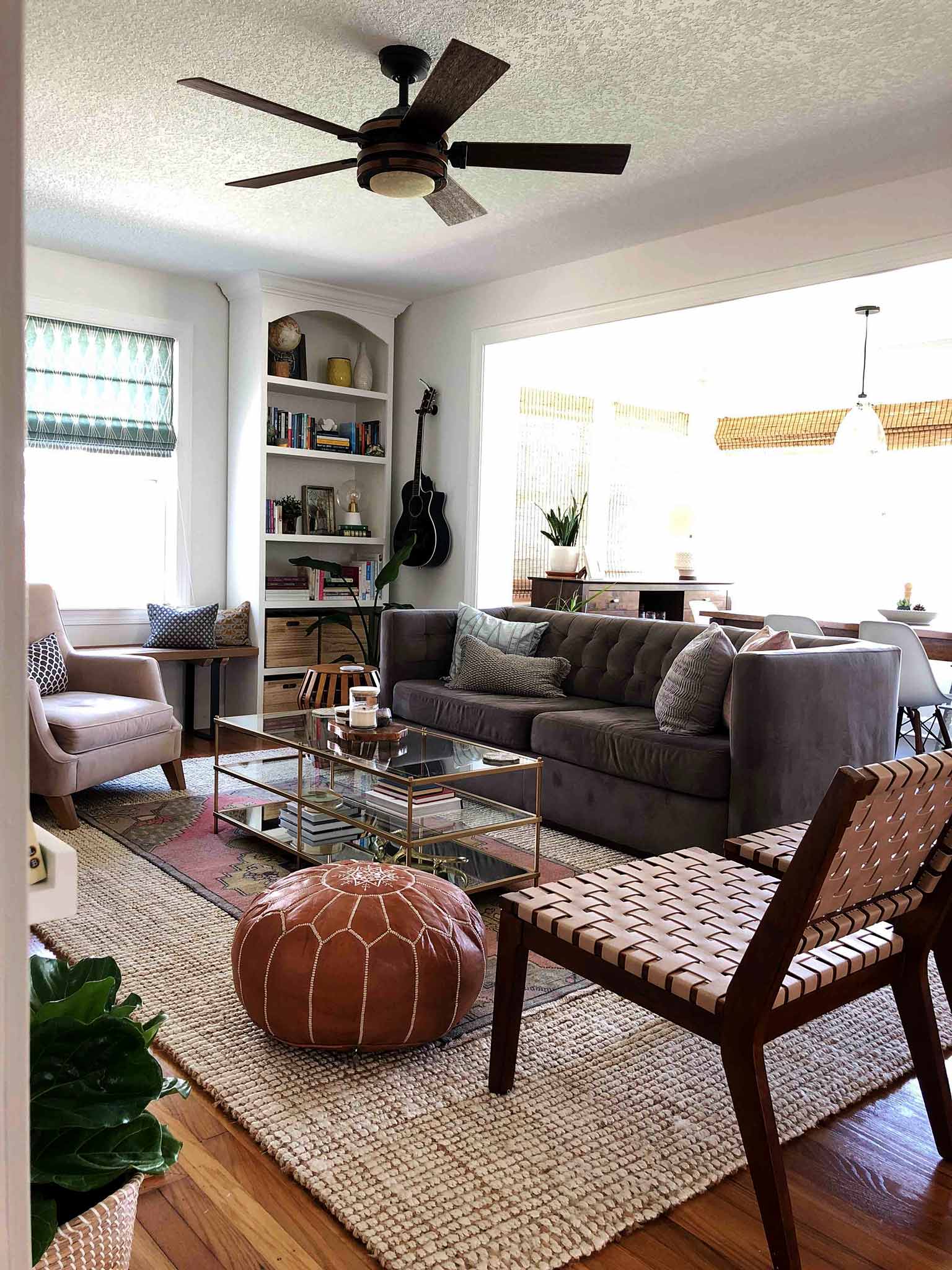 There is one last addition to the space which is still in the works—my dear friend Kristina of That Good Night is working on an abstract piece to go above the media cabinet (next to the fireplace). She's going to use all the colors from the rug and pillows to create a truly custom piece for the room! I cannot wait to see it and I will definitely update this post when it's on the wall.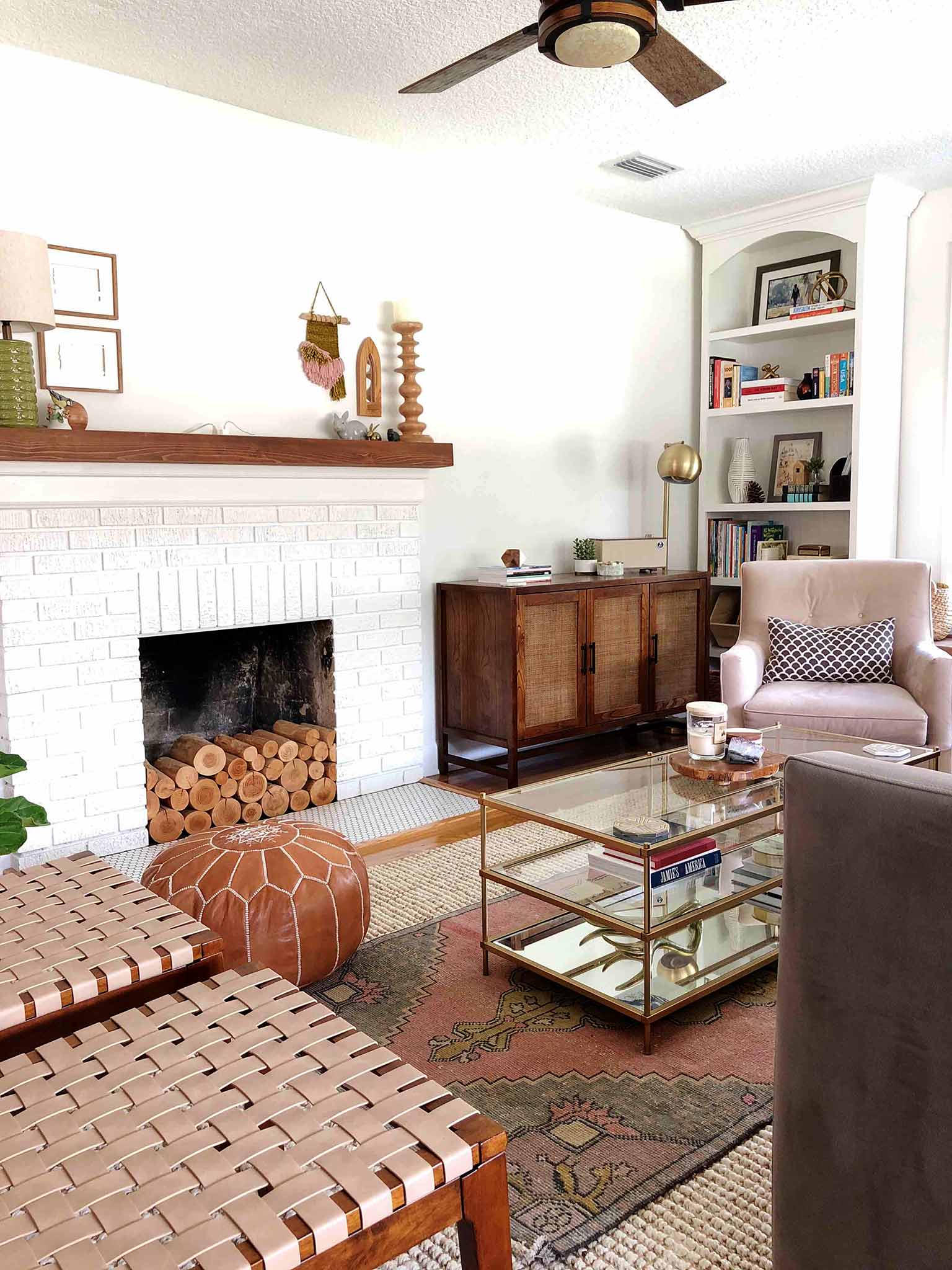 Finally, I am dreaming of changing the sofa at some point but it is waaaay low down on our priority list. The sofa has been abused by my kids, and it's just looking a bit tired and sad. Next time I would probably also opt for something a little more comfy—this one isn't great for kicking back and relaxing.
As you can tell, this room is one that has evolved slowly from the moment we moved in two years ago, and it has only been in the last month or so that I would consider it to be "finished." (I use that term lightly—for is a space truly ever fully finished?) But I believe that the result of this slow-paced design process is a layered and thoughtful space, and one that I can say that I really LOVE! For me, the wait has been very much worth it.
The recurring thread throughout is that I'm learning to listen to my gut. And I think this applies to YOUR space too—because in decorating your home you need to be the one who loves it the most. That rug from West Elm? I knew it wasn't the right fit for me as soon as I rolled it out. The woven Project 62 chairs? I should have bought them first, rather than the ones that I thought other people would like better because they were recommended on a high profile design blog.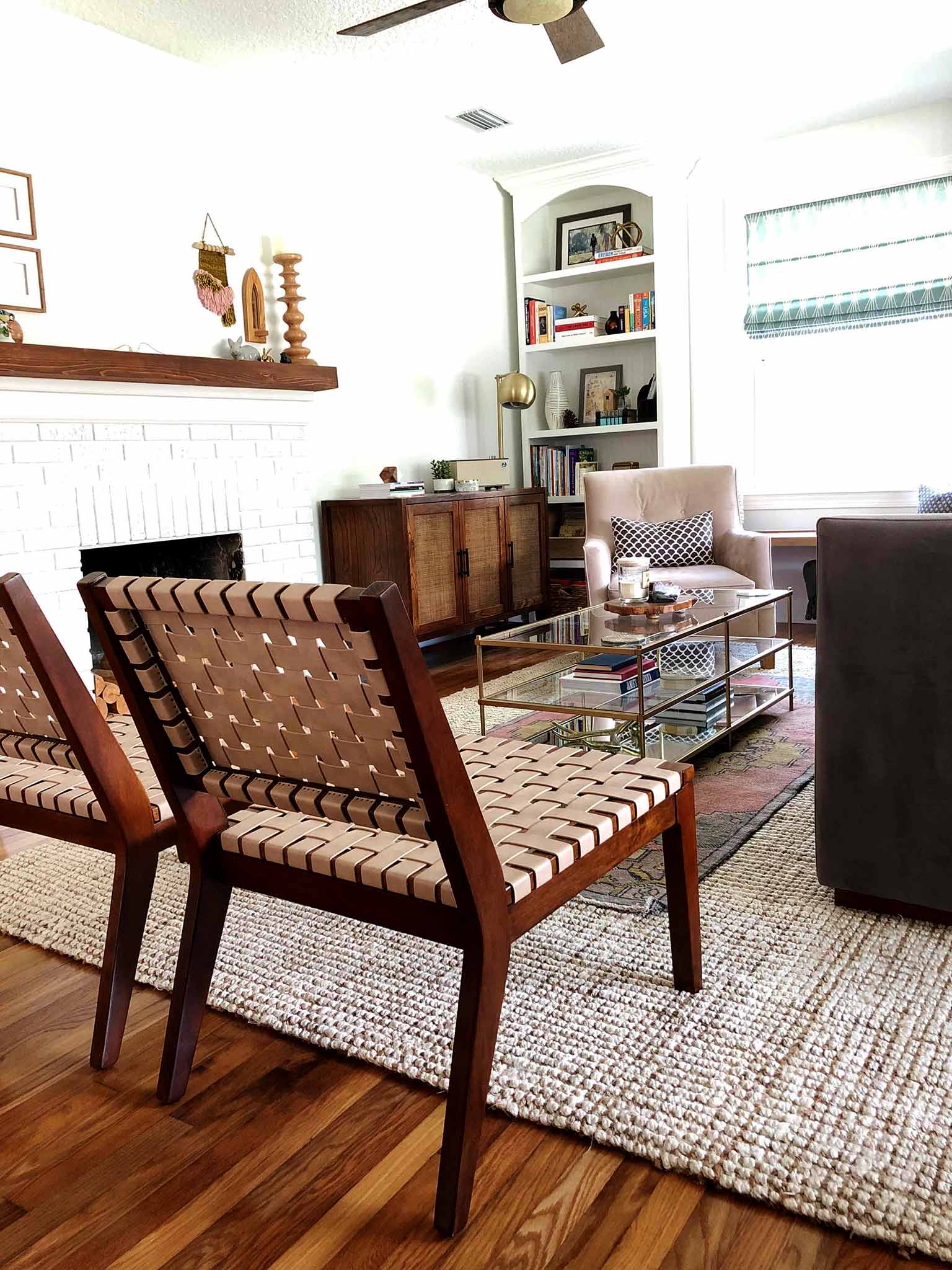 It costs time (and often money) to fix mistakes or bad purchases and get a space feeling the right way for you—but isn't that better than staring at a room and wishing it were different? Even with all the hassle of returning, replacing and pivoting various pieces in this room, I am so glad that I didn't settle. It is now a space that I enjoy to be in, and the blood, sweat and tears are all part of that process.
SOURCES
Sofa
Upholstered Chair (no longer available—similar)
Woven Chairs
Jute Rug (no longer available—similar)
Turkish Rug (vintage—similar)
Media Cabinet
Coffee Table
Moroccan Leather Pouf
Floor Lamp
Table Lamp
Bluetooth Speaker
Geometric Object
Marbled Candle
Artificial Plant
Two Tone Baskets
Faux Succulent Stem
Mini Glass Jug Vase
Wood Nesting House
---