From a mismatched junk room to a simplified and sophisticated master bedroom: my One Room Challenge is officially complete! There have been many sleepless nights and various twists and turns along the way, but I'm happy to say that it has all been totally worth it.
So, here it is—welcome to our master bedroom!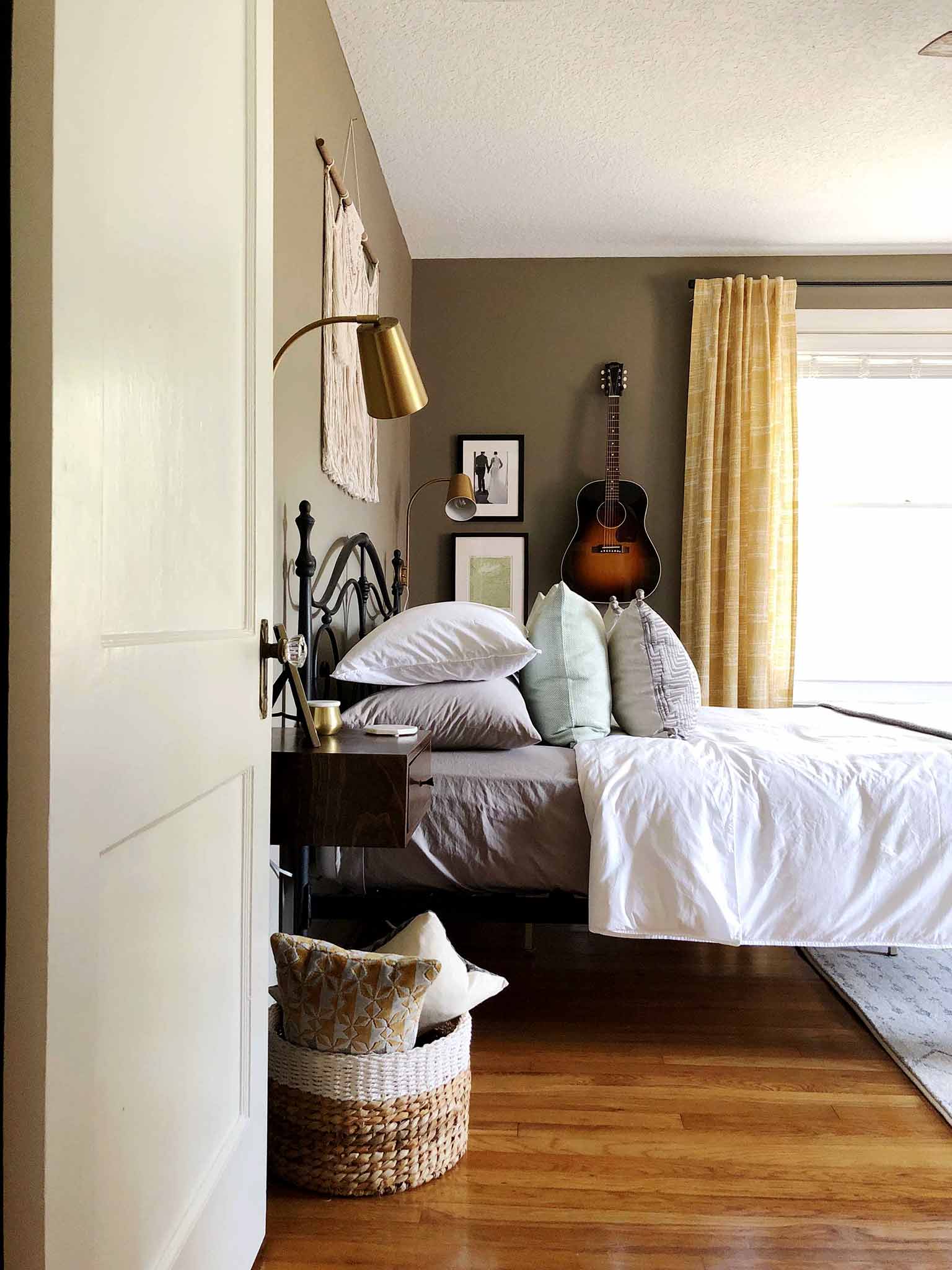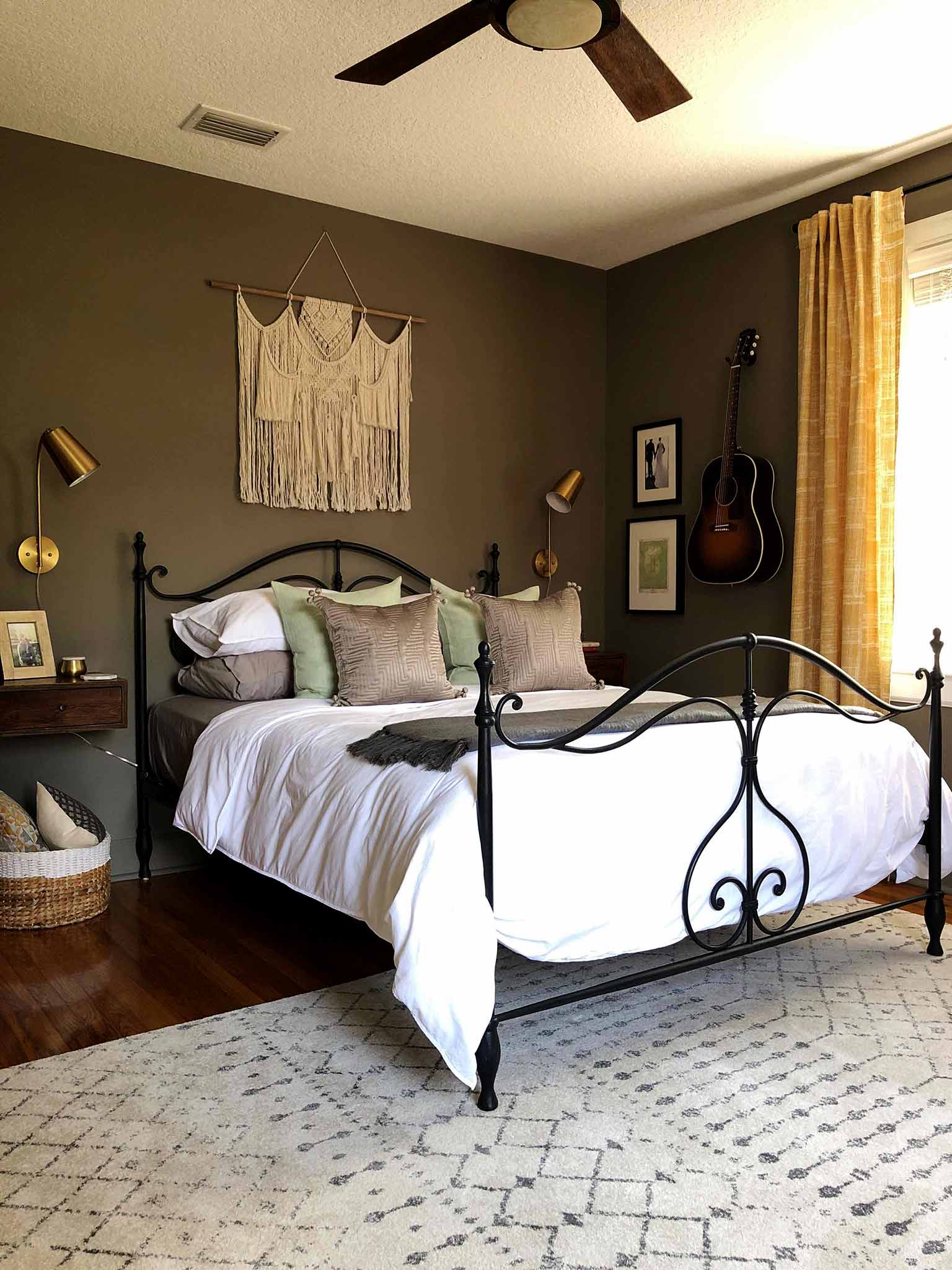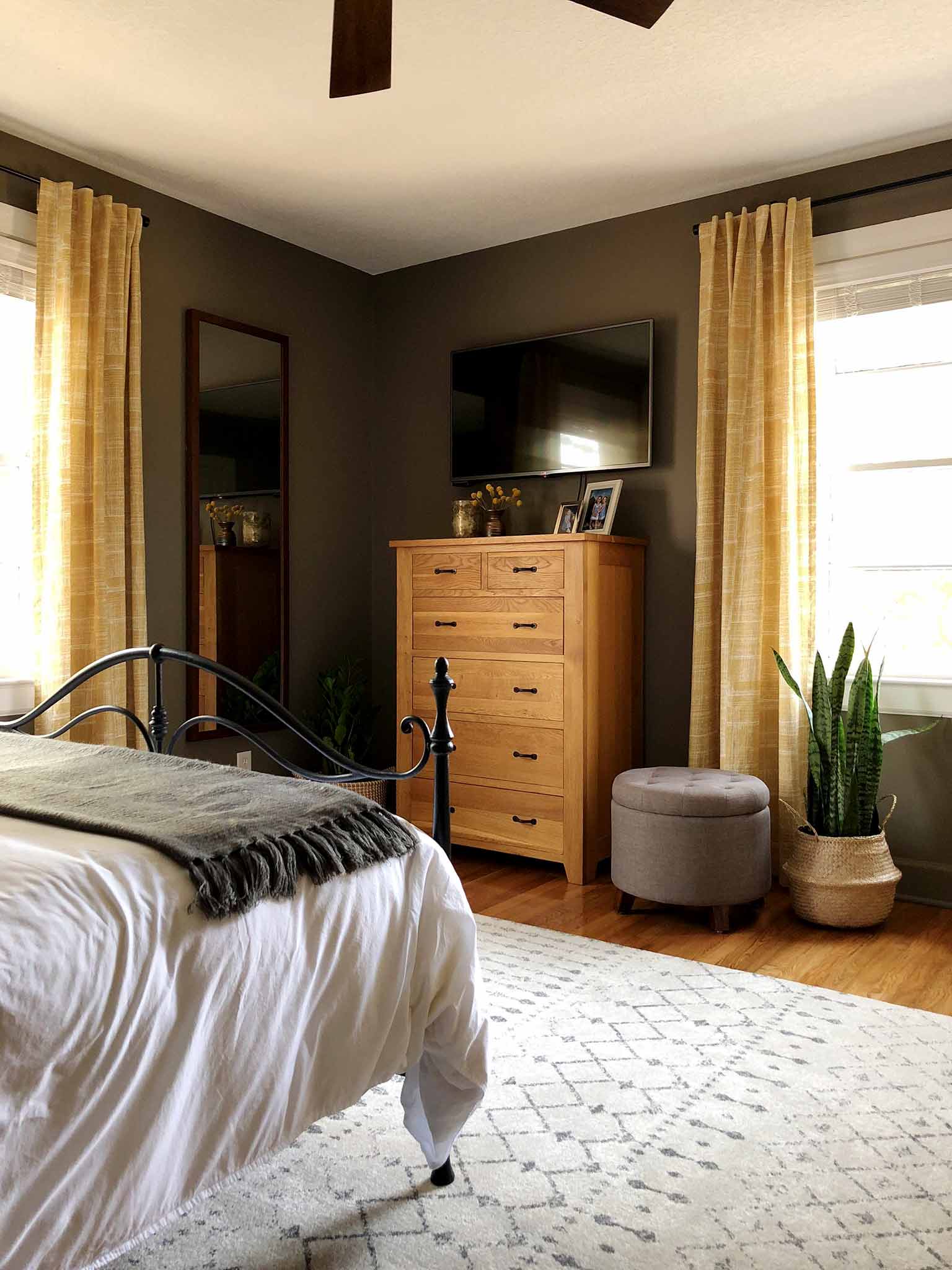 The color palette of the makeover all started with the oil painting which my talented Granny painted.
It was previously hung in our living room, but I thought that the yellow hues would work really well with the color of the walls and the curtains in our bedroom. I then added a few more accents of soft green to the room with the throw pillows and the artwork, which I think adds further depth to the room.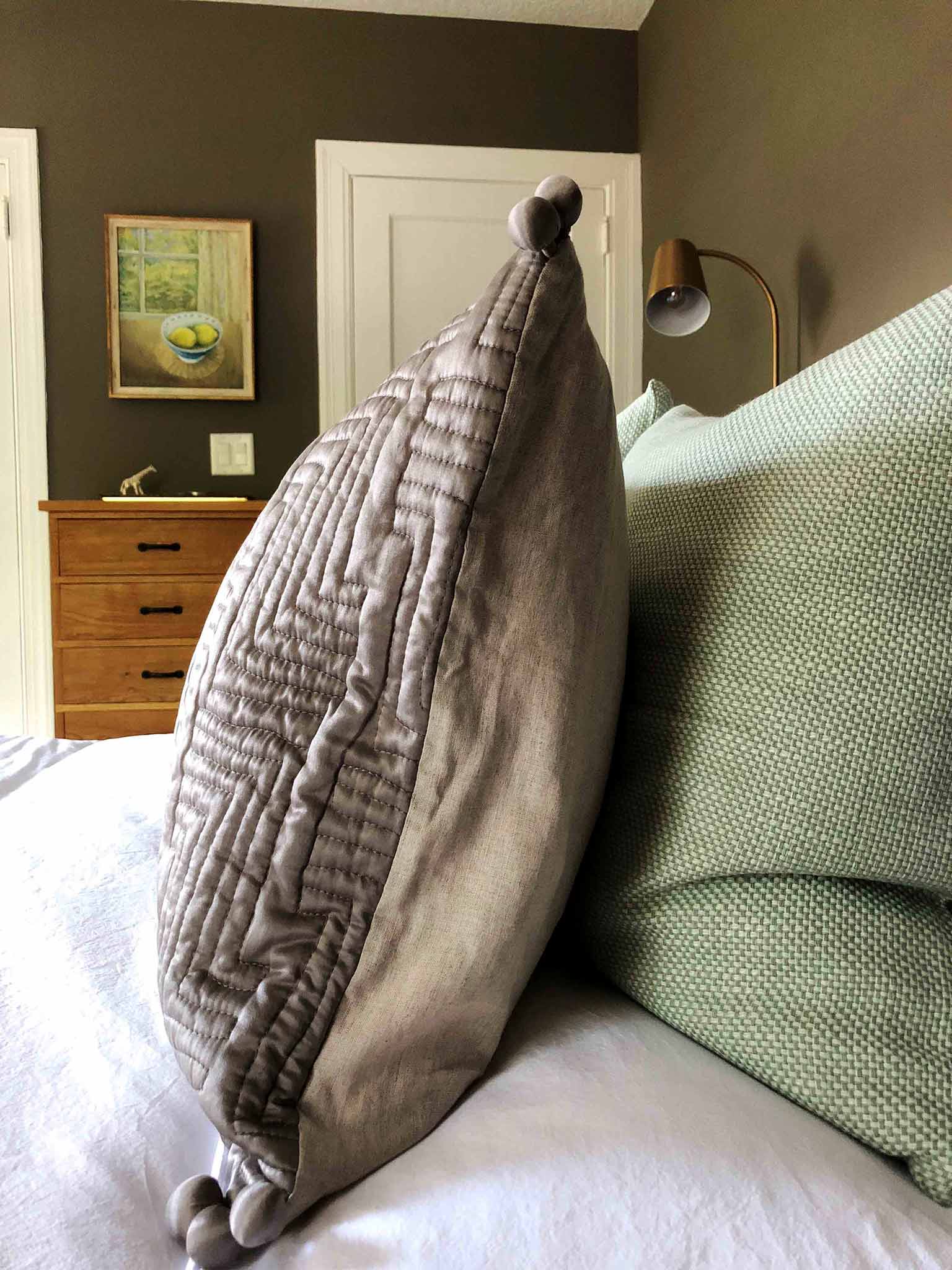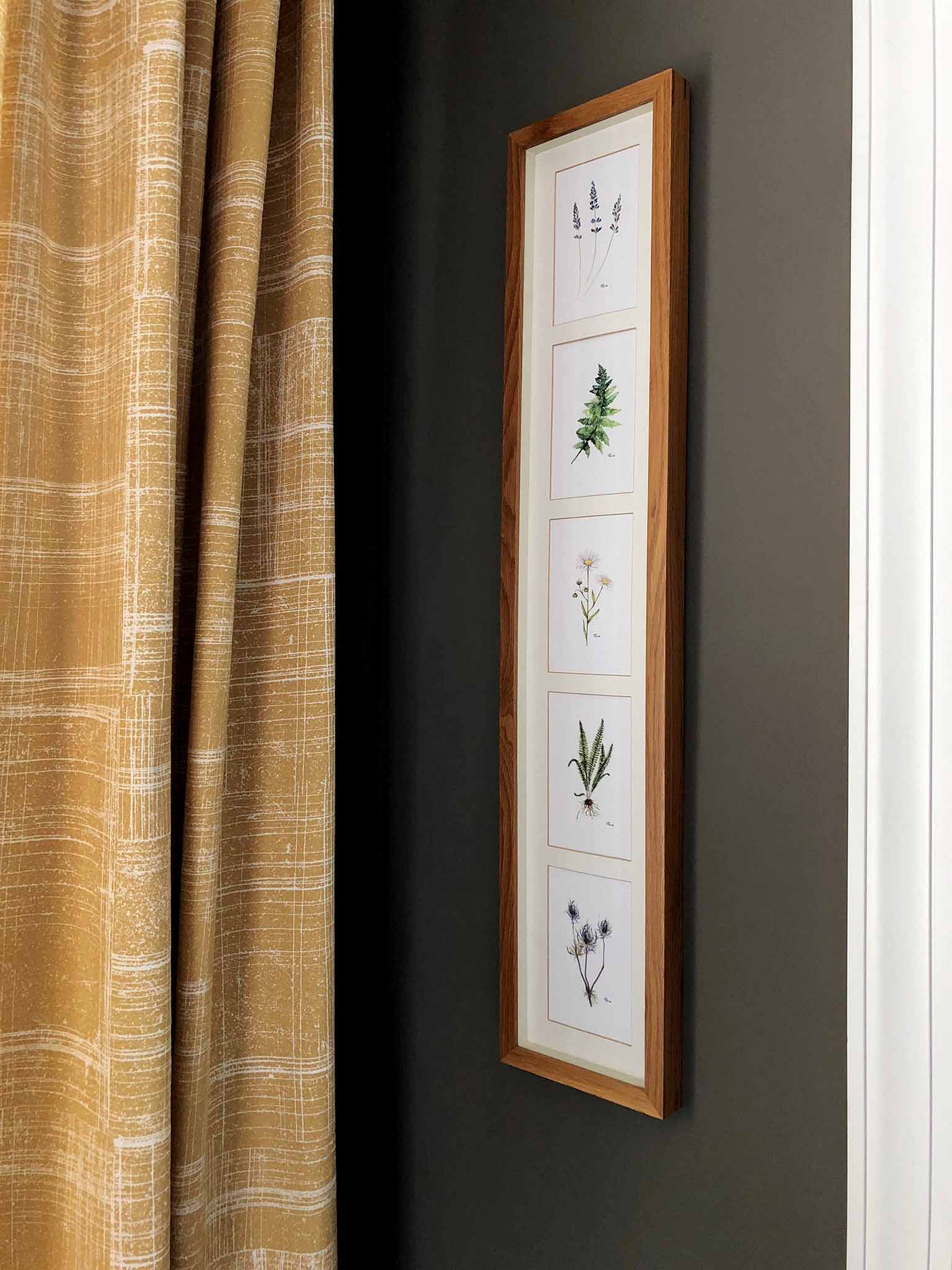 There's definitely a strong mid-century modern vibe going on in this room with the floating nightstands, bold curtain print and warm wood tones. But I also wanted to soften it with some texture, and that is where the beautiful macrame wall hanging by Fond Willow takes centerstage.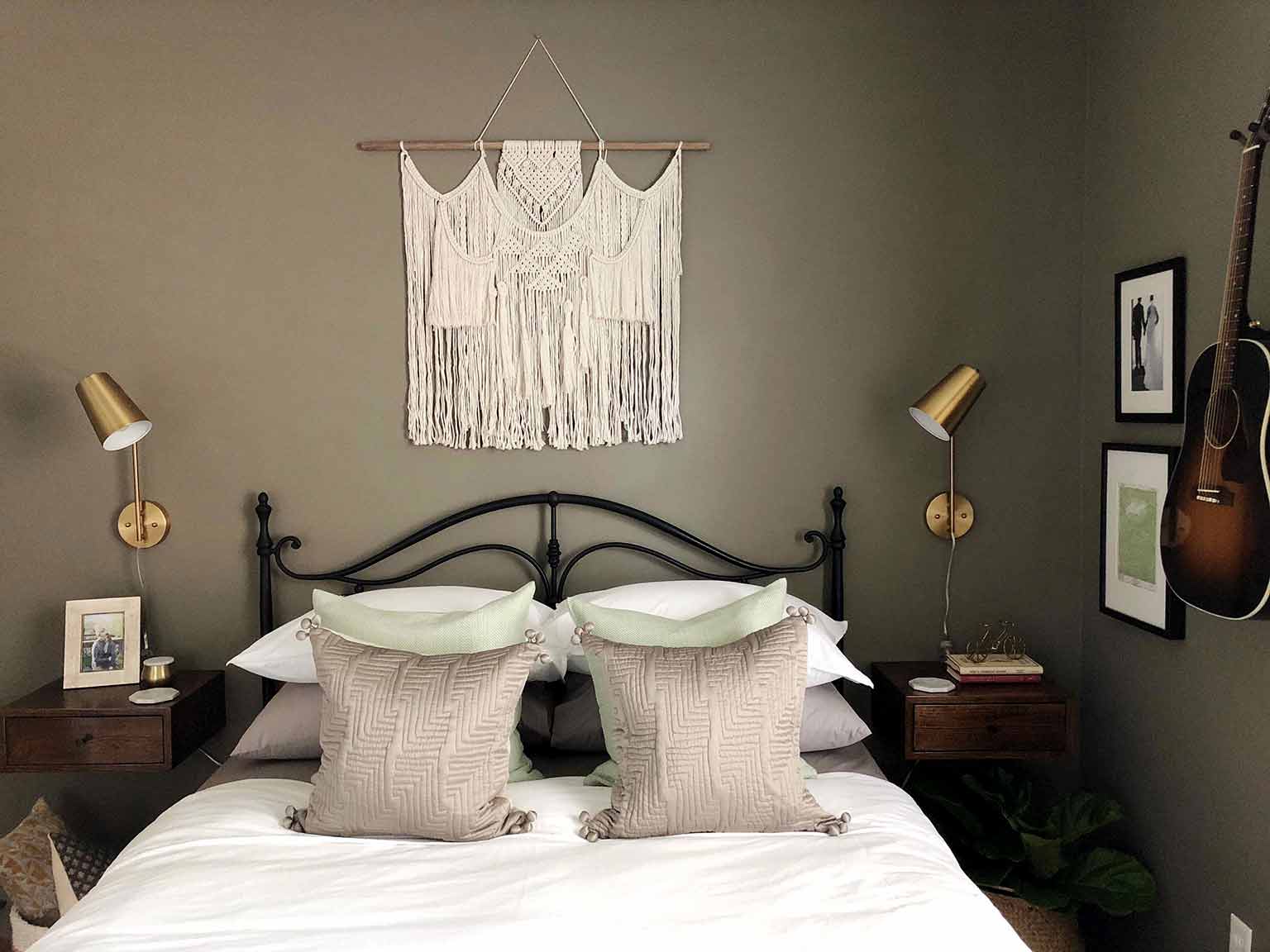 Originally I was planning to make something myself, but I found some money in my budget after the nightstands were less expensive than expected, so I was able to splurge a little! It's such a beautiful piece and I highly recommend checking out the rest of Aubree's one-of-a-kind pieces.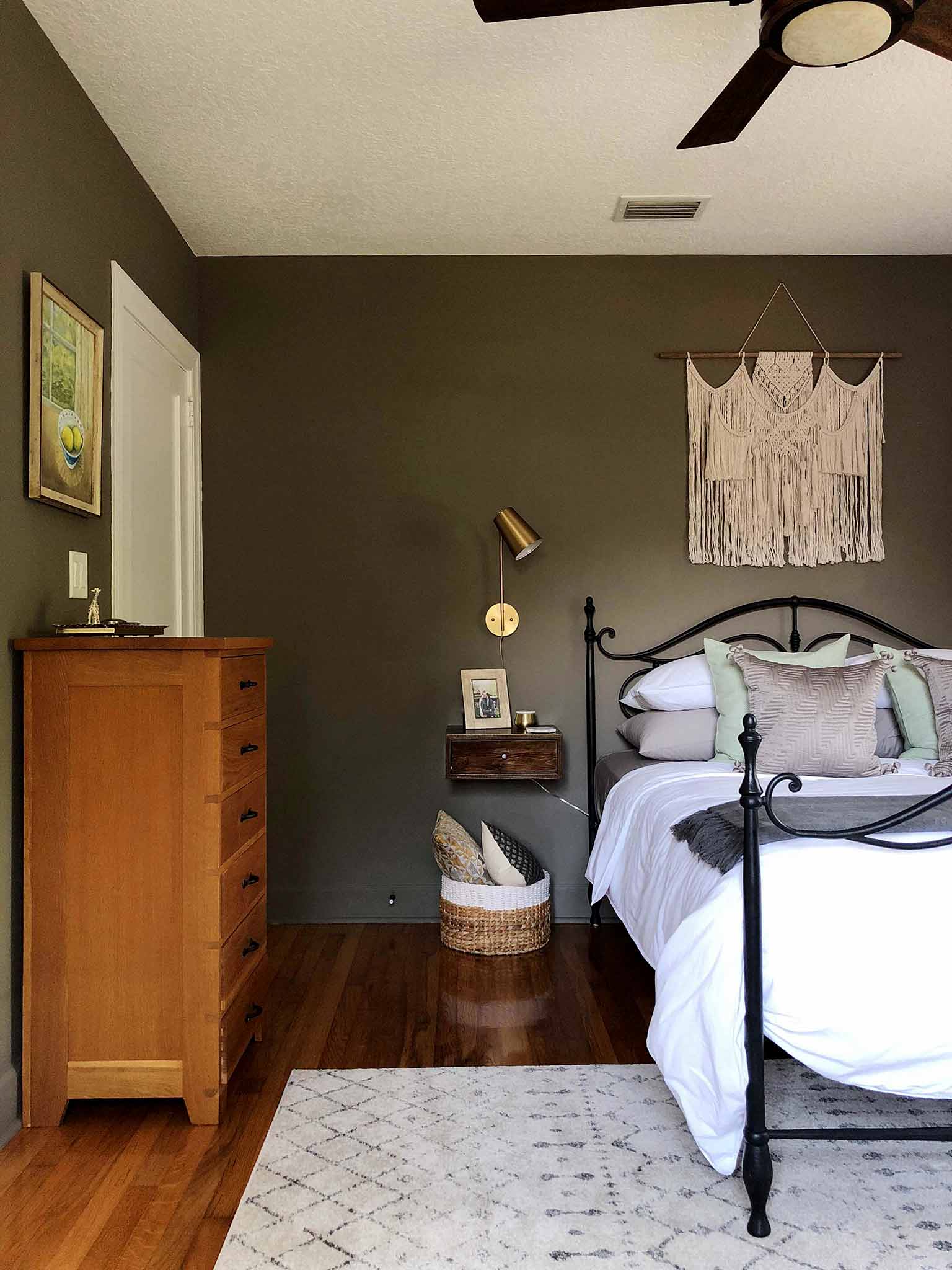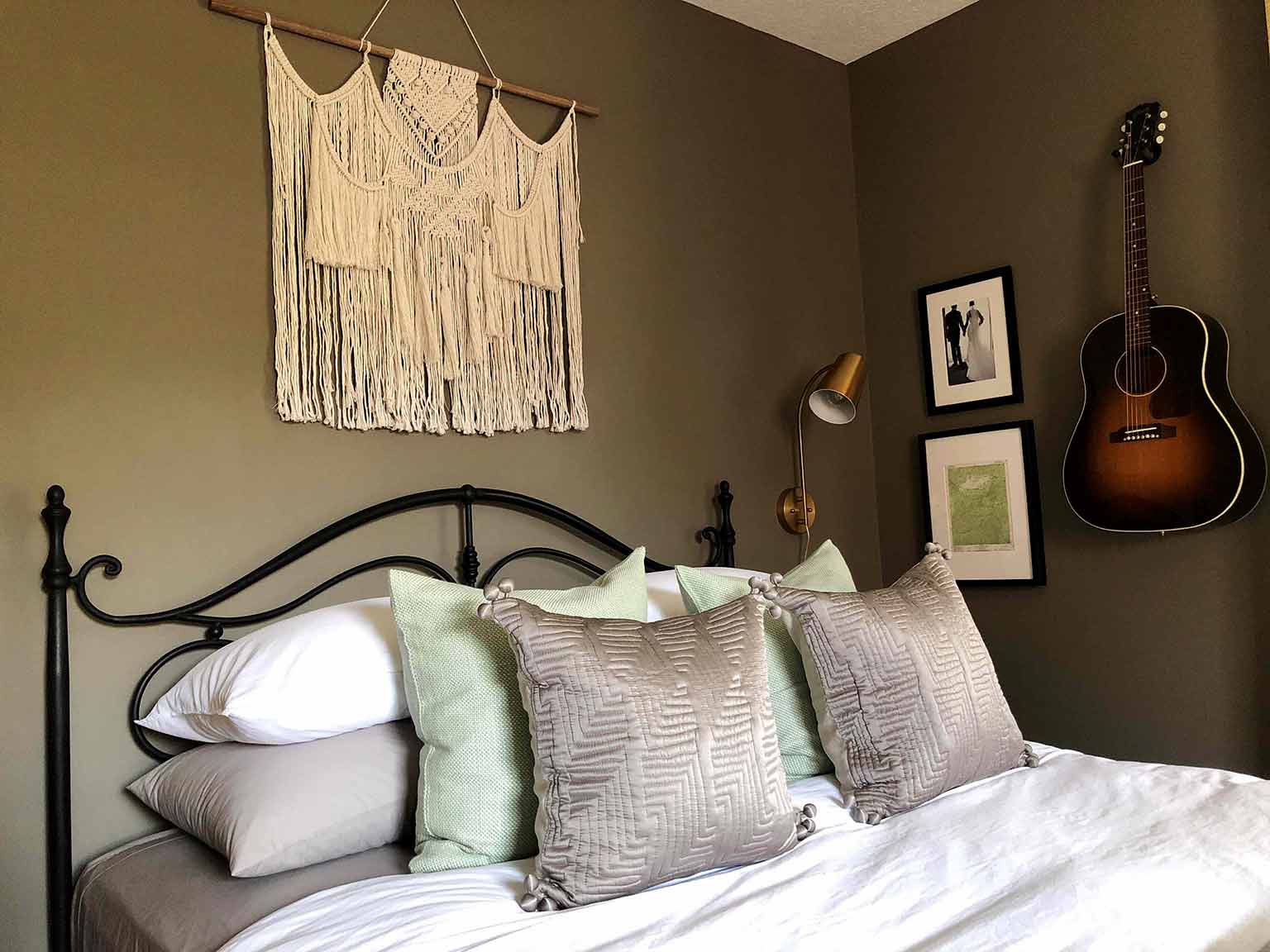 I tried to keep the accessories pretty minimal in this room as I didn't want the surfaces to feel at all cluttered. I purchased a vintage tray from my buddy Jessica Brigham and love how it keeps my trinket dish and jewelry boxes in one place.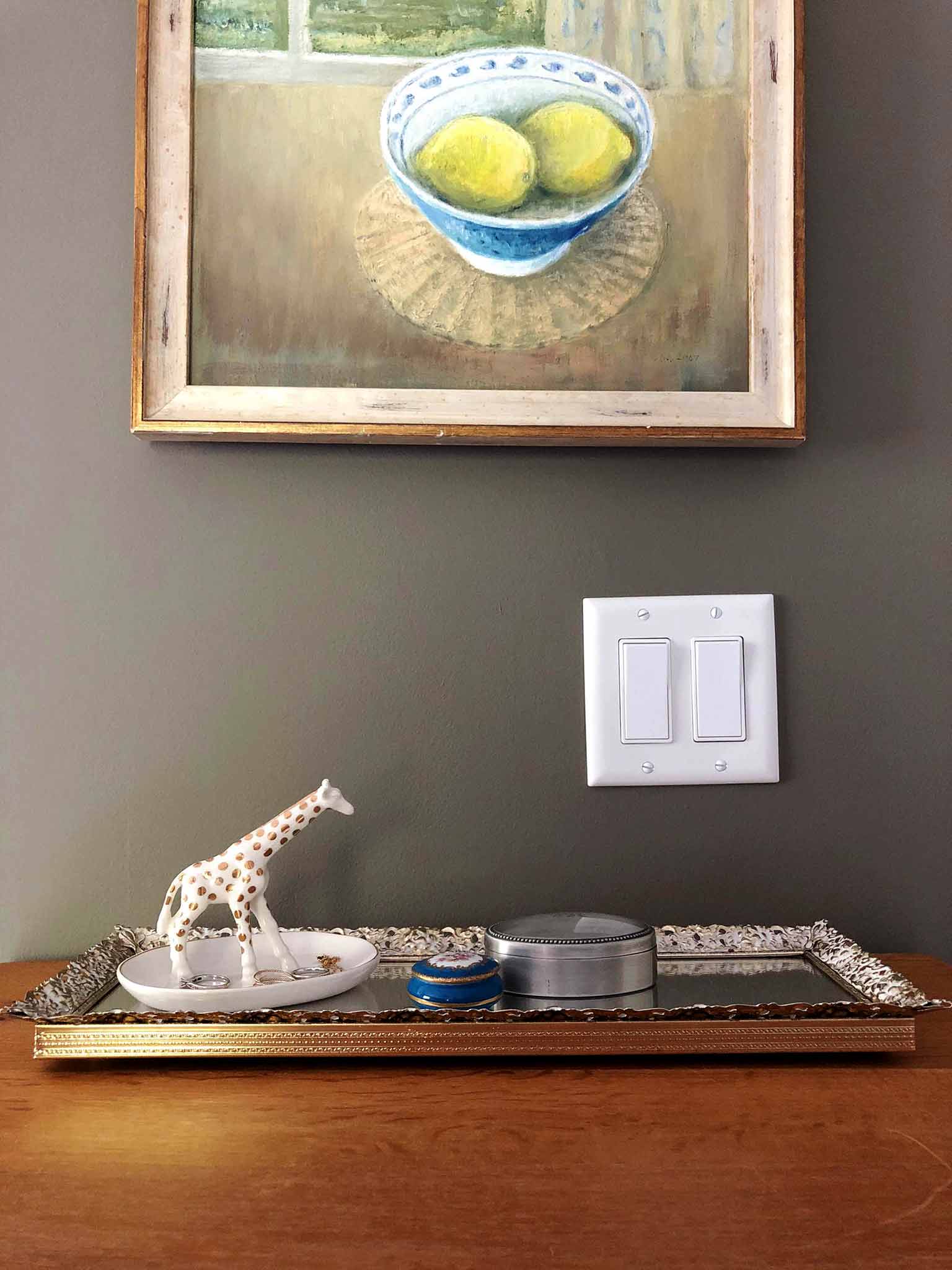 I found some great candles and accessories from West Elm and Anthropologie, and then used my existing picture frames and books to add those all important personal touches. I also mounted my husband's guitar on the wall. (This makes it easy for him to serenade me to sleep whenever I need him to ;)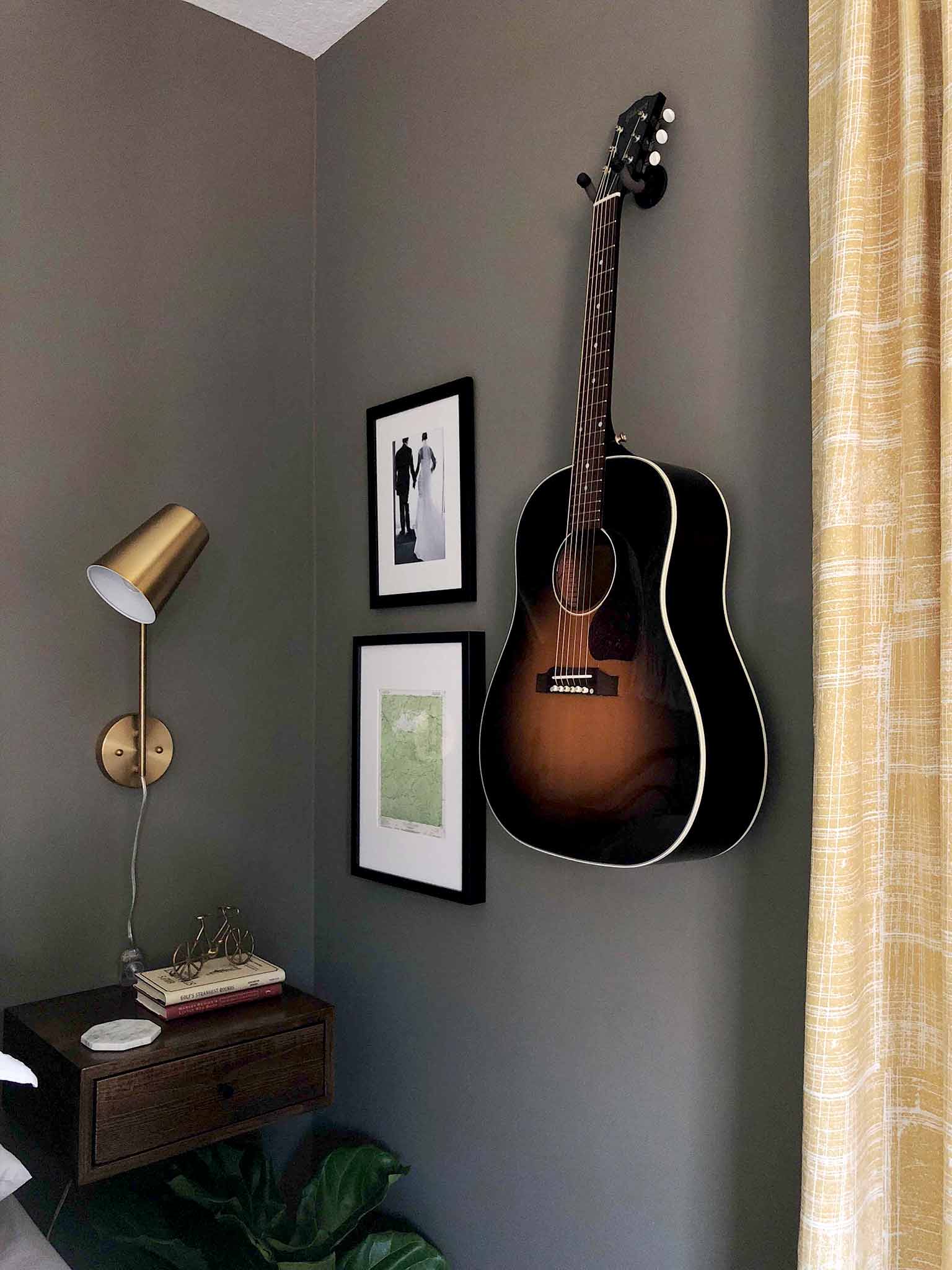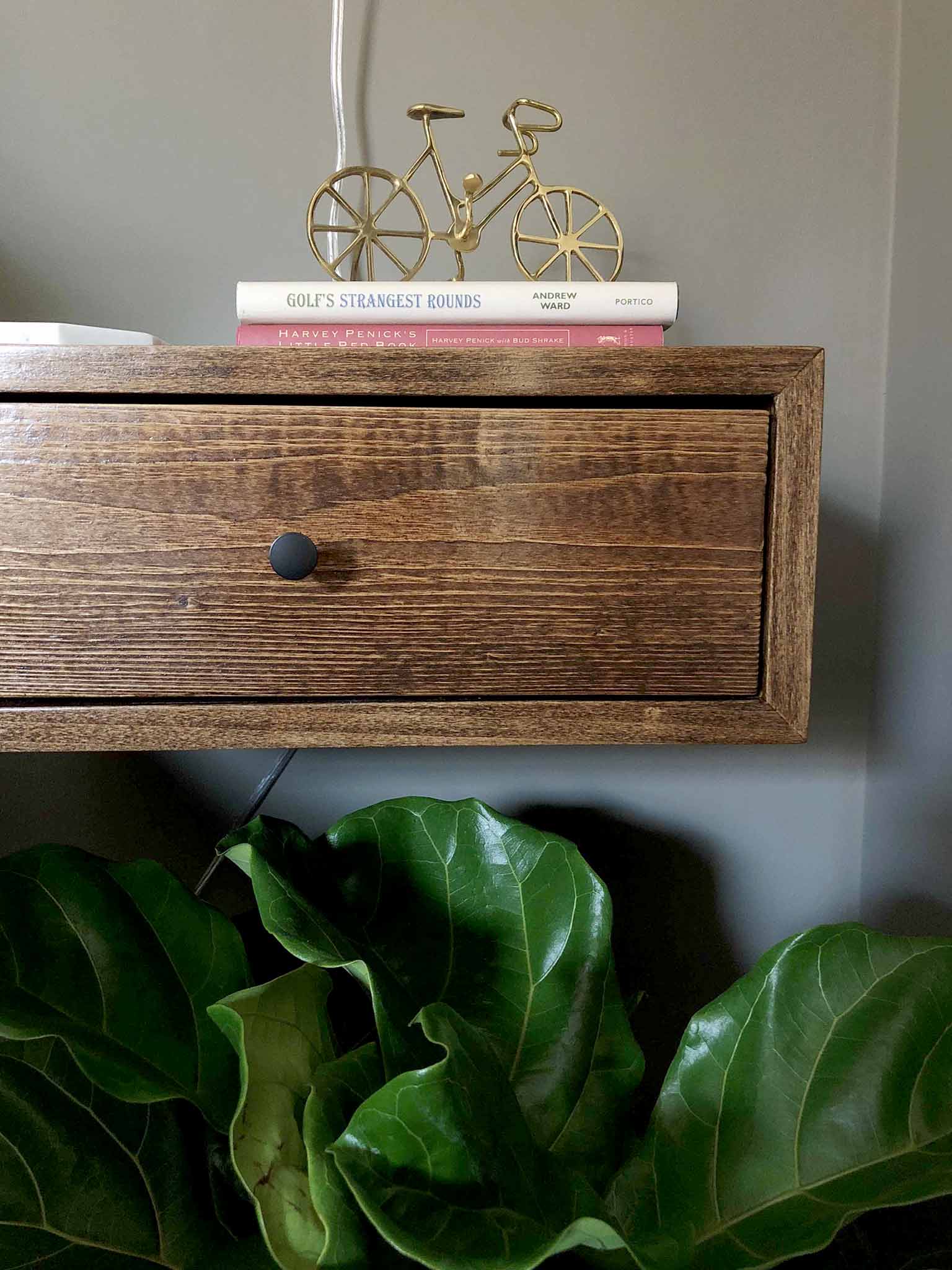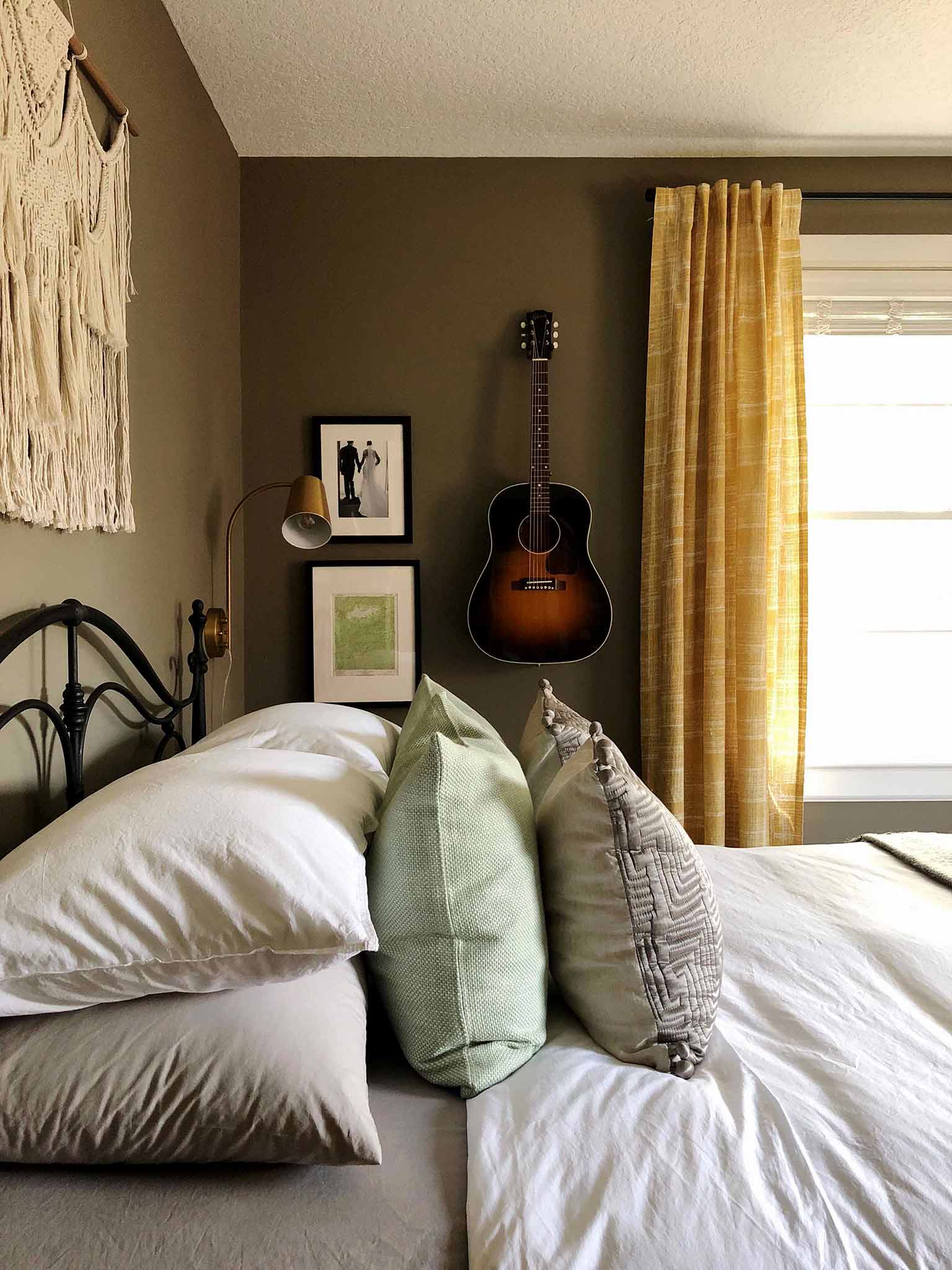 For the first time in my married life, I have my very own full length mirror! It's a game-changer knowing what you look like from head to toe, I can tell you! My hair products and hairdryer are stored in the upholstered storage ottoman, and I love that they are hidden out of view.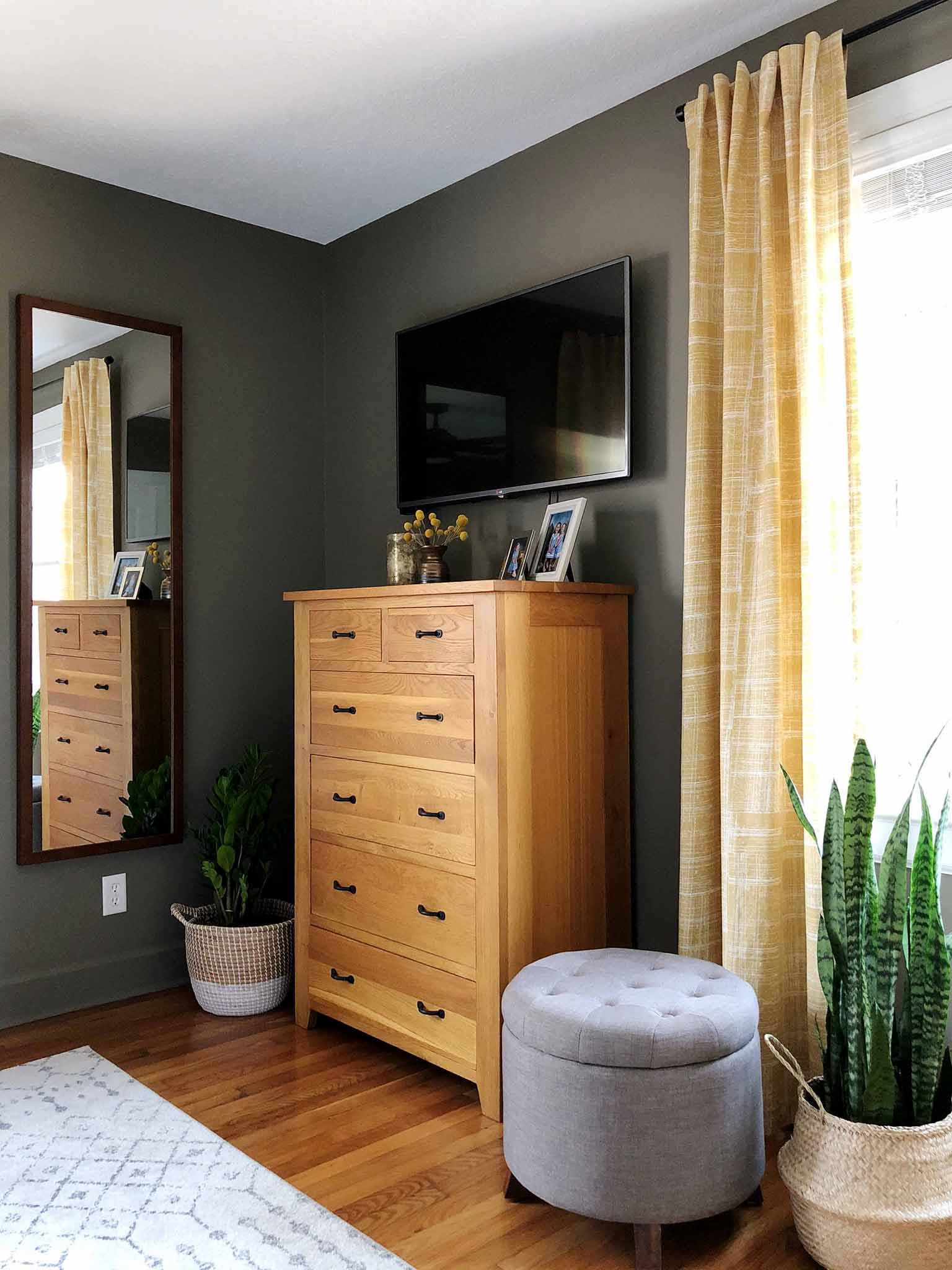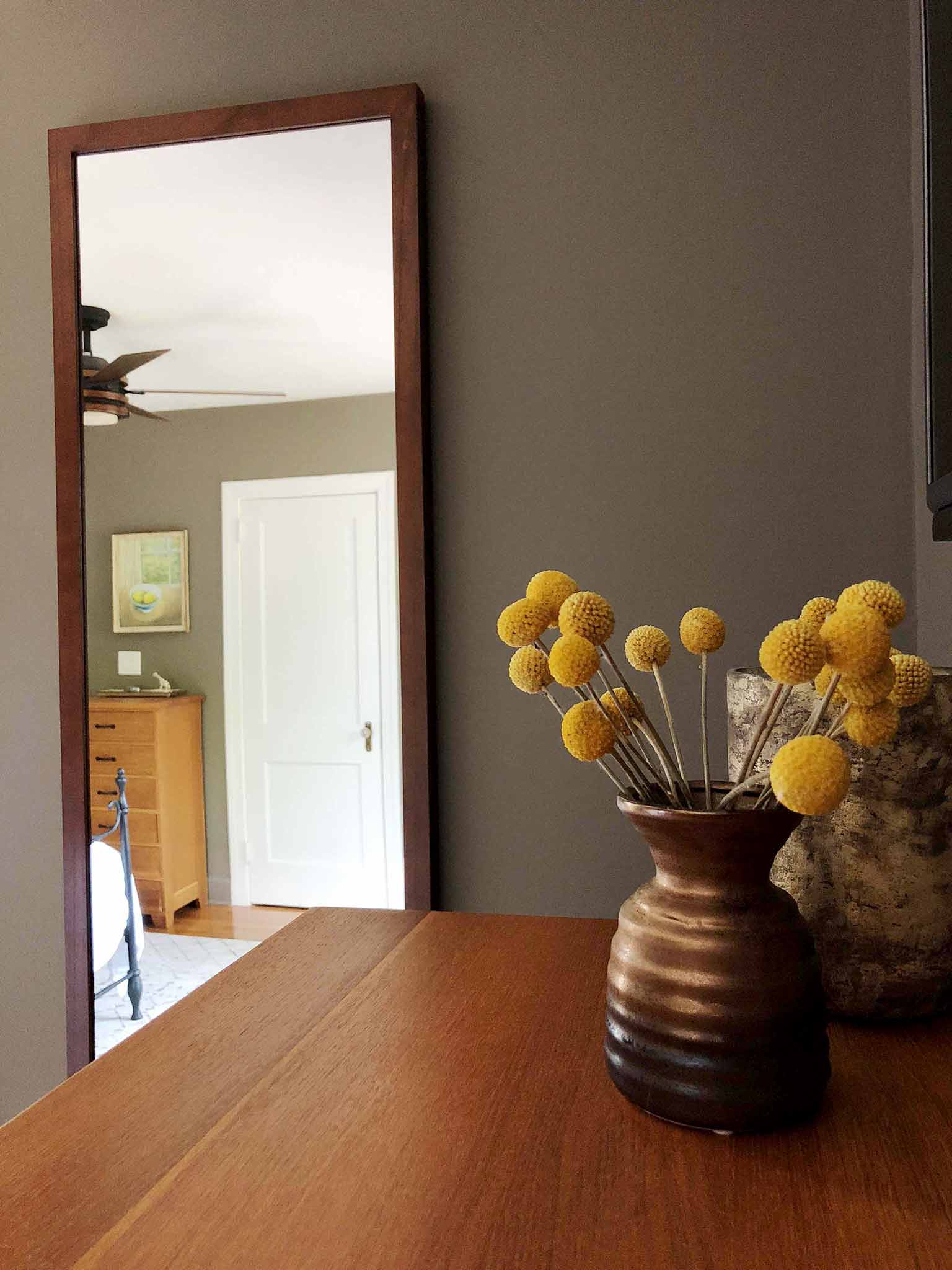 The TV is another "first" for us—we have never had a TV in our bedroom and it feels SO luxurious! Plus, the kids have been watching way less TV now that it's out of the center of our home. It's been an unexpectedly easy transition for all of us.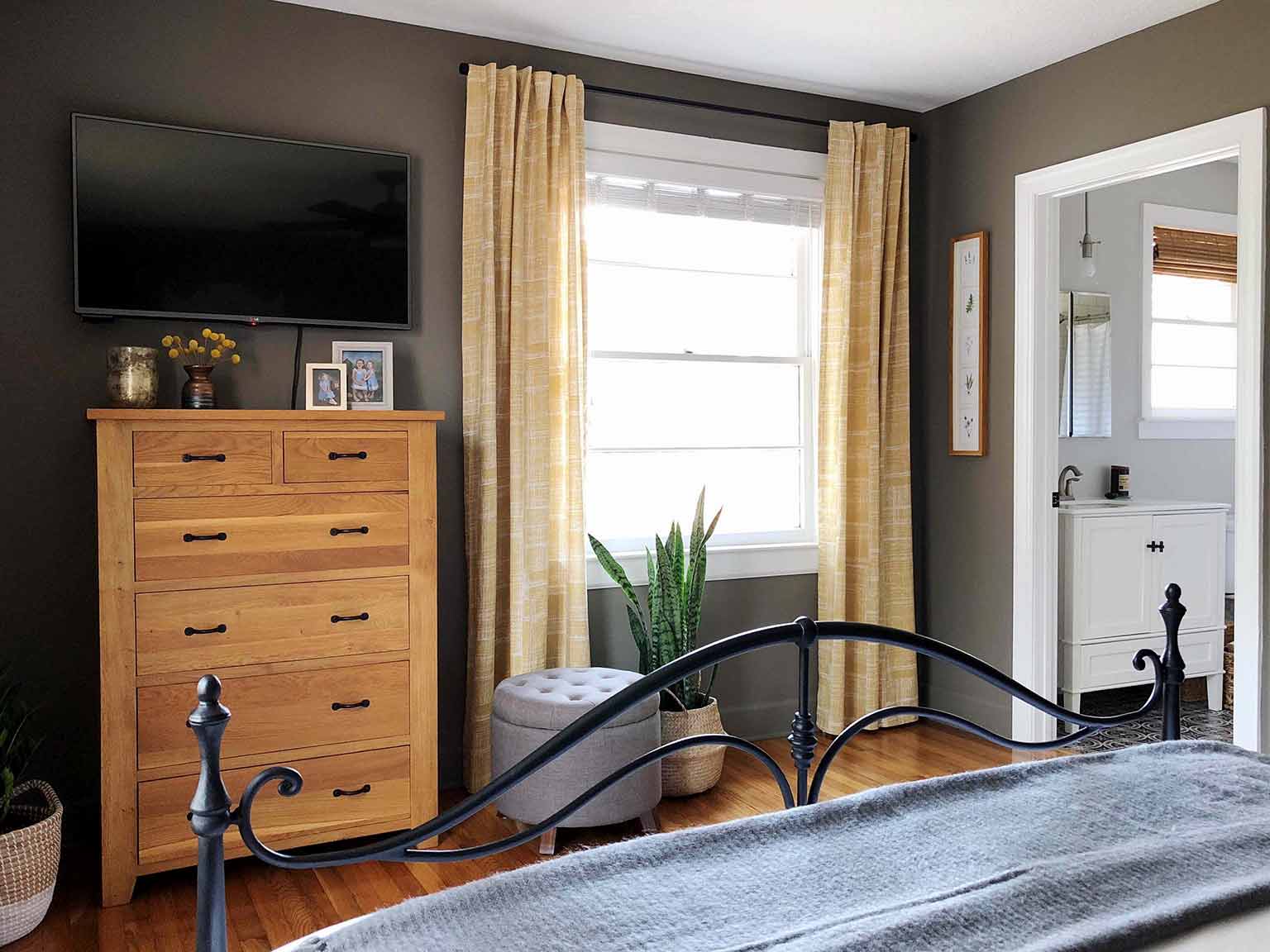 FAVORITE FEATURE
My favorite feature has to be the nightstand/wall lamp combo. It just feels really sleek and streamlined, and I love the statement these pieces make.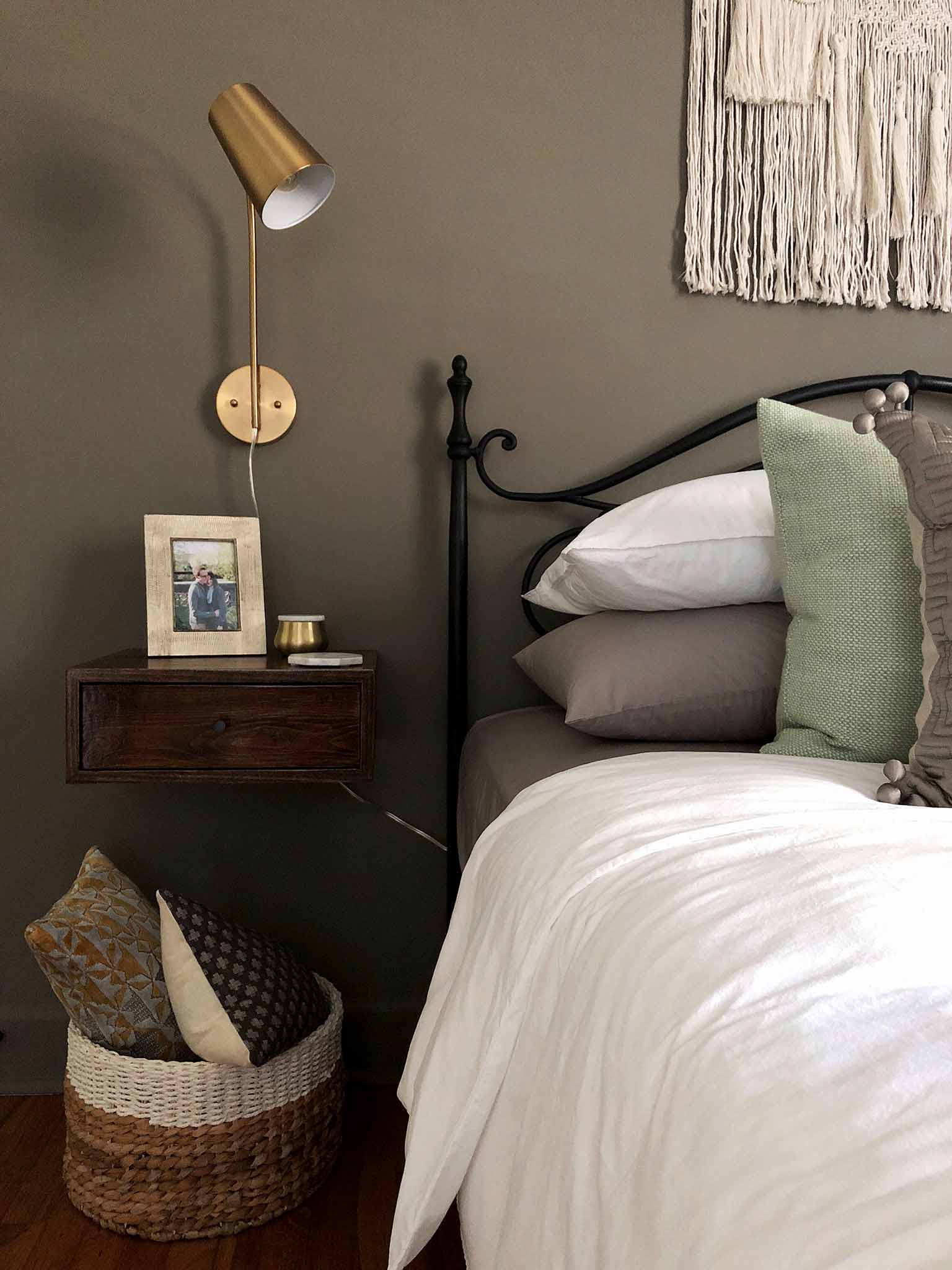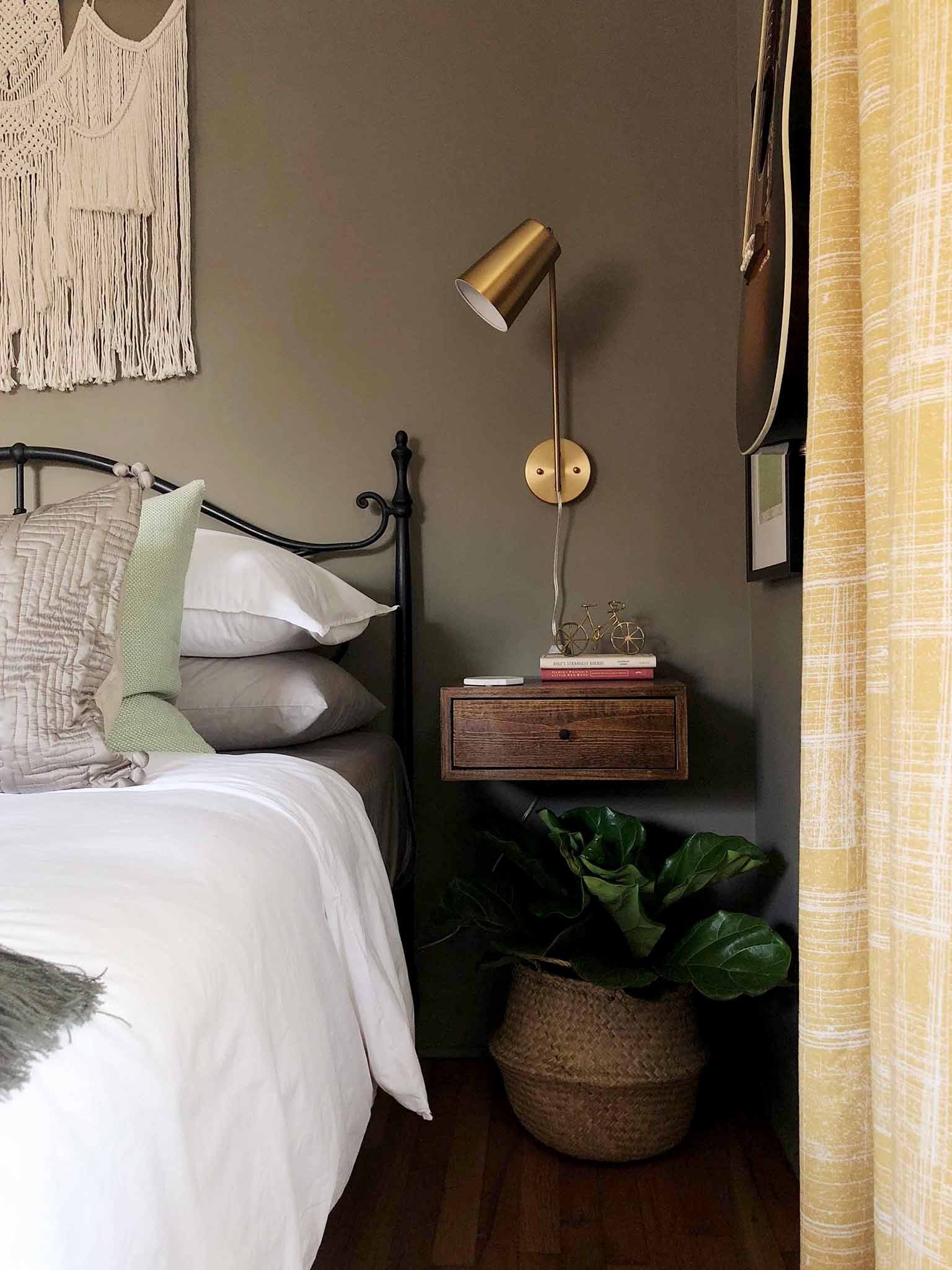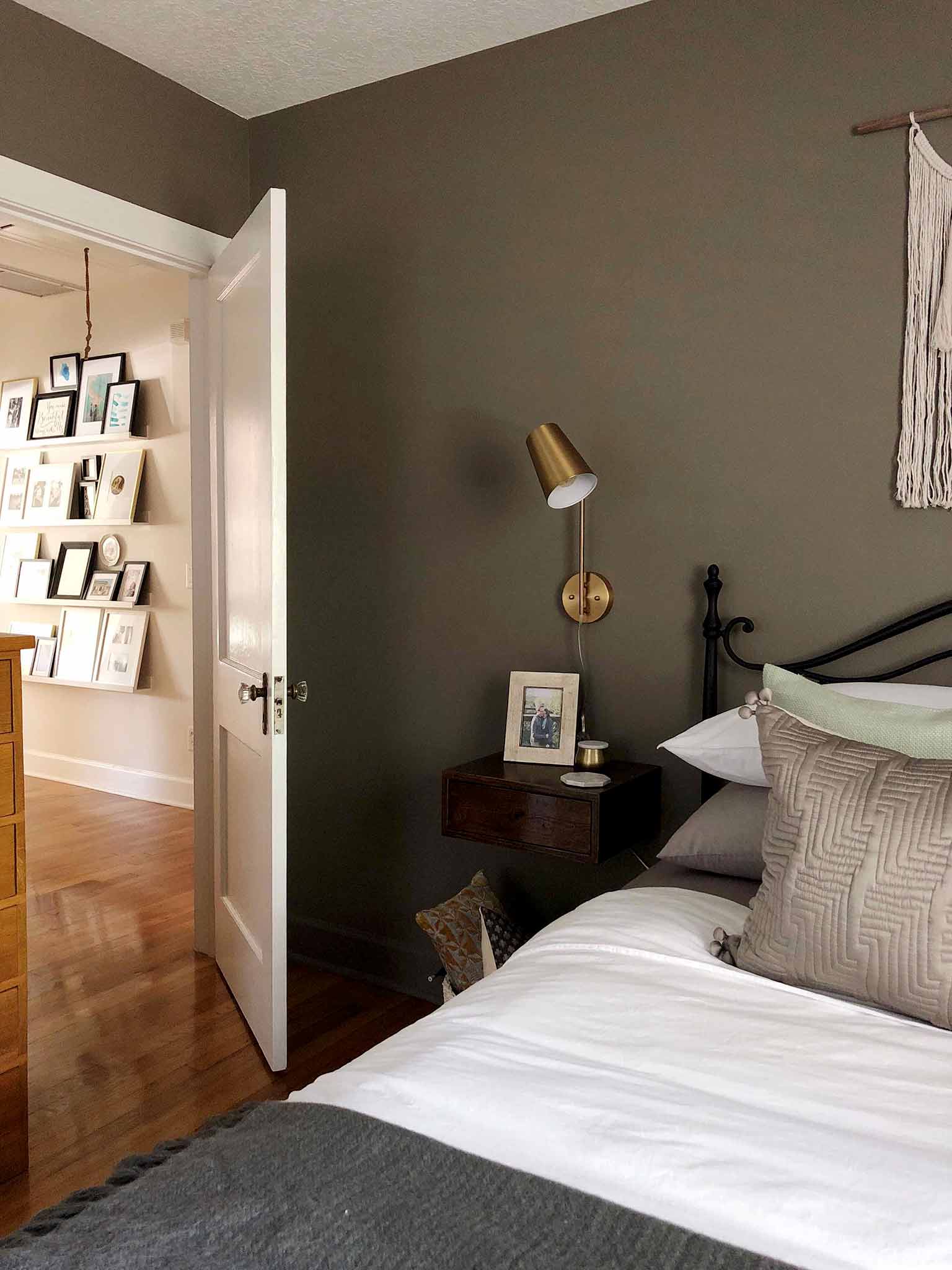 We are planning on upgrading our UK-sized bed in the next few years, so we made sure to space them wide enough to accommodate a US queen bed frame.
THINGS THAT DIDN'T GO TO PLAN
Well, the only thing that really didn't work out is that I changed my mind about the rug at the very last minute and ordered a different one—and it has yet to arrive at the time of publishing this post. In fact, I think it is due to arrive tomorrow, which is super frustrating! I must have refreshed the tracking page over a hundred times today—it's true that a watched pot does not boil!
However, I was able to borrow the rug from the guest house loft, and I think it makes a pretty good placeholder. My perfectionist side hates that I wasn't able to "finish" the space in time, but truly I don't think anyone would have been aware of it if I hadn't 'fessed up by myself!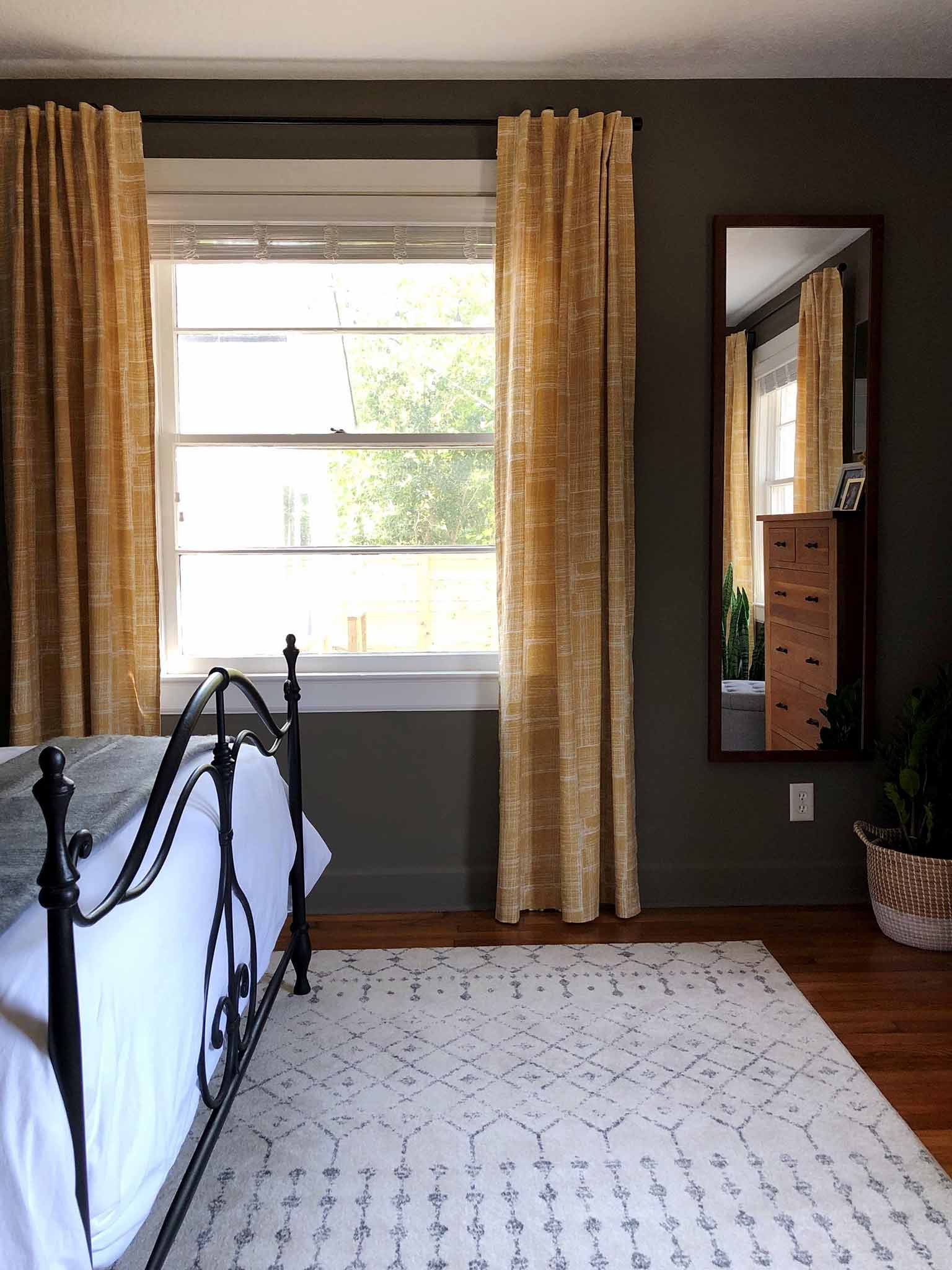 UPDATE: Here's the new rug! I think she's perfect for the space—the texture is perfect with the macrame wall hanging and the black pattern ties in with all the other black accents.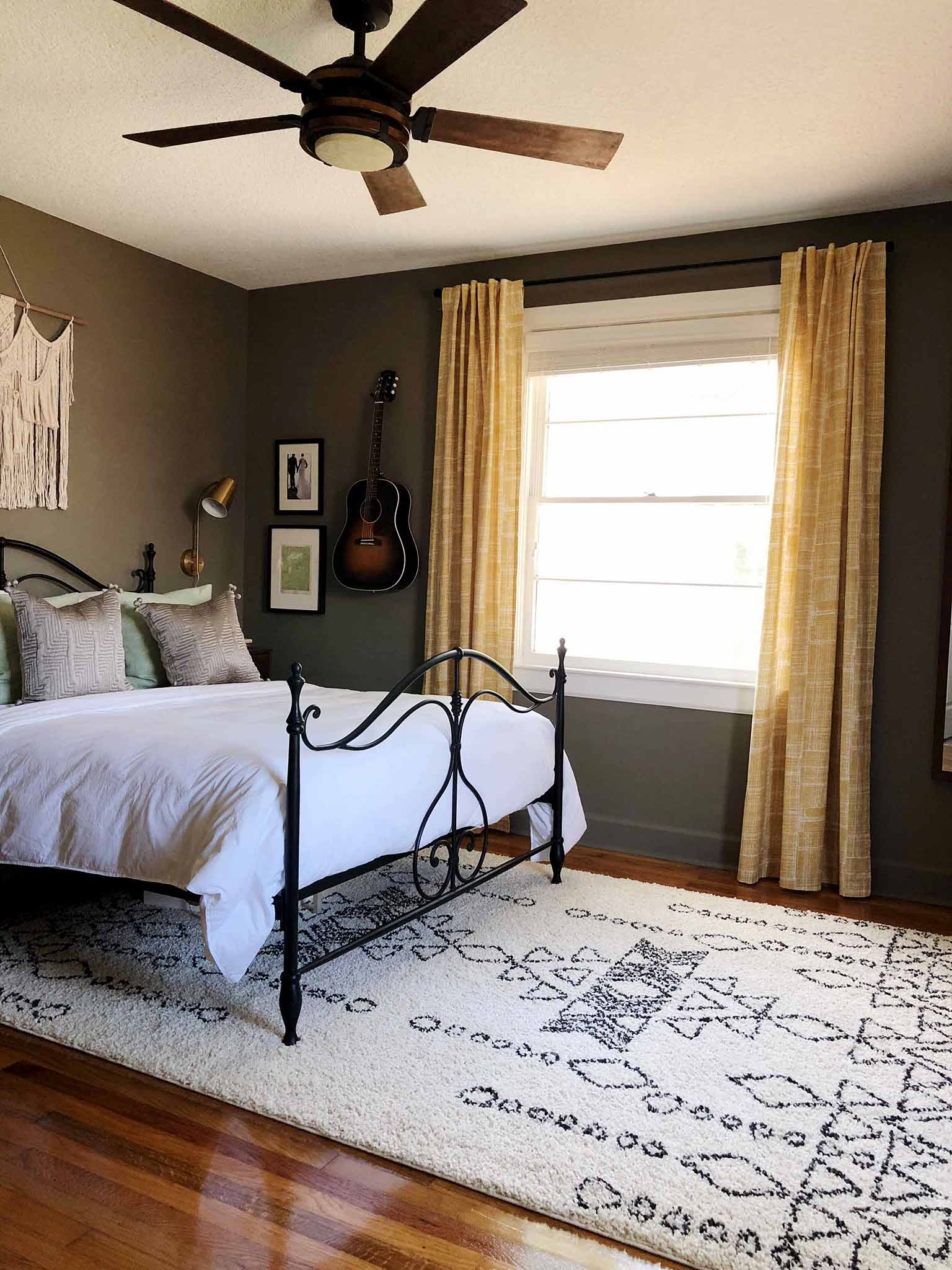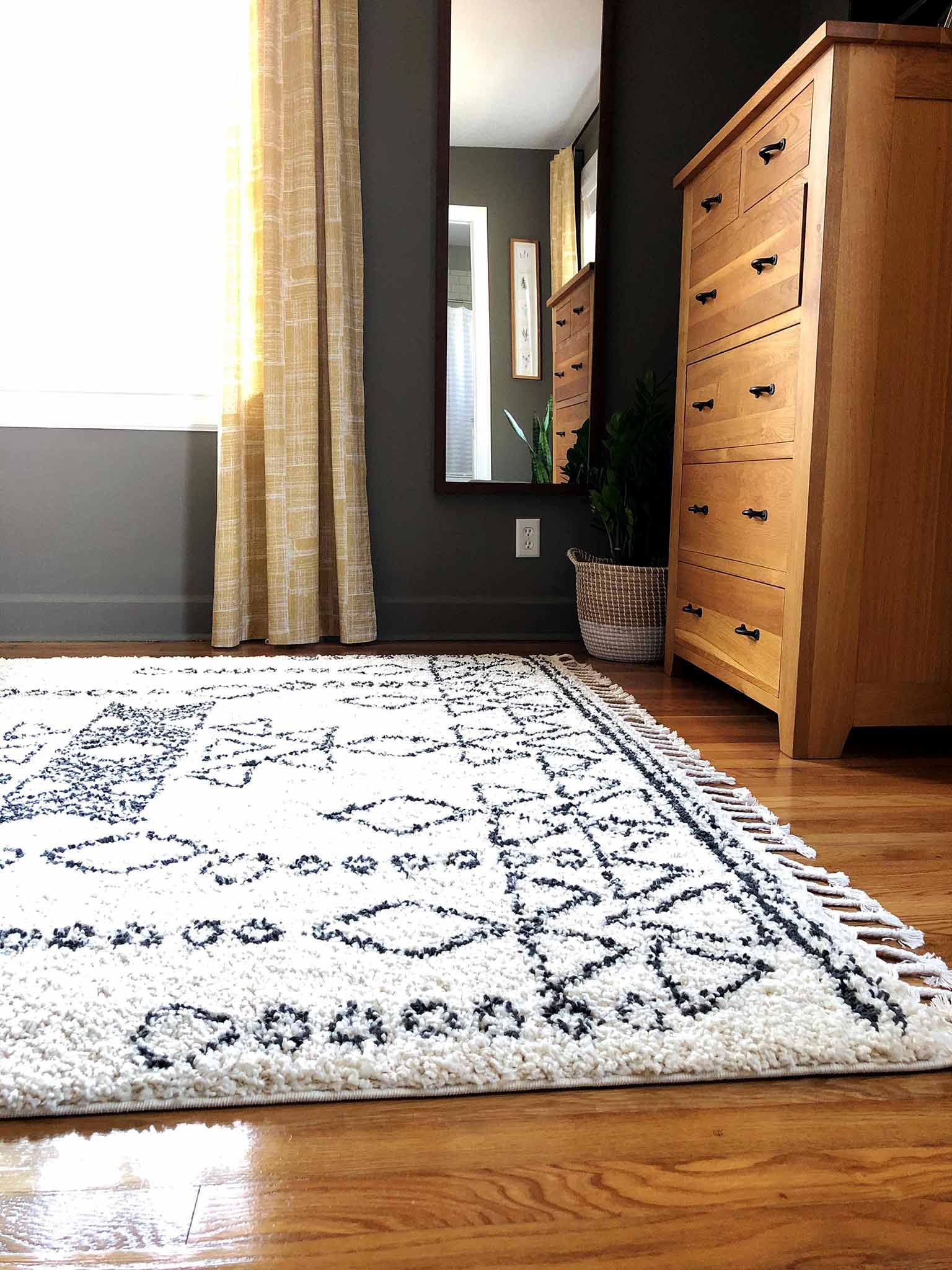 COST
My spending came in just under $1100 for this room, and that covered the nightstands, lamps, rug, macrame, bedding, accessories, artwork, curtain rods, TV mount, plants, mirror and pouf. I have been busy purging and selling unwanted pieces to offset the cost of the room makeover, and so far my sales have totaled $300—so that helps a bunch. I still have a few things to sell, so I'm hoping to offset the cost even more.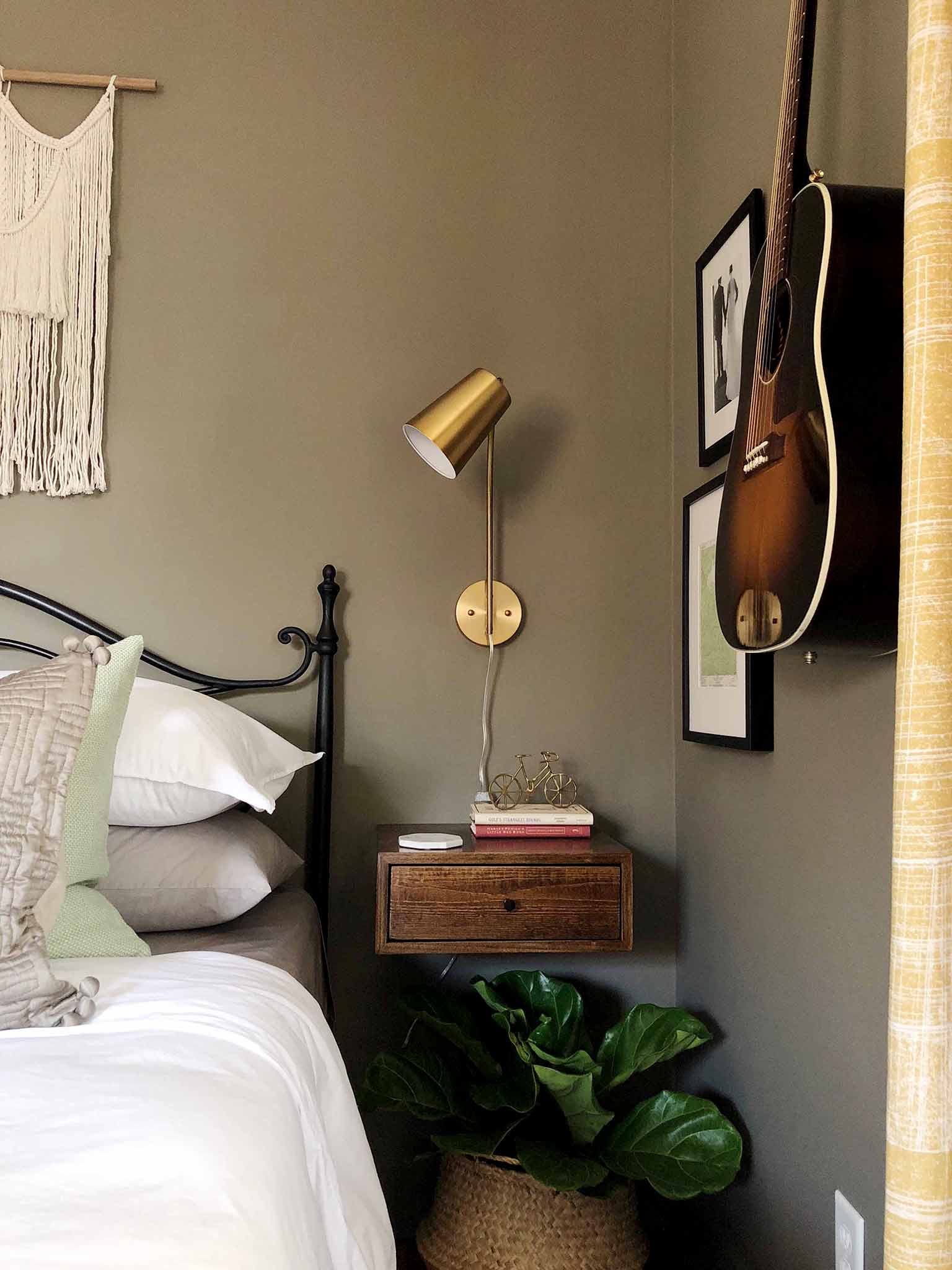 LESSONS LEARNED
I think the biggest lesson that I've learned is that taking that extra step in the planning of a space can really save some stress in the long run. I wouldn't change a thing about this room, but there have been some dead ends, some rabbit holes and a whole lot of returning things to stores! Some of this could have been avoided if I just spent a little bit more time in the room with a measure and a roll of painters tape to plan out the space more thoroughly before diving in head first.
I think as I take on more client projects I will be looking at using software to help with space planning. Doing this project on a strict timeline has definitely been a really good learning curve for me.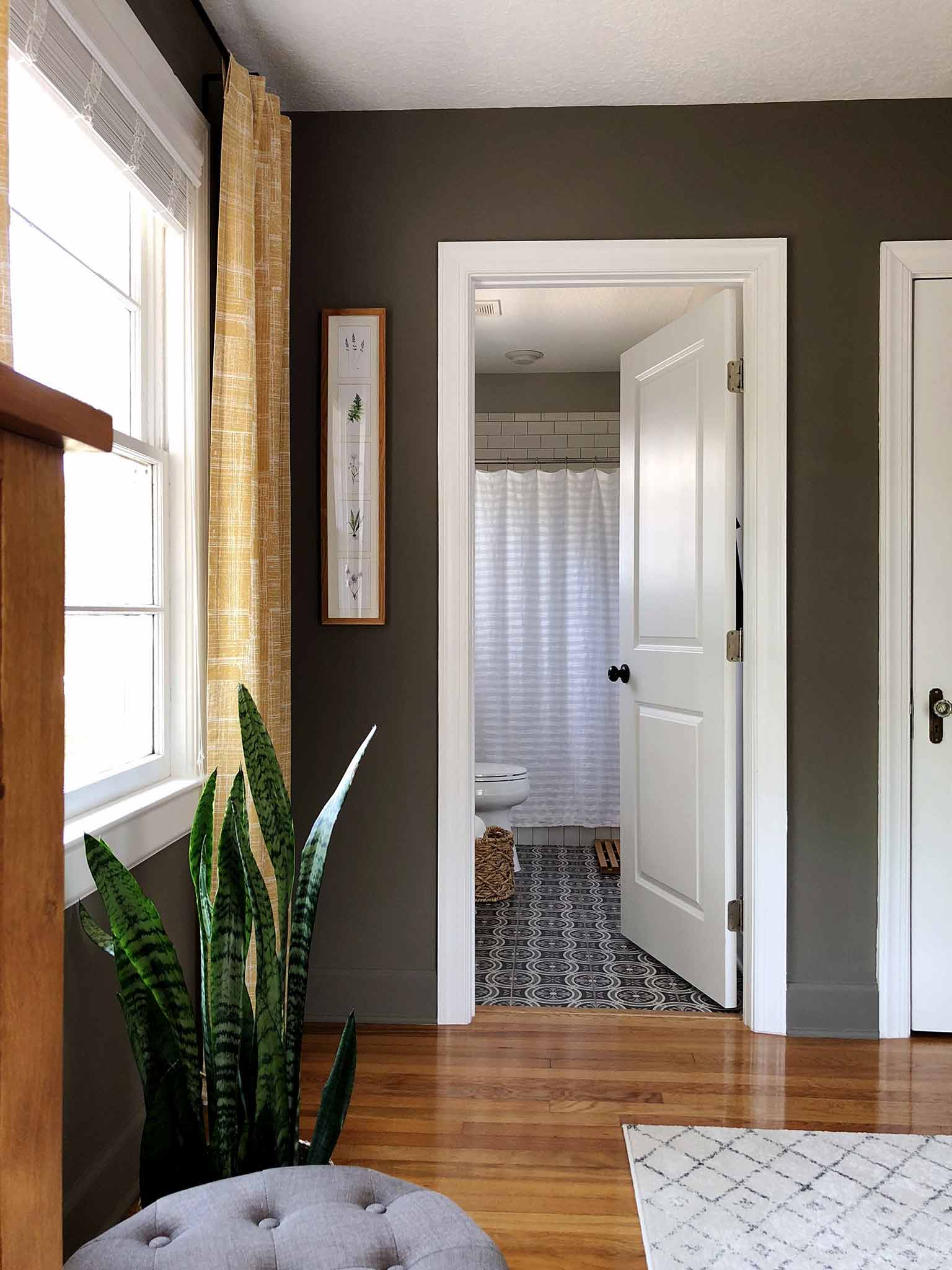 BEFORE AND AFTER
As I said right at the beginning of the challenge, this isn't the most dramatic before and after in terms of aesthetics, largely because we kept the paint color, the curtains, and many of the furniture pieces the same.
However, I can't emphasize enough the dramatic difference that this simplified, decluttered and coherently styled space has made to me personally. I really do feel more peace now when I walk into this room. There are no longer boxes under the bed that need to be sorted, or a closet that is stuffed to the brim.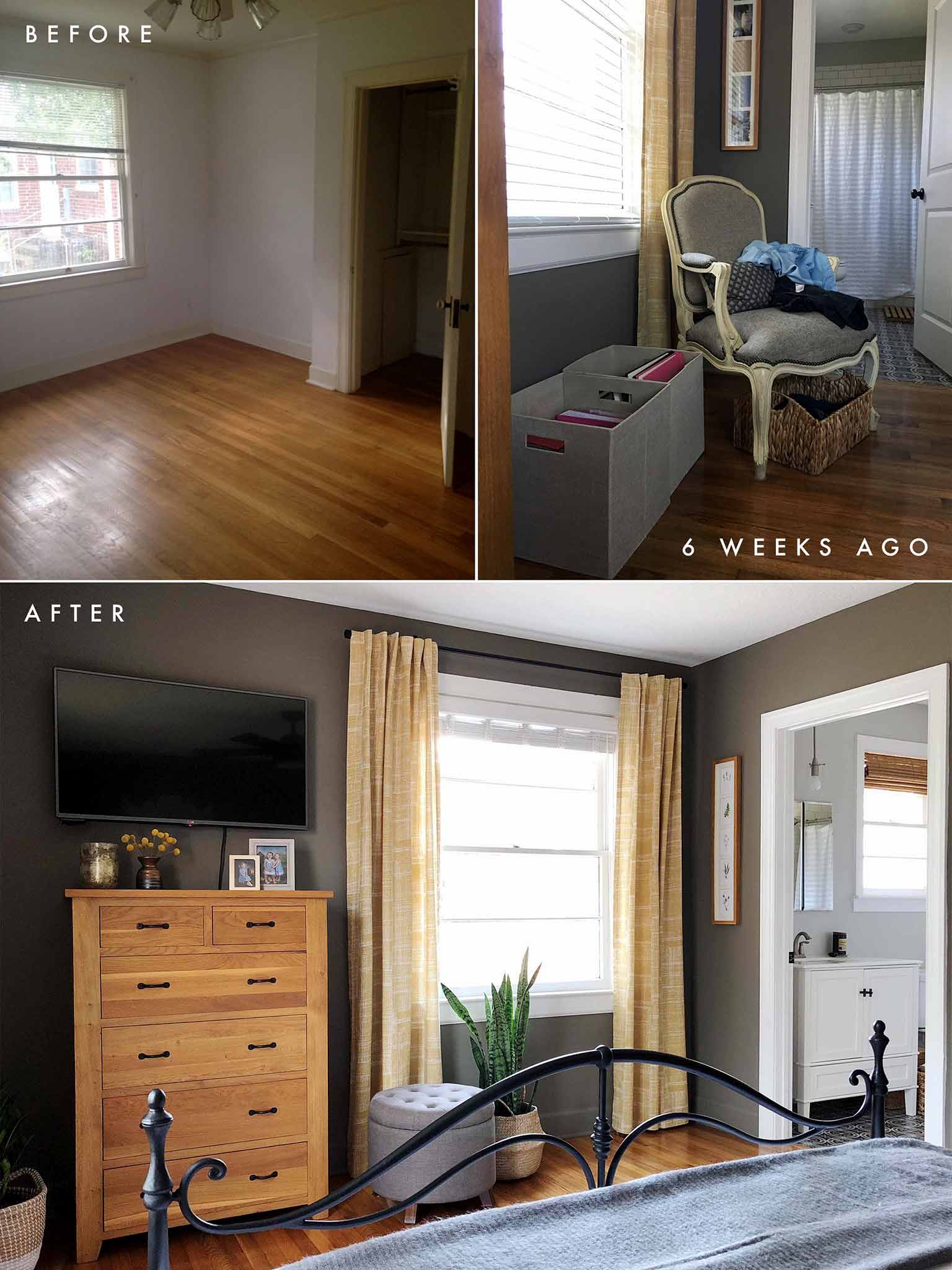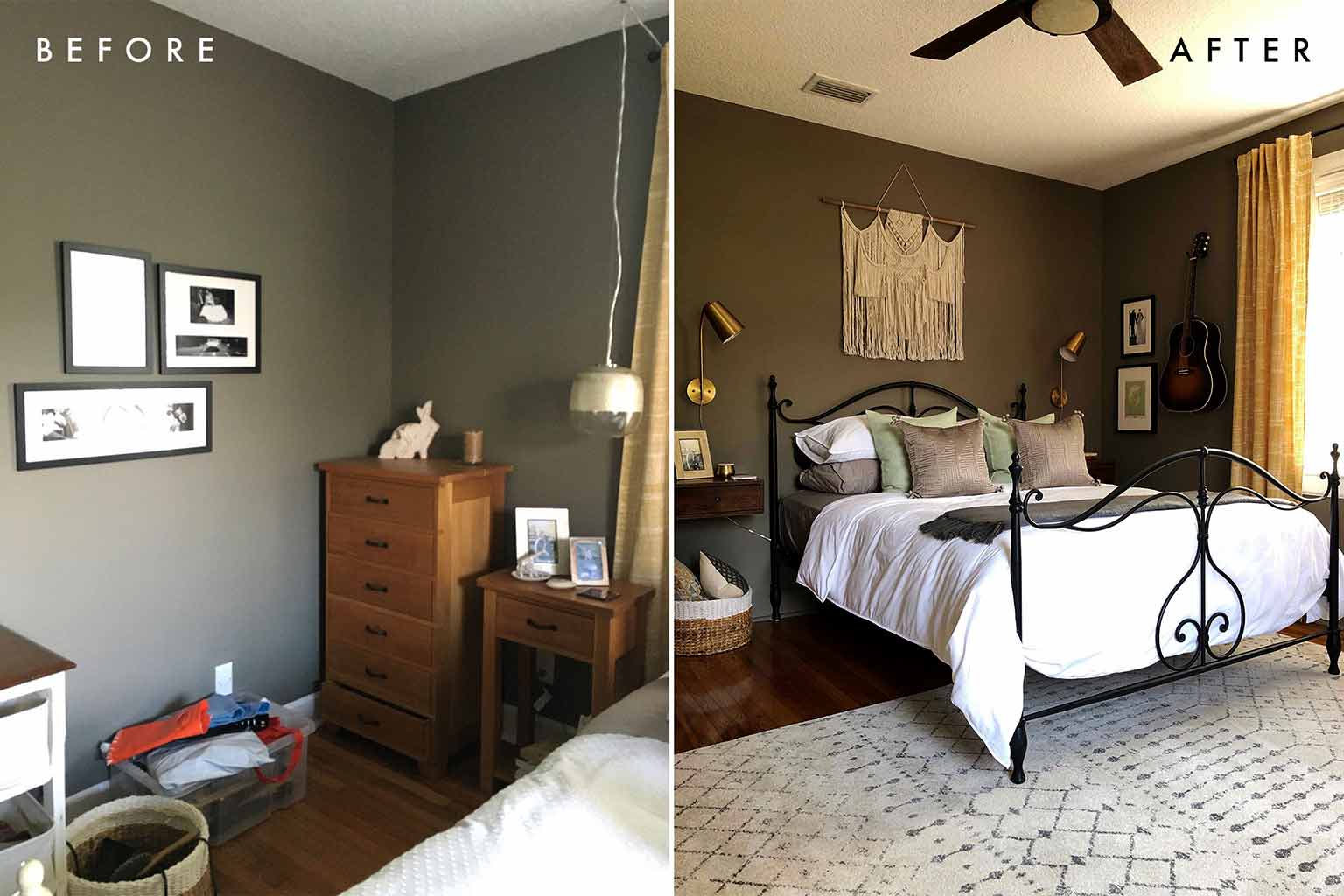 This room is now a retreat, a space to unwind, and a functional space that serves us.
AND THE LIVING ROOM?
If you can remember all the way back to Week One, I did promise you two room makeovers. In moving the TV out of the living room, we were able to rearrange the furniture. We are still tweaking here and there and I have a few more pieces to source and style, but here is a before and after of our living space.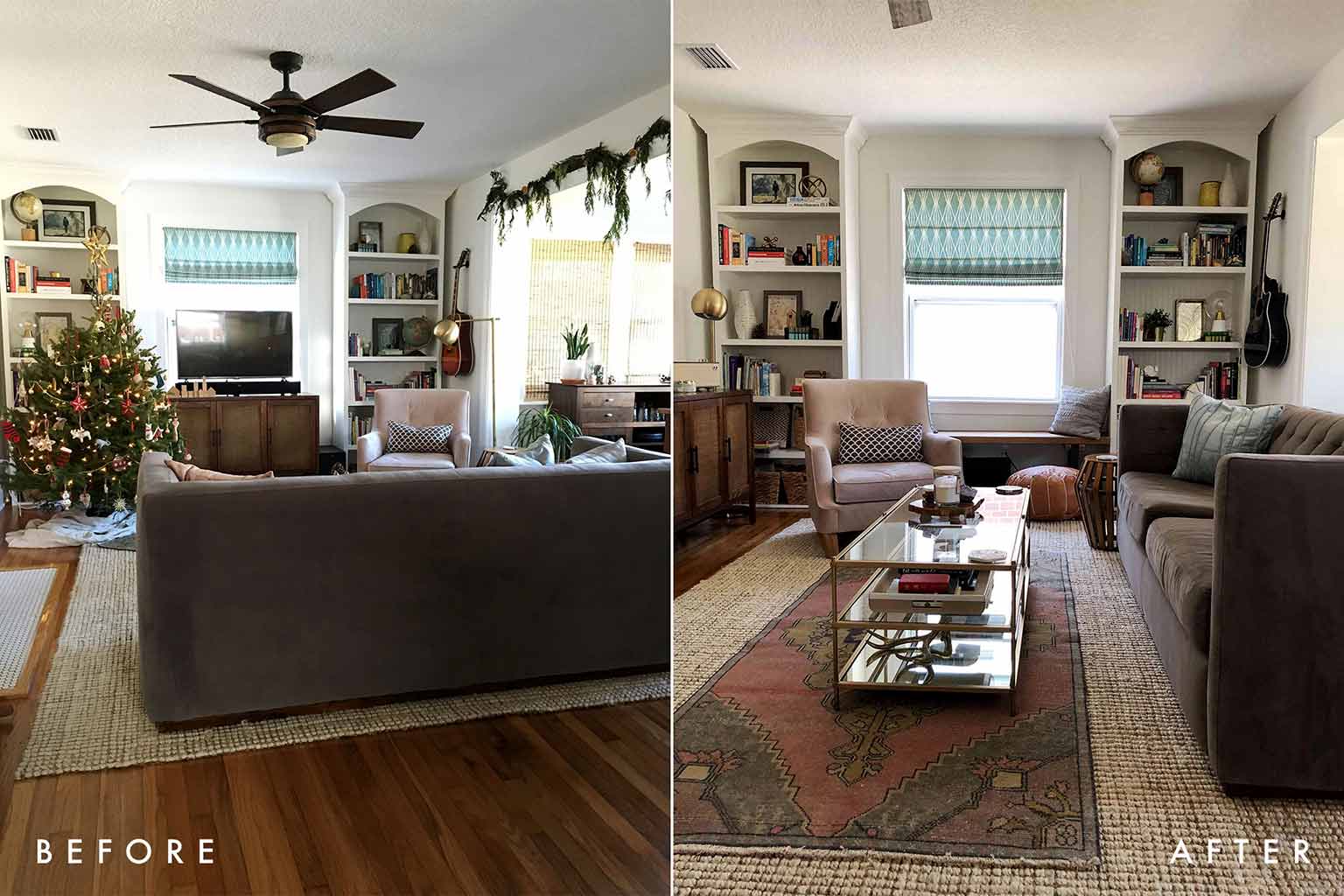 (Don't worry—we took our Christmas decorations down a long time ago. This is the only photo I had showing the previous furniture layout!)
The room feels so much more open and I love that it is not arranged around the TV! This One Room Challenge truly has kicked us into a higher gear which I am so thankful for, and we have been able to make a lot of progress on home projects.
SOURCES
Wall Color: Sherwin Williams Anonymous
Bed Frame (no longer available—similar)
Green Throw Pillows
Taupe Gray Throw Pillows
Nightstands—custom made by Carson at Lay-Z-Day Furniture
Nightstand Hardware
Wall Lamps
Macrame Wall Hanging
Gold Candle with Marble Lid
Brass Bicycle
Brass Tray
Vase
Billy Balls
National Park Map
Botanical Postcards
Tufted Storage Ottoman
Mirror
Rug
You can catch up on the previous weeks of progress leading up to the big reveal by checking out these posts:
Week One: Design Plan // Week Two: Decluttering // Week Three: Etsy Finds // Week Four: Progress // Week Five: Three Cheap Updates
Are you a fellow ORC Guest Participant? I've written a guide (which you can read here) and designed a printable planner to help get you organized for the challenge! Simply put in your email below to have the PDF planner emailed to you: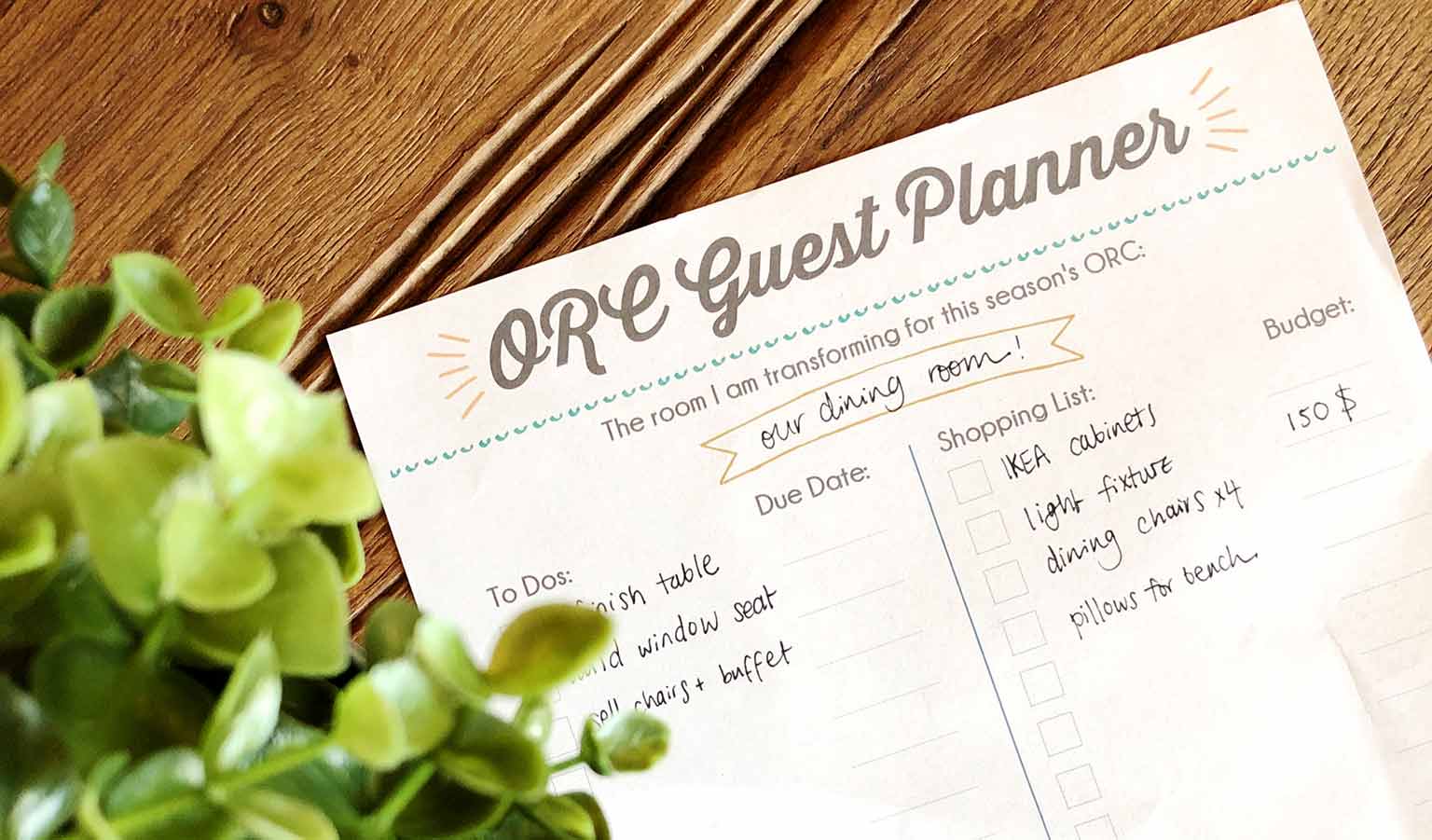 And last but definitely not least, a huge shout out goes to the other guest participants—honestly, I am so impressed with everyone's hard work and there are so many inspiring projects to peruse!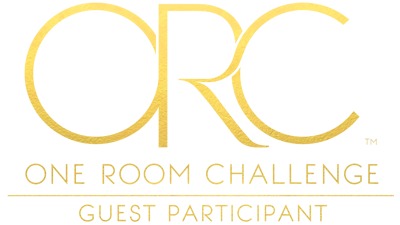 ---