It's been almost two years since I worked on our master bedroom for the One Room Challenge. It was my very first ORC and definitely a steep learning curve! I'm proud of what I achieved, but I feel like I've grown a lot as a designer since first working on this space and therefore it's time for a little January refresh.
Aside from being ready to update the space a little, I also need to clear out some clutter from this space (again). Over the summer we did a big Konmari purge, and much like when our home was a construction zone, our bedroom became a drop zone for All The Things. A few months later, the remnants of that big purge are still there, and this room is in need of some love! Somewhere during the purging process I decided at that point to sell our rug and curtains and replace them with something more neutral, but didn't really finish updating the room. It has been in "purge-atory" ever since. (Sorry, I couldn't help myself!)
Related: Learning to Let Go: One Room Challenge Week Two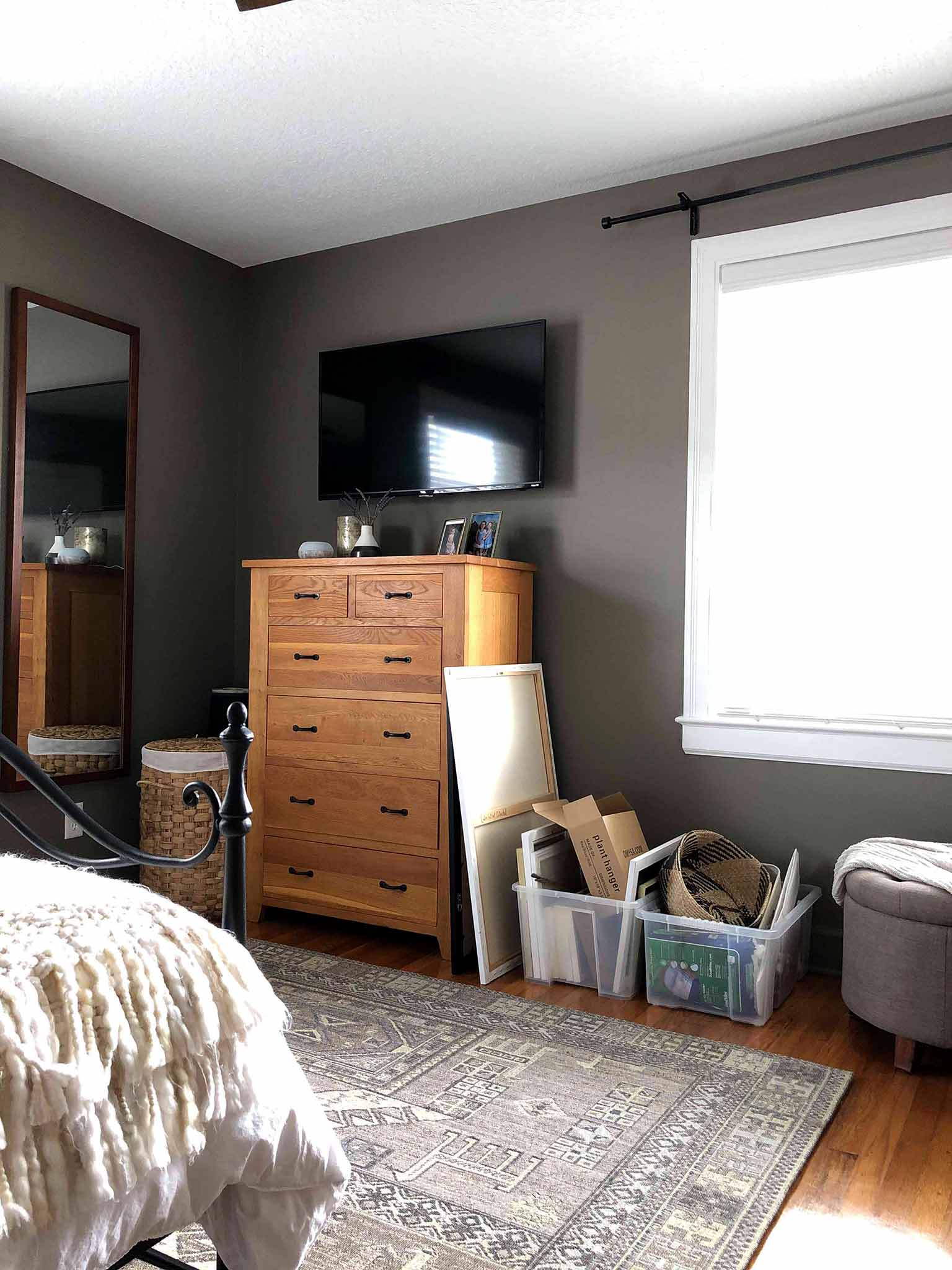 But not for much longer! Once I've dealt with the clutter, I'll be hanging some new art, putting up the curtains that have been sat on my floor for the past few months, and—most excitingly—replacing our bed with an upholstered beauty courtesy of Joss & Main! I'll keep my choice under wraps for now, but I'm SO ready to replace our creaky old bed. I realized during the first makeover that it doesn't work with my style, and although I'm glad I managed to extend the life of it by painting it black, it's DEFINITELY time to make a change.
So, before I reveal more of our room, I thought I would flex my design muscles and put together a master bedroom mood board featuring some of the products I came across while browsing the Joss & Main collection. (Nope, my bed is not on there. You'll just have to wait for the reveal next week ;)
Master Bedroom Refresh Inspiration Mood Board
At the moment I'm really drawn to soft furnishings with blue and pink tones, mixed with plenty of natural elements like the solid wood bench, woven wall baskets and stoneware vases, anchored with classic crisp white bedding. Although my color palette is slightly more neutral, I will be incorporating some of these elements in my own bedroom, and I've been inspired to add a few blush pink accents to the space. I'm excited to see it come together!
Related: A Serene, Mid Century Modern, Coastal Style Master Bedroom Makeover
It might be taking me a few attempts to get the room the way I want it to feel, but this post by Chris Loves Julia reminded me that it's ok for spaces to evolve over a long period time. My bedroom has undergone lots of different phases over the last few years, and I feel like each version gets me a little bit closer to what I want. At other times, rooms (like my girls' bedroom) seem to come together quickly with ease. It's definitely a win when that happens, but with our master bedroom I'm learning to embrace the process of a room unfolding slowly.
I'm so excited for the steps forward I'll be taking with this room, and I know I'll be sleeping a whole lot better in this space once we are done! I can't wait to share it with you.
---